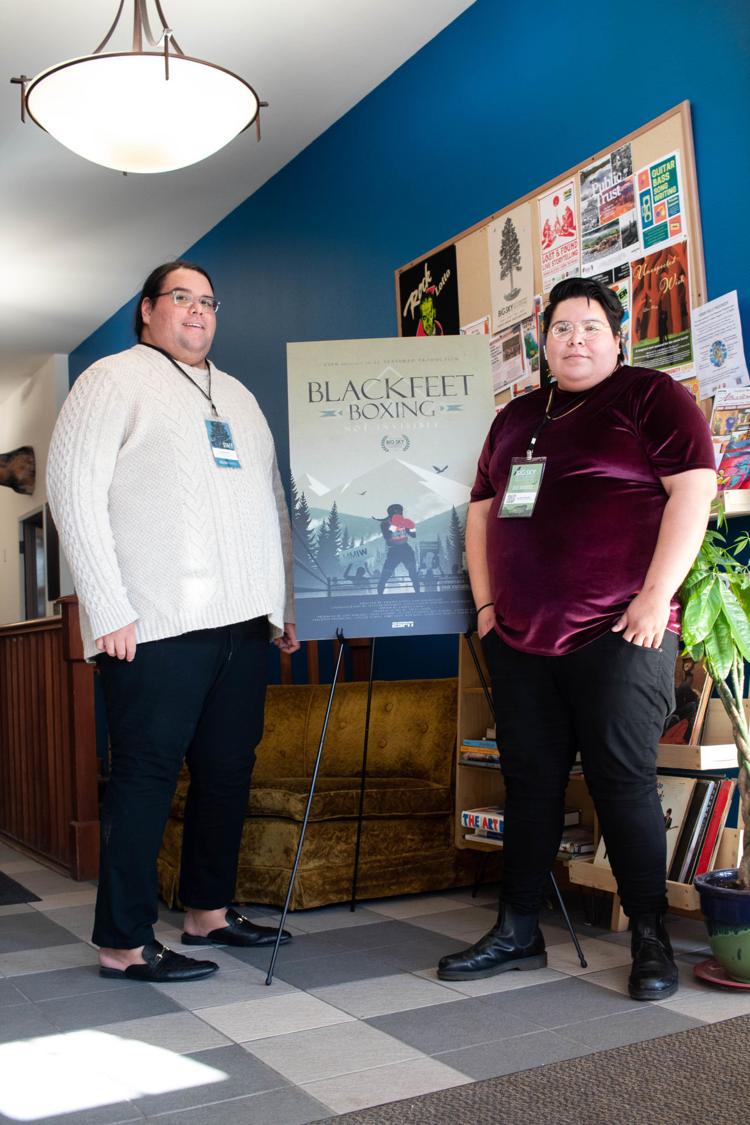 Two Missoula Filmmakers premiered their short film "Blackfeet Boxing: Not Invisible" at the Big Sky Film Festival on Wednesday, Feb. 19. The film is their latest of films bringing awareness to the Missing Murdered and Indigenous Women movement. 
Ivy and Ivan MacDonald are siblings and filmmakers. After making their first film "When They Were Here," the two have garnered national attention. They have conducted interviews with Associated Press, The New York Times, NBC Nightly News and many newspapers across the country, both local and national.
On Feb. 7, Ivy and Ivan spoke at a lecture at the University of California Berkeley. They have also been invited to Stanford to give a speech but were not able to attend.
"There's lots of ways to tell this story but there is only one way to give justice to these families and that's by giving these women a sense of humanity," Ivy said.
"Blackfeet Boxing: Not Invisible" tells the story of a boxing gym on the Blackfeet Reservation that is teaching young girls self-defense while they live with the realities of violence against Native American women on reservations.
The film is a part of ESPN's 30 for 30 series. ESPN approached Ivy and Ivan last spring to see if they would be interested in helping produce the film. They loved the idea of the pitch for the film and thought it would be a unique opportunity to work on a project that had the originality they felt other organizations' pitches were lacking, according to Ivan. ESPN will air the film in June 2020.
The MacDonald's both consider Browning, Montana, to be home — despite growing up in a variety of places when they were younger. Browning is located on the Blackfeet reservation and growing up there has helped them set their films apart from the rest, according to Ivan.
"I think like most Indigenous people, we have always kind of lived with this crisis," Ivan said.
He said the MMIW movement is often covered with a "true crime" aspect, but that's not how Ivy and Ivan tell stories. They try to reach out to the families and learn through the experiences of the people living with the constant reminder of a lost loved one.
Ivan graduated with his master's degree in social work in 2018 from the University of Montana. He currently works in criminal justice reform to address racial and ethnic disparities in Missoula's criminal justice system.
Ivy graduated in 2018 with her bachelor's degree in digital filmmaking and now works as a freelance filmmaker. It was during her last semester that Ivan came up to her with the idea to do a film over Missing Murdered and Indigenous Women. That was the start of "When They Were Here."
The short film "When They Were Here," covers the Missing Murdered and Indigenous Women movement. The film hit close to home for the two filmmakers, with their own uncle as one of their sources. Their cousin had been kidnapped and murdered on the Blackfeet reservation when she was 7 years old, according to Ivan.
He remembers one instance driving to Glacier National Park, a frequent family trip they took, when their dad told them the spot where their cousin's body was found. At the time he didn't quite understand what the entirety of the situation met, he was only 9 or 10 years old.
Ashley Loring HeavyRunner, a relative of the MacDonalds, went missing around the time they began their first film on the movement. HeavyRunner's is one of the stories focused on for their "Blackfeet Boxing: Not Invisible" film.
"I think the work that we initially started was not only to bring awareness to these stories, but to understand our own family," Ivan said.
The MMIW movement was relatively unknown to national media but started gaining attention and raising national awareness after the release of the film, according to Ivan. He said that back then, when you would google the movement, you would only find their film.
After a series of interviews and lectures, Ivy and Ivan decided they were onto something. They decided to start work on both of their first feature-length films. The two filmmakers are working on the film currently for a film date to be determined.
The MMIW movement has garnered more attention in the past few years among national audiences. Ivan credits that to grass-roots activism and communities working together to raise awareness.
Ivan and Ivy have turned down interviews before. They don't want to become the face of the movement, instead aiming to help to keep raising awareness to elicit change. They both participate in activism for the movement aside from filmmaking and teach other people how to become directly involved.
Ivy said they will hopefully be releasing their feature-length film within the next two years.
"I think what we are really trying to do is just to tell these stories," Ivan said. "We are really kind of following this idea that storytelling is justice."