In a video created by Sydnie Racine, she depicts herself holding a sign labeled "Missing." In the center of the sign where a missing person's photo would go, she's written the word "Forgotten."
Racine is trying to get the attention of people around her, who are offscreen, and asking if they've seen her sister. Frustrated by their indifference, she covers her hand in red paint and presses it over her mouth. This image is followed by real missing notices for Indigenous people in Montana.
The 21-year-old Racine, a member of the Blackfeet Nation, submitted this video to the Today's Warrior Video Contest, held by the All Nations Health Center.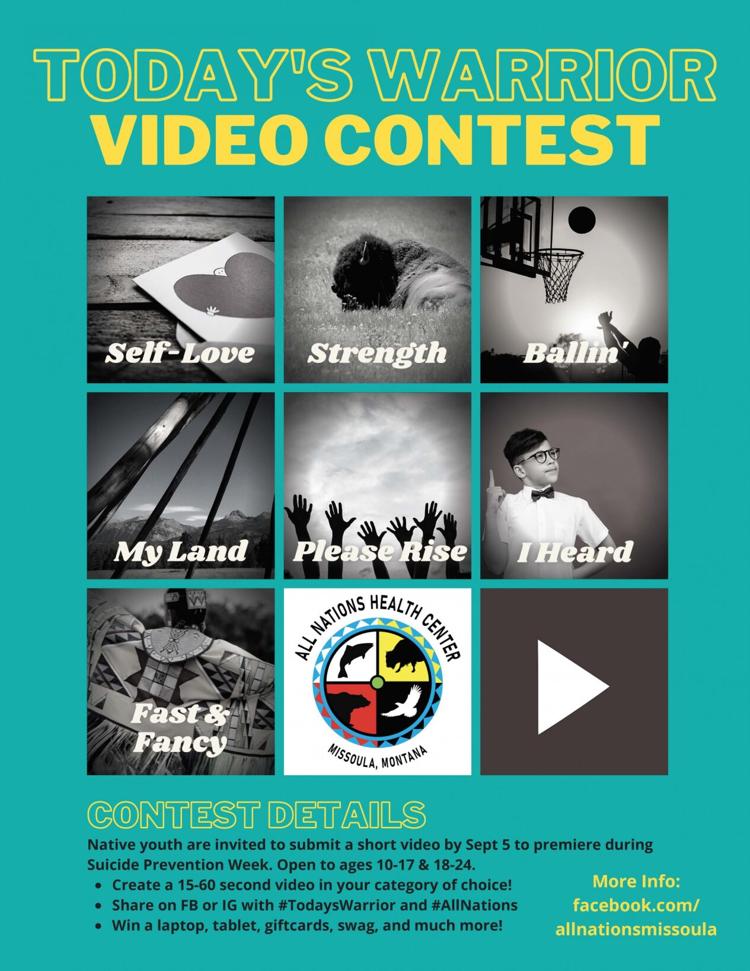 The contest is intended to give Native youth the opportunity to create and share content that portrays what inspires them or makes them feel resilient when life is challenging. The event was part of Suicide Awareness Week.
"The video contest isn't, from my understanding, completely focused on suicide," Racine said. "It's about what makes you stay alive and reasons to stay alive. It's about resilience. I'm alive because these girls are missing."
Faith Price organized the contest. She is a community prevention coordinator on a suicide-prevention grant at the All Nations Health Center. Price said that Native Americans are under represented in the media and that the goal of the contest is to give the contestants the platform to share their voices.
"We wanted to think about our resilience and strength and get students working with their strengths," Price said. "I hope they see themselves in this contest."
The range of categories, from "Fast and Fancy" to "Self-Love," invited creativity. One contestant shared images of significant landscapes for the "My Land" category. Another shared a story about how basketball gave her confidence to be a leader in the face of discrimination.
Racine's message was clearly depicted by the hashtags on her sign: "MMIW," or Missing and Murdered Indigenous Women, and "NoMore." Her red handprint represents the violence against Indigenous women in the United States and Canada, among other countries.
In a study from the Department of Justice in 2016, Native American women were surveyed on their experiences with violence. Of the over 2,000 who participated, 84% had experienced violence in their lives.
According to a study published in 2015 in the Society for the Psychological Study of Social Issues, media representation of Native Americans characters in film and television is zero to 0.4%. The study states that, from team mascots to Hollywood characters, representations of Native Americans in the media lean toward the stereotypical and inaccurate.
"A lot of social media is whitewashed," Racine said. "When a Native youth can get on Facebook and see all Native youth showing what they enjoy and what keeps them alive, it creates this platform that more Native youth can identify with and belong to."
The videos premiere at Paddlehead Stadium on Sept. 9, and are on the All Nations Health Center's social media.