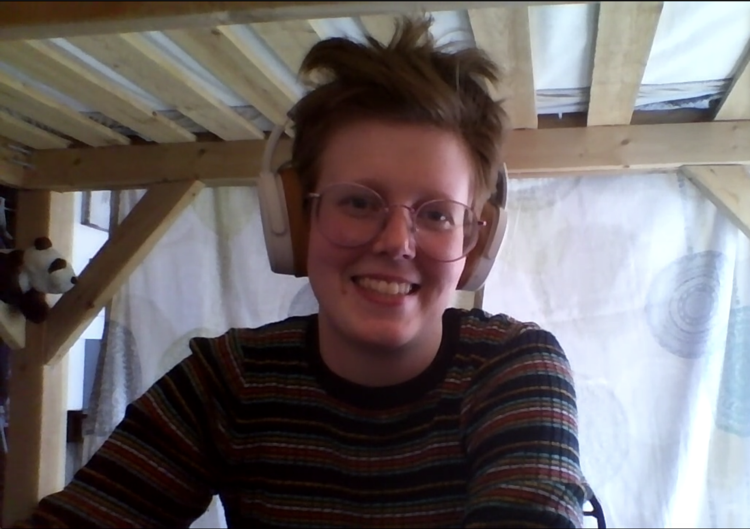 University of Montana senior Heidi Abresch starts her mornings at 8:45 a.m. with a cup of coffee, gearing up for a long day of classes, work and tutoring.
By the end of each week, she estimates she's logged over 20 hours on Zoom, UM's distance learning solution in the age of social distancing. Why so many hours? She's using to Zoom for more than just classes.
"I do seven straight hours of chem tutoring on Mondays," Abresch said. "Good thing I like it — it doesn't feel like work to me."
Abresch is one of 24 student tutors leading UM's Study Jam, a free program offering group tutoring on many common undergraduate courses, from chemistry to music theory.
The transition online posed a unique set of challenges for the Study Jam program that Abresch and others have taken in stride, trying to maintain "a sense of normalcy" in a very abnormal time.
Abresch, finishing up dual degrees in microbial ecology and genetics and evolution, is no stranger to loaded schedules. The 25-year-old added chemistry tutoring at the start of fall semester 2019 on top of research work in UM's cyanobacteria lab.
"I'm one of those people who always needs something to do," Abresch said over a Zoom call from her Missoula home.
After taking chemistry courses as an underclassman, Abresch participated in a peer-leading program, becoming "a baby T.A." in her chemistry class. When a Study Jam position as a chemistry tutor opened, her professor recommended her and she eagerly accepted.
With a semester of experience under her belt, she said she enjoys every minute of her 2.5 hour-long sessions each Monday and Wednesday.
"I've always been that person who's really freaking excited about everything," she said. "Seeing students get excited about chemistry is great."
Abresch has maintained that excitement, even as her Study Jam sessions migrated to Zoom alongside her classes and lab work.
"We're getting used to it pretty quick, but it's less organic," she said. "I can't look over someone's shoulder to see what they're doing."
On Zoom, students have to express verbally when they need help. But that barrier aside, Abresch said Study Jam was well prepared to make the jump.
Shannon Janssen, associate director of the Office for Student Success, oversees Study Jam and said she couldn't be more proud of her tutors, all of whom made the jump from physical to online without complaint.
"I was definitely a little nervous about saying, 'I know I didn't hire you for this, but can we change everything about how we do tutoring?'" Janssen said. "They took it as a lovely challenge and an opportunity."
While numbers have declined slightly, Janssen and Abresch said plenty of students have rejoined them over Zoom.
Before classes moved online, the administration had contacted Study Jam and said they'd like to see tutoring continue. Janssen agreed fully.
"We really wanted to be there to support our students," Janssen said. "We were definitely nervous, but we felt we had a great team and structure in place."
The first Monday after spring break, all Study Jam tutors met for a Zoom training session. Abresch said the tutors divided into smaller rooms and tried to "break" them, creating technical problems so they'd know how to solve them in future sessions.
"I knew more about Zoom than everyone else right off the bat," she said.
The next day, Study Jam was back up and running.
Additionally, Janssen said they made an effort to ensure the tutoring schedule from before spring break was kept the same on Zoom.
"We felt some stability and consistency was probably a good move," she said.
Ultimately, Abresch said tutoring has many misconceptions surrounding it, which she hopes to dispel.
"People kind of shy away from tutoring because it implies you're falling behind in class, but really, the best students in class are the people you see in Study Jam all the time," Abresch said.
Janssen said Study Jam has something for every student and is an even more important resource in the age of remote learning. "We're happy to talk about whatever issue you're having in that class, or if you want to drop in to see a friendly face, that works for us, too," Janssen said.
"We're still here and we're waiting for you."
Study Jam tutoring is free and offers group sessions for more than 35 courses at UM. Visit umt.edu/study-jam to find schedules, classes and more.