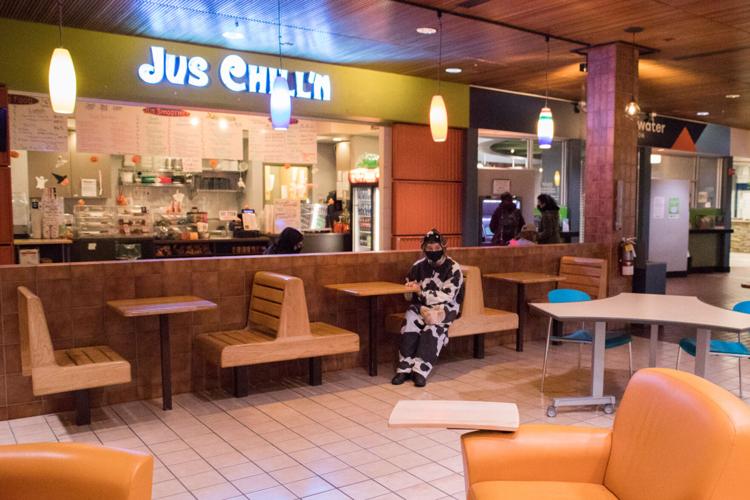 Todd Larson stood at a Halloween party in '95, cradling an empty bottle of Boone's Farm. Larson was so drunk he swore he saw a cow on two legs enter the kitchen. So drunk that he found that two-legged cow kinda hot.
The costume, with white fur and black spots, didn't fit properly. This caused a bit of an issue in the rubber-udder region. For 4-foot-11 Kristine Holtan, the udders sat too low and slapped her thighs with each step. They swayed so vigorously that they threatened everyone within a 5-foot radius.
There was no "moo" as the bipedal cow moved closer. Instead, there was a "hello." Larson, my dad, had just laid eyes on the love of his life.
"She just looked so cute," he recalled.
Two decades later, those same costume udders slapped my thighs like they once did for my mother.
I had heard my parents' love story since high school and made it my mission to go to Halloween parties and manifest my own love story.
Sadly, this year will be different, thanks to COVID-19.
The coronavirus does not seem to give a damn about my, or anyone else's, love life. The virus also does not give a damn about the traditions and festivities of Halloween.
According to the National Retail Federation, 58% of Americans will be diving into spooky season this year. That's only a slight change from last year's 68% participation rate.
Many houses will shut their doors and turn off their lights to the trick-or-treaters who decide to suit up in search of sugar. The organizers of Disco Bloodbath, a Missoula classic, will not host its annual Halloween disco party. It would have been the event's 10th anniversary.
"It's up to all of us to slow the spread of COVID-19. Everyone, including young and healthy people, should avoid large gatherings during this time," Disco Bloodbath posted on Facebook.
The Centers for Disease Control and Prevention has warned Americans not to celebrate Halloween like it's the before times. Officials suggest participating virtually, or at least with caution.
This year, I will not walk up to some stranger at a party, convinced they will look at me the way my dad looks at my mom — because I will not be at a party. No. I will be sitting on my couch with my roommate, drinking IPAs and eating candy corn.
We'll pop on "The Silence of the Lambs" and maybe even watch a few Halloween episodes of "The Office" to party vicariously through the characters. F.O.M.O will give me an anxious hug as I fall asleep before 11 p.m., but I would rather have that than COVID-19. The cow costume will have to wait another year.
It seems that my only candidate for love this year will be Hannibal Lector.
Maybe it's meant to be. After all, my name is Clarise.
More on Halloween this year, from the Kaimin: