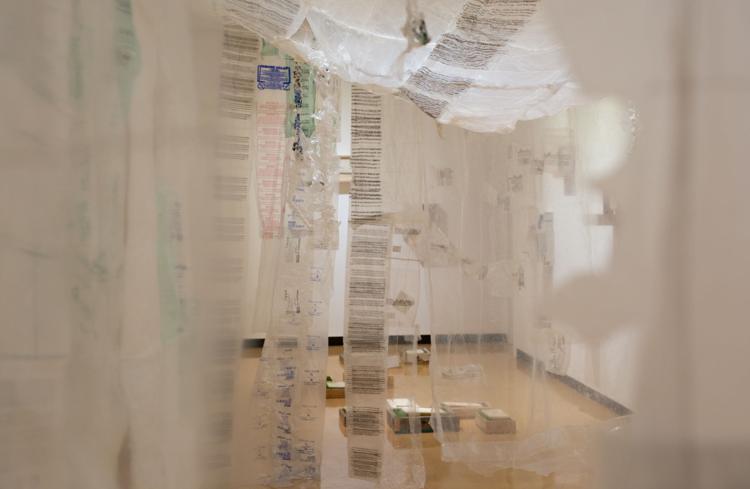 You're greeted with a sheet when you walk into the small gallery. It's not a plastic drop cloth for painting but it could easily be used as one. It's a quilt that was sewn together. And the material? A year's worth of post-consumer plastic.
UM artist Zoe Sykora's UC Gallery exhibit "One Year Later" examines the waste we produce and how trash can become something beautiful. 
According to a study by The Royal Statistical Society, 91% of plastic isn't recycled. That means by 2050, there will be 12 million tons of plastic waste in landfills.
Sykora saw how much plastic she was using firsthand working in retail and at Missoula's Good Food Store. Though a majority of the products at Good Food Store can be bought without traditional plastic packaging, Sykora said that it all has to arrive in something. She started collecting all of the plastic that would end up in a landfill and evaluating her own consumer habits.
Stepping through the plastic quilt, distorted light from two more plastic sheets wraps around you.
This is an in-between space. It feels distorting and slightly familiar. Sykora said this is intentional. She designed this small space to subconsciously remind visitors of the small space between the door of a grocery store and the rest of the store where people get their carts.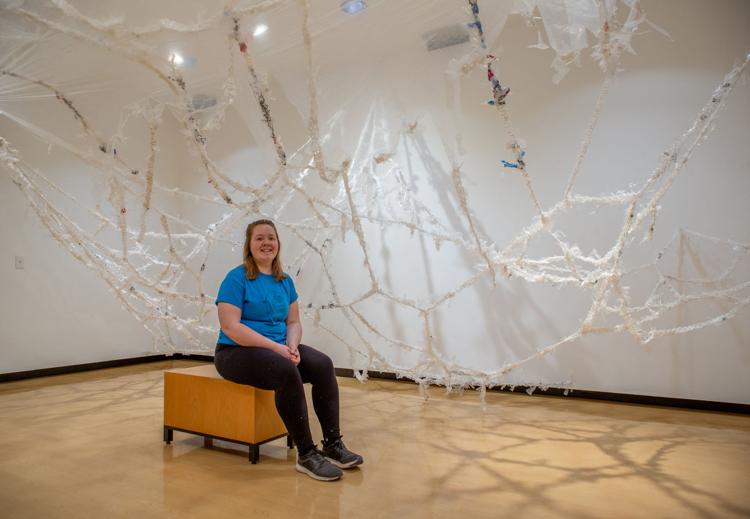 According to Waste Management Northwest, 100 billion plastic bags are used every year in the United States. Sykora started collecting a plastic bag full of plastic bags under her friends' sinks and decided to start using those as part of her post-consumer art practice. 
A giant web of plastic hovering over two benches greets you as you duck under plastic sheets. Sitting under this, and realizing what this is, feels disconcerting. This massive spiderweb is made of the plastic bags Sykora has been collecting. It's easy to see the bags you might have used in the past week. One bag only makes about four inches of the crocheted web, Sykora said. The web itself spans an entire wall and drapes up the ceiling. Let's just say this web required much more than a plastic bag full of bags to be the size it is.
Opposite the web is a 40- by 12-foot quilt of post-consumer plastic. This is where Sykora's other job, retail, comes in. She explains that whole shipments of shirts or other clothing items would come individually wrapped in their own plastic bag. Sykora would end a day of restocking the store she works at by taking home garbage bags full of plastic to prevent it from going into a landfill.
The quilt reaches up the wall of the gallery and over the roof to meet the web. This part on the ceiling also includes a large bag that Sykora's mattress came in. "There's really no way to reuse that," she said, shrugging.
You enter the last piece of the exhibit, a brightly-lit graveyard. Meat trays covered in felt with individual and unique laser-etched brands sit on growing grass plots. This is Sykora's version of a final resting place. Sykora, a vegetarian, was inspired by the meat industry's treatment of animals to transform typical meat trays, given to her by friends and adviser, into soft areas of rest.
To her, these meat trays represent so much more than a meal, they represent a life. The grass, grown over the course of a few weeks, was Sykora's way of showing all the things the caged animals didn't have in life, like a grassy wide-open area to live in.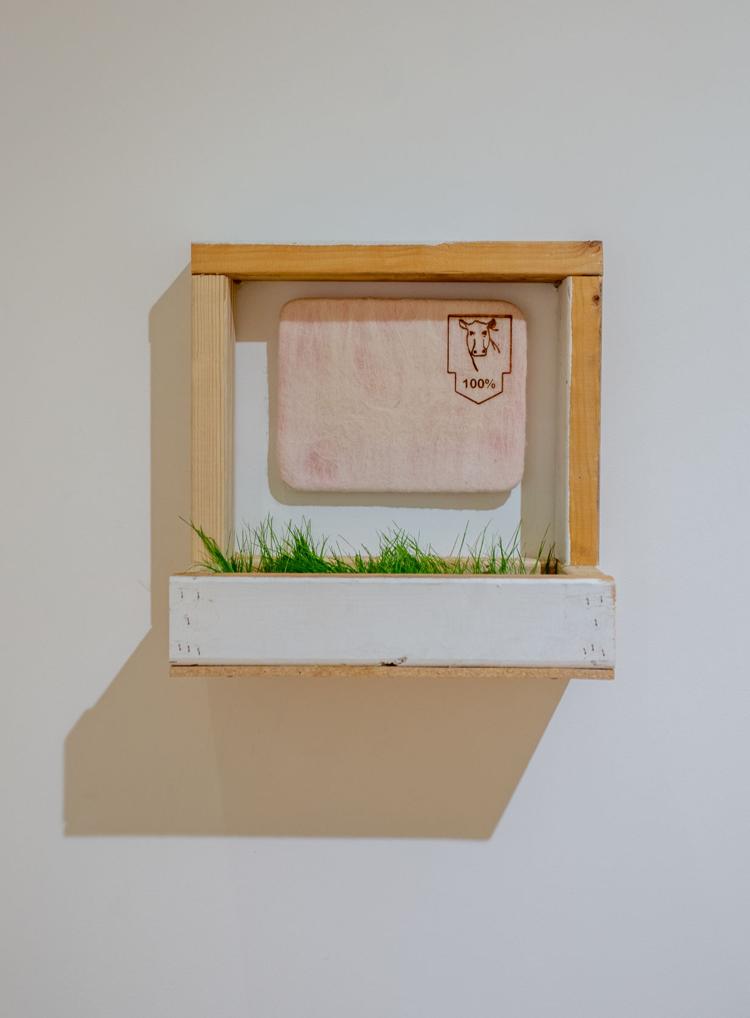 The gallery is not what Sykora's friend and fellow artist Erica Selby expected. Selby and Sykora spent long days in the studio together working on their own projects, giving Selby a detailed look at how Sykora was using post-consumer trash, including her own.
Selby and UM art professor Cathryn Mallory brought Sykora a fair amount of trash. This could be anything from newspaper sleeves to plastic bags to odd bits of plastic found on various pieces of packaging. 
Selby was expecting something more dystopian, not the airy matter-of-fact exhibit that Sykora ended up creating. When Sykora was growing her plots of grass with purple grow lights, Selby would enter into her studio jokingly asking, "Is this now like a nightclub?"
Sykora intends to keep using post-consumer waste in her art, as well as becoming more sustainable in her own practice. Whether that's picking up litter at a tailgate for an art piece that she's done, or using non-toxic materials, Sykora is trying to build an art practice that can make a difference in more ways than one.  
"One Year Later" will be on exhibit at the UC Gallery until Feb. 28. The Gallery is open from 10 a.m.- 4 p.m, Monday through Friday.