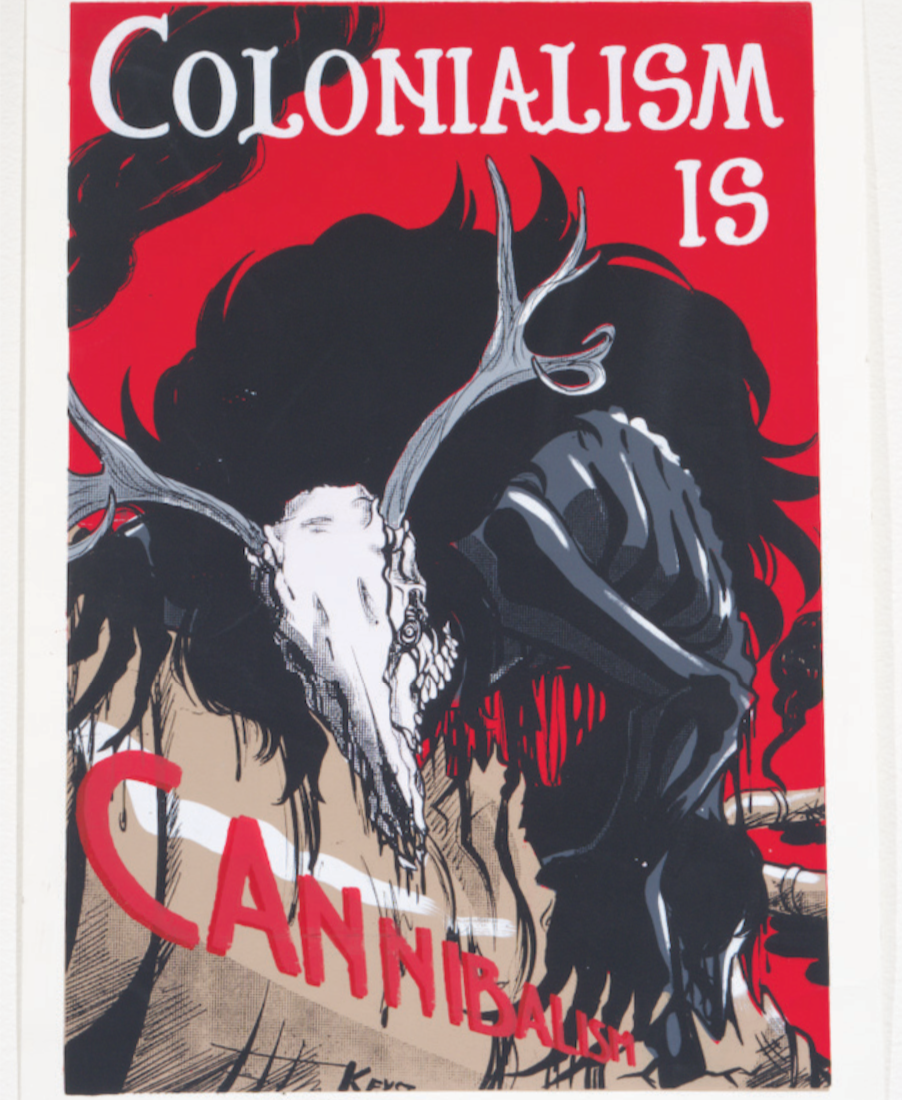 A simple stroke of a horse-hair brush can be an act of protest. Subtle clicks within an illustration suite can produce a form of resistance and power — especially in the midst of the previous, often controversial, presidential administration.  
Two UM students have used art to shed light on issues that became painfully apparent during the term of the last president. Now, with a new administration in place, Rhiannon Reddoor and Walter Medcraft want the messages behind their art to continue to radiate. 
Issues such as immigration, gender and American identity have taken the country by storm in recent years. But something that isn't being addressed enough is the disrespect and destruction of Native American land, said Rhiannon Reddoor, a UM student and member of the Chippewa Cree Tribe, which is based on the  Rocky Boy's Indian Reservation.
Reddoor had a piece featured in the 26th Annual Juried Student Art Show. The art, which won first place, reads, "Colonialism is Cannibalism" with a picture of a dead, demon-like animal looking back at the viewer. The art focuses on the Keystone XL pipeline and its permit, granted as one of President Trump's executive orders. 
Other issues she wants to tackle are landback efforts (the reclamation of tribal lands by Indigenous peoples), and missing and murdered Indigenous people, which have become increasingly known issues in the recent years. 
"I've never directly referenced Trump. I don't really plan to," Reddoor said. "But issues I touch on are issues Trump has caused that face Native Americans."
Reddoor said there was definitely political art before, but now more eyes are turned on it because of the outrage Trump has caused during his term.
"I would say, whether it is positive or negative, Trump's face and everything about him is now this icon," Reddoor said. "If you show a picture of him now in a political piece, you kind of already know everything about the piece. Whether we like it or not, it's kind of like he is immortalized."  
Looking to the future, Reddoor said she is hopeful for the new administration and the work they have already done for the Native American community, though there is still a lot more that needs to be done. 
"We saw the [Keystone XL pipeline] permit get revoked again by Biden which is really good, that doesn't mean we're done. I am hopeful, but cautiously hopeful," Reddoor said. 
Kevin Bell, director of the School of Visual and Media Arts at UM, says cultural critique in art has been far stronger in the past four years than at any other time while he has been teaching. 
"The last president was a very energetically polarizing figure, so there are a number of students who were—and still are—wrestling with those issues," Bell said. "Art is always looking for something powerful and important and meaningful to say, and there has been no lack of possibilities in the last four years of that." 
Bell says he is curious how his students' art will shift now with a new administration in office and what will happen as the polarization of the last four years continues to echo and reverberate through our society. 
"I am constantly surprised by the students," Bell said. "I think some of them experienced a sort of sigh of relief that the chaotic, tumultuous years are over. The last four years have been a fantastic time to really expose and highlight some important issues in culture that we need to address, and I don't think that is going away."
On the fourth floor of the art building, a corner of the studio has a sign that reads, "Walter Medcraft's Art." The corner is scattered with old skateboards painted with faces, abstracted bodies and canvas stacked upon each other. At the center is a painting of an undead Donald Trump staring at the people who walk past it. 
Medcraft, a junior at UM, said the painting is a reference to the '80s dystopian horror movie "They Live," where the wealthy are revealed to be undead versions of themselves, indoctrinating onlookers to "obey and consume."
"I've never actually seen the movie," Medcraft laughed. 
The inspiration to focus more of his art on political and protest speech came to him in the past year. Medcraft said he felt a shift in his inspiration for pieces after the murder of George Floyd in Minneapolis, the twin city of his home, St. Paul.
"I painted pieces for the George Floyd memorial and left them there. I thought, 'This is what I should be doing,'" Medcraft said. 
Medcraft has painted or designed numerous amounts of protest art during his minor at UM, saying many were to make issues Trump brought to the nation continue to get recognition beyond the president's term.
"It really opened the country up, and I don't think these issues will ever stop without continued recognition,"  Medcraft said. 
Now that Trump's term is over, Medcraft says he wants to continue to paint pieces that have political or civil rights issues as the center of the piece. His latest Trump pieces will likely be the last of his painting of the president, he said.