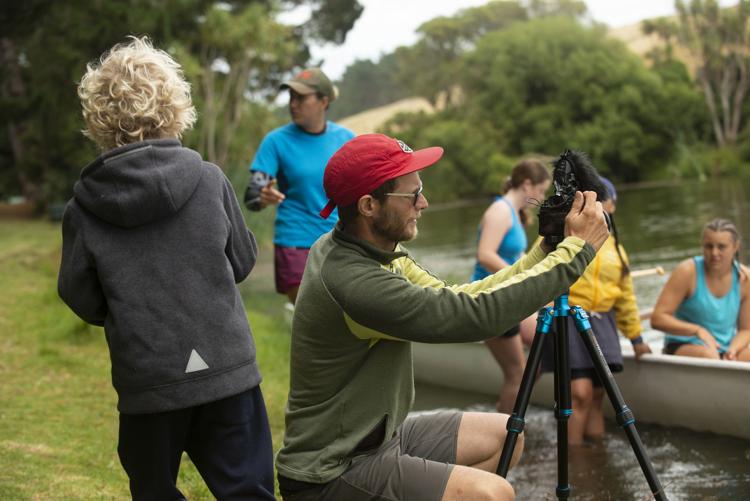 Through frigid nights shooting his award-winning documentary, one UM filmmaker said he sometimes found himself holding a baby cow in place of a camera.  
As the nights dragged on into the morning and he rushed back to campus for class, Jiakai Lou said he didn't even have time for a change of clothes.
"The funny thing was the students sitting around me. They sometimes looked at me weird because I smelled like a newborn calf," he said. 
Journalism senior Lou's film, "32 Below," is one of over 149 featured in this year's Big Sky Documentary Film Fest, which runs from Feb. 14 to 23. The 13-minute doc follows a family of ranchers through the calving season of the bone-chilling winter of 2019 as they fight to ensure the survival of each newborn.
Also representing the University in the festival is associate professor of journalism Jeremy Lurgio's film, "River Queens: Highlight My Strengths," which tells the tale of a waka ama (outrigger canoe) racing team of young Māori girls in New Zealand as they undergo three weeks of intensive training for the national championship.
Though the settings of a Montana ranch and a New Zealand river could hardly be more different, both filmmakers said they faced a similar challenge: overcoming cultural barriers.
"You feel like an outsider no matter what story you're dropping in on, and you hate to be that person that drops in, shoots, and leaves," said Lurgio.
Lou, who grew up in China, said he knows that feeling well. After pitching his idea for "32 Below" visiting Pollner professor Preston Gannaway's class, he recalled his first meeting with the Bignell family in the center of their sprawling ranch, 5 miles outside Helmville, Montana.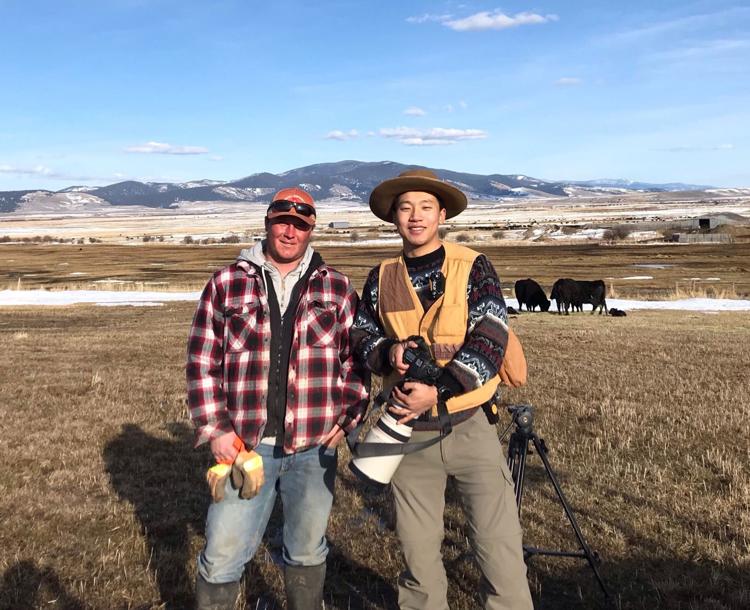 "Some were on horses, some in trucks, some on tractors," he said, smiling. "It was really dramatic."
Lou said he was drawn to Montana for its rustic culture and environment, but his lack of experience with ranching and his initially shaky grasp on the language proved to be big obstacles as he got to know the stoic ranchers.
Lurgio overcame his own cultural barrier by taking the time to learn as much as he could about each of the young athletes and their Māori culture, he said.
"I wanted to live and breathe. I was there for the morning trainings and breakfast routines, and I was there when they were playing games before going to bed," he said. "You have to gain their trust and build a relationship."
Lurgio said he stumbled across the River Queens' coach, Howard Hyland, in 2017 while he was in the island nation on sabbatical, reporting a story on a recent law granting the Whanganui river personhood. 
According to Lurgio, Hyland's coaching philosophy — and half of the film's title — stem from a Māori "whaukatuaki," or proverb, that says "highlight my strengths and my weaknesses will disappear." 
Lurgio said he hopes that audiences will walk away from "River Queens" with new motivation to seek out stories around them.
"There are a lot of amazing people in this world doing pretty unique and inspiring things," he said. "Hopefully, by showing them to viewers, we're all inspired to do a little bit better in our own lives."
As Lou assembled "32 Below," he says Lurgio provided crucial guidance and critiques that helped him whittle down the original 15-minute runtime. In fact, Lurgio was the one to suggest he enter the film in the first place.
Lurgio also urged him to try his luck in the Hearst Journalism Awards. Lou did, and "32 Below" came away with the top honor, beating out 87 competitors from around the nation, according to the Hearst Awards website.
It's also Lou's first documentary.
During the long nights he spent filming the calving process, he set up shop in the "C room," a section of the barn where cows unable to give birth to their calfs live were taken for a cesarean section.
"It was kind of like my temporary studio," Lou laughed. 
As a self-professed "one-man band," Lou said that making "32 Below" was a difficult undertaking. Between rushing back to campus for morning classes after Thursday overnights, smelling of blood and sweat, to truck slide-offs on tricky winter roads, Lou faced challenges that might have halted even seasoned filmmakers in their tracks.
Still, Lou's admiration for the grit of the Bignell ranchers far outshines his own pride. 
It seems the Bignell's reciprocate: they named one of the calves "JK" in his honor. 
"32 Below" and "River Queens: Highlight My Strengths" screen Sunday, Feb. 23 at 3:30 p.m. at the Wilma. Tickets are $7 for students and $10 for general admission.