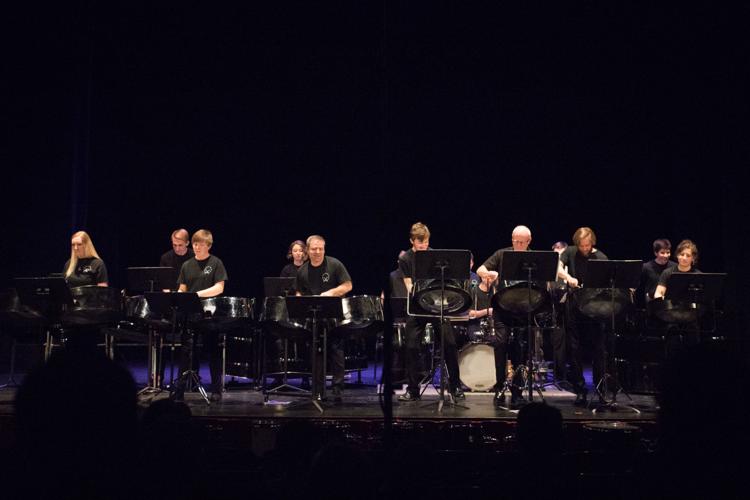 The glistening steel pans quieted and their players bowed and left the stage, but thunderous applause and a standing ovation from an audience 200 strong brought the Islanders Steel Band back for one more song.
Saturday evening, Dennison Theatre was transformed into a tropical getaway, and a partying vibe infected musicians and audience members alike.
"Everyone has a blast, and that's kind of what it's all about," said sophomore Willie Baltz.
The University of Montana's premier steel pan ensemble, the Islanders, closed out the 2020 Spring Percussion Concert in style, dancing and two-stepping onstage and leaving their audience wearing wide smiles. 
Behind the scenes, though, a lot of hard work goes into mastering the unique instruments, according to Baltz and other members.
Baltz, who could be seen front and center during the performance, dancing to the rhythms of "Pan Earthquake," said that when he joined the group as a percussion performance major in 2018, he didn't expect to become obsessed.
"It has such a rich history and it's a rich, beautiful sound," he said. "Put those two things together, and you have a recipe for something fun."
Steel pan aficionado Tom Berich, a recent addition to the group, is acquainted with that history. His background in the instrument runs deep. At West Virginia University he learned to play and tune under "father of the modern steel pan" Ellie Mannette. He's played in Trinidad and Tobago, the nation of the steel pan's origin, a total of three times.
According to Berich, the steel pan is the only acoustic instrument invented in the 20th century, when Trinidadian gangs began shaping the pans out of oil drums and playing in competitions known as "panoramas."
Berich said he knows exactly what makes steel pan bands like the Islanders so attractive.
"They're good to listen to, better to watch, even better to experience," Berich said, ticking each point off on his fingers. "Steel pans were invented to be exciting."
The Islanders formed at UM in the early '90s, courtesy of their current director, Robert LedBetter.
The longtime percussion professor, who arrived when UM had just three performance percussion majors, said he first played the pan as an undergrad at the University of Akron in Ohio in 1980. 
Just over a decade later, he purchased the first three pans for the group.
"I love steel drums," LedBetter said, "I still have my first pan I bought in '87." 
The steel pan ensemble quickly exploded in popularity, bringing a stellar new sound to the scene. 
"This is the '90s. You gotta remember the grunge rock, the mosh pits," LedBetter said. "When we would play concerts, people would be crowded up to the stage, dancing the whole time."
He added, "We could have dove into the audience, almost."
While LedBetter said concert atmospheres have become less manic, he knows the band is still a crowd favorite.
"People still love the sound," he said. "I do."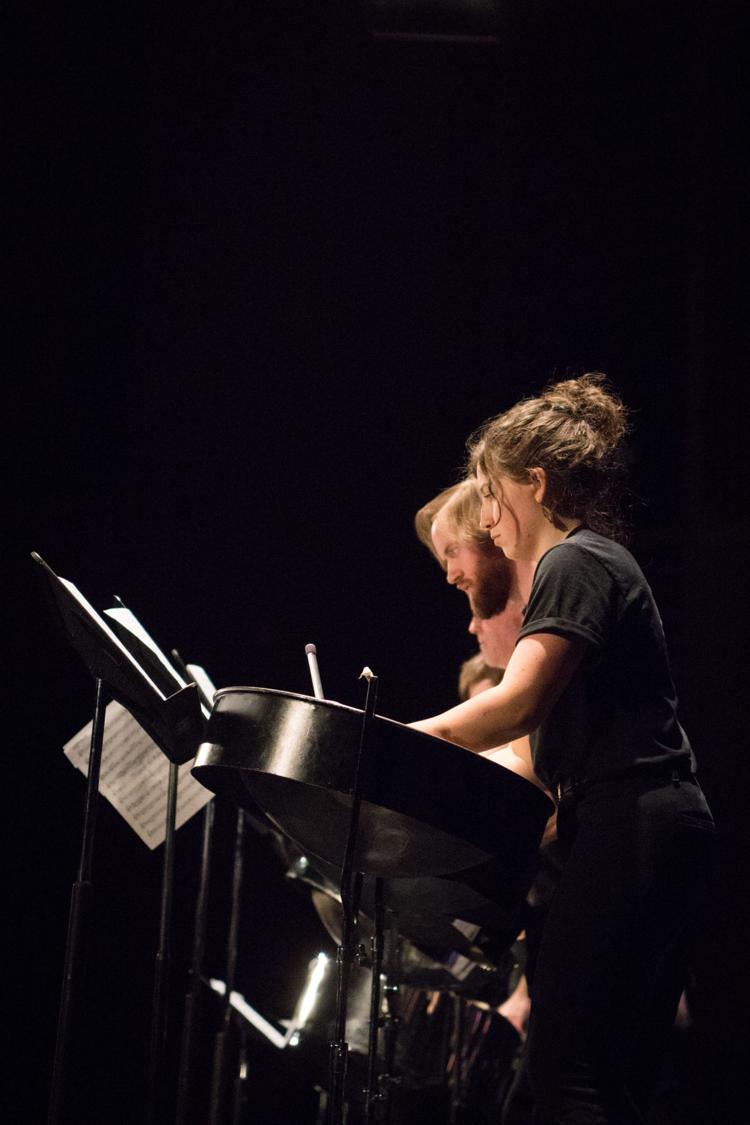 Senior percussion performance major Rosie Cerquone said she loves the sound too, but that didn't make learning the pan an easy task.
"It was so hard. I had these five-hour practice sessions just sitting with the drum, trying to figure out where the notes were on it," she said.
The steel pan is unique in its layout — Cerquone and Baltz both described an unusual spiral-shaped pattern of "dents" inside the dish.
Cerquone, who's played in the Islanders since her first semester, has obviously caught the steel pan bug. During their final song, she and a friend next to her broke out into a heel-tapping two-step. Why?
"That's the thing — there's no story behind it. As long as it's not affecting how you play, you're supposed to be having a blast when you play [pan]," Cerquone said. 
It seems like a universal steel pan truth.
"It's a moving sound," Baltz said. "It's hard not to move and dance around."
Even pan-laypeople agree. At the concert, Missoula resident Deb Gouert grooved in her sixth-row seat, grinning ear to ear.
"You can't help but dance," she said. "When you see the music move through their bodies, you can't help but move yours."
The Islanders will join other UM world music ensembles in the UM World Rhythms Concert on April 11 at Dennison Theatre.