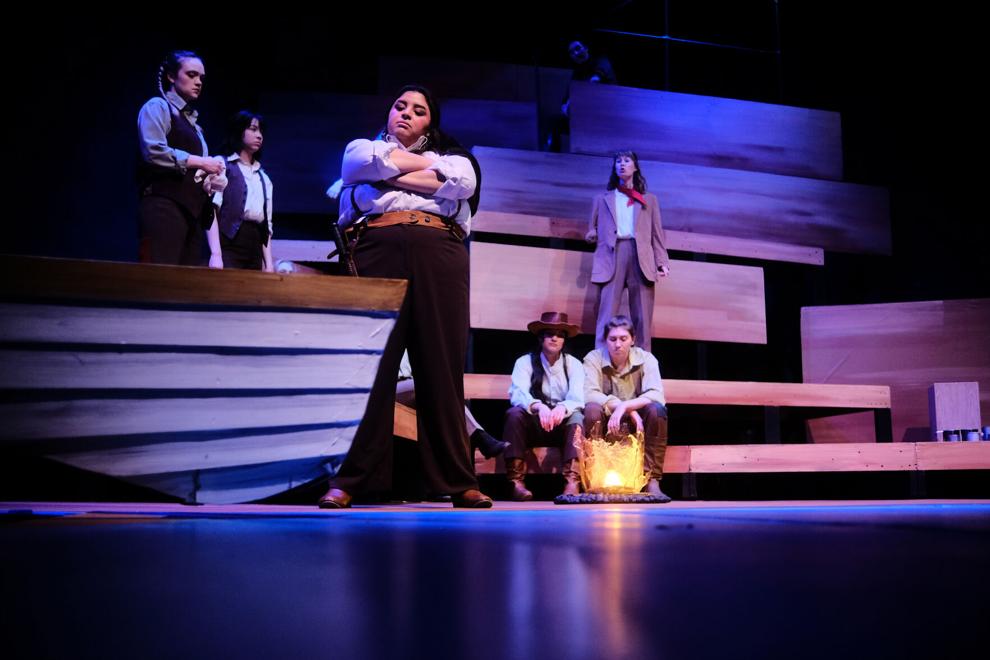 University of Montana student Jacob Christiansen captures the exhilarating adventure of a group of men mapping the Grand Canyon in "Men on Boats" with an all-female cast and one-of-a-kind stage execution. The play, written by Jaclyn Backhaus, is being put on by the UM School of Theater & Dance with a string of shows that maintain the original story while incorporating special elements exclusive to this UM experience. 
"The key feature of the play is all these dead white guys from history are played by women," Christiansen said. 
Christiansen, 28, is a graduate student in his second year of UM's Master of Fine Arts program, but has been involved in stage production for over two decades. He got his start acting for church skits in his hometown of Omaha, Nebraska, and has worked his way up through the ranks to stage directing.
"It's a big, rolling, comic adventure story," Christiansen said. "The characters are big, the situations are highly dangerous. I hope people walk out thinking it's something like they've never experienced before."
This historical story is about a group of men who navigate and map out the Grand Canyon after the Civil War for government. They face obstacles every step of the way, whether it's starvation or drowning, but demonstrate their tenacity and courage in the face of danger.  Backhaus wrote this male character play with the intention of them being played by female-identifying actors. 
Freshman Kai Lising takes great pride in being a part of the show. Lising is a journalism and theater double major from Great Falls, Montana, who plays Hall in her first UM production.
"I was really scared no one would like me but they were really inviting," Lising said. "They just wanted me to be myself, and what really helped is that over the course of the rehearsal process, we've developed these friendships. I think that the most exciting part was that I realized that I belonged."
Despite the learning curve of adapting high school theater experience to college, Lising feels at home in the theater and as the character Hall. 
"I think I bring a spontaneity to the role," she said. 
The thrill of stage production is something all members of "Men on Boats" share. Sophomore Laila Sisson, 19, is working towards a Bachelor of Fine Arts in theater design and technology, and is the stage manager for "Men on Boats." She started acting in her hometown of Colorado Springs, Colorado, and utilizes her experience at UM.
"[My position] is not dissimilar to being a captain on a ship, except no one really knows you're the captain and they forget that you're doing it, so you're just like making it happen behind the scenes," Sisson said. 
The crew had to build four boats that could fit four to five people at a time. They also had to build a river and a canyon complete with animal sounds to bring the atmosphere of the great outdoors.
The premise and execution of "Men on Boats" is exciting in itself, but the subtextual elements allude to a deeper meaning.
"What I think this show is really about, is how we affect our world and our planet and how we can kinda claim this earth," Sisson said. "That is a powerful and potentially dangerous thing. Maybe we should consider that it's not for us to claim."