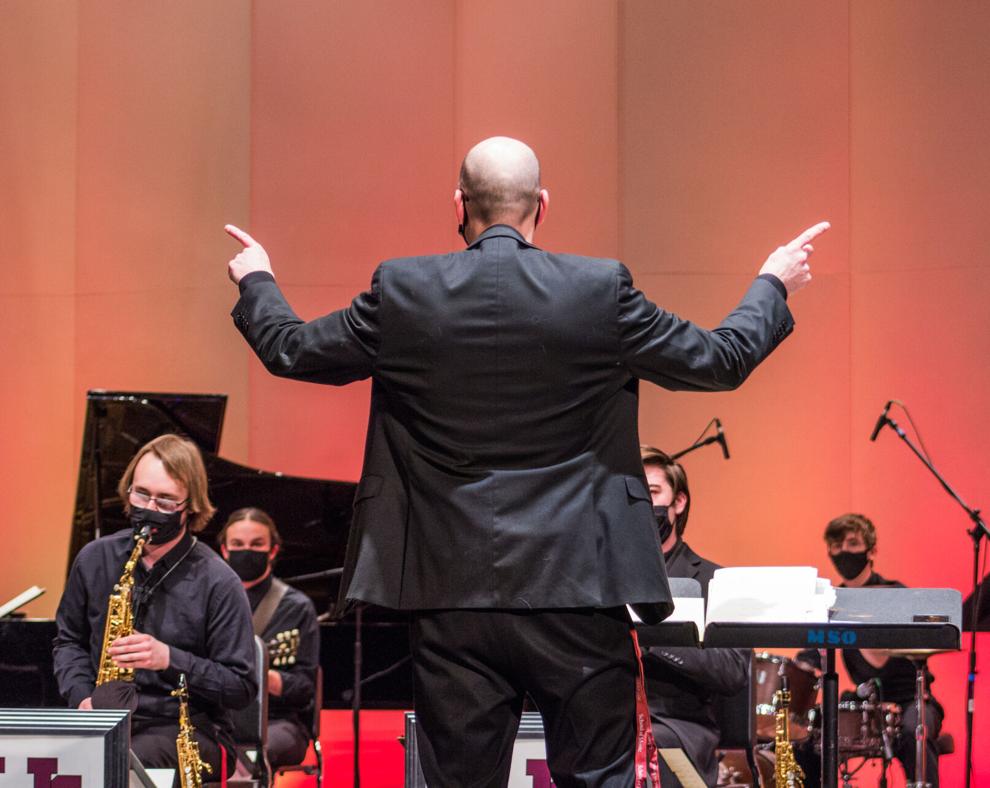 The rising crescendo of University of Montana School of Music students and faculty playing Sonny Rollins' "St. Thomas" fills the mostly vacant seats of George & Jane Dennison Theatre with the raw, relentless sound of hard bop jazz.
The tempo is fast, but the students and faculty take their time, backed by the chorus as they riff on their instruments for each allotted improvisation. While this is one of many senior UM music students' last concerts with the School of Music, it's one of their first few concerts playing with UM faculty. 
"I thought it was a really fun way to connect with faculty in ways that I'm usually unable to," said Aidan Robinson, a senior student saxophonist at UM. "We get so used to hearing them demonstrate for us and critique us that I often forget they are truly musicians at heart." 
Robinson is one of a handful of students and faculty who played in UM's jazz concert "Keepin' the Groove," an event tied to the University's month-long 41st annual Buddy DeFranco Jazz Festival. Like everything else, the festival had to revise its live concerts to virtual screenings. Rob Tapper, professor of trombone and festival director, said the festival usually features guest artists in several different shows. But because of the pandemic, they decided to use UM faculty for the concert instead. 
"We get to show off our faculty and also our top student musicians," Tapper said. "Which is pretty cool, considering the circumstances." 
The concert, which was livestreamed, featured a UM faculty sextet, two student-based Boyd jazz groups and a jazz ensemble. In total, the concert played nine songs, ranging from Miles Davis' catchy "Solar," to the big band sounds of Oscar Pettiford's "Tricotism." Each song featured at least a few solos, where both faculty and students got the chance to improvise. 
"It's a mainstay of jazz music that there's written, and there's improvisation," said Jeff Troxel, a guitarist and UM faculty member who played in the concert. 
Students also expressed their enthusiasm for the chance to improvise while playing some of their favorite songs. Andre Kragerer, a senior trumpet player at UM, says that he likes "making things up in the moment," especially for the big band sounds of songs like "St. Thomas." 
"I'm a big fan of the arranger [Bill Holman]," Kragerer said. "His approach to writing is super unique and very distinctive." 
But without a crowd, UM students and faculty said the experiences of their collective and solo performances are very different. Kyler Rebich, a UM student bass player, said that the excitement is somewhat lost without a live audience. 
"The adrenaline's kind of lost when you're only left with the thought that people are watching you," Rebich said. "It's different without a live audience because it also feels empty." 
Tapper says that approximately 700 to 800 students visit campus for the event during a normal year to perform and be judged by clinicians. "Keepin' the Groove" is the only live performance streaming this year, but the festival consists of free video libraries of over 30 masterclass videos for middle school, high school and college-level musicians. 
The themes of these masterclasses, taught by both UM faculty and students, vary in regards to skill level and instruments — ranging from learning to play the advanced sax, to the ABCs of piano keys. 
Tapper says that in addition to these videos providing "spectacular jazz education," they can also bridge that connection to prospective UM music students. 
"Those videos are now up on YouTube forever," Tapper said. "So when prospective students are looking at faculty and other students, they're directed to this page where there are 30 videos of what we do and how we do it." 
The festival also lets middle school, high school and college-level musicians be judged by clinicians across the country via video streamings of rehearsals. Tapper said this is important for jazz education, and distinguishes UM's jazz festival from others. 
"There are a lot of schools doing jazz festivals in different ways, shapes or forms," Tapper said. "But the fact that we're doing the personal touch with the clinicians Zooming into the rehearsals from all across the country is definitely unique." 
While this concert is the only live concert streaming for the festival, Tapper said he's happy with the results of the performance — especially since it's keeping the groove of classic and big band jazz going during the pandemic.