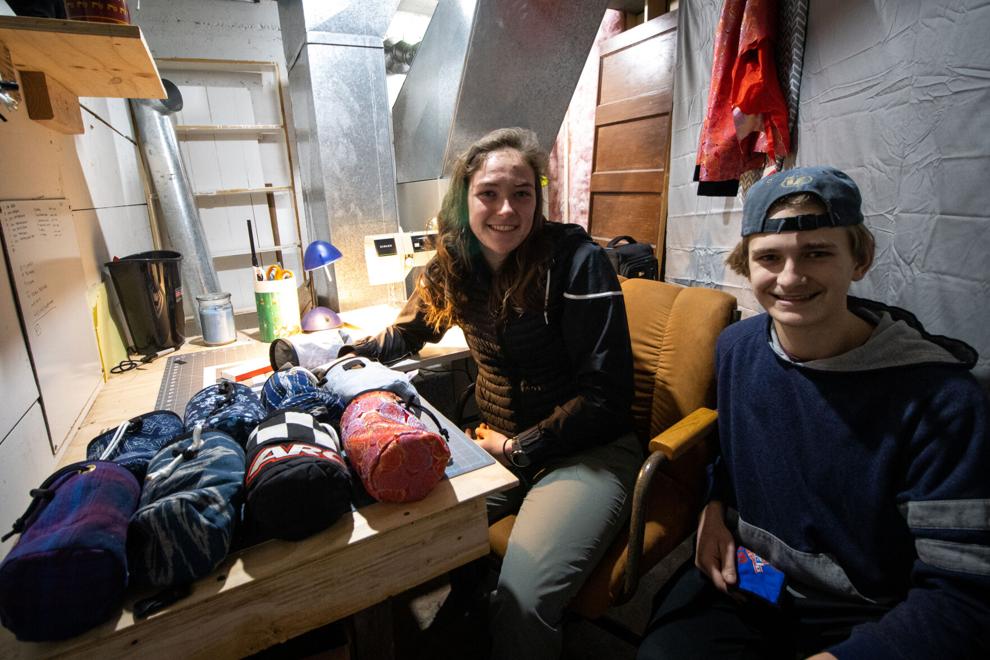 UM students Nate Barton and Carly Dahms sit huddled in the corner near the heater of Barton's basement, dripping with sweat. 
"It gets hot, it gets really hot," Dahms said, laughing.
They have spent the last 35 minutes creating another chalk bag for the company they co-founded, Beta Sprayer.
"We were watching this climbing movie and the guys climbing in Yosemite had super dope shirts with matching chalk bags and we were like 'shit, why don't we make climbing bags out of shirts?' because there are a bunch of cool designs on shirts," said Barton.
Dahms and Barton started making climbing bags out of their basement to satiate three goals they had: To become more eco-friendly, to practice their sewing skills and to supply their skills for the sport they love. 
Dahms and Barton aren't like the typical Silicon Valley types associated with startup businesses. Dahms majors in environmental studies and economics while Barton is a biology major. 
According to the World Economic Forum, the fashion production industry is responsible for 10% of the world's annual carbon emissions and is the second-highest consumer of the world's water supply.
Dahms said they wanted to give new life and purpose to used clothing that people would not normally buy. They get their material from local thrift shops or old clothing they have that they think deserves a second life. 
"We aren't doing this to save the planet, but the reality is there is a lot of cool fabric out there that goes to waste," Barton said. 
Creating Beta Sprayer, they said, was also a way to showcase their sewing skills to create a local product that climbers in Missoula and at UM can use. Over winter break, the seedling idea grew into a reality.
"At home, my mom has a sewing machine — and with COVID-19, over winter break there was a lot of free time, so I just learned how to sew and it progressed from there," Barton said.
When asked how many customers they had, both laughed. 
"How many people have visited the website though," laughed Dahms looking over at Barton.
"We're talking to climbing gyms and trying to sell them to people we don't know," Barton joked. 
The duo can count the number of customers they've had with their fingers. Right now, it's mostly word-of-mouth and their social media presence that is bringing in clients. But they are working toward bigger goals.
Jake Lamb, a junior at UM, is one of the first customers of Beta Sprayer. He said the thing that sets them apart from other chalk bags is that they're local and eco-friendly. 
"When I first caught wind of Beta Sprayer chalk bags, I was instantly intrigued and reached out to the people behind the innovative bags. I take great pride in doing my part in trying to minimize my impact on the environment," Lamb said in a text exchange.
Not only is the impact of the bag a big deal to him, but also the craftsmanship that went into it, said Lamb. 
"When I finally got my bag I was blown away. The personal craftsmanship that has created this bag shines above any bag I have climbed with before," Lamb said.
It takes about 25 to 35 minutes to produce each bag, and each sells for around $30. The typical big climbing brands such as Black Diamond bags go for around $23, and the ORGANIC brand bag goes for $25.
When Dahms and Barton first started, they were just messing around with fabric laying around the house. They hope in the near future to make custom bags. 
The duo is proud of their products and hope to help people in Missoula keep their environmental impact low, and to shop local.
Dahm's and Barton's bags can be found at betasprayer.com