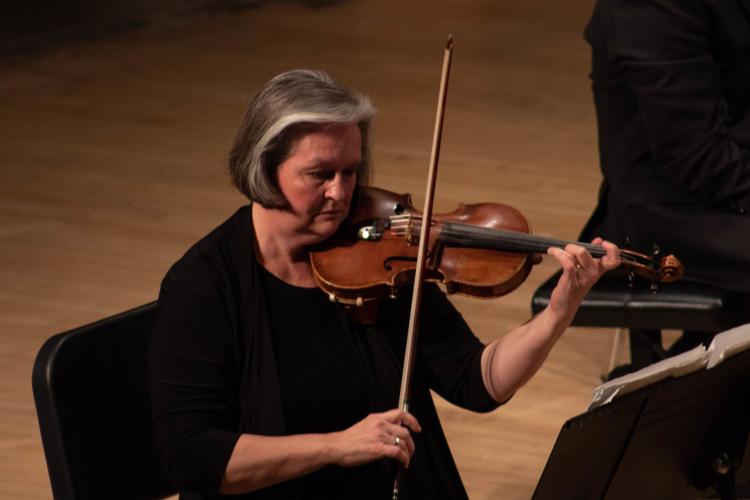 Snowflakes drifted softly through a small, rectangular window over her shoulder. Sipping from a mug covered in music notes, UM's professor of violin and viola recounted a moment that seemed better suited to Indiana Jones than a bright-eyed musician.
"We hid our instruments under our skirts. We were just trusting everything would go smoothly," Margaret Baldridge said.
That was nearly 14 years ago, at a border crossing from Bahrain into Saudi Arabia. Baldridge, the two others in her trio and a Bahraini public affairs official sat tightly packed in the Kevlar seats of the armored vehicle. Scuffing from bullets marked the sides and windows of the vehicle, signs of the region's instability at the time.
Somehow, Baldridge kept her cool. She said she was only "a little" nervous.
"It was just all a big adventure," she said. "We were probably pretty naïve."
When she's not traveling the world with the Sapphire Trio, Baldridge teaches violin and viola at UM. Since she came to the University in 1992, she's adopted many roles inside the School of Music and beyond, from concertmaster of the Missoula Symphony to leader of the String Orchestra of the Rockies.
"I'm really musically fulfilled with everything that I do," she said. "I don't feel like I'm done yet, even after 28 years."
Baldridge attended the Eastman School of Music, a prestigious conservatory in Rochester, New York. There, she remembered the dean asking her a pointed question: In 25 years, where did she want to be?
"I said, 'I want to be teaching all ages of people, I want to be playing in a local symphony, and I want to be playing chamber music and solo repertoire,'" she recalled. "And here I am doing all of that."
Lea Tonnerre, a third-year physics major, has been one of Baldridge's students since her junior year of high school.
"Funny enough, she can come off as intimidating to people who don't know her," Tonnerre said. "But she's really sweet — a bit of a mother figure."
Baldridge forges relationships with her students that go far beyond the classroom or concert hall. Tonnerre said she's been to several gatherings at Baldridge's house, making Christmas cookies and socializing. 
With graduation fast approaching, Tonnerre said she's considering staying in Missoula for graduate school so she doesn't have to think about leaving her teacher behind.
"I don't want to," she said with a pained smile. "I really don't want to."
Baldridge said Missoula quickly became home when she arrived after receiving her doctorate. But that didn't dissuade her from the occasional adventure outside the states.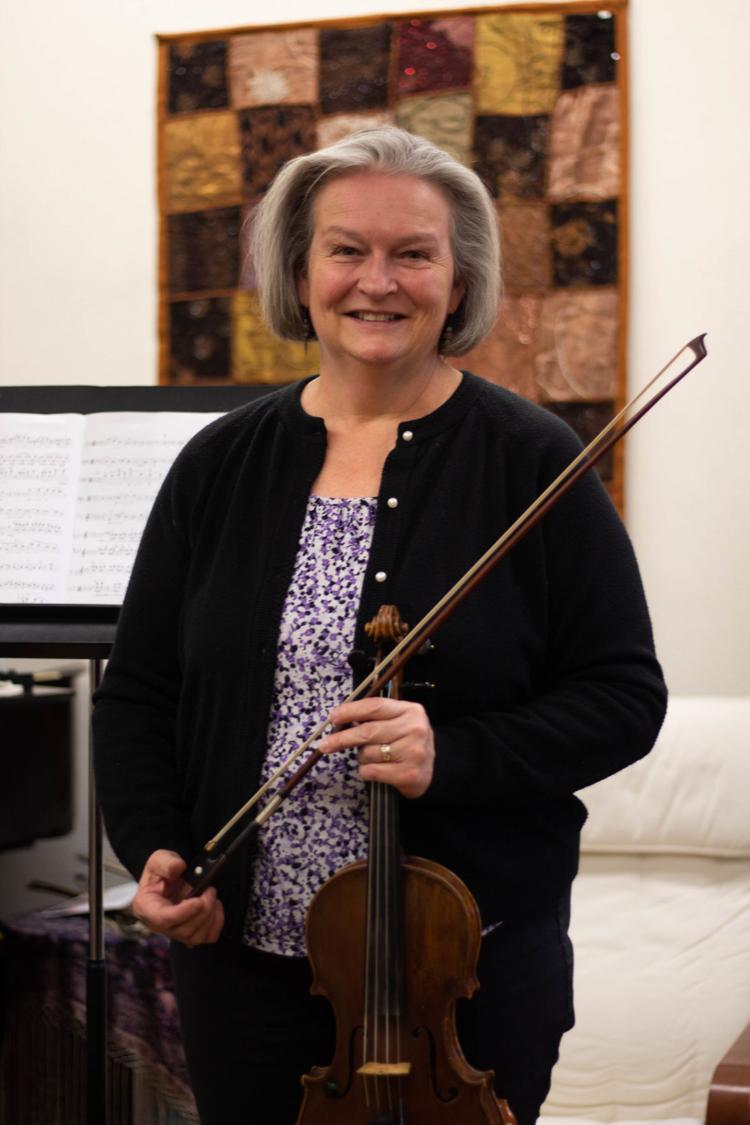 The scene at the Saudi Arabia border crossing played out in May 2006 during a U.S. State Department-funded cultural exchange tour of several Persian Gulf countries. 
Why all the secrecy? In the religiously conservative Saudi Arabia, Western music was highly frowned upon — especially when played by female musicians. 
"Everything we did there was illegal," said Maxine Ramey, recently retired Director of the School of Music. 
Ramey has played clarinet in the Sapphire Trio for 22 years and was with Baldridge on the Persian Gulf tour.
One performance in Saudi Arabia was held exclusively for women, who were able to remove their burqas, listen and socialize during the covert "cultural exchange."
Ramey said that Baldrige was the group's key to making connections, no matter where they went.
"She's such a warm, engaging person," Ramey said. "I don't think Margaret realized the impact she had at the time."
One particular concert in Bahrain held a moment Baldridge considers a highlight of her life.
Before the trio began playing, Baldridge noticed a glaring Bahraini man sitting in the audience, arms firmly crossed. Afterwards he pulled the U.S. ambassador down by his tie.
"He said, 'This is the kind of American you need to be sending over, not your soldiers,'" Baldridge said. 
Admittedly, not all of Baldridge's concerts are as dangerous and thrilling. In a recent Montana Chamber Music concert, she helped bring to life "Quartet for the End of Time." The piece's composer, Frenchman Olivier Messiaen, wrote it while imprisoned in a Nazi prisoner-of-war camp. 
Messiaen struck up an unlikely friendship with a German guard in the prison, who provided Messiaen with paper, pencils and erasers while he composed.
It seems, like Messiaen, Baldridge recognizes the power of music to bring people together.
"The connection that you make with a person you don't know, just through music — you can touch people's souls with that. You find that people are more the same than different," Baldridge said.