+3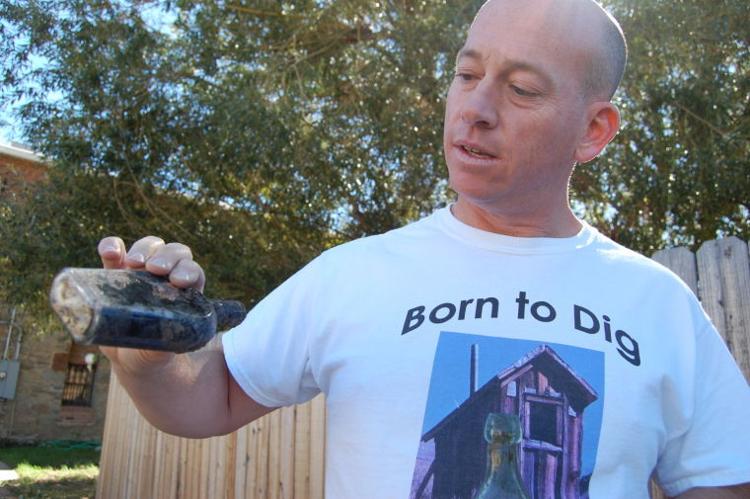 After the fourth ring it's clear Reggie Shoeman is deep in his work, so you'll have to leave a message.
They dig, buy and sell — that is, they dig in outhouses, hunting for the antique bottles they sell and buy.
They are the Outhouse Patrol — two men dedicated to finding the really lost treasures of Montana.  
***
The track hoe shook to life behind the old Windsor Bar in Boulder, Mont., as Reggie Shoeman and his partner James Campiglia began another hunt — visions of a rare Binder glass bottle from 1860 on their minds.
Reggie's Great Dane, Duke, sat in their yellow-orange home on wheels with his head out the driver's window, loyally watching the men at work. Images of some of the crew's greatest finds are plastered on all sides of the camper: a blue bottle with poison in large lettering, a line of bottles from the 1800s varying in color and size.
The camper itself can draw quite a few hollers on the road.
But why look for these valuables in the shitter?
+3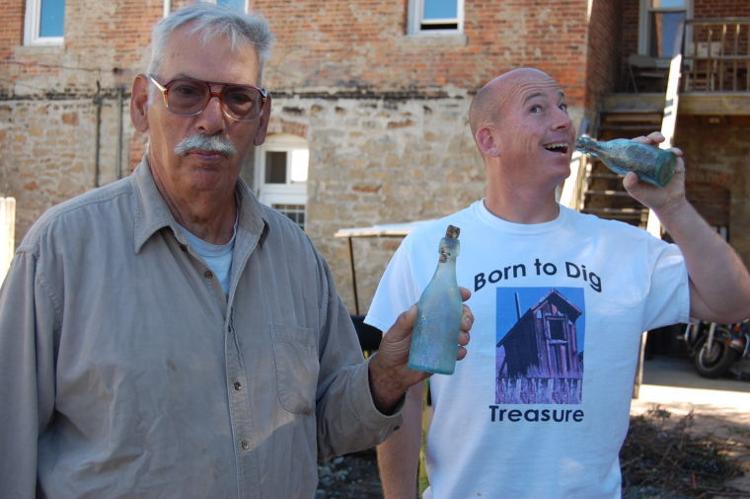 Well, in the days before organized trash pickup the outhouse was the dump that was always open.
Often town members needed to get rid of trash. Little did they know they were protecting relics of their day in, well, soft layers of poo. And sometimes there is the item or two dropped in by accident. And other times there is a marble tombstone from 1862. Your guess is as good as Reggie's on that one.
The Patrol met in Las Vegas at a glass bottle club. James was ten at the time and greatly influenced by his grandmother's fascination for antique bottles. Reggie was sucked into the hobby by a friend and never left it.
As for when the team officially became a business, Reggie can only ballpark, "at least ten years ago."
They've dug on old farming properties outside Belgrade, behind old businesses in Butte and even on the five-year-old explosion site in Bozeman.
"We don't find a bottle every day," James said as he looked over about 15 bottles found on their latest site, some with purple tints from the time spent below and others still dirt-covered.
+3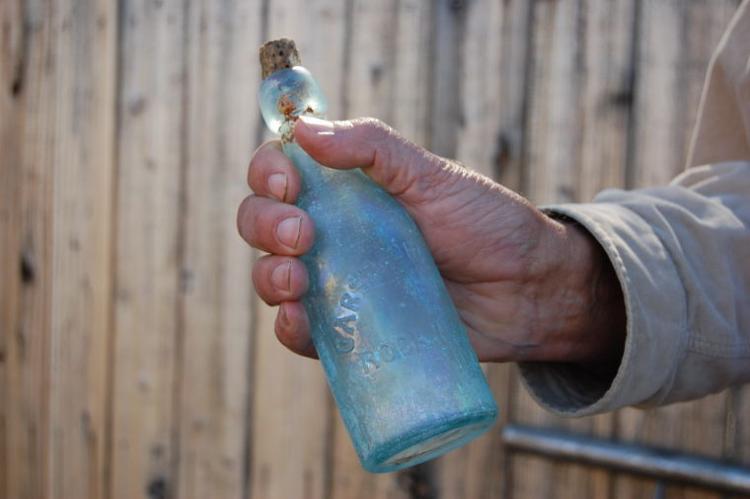 Reggie peered over their latest find, "We spit in the wind sometimes but there truly are bottles out there that will buy you a new car."
The income is enough to pay for gas, James said, but that's all they really need. They have found bottles worth hundreds, and one worth $1,000, though that went straight into James's collection.
This day, they have carved a hole 17 feet wide and 5 feet deep into Boulder's potty past, aside from the troublesome avalanche or two. James worked the track hoe and Reggie guided from the side, using his winding wooden cane to direct now and then.
They are working at the site of the original Windsor bar. A 1903 fire destroyed it and most of Boulder's Main Street. It was then that the Windsor's outhouse also went up in smoke. The bar and neighboring buildings were rebuilt, the outhouse relocated and the community continued with life as normal — but the soil behind Windsor, and its contents, remained.
Today those ground gave up drug bottles from a 1880's drug store that use to be down the street, whisky glasses, beer bottles, a hairbrush and two pairs of shoes.
Perhaps because of their unique approach to antique hunting, Reggie said their reputation has grown around Montana. Getting permission to dig, which was once a real challenge, is the easiest part these days.
"This is all I do, after 70 years I'm just the same idiot I ever was," Reggie said as he walked towards his home, "Or maybe not — one day we were real stupid and then when we found some good stuff we suddenly became brilliant."