You hear it before you step into the darkly-lit shop that sells bike parts and as you buy a ticket from a smiling girl blocking off a hallway. You try to communicate over the pounding music, but it's almost impossible, so you just smile and point toward the back.
Enter the mob. A girl with questionable Bantu knots in a cheetah costume slides around the wooden floor, grabbing onto the people around her, dancing with everyone she sees.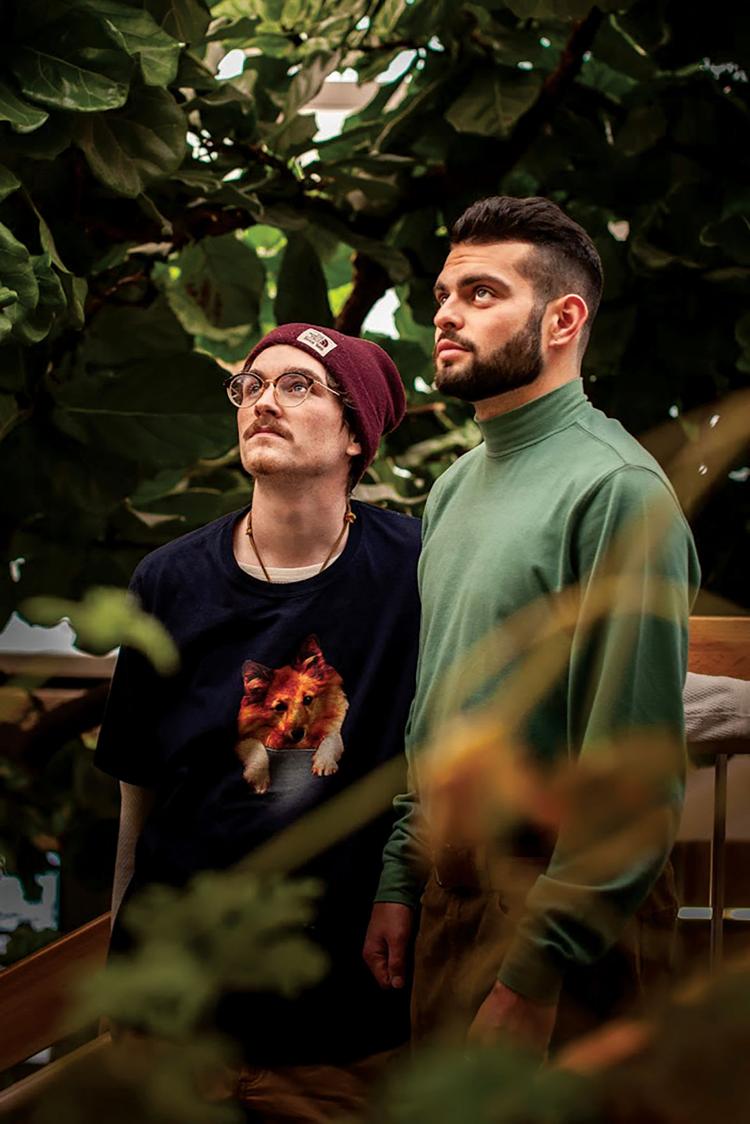 You see a trombone player in a hot dog costume and a singer with tiger face paint. 
You merge into the crowd, pushing your way to the front. People let you through easily and swing you around as you walk. Everyone is smiling like you're in on some secret. And maybe, in their minds, you are.
This is The Fertile Crescent playing Free Cycles in December 2019. You see the group and you dance to its music without ever knowing just how bright its future is. You would never guess how many hiatuses the group has taken or how many people have walked through its revolving door. You wouldn't know that its members were in the middle of producing a professionally mixed-and-mastered album or talking about touring. You just know they're good and you like them. And that is enough. 

SPRING  '18
Kyle Curtis was still a freshman at the University of Montana. Along with taking the usual steps (staying up all night, dating, finding people who get you and who haven't known you your whole life), Curtis decided to tack on starting a band.
Plenty of college kids do, after all. They haul in their high school instruments, maybe getting new ones and teach themselves to play guitar or bass, jamming with other OK-ish college musicians. But Curtis didn't want to start just another college wannabe band.
He grabbed some friends — all music majors. Ross Strauser brought a saxophone to practice, Cameron Kinney played guitar and James Standish had a trombone. Curtis played guitar and sang. He called the jam session group Bird Island, and it was simple.
It was the first iteration of what would become The Fertile Crescent, the jazzy, quirky, huge band that's gone from playing in basements to the biggest stages in Missoula.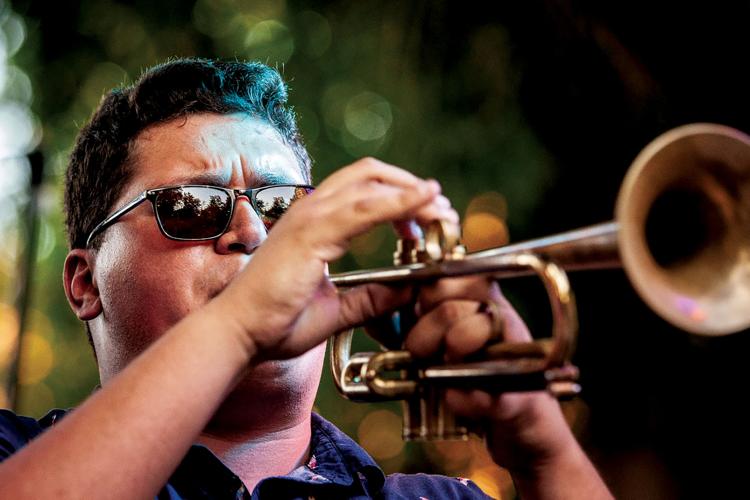 But back then it was just a kid sitting around with some friends, brainstorming what it would be like to be in a real band. Except this one added a horn section and nine other people.
Bird Island played its first, and only, show at Zootown Brew in 2018, right before everyone left for summer.
It took an intense amount of convincing by Curtis to get the show lined up on a day that wasn't First Friday, a Missoula staple based on supporting local artists. Usually, bands don't get to perform at a venue just because they want to. But luckily for everyone involved, Zootown took a shot on an unknown band. 
"I didn't see much of a future with that exact outfit," Curtis said. "I just wanted to see if it worked." It did, at least until the band went on hiatus for the summer and Curtis returned to Indiana the day after the show.

FALL  '18
Like a lot of bands destined for greatness, turnover sidelined Bird Island.
Time, college and other responsibilities took precedence over a set of drums and a keyboard. 
Turns out, the death of Bird Island was a great thing for the birth of The Fertile Crescent.
Zach Meyer walked into the band on the recommendation of the prior drummer. He wasn't a music major like the rest of them, but he'd been playing a lot, mostly with the University's marching and pep bands. 
"I didn't even know Zach until after he was in The Fertile Crescent," Curtis said.
Curtis and Meyer might not have known each other before becoming bandmates, but they were alike in the important ways: They understood what it was like to have a dream that seemed too big to imagine. They kept each other grounded without crushing passion.
This was during a phase where people came and went. 
Some of them had some thoughts about the name. "Some 'idiots' in the band decided Bird Island was a lame name," Curtis said.  
Curtis and Meyer told the story differently, interjecting with their own opinions of whose idea it was to change the name in the first place. Curtis described it like a mutiny; Meyer said Curtis was the one who brought it up.
Curtis said it was Strauser, the one with the sax, who first suggested the name change. Then came three other people who agreed, and then Bird Island was dead.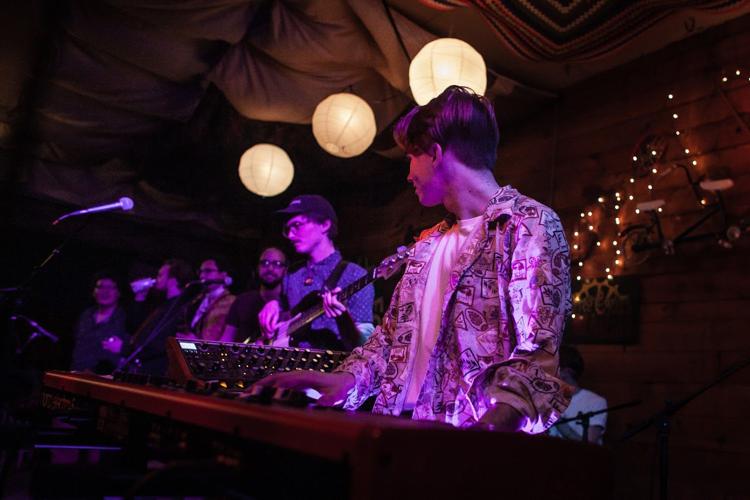 Curtis said he "dreamt of" having a band named The Fertile Crescent for a long time. He doesn't know when or how he came up with it, but it stuck, and the mystery and perceived legends of its vague, Middle-Eastern geography ended up influencing lyrics and the overall aesthetic. 
More members started to filter in, many recommended by members filtering out for various reasons, mostly related to college. The core group formed out of the shuffle, including former keyboard player and current trumpet staple, Andrew Kagerer.
Before the school year started, The Fertile Crescent booked a show on the top floor of the Union Club Bar through South Higgins Soul. 
Curtis said the show was a test run to see if the solidified band could pack a house.
"We thought the floor was gonna collapse," Curtis said.
That night it was clear The Fertile Crescent could draw distinct energy, that it might be something rare and magical. It was a starting-off point, but it was also the beginning of a second hiatus. Despite the packed house and adrenaline rush, people's commitment waned. The Fertile Crescent died for the rest of the semester.

WINTER  '18-'19
Curtis was back home in Indiana, thinking about what The Fertile Crescent could be and trying to figure out why the band stopped gigging. 
He remembered how it felt to stand on a stage in front of a packed crowd and started looking for places to book another show. He found a slot headlining at the Zootown Arts Community Center (ZACC). It wasn't quite as hard now that Curtis was a part of the tight-knit Missoula music community. Plus, he knew people who knew people.The Fertile Crescent put a set together, rehearsed a couple times, and Curtis invited what seemed to be everyone in Missoula to a Facebook event for the show.
It was another packed house.
If it's hard to believe that a band can pack venue after venue with very little rehearsal, consider it had a few things going for it. First, it's a big, big band with more than 10 members, each with a unique social network. Plus, there's the pull of the ZACC, which has been discovering and supporting musicians for years. 
The band was also made almost completely of music majors. They had a large reach in the School of Music, according to Meyer. 
"I would be surprised if a single music major right now couldn't tell you who The Fertile Crescent is," he said.
Flyers get plastered around the School of Music, whiteboards are written on, and word of mouth spreads. 
"We're in-your-face about it. We don't give you a choice. We make you know about us," said Meyer, a journalism major who spends a lot of time in the School of Music. 
The ZACC show in January 2018 was what established the band as an almost-professional outfit with a lot of pull in Missoula. 
A year later, The Fertile Crescent had begun to bloom into an absolute professional band. 
More and more talent wandered in until 12 people were trying to fit on the stage. Meyer finally convinced Curtis to stop adding every single person who was interested in the band, but not before securing Connor Racicot, keyboardist, and Rosie Cerquone, any and all percussion. Curtis and Meyer say they're two of the most talented musicians they've ever seen. 
Despite success, The Fertile Crescent continued its hiatus habit, taking a third break toward the end of spring semester 2019. Another exodus followed, dropping the final number of band members to the magic eight.
The band got tighter, Meyer said. It wasn't gigging much, but something special was happening. When the members realized that they were a part of something rare, they were willing to commit more and more of their time, energy and talent. A seed that could have easily died was now something much larger.

FALL  '19
Summer came and went. Students came back with their own motivations: graduating, making friends, getting out of their hometown. The Fertile Crescent came back with hype. 
A show in the backyard of a friend in the University District brought out over a hundred people in late August. People were impressed. They might have been more impressed if they knew the band had only rehearsed the day before, without essential musicians, including percussionist Cerquone.
With the eight members telling their friends to come to their show, and those friends telling more friends, word of mouth spread.
Occasional rehearsals turned into twice-weekly scheduled gigs. The band was writing originals.  Covers of jazzy classics became less and less common. The band bought a drum kit together, keeping it in the basement of Curtis' home. The members were fully committing to the idea of being a successful, motivated band.
This is when Curtis started using the phrase "perfect storm."
Before, scheduling and rehearsing was "literally a mess." But once you bring in the reality of a space and extraordinarily talented members, things start to get less messy.
A "small get-together" for Curtis' birthday turned into one of the biggest house shows in Missoula. Members of the band who are also in UM's marching band "booked it home," said Meyer, who arrived to a crowd of people trying to see Missoula's latest musical extravaganza.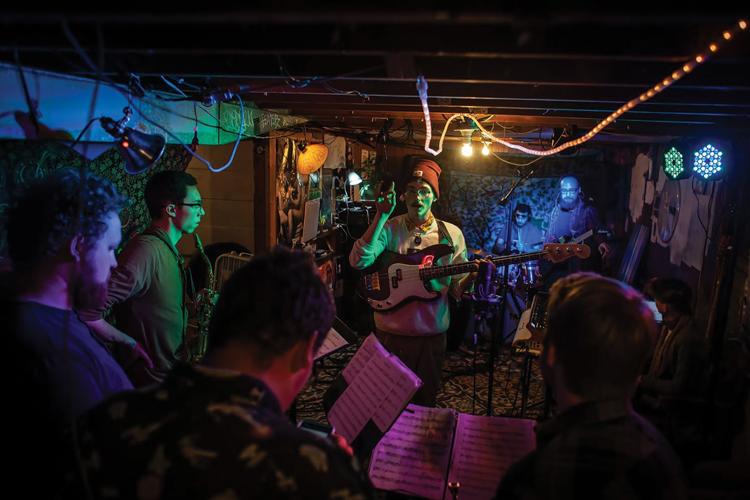 People crammed into the tiniest of basements, swaying and dancing to the music on the stairs. It was the first show pulled off with more than two rehearsals leading up to it.
Bandmates grooved while playing with each other. They smiled and laughed and joked. They nodded along to each other's successes. They took pride in each other and still do. They have fun.
A show with The Fertile Crescent is unlike anything else. People could have a whole ballroom and would still get as close together as possible. The energy the band radiates is that of a family, or at least the closest-knit group of friends. That energy radiates into the audience. People smile and dance with strangers. 
Curtis says The Fertile Crescent was always about having fun. And once the members locked in, it was about having fun and being dedicated. The band continued to rehearse twice a week, even without set gigs in its schedule. It was a leap of trust in the group's ability to succeed. Sure, it didn't have anything lined up in the short term, but it would. And it needed to be ready.
Rehearsing more than twice before a performance was, not-so-surprisingly, a good idea. The members no longer needed music stands and sheet music on stage. It no longer felt like people trying to remember something, it felt like knowing the music so deeply that they didn't need to think about it in technical terms anymore.
It was after their crazy popular house show in November 2019 that the members of The Fertile Crescent started working on an album in Curtis' basement-turned-rehearsal-space-turned-studio. They didn't gig at all for the month of October, spending all their time laying down tracks.
With eight members, the group had to be meticulous about what it needed. Members needed to record their own specific parts in the song until they got it right. And this wasn't just one song, it was a whole record. They started sharing, recording and rehearsing videos on The Fertile Crescent's Instagram. 
That's when Jacob Summers came in.
Summers, also known as the musician Avid Dancer, had known drummer Zach Meyer through Instagram. They had met in 2017 at one of Avid Dancer's concerts, and Meyer kept Summers up on his progress as a musician, including his work with The Fertile Crescent.
According to Meyer, Summers was interested but not "that" interested. He said the Instagram direct message thread would be a plethora of messages from himself, then a one-sentence answer from Summers, and then the cycle would start over again.
It was only after Summers saw a rehearsal video that he became invested in the band.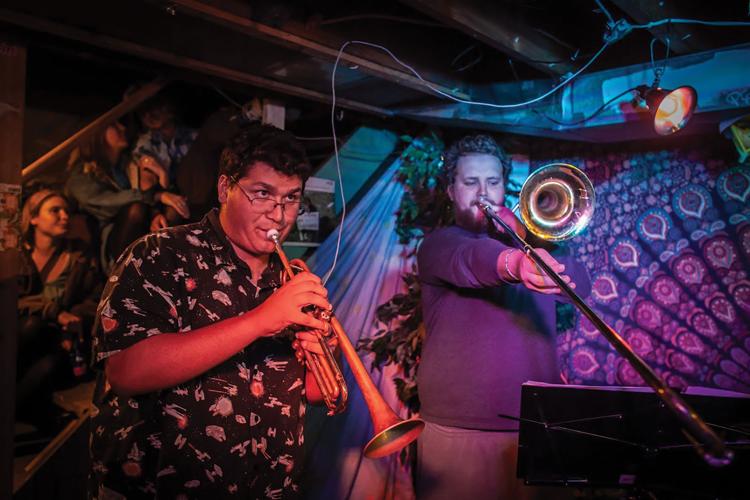 "I started to realize that they were actually pretty cool," Summers said. "I don't even know what genre their music is. All I know is that it sounded like stuff I like."
He messaged Meyer, and offered to step in as someone who had navigated the music industry.
It was a huge offer for people who were mainly busy being college students. Summers says he believes experienced musicians should step in and help people they think have promise.
He guided them on what to do, what to say, and offered to mix and master the band's upcoming single. He also offered to do it for free, without ever seeing the group perform live.
"Every time I see a video of them performing, it looks like people are either having a really good time or on molly," Summers said, laughing. 
According to him, getting people to come out to a show can be more of a battle than writing quality songs. As Avid Dancer, he has over a million streams on Spotify, but said he could never get people to come out. The Fertile Crescent can.
Summers sees a future for the band while also keeping its members grounded in reality. He started talking to them about a full-length album, publicists and a possible tour. He can see them touring with the likes of L.A.-based Mac DeMarco.
The band was becoming something bigger than itself.
When someone describes The Fertile Crescent, it's usually something along the lines of a jazzy big-band without the structure. Summers described it as a lo-fi indie band with some sort of soul-urban fusion. But it's still a "22 year-old college kid singing vocals."
Summers is dedicated to the band without envisioning a long future with them. He acknowledges that they might find someone else, someone they would even be willing to pay. But he'll do it for as long as they'll let him. 
The Fertile Crescent merch can be seen at any location in Missoula, whether that be Pie Hole or the public library. Stickers and homemade patches adorn the denim jackets and Hydroflasks of freshmen and others who might call themselves "hip."
But at the moment, The Fertile Crescent's music is only in people's heads, like an earworm they can't quite get rid of. Members get asked where people can stream their music.
Unlike most Missoula bands and other artists without a label, The Fertile Crescent isn't on Bandcamp. Fans could hear a song once and then not hear it for months, trying to piece together the melody and lyrics in their heads. The slow rise of a sax or a particularly good high note might play without them ever realizing who they're hearing. 
This isn't to say they're ghosts. The social media feed for The Fertile Crescent is a purple-toned experience. Someone might be able to find a short clip of a rehearsal or a close-up shot of an onion, but that's about it. There's a mystery in not knowing. To become a fan, someone would have to see the band to believe it. It's underground enough to make people feel cool about knowing the group, without the group actually being unpopular.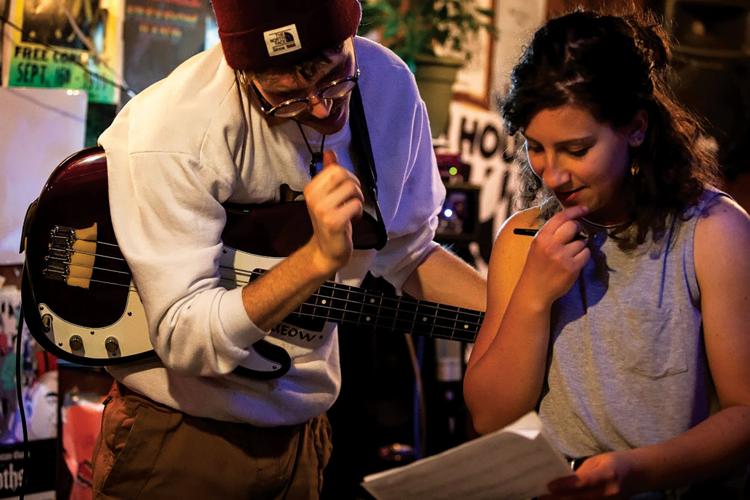 After the Free Cycles success, The Fertile Crescent scaled it back for a show at the University of Montana dining hall, the Food Zoo. It sounds weird to have a band that's blowing up play in a glorified cafeteria, but when someone steps back and sees the group for what it is, a student band making music for the masses, it feels comfortable.
Tables got pushed aside to make room for all the instruments. People perched on counters and crowded around buffet lines. Some brave, or strange, freshmen danced between the aisles. Parents took videos.
People were perplexed, yes. After all, it's not something the average Food Zoo patron would expect. Eat some lackluster food, take a break, leave. That's the way it goes. But live entertainment makes eating lackluster food slightly better. "My life is a movie," one student said, staring at the band with a mix of awe and utter confusion.

THE FUTURE
A "perfect storm" of happenstance, circumstance and hard work have led up to this moment, according to Curtis. A combination of the members, the manager and the drive has led to The Fertile Crescent growing to one of the most recognizable bands in Missoula.
The members aren't the only ones who think this. Talent scouts from Logjam Productions had been watching the Fertile Crescent since its show at the Union Ballroom. The band had almost been booked a few times, but nothing stuck. In fall of 2019, a talent scout came to a live recording but left after two songs.
By December, the band had been booked to headline at the Top Hat on Jan. 24, 2020, less than two years after it started performing.
This isn't a small feat. Logjam books the likes of Soccer Mommy, Vampire Weekend and Bon Iver. 
This Friday will be a big day for the band. In addition to the show at the Top Hat, it's also the day its single "Onion Garden" will release on all major streaming platforms. When The Fertile Crescent fans hear anything about a possible single release, the common response is: "Please tell me it's 'Onion Garden.'" This is the earworm. This is the song that makes people "look like they're on molly." 
And this time, The Fertile Crescent is not planning on another hiatus. A full album is slated to release on all major streaming platforms in late spring. The possibility of a tour hovers over the band. Oh, and the individual members? They're still going to school, with some graduating in the closer-than-they-think future.
Curtis may attribute the band's success to a "perfect storm," but it's so much more than that. It's rare for a group to come back after one hiatus, let alone three. This is a porous group that has had over 15 different members. And on top of that, these are college students. This isn't your cousin's dorm-room band. As the members say, "It's a friggin' revolution." 
---
 The Fertile Crescent performs live at the Top Hat on Jan. 24 at 10:15 p.m. Local Missoula bands Cleaning Crew and Writ Large open.
"Onion Garden" releases midnight January 24, 2020.