For the moment, it's still possible to be unaware of the tension on campus. Sports and classes have begun, students bike across the oval, albeit with face masks, and the student body is abuzz with the energy of a new semester in spite of the eerie, smoke-filled haze. 
But the students, staff and faculty who have kept informed about UMs budget and enrollment issues know there's turmoil and frustration boiling underneath. After years of speculation about what's to come, intermittent student and faculty protests and general anxiety, the process of downsizing UM's faculty and aligning its spending with its budget has begun in earnest. 
The administration made its first major cut to faculty when it sent 33 lecturers non-renewal notices last month saying they wouldn't be rehired in the spring. Those notices, which some faculty expected and others were genuinely surprised to receive, have hurt morale and put the budget crisis into personal terms. Many faculty can no longer count on having a job next semester, and students can no longer expect their studies to continue unaffected.
Kevin McManigal, a lecturer who teaches Geographic Information Systems and cartography in the geography department, said he feels exploited and betrayed by the administration, who promised the faculty union there would be no blanket cuts.
"Morale is down everywhere. I'm trying to stay positive for the students I have this semester, but at this point I don't believe a word anyone in the administration says. If it's not in writing, it means nothing to me."
While the faculty union negotiates with UM's administration to try to regain spring contracts for the lecturers, saying their termination is a breach of their contracts, students are taking matters into their own hands.
On Friday morning during UM's Welcome Feast, 11 students dressed in black paraded to the parking lot behind the University Center to unload homemade cardboard gravestones from the back of a Volvo. They carried a megaphone, books to use as weights to hold the headstones upright and a list of demands and grievances. Cameron Best, a UM alumnus and protest organizer, marched in the front of the group toward the Oval, carrying a larger sign with the words "Cemetery of Lost Professors" painted in black.
They wore black out of respect for the "dead." In this case, that meant lecturers who recently received non-renewal notices, as well as the professors who took buyouts or retired from UM over the summer. Other gravestones identified ideas and concepts  the students feel are dying as the University grapples with program prioritization, rising tuition, and the letting-go of professors: poetry, intellectual diversity, transparency, job security and responsible administration.
Rena Thiel, a 22-year-old philosophy major, wrote a eulogy she planned to read into the megaphone. When the group reached the Oval and began setting up the gravestones, two Welcome Feast organizers told them they couldn't use the megaphone outside of the University's free speech zone, which is between the UC and the library. The Oval was reserved for Welcome Feast, and KBGA had authority over the soundwaves.
Thiel walked over to two students manning the KBGA stage and asked them for a few minutes of stagetime. They complied and turned off their music so Thiel could deliver her eulogy.
"Dearly beloved," she yelled. "We are gathered here to say our goodbyes to the integrity, the accountability and the quality of our institution. We are gathered here to say our goodbyes to our beloved educators, so undervalued and disrespected by a job that actively sees them as expendable."
Some students approached the stage to listen to her words, but Welcome Feast continued, largely uninterrupted. Booths still handed out pamphlets and students still ate free food and signed up for clubs. From the other end of the Oval, it's possible no one realized anything unusual was going on.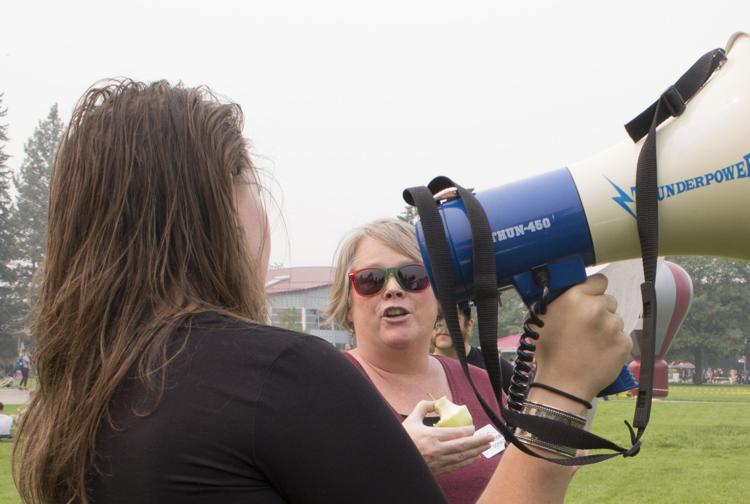 But to say the protest had no impact would be untrue. Students walked through the graveyard, pointing to the headstones of professors they knew. All 11 students dressed in mourning actively handed out literature and explained the protest to groups of approaching students. 
Some professors recognized their names on the headstones. Kevin McManigal laid in the grass beneath his headstone with his arms folded across his chest for a photo. He's taught at UM for six years and was surprised to receive the non-renewal letter, since he won the David B. Friend Memorial Award for Excellence in Teaching last spring, and had been promised a three-year contract and a raise.
"I thought I was pretty set, being teacher of the year and all," he said. "Guess again."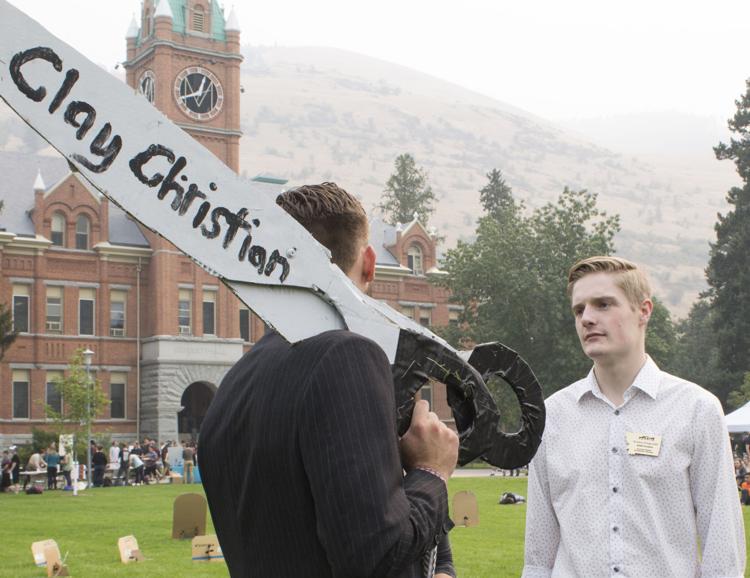 On the Oval, UM alum Cameron Best carried huge cardboard scissors with Commissioner of Higher Education Clayton Christian's name painted on the blades. The group's primary demand is for him to be replaced.
"We wanted students to come back to school to a realistic picture of what their University looks like," Best said. "What we want to do is actually confront the underlying problems here."
The students hope to unite others across campus who feel the same frustration. While there have been student and faculty protests of the program prioritization process throughout the past year, including a multiple-day occupation of the Oval last spring, the message has grown more urgent. The effects are more tangible now. By setting up the graveyard in the middle of the University's welcoming event, Best said it would be harder for the administration to ignore.
"We're trying to build a student movement that the administration is threatened by, in the sense that, you know if we have a student walkout, we want them to feel like they have to listen to us," he said. "Because they haven't."
 35 letters were originally sent, but UM is revoking two because the positions are paid for by private grants. After lecturers received those letters of non-renewal, the University Faculty Association filed a formal grievance against UM for violating employee contracts.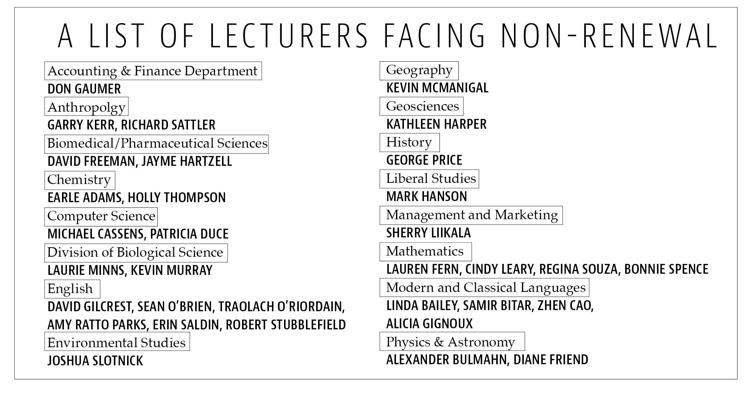 The grievance states that lecturer contracts must be year-long commitments, making it a violation to not rehire lecturers in the spring. Negotiations between the union and the administration are ongoing. Beyond the contract violation, the non-renewal letters show a lack of strategic thinking by the administration, said Lee Banville, UFA spokesperson and journalism professor.
"This is further indication that at the end of the day, they're going for what's easy instead of what's right," he said.
UM spokesperson Paula Short said the decision to send non-renewal letters to lecturers is completely separate from Academic Program and Administrative Services Prioritization recommendations for the university's program prioritization process. Conclusions about program prioritizations will be announced near the end of the year, she said, and those conclusions will decide how resources at UM will be reallocated, potentially resulting in cuts to entire programs.
Short did, however, confirm that lecturer contracts will be terminated so that the University has some "fiscal flexibility" for spring semester. According to a spokesperson from the Provost's office, UM would save approximately $600,000 plus $300,000 in benefits by not renewing any of the 33 lecturer contracts in the spring.
Many lecturers teach three or four classes a semester and some direct entire programs as well as student activities. Samir Bitar, for one, is a lecturer and one of two faculty in the Arabic languages and cultures program, which recently received the Andrew Heiskell Award for "Internationalizing the Campus" thanks to Bitar's efforts. 
Garry Kerr, a lecturer in the anthropology department, has regularly been voted a favorite among students. In 2016, he received the Margaret Mead Global Citizenship Award from the Center for Public Anthropology, an award less than 1 percent of anthropology faculty in North America receive.
Lecturers' roles on campus are different from those of adjuncts. Many have been here for years after being hired because they are experts in a subject nobody else in their department can teach. In some cases, losing a lecturer could mean losing a program.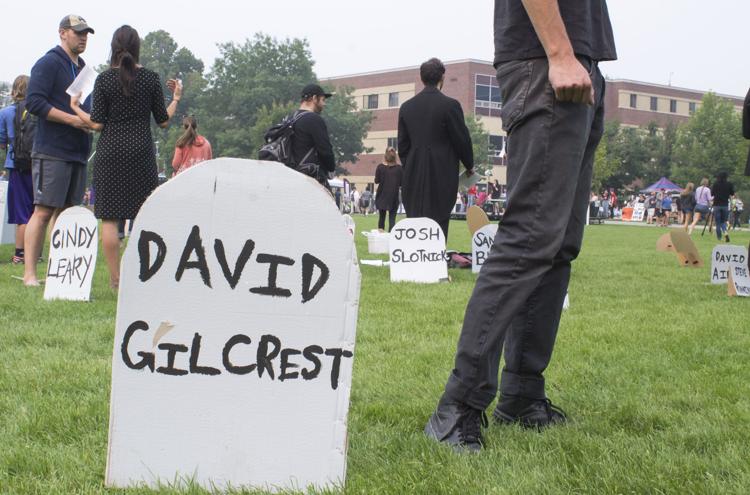 In the English department, lecturer David Gilcrest directs the literature and the environment program, which has been an option for students for about two years. Gilcrest, who has taught at UM for 14 years, is a UM alumnus, and sent one of his children to study here, said students from across the country move to Missoula for the unique literature and the environment program.
Since receiving his non-renewal letter in the mail, Gilcrest has had to consider what might happen to the program without him. With two other faculty in the department retiring after this year, he's concerned about its ability to survive.
"If people think that they can make dramatic cuts and eliminate programs and disrupt careers without it affecting students and student opportunities at the University of Montana, they are very confused," he said.
While the administration has said that some lecturers may be hired back in the spring, the letters make it clear that they need to make other plans.
"I, and we, have been told by the interim president that the school has no intention of giving us contracts for spring term," Gilcrest said. "I take her at her word, which means I have to now figure out what I can do besides teaching at the University of Montana because I have to pay my mortgage and get health insurance for my family. This is not a game. There are real lives, real careers at stake here. And that's what is infuriating about all this."
According to the collective bargaining agreement between the UFA and the Montana University System, terminations within a department are done in reverse order of seniority, meaning non-tenurable faculty like adjuncts and lecturers are the first to go.
"No tenured faculty member shall be terminated if non-tenured faculty members are retained in the same discipline to teach courses the tenured faculty member is qualified and capable of teaching," the agreement reads.
Gilcrest said it appears that lecturers are being terminated in case tenure-track and tenure positions need to be eliminated in the future, but he feels that the administration hasn't been clear enough about its motives and what eliminating lecturers mid-year will accomplish.
"I feel like there are games being played with my career that make me very cynical about the decisions that are being made about the University of Montana, because I am not a pawn. I put my heart into my department. I put my soul into the literature and environment program. And I just got a letter that said that they do not intend to employ me after December of this year."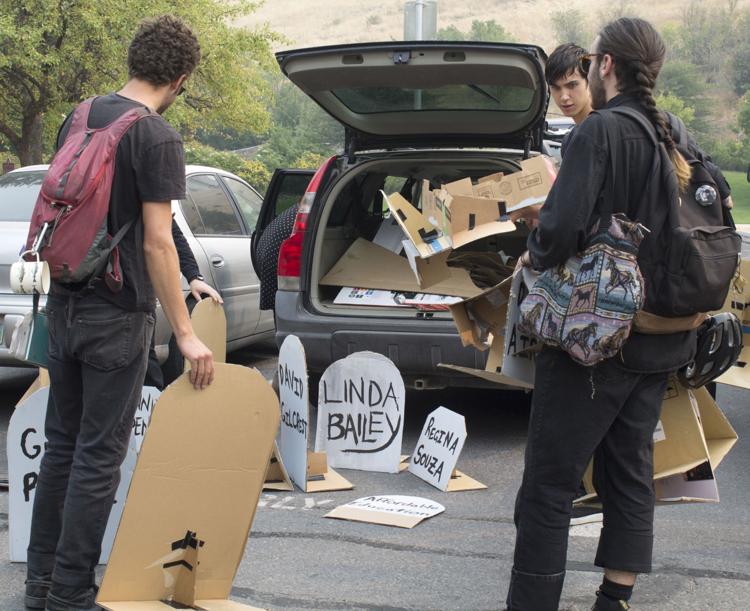 Gilcrest said he feels powerless against the administration's decision. While the faculty union is working to regain lecturer's spring contracts, it isn't yet clear whether those efforts will be effective. Gilcrest urged another group of people to speak up.
"Students do have the power at UM. If students only understood what is happening and what majors and programs are at risk here. I would like students to make their voices heard. I think they should contact the chairs of their departments and Provost Beverly Edmond and President Sheila Stearns.
"Whether that will do anything," he added, "I have no idea."
Robert Stubblefield, another lecturer in the English department who has worked at UM for 15 years, said he's trying to stay positive despite the uncertainty. Stubblefield is teaching four classes this semester, and he's also the faculty adviser for The Oval, UM's undergraduate literary magazine.
His writing classes are full, with waiting lists, he said. Like other lecturers, he teaches a large number of students and classes in his department so that tenured faculty can balance research with teaching.
"I think, speaking for myself and probably for the lecturers, we hope to be part of the solution to the challenges we're facing here," Stubblefield said. "I guess after so much uncertainty in the spring and the summer, it's nice to be back in the classroom with students. There's a lot of positive energy there."
The Oval literary magazine is a spring course, but Stubblefield and his students prepare and raise money for it in the fall. He doesn't know if he'll be here in the spring, or if The Oval could continue without him.
"It's very difficult to build and sustain activities such as The Oval on a semester-to-semester basis," Stubblefield said. "Our programs, publications and activities are framed on an academic year and dependent on that commitment from faculty and students to build and sustain momentum."
As negotiations between the administration and the faculty union unfold, the lecturers' futures at UM will become clear. If the union wins and lecturers are allowed to finish the academic year, the University will fall more into debt. If the administration gets its way, students will lose 33 faculty, putting at risk the programs they lead. The tombstones may have left the Oval for now, but what they represented hangs heavy over both faculty and the student body.