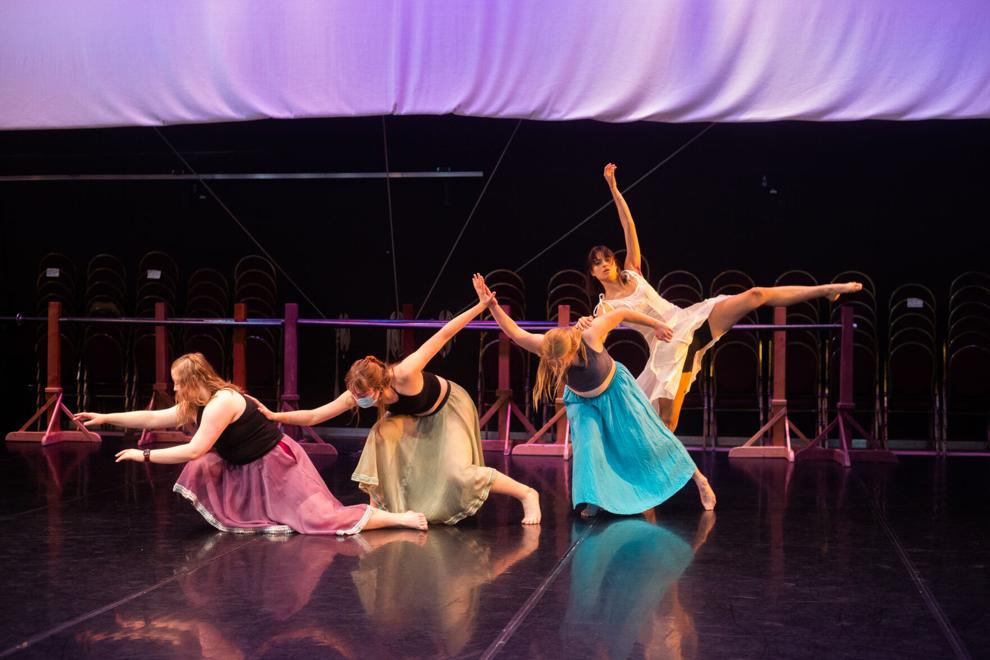 Julia Lauany Duarte sits pretzel-legged in front of dozens of University of Montana dancers in the Open Space, a dance studio in the basement of the PAR-TV building. 
Excitement and tension on this September evening hangs thicker in the air than the smell of hairspray and foundation powder. It's audition night. Junior and senior dance majors weave in and out, each casting their own pieces and auditioning for others' works. 
Duarte, 20, leans her whole body forward away from the mirrors and takes notes, adjusting her silver-rimmed glasses. She's a dance and art major from São Paulo, Brazil, casting for her junior project.
The dancers' bodies waltz, run, pant and sweat across the floor. The Open Space is brimming with energy, and among it all, Duarte simply sits smiling, focused and still — other than her head, which moves and bobs as if on a swivel.
At the end of the night, each choreographer introduces themselves. Again, Duarte smiles and tells the room that she is Brazilian and dances Afro-Brazilian dance. She explains that her piece will meld Afro-Brazilian dance influences with modern Western dance styles. 
When she finishes, she warns, with her bright, captivating eyes and in her sing-song voice: The dancers in her piece will have to work hard. In 94 days, the Open Space will transform into a stage for Dance Underground, the semester's highly-anticipated production. 
Her piece has been "a long time coming," Duarte says. But it never felt like the right time to present it, until now. She's choreographed before. But she hasn't choreographed anything quite like this with students her age. And that comes with its own set of challenges.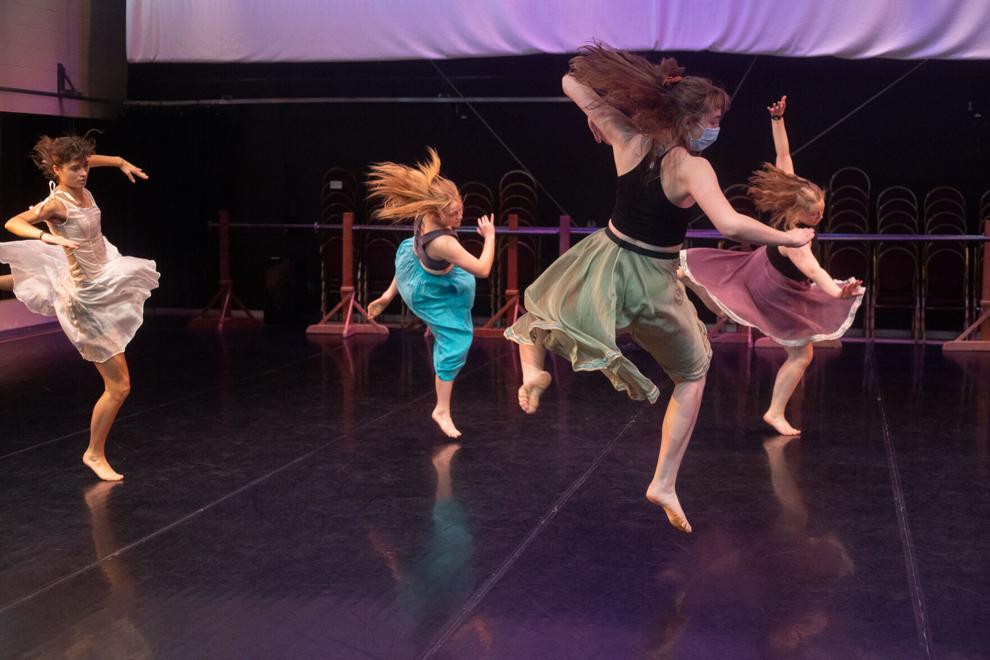 Turning points 
Duarte has danced and performed across the world, but her story starts in Brazil. She started taking ballet lessons as early as 3 years old. It's the earliest age she remembers dancing at all.
Her Afro-Brazilian training growing up wasn't formal, she says. Afro-Brazilian dance is closely connected with the culture Duarte grew up with, and her religion, called Umbanda. Her first dance experiences came from the rituals she was surrounded by. 
"It really is an intrinsic part of everything," Duarte says. "I always knew I was a dancer."
Lots of people in Brazil know at least a little bit about Afro-Brazilian dance and the traditions surrounding it, she says, but Duarte's interest became more intense. 
By the time she was a teenager, Duarte had reached a turning point. She thought about how she would teach dance.
"I was around 14 when I was like, 'OK, I can do this,'" she says. "I'm good enough. I can work my ass off and try."
At 14, Duarte won a scholarship to dance at Opus Ballet, a professional dance training center in Florence, Italy. That's where she met Charlene Campbell Carey, the founder and artistic director of Missoula's Rocky Mountain Ballet Theatre, who convinced Duarte to come to Missoula to compete in RMBT's Ballet Beyond Borders event. 
Duarte brought four dances to Missoula that first year, 2018 — two classical variations, a modern piece, and a traditional Brazilian dance, so the judges could see her versatility, she recalls. She has been coming back ever since. 
Duarte even met her future fiancé, Torin Jackson, currently a 21-year-old junior art major from Missoula, during one of her trips to dance in Missoula. He was hanging around the RMBT, where his sister danced, when they met. The two started a long-distance relationship while Duarte traveled back and forth to Missoula from Brazil. 
After Duarte visited Missoula several more times, Campbell Carey encouraged her to apply to UM to become a dance student. 
"I was like, 'Sure!'" Duarte says. "I would love that!" 
But, COVID-19 stunted her first semester. Duarte took classes online in Brazil and returned to Missoula for the fall 2020 semester. She began staying with Torin's family. Amanda Jackson, Torin's mom and Duarte's future mother-in-law, remembers being captivated the first time she saw Duarte dancing in the RMBT studios years before. 
"Julia is pure joy," Amanda says, who also works at UM's speech-language pathology department as a clinical assistant professor. 
"She is dance. She is her art." Amanda says she's seen Duarte find her place in Missoula, and has watched her independence and confidence grow. Amanda even taught her how to drive. 
Duarte has spent this semester on her junior project, which is required to graduate. She's been choreographing a piece, between 8 and 10 minutes long, mixing Afro-Brazilian dance techniques with the modern Western dance styles more commonly found at UM. 
Her dance will be presented along with other junior and senior projects, guest works, class performances and student choreography pieces in Dance Underground.
The junior and senior projects are akin to research projects. For Duarte, it's more than just another checkmark toward her degree. She weaves part of herself into the movement. That requires vulnerability — sharing her culture with the rest of the world — in a place as far from home as Montana.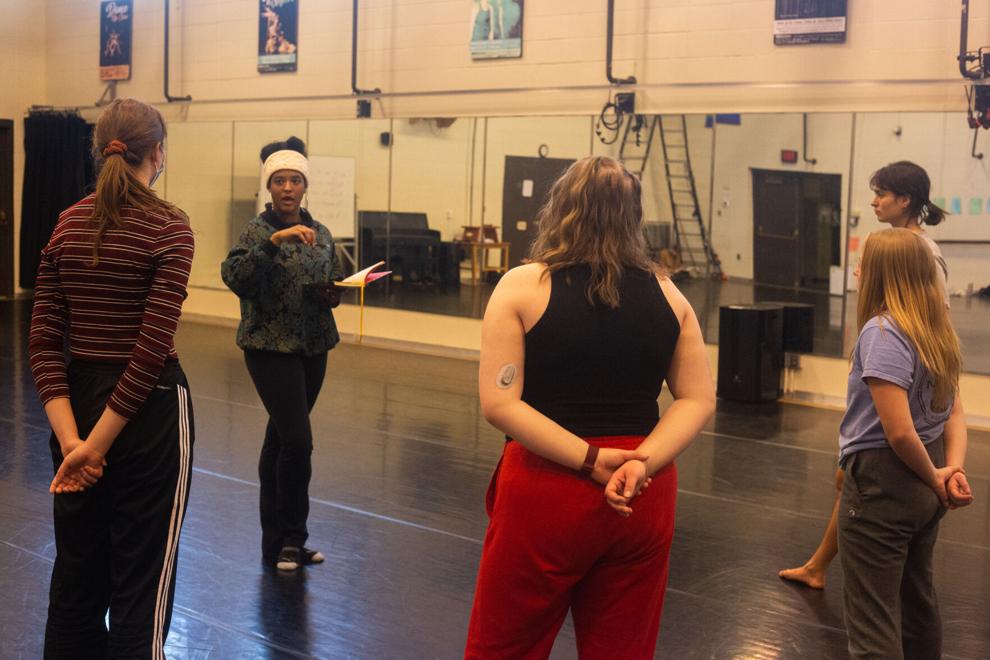 The first rehearsal 
About three weeks after auditions, Duarte makes her way back to the Open Space. It's her first rehearsal with her final cast of dancers. She cast 11, and five accepted: Elle Lundgren, Wren Gardner, Liana Dillon, Regan Tintzman and Isabela Sant'Anna-Skites, all dance majors. Dancers can be cast in multiple pieces, but they can only accept a certain amount, so this is not uncommon.
Later, Duarte revealed she had a pretty good idea of the cast ahead of time. For example, she met Gardner, an 18-year-old freshman dance major from Great Falls, Montana, just a few days before. Duarte remembers thinking: I want this person in my choreography.
Duarte descends the stairs and slides off her shoes. She sets up shop at a wobbly wooden desk with a foot stool stacked on top, which dancers call "the stereo." Under rows of stage lights, the stereo is nestled among a piano, a giant ladder and an old-school rolling chalkboard on which someone has written words like "space," "energy," "time" and "pelvis." 
Sunlight peeks through the windows just below the ceiling and above the canvases advertising old dance shows, cascading squares of sunshine onto the Marley dance floor — a black slab of flexible vinyl that feels and smells like thick electrical tape.
Each Saturday of the fall semester, Duarte and her five dancers assemble to bring Duarte's project to life. They start the morning in the Open Space as most dancers do — lying and rolling on the floor. 
Duarte joins them. They chat while they move over the Marley and each other. It's a scene you'd be hard-pressed to find anything comparable to elsewhere on campus. 
"I feel like [the UM dance program] is one of the most inclusive places and spaces that I've been," Duarte says. In an industry plagued with cut-throat competition and body-shaming, the Open Space acts as a sanctuary. 
Duarte recalls she did not have a lot of friends growing up in Brazil because she was always rehearsing. But here, she's surrounded by friends. It doesn't feel lonely.
The early morning gossip slowly transitions into Duarte explaining what is about to happen. She is about to set Afro-Brazilian inspired choreography on dancers who, other than a few classes here and there, have not trained in Afro-Brazilian dance. There's a lot of explaining to do. 
"My ancestors would kick my ass if I didn't talk about this," Duarte tells them, laughing. 
Afro-Brazilian dance is closely connected to concepts of healing and spirit, she says. The movement stems from the deities of Umbanda, called orixás or orishas, whom Duarte sometimes compares to the gods of Greek mythology. 
She talks about the history of how the deities came to Brazil through slavery. The enslaved people brought to Brazil from different African kingdoms and tribes brought their gods and beliefs with them, and they all mixed together, trying to keep their deities alive. 
Each move Duarte introduces draws from a specific o​​rixá. During the dancers' warm-up, Duarte often talks about Iansã, the goddess of windstorms, known for her quick, aggressive dance movements. Iansã married seven times and took powers from each of her husbands, making her — in Duarte's opinion — the "most badass" o​​rixá.
Duarte explains that no matter each dancer's individual spirituality, she wants them to feel comfortable with the movement. But, it's important that her dancers understand the cultural importance of the movement. 
"[Duarte] just says, it's her ancestry, she feels everything," Amanda says. "She's one of the most connected to her culture and her family and her ancestry of anyone I've probably ever met."
"My culture is very valuable to me," Duarte says.  "And I don't want to disrespect it by just giving it away without giving the entire context."
Duarte's dance will be divided into five sections: earth, air, water, fire and ether (like spirit). Each dancer embodies an element. She's already decided that Gardner, the freshman from Great Falls, will be the fire. "In everything you did, I saw a little bit of fire," Duarte tells Gardner at the end of the rehearsal.
The dancers move across the floor, Duarte with them. Their upper bodies lean slightly forward while their lower bodies bounce down with bent knees. Their feet slap off the Marley to the rhythm of the music, filled with drums and flutes and singing and chanting … thump, thump, thump, thump. 
Duarte says she often hears that dancers who have never danced Afro-Brazilian find the movements uncomfortable. She thinks it's because they hold a lot of tension while executing the movement. Tension that she doesn't have. 
"Sorry, guys," she says as they move across the floor. "Shake it out." 
"You don't have to apologize!" says Lundgren, 21, a junior dance and communication studies double major from Vancouver, Washington. It's an exchange they repeat many times over the next three months.  
"We don't have a lot of the same movement that (Duarte) has as a basis," Lundgren says. "But whenever she approaches the movement, she's always very intentional with describing the intent, and why are we doing it, which I think helps it click in our bodies a little bit faster."
By the time the dancers leave, they are panting and slick with sweat. Duarte embraces each of them anyway. She only has 76 more days until opening night.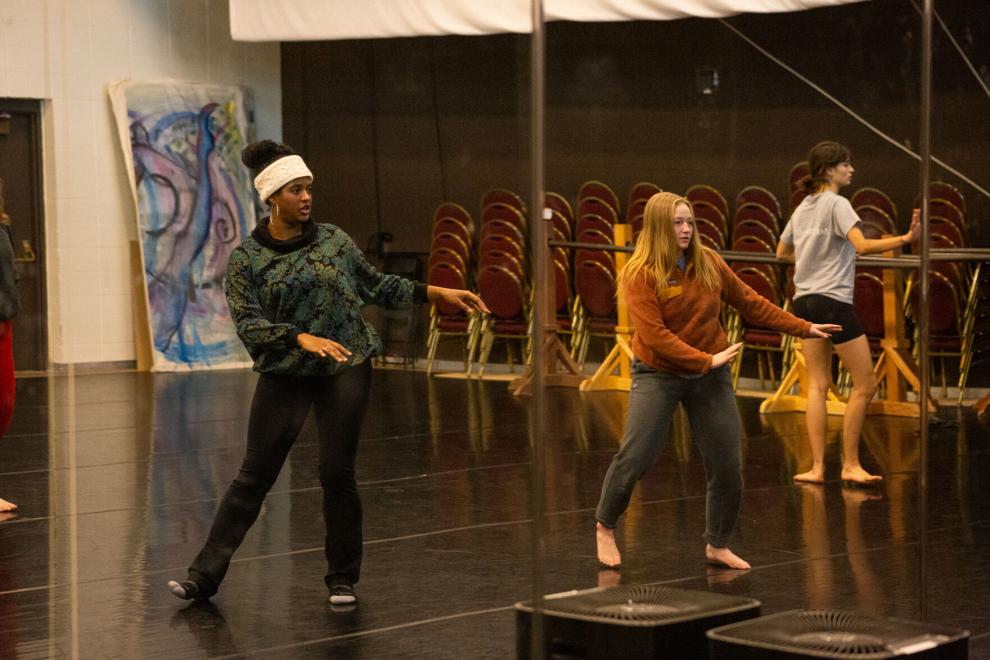 Montana in mind 
After setting her sights on UM, Duarte caught the admiration of Heidi Jones Eggert, a dance professor, associate director of UM's School of Theatre and Dance and head of the dance program. 
Duarte, still in high school, was in Missoula again for Ballet Beyond Borders, which was at UM. When she performs, Jones Eggert says, it feels like an invitation for the audience to join her. 
"She's stunning," Jones Eggert says. "I'm sure there are other great dancers out there. But why would I watch anyone else?"
Jones Eggert remembers Duarte sitting on the dusty couch in her office — the couch that, after some cleaning, has become the iconic pale pink Dance Lounge couch. Jones Eggert was quickly impressed with Duarte's knowledge and understanding of the drive it would take to study in another country. 
Duarte did the legwork to apply and get in, and Jones Eggert helped out where she could. 
"And she's just a sweetheart on top of it," Jones Eggert says. "I fell in love with her right away." 
Brooklyn Draper, an assistant professor of dance at UM, has been mentoring Duarte throughout the junior project process. 
"You can really see Julia in this work," Draper says. "Which isn't always easy as a choreographer, to have your personal aesthetic show through your dancers." 
Draper says she can see how Duarte has been challenging herself as an artist with her piece. Jones Eggert agrees. 
"It would have been easy for her to just make a dance," Jones Eggert says. "I don't mean to belittle that, but it was important to her, the value of what the movement means. Culturally, historically, personally, that is a big part of (her) project."
Three of Duarte's dancers — Lundgren, along with Dillon, a 20-year-old junior dance major from Missoula, and Tintzman, a 21-year-old senior dance and human biology double major from Whitefish, Montana  — will debut their own respective projects at Dance Underground. 
"I'm seeing a whole new side of her," says Dillon, who came to UM as a transfer student her sophomore year, the same year Duarte first attended UM in person. They became fast friends, and Duarte knew she wanted Dillon in her piece. 
The days leading up to Dance Underground are beginning to shrink. But Duarte likes to take it one day at a time.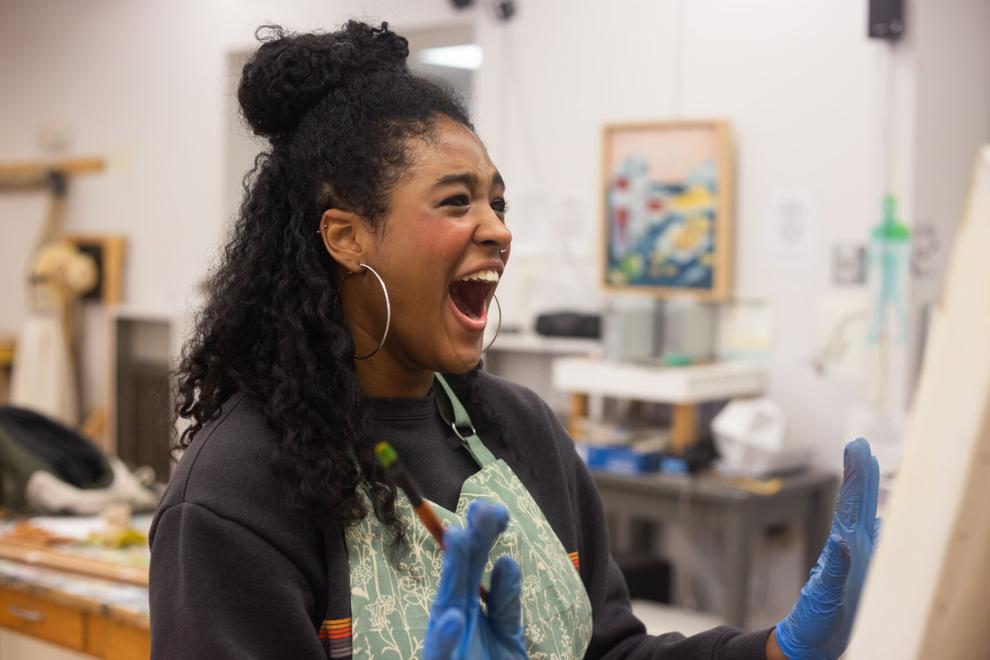 At the paint studio
With 42 days until Dance Underground, Duarte is creating something else on the other side of campus. 
She stands in front of a canvas on the third floor of UM's Fine Arts Building, hands covered in thin blue surgical gloves, vigorously trying to clean red paint out of her paintbrush. "It's messing up my whites, which is very upsetting," Duarte says. "Because I like my whites pretty white." 
She is working on recreating a still life of items including a vase, green drapes and a stuffed cloth chicken for her painting class.
When painting, Duarte moves with the same ease as when she dances. Some dancers believe their energy extends through and beyond their fingertips. Duarte's energy seems to stretch beyond her fingertips and all the way to the bristles of her brush.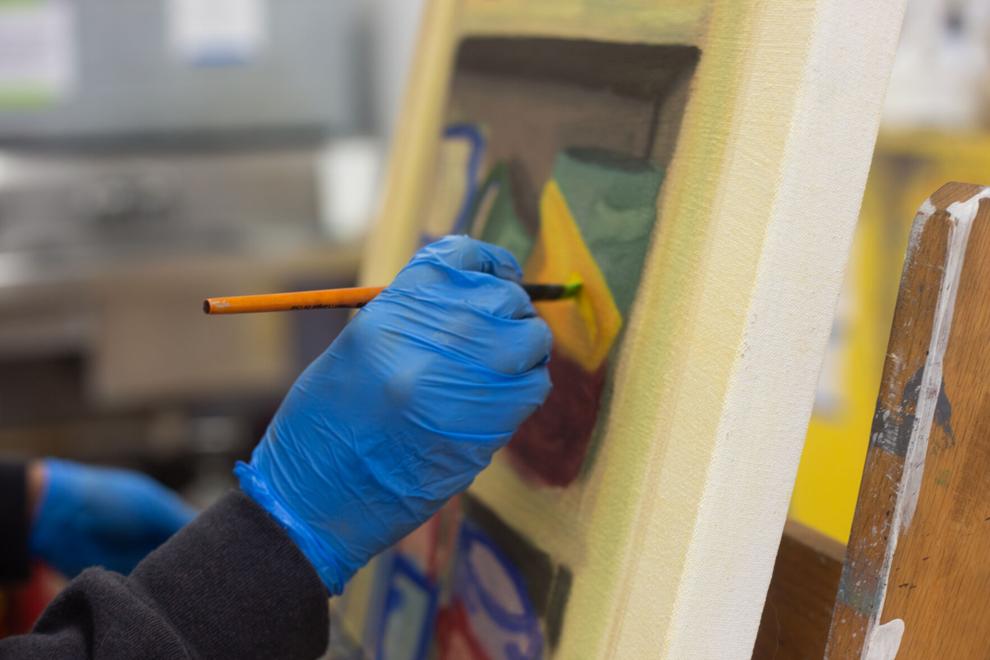 A swoosh against her canvas replaces the harsh stomps of feet against the Marley. She laments that she doesn't have as much time as she'd like to work on these assignments. In about an hour, she'll leave for the RMBT studio for a different rehearsal. 
"I've been treating it kind of as a dance," she says of the painting. "It's kind of like doing choreography, in a way. You start with a very general idea… and then the painting jumps out."
There's a large air filter trilling through the room, and it's hard to hear as she clicks her tongue and chides the paintbrush under her breath. "Naughty, naughty," she says in the sing-song of a parent scolding a child. Her white paint is still coming out pink. 
She sighs, turns to her palette, and begins mixing shades of green for the drapes: forest, moss, emerald, cadmium, jalapeño pepper and cucumber skin. This is her favorite part. "It works just like magic," she says.
Duarte likes to draw with charcoal. Her bedroom is full of charcoal drawings. Even though painting is new to her, it's clear she's in her element. If she were still in Brazil, she says, she doubts she'd be on this path of studying dance and art. 
"Arts are not very much of a priority in Brazil," she says while cleaning her brushes. "I'm pretty sure if I stayed in Brazil, I wouldn't have chosen dance as my career." 
Duarte doesn't have any solid plans after graduation, still a few semesters away. She says her junior project process has opened her eyes to new possibilities and different paths she could take. She's currently thinking about ways to make the arts more accessible and help others understand its value. 
"I think a lot of people are intimidated [by dance]," Duarte says. "And they aren't going to try it. But they don't know what they're losing."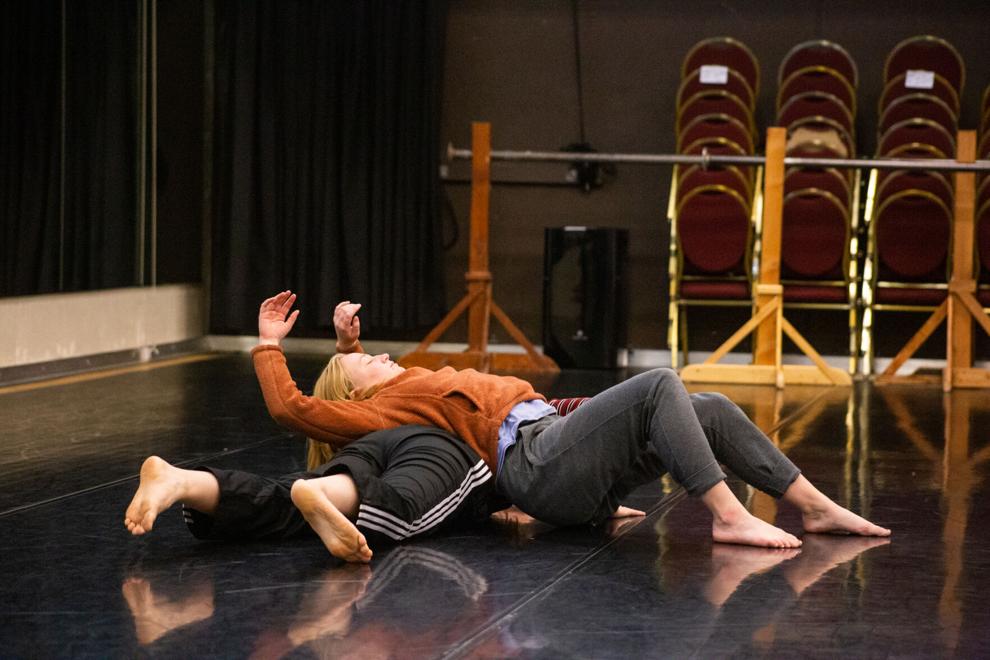 The little things 
There are 26 days before Dance Underground and it's a lively morning in the Open Space. The dancers competed with UM Football fans for parking this morning, and Draper is sitting in to give additional feedback.
"Just breathe through the entire thing. Afro-Brazilian is rough!" Duarte says after the group's longest run of the piece yet. 
They are working on the fire section today, Gardner's element. They've already finished earth (Dillon), water (Tintzman) and air (Lundgren). After fire, they will move on to ether, the element that 18-year-old freshman dance and environmental science double major Sant'Anna-Skites from Evanston, Illinois, will portray. 
There are only a handful of rehearsals left for Duarte to finish and clean her dance, and the pressure is starting to show. Between illnesses, other class projects, work and every other obligation, it's getting increasingly difficult to have all five dancers at every rehearsal. 
Out of all the things conspiring against Duarte's piece, it seems to be the little things — broken car batteries, overdue homework assignments and alarm clocks — that are the biggest hurdles. 
With dancing, choreographing, painting and her other classes, Duarte balances a lot. So, when her dancers miss a rehearsal, it can get frustrating. She tries to be understanding.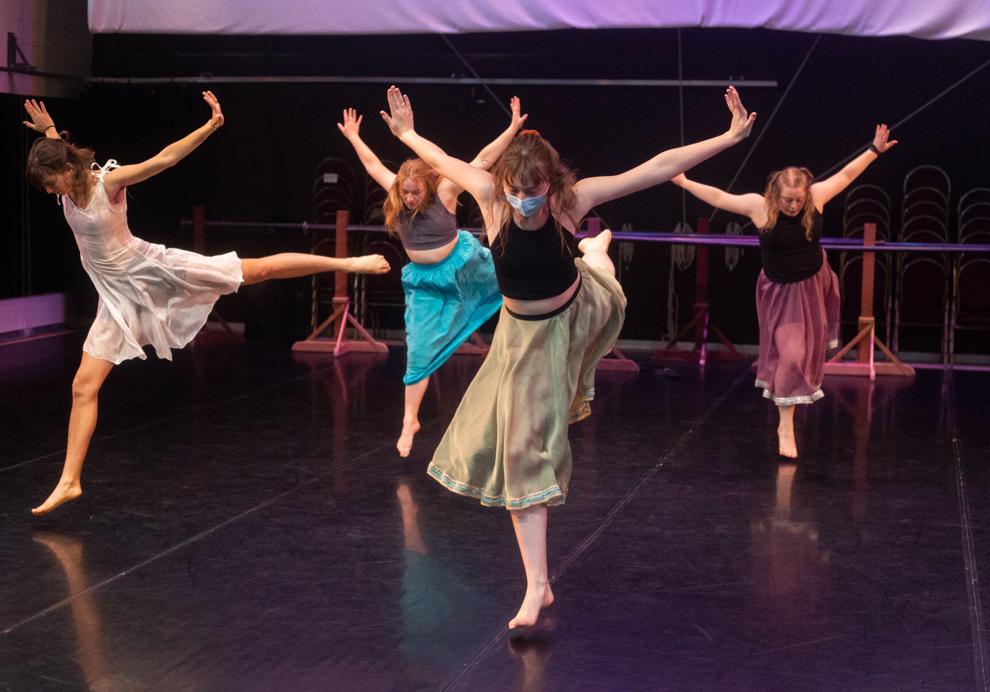 As Gardner puts it,  "We all get there about 15 minutes late, because it's 9 a.m. on a Saturday. And that includes Julia."
With Draper in the room, things tend to get done a little quicker. The hour goes by smoothly and they finish the fire section. The dancers run through the moves Duarte just taught them, and Duarte, overcome with excitement, jumps in the air with her legs kicked out and screams, "Ah, this is so exciting!" 
She covers her mouth with her hands like she can't quite believe what she's just created. Then she laughs, realizing she forgot to count the music for them. "Sorry guys, I was counting in my head," she says. 
Duarte holds her chin a little higher than she did a few hours ago as she hugs her dancers goodbye.
"That was good," she whispers to herself, making her way back to the stereo.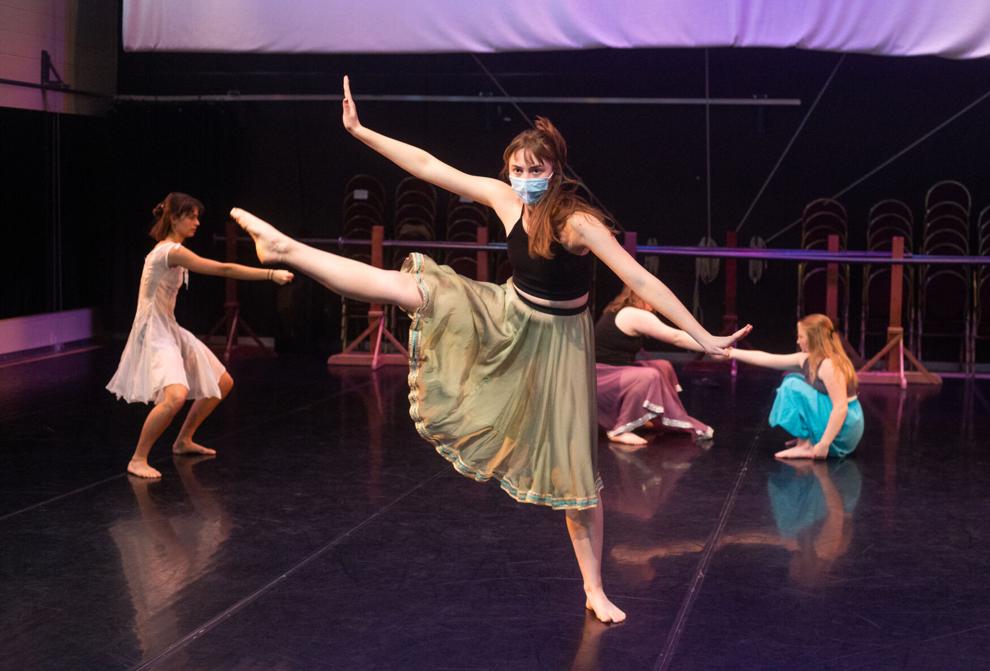 Final touches
A week later, it's Nov. 12. Only 19 days until Dance Underground. Just three of Duarte's dancers make it to rehearsals. 
When dancers accept positions in Dance Underground routines, they are warned that attendance at all rehearsals is mandatory. Though in reality, the dancers are still students and attending every single rehearsal is easier said than done.
With just a couple counts of choreography, on a blisteringly cold morning, Duarte finishes her piece. Dillon, the dancer embodying earth, says, "Julia, you have a finished piece!" The dancers look tired, but Duarte is relieved. She has a finished piece. 
On Nov. 19, with four out of five dancers in attendance, the group rehearse in costume for the first time. They wear different colored skirts, pieced together from the dance program's costume closet. Blue for Tintzman's water, purple for Lundgren's air, green for Dillon's earth, white for Sant'Aana-Skites' ether, and red for Gardner's fire. 
Duarte says that through her project, she's gained confidence in teaching others about dance and her culture, and she has loved getting to see her dancers improve over the last few months. 
"The difference is visible. I can see just in terms of their confidence in the style as well," she says. "I'm proud of them."
"It feels like second nature at this point," Tintzman says.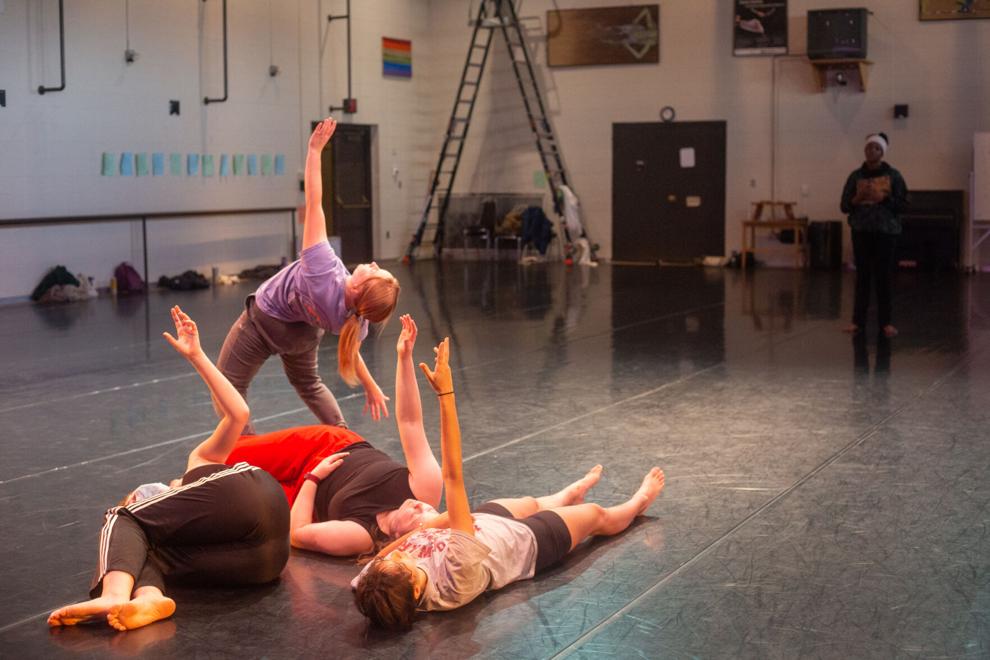 It's almost time 
Just before the show, the Open Space is transformed into a proper stage, with wings suspended from the ceiling and risers set up for an audience. 
Dance Underground opens tonight, but there is a different show lineup each night. Duarte's piece debuts Saturday. 
Three months of Duarte's hard work have led to this moment, and she's excited to show off her piece. "I have the opportunity to showcase my culture," she says. 
As a Brazilian Black woman with the opportunity to study what she loves in another country, Duarte says, she sees it as her duty to teach others about Afro-Brazilian dance the right way — with knowledge and understanding. 
So when Saturday comes, the dancers will make their way once again to the Open Space — in the evening this time, not at 9 a.m. — to perform Duarte's vision one last time. 
Before the dancers take over the stage with their respective elements — before Dillon rumbles with the fury of an earthquake, Tintzman moves with the grace of a siren, Lundgren floats like the wind and Gardner crackles like fire and Sant'Anna-Skites embodies ether — they'll dance an intro as one, warding bad energy offstage. 
Duarte named her piece "Axé," a word used as "a greeting to wish happiness and good energies," she says. 
The audience will applaud their welcome, the stage lights will rise. The music will queue:
Venho para abrir as portas
Felicidade me traz
O que há de tristeza nesta casa
Vá embora e não volte jamais
Venho para abrir as portas
A saúde é quem me traz
O que há de doença nesta casa
Vá embora e não volte jamais
I come to open the doors
Happiness brings me 
What is sadness in this house
Go away and never come back
I come to open the doors
Health is what brings me
What is sickness in this house 
Go away and never come back
And the dancers will begin.
Dance Underground opens tonight, Thursday, Dec. 1, at 7:30 p.m. with shows the same time Dec. 2-3, and a 2 p.m. show on Dec. 3, in the basement of the PAR-TV building, room 005, the Open Space. Tickets can be bought at the door.