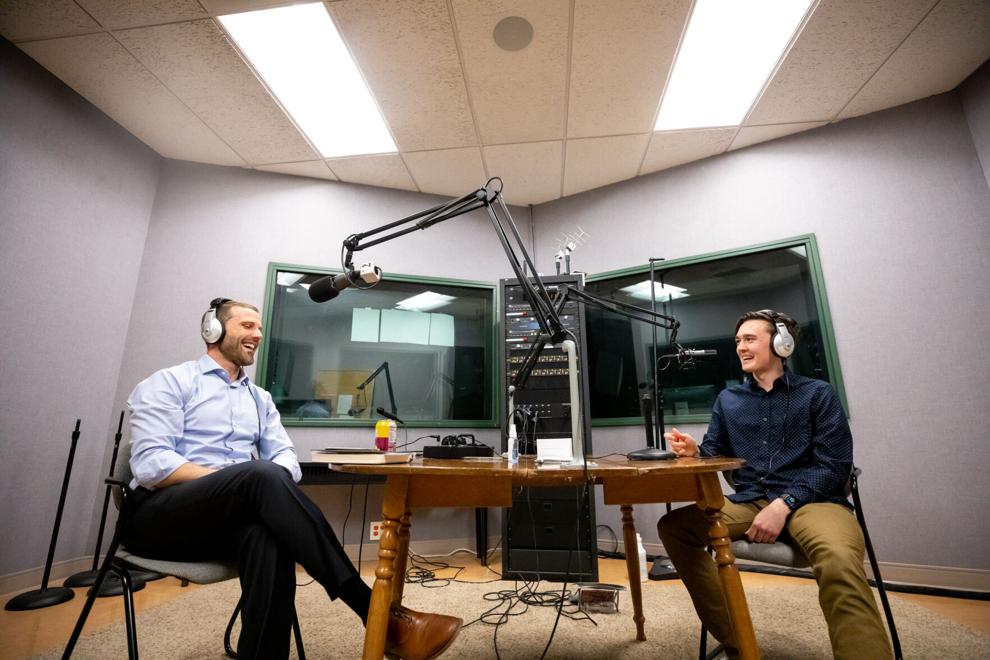 This interview has been edited for clarity. A condensed version can be found in the Kaimin's print edition on campus and around Missoula, or in the PDF version on our website. Or, you can hear Bodnar in his own words on the Kaimin Cast wherever you get your podcasts.
It's been a hell of a year at the University of Montana. Over the last two semesters, students protested misogynistic and racist professors, worked to oust law school leadership for bungled Title IX complaints, set record attendance at Washington-Grizzly Stadium, boosted UM to its first overall enrollment increase in a decade and shook off the dust of the COVID-19 pandemic. 
UM President Seth Bodnar, a corporate executive and special forces commander-turned-education administrator, was at the center of many of the issues that mattered to students this year. In a February opinion piece he wrote, "Our job as leaders in higher education is not to quell dissent or resolve debate, but rather to sponsor that spark within our students."
In that spirit, Bodnar agreed to sit for an interview with the Kaimin, answering our questions and questions solicited from students on the Oval and in the University Center. 
Here's what he had to say. 
Parking Blues and Artsy News
Austin Amestoy: President Bodnar, thanks for coming in.
Seth Bodnar: It's great to be here. Thanks, Austin, for having me.
AA: Absolutely. President Bodnar, I think this may be our first Q&A-style interview with the Kaimin since your inauguration four years ago, so we've got a lot to cover. 
I'm going to generally take you and listeners through the 2021-22 academic year, taking stock of the ups and the downs. We've got a lot of questions from students, some of whom you'll hear from when I play their questions for us, and you can respond to them directly. Some are serious, and some are a little silly, but it's a chance for listeners to get your thoughts on the year as president, and also get to know you a little bit better. 
SB: All right, I look forward to it. 
AA: Excellent. President Bodnar, the thing that definitely came up the most when we were soliciting questions from students is where I'm going to start us today. And I really wouldn't be doing my duty as a journalist if I didn't start with a question under that topic. So, I've got to ask: Where did you park this morning?
SB: (laughs) Well, I parked it a lot beside Main Hall, actually — over by the UC.
AA: Well, of course, this question didn't just come out of the blue. There's been some controversy in the student body over the location choice for our new permanent home of the Montana Museum of Arts and Culture. I think everyone agrees it's objectively good that this gallery is going to get a permanent home and it's privately funded and is going to drive interest in the arts at UM. But, why did the location for this building have to come at the cost of 200 parking spaces in the Adams Center lot?
SB: Yeah, it's a great question. I, first off, want to acknowledge the frustrations with parking. That is something that we're keenly focused on. And so, I think I'd start with the reason for that location for the Montana Museum of Art and Culture. 
A couple of years ago, we went through a student-life master-planning process that had students involved in that process, and we identified that portion of campus as, really, the arts and entertainment quarter. We have the Adams Center there, you have Memorial Walk, which is one of the most beautiful parts of campus heading north that, frankly, just ended in a street. And we thought, "Hey, there's a great opportunity here to think about the use of this space to build upon that arts and culture center of campus."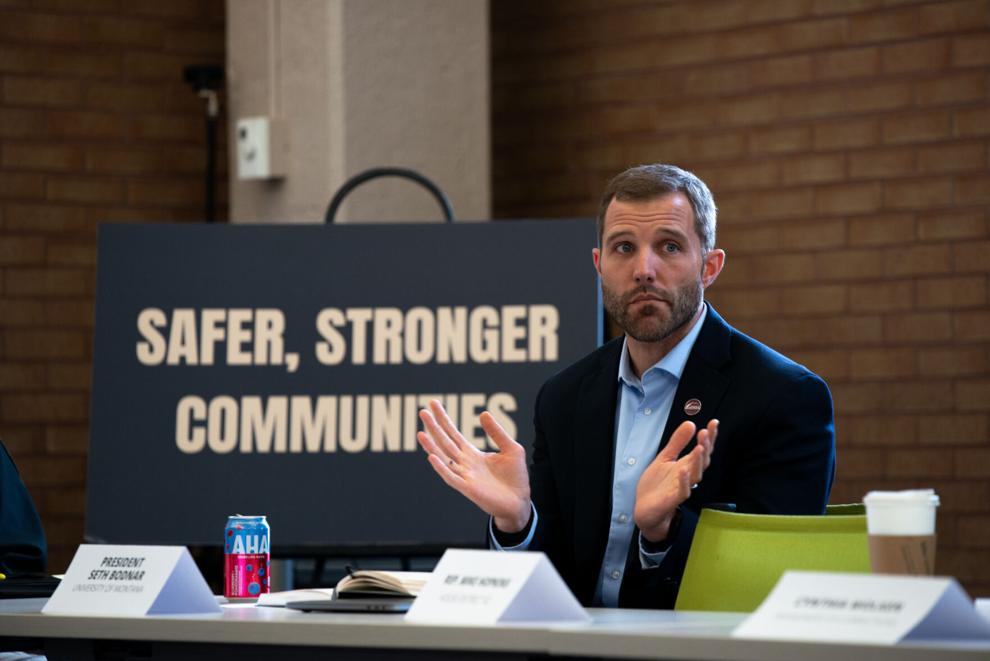 With the support of a donor, we have the opportunity now to bring the treasure that is the Montana Museum of Art and Culture — much of which is stored underground, in hallways — we have the chance to bring that, in a very prominent place on campus, bring those treasures into the public domain. 
Lot P — that's the lot that's been taken offline — is over 200 spots, of course, and that has caused disruption this semester. I want to say that by next semester, half of those spots will come back online. We have brought, even as of now, I think, about 40 more spots from what were pay lots back into permit lots. And, we're actually looking at spots across different areas of campus that we're going to expand parking by perhaps up to more than 500 additional spots. 
There is a temporary pinch, and I want to acknowledge that that does pose some difficulty to students, but we are addressing that in the long run. We expect to expand parking options, and we're also looking at some different programs for students in terms of incentivizing for those who don't use their cars that frequently but want to have a place off-campus where they can have access to the car, but maybe not all the time, and looking at some different ways to get better utilization of those existing spaces. We take that concern very seriously, and I don't take lightly the inconveniences that students have faced.
AA: I'm going to play a question for you from a UM student Gabriella Weida, and we'll get your response to that.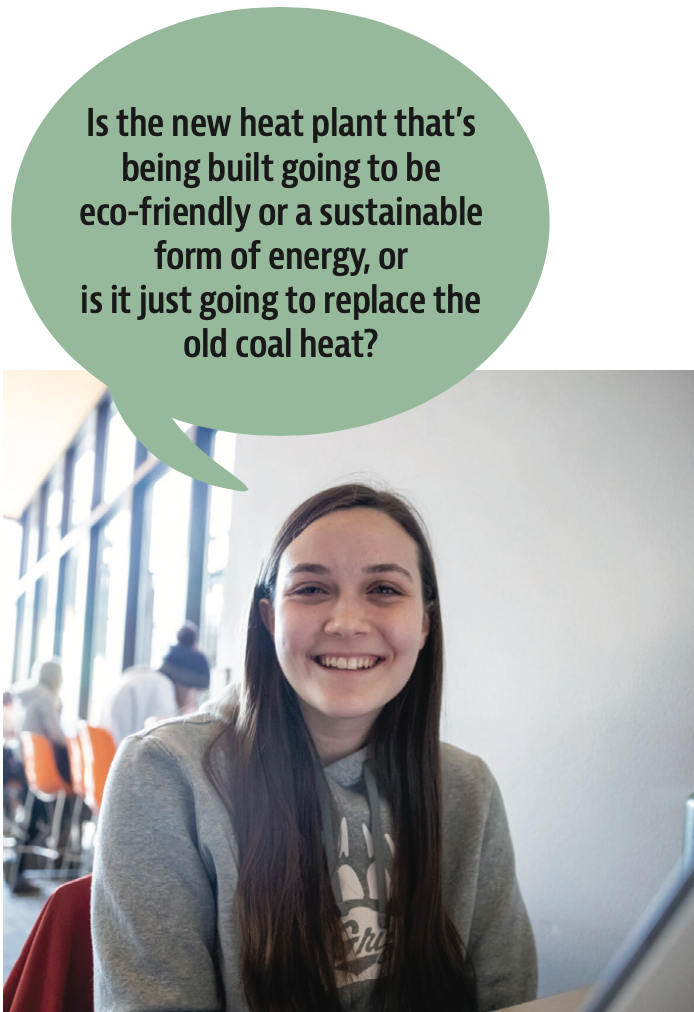 Gabriella Weida: I'm Gabriella. I'm a neuroscience major and I'm a freshman here at UM. And, I was wondering if the new heat plant that's being built is going to be eco-friendly or a sustainable form of energy, or if it is just going to replace the old coal heat.
SB: It's a great question, thank you, Gabriella. That is something we should ask with every project we undertake: the impact on the environment. And I'm proud to tell you that the conversion of our heating plant to a combined heat and power plant will result in the largest single reduction in greenhouse gas emissions in the history of this university. We are taking what was this university's primary heating plant — to explain it, it burns natural gas to create steam, the steam pumps across campus, provides heat, hot water, everything else. What we're doing right now is we're still taking that natural gas, but we're first running it through a gas turbine to create electricity, and then using the waste heat from that process to create the steam we need to heat campus. And then, even getting where there's still some energy left in that steam, we use it to spin a heat-recovery steam turbine generator to create even more electricity. 
So we're going to not just reduce significantly this university's carbon footprint, but save over a million dollars every year on electricity expenses, much of which comes from coal-fired power plants. So this is a big step forward in terms of reduction of our carbon footprint here at the University.
Lawsuits and Discrimination
AA: I want to pivot here and rewind us back to last semester, where UM grappled with some very controversial headlines. 
We saw a couple of lawsuits last semester dominate coverage in the first part of the year. There was the August suit filed by four women, current and former employees with UM, who alleged that UM discriminated against them on the basis of sex, which 18 more women later signed on to and, I have to point out, you are named in that suit. But, of course, it's still working through the courts, as is a second suit that was filed in November by former Lady Griz basketball coach Shannon Schweyen, who alleges that her gender played a role in UM not renewing her contract. 
Amid all this, we also saw controversy in the School of Law that saw its deans step down from leadership after allegations that they mishandled sexual assault claims. And, I think it's right to point out that UM has a history that extends back years of being investigated for mishandling Title IX complaints — the most recent was a federal investigation in 2018. 
So, looking at the big picture here, you stepped into a university that has faced repeated and ongoing reckonings over the way women are treated on campus. Is UM doing enough to correct its years of documented problems handling discrimination based on sex?
SB: Yeah, I think it's a great question. I think we always need to be asking that, because we need to be doing everything we can to make sure that we have a campus that not only praises diversity, but is inclusive and is pushing for greater equity at all levels. 
You know, with regard specifically to the lawsuits, as you can imagine, I won't comment in detail about ongoing legal matters. But, I would echo, with regard to the suit filed in August, the statements the University system has already made that these accusations are not based on facts, and we don't believe that this case has legal merit. But, it's going to run its way through the court system. 
With regard to the case regarding the Lady Griz, you know, I have the utmost respect for Coach Schweyen — the impact she had not just as a coach, but as a student athlete, and not just on this university, but our entire community. But we disagree with the allegations in that complaint, and we'll handle those through the appropriate matters. 
What I would tell you, though, is that this is a university that is committed to equity, and in particular gender equity, and it's been a priority of mine since joining the University. In fact, in 2019, we launched what's called our "SEA Change Initiative," which "SEA" stands for, you know, the idea that we want not just to have a campus that's safe for women, but a campus that uniquely empowers women and helps to accelerate them into careers of impact. 
As you look at my leadership team — my direct report, executive leadership team — it is about two-thirds female. When you look at the people who are currently serving in positions as deans, they are majority female. Since I joined in 2018, we've — at the director level and above, when you look at the people who have been hired into those positions — about 60% of them have been women. And, when you look at internal promotions to that rank of director and administrator, about 75% of them have been women. 
So this has been a priority for our institution and something that I think we're making progress on. Are we done? Absolutely not. Does sexism exist in the world? Does racism exist in the world? Absolutely, it does — and it's something we all need to work to address in every way that we can.
AA: Do the lawsuits and these headlines going around social media — do you believe that they hurt UM's image on the public stage? And how do we remedy that?
SB: You know, Austin, one thing I've learned in life is you focus on what you can control. You can't necessarily focus on false claims that are made by individuals. What you can control, though, is what you do as an individual; what you do as a leader. 
And, you know, driving toward a more equitable, inclusive workplace and leadership environment here at this university is something that's been a priority of mine since I got here. It's an area in which I think we're making good progress, and it's an area in which we're going to continue to focus moving forward.
Enrollment on the Rise
AA: All right, President Bodnar, I want to roll us to a clear win of a headline last fall, which was UM's first overall enrollment increase in more than 10 years, which was driven, in large part, by a large freshman class. This is objectively great news. 
Of course, there is still more work to be done, as we're still thousands of students short of our peak in 2011. But, you know, it is progress. Who do you credit for this positive increase we've seen? 
SB: Well, it is really exciting. And, as you alluded to, we had an increase of about 30% in our incoming class in the fall of '21 versus the previous fall. So, really exciting. And, we're seeing continued momentum. We expect to see continued growth in the years ahead.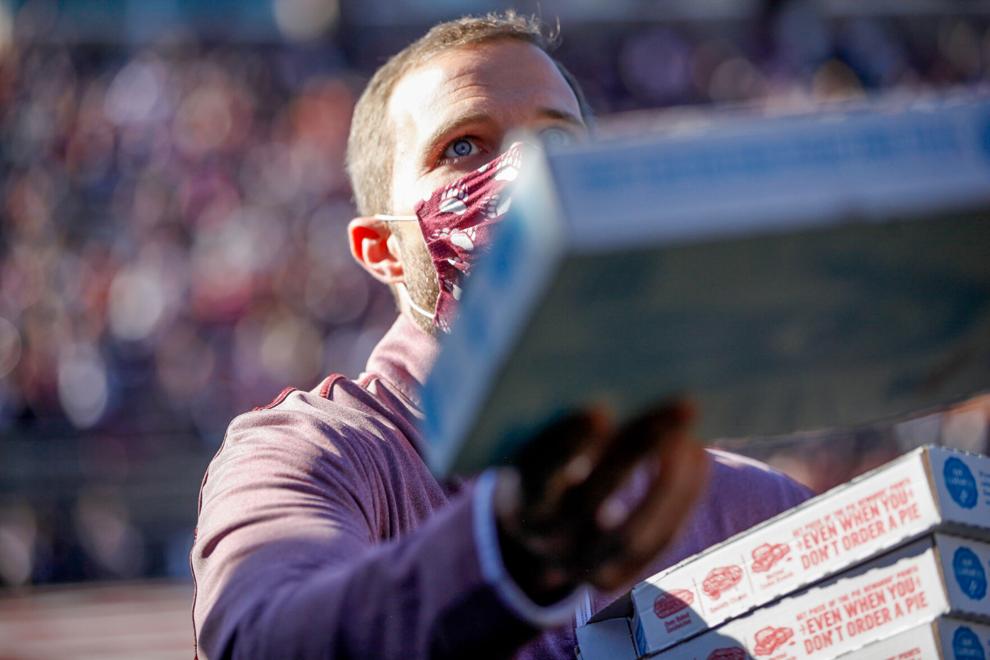 I want to give great credit to our vice president for enrollment, Mary Kreta. She and her team have done really a phenomenal job over the last year and a half of addressing some of the challenges we had and better reaching out to students, following up with students helping make them more aware of the tremendous opportunities here at the University of Montana. So Mary and her team deserve a tremendous amount of credit, of course. 
We always talk about that headline of, "How's the incoming class look," but the other story that I'm tremendously proud of this campus is around retention, because it's not enough just for a university to recruit students to come here. We want those students to persist and succeed to graduation, and that starts with making sure they persist to that second year. And, the reality is, we'd seen a significant decline in UM's first-to-second-year retention rate between 2010 and 2018. 
Since 2018 to fall of 2021, we've seen an increase in our first-and-second-year retention rate from 68% to 75.5%, a full seven percentage points — a more than 10% increase on that basis, 68% just in three years. And, that goes back to our focus on student success. We've added advisors, we've revamped our orientation — we've really focused on helping to make sure that we're providing the support mechanisms, to not just get students here, but help them succeed. 
That, to me, is really a tremendous achievement that our academic advisors, our office of student success, our faculty, of course, have done a phenomenal job. Obviously, to grow enrollment, you have to bring larger classes in, but you have to make sure that students persist and succeed at higher rates. So, we're excited on both fronts and we want to build upon that.
AA: I'm going to play you another question at this time from UM student Zyanne Cervantes, and then you can feel free to respond to that.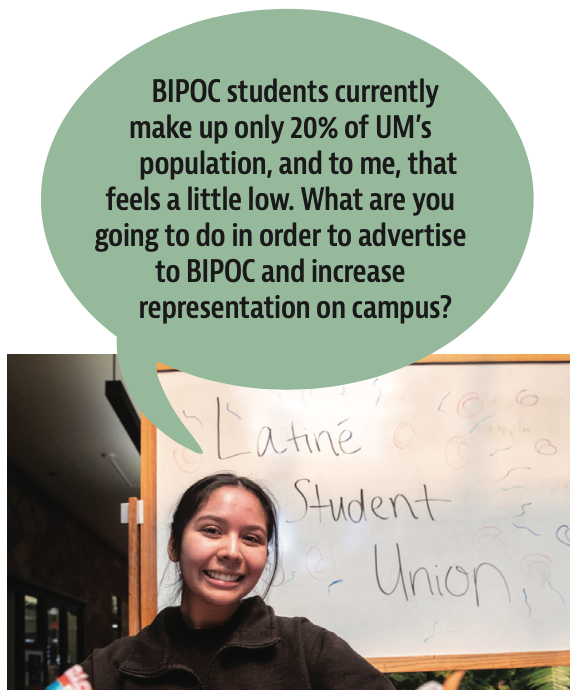 Zyanne Cervantes: My name is Zyanne Cervantes. I'm double-majoring in political science and economics, and I'm currently a sophomore. My question to President Bodnar is: BIPOC currently make up only 20% of U of M's population, and, to me, that feels a little low, considering that it's a liberal arts school — it's a beautiful school, it has lots to offer. So what is President Bodnar going to do in order to increase or advertise to these BIPOC that so desperately want a good education, and why the University of Montana is a good fit for them?
SB: Well, it's a fantastic question and absolutely a priority for us. I think it's really a two-fold solution. Number one: How do we do a better job of outreach to students outside the state of Montana and other communities, and particularly BIPOC students, to make them aware of the opportunities here? That's part of our recruiting efforts. 
Over the past year, we've seen a much stronger outreach to students across Montana — students out of state — where, you know, Montana is, just by nature, by its population, is not a state with a tremendous amount of diversity. So, as we look to enhance diversity, we are looking at recruiting out-of-state. That's been a big focus. 
In fact, we're in the midst right now with Vice President Jenny Petty, who joined us last March. She's done a phenomenal job over the past year of doing some analysis of how we're talking about this university in ways that resonate with a more diverse population of students. 
So you'll see us positioning the University through a different branding strategy that is informed by data with focus groups and with student groups that were really supported by more diverse groups of students. It's telling that story in a way that makes a more and more diverse student population aware of UM, but, as we said in the last question, you have to make sure that students succeed here. 
That's one of the reasons last year we hired Dr. Salena Beaumont-Hill as our first-ever director of inclusive excellence. Salena's job is to work with our student groups, whether it's our Black Student Union or Asian Pacific Islanders club, whether it's — name any of our student groups, our Kyiyo Student Association, to make sure that these clubs are supported, that we as a campus are doing an effective job of supporting BIPOC students and making them feel at home and supported in an inclusive environment here on campus. So, you have to work a multi-pronged effort there.
The Kyiyo Question
AA: I would ask one follow up to your response there, President Bodnar, and it's about the Kyiyo Pow Wow. When can we expect the fund that was established to start bringing in funds for that group to be able to use?
SB: Yeah, it's a great question. There's, unfortunately, a little bit of confusion on that. We established a $300,000 endowment earlier this year to fund the Kyiyo Pow Wow in perpetuity. We had the opportunity to do that with the help of a donor. We did that in honor of Chief Earl Old Person, the Blackfeet Tribal Chief who was just such a great role model for all of us. I was really honored to be able to support the powwow, and I look forward to going on Friday.
The way an endowment works is it has to sit and generate some returns before you can start actually drawing from that endowment. And, in fact, this year, because we didn't want to take away from the "corpus," — the base amount of funding — we're contributing one-time dollars to support the powwow this year while that endowment builds up to do it in following years, because we want to protect the ongoing funding. 
I'm really glad you asked that question, because we actually invested the $300,000, and then on top of that, put the funding in there for this year that the endowment would have provided.
Problematic Professors
AA: Moving on to another couple of headlines that bounced around last semester and this semester: We had a couple of professors on campus who raised a lot of student protests. Last fall, we saw a computer science professor, Rob Smith, resign his post after it came to light that he wrote some very problematic blog posts about the roles women should play in society — how they should marry young, some of which contained homophobic and Islamophobic sentiments. Rob Smith resigned and you put out a statement condemning his writings.
Protests, though, sprang up again this semester over the private messages and speech that were delivered by UM business professor Clayton Looney — there was racist content in those messages. However, Looney is still scheduled to take on classes this fall after stepping away. UM deemed this as a non-workplace issue, of course.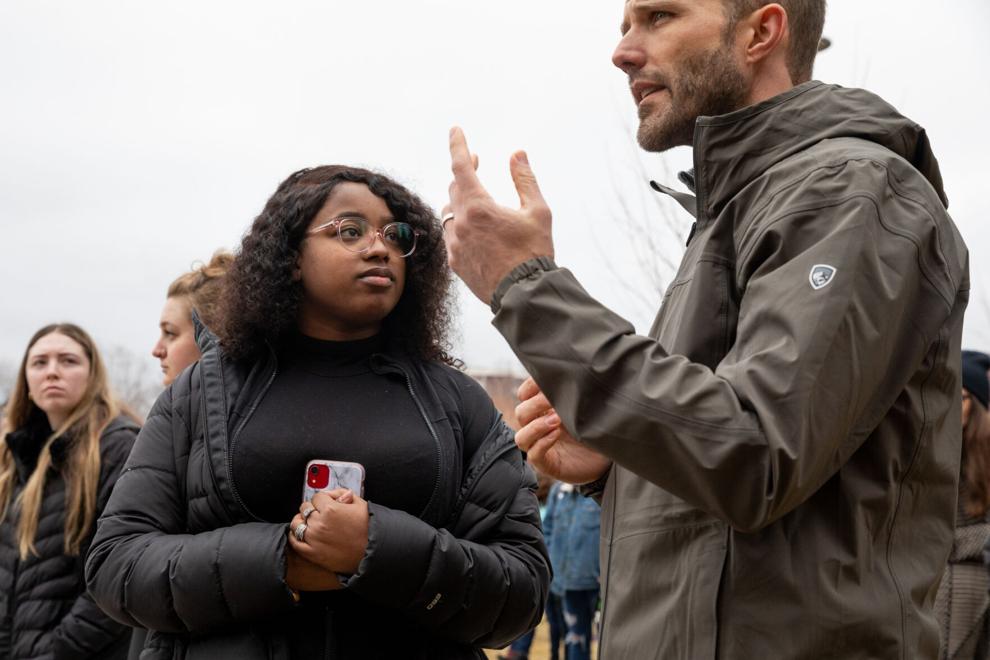 But in both of these cases, President Bodnar, students looked to you to fire these professors. Smith resigned, Looney's still on — why can't UM do more? And has it done enough in this situation?
SB: Yeah, good question. I'm glad you asked it, Austin. And, I want to say right up front and reiterate what I've said publicly already, that the comments made by these individuals are abhorrent. They go against what UM stands for, they go against my personal values, the values of this institution and they make me angry. 
What I would tell you is we are limited in our ability to take action based on speech between an employee and a family member. That's something that's important, really, for all of us to understand. We're a state institution, and there are limits, again, to our ability to regulate and act on speech by an employee and a member of their family. 
But it doesn't take away from the fact that we remain committed to making sure that we have an inclusive, supportive environment here. And, I want to commend students who are speaking out and helping us to work toward greater equity and a more inclusive environment here on our campus and across our community.
AA: But President Bodnar, are you comfortable saying as you did, that UM is going to continue to push for diversity and inclusion while, as of now, this fall, it will continue to employ faculty who have expressed exclusionary ideas? 
SB: You know, as we've said, the comments between an employee and a member of their family are not within the purview of a state agency to regulate. And, I think as abhorrent as that may feel, and as angry as that may make us, that is an important part of our legal code here in the United States.
AA: I've got a question from UM student Erin Heaton to round out this segment.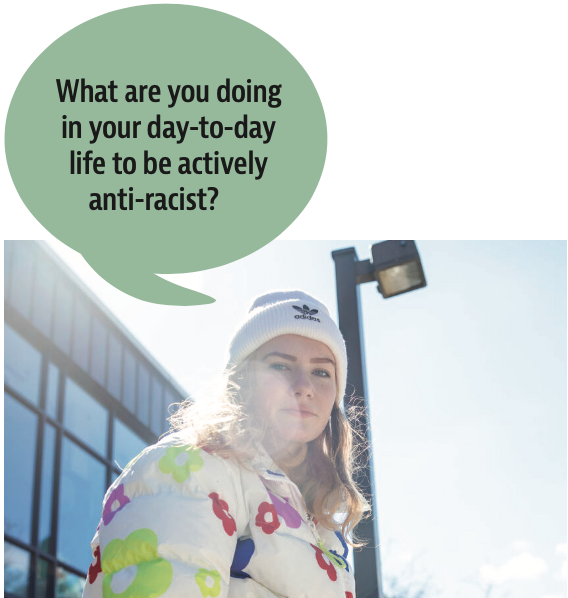 Erin Heaton: My name is Erin Heaton. I'm a freshman that studies social work and sociology. My question for President Bodnar is: What are you doing in your day-to-day life to be actively anti-racist?
SB: Erin, great question. It's something that I work continually on, whether it's through reading, whether it's through talking with students to get a better understanding of their perspective, continually working, whether it's with our our Title IX Coordinator and Director of Equal Opportunity Alicia Arant, learning from our President's Native American Advisory Council that I created upon joining here, working with our Diversity Advisory Council to help gain perspectives on some of the systemic aspects of systemic racism that still exist and how we can address that. 
Admittedly, as a white male, my lived experience is very different, so it's very important for me to seek to understand some of the barriers that exist to some individuals on our campus achieving their full potential. Whether it's with, again, the Diversity Advisory Council, the President's Native American Advisory Council, whether it's the Black Student Union, the opportunity to attend the Black Solidarity Summit. I wasn't able to make it there this year. But, going through that, whether it's allies training, which I did — those are good learning experiences for me to gain a perspective that's helpful for me as a leader.
Griz Athletics
AA: Moving quickly here to athletics — overall, UM has had a pretty stellar year across the board. Although, there was a recent 406 Sports piece on Montana State University's President Waded Cruzado touting her impact on their athletic successes over there at MSU. I'm just wondering if you're feeling left out at all.
SB: (laughs) You know, look, it's always fun to have our rivalry discussions. I think it was a very good year for Grizzly Athletics. We came out of a really disruptive year of a pandemic, and I want to give a huge kudos to our Department of Athletics for the way in which they supported our student athletes through a really difficult year of competing through COVID. 
It was great to see Washington-Grizzly Stadium filled to capacity multiple times. This year, we had a Zoo Crew student section that was really nice and lively, and we want to build upon that next year. Our rival team — you mentioned them — they came to town in November, and it was a pretty sound beating, and that felt pretty good, I think for everybody. So, we have high expectations for the season ahead, but it was nice to get that Brawl of the Wild trophy back here in Missoula, where it belongs. 
And then men's and women's basketball, you know, I think we saw great progress in the Lady Griz program this year. It was really exciting to see, again, the rivals come to town and go home defeated, both on the women's and men's side. Our men's team is young this year, but I think there is great potential ahead, and I think on the men's side that rivalry — I think our men's team has beat our rivals on the other side of the divide, I think, 20 out of the last 22 times. So, I feel pretty good about where we're headed, athletics-wise.
AA: A quick question here from a student before we move into our final questions of the interview.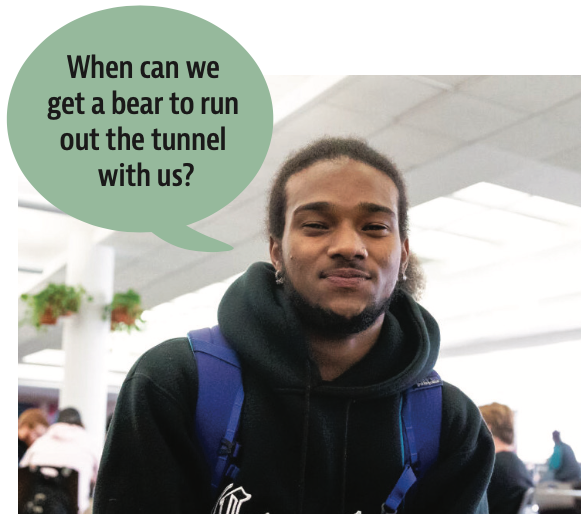 Aaron Fontes: I'm Aaron Fontes. I play football for the University of Montana Grizzlies — number 16. I play receiver. And my question is: When can we get a bear to run out the tunnel with us?
SB: Whoa. Aaron, that's a good question. Well, Monte already does it, I guess is what I'd say. But, you know, having seen grizzly bears in the wild from a very safe distance, I'm not sure I want to run beside a grizzly bear. 
I think we got a bunch of Grizzlies that run out of that tunnel,and I want to keep Aaron and his teammates safe. So, I think it might be a while before we actually see — intentionally, at least — a live grizzly coming out of that tunnel.
Moving Forward
AA: Some speed-round questions here — I know we're running out of time to close out the interview. First, I was wondering: What are you most proud of for this year at UM?
SB: I think the way that this community has bounced back from COVID. I've served in combat zones with people trying to kill me for extended periods of time. But the last two years have been the most difficult two years of my life as a leader, dealing with the uncertainty of COVID, the stress of COVID. 
But they've also been the most rewarding and inspiring of my career as well, to see the way that our entire community, from our faculty, of course, to our staff, our advisors, our facilities team, our athletics team, our dining team, our Residence Life team — I could go across the board — the way that everyone really rallied together to help ensure our students were able to keep on learning through the challenges of this pandemic has been awe-inspiring. And, to see our retention rate increase in the midst of a global pandemic is really a testament to our faculty, to our staff, but also to our students. 
We use that term "Heart of a Grizzly" quite a bit, and you've seen the heart of a Grizzly on full display this past year, and I've just been enormously proud to be a part of this community.
AA: And our final question for you today, President Bodnar. You came to UM at a time when it was going through some really difficult challenges. And we are, it would seem, on a trajectory to be pulling ourselves out of these challenges. We've seen lots of progress. 
But there's always conversation about people wondering what's next for you. So a two-prong question: How long do you see yourself staying with UM? And also, I'm obligated to ask — there have been some rumors of you setting out on a political career, and I was hoping that you can respond to those as well.
SB: (laughs) Look, I have no plans to go anywhere else. I feel very privileged to be in this job right now. When I came here, I came here with three young kiddos in tow. Those kiddos — my oldest are at Washington Middle School, and my wife grew up here in Missoula. 
This has been a home away from home for me for 20 years from now, and it's been such an honor for the last four years for it to be home for my family. It's the place where our kids have lived the longest. I was reflecting the other day — this is the place where I've lived the longest since I was 18 years old. I've moved around a lot in the military and a corporate career, and Missoula is the place where I've lived the longest since my childhood home. We're very happy to be here.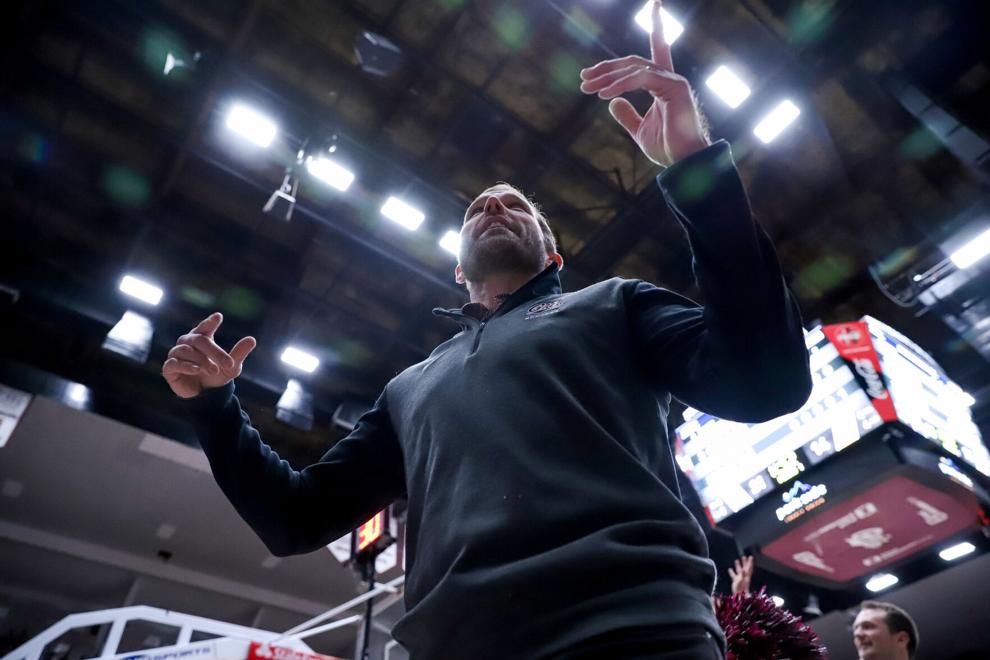 And, I'm going to continue to serve the University as long as I feel like I can do the job that this campus deserves. I mean, this campus and this community is an incredibly special place.  I feel really excited about the leadership team we've built. I'm excited to work with Provost Mahdavi as she comes on board. She's a phenomenal leader, and I'm excited about the trajectory we're on. I'll continue to keep pushing on this until somebody taps me on the shoulder and tells me it's time to do something else.
AA: Once again, I'd like to thank you, President Bodnar, for agreeing to this interview and for your candor on our final Kaimin Cast of this academic year. President Bodnar, thanks for coming in today.
SB: Thanks, Austin. It's been a pleasure to be here.