The Associated Students of the University of Montana election season is here, and candidates are vying for student support after a year filled with controversy, internal conflicts and multiple resignations.
ASUM has passed 33 resolutions as of April 12, compared to more than 100 bills at election time last year. Some bills call for operational changes, like a resolution to eliminate student fees for temporary room keys, while others call for University action against systemic injustice, like the bill supporting more gender-neutral bathrooms across campus. 
But the student government has faced controversies throughout the year, with an especially tumultuous fall semester. 
Just over a month into the school year, ASUM Vice President Alexandra Berna moved to replace an entire committee after interviewees' applications were shared with people outside of the committee.
On Nov. 30, ASUM closed its weekly meeting for 73 minutes to focus on "disciplining senator Zyanne Cervantes," the Kaimin reported.
Berna said she closed the meeting because of concerns with "student privacy laws," a move that Montana attorney Mike Meloy said violated the public's right to know under the Montana Constitution. ASUM voided that meeting the next week, and Cervantes resigned at the senate's first meeting of the spring semester.
A former senator then called for more transparency from ASUM when she accused Cervantes of distributing drugs to fellow senators within the ASUM office in a public committee comment on Jan. 22. Two senators anonymously told the Kaimin the alleged sales were the subject of the closed meeting.
As of April 14, University of Montana Police Chief Brad Giffin said no one has filed a police report involving drug sales in ASUM spaces or with Cervantes' name, but he said he did speak to two people who asked about how to deal with someone dealing drugs in the ASUM office.
ASUM has also seen many resignations throughout the year. Even though ASUM started the year with 18 senators, and hired six additional senators, only 16 senators remain as of April 17.
Now, the senate is focusing on next year and changed the voting process for executive positions to a ranked-choice system. Because of that, three executive tickets are on the ballot instead of the usual two.
While the executive position has an abundance of candidates, the senator election pool is thin. As of 10:30 p.m. on April 7, only four senate candidates registered to run for office. After ASUM elections coordinator Jared Gibbs extended candidate registration by a week, 14 candidates have registered. Students can also write in candidates on election day. 
Unless six more candidates are written in, the election will not be considered competitive and every senator candidate on the ballot will be elected, even if they only received a single vote.
Gibbs said that improving turnout through outreach is one of his top priorities to ensure that all the referenda on the ballot can pass. On top of getting a majority of votes in favor, 12% of enrolled students have to vote in the election for any referendum to pass. That means 1,202 students need to vote in this election.
Last year's election did not cross the threshold. Only 11.2% of UM students cast their ballots, so last year's referendum asking for free counseling at Curry Health Center technically did not pass despite receiving 81% "yes" votes.
"We've not had substantial amounts of time for this election cycle, especially with spring break," Gibbs said. "Considering that we have competitive races in the [executive] roles and the five referenda we have on the ballot, those will be helpful in terms of outreach and the quantity of voters we get."
The Kaimin talked to all the executive candidates and previewed the ballot referenda and some senators on the ballot this year. The election opens at midnight on April 26 on the UMontana app and closes at 8 p.m. on April 27, but Gibbs told the Kaimin ASUM may decide to begin the voting period a day or two earlier at its April 19 meeting.
---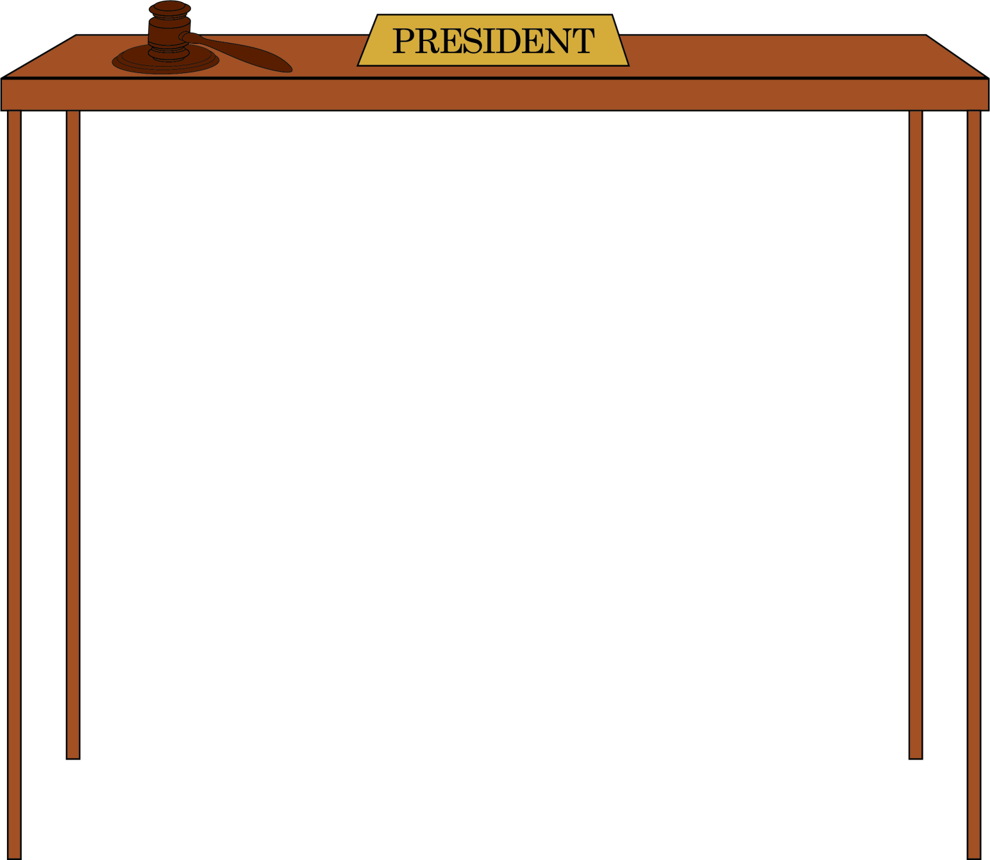 Executive Candidates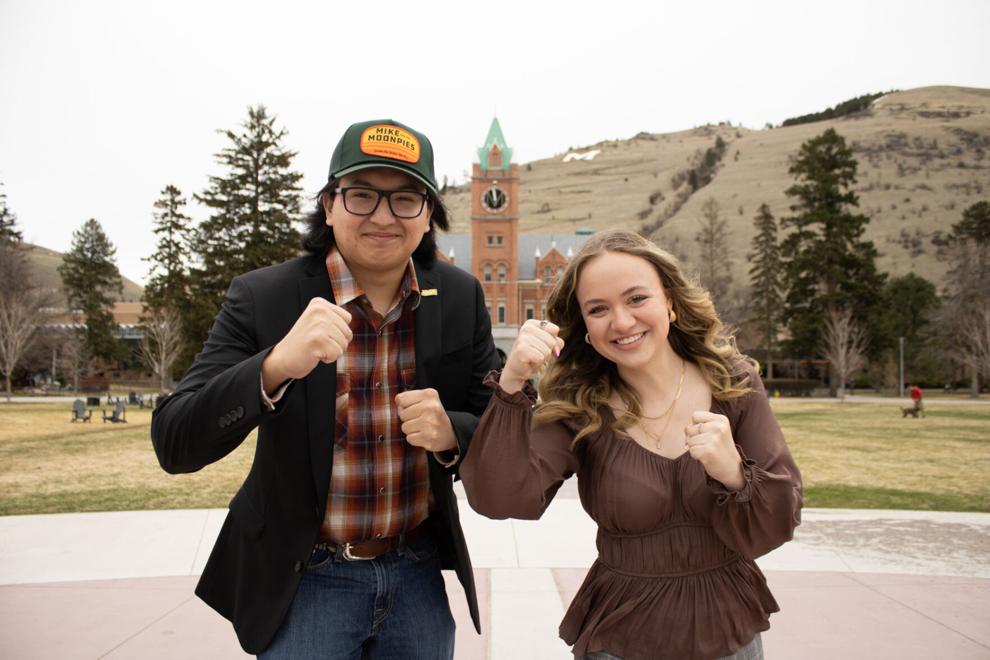 Jolly, Birdinground hope to bring experience, opposing views to ASUM leadership
Associated Students of the University of Montana members Joselyn Jolly and O'Shay Birdinground hope to bring their experience to the senate's top roles and focus on mental health, outreach and connecting campus. 
"I think that the student body needs an actual advocate," Jolly said. "One that listens to them and one that will take what they want into account and use that as change."
Jolly, the presidential candidate, is originally from Kalispell and is triple-majoring in marketing, finance and management entrepreneurship. The 21-year-old junior has served as an ASUM senator and is the current ASUM business manager. She also works on the University's general budget committee with the Vice President for Operations and Finance Paul Lasiter. 
Birdinground, a sophomore from Billings, is running for vice president. The 20-year-old political science and economics major has been a senator for two years. He also is the student chair on the University's Diversity Advisory Council and serves on ASUM's Budget and Finance Board and Member Organizations board. 
The candidates spend their free time outdoors doing anything they can, like biking, hunting, fishing and hiking. Birdinground is also an assistant swim coach at the YMCA and starts his third year with the team this August.  
The pair decided to run as a duo after working together on budgeting for ASUM. According to the two, they often disagree on approaches to their work on student government, something they both believe is integral to serving the University's best interests. 
"You're not going to have a more diverse range of opinions in electing two people who don't always think the same but are willing to work for it," Jolly said. "I honestly believe that progress happens when we disagree." 
Jolly and Birdinground are looking to break the "hivemind" mentality they say ASUM currently has. According to them, ASUM has little diversity in majors or thought, typically all being political science majors who vote with their friends on senate issues. 
"At times, members of the body will even pass their vote to see how other members of the body are going to vote," Jolly said. "Which is not the goal of what we're there for. We're representing students, not ourselves or our friends." 
Mental health is the team's primary issue. With rising mental health issues on campus and more conversations about mental health after a student death last semester at Aber, Jolly and Birdinground said they want to bring mental wellness to the forefront of ASUM's work. 
"We want to figure out a plan so students don't feel so secluded or don't feel like they have anywhere to go, because those resources are on this campus," Birdinground said. 
They plan to sit down with Curry mental health services and find major areas where mental health support is less accessible or less known by the student body. They also hope to create a referendum in the spring 2024 election for a Student Advocacy Resource Center fee to be added to registration bills. That fee would be separate from Curry's so the services could both have additions to their budgets each semester. 
"It's going to take money, it's going to take resources to do, but in the long run it'll be for the betterment of the student," Birdinground said. 
Jolly said they would also offer more advertisements for wellness coordinators to get their input on how ASUM can best support student mental health needs. 
The team also wants to better connect the various UM locations by improving transportation routes between UM's main campus and the two different Missoula College campuses. After a frustrated student came to a public comment mentioning that the ASUM buses don't run to the West Missoula College campus, despite Missoula College students paying bus fees, the team started thinking of change. 
"Them paying the fee but not using the bus is the opposite of what we are trying to do. That's an ASUM fee-paying student," Jolly said. "A student that lives on our campuses and is part of the student body that we represent." 
Because ASUM determines funding for student groups, the duo said it's crucial that they, as leaders, show up for these groups if elected as the student government's new executives. Their plan is to attend at least one meeting of every student group per semester. 
The team is trying to overcome the hurdles of lackluster student engagement with ASUM by tabling on campus, posting their goals on an Instagram account and putting up posters to advertise their campaign. 
"We are taking the initiative to talk to students, not waiting for them to come to us. Don't put the burden back on them, advocate for what they want even when it disagrees with your own thoughts," Jolly said. 
One way Jolly and Birdinground hope to make ASUM more accessible for the average student is by changing the budgeting process and general funding requests so student groups can receive money for travel or other needs more easily. 
Jolly and Birdinground both served on this senate through this year's controversies, and say they're determined to move forward without the drama. They plan to create a separate judicial body like a Supreme Court for ASUM personnel issues to create more checks on powers. 
"I'm happy to speak on anything that's occurred during either of our terms," Jolly said. "But I don't think that a senator that served during this term or resigned during this term is in any way a pillar or a part of O'Shay and I's campaign."  
The pair also plans to work on improving diversity, equity, and inclusivity (DEI) at UM. Birdinground, who is on the University's DEI council, plans to bring that experience to ASUM by hosting listening sessions to get marginalized groups' input. 
"Work shouldn't be put on the marginalized groups because that's just oppressing them more," Birdinground said. "It should be put on the people who are in charge and have power to actually go out and do stuff." 
Jolly's voting record on the senate, though, shows votes against gender neutral bathrooms and against calling for the resignation of management information systems professor Clayton Looney, who came under fire in spring 2022 for a video that surfaced of him using the n-word. She's claimed with both votes that she wants to represent students who might not support these efforts. 
The executive team thinks they should be elected because of their previous experience, differing backgrounds both in majors and life and their immense care for the student body. If elected, they emphasized that they will follow through on all the promises they make on the campaign trail. 
"I'm one student out of 10,000. I can't possibly represent all 10,000. So I want to hear voices and simply give a pedestal to what they want to be seen," Jolly said.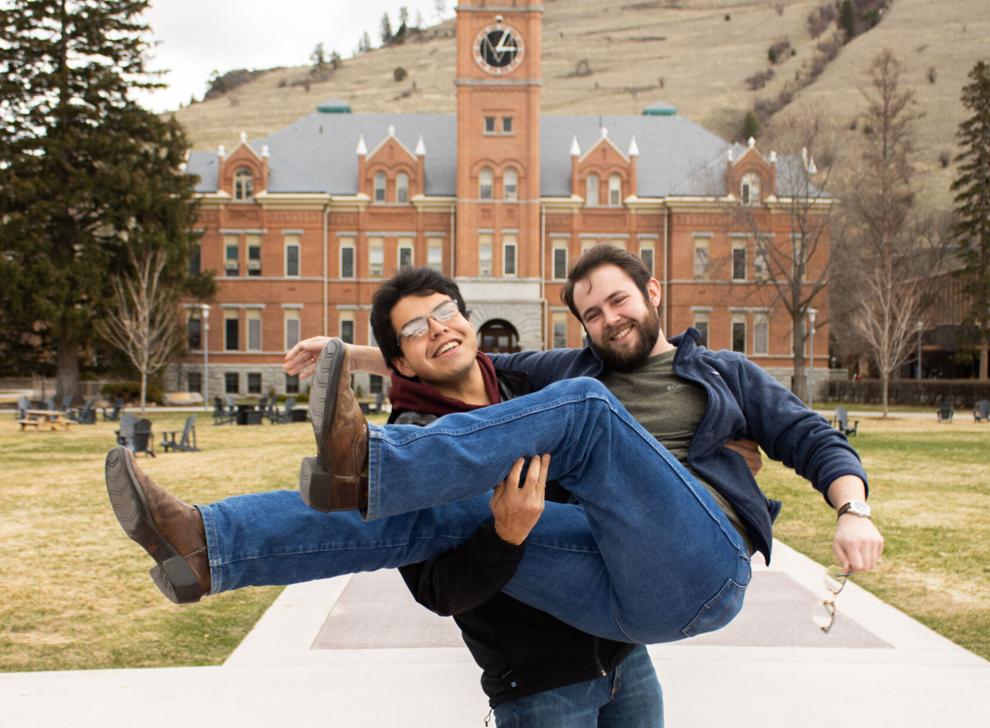 Bighorn, Gipson want to bring outsider perspectives, non-traditional student status to ASUM
Hunter Bighorn and Noah Gipson are entering the executive race with the hope their outsider perspectives will give them a fresh take on the issues they say plague the student government. 
Bighorn, the presidential candidate, is a non-traditional senior from Polson majoring in psychology. He has some experience with the Associated Students of the University of Montana as a student-at-large and has served as a senator since early February. Gipson is new not just to ASUM, but to the University of Montana — he's a first-year law student from Rock Springs, Wyoming, who got his undergraduate degree in European Studies from the University of Texas in Austin. 
At 27 and 24 years old respectively, they're the oldest team in the running, and neither falls into the archetype of a traditional UM student. To Gipson, that's a strength. 
Bighorn and Gipson said their campaign plan focuses primarily on getting their boots on the ground and talking to students in groups or one-on-one. Gipson described their basic pitch to students as three-pronged. 
First, they're bringing in an outsider perspective.
"Being in the forest, it's hard to see those trees," Gipson said. He has experience with trees: both him and Bighorn said they love the outdoors. Gipson said he can often be found out on a hiking trail with a hammock and a book.
While their outsider status leaves them without many of the connections and inside knowledge enjoyed by other candidates, Gipson said this also means they're free of institutional bias. 
Second, they plan to incorporate graduate student perspectives. Gipson is a graduate student and said grad students are an underrepresented demographic in ASUM despite their importance to the campus community.
And their third selling point: themselves. They sell themselves as the type of people who will go out and canvas, who will hold a table in the commons and find out what their constituents want.
"There is a real trust issue between the school and ASUM right now," Gipson said. "I think we're the candidates to fix that." 
Both candidates see obvious ways for ASUM to improve. 
"I was kinda over ASUM a little bit through my involvement," Bighorn said. "I feel there's a lack of outreach by ASUM."
Bighorn proposed a few ways to involve the student body more in ASUM, like putting a TV in the UC commons sharing its meeting times. He also says he'd like to hold office hours in public spaces. 
Gipson said everyone he talked to about ASUM either didn't know what it was, only knew about its fees on students' registration bills, or had a negative opinion of the body from a controversy earlier this year when it illegally closed one of its meetings. 
Gipson sees the structure of ASUM as a driving part of why the student government has an engagement problem. Gipson has experience with government procedures from serving as an executive in some fraternal organizations and in the Wyoming junior legislature in high school. 
He sees a need for a shift in how ASUM thinks about its rules. On one hand, he thinks that meetings should be more informal if the body isn't going to vote on something. He says procedure can actually stifle dialogue with students.
"It's a really effective tool for shutting down conversation," Gipson said. 
On the other hand, Gipson thinks that the closed meeting debacle could have been avoided if ASUM had a better idea of their own rules and were more committed to following them. To that end, he plans to write a "cheat sheet" of ASUM bylaws, so that senators don't have to go through the entire document to determine how to act in a given situation. That way, the full bylaws can be saved as a reference for complex cases. 
"I see it as an institution that has the opportunity to do a lot of good for the student body," Gipson said. 
Bighorn and Gipson also said they wanted to focus on the results of the ASUM anti-racism audit done by Widerstand Consulting. 
"Through focus groups, it was mentioned many times that ASUM does a good job of looking like they are doing diversity work, but when it really comes down to it, they really are not doing such work," the audit states.
Gipson said moving forward and bettering ASUM's diversity efforts is a top priority for their team. Hunter said they're building a plan that includes reviewing ASUM's policies and strengthening its DEI committee. 
They said they hope to help ASUM put its money where its mouth is, but said any change can only be achieved by a well-running body.
"A lot of the big problems we've seen with ASUM is that the way it's run is so disjointed it makes it hard to get meaningful change done," Gipson said. 
Bighorn said high senator turnover is a challenge to keeping ASUM running smoothly. Not only are there term limits and graduations, but this year many senators resigned, mostly for mental health reasons or frustrations with ASUM. 
If elected, Bighorn plans to create guiding documents for roles like the student political action coordinator and head of ASUM's marketing and outreach so new arrivals aren't starting from square one. He also said that many of the senators were forced out due to interpersonal conflict, and wants to work more with senators to better address mental health issues and ASUM's cliques.
They also hope to implement an ASUM Supreme Court like the one used by Montana State University's student government that could sort out grievances and law violations.
"Having that here would be one of the best ways to fix the issues ASUM's had," Gipson said. 
He said that system would also let ASUM take advantage of one of UM's best resources: the law school, the only one in the state, full of students and staff with a working knowledge of law. 
While there are many issues on the table for the next executive team to fix, Bighorn said he has high hopes for the possibilities. 
"ASUM should be a beacon of unity on campus for the entire student body," Bighorn said. "Students should be able to look at their student government and feel proud of it."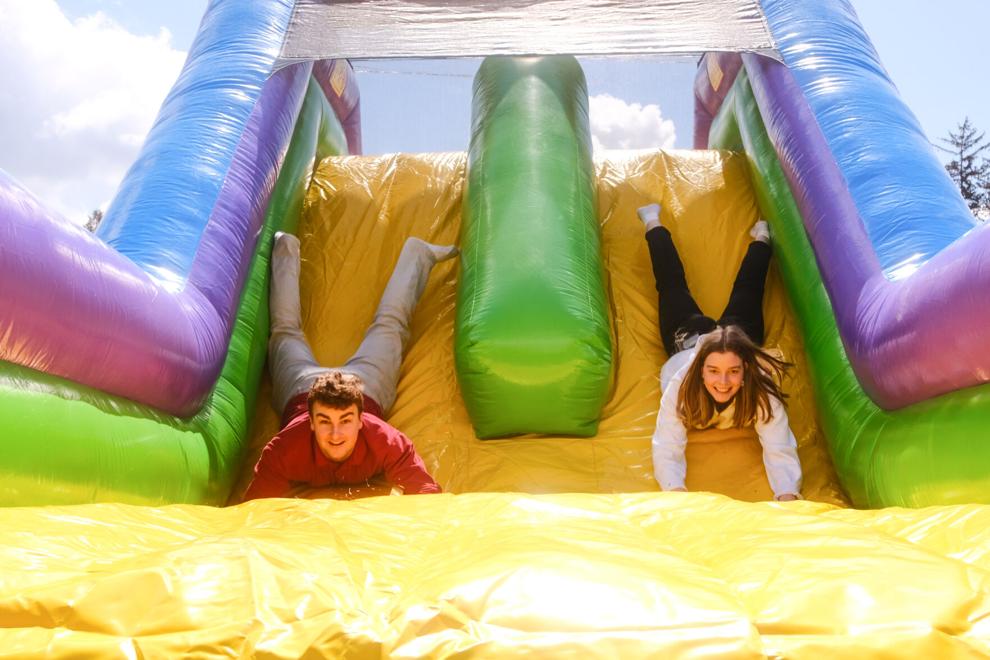 Bell, Vanderkar aim for a more inclusive future, less drama in ASUM
Maggie Bell and Noah Vanderkar, both long-time contributors to the Associated Students of the University of Montana, hope to usher in a new age for the student government. Their vision: community outreach, building connections to Missoula's city council and inviting fresh ideas and faces into the body. 
Bell, the presidential candidate, is a political science and philosophy student from Great Falls, Montana. She is a junior at the University and has been a part of ASUM for nearly her entire college career. 
Bell is a former senator who currently serves as the lobbyist for the Montana Associated Students at the state Legislature. She criticized ASUM for having internal issues that bring negative attention to the student government. She said it is that negative attention that pushes people away from joining or engaging with ASUM in the first place. 
"If there's not clear communication, that's how little dramas get blown out into huge issues or on the cover page of the Kaimin," Bell said. "There is a lot of drama that is totally unnecessary and discourages people from joining ASUM or staying in it." 
Vanderkar, also a third-year political science student, has a minor in history and has been involved in politics in his hometown of Sacramento, California, since high school. He's a former senator and ran for ASUM president last year. 
This year, because few candidates registered to run by the first week of April, the deadline for ASUM candidate registration was pushed back a week. Bell and Vanderkar said they were nervous about adding their ticket to the ballot and ended up being last of the executive teams to register. 
They said they both wanted to be sure they could put their best selves on the executive ticket, and they believe that waiting those extra few days to be certain they were ready made all the difference in their attitude towards their campaign.
For Vanderkar, his most recent interaction with ASUM was not positive. In October of 2022, then-senator Zyanne Cervantes emailed an online folder containing some ASUM senator applicants' information, including video footage of Vanderkar's interview, to people outside the hiring committee. Although information on other candidates was also leaked in this folder, Cervantes specifically showed Vanderkar's interview footage to people in the Branch Center. 
After the leak, Vanderkar swore to himself he would not get involved with UM's student government ever again. However, Vanderkar said that ASUM has too many issues to not run again, despite what happened to him. 
"There's so many problems that need to be fixed. Maggie and I know how we will address these issues. We know what needs to get done," Vanderkar said. 
Bell said the issues between senators that stunt forward progress can be addressed through outreach. The team hopes to build connections between the student government and the Missoula city council. 
"City council doesn't necessarily impact ASUM a bunch, but they do affect our students heavily," Bell said. She said a better relationship between the two governments could have better fulfilled a resolution she authored last year to open up more residential street parking along the outer roads of campus. 
She said that, although access to parking is a UM issue and not a City of Missoula issue, ASUM needed to work with the city to change parking structures on city roads to make that bill a reality. 
Bell also said that having more established connections to the city council would allow ASUM to better keep an eye on issues that will impact students outside of their lives on campus. 
In addition to furthering connections between ASUM and Missoula City Council, Bell and Vanderkar are focusing heavily on expanding the voices within the student government. 
Vanderkar said that ASUM needs more diversity if it is going to look out for all students the way it claims to. 
"It's hard to gauge the political ideology of a student body when you are only looking at the five or six students who are senators and very politically active," Vanderkar said. "Our biggest goal is making sure we get as many different people to the table to give as much input as possible before we make decisions for everyone." 
Vanderkar said that student groups like Lambda and the Black Student Union, and  BIPOC students in general, deserve more representation within the government. He acknowledges that while both Bell and himself are white, they are working to make BIPOC and queer students at the University a priority. 
"Maggie and I are both not part of any BIPOC community. And we're both white students. But, we both have advocated and will continue to advocate for BIPOC students. And that is a huge priority of ours," Vanderkar said.
For Bell and Vanderkar, the way to achieve a more diverse student government is by ensuring different voices play a role in the decision-making. If elected, one of their goals is to have seats specifically designated for students of the colleges outside of the school of political science. 
"We need a more diverse body to bring forward different ideas to the administrators and make decisions. We need different student voices to have a more well-rounded approach," Bell said. 
Although both Bell and Vanderkar are studying political science themselves, they say they have a passion for the well-being of ASUM and the student body as a whole. They said they don't view the student government as an extracurricular. 
Bell and Vanderkar said they believe there are a lot of issues within ASUM that are bogging the organization down. They both argued people just see the group as resumé padding and don't take it as seriously as they should. So, they said, when people don't think of ASUM as a real and important job, drama can become the only thing that gets any attention. 
"I think that there needs to be less animosity on the floor, which leads to less drama, and leads to less frustration amongst students," Vanderkar said.
Vanderkar said students should vote in this election, despite any drama that may have occurred in the last year. 
"You spend $50 every semester on your student government, why not use that money to your advantage?" Vanderkar said. "You don't get a say on campus issues if you don't vote."
---
Business Manager Candidates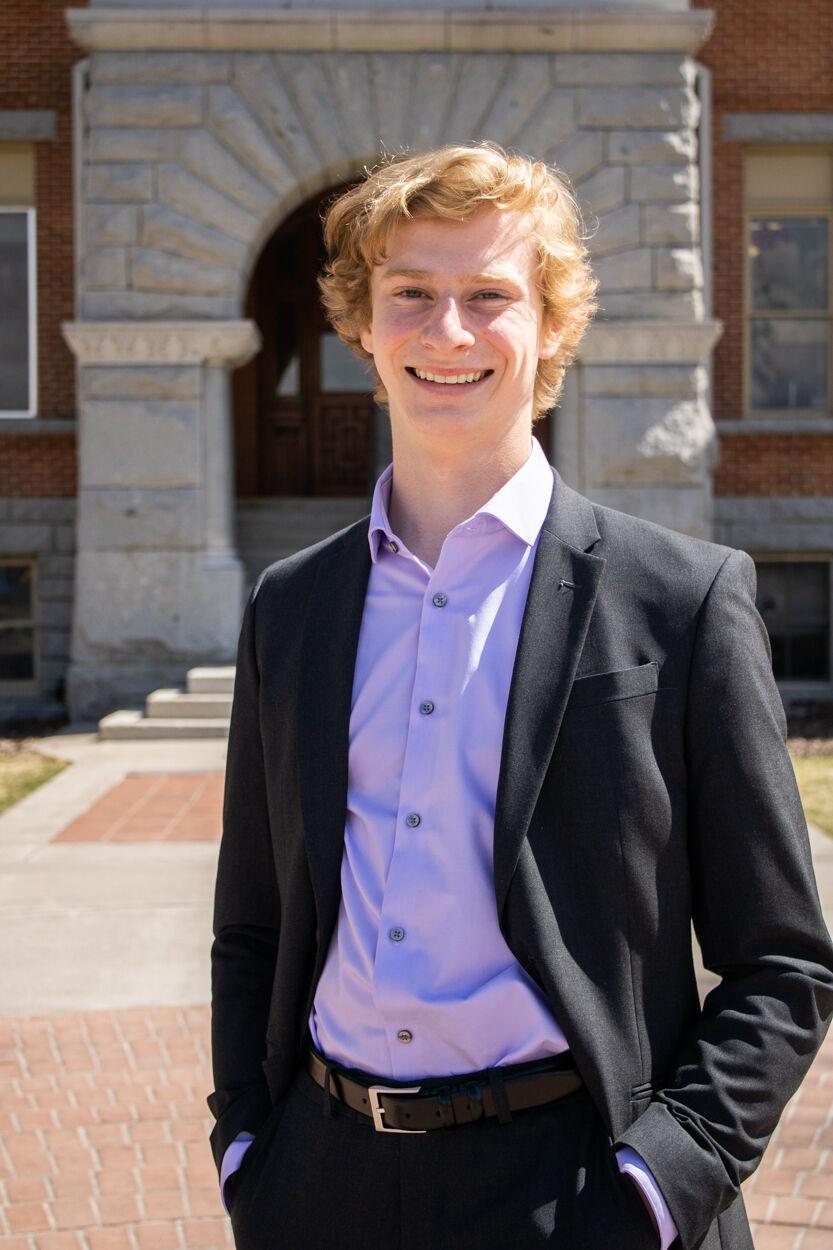 Balius hopes to bring inclusion, positivity
Touting prior experience in business and leadership, current Associated Students of the University of Montana senator Wyatt Balius, from Cascade, Montana, is running for the business manager position. 
Balius, a philosophy and political science major, serves on the ASUM budget and finance committee, where he helps oversee budgeting requests by student groups. He also helps ensure financial requests are considered for ASUM's yearly budgeting.
Outside of ASUM, Balius spends his time tabling with the Montana Public Interest Research Group as its treasurer, where he helps students register to vote and advocates for non-partisan political issues. He's involved in the Franke Global Leadership Initiative, the Davidson Honors College and plans to graduate in 2025.
"While working with MontPIRG, I hope to not only increase access to politics for ordinary citizens, but also to work towards protecting and expanding public lands," his MontPIRG profile summary reads.
Prior to being a senator, Balius served as a student-at-large on the Board of Member Organizations and the marketing committee last year, meaning he contributed to ASUM's marketing but didn't vote on general ASUM resolutions. As a senator, he authored a bill urging professors to share textbook numbers for general education courses so students know how much their books will cost ahead of registration.
With his experience and institutional knowledge of ASUM, Balius said he won't step away from a challenge. He said his time allocating large sums of money has made him a perfectionist when it comes down to the important details. 
"The financial situation requires you to have institutional knowledge of the organization because of the complexities of our fiscal policy and our governing documents," Balius said."You need someone who is well versed within those experiences to perform the job well." 
On April 16, Balius announced his official policy stances for his run on Instagram: harboring a supportive atmosphere and placing an emphasis on the students.
"The business manager is often the most direct link to the student body," he summarized in his announcement post.
Balius said he wants to break down ASUM's barrier of dressing up as politicians. He said he wants to create a more simple and efficient experience for student groups to ask for funding. According to his Instagram announcement, one of his ideas for doing this is revamping Griz Hub to make the group recognition process "as simple as possible."
His top priority is creating an inclusive and positive environment for students not just as the business manager, but with all of ASUM.
Balius said it's easy for a business manager to lose touch with human connection when given a budgeting request from a student group. He wants to have his door open constantly for students to walk in. 
"I want to work closely with the office manager and the student group coordinator to set up somewhere we can go directly to student groups," Balius said. "The business manager is a role where you're super busy all the time and I think my highest priority is always being available to all students."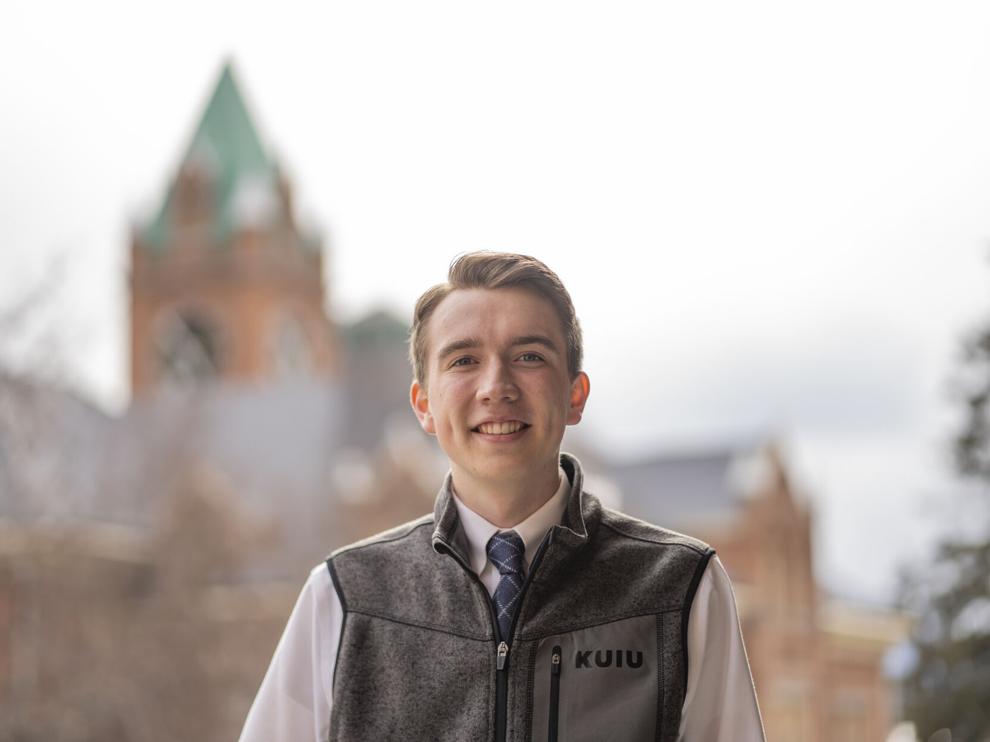 Jasper aims to bring new experience to ASUM 
On his way to a political science degree, University of Montana freshman Carter Jasper wants to take on what he said is the most important role in student government: business manager. 
He doesn't have any experience in the Associated Students of the University of Montana prior to this run, but he said he has a vision to get ASUM onto a new footing.
"The main thing I want to do is be 100% student-focused," Jasper said. "There is no Carter Jasper agenda. There's just the students' agenda I want to fulfill." 
With a self-proclaimed fresh perspective, Jasper said he doesn't want to raise the ASUM fee on registration bills. College is already too expensive, he said, and he feels that ASUM should do its part to make college more affordable. Jasper also said he wants the policies that are passed in ASUM to be proudly representing everyone on campus. 
"I don't think talking at the Oval or in the UC is enough," Jasper said. "We need to create events where the student government can interact with students because right now there's a divide. If we can bridge that divide, (we can) really have ASUM and students become a cohesive unit." 
The business manager position is tasked with balancing ASUM's yearly budget and allocating money to student groups and agencies like childcare and transportation. 
Jasper's experience in business finance comes from spending his summers working in his family's business that his grandfather started, but is now being run by his father. Since the summer of 2018, he has worked in different areas of his family's business — namely, the restaurant, maintenance and retail area. 
"This work taught me to be organized, responsible and detail oriented," Jasper said. "All of these are very important skills that a business manager should possess." 
When Jasper isn't going to classes, you could find him doing what any Montanan would do: hunting, hiking, kayaking and being outdoors. If he doesn't feel up to being active, you'll find him watching "Parks and Recreation" or "Star Wars." 
He said he won't shy away from having the hard conversations that lead to common ground. 
Jasper wants all student groups to have a positive working relationship with ASUM, and he said he wants to be a bridge of communication by sitting down with the groups and asking them what ASUM can do better. He said he knows there is room to grow UM's sense of community, and he said he wants ASUM to develop a positive culture that can influence the campus from the top down.
"If I have the pleasure of being elected, and by the time my term ends next spring, I hope that mistrust isn't there anymore," Jasper said. 
---
Referenda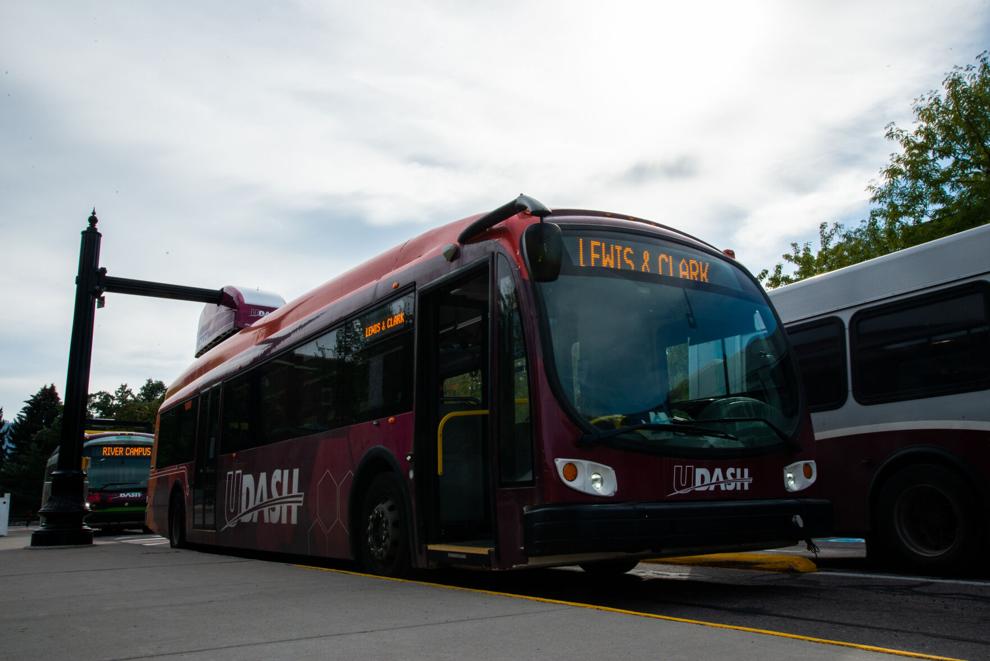 Referendum asks for removing online and hybrid course fees
A referendum asking to remove fees for online and hybrid courses is on the ballot this year.
Online fees are tacked onto the registration bill of students who take partially or fully online courses, which cost $50 per credit for online or hybrid courses, and $25 per credit for partially online programs. 
According to Elizabeth Bowles, the Associated Students of the University of Montana president, the goal of the referendum is to ensure fairness for all students when they register for classes. Currently, fully online students can be charged up to $1,500 for 21 credits.
"When I started looking into the reason behind such a high fee, I wasn't really getting a clear answer about where this funding was going," Bowles said."I moved up with the advocacy and expressed to (Paul Lasiter, vice president for operations and finance) that it'll be much more favorable if the fee is a more equitable and transparent process so that everybody knows where the money is being spent."
Vice President Alexandra Berna said the fee seems inequitable because nearly all students use Moodle, a form of online and hybrid education, yet only some students have to pay an online fee.
Dave Kuntz, the director of strategic communications at UM, justified the fees, stating that they cover the costs of conducting online learning like software and other expenses associated with remote education. 
Bowles and Berna also received complaints from online students about not having enough classes available online, and that professors didn't seem well-equipped for the transition to online instruction. As a result, they were uncertain if they were getting the value of the right service for their money.
If the referendum passes, it will be presented to the Board of Regents in May. If it is approved, the University will be required to implement it. 
"The board looks towards students' input to approve or disapprove fees. The referendum will certainly be a discussion point the next time the board meets," Kuntz said. (Najifa Farhat)
ASUM asks for activity fee increase for student groups, staff pay
he existing $70 activity fee to help fund higher staff wages and more student group funding. The last time the activity fee was increased was in 2019.
"Everyone is feeling the effect of inflation and the cost of everything even a little bit heavier," ASUM President Bowles said. "We also added the Bear Necessities last year, but the student groups are our main concern as they rely on us in order to travel, participate in club activities, and then be able to bring that student home." 
Students taking less than seven credits will only pay half of the proposed increase on their registration bills. The proposed increase would help ASUM staff meet increased cost of living.
Chance Leblanc, a student support staff member at the UM Food Pantry, is paid $12.50 an hour and said it is not adequate given the state of inflation. 
"Nobody gets paid as much as they deserve on this campus," Leblanc said. "I have student loans in order to pay my rent. A raise would help me take less money from the government."
ASUM officials are optimistic about the fee passing. If it is passed, the Board of Regents has to approve it for next year's registration bills.
"We are confident that the proposed increase will be passed, and we look forward to implementing it in the next fiscal year," Bowles said. (NF)
MontPIRG asks for continued student funding through referendum
The Montana Public Interest Research Group is a student-run organization that has been on campus for more than 40 years. Students may recognize members from their pale blue shirts and clipboards, commonly posted up at tables by the UC and asking everyone walking by, "Have you registered to vote at your current address?"
MontPIRG began as a group advocating to resolve landlord-tenant issues, but has since evolved to cover topics like conservation and voter registration. Last summer, it educated students about state legislation that would remove student ID as an acceptable form of voter identification.
An optional $5 fee per student, per semester has been on students' registration bills for years. However, last year, the Montana state Legislature moved to ban state funding for political student groups. Despite this bill being struck down, the Montana Board of Regents has the authority to eliminate the MontPIRG fee at its next meeting on May 16.
If the referendum passes, the results will be used as evidence in favor of keeping the fee, MontPIRG Chair Adrian Cook said. 
Student fees amount to around $25,000 per semester, which is roughly a third of MontPIRG's budget, Cook said. If the fee is eliminated, MontPIRG will opt for private donations and fundraising to fill the void. Cook mentioned that Montana State University doesn't have a fee, but the MSU branch of MontPIRG doesn't operate on the same scale that UM's does.
"The fee is the lifeblood to MontPIRG," Cook said. "We've had it for years. If the Board strikes it down, we'll still operate, but it won't be the same." (Christine Compton)
ASUM Transportation requests fee increase to extend bus routes, hire more drivers
ASUM Transportation will request a $4 fee increase in the upcoming ASUM election to help increase bus routes, student drivers and its fleet of rentable bikes. 
The increase would raise a full-time student's ASUM transportation fee from $45 to $49 and a part-time students' from $35 to $39. 
The money would be split three ways. Buses would get 87.5% of the funds, which would be used to train student drivers. Vickie Rectenwald, director of ASUM Office of Transportation, said that it takes $2,000 per commercial drivers' license, which is required to drive a bus. The funds would also pay new student employees' wages. Rectenwald says she is hoping to hire six to 10 more employees. 
More drivers would help buses return to stopping all around campus. There would be two buses running, which would put the Red Line on a 10-minute schedule instead of a 20-minute schedule. 
Another 5% would buy new bikes for rent to students. ASUM Transportation has 80 bikes currently available for rent. Rectenwald hopes to increase that number so more students have the ability to rent a bike. 
The final 7.5% would cover general non-specific operations.  
Honor Doherty, a 23-year-old history major from Cornwall, England, rides the U-Dash twice a day to get between her apartment and campus. 
"Coming from a foreign perspective, the UDASH buses are something so unique that the University should be proud of," Doherty said. "There aren't many places where people can have frequent service for free, and $4 is definitely nothing compared to other things tuition fees have gone on." (Nance Beston)
Kaimin requests a fee increase to raise student wages
The Kaimin is requesting a $3 fee increase per semester, per student to increase staff wages at the University of Montana's independent student newspaper. The Kaimin's fee, if passed, will be $9 per semester for full-time students, and $6 per semester for part-time students. Kaimin staff members currently make $9.95 an hour, or minimum wage. 
---
Senate Candidates 
The Kaimin coverage only includes senate candidates who submitted responses to questionnaires. Four candidates responded, but 14 candidates are registered.
Buddy Wilson: first year | Eden, North Carolina | environmental science major
Buddy Wilson is a first year student and current senator who is a member of the Davidson Honors College and the Franke Global Leadership Initiative. He is involved in MontPIRG, International Development Studies Club, ROTC and Soft Landing Missoula. From his time on ASUM, Wilson said he believes the senate has lost focus, and he hopes to bring senators together to create more meaningful actions. His top priority if elected is to increase student engagement with ASUM by making the group recognition and budgeting processes more accessible. (Emily Tschetter)
Peyton "Brody" Morris: junior | Stanardsville, Virginia | applied science in welding technology major
Miles Radick is a junior political science and history double major from Bozeman, Montana. He has been an Eagle Scout for 13 years and works as a resident assistant for UM Housing. Radick said the biggest problem he sees with ASUM is how disconnected it is from the rest of students on campus. He hopes to bridge the gap between the senate and the rest of students and act in their interests, not his own. (ET)
Peyton "Brody" Morris: junior | Stanardsville, Virginia | applied science in welding technology major
Peyton "Brody" Morris is a junior Missoula College student from Stanardsville, Virginia who is an applied science in welding technology major. He is involved in the welding program, the Jesse Hall community and Grizzly Stomp. He aims to represent students in the trade programs at UM to increase food resources and transportation at the industrial technology school. (ET)
Daniel Martin: first year | Dillon, Montana | history and environmental science double major
Daniel Martin is a first year student and current senator who is a member of the Honors Student Association, International Development Studies Club and the Pre-Law Society. He has served as a senator for the past two months. He hopes to improve ASUM's outreach by tabling more often and holding public forums to hear students' opinions. He also aims to avoid drama when possible, encourage more diversity in ASUM and pass resolutions for more sustainability at UM. (ET) 
Kenneth Lavender: first year | Vacaville, California | multidisciplinary studies
Kenneth Lavender is a freshman multidisciplinary studies major from Vacaville, California. He is involved with UM's climate response club and with fellow students endorsing congressional candidate Monica Tranel. He also worked as an LGBTQIA+ Boy Scouts troop leader, and he has gotten involved in multiple political campaigns. Lavender has many goals if he is elected and plans to advocate for addressing student poverty, access to health care and climate change. He hopes to push for an independent audit into the closed meeting and alleged drug sale issues that arose in ASUM this year if elected.