On a cool September evening in South Missoula, roller skaters, skateboarders and bicyclists filled an impromptu "rink," bordered by caution tape and loudspeakers, in the parking lot of what used to be Lucky's Market. Custom roller skates and skateboards shredding a tiny portable rail cast oddly shaped shadows across the rough pavement. The laughter and shrieks of wobbly-legged skaters were only slightly muffled by the requisite facemasks. The rumble of wheels competed with an impressive soundtrack, from Aretha Franklin to Prince to P-Funk.
"It's your Coach Shane," the DJ, nicknamed "Coach," said over the loudspeaker. "Let's make sure, in the coolest way possible, to give each other a thumbs up and point in the other direction to people going counter clockwise. We're skating clockwise tonight."
Missoula doesn't have a roller rink, but it does have the Hip Strip Honeyz, a newly formed roller-skating crew whose pop-up rinks capture old-school energy.
More than 100 people attended the Hip Strip Honeyz' latest event. Some had driven for hours just to roll at the pop-up rink. Despite, or because of, the pandemic, it had been a summer of skating. TikTok and Instagram overflowed with videos of people spinning and skating backward to popular songs, in disco fashion, or dancing precariously on longboards. The Hip Strip Honeyz joined the trend back in March, but not without controversy.
While the Honeyz had discovered newfound enjoyment in skating, some in the Missoula community accused the group of cultural appropriation.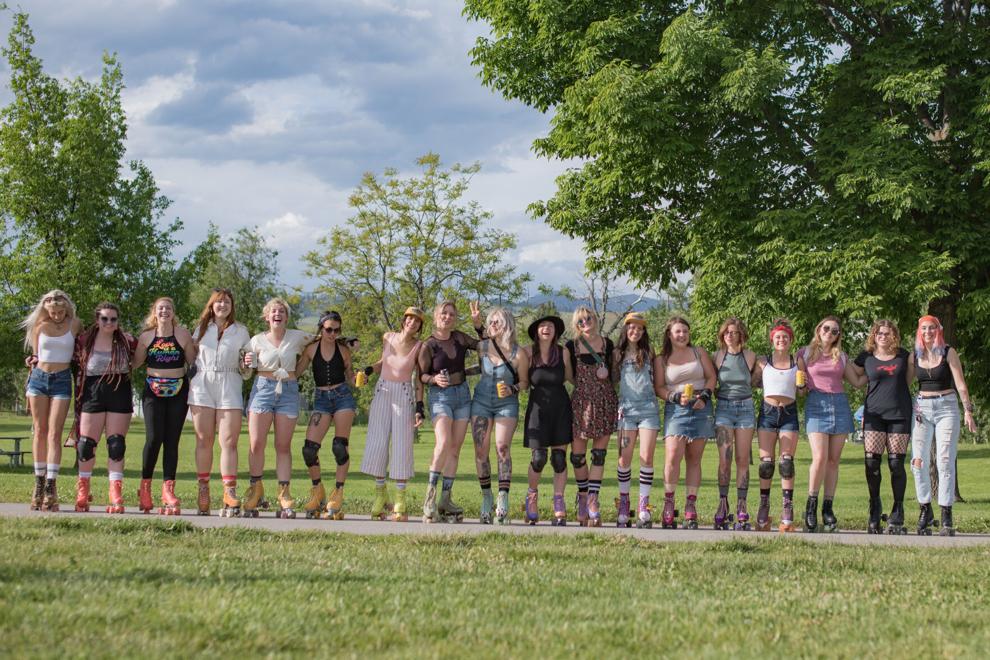 Roller skating has roots in the Civil Rights movement. Black people cultivated a particular style of skating, and accompanying music, while fighting segregation and discrimination. Yet this story wasn't widely known, at least not in Missoula. That September evening, at the Honeyz' pop-up rink, a founding member of the group addressed this story.
"Now is a better time than any to know the history behind it," Hanna Moorman, a member of the Honeyz, said at the pop-up rink at the mall as she gestured to the rolling crowd of families, students and professors. "People had to fight to skate."
Some of the Honeyz consider Moorman the founder of the club, which first started back in March, although she attributes their beginnings to group effort. As Gov. Steve Bullock declared a state of emergency over COVID-19 and people self-quarantined, Moorman, like many people all over the country, looked for something to do. Roller skating piqued her interest. Fashionable skates, edgy tricks and built-in social distancing drew her to the sport. Moorman took to social media to seek other people who were interested in skating, and a mutual friend connected her to Mati Tressler and other working women and students in their 20s and 30s, scattered throughout Missoula.
"We didn't really intend it to be a group when it started," Tressler said.
That March, the women spoke entirely over social media, to remain socially distant, and exchanged links to cute roller skates or tutorials for tricks.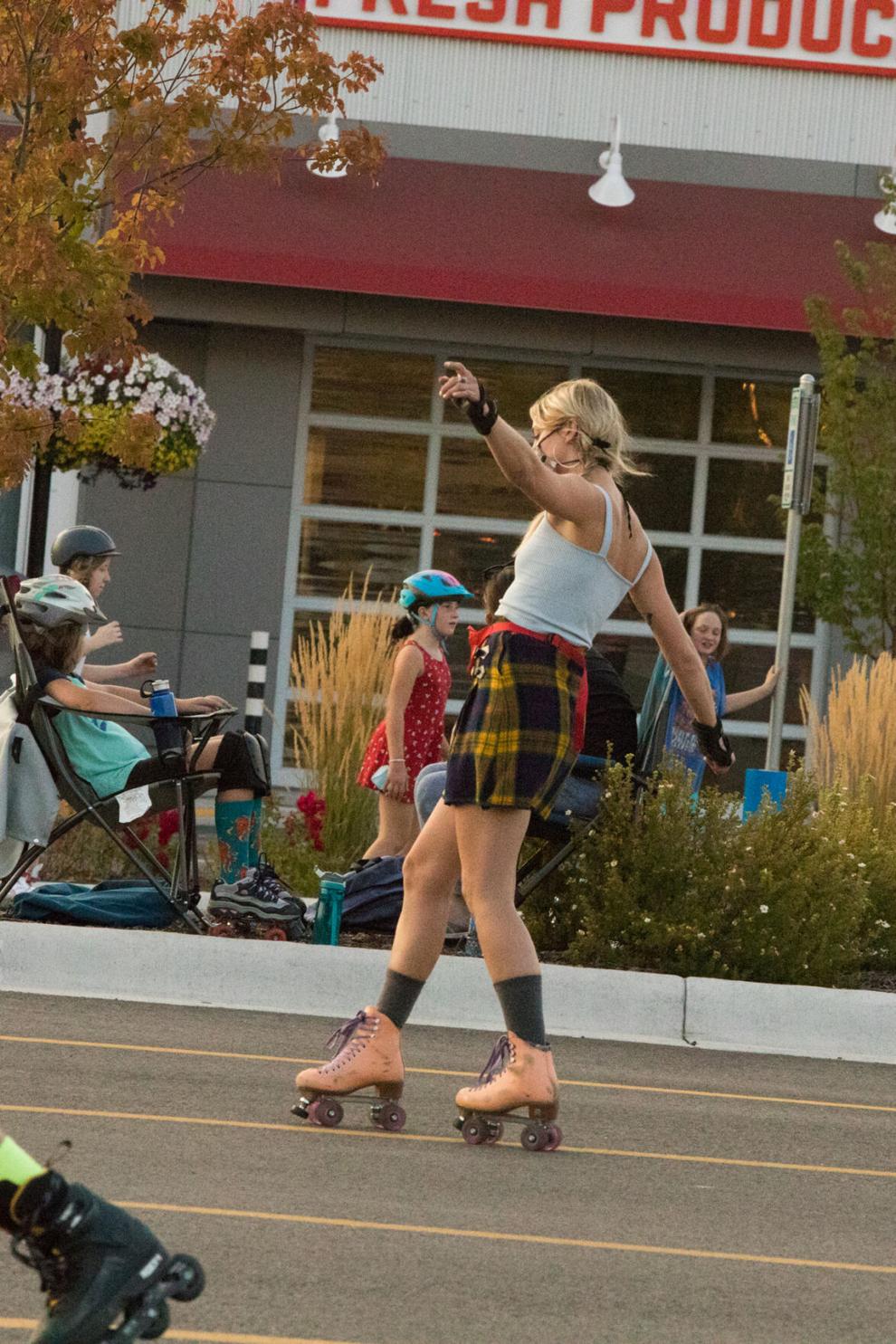 Meanwhile, roller skating trended around the country. Business Insider reported that roller skating was making a comeback — one that overwhelmed popular skate brands — thanks to nostalgia and boredom. Google searches for roller skates increased sharply in March and remained consistent throughout the summer. Videos on TikTok hashtagged "rollerskating" have 3.1 billion views.
Missoula businesses felt the impact of this growing interest. Kari Neal, owner of Skate Club Missoula, another local skate club, used to run a roller rink on 3rd Street that has since closed. She spent the summer filtering requests to buy her 'fleet' of used skates from her old roller rink and says more people than ever wanted to skate during the pandemic.
"Apparently there's this mass skate shortage," Neal said. "All of a sudden, people want to do things because they have nothing else to do, so they're gonna go buy skates. All the retailers were out."
After weeks of connecting over social media, the women who would soon make up Hip Strip Honeyz met for the first time in April and began to skate together on trails and in smooth parking lots. MOBASH skatepark in McCormick Park and various streets in downtown Missoula gave the Honeyz plenty of opportunities to learn new spins and how to jump and skate backward.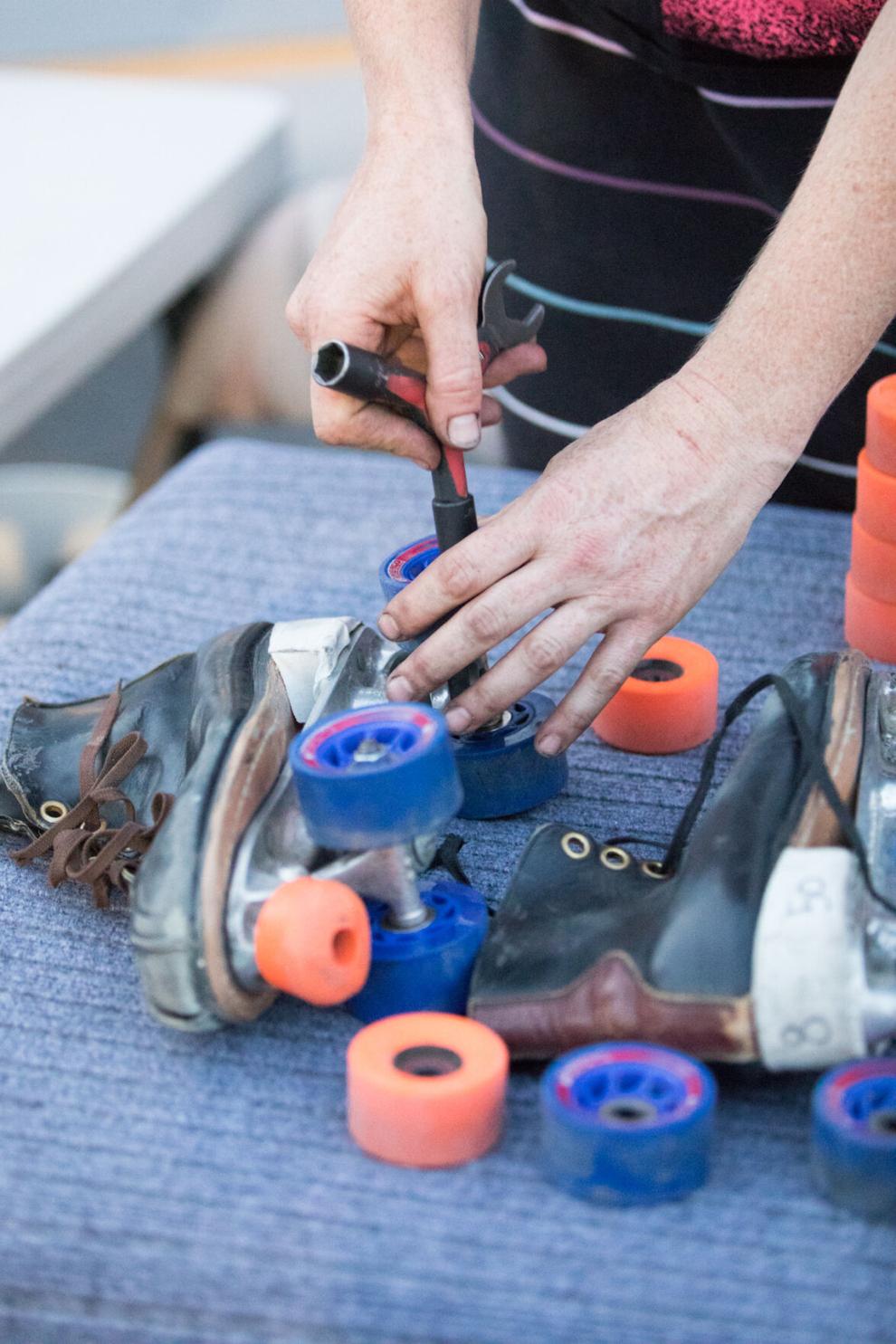 While they connected through skating and learning tricks, they also enjoyed having safety in numbers, particularly in skateparks.
"Skateparks seem intimidating for women," said Abbey Ostheimer, a member of the Honeyz. "When you're skating with eight girls and you get nasty cat call comments, it's a lot easier to brush it off."
Since the Honeyz all started skating at the same time, they were able to gain confidence without worrying about being judged if they fell or couldn't pull off a new trick. They dubbed their group the Hip Strip Honeyz, in April, inspired by Missoula's downtown area along Higgins Street.
The Honeyz logged videos of sunset trail skates through tunnels and along Missoula's rivers on their Instagram, which became their diary. They shared and showed off their new tricks around the streets and parking lots of Missoula. They dressed up for skates in knee pads and gloves, and practiced jumps or dropped in and around the bowl of MOBASH.
Some of them found empowerment in competing to learn new skate skills. Others rediscovered a long lost sense of fun with the rush and elevation of skating. They wobble and sometimes fall down in videos on their Instagram. They laugh as they roll down into a skatepark or swing around a bowl — even as they fall.
"There's this childlike sense of play that's absent from so many things in our adult life," Tressler said. "It's wonderful to have the opportunity to feel like a kid again."
As the group grew, the Honeyz drew the curiosity of passersby on their trail skates, and their Instagram gained more attention, including that of Coach Rooney. In Worden's Market and Deli on the Hip Strip, one of the Honeyz overheard Rooney talking about wanting to DJ for the skaters.
"I wanted to hang out with them so bad," Rooney said. "The Hip Strip Honeyz are uniquely Missoula right now."
Rooney helped the Honeyz create their first pop-up roller rink on June 12. Equipped with an extension cord, sound equipment and Rooney's collection of vinyl, they set up shop on the roof of the parking garage at UM, and the music started. People from all over the city came with roller skates or roller blades; others brought skateboards or bicycles.
All wheels were welcome, as far as the Honeyz were concerned, but many attendees just walked alongside their rolling friends. Rooney brought a large rainbow parachute — the kind Ostheimer remembers from her days in middle school. Skaters held onto the edge and skated in a circle to the music, as the nylon bloomed, floated and spun up and out. Over the summer, the Honeyz held three more pop-up roller events, growing their community.
"A lot of beauty ensued by people coming together," Rooney said. "People skate anywhere. But once we put music in, we're responsible for the people who stay."
"We've gotten feedback that hasn't always been positive," Ostheimer said. "For how many white girls are skating, how it can look like we are appropriating."
Tressler said the Hip Strip Honeyz received private messages on their group Instagram account in response to their pop-up roller rinks. The senders wrote that their posts about roller skating were inappropriate, in the context of the Black Lives Matter movement that shook the country this summer. The Honeyz said the comments came from community members, but did not specify who.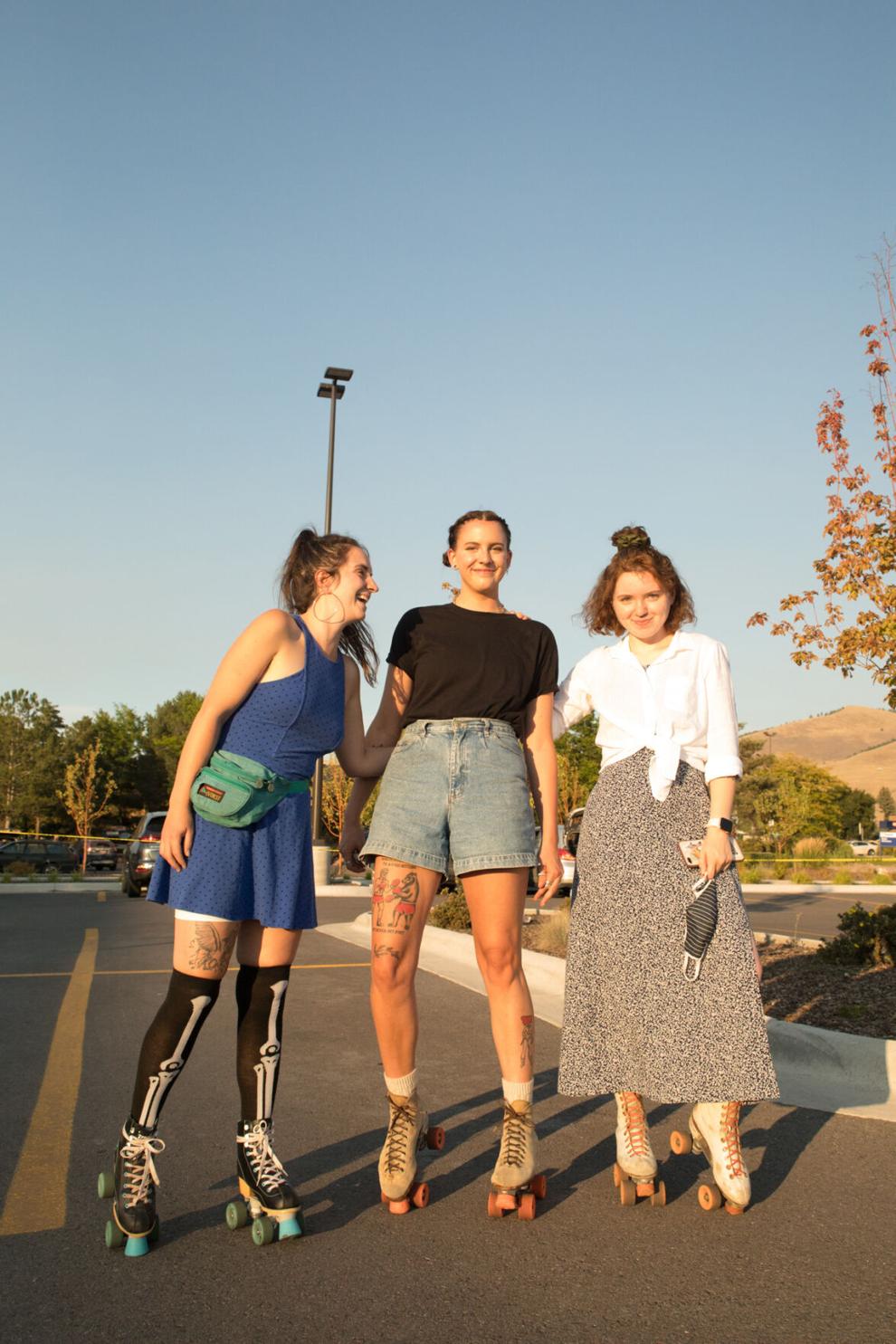 Posts about roller skating became an issue beyond Missoula. Popular TikTok roller skater Toni Nicole addressed the controversy in a video. She presented the history of the sport while roller skating to a voiceover that acknowledges skating's origins. The video noted that, while roller skating content on TikTok was on the rise, it was important to recognize the African American culture of the sport and the discrimination that still exists in rinks today.
"When I look up roller skating on here, it's all white people. Skating is a huge part of the Black community, please follow Black skaters," said the video's caption. The video has been viewed 2.1 million times.
The Hip Strip Honeyz said they initially felt defensive.
"After we talked about it, we realized that how we came off was a little offensive," Tressler said. "As a result we're all just learning to be better allies."
They decided to educate themselves. They began by watching a 2018 documentary called "United Skates," about the history of roller skating.
Roller skating, while seemingly just another quarantine trend on par with the Netflix series "Tiger King," has deep roots. "United Skates," covers the history of segregation and discrimination in roller rinks up to the present.
Black skating culture includes a variety of unique styles, with connections to the kinds of music that gave Queen Latifah and other artists their start. But roller rink owners who noticed this trend of African American skaters found ways to segregate without explicitly segregating. They created themed events, like "Urban" or "Soul" nights, and banned saggy pants and the kinds of wheels typically used by African American skaters.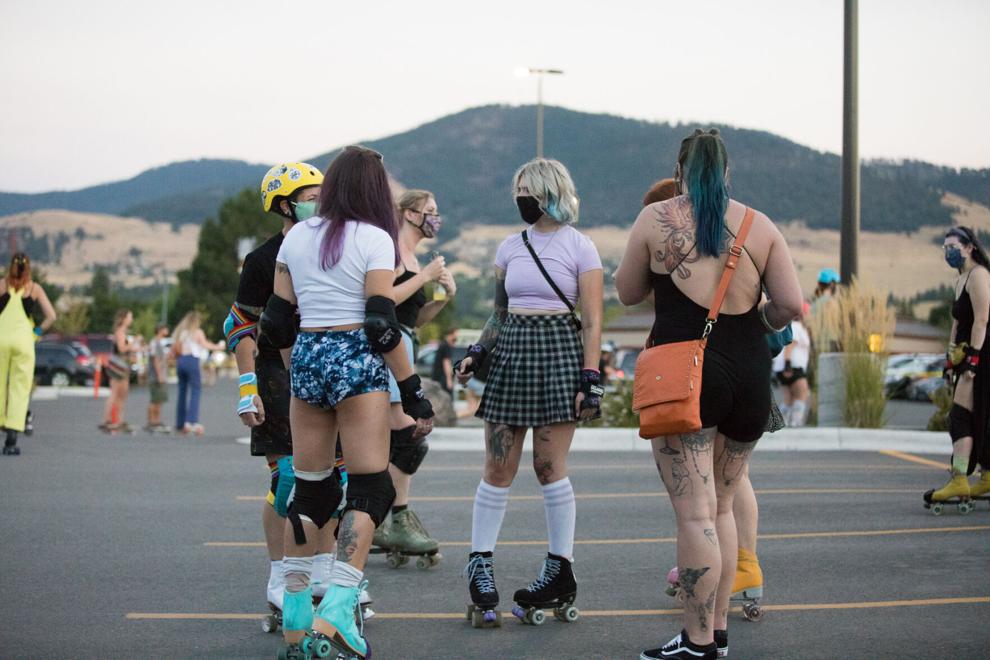 Many of these spaces remained segregated into the 1980s, even as skating became more popular with the African American community, along with the RnB and hip hop that played at rinks. The book "Race, Riots, and Roller Coasters," by Victoria W. Wolcott, discusses how recreational spaces, like roller rinks, were segregated, then shut down after the Civil Rights Act. But even afterward, roller rink owners and their white patrons continued to find ways to discriminate based on race.
London Marq, a member of the leadership team of the 1700 Liberation Missoula, a BIPOC-led organization aimed at fostering and assisting the Black, Indigenous and people of color community in Missoula, said that this skating history isn't widely distributed.
"For people who are European American, they don't have to look at race on a daily basis the way that everyone else does," Marq said. "But how could you blame them for not being taught in a system that doesn't teach them these things."
Mati Tressler took on the role of educating herself and helping the Honeyz learn more about the fraught history of roller skating. She said the Hip Strip Honeyz are continuing to grow.
"There's this definition that roller skating is all of a sudden popular, which really diminishes what it means to Black people, and what is important," Tressler said.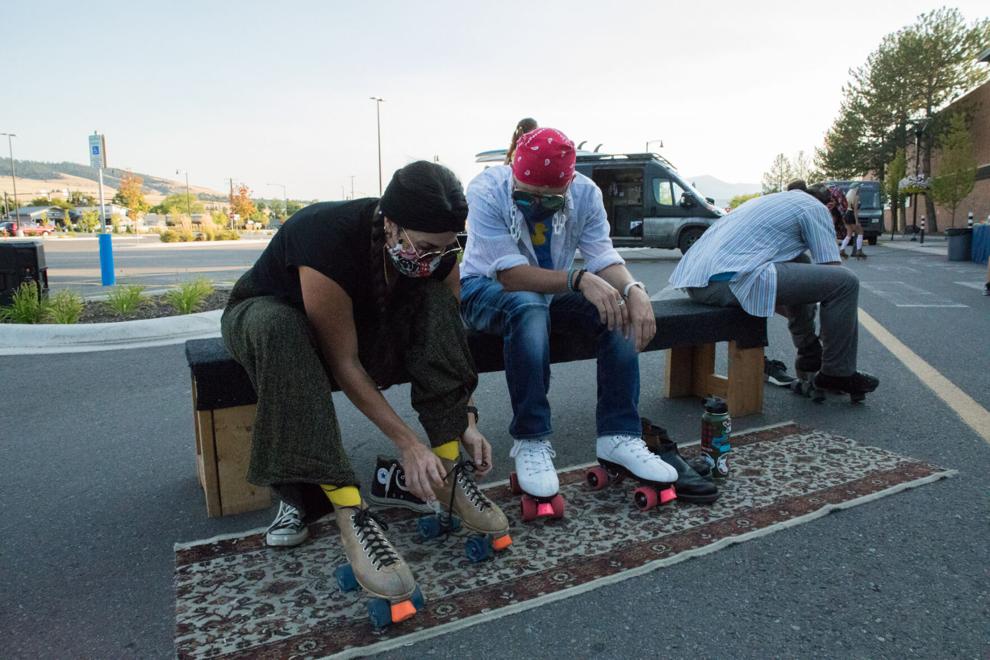 Oestheimer said the group has been using its Instagram to promote inclusivity and create a comfortable space. The Hip Strip Honeyz have also posted about the history of roller skating in the African American community, from segregation in the '70s to the lessons of "United Skates." The skaters have made a point to acknowledge that roller skating didn't become popular due to quarantine boredom, but because of decades of culture and community.
"We are not trying to disregard where it comes from or the history, or step on that," Ostheimer said. "We're just trying to take something that we all have a passion for and spread it around."
Before the September event, the Honeyz wrote: "Although it seems like roller skating is experiencing a resurgence, the truth is that roller skating never left."
In the Lucky's Market parking lot, they set up a donation table to raise money for the Montana BIPOC Mutual Aid Fund, which supports Black, Indigenous and people of color in Missoula — and brought in a few hundred dollars. The Honeyz haven't hosted another pop-up rink since, though they hope to do so on Halloween, if Missoula's COVID-19 caseload settles down.
The Honeyz' summer of skating and self-education is over, but Tressler has high expectations for the group of women she has watched push past falling and fear and skating on.
"That's something that hinders people from starting something new," Tressler said. "You're gonna fall, things are going to happen that will hurt. I hope we can continue to share skating with the community."