While scrolling through posts on Instagram in July, an avid University of Montana basketball fan would have noticed Freddy Brown III, a guard on the team, posing in an advertisement.
The ad was simple — just Brown III holding a white water bottle with a teardrop logo while sitting in the University of Montana's gym. A second photo showed him wiping sweat off his brow while casually holding the bottle in his free hand. A basketball with the NCAA brand sat between his legs. 
In the past years or even months, this would've been illegal for Brown III. He and the University may have even experienced sanctions.
But this year, when Brown III posed in that ad, he wasn't just making a quick dollar. He was benefiting from a monumental rule change in college athletics that gave him an option his famous basketball family never had. 
"It just shows how much times have changed," Brown III said. "From generation to generation to generation."
He's the third Freddy Brown to play college basketball, but he's the first in his family to be able to profit from advertisements, thanks to the rule change passed this year by the NCAA. Starting on July 1, athletes could make money off their "name, image, and likeneses (NIL) for the first time. 
The brand of water Brown III held on Instagram is PathWater, which frequently features promoters with a strong social media influence. Brown III fit the bill. He has the most Instagram followers of any University of Montana athlete — currently sitting at 12,700.
But Brown III isn't the first of his family to be in the spotlight.
Brown III's grandpa, Freddy Brown, was an All-Star in the National Basketball Association when he played for the Seattle SuperSonics. Because of his innate ability to score, especially from long range, Brown was nicknamed Downtown Freddy Brown. 
Downtown Brown's former college coach Dick Schultz described him in an interview as "a classy guy — honest and straightforward." Brown III and his sister both saw Brown as not only a great role model, but also a great grandfather. 
Brown played for the SuperSonics for 13 seasons, where he scored over 14,000 points and became the franchise leader in games played. He made thousands while playing in the NBA. But, when he played basketball at the University of Iowa, he didn't make a cent off his talent.
The NCAA policy forbidding student athletes from earning money other than scholarships and other minor benefits wasn't challenged in court until a lawsuit in 2014.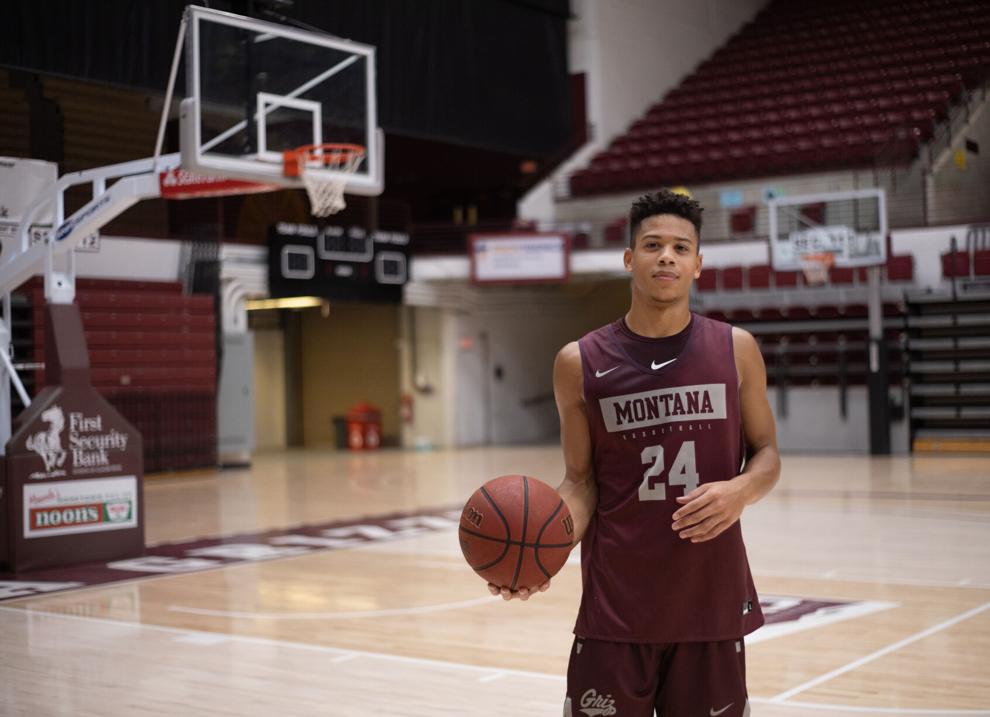 Former University of California Los Angeles basketball player Ed O'Bannon noticed a player in a college basketball video game looked like him, had his number and played for his former college.
O'Bannon filed a lawsuit against the NCAA claiming it was profiting off his name, image and likeness. O'Bannon won the lawsuit and college sports video games were discontinued, but the NCAA rules relating to athletes profiting off their images stayed the same.
In September 2019, the NCAA's NIL policy was once again challenged, this time by legislation passed in the state of California that would prohibit schools from punishing athletes who accept endorsements while in college. On Oct. 29, 2019, the NCAA board of governors officially decided to modernize its NIL policy, setting a deadline of January 2021 to finalize its new rules.  
But when the deadline rolled around, the NCAA decided to delay its vote. 
In June, the U.S. Supreme Court heard a case regarding NIL policy. It ruled the NCAA was violating the law by preventing student athletes from making money off their images.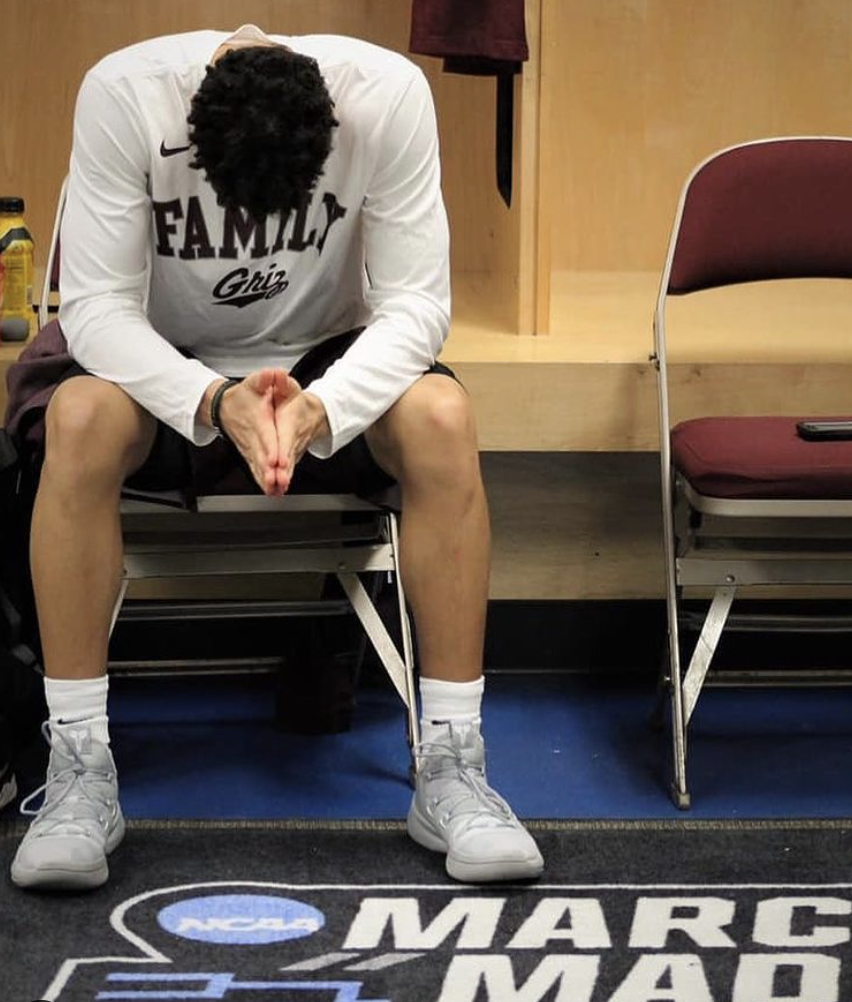 After the Supreme Court's ruling, the NCAA adopted its rule change. It was a landmark decision. 
After that decision, the NCAA informed UM Athletic Director Kent Haslam and other athletic directors around the country that universities must make their own NIL policies if there wasn't already a state policy in place. Montana didn't have a preexisting policy, so it had to create one for UM athletes.
"We certainly, as an institution, have guardrails," Haslam said. "We have to monitor what our student athletes are doing." 
Student athletes at UM must fill out a form when they get NIL deals that indicates who they are partnering with and how much money they are making. 
UM's NIL policy makes sure that student athletes cannot use Montana's logo or identifiable facilities to make money. The policy also states athletes cannot partner with brands that are associated with tobacco, gambling, alcohol, recreational marijuana or athletic performance enhancing drugs.
Haslam said he was glad to see the policy changed so student athletes were allowed to profit off their image.
"It just never made sense that a college student could freelance and write an article for the New Yorker magazine and get paid for it, but our student athletes couldn't do that," Haslam said. "I'm glad to see changes were made." 
Brown III's partnership with PathWater started when the brand reached out to him on Instagram.  He gets a percentage of profits when PathWater customers use the code "FREDDYPATH" to get 15% off their order. 
"Freddy's got a pretty good name in the basketball community. Not just locally, but nationwide," said Brown III's dad, Fred Brown Jr. "I knew there was going to be an opportunity for him to do something." 
Brown III also has a partnership with VIDSIG, a global chat platform that allows fans to pay celebrities and athletes for personalized videos or live virtual conversations. Customers can even pay $45 to receive a personalized message from penguins at the Shedd Aquarium in Chicago.
Brown III has made money thanks to UM's new policy, but long before he was benefiting off his family name, he first had to live up to it. 
Brown and his sister, Katia Brown, were both raised in Neah Bay, Washington. Neah Bay is home to the Makah Tribe, of which Brown III, his mom Tina and Katia are members. 
As soon as Brown III could walk, he had a basketball in his hand. 
"Basketball was everything (growing up)," he said. "I've always been in the gym." 
Brown III and his sister were both mentored by the eldest Freddy Brown, who shared his love for the game and knowledge about professional basketball. 
"He took us to the gym when we were super young and he told us some great insight… you know just shooting tips… mentally putting your focus where you want," Brown III, said. 
Katia Brown had a successful high school basketball career and played at North Idaho College before hurting her knee. While she was in college, athletes still could not make money off their likeness. 
"I didn't get a lot of financial help like how Freddy is getting," Katia said. "If I were able to do something like … he does, I wouldn't have had to work while I was in college and playing sports."
Growing up, she and Brown III were very close and rarely fought. 
"We were pretty much like each other's best friends," Katia said. "He's a really caring person." 
Katia added that today, she and her brother still have the same relationship. They're just living farther apart. 
"It's really hard not having my brother here all the time," she said. Katia currently works at an early learning academy in Tulia, Washington.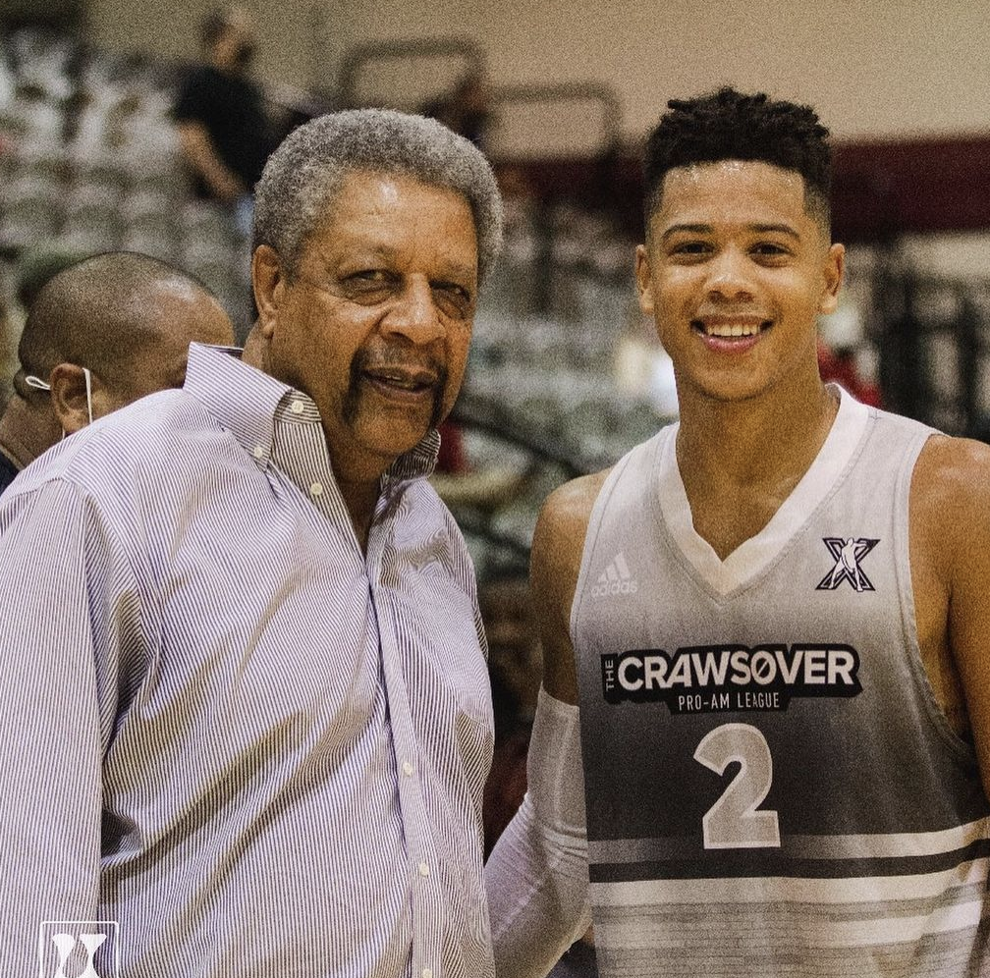 Brown III's parents were just as invested in basketball as his record-setting grandfather. The two met while they were playing college basketball at Edmonds Community College. Tina Brown said she had no idea of the basketball heritage of her future husband. 
"I lived out in Neah Bay, where we had only three (TV) channels back in the day," she said. "And that was only when the weather was nice." 
Brown III said he and his mom have a close relationship. Tina used to take him to tournaments across Washington. 
His mom still participates in tournaments on the Makah reservation. His dad, Brown Jr., still coaches.
Brown Jr. frequently went to SuperSonics practices with the eldest Brown. He earned the nickname "Midtown" from the players. 
Once while Downtown Fred Brown was judging the 1987 NBA Slam Dunk Contest, a young Midtown Fred Brown was able to meet Michael Jordan, an experience he remembers to this day. Like his father, Brown Jr. was also good at basketball, and earned a Division I offer from the University of Iowa to play in college. 
But it was coaching in the basketball world that beckoned Brown Jr., who now coaches at the College of Southern Idaho, a junior college in Twin Falls. The school claims to have more wins in its history than any other junior college in the country, and Brown Jr. plays an integral part in its success.
"We're getting kids that are probably, most of them, non-qualifiers (for college) coming out of high school," he said. "So I try to teach them life skills."
With the new NIL rules in place, Brown Jr. says he teaches athletes to preserve their name for when they make it to a higher level. And Brown Jr. has good reason for that advice. More than 18 players from the College of Southern Idaho not only made it to the Division I level, but also to the NBA.
When Brown Jr. was playing basketball, his dad was like a coach to him, so when Brown III was growing up, it was no different. 
"When he wasn't doing things the right way I would get on him too, just like everybody else," Brown Jr. said.
Brown III was also coached by prominent high school basketball coach and former NBA star Brandon Roy. 
Brown III spent two seasons playing high school basketball in Marysville, Washington, before transferring to Nathan Hale High School in Seattle. It was at Nathan Hale where Brown III's basketball career took off. 
The school won the Washington state championship in Brown III's junior year, with the help of future NBA player Michael Porter Jr. on the court and Roy's coaching from the sidelines. That season, Nathan Hale played top prep schools from all over the nation, often on national television, and didn't lose a single game. 
"It was crazy," Brown III said. "Playing for Brandon Roy himself was just unbelievable." 
Thanks to his successful high school basketball career, Brown III picked up interest from the UM basketball team, coached by Travis DeCuire. 
DeCuire played high school basketball with Brown Jr., and Brown III said DeCuire was like an uncle to him. Brown III accepted an offer to walk on to the UM basketball team in 2018.
In 2019, Brown III's first year with Montana, the Griz made it to March Madness, the NCAA's yearly basketball tournament that draws in billions of dollars in revenue. 
"Any time they succeed on a really big stage it opens up people talking about them, finding out more about them," Haslam said. "That's one of the benefits of being a student athlete." 
For Brown III, the trip to March Madness was eye-opening, showing him just how much money existed in college athletics.
"We flew on a charter flight just as a team," Brown III said. "When we landed, we had a police escort from the hotel to the gym."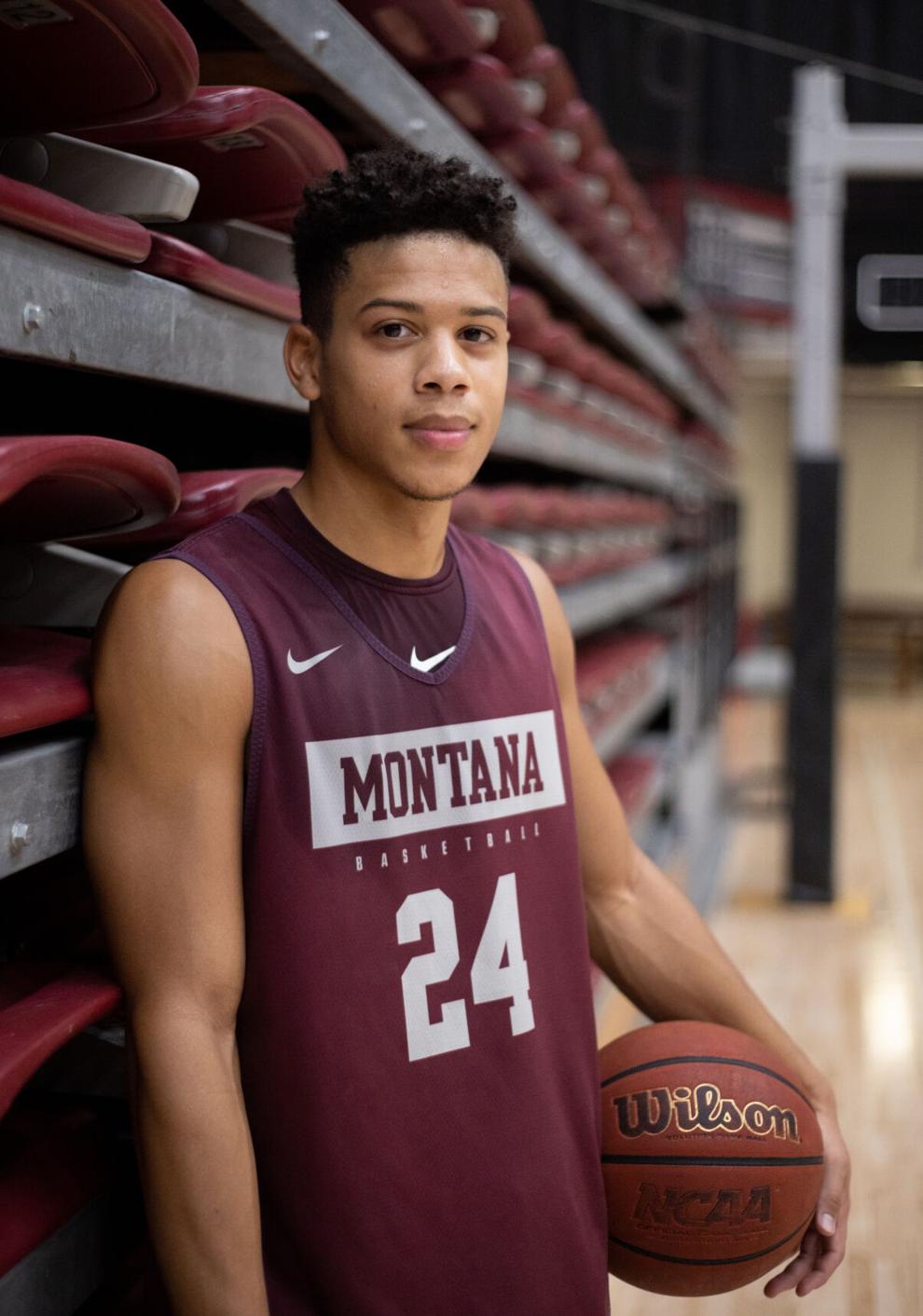 In 2019, the NCAA was still deliberating on NIL policy rules, so Brown III and his teammates couldn't benefit financially from the exposure they received at the tournament. The 2022 NCAA tournament will be the first one since the passing of the NCAA's new policies. 
Brown III has been a member of the Montana basketball team for three years. Because of his redshirt year and the year of COVID-19, he has only used up one of his years of NCAA eligibility, leaving him with three more basketball seasons ahead. In the 24 games he's appeared in, he's only scored 34 total points. But Brown III has shown some of his generational shooting ability, making 37.5% of his shots from downtown.
Other UM athletes also have benefited from NIL deals. UM football player Samuel Akem boasts multiple endorsements on his Instagram account, including one with watch company Mamba Watches. Multiple athletes have also partnered with media outlet Barstool Sports to become "Barstool Athletes." 
Haslam said a big part of athlete sponsorships is education for players who receive these endorsements.
"I think our role really in college athletics is … helping our student athletes understand you're going to be paying taxes on this," he said. "You're going to be entering into your own business opportunities."
Haslam said he doesn't know how many NIL deals are in place at UM, but it is not a high number. He said that while some sponsors may want to donate money to athletes rather than the school, UM hasn't felt any financial losses. 
"I'll say that the sky's not falling," Haslam said. "College athletics is still doing just fine; this is not going to bring a crash to the collegiate system." 
He joked if NIL deals were available when he was playing college baseball, he "wouldn't have been smart enough to figure out how to do that." But Haslam said athletes with social media presences like Brown III's should continue to find opportunities in the NIL realm.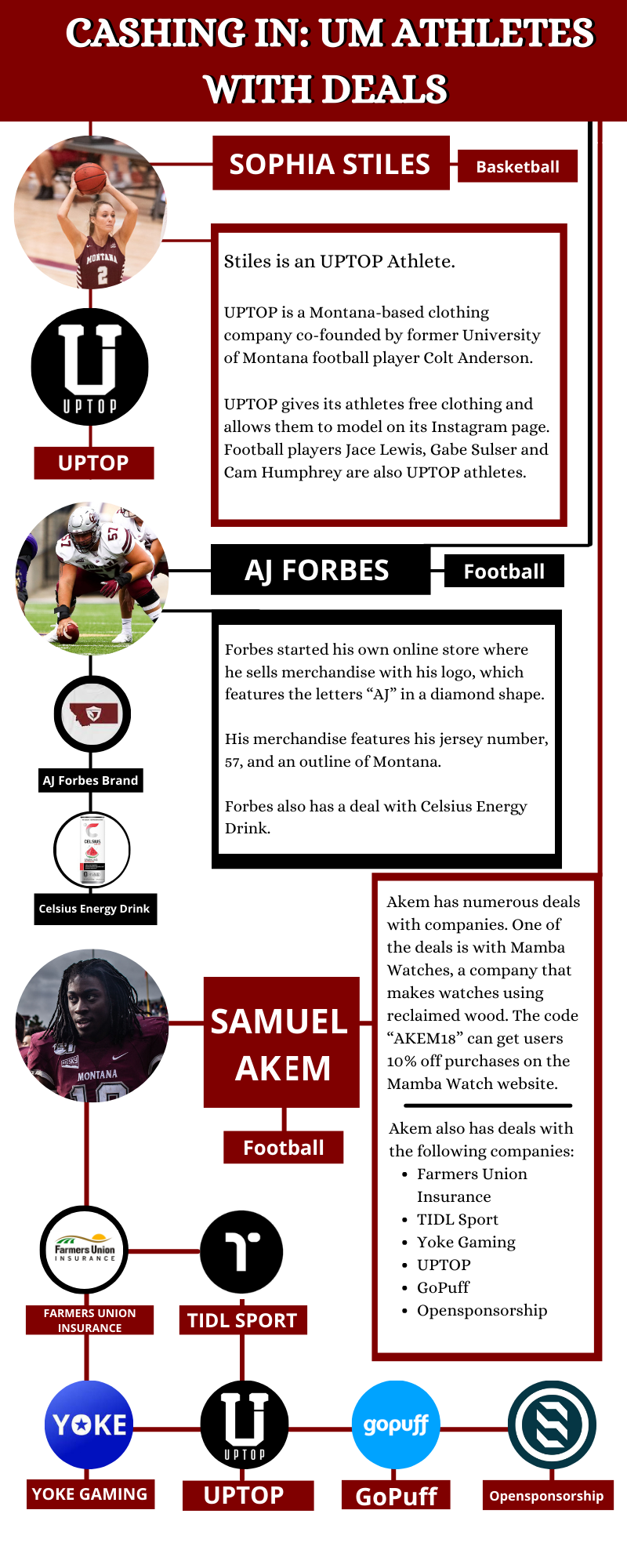 Brown III has been working on a degree in business marketing, which he will receive in December 2021. He has an academic scholarship and plans to get a master's degree. He also recently received an athletic scholarship from UM. 
"I came to UM with a … passion to work hard and prove that I could play at the Division I level," he said. "I earned myself a full basketball scholarship." 
He said if any more NIL deals come his way, he'll definitely take them.
In the summer of 2021, Brown III spent his time playing in a summer professional/amateur league in Seattle with his dad and grandpa in the audience. He wants to continue treating  basketball as an art form more than as a game.
Brown III's family has been creating their art on the court for generations, and the youngest member of the dynasty will continue this pattern when UM kicks off its season on Nov. 9. The only difference will be that Brown III is now making money while perfecting his art.