Rachel Gordon remembered the Friday of March 13, 2020, with a sunny clarity. It was the day before spring break, and the gray of a Missoula spring was smothering. Wind howled as 20 mph gusts blew toward the east all day.
Earlier, in her global health class, Gordon had been discussing the novel coronavirus — classified two days earlier as the first pandemic in over a decade — with her professor and classmates. Cases of the virus had been confirmed in Washington, only two states away. She didn't know much. And it made her anxious.
But Gordon recalled a smattering of sunshine, maybe representative of her excitement for a break and the upcoming trip to Bozeman she had planned. As she reflected nearly a year later, she remembered thinking to herself, "Oh — Friday the 13th. Good thing it's a really good day."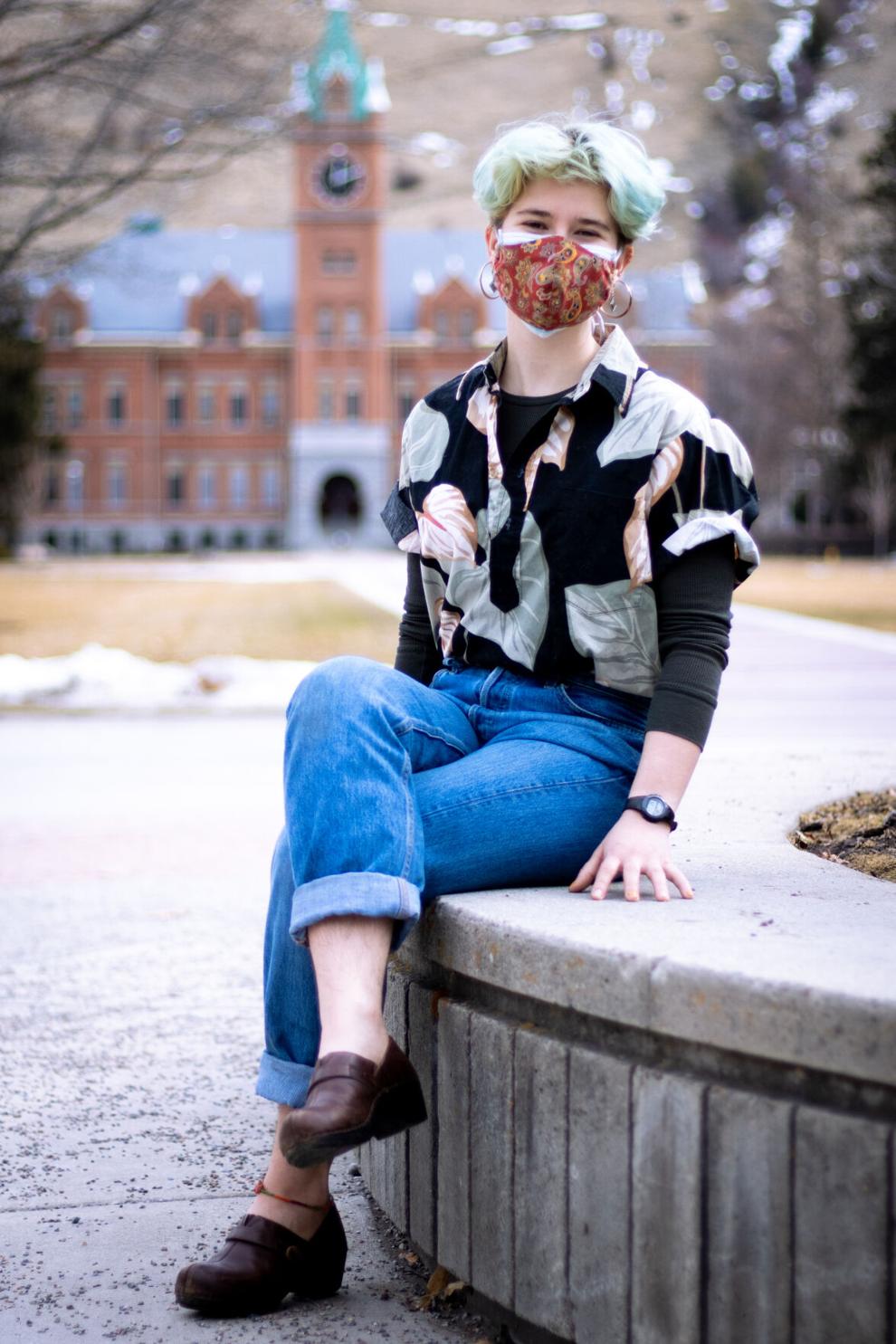 "But then, yeah," the public health and women's studies major continued. "We just never went back to class in person."
As the one-year anniversary of COVID-19 in Montana approaches, UM students, faculty and staff alike are left to reflect on the past 12 months of history. For students — to whom March usually signifies midterms and boozy beach vacations — it's hard not to feel the loss of an old normal, as memories of what's missing ache like a phantom limb. The past year's swinging pendulum left many longing for routine. But in this routine, it has become more difficult to acknowledge the true scale of the impact the coronavirus has wreaked upon us. 
The pandemic has resulted in a staggering 2.5 million deaths worldwide. The U.S. death toll, which rose to over 500,000 before the year anniversary, means COVID-19 has claimed more lives than both world wars and the Vietnam War combined. A Pew Research Center survey found that more than half of U.S. adult respondents knew someone who was hospitalized or died from the coronavirus.
In addition to widespread feelings of grief and loss, depression and anxiety are on the rise globally, and so is substance abuse. An international study in the Quarterly Journal of Medicine found that stress related to COVID-19 quarantine was one of the biggest contributors to post-traumatic stress symptoms, and that one of the main groups at risk was those aged 18-24. 
The whiplash of adaptations, compromises and sacrifices since March 2020 has resulted in a dizzying lack of consistency. For students, it's been particularly challenging. With threats of sustained trauma looming, this "new normal" has come with numerous trials.
On the national scale, a recent study on the psychological impact of the pandemic comprising colleges across seven states — among which UM was a participant — found that nearly all students surveyed were experiencing negative psychological impacts from COVID-19. Almost half of those fell into the highest level of distress, a designation that could point to severe anxiety or depression.
Gordon is well aware of the dangers COVID-19 presents to mental health. In October 2020, she joined with three other students to start the Health Buzz, a monthly podcast through Curry Health Center aimed at providing students with coping mechanisms for stress. 
While the podcast wasn't specifically intended for pandemic-related afflictions, Gordon acknowledged it quickly became relevant in that regard.
"There are such heightened levels of stress and depression and anxiety and discomfort that's going on just because of [the pandemic]. And you're experiencing this chronic level of stress that pervades all of your life," she said. "It's so, so important to have these resources that are accessible to you at any time."
Students, faculty and staff at UM have navigated the past year with as much grace as possible, transitioning to online classes beginning in March 2020 and coming back for face-to-face learning by August. Still, the challenges faced have been daunting, and they will likely leave a generational mark.
---
Gianluca Serafini, a professor in the Department of Neuroscience and Psychiatry at the University of Genoa, Italy, was one of the principal researchers for the Quarterly Journal of Medicine study. He found a concerning potential for post traumatic stress, anxiety and depression as a result of the pandemic. 
"We don't know the long-term cost of this pandemic," Serafini said. "We don't really know the psychological effects of social isolation. We suppose that the consequences of deprivation in the COVID-19 era may manifest in the following months or years."
His article doesn't focus on students specifically, but the professor still saw reason for attention to be paid to university student experiences. In large part, this is because the long-term effects of COVID-19 on mental health are still unknown.
"I am seeing significant distress in university students," Serafini said. "This is related to the time of a pandemic, to the many problems that these conditions provided these populations."
Perhaps no one has felt the changes in normal social interaction more than the freshman class of 2024. After finishing their senior year of high school remotely and graduating in socially-distanced auditoriums or football fields, they arrived at a shell of a UM campus. With so many restrictions and changes, the University hardly resembled that of previous years.
There was no football, no in-person mixers and no visitors allowed in dorm rooms — with serious penalties for any broken rules. The UC Commons and study spaces were quiet, as many fall classes proceeded entirely via Zoom. 
Freshmen faced a daunting task: Making new friends at a time when social interaction was not only discouraged, but in some settings, prohibited.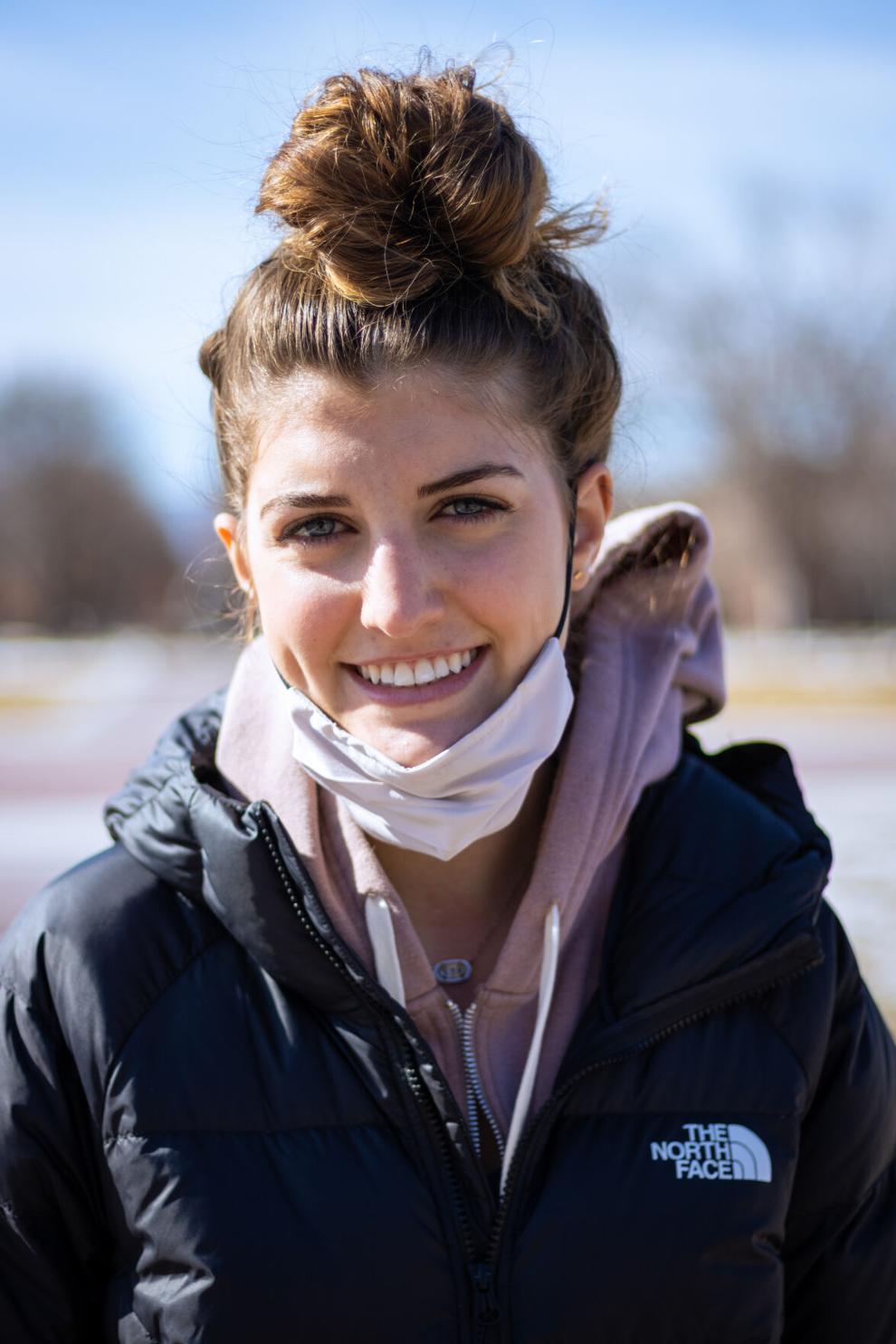 Francie Beadle, a freshman biology major, remembers the Friday of March 13, 2020, with an ironic wistfulness. It was the end of the week, and she was tantalizingly close to her Arizona spring break vacation. She was trudging through her last few months as a senior at Bozeman High School, and she was ready to be done.
So much so, she only made it through two periods before being called out early by her mom, deciding instead to go home and pack.
"I was a senior so I was like, 'I hate school, I don't want to be here. I'm sick of this day. So I went home early," Beadle said.
"And that was my last day of [high] school ever. Now I really regret going home." 
Beadle has found the isolation of the year to be most difficult, both in literal and figurative terms. It's been hard to make new friends. Over Zoom, most classmates are just a black screen with a first and last name. In person, they are masked strangers sitting six feet away.
Through everything, Beadle has felt an acute sense of loneliness. More than just the freshman homesickness that's par for the course. 
---
Matthew Browning, a professor at Clemson University's College of Behavioral, Social and Health Sciences, was one of the lead researchers conducting the seven-state study on the pandemic's psychological impact. A large component of his research looks at how environments impact people's health. 
His study identified a few primary risk factors for COVID-19-related psychological distress. These included pre-existing health problems, less time spent outside and gender (women were more likely to report high levels of psychological distress than men). Most relevant to UM students? Age and screen time. Younger students, 18-24, were more affected by the pandemic's mental strain than older ones, and students who spent more than eight hours a day in front of a screen were similarly at greater risk of psychological impact. 
If eight hours of daily screen time seems unfeasibly low, that's because it is. Between class Zooms, homework, meetings and the average four hours of smartphone screen time U.S. adults report, the eight-hour threshold comes up fast.
"I think it'd be very hard to not spend eight hours of screen time a day as a college student, to be honest," Browning said.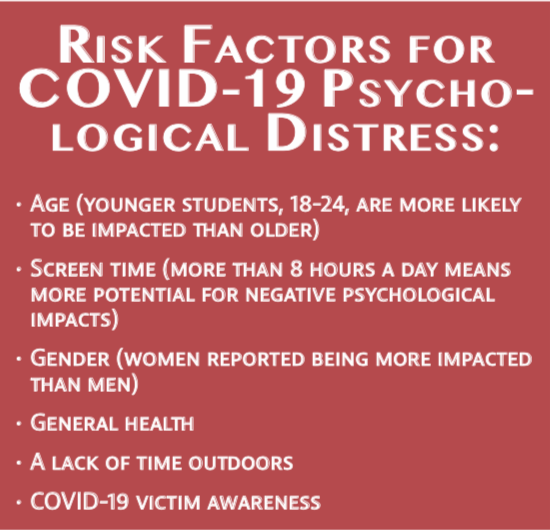 Almost half of the students surveyed in his study, 45%, reported experiencing the highest level of psychological distress. Browning found that the drivers of these psychological challenges emanated from two factors: changes in educational settings and in students' social lives. Coupled with isolation, hybrid or remote classrooms don't foster learning or the development of human connections as well as conventional ones. But conventional classroom learning also comes with the risk of sickness and contagion. 
"The college years really serve as a time to develop autonomy, and identity, and it's often necessary to interact," Browning said. "That's not to say that can't happen virtually, but historically that doesn't happen."
Of special concern when all these factors are at play, Browning said, is the risk of increased substance abuse by students and other young adults. 
But Browning's greatest concern was more fundamental: the lack of human contact resulting from pandemic restrictions. 
"That social interaction is paramount to developing a sense of who we are. It allows us to identify who we are," he said. "And I just don't know if that's possible virtually."
---
"I've heard from a lot of freshmen, this has been a lonely year," Beadle said. "Like, you have some friends, but it's very hard to meet new people."
"It's really surprisingly easy to forget that we're in a pandemic," freshman Libby Sweeney said. "You know, it's the first year of college, you're making new friends — or, supposed to be making new friends but you're not. And you're like, 'Why am I not doing the normal freshman things?' And it's just easy to forget."
Sweeney, who is pursuing her general associate degree at Missoula College, is now nine weeks into her first semester of college, after taking a year and a half off after graduating high school. She's been trying to take the pandemic's challenges in stride, but admitted that, at times, she's felt like she's doing the "freshman experience" wrong.
"I feel like I should be meeting new people," she said. "Like I should be creating a new group outside of the group I had in high school."
Both Beadle and Sweeney have latched onto important takeaways from their time as UM freshmen in a global pandemic. For Sweeney, she's appreciated time outside, taking up running as a healthy form of stress relief. She's looking forward to a non-pandemic future when she can go back to Bozeman and perform with her band, Page and the People's Band.
Beadle has embraced the uniqueness of her limited social interactions, focusing on forging stronger relationships with fewer people. She's come to understand another lesson, too.
"I think it's definitely been a year where I've learned to be comfortable being alone; to be comfortable in my loneliness," she said. "And I think that's a super tough thing to learn at my age, but I also think it's super important."
---
Freshmen like Beadle and Sweeney are a part of the target audience for Gordon and her team's podcast. Sara Odenthal, a senior in public and community health, is one of the other three podcast producers. She emphasized the importance of widely distributing healthy coping mechanisms on campus. The podcast, she said, is just one way to help.
"Obviously the pandemic has forced us to cope in different ways, and some of the ways we have used before, we can't do them anymore. They don't work the same way," Odenthal said, referencing the changes in many traditional stress relievers — like in-person gatherings and counseling sessions.
February's episode centered on stress coping mechanisms, while this month's will focus  on substance abuse. For Odethal, who works on the prescription drug task force at UM, the upcoming episode is especially important. 
In a national survey conducted last August, the Centers for Disease Control and Prevention found that anxiety and depressive disorder symptoms had increased by three and four times, respectively, compared to numbers reported the same time in 2019. Of those respondents, 13% reported an increase in substance abuse. In Missoula, 2020 saw an increase of almost 80% in drug-related overdoses, from 13 deaths in 2019 to 23 in 2020. While the difference between causation and correlation should be noted, the numbers concerned Odenthal a great degree.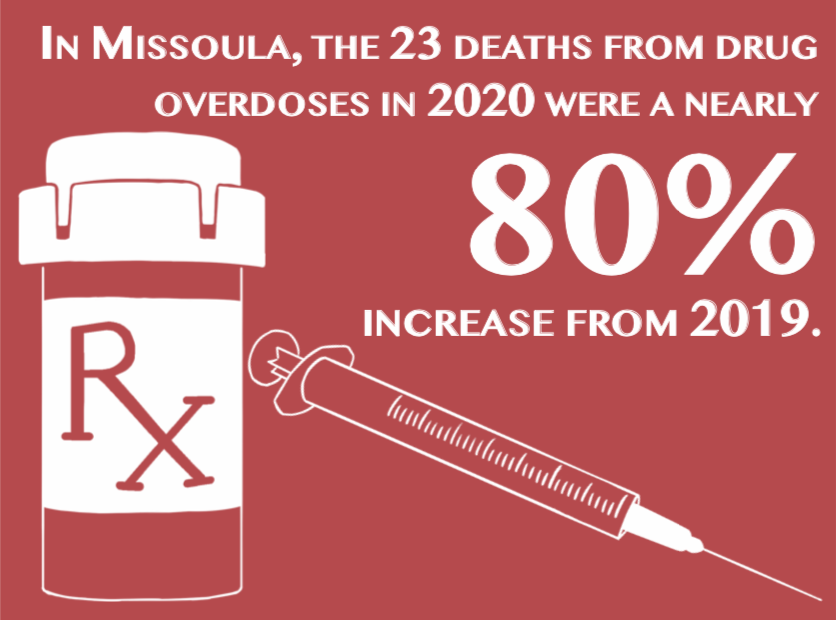 Odenthal said that combating these challenges starts with encouraging students to reach out for help. 
"Our goal is to create space about issues that affect students and to help reduce the stigma around that," she said.  "And also to help people feel less alone. Especially now, it's easy to feel like you're the only one facing this challenge."
---
"I remember that day. It's kind of like 9/11," said Kayli Julius, health coach and the interim wellness director at Curry Health Center. "I remember when we got the email that we would not be coming back after spring break."
Julius was teaching both Gordon and Odenthal in their annual Peers in Training class before COVID-19 forced things online last year. She recalled the beginning of the pandemic craziness on campus. 
"There was a lot of worry, a lot of uncertainty," she said. "We were teaching our class and had to figure out how to go online. But you learn and adapt."
In that adaptation, though, are certain drawbacks. Julius mentioned the strain of constant online interaction, referencing the same concerns about screen time as Browning. She also brought up "Zoom fatigue," a phenomenon that refers to the extended use of Zoom and its effects on users. The science behind it finds unhealthy effects from seeing our own faces on a screen all day, and the damage from consistently keeping our eyes at the same focal length for hours on end. 
Julius noted the strength of students in the last year, and praised the general efforts to keep operating as normal.
"I think students are really resilient. We want to keep going. We want to keep going to class, we want to keep going to work," she said. "And that's normal. And I think that's kind of the healthy thing to do. We can't not function because that's not going to be helpful to anyone."
The caveat, though, is that this year isn't the precedent. In the continued insistence of normalcy, it can be all too easy to lose sight of objective reality: Things are not normal. When they are presented as such, it's easy to understand why Sweeney feels like she isn't experiencing freshman year correctly. Or why feelings of unease, anxiety and depression are on the rise. Or why substance abuse has spiked nationally and locally. There's a perceived sense that maybe we, as individuals, are being more affected by the pandemic than we should be. If things are normal, why do we feel so off?
The answer, of course, is that we are not living in anything close to normal, Julius said. It's important to recognize that.
"All of us have felt off during the pandemic. You might not have a mental health diagnosis, but you still might have felt unmotivated or really tired or just stressed and overwhelmed," she explained. "Because again, we're not designed to live through this. None of us are pre-conditioned for this type of life."
She sympathized specifically with students.
"College is a time of connection. College is where people make their lifelong friends," she said. "It's all about social activities and interacting. And that's pretty much been taken away from all college students this last year."
---
"This has been a really challenging year," UM President Seth Bodnar said, reflecting on the last 12 months. "The most challenging year of my life as a leader, and that includes times where I've been in Iraq, or in other combat zones.
"But," he continued, "it's also been really, probably the most inspiring year of my career as well."
When the first whispers of the pandemic in the U.S. began circulating in late January and early February, Bodnar and his administration began to think seriously about what would happen should cases be confirmed in Montana. When the call came, UM assembled the Campus Preparedness and Response Group to face the daunting task of moving an entire campus online for a semester or longer. 
"A year ago, there was tremendous uncertainty, Bodner said. "The situation was literally changing by the hour. You just saw this cascading shutdown." He praised the work done by the UM community to adapt and support physical and mental health needs."We switched more than 3,000 course offerings online, which is just a tremendous undertaking, and huge credit to our faculty, to our staff and of course to our students as well."
Paula Short, UM spokesperson and leader of the Campus Preparedness and Response Group, thought back to the blur of March 2020. 
She remembered feeling, along with an overwhelming uncertainty, a sense of determination among administrators — UM had to finish the semester. It was only the halfway point. What would students do if they didn't finish out the year? What about seniors?
"And I remember us thinking: This pandemic cannot be the reason that people drop out of school and don't ever come back," Short said. 
Short said the moment she realized UM was going to pull off the transition, she was impressed with the teamwork of faculty and staff. It was an anxious time, filled with doubt, but the school was going to be able to pivot. 
"When you're in it, I remember in the midst of it, the pace and scale of the things we had to consider was just crazy," Short said. "And now, with the benefit of the year, I look back and feel really proud. I mean, it wasn't easy, it wasn't perfect, but it was a lot of hard work and I think people just really came together."
---
Alicia Boone, a senior psychology major, was on a road trip down the coast of Oregon with a friend that Friday the 13th. The two friends had just heard the news: The pandemic had officially reached Montana. As they camped on the beach, the girls wondered if they'd get stuck out of state. Miles away from home, it was easy to feel disconnected from reality. The pair did make their way back, and, on the way, Boone recalled feeling uneasy at the lack of things like meats and toilet paper in grocery stores. 
"The world just started shutting down," she said. "It was pretty eerie."
As burdensome as this year is on freshmen, seniors also face significant uncertainty looking ahead. Boone knows this feeling all too well. She is preparing to graduate this spring, and doesn't know what her future will look like after the socially-distanced commencement ceremony in May. 
"I feel like everyone our age, for as long as time has been going on, has had that question [about future plans]," Boone said. "But I feel like it's just so much more stressful when there are no building blocks to even go from."
In her Intimate Relationships class this semester, Boone participates in weekly student therapy sessions, where a graduate student is paired with an undergraduate and the two put to practice all the techniques they've been taught.
The class has spanned a gamut of topics, from dating in COVID-19 to the foundations of healthy relationships.
Boone said she felt like the class has helped her empathize with others' struggles, and given her a support network as well — one that understands the specific anxieties that come with being a senior in the pandemic era. 
"Having connections is such a huge part about being a healthy individual," she said. "And for everybody, it's more challenging now, because you don't have as big of a support network as you did before."
---
Gordon, Sweeney, Boone, Julius, Short and Bodnar are just a fraction of the students, faculty and staff at UM who have attempted, out of necessity, to adapt to a new world. The past year has seen tragedy and triumph, vulnerability and resilience, disability and ingenuity. 
It feels like a ridiculous notion to romanticize any aspect of the pandemic, but it's easy to understand why people are so keen to do so. We've been forced to face all the things we've taken for granted, and in doing so, gained a new appreciation for them. It's a romantic concept.
It's true that the world is slowly — or not-so-slowly, as states like Texas, Mississippi and Montana do away with universal mask mandates and open up businesses — shaking off the surreality of the last year. Vaccine distribution is gaining speed, and latest promises say that by the end of May doses could be available to all U.S. adults.
It's also true that the trauma of this past year will likely leave a generational mark. Scientists agree it's impossible to tell right now if and how these increased levels of anxiety and depression will manifest themselves later.
But still, despite it all, we look for hope. We find the silver linings. Maybe it's just human nature.
"People are incredibly resilient. People can come back from the most terrible things happening," said Odenthal, the podcaster. "And even though this year has been a dumpster fire on so many levels, I think it has brought to the surface so many things that need to change. 
"We are figuring out a new way of doing things. And that is really encouraging to me," she continued. "Things are always changing, and one way or another, I think that this year connected a lot of people with their values in a really deep way."