It doesn't take much effort to notice there aren't many women in high-profile leadership positions at the University of Montana. Since former interim President Sheila Stearns and former interim Provost Beverly Edmond were replaced with permanent administrators — both men — students, faculty and staff have been questioning whether diversity in leadership is a priority or not. 
As it stands, four of 10 high-ranking non-interim administrators are women. There are no visible people of color in these positions. 
The highest-ranking female leaders in the administration include Kelly Webster, the chief of staff; Paula Short, communications director; Jessica Weltman, Title IX coordinator; and Lucy France, legal counsel. Each of these women report to a man. 
Interim Vice President of Administration and Finance Rosi Keller will likely be replaced this summer. If replaced by a man, there would be no women in the administration with the word "president" in their job title. 
Jessica Weltman, UM's Title IX coordinator, said in an email that search committees meet with Human Resource Services to discuss possible biases and try to eliminate them from the search process. 
Constructing role descriptions can be critical for ensuring minority applicants aren't deterred, Weltman said. Women tend to only apply when they feel like they meet all job criteria, while men are likely to apply when they meet only a few, she added. 
All recruiting advertisements are supposed to include phrasing that encourages applicants from diverse backgrounds to apply, with preference for veteran applicants. In the description for the recently filled executive vice president and provost position, which is over 1,200 words long, diversity is mentioned twice, one of which is written as a note at the bottom of the page. 
Recruitment is targeted toward underrepresented populations through advertising, Weltman said. Once individuals apply, search committees must provide written justifications to Human Resource Services explaining why a candidate is unqualified every time the search is narrowed. 
The number of female deans is at its lowest in the last 10 years. Shali Zhang, dean of libraries, and Adrea Lawrence, interim dean of education, make the portion of female deans 13 percent. In 2008, 40 percent of deans were women. 
The number of people of color and women of color who have served as academic officers for the past 10 years is even lower. Each year since 2008, people of color have constituted less than 10 percent.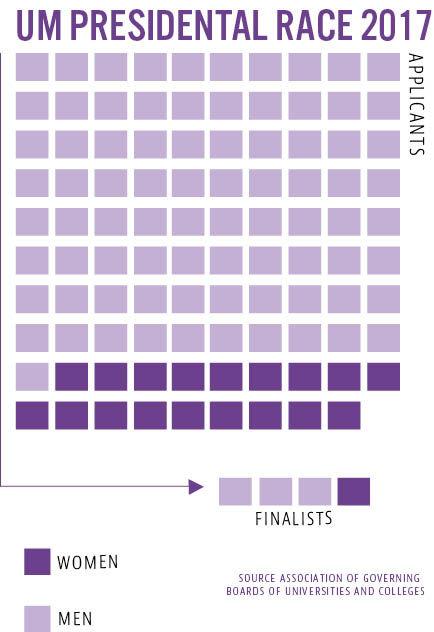 Beverly Edmond, former interim provost, said she had a very positive experience at UM. She attributes this to working alongside former interim President Sheila Stearns, who she said is likely to have been the best president she has ever worked with. 
Though she only worked with President Bodnar for a couple months, (Edmond abruptly resigned on March 19 and vacated her position 11 days later) Edmond said she thinks he brings a positive perspective to the University. 
As provost, Edmond was often responsible for making tough, controversial decisions. While she said her decisions were often well-received, there were times when Edmond got very negative feedback.
"When you don't experience things in day-to-day life, the issue becomes more abstract," Edmond said. "There were times when I couldn't help but wonder whether being a woman and a woman of color created some of the pushbacks I received."
Edmond says she understands that it's hard to develop diversity at a primarily white institution. However, the UM has yet to make a firm commitment to diversity.
"There's a balance of making fair decisions and making decisions that are sensitive of actionable support for diversifying an institution," Edmond said. "UM needs to come to grip with much more specific plans to create diversity."
Edmond has worked at a multitude of institutions with a "robust" diversity structure, she said. UM is not one of them, she added. 
One way UM fails is in recruitment of students, faculty and staff, Edmond said. While there is no guarantee an institution will bring in groups of people from diverse backgrounds, the University isn't sending an encouraging signal to bring them here. 
Edmond said she wants to be surrounded by people who are confident and capable of doing their jobs. Having coworkers from different backgrounds and experiences helps a group see things from multiple angles, something critical to solving problems, she said. 
"We, as women, bring a certain set of experiences to a leadership position," Edmond said. "There are women and people of color who would be excellent candidates."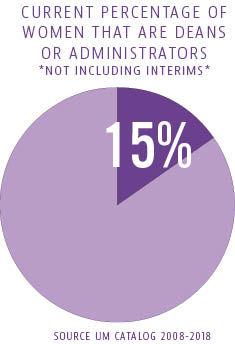 Not including interims, 14 academic officer positions have been held by only men since 2008. Only one position has been held by women only since then. 
Female academic officers were replaced by men more than twice as often as male academic officers were replaced by women over the last 10 years, not including interims. 
***
Bailey Durnell works for the Student Involvement Network at UM, where she leads diversity initiatives such as the Feminist Fight Club. She said as a student, she's extremely disappointed with the lack of diversity in leadership at UM. 
When Sheila Stearns and Beverly Edmond were appointed as interim president and provost, Durnell said she was thrilled to know the University was pushing for underrepresented leaders. But when finalists were named for those positions, Durnell said she felt like it was apparent those kind of leaders were never supposed to serve beyond an interim capacity. 
For both the president and provost search, a very low percentage of women even applied for the position. Only 19 out of 99 applicants for university president were women, and six out of 49 applicants for provost were women, according to the Association of Governing Boards of Universities and Colleges, the search firm UM used for those positions.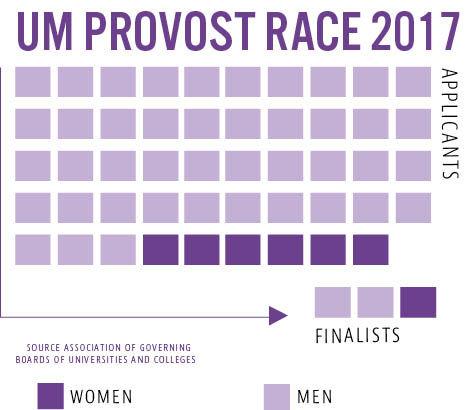 According to UM's Diversity in Recruitment website, the University has specified language and requirements for recruitment advertisements and search committees. Additionally, more than one minority candidate is supposed to be brought for "the campus visit."
For both the president and provost searches, only one finalist who visited UM fit the criteria. Both Mirta Martin, a presidential candidate, and Lynn Okagaki, a provost candidate, were non-white and female. 
When only one finalist for a position comes from a minority background, the odds of that candidate being hired are extremely small, according to a Harvard University study. The ratio of male to female finalists for the president and provost searches were 3:1 and 2:1, respectively. Non-minority, male candidates were ultimately chosen for both positions.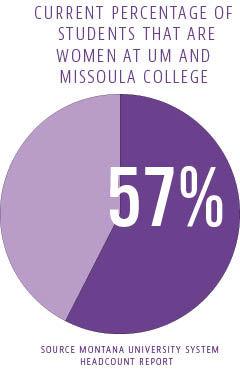 Durnell's first concerns came when she began researching president finalist Mirta Martin. While her resume held everything Durnell would want from a University president, all it took was a simple Google search to find multiple red flags about Martin's history. Durnell said she doesn't know a single student who thought "Mirta was the one."
Durnell said she was optimistic Beverly Edmond, a strong, confident woman of color, would be replaced by someone with a similar background. But when Lynn Okagaki was again the only non-white woman in the finalist pool, the process felt incredibly similar. 
Okagaki was quieter and had a softer demeanor than the other candidates. When she was evaluated by students, faculty and staff, most noted her feminine characteristics before her merit, Durnell said. 
Okagaki's criticisms were rooted in sexism that made it seem like her feminine characteristics wouldn't translate into confidence that she could do the job, Durnell said. Despite the fact she is excited to see incoming provost Jon Harbor serve UM, Durnell said she can't help but be upset that the search committees didn't do a better job of bringing in or hiring more diverse candidates. 
"All of it feels fishy," Durnell said. "There's always a sexist tinge to how men make decisions."
Seeing women in leadership matters, she said. When women are considering applying to leadership positions at UM, seeing a cluster of white men will matter to them too, she said. 
Having women in leadership is a "catalyst for change," Durnell said. Without them, change will happen much more slowly, and that's a problem, she said. 
"I don't think female candidates have been treated fairly," Durnell said. "Saying we want the best candidate regardless of sex is implying a woman can't be the best candidate."
***
Tobin Miller Shearer, director of the African-American Studies program, is also disappointed by representation in leadership at UM. 
The University has to work against sexism and racism every time it recruits people to a position, Shearer said. But in order to improve this, UM needs to invest time and resources toward solving the problem. 
Shearer said he was happy to see Kelly Webster appointed as chief of staff, but is concerned that not having women in high-profile positions will have a negative effect on the University.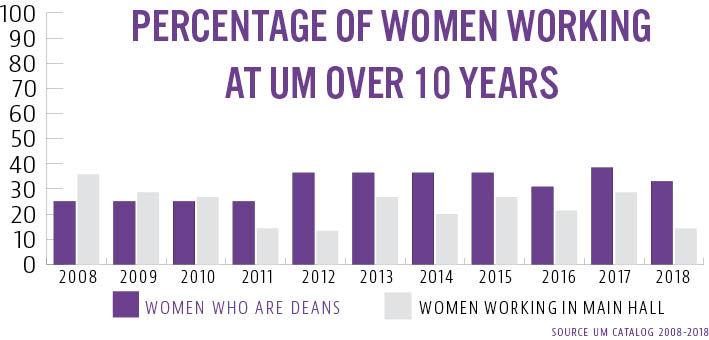 "We have to be more vigilant to ensure administrators are representing diversity," Shearer said. "We need to be very deliberate about filling remaining positions with people who don't all look like each other."
Until there are more tangible actions to improve diversity, there will continue to be a huge gap between the University's actions and its core values, Shearer said. 
***
The Diversity Advisory Council (DAC), under the office of the president, is supposed to enhance diversity in all parts of campus. Developing recruitment strategies to attract a broader range of students and employees is one of the council's priorities. 
According to the council's minutes, President Bodnar said it is "not just right, but critical" to focus on diversity in leadership, faculty, staff and the student body. 
Wilena Old Person, co-chair of the DAC, said she was the only person of color on the council when she first joined. Since then, she has helped the council diversify to include people who are from a much broader range of backgrounds. 
Old Person said the council now has an active role in all searches, usually at least one seat on the search committee. It promotes both diversity in sight and diversity in thought for leaders on campus, she said. 
The council strives to ensure that diversity is part of everything on campus, not just in the diversity strategic plan, Old Person said. Holding leaders accountable to UM's value of diversity will be a challenge as more administrative positions are filled, she said.
In the next year, the council hopes to hire a chief diversity officer to promote diversity at UM. 
Mariah Welch, a student on the DAC, said while the development of this position is in motion, there has been a lack of enthusiasm from leadership.
President Bodnar continues to ask the DAC for more information about what the council want from a chief diversity officer, but hasn't shown a lot of genuine interest in a new addition to the administration, Welch said. The council is becoming discouraged and continues to wonder why Bodnar isn't more excited, she said. 
"Bodnar needs to be uplifting women's and minority voices," Welch said. "We need to be more mindful about the fact that we should be supporting underrepresented groups."
Welch is also on the search committee for UM's new vice president of administration and finance.  The committee is trying to attract more female candidates by listing only the top requirements so more women feel qualified, Welch said. 
"Having a diverse campus starts at administration," Welch said. "It trickles down to the staff and faculty to bring in more diverse students from different backgrounds."