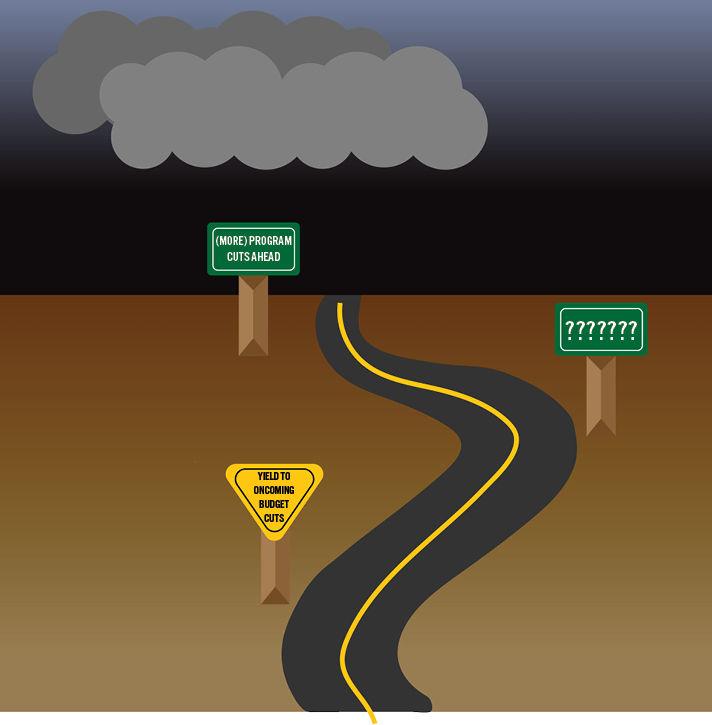 On the third floor of Stone Hall, Kevin McManigal clicked through a forest in Malaysia. He scrolled across Taman Negara National Park and zoomed in on the banks of Kenyir Lake. 
"Check this out," he said, turning his cursor into a measuring tool.
McManigal measures the length of a houseboat floating just offshore. 
"3.18 meters."
He bristles with excitement at the level of detail in the satellite imagery he's using to fight poaching around the world.
McManigal and his team of 10 student-researchers build maps used by rangers in countries including India, Senegal and Bhutan to prevent lion, tiger and snow leopard poaching. The detailed and intuitive maps help rangers navigate terrain quicker than outdated, or sometimes nonexistent, maps.  
McManigal, 47, says he is one of fewer than 100 people teaching this kind of advanced cartographic design in the U.S.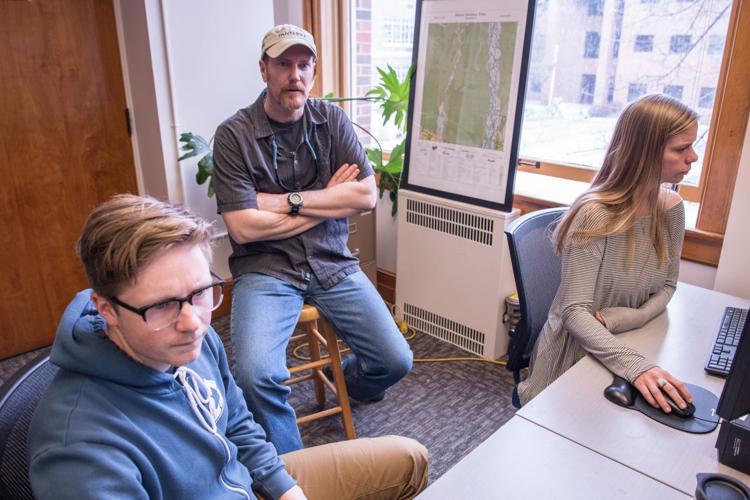 "Actually, probably far fewer than 100 people," he said.
But technically, he isn't teaching anymore. He still works on campus, but after six years as a lecturer at the University of Montana, he's listed on the website as an "affiliate." His work is funded by a grant from Panthera, a conservation group whose name is emblazoned on his well-worn baseball cap. The grant keeps him working with students on campus, but he doesn't teach classes and isn't paid by the University. 
McManigal said he was promised he would be safe when UM tried to lay off lecturers last fall in an effort to trim spending, so he was surprised to receive a dismissal notice along with 32 others. The administration later withdrew the notices, but still McManigal is no longer on the faculty.
"Basically, I had a pink slip in one hand and a promise in the other," he said. "Some people will say I quit. I wasn't fired."
After years of failed salary negotiations and job insecurity, McManigal said he wrote to his superiors asking them to honor the dismissal notice, ending his faculty position at UM at the end of 2017.
Although McManigal oversaw doubled enrollment in the geographic information systems certificate as its coordinator, growing the program to 100 students, fewer GIS classes are being offered each semester, and he said the existing classes are being taught by cheaper adjuncts. He is worried his lab will eventually run out of talented students, forcing him to move on from UM entirely. 
McManigal said despite it all, he's optimistic for the GIS program and thinks there's a good chance the University will continue to value the program and invest in it as soon as the money's there. And it should, he said, because what he's teaching and doing is a rare tech-based skillset used across all areas of science. 
But students and faculty across campus are wondering what the future holds for both the programs and the people slowly disappearing from UM. Many, if not all, departments have already experienced a taste of what it's like to lose faculty. In the spring of 2016, 27 faculty members were laid off. 
Despite those cuts, the University's budget is still far from balanced. The University Planning Committee, under the direction of President Seth Bodnar, is working throughout the spring semester to list programs poised for cuts. 
Bodnar has said the goal is to cut $5 million from the annual budget over the next four years while increasing revenue by the same amount to close a $10 million annual gap. By the end of the semester, UM will have a good idea of which departments that money will be cut from, in the form of people, classes and majors.
But two years since the 27 faculty members were cut, students and colleagues in those programs continue to reckon with the fallout.
Anne Greene began teaching science writing at the University in 2004 as an adjunct in the wildlife biology department, spending four years at the Writing Center on campus prior to that. Now 65, she still spends time on campus most days, but it's mostly at the Grizzly pool swimming laps.
Since being laid off in 2016 from teaching her honors science writing class, Greene has stayed busy giving writing workshops to the U.S. Forest Service, conservation groups and other universities. She teaches scientists how to write past the typical jargon often found in research journals, just as she did for 12 years at UM.
She's a scientist, too, an ornithologist who can write clearly and concisely, in a way that people without advanced science degrees can understand. Her 2013 book, "Writing Science in Plain English," has been translated into both Chinese and Korean. She said her work is now more important than ever, as public trust in science and research declines.
"Some kids said it was the most useful course they took in their whole college career," Greene said. "Of course, some [other] students said, 'The style I've used, the repetitive, wordy, abstract style has served me well, and I've gotten to a senior level with it and I'm not changing.' You can lead a horse to water but you can't make them drink."
One of her former students, Jenna Schabacker, works in the Luikart lab on campus, developing ways of using DNA found in lake water to track the movement and presence of invasive species. She took Greene's class on science writing in the spring of 2015, two years after graduating. She said she could see the need for improving her writing, which  would ultimately lead to her work being more accessible and useful in the world.
"I really think that science writing is way more important than we give it credit [for], and it is telling that that's what UM chose to cut," Schabacker said. She added that what's happening with climate-change denial and a mistrust of scientists is "a product of science not being communicated in clear English."
Greene still works on campus here and there, teaching week-long workshops for incoming freshmen in the sciences, as well as a workshop for graduate students who want to help the students they T.A. for improve their writing. But without Greene teaching full-time courses, other faculty say writing abilities in the program are slipping.
Chad Bishop, a professor and director of the wildlife biology department, said faculty in his department have noticed and discussed it with him.
"This gets to the very essence of the challenges we're dealing with on campus, of how do we make strategic decisions amid declining revenue," Bishop said. "It's certainly not ideal for students."
Despite student numbers in wildlife biology steadily growing throughout UM's enrollment decline, Greene wasn't the only loss the program sustained in 2016. In fact, it lost both of the full-time faculty members it had teaching students to be better writers.
Carol Woodruff doesn't mince words when it comes to what she brought to UM and what it lost by letting her go. 
"It would be hard to find what I gave elsewhere," Woodruff said. "I took everything I know about writing and framed it up in the natural resources profession. I never assumed students knew anything. I would teach every aspect of writing from the ground up, and I think it is tough to get that."
For 12 years, Woodruff began the semester with "grammar bootcamp," dressed in camouflage and vintage olive drab from an Army-Navy store, complete with her riding crop as a pointer. 
Now she only uses her crop for riding her horse, a Dutch Warmblood named Bindigo. Her newfound free time has allowed Woodruff to catch up on her backlogged ideas for essays and memoirs. Woodruff has been published in the Washington Post, Baltimore Sun and the Christian Science Monitor, but lately she writes personal essays for various horse-riding magazines.
Although it has been two years since Woodruff was let go from teaching her three sections of a technical writing class, she said she still feels the stress at the end of summer, thinking she needs to write up her syllabus and prepare for a new class.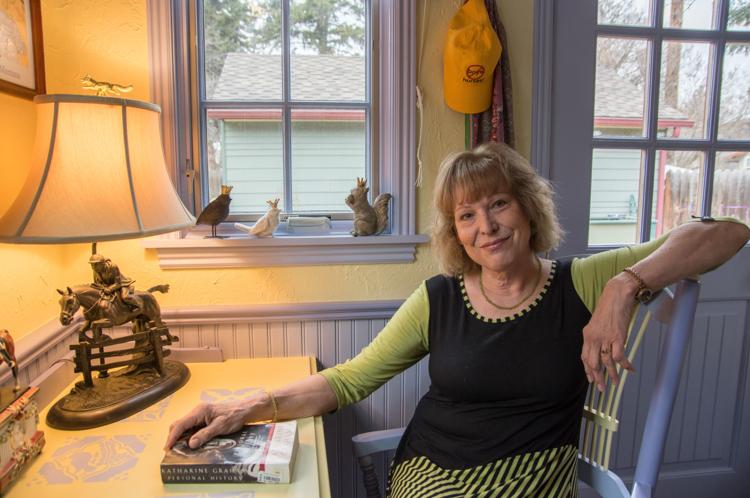 "I miss the social and intellectual exercise of teaching, the 'playing Broadway.' Because that's what it is if you're doing it right. You are on and the problems of life fall away. I miss having to do that and be a show person," she said.
Her class was required for all W.A. Franke College of Forestry and Conservation majors, which Woodruff said made people tell her she had the hardest job on campus — making writing interesting and accessible for people who probably didn't want to be in the class.
But based on stacks of semester-end evaluations she keeps at home, Woodruff was among students' favorites, and new students won't know what they're missing. Many of them include a line about the difficult grading — Woodruff admits students had to be truly exceptional to earn an A — but almost all of them also refer to the usefulness, energy and dedication of their professor.
"I learned more in this class than I have in any other course in college," one student evaluation read. "Not only did I learn how to write well, I learned rules and picked up skills I can apply to many parts of my life. Loved the class as a whole."
One of many emails Woodruff hangs onto may appear familiar to professors everywhere — a student at the end of the semester mentioning he or she won't be able to graduate unless his or her grade is raised. But this student, who Woodruff said received the C he earned, wasn't begging for a better grade, but thanking her for helping him get a job.
"I thought you'd like to know I just accepted a job offer for the summer to work with the U.S.F.S. because they were impressed with the writing examples I attached (our class assignments). I also wanted to thank you."
Woodruff's writing class has since been pulled from the forestry school's list of required courses, as it is no longer offered at all. Now students must go outside the college to take writing classes potentially less relevant to their field of study. 
For other lecturers and adjuncts, the future is uncertain. Not all of them are at retirement age like Anne Greene and Carol Woodruff, and not all have grant funding like Kevin McManigal. 
Students need not worry about losing their majors, but degree programs called out by the administration could be cut to bare bones until all of the current students graduate. Over the coming weeks, months and years, UM will continue to unravel its obligations to faculty and the students they teach.