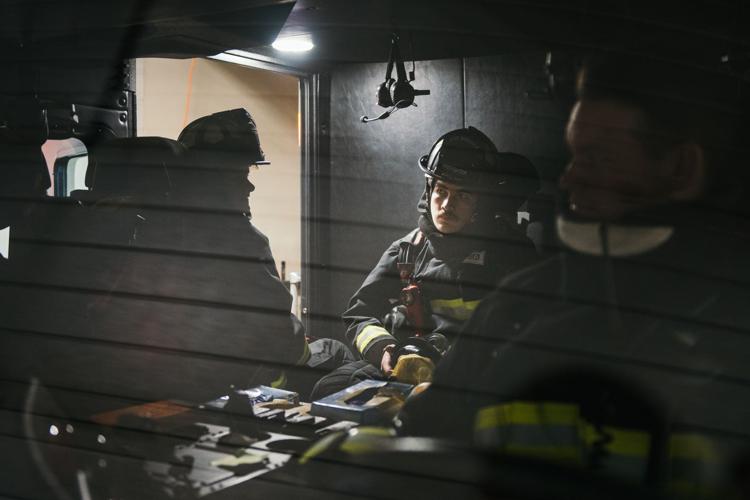 Evan Bartel scratched his chin and turned his face downward when asked about the paper he was writing. The soft, blue glow of his laptop screen cast shadows of his glasses across his cheeks, and a multitude of books sat on the plastic table in front of him, scattered randomly across the surface. He sat two tables away from me, wearing a loose-fitting gray sweatshirt and a pair of navy-blue work pants. His black, high-laced work shoes resemble hiking boots: thick soled but lightweight. It looked as if, at any moment, he would jump out of his seat and rush to the engine bay where he would don his personal protective equipment and hop in the passenger seat of a fire engine.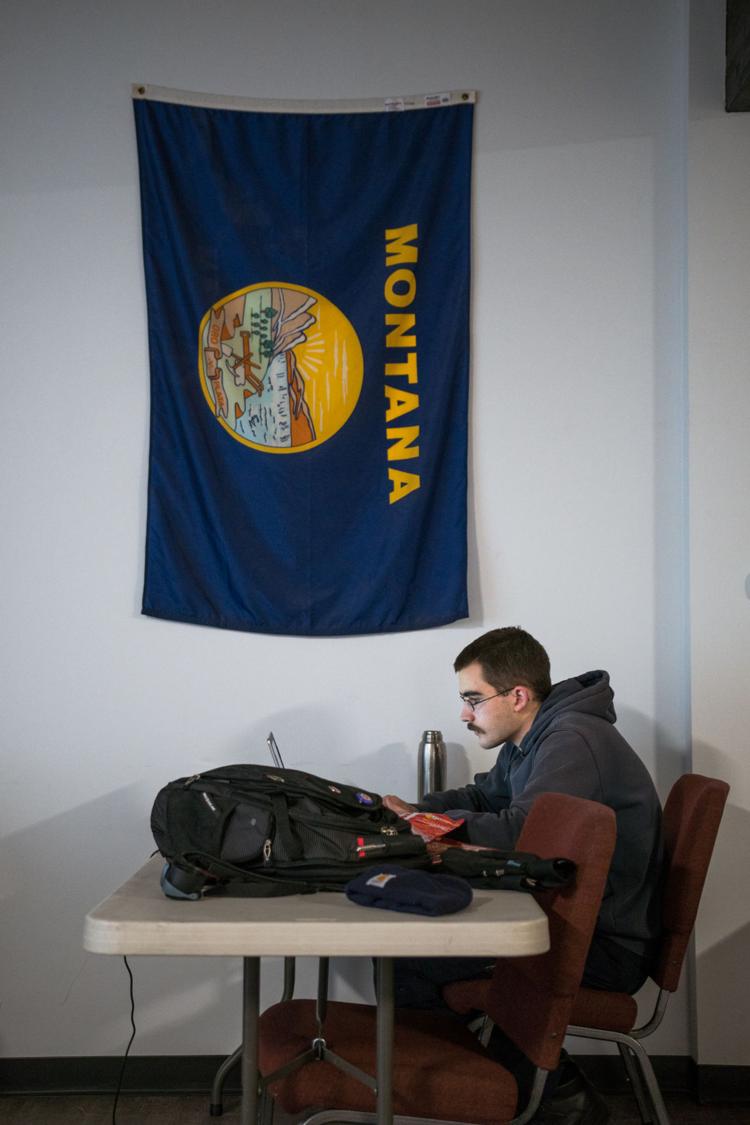 After a second or so of silence, Bartel let out a short laugh and looked up to respond. It was for a mock trial assignment in his media law class. Then he dove back into writing.
As a volunteer firefighter for the East Missoula Rural Fire Department (EMRFD), Evan is expected to work at least one 24hour shift a week. On top of this, he attends training sessions — usually lasting several hours — every Monday night with his fellow volunteers at the station, all while managing 12 credits at the University of Montana. Catching up on homework is just one of the many things the student firefighter does during his time on shift.
Bartel is a 21-year-old junior studying journalism at UM. After graduating with an associate's degree from Fort Peck Community College in May 2018, he moved from his hometown of Wolf Point, Montana, to Missoula to start fall semester at UM. Bartel has been volunteer firefighting for three years now, having worked first with the Wolf Point Volunteer Fire Department from early-2016 to mid-2018. Bartel has a strong interest in pursuing journalism and has even discussed trying to work as a freelance journalist while volunteer firefighting.
Bartel was hired onto the East Missoula Rural Fire Department six months ago. The EMRFD was established in April 1948, by East Missoula community members concerned about the lack of resources available to fight fires and provide medical services.
The department has more than doubled in recent years, from just 15 volunteers in 2014 to over 30, as of 2019. According to Bartel, volunteering is generally becoming a thing of the past. But the East Missoula volunteer network is very strong, likely due to East Missoula's proximity to UM. According to many of the volunteers, the lifestyle is attractive to many younger students, and around half of the volunteers at EMRFD study at UM, either as full-time or part-time students.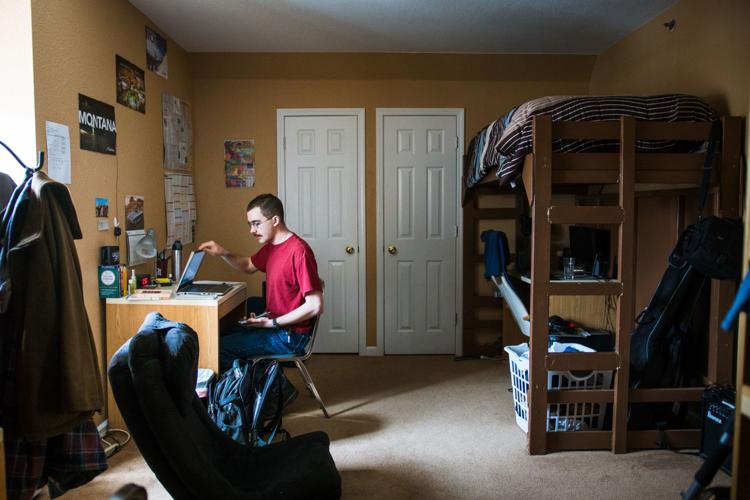 During the summers, Bartel works as an intern at The Cody Enterprise, a bi-weekly newspaper in Cody, Wyoming. When asked further about his career aspirations, he shared his interest in working in rural journalism, potentially combining his interest for volunteer firefighting with reporting.
Being a student firefighter is hard work and requires immense dedication, but Bartel doesn't let it ruin the experience. He talks a lot about how fun it is to be volunteer firefighting, regardless of the time commitment and lack of compensation. Bartel isn't paid for his services, and to support himself through the academic year, he finds work in the summer. The fire department helps its volunteers get their emergency medical technician certificates, but Bartel doesn't spend time complaining about the lack of compensation. Instead, he spends time at the fire department. When he doesn't need to. For free.
"I remember in the first week or two [of being hired], he was asking what else he could do, like, extra stuff he could do on training, to get caught up to speed quicker," explained Fire Captain Tanner Ferguson, an experienced volunteer at the EMRFD. "And he's here a lot, too. It seems like he's picking up a lot of shifts for people, and when we have calls, he's coming in."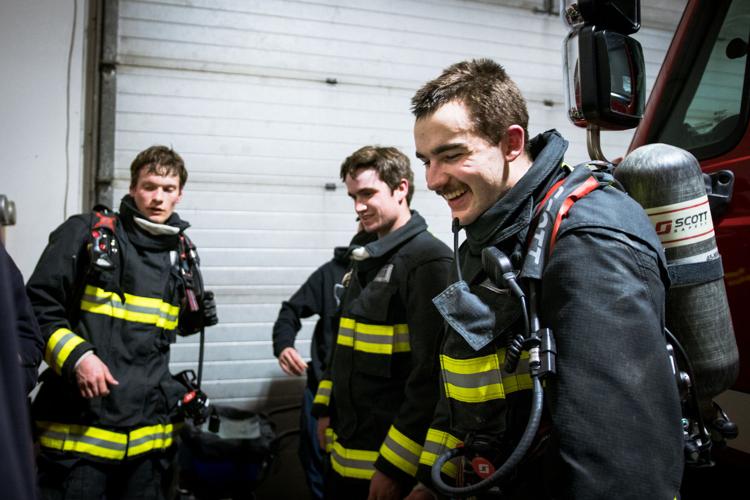 Bartel has a willingness to learn, and he puts his skills to good use. Even when he isn't scheduled to be on a shift, he will often drive out to any of the big fire or gas meter calls the station receives.
Bartel is a warm and friendly character open to any sort of conversation. During a 24-hour Friday-Saturday shift, he went off on a tangent discussing antique firearms and various pawn shop findings for more than an hour. He appreciates the vintage, evidenced by one of his more recent purchases: a 1970s soft-top Jeep with some much needed mechanical work. In a duffle bag, he had an old radio the size of a cinder block, which the department used back in the '80s.
Many people familiar with emergency service jobs have an inkling of the often over-dramaticized feud between law enforcement and fire departments, but the EMRFD spends a lot of its downtime in the station watching cop shows.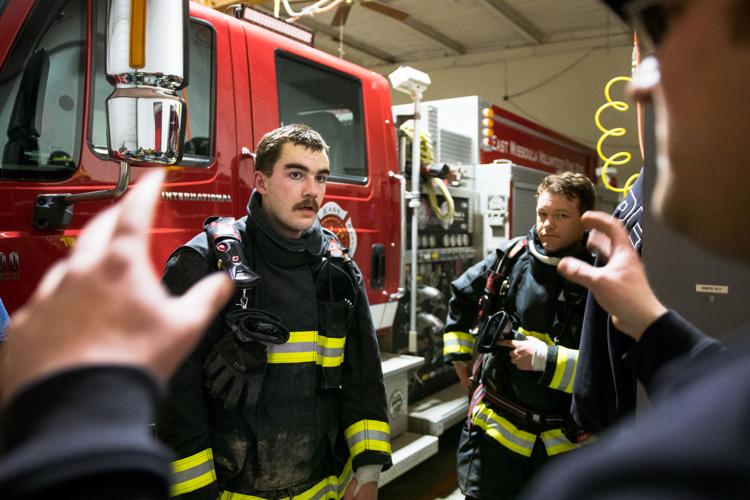 The volunteers at EMRFD have their own quirky relationship with local law enforcement. Fire Lieutenant Malachi Musser, a volunteer in his final year of an associate's degree in Helena College's Fire and Rescue program, and Bartel described a very peculiar interaction common at the station. Sometimes, when a sheriff or police officer patrolling near East Missoula finds themselves in need of relieving themselves, they make a beeline for the station. And the station's bathrooms. "We had to change the door code twice to keep them from wrecking the bathrooms," Musser explained in between loud bouts of laughter. Bartel shrugged and said firehouses do tend to have the best toilets around.
---
On the north wall of the station's common area, there are two white picture frames hanging a foot apart. Each of the frames contains 20 or so patches from other volunteer fire departments. Bartel explained that volunteers will trade their patches with other volunteers across the country, if they happen to run into them. The frames hanging from the station's walls contained patches from volunteer departments in Illinois, Oregon, Texas, and many other states.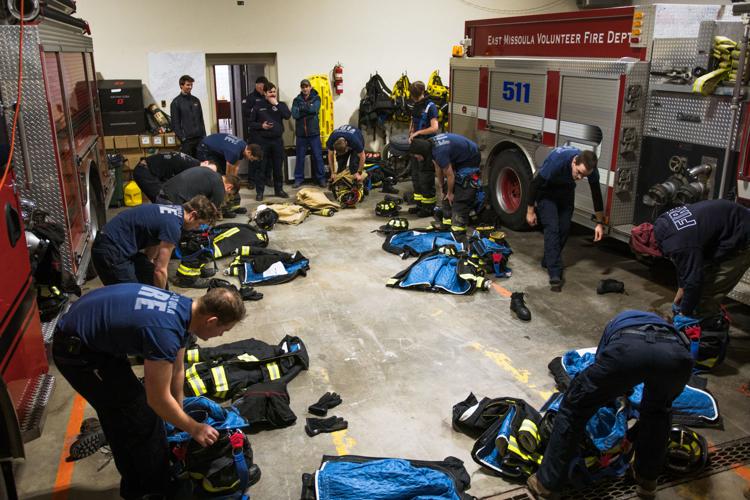 One can't help but feel the real camaraderie and friendship between the volunteers, even across the country. The women and men working in dangerous and stressful situations in service of the community seem bound together by the work they do. There is a sense of belonging, of purpose. When asked to explain why they continued to volunteer, many said things like, "It's hard to explain," or "You just have to do it to know." Bartel and the others at the department are actively saving lives and protecting our communities from calamity while studying at UM. Why do they do this for no pay and little in benefits?
"Once you start" he said "it's hard to do life without it."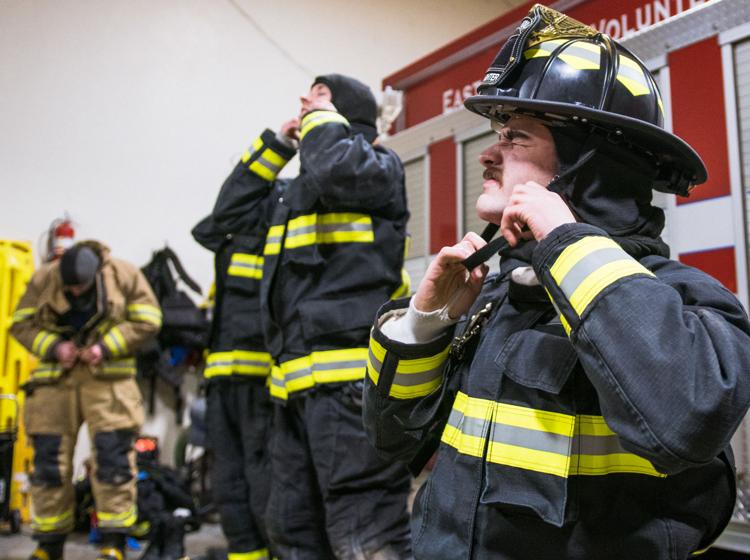 Bartel feels a real, genuine connection to volunteer firefighting, and he doesn't see himself doing anything less in the future. "If I'm in shape to be doing it, I will probably always be volunteering somewhere." Volunteer firefighting gives Bartel a purpose beyond his schooling; it's not just a side job. To him, that new perspective is invaluable, and it keeps volunteers like him coming back.