As soon as Shanae Gilham hit the floor in Dahlberg Arena, she knew exactly what happened.
Her ACL slid, separating from the surrounding tissues, and she felt a shooting pain. She crawled off the court from the 2013 Big Sky Conference Championship game.
Once Gilham made it to the sidelines, she broke down. She had torn her ACL for the third time.
"I cried the hardest I had in I don't know how long. It didn't hurt as bad as I made it sound. I was more heartbroken," Gilham said.
She knew what lay ahead: months that would be mentally and physically taxing as she recovered.
There was a minute left before the end of the first half. Gilham was taken to the locker room. Her leg swelled up, full of fluid.  Doctors put Gilham in a stabilizing brace and gave her crutches.
She came out in the second half to cheer on her team en route to their Big Sky Conference Championship.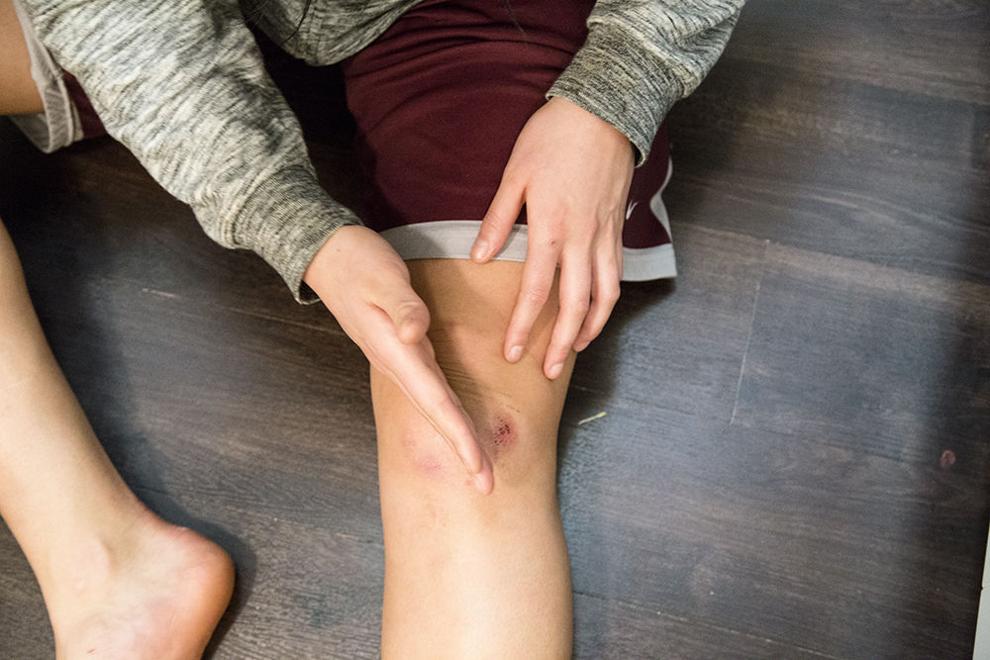 Although two years have passed, by the start of the 2014-2015 season, Gilham still wasn't cleared for contact practices. She didn't know if she would play basketball this season, or if she even wanted to play.
So she went home to Browning to get away from it all. She had to think.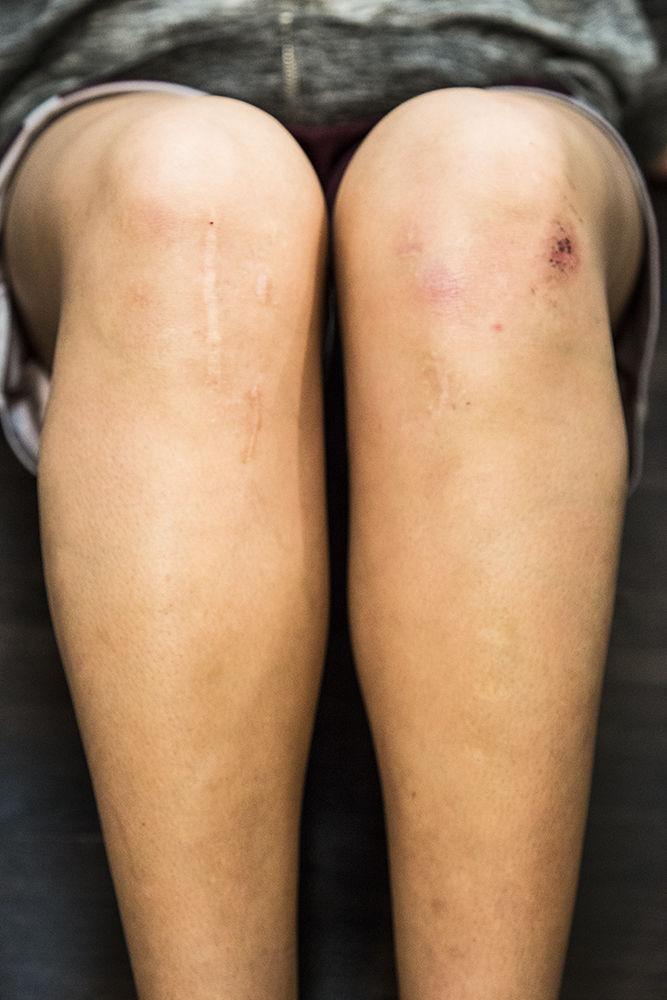 "Usually I'm pretty positive because I know negativity won't help me," Gilham said, "but it was just the first time that I've ever felt like that. I wanted to be done with basketball for the sake of my body."
She still couldn't give up basketball. From the start, it's been her motivation to get off the Blackfeet Reservation and be a role model. Now, almost a year in the making, No. 42 is finally back on the court.
Runnin' down a dream
Gilham started playing basketball at age 7, honing her skills on the Blackfeet Reservation in Browning.
Both her parents played basketball in high school, and her cousin Malia Kipp played for the Lady Griz. In 1992, Kipp was head coach Robin Selvig's first recruit from a reservation.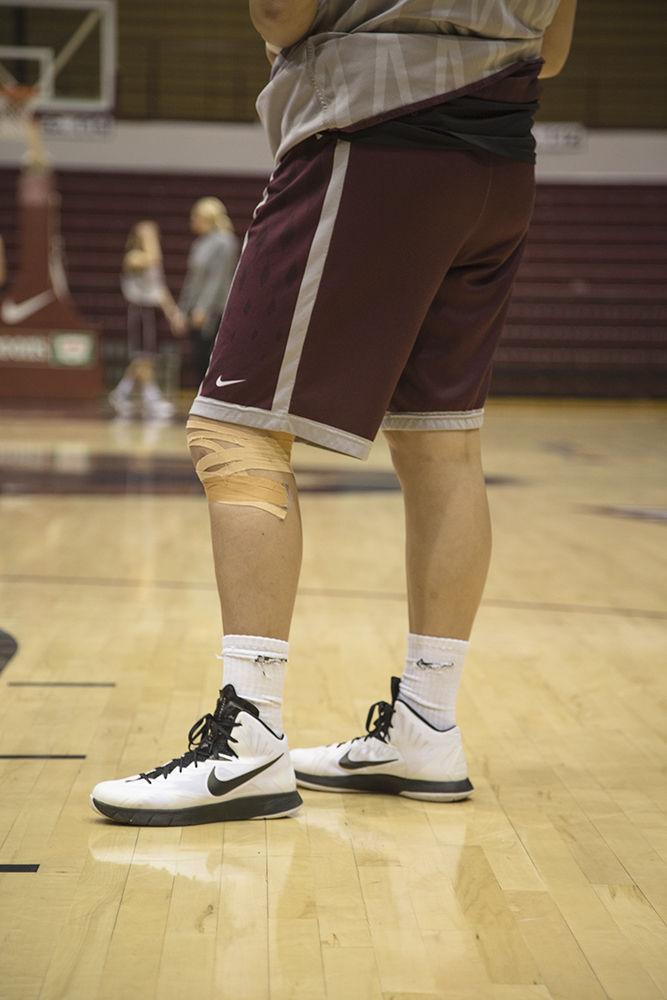 Gilham wasn't even born when her cousin started playing, but she remembers posters of Kipp in her grandmother's house. Selvig remembers a bus or two full of Kipp's fans would come from Browning to cheer her on at every home game.
Kipp's athletic career at UM reassured Gilham that Blackfeet women could rise above stereotypes that plagued their reservation. Basketball was their escape.
"I know a lot of younger, talented athletes tend to get in trouble with drugs or alcohol," Gilham said. " I knew that if I wanted to live off the reservation or get away, basketball was my only way to go."
Gilham often trained in the gym at the expense of her social life. She didn't want to be around anything that would distract her from her focus; she played club basketball and attended Lady Griz summer basketball camps to stay busy.
During a Lady Griz camp in Gilham's eighth grade year, an assistant coach told Selvig about Gilham. He said she had great basketball skills in her shooting and passing.
Though her basketball skills were on the rise, there was a glaring medical problem: her knees.
Gilham had her first ACL surgery in seventh grade, but bounced back quickly. She attributes her quick recovery to her youth and her tenacity in rehab. Gilham did pool workouts and band workouts to strengthen her legs.
She transferred to Bozeman High School after her freshman year in Browning, following her mother as she pursued a degree at Montana State. There, Gilham flourished.
That year, she played with future Lady Griz teammate Kellie Rubel as their team took the 2011 state championship. Sadly, Gilham's knee problems weren't done.
In her junior year, Gilham helped lead the Hawks to the 2012 semi-championship round. She had four fouls in the game and was trying to avoid a fifth when she chased down future Montana teammate, D.J. Reinhart.
As Gilham planted down her left leg, her knee gave out for the second time.
"I knew it was a pretty serious injury, but I didn't know for sure if it was an ACL," Gilham said. "I'm a pretty tough kid — I usually get back up, but I didn't on that one."
She was taken to the locker room with two minutes left in the game.
Doubts crept into her mind. Gilham had been looking forward to playing her senior year, but didn't know if she could.
Gilham wouldn't let the injury stop her. After a second ACL surgery, she came back to play, finishing her high school career at Bozeman with a 65-5 record. Gilham was an all-state selection and helped lead the Hawks to a second place finish at state championships.
After her high school season was over, Gilham's medicine man visited her in Browning to deliver a gift. It was an eight-inch eagle feather. A friend of the family decorated it with maroon and white beads on the end.
He knew that Gilham needed protection and luck as she went on to college. The feather soon became a regular part of her prayer time.
"I remember feeling like I was going to have protection with me," Gilham said. "Not that I felt invincible, but I felt better going places and playing basketball." 
Not Again
When Selvig came knocking, Gilham didn't have to think twice about which offer to accept. She had talked with other Big Sky schools, like Northern Colorado and Northern Arizona, but she had always dreamed of being a Lady Griz.
Selvig said he knew he had to have Gilham play for his team. He remembered her strength and speed.
"Her first steps are quick" Selvig said. "It always stood out that she has a beautiful outside shot, high archer and great follow through. She just was a player. She had basketball instincts."
Gilham suited up for Montana her freshman year in 2012, showing promising early results. Coming off the bench, Gilham gave the team a modest scoring punch. In 26 games, Gilham averaged 4.7 points per game, scoring 44.3 percent from the field, including 18 steals.
By the end of the season, Montana found itself hosting the men and women's Big Sky Conference Championship tournaments. The Lady Griz, who were seeded No.1, made it to the championship round.
On March 16, 2013, the Lady Griz faced the University of Northern Colorado. Before the game, Gilham said she didn't feel nervous. She didn't get too hyped up. She knew her role as a freshman.
Before she stepped on the court, Gilham said a prayer to the Creator with her eagle feather.
The game would be tight, but the Lady Griz were pulling away from Northern Colorado in the closing minutes of the first half. That's when it happened. Selvig already knew what it was before she could make it to the sideline.
"It just shocks you," Selvig said. "You hold your breath all the time with someone who's already had two knee surgeries. Shanae was having a great year, and the first thing you think is 'I hope it's an ankle,' but it was the knee again."
A familiar feeling
Once again, Gilham found herself in a familiar spot: the sidelines.
Coming into her sophomore season, Gilham thought she could recover quick enough to play. Instead, she reluctantly redshirted in late November 2013. Her body just wasn't ready yet.
When the team practiced, Gilham worked off the court. Gilham did exercises to strengthen her hamstrings, ran ladder drills for agility and worked on her jumping mechanics. On weightlifting days, everything was modified to help her recuperate.
It was the hardest thing she's ever done.
"It was my third ACL injury, so it started taking a toll on me not only physically, but mentally as well," Gilham said. "Just knowing exactly what you have to go through to come back and play — it's such a long journey."
That year, Gilham found a sympathetic friend in teammate Haley Vining.
Vining was medically redshirting that season to recover from her own second ACL surgery during the Northern Colorado game. She said she knew what happened when Gilham went down.
"If you've torn your ACL, if you see somebody's face, you can tell it's their ACL," Vining said. "And just by the way she screamed, I had to look away because I knew what she was going through and how much she had been through before that."
Vining said rehab can get lonely, but the duo were a support system for each other. They'd compare scars and swelling, and share positive words on the tougher days.
Gilham felt relieved when she could talk with someone who had been through the same ordeal.
"There are people on the team that care, but they don't quite understand where we're coming from," Gilham said. "As unfortunate as it is to have someone to talk to, it's nice."
With everything she was dealing with, Gilham found herself praying more. A lot more. A quick prayer got her through the toughest workouts.
"I remember a lot of times last year I prayed asking for quite a bit of strength and motivation," Gilham said. "There were days when I didn't want to get out of bed and didn't want to go do my workouts, just because my body had enough. But, if I wanted to be back out on the floor, that's what I needed to go do."
Gilham continued rehab throughout most of the season, but her body betrayed her again.
In rehab, she strengthened her right knee, which put more pressure on her left knee. She started having a "catching" feeling in her left leg and visited her doctor, only to hear more bad news.
This time, it was Gilham's left meniscus.
"I think I just put a little too much wear on the left knee," Gilham said. "Slowly, it was just shredding."
The end of the line
When Gilham came back this fall, she went in for her preseason physical with the athletic trainers. Something still didn't feel right.
An MRI showed her left meniscus had deteriorated even more.
"I remember being super frustrated," Gilham said. "I felt like I could have taken care of it a lot sooner. We were getting close to the first practice of the season."
Gilham decided to have it removed. She went home to Browning in November to cope and recover; she'd at least get to spend some time with her family if she couldn't play.
She spent time in her living room, talking with her parents and her sisters. Hours before she left to come back to Missoula, she broke down. Gilham didn't know if she would play basketball this year. Maybe it just wasn't a good idea anymore.
Her parents told her to not make any rash decisions and to reach out to her coaches. Gilham called assistant coach Trish Duce and told her how she was feeling.
Duce told her to come in and talk with all of the coaches. During this time, teammate McCalle Feller reached out to Gilham. Gilham told Feller about her conflicting emotions and said she was talking with the coaches.
She told Feller she might not come back. It was hard for Feller to hear — she just wanted Gilham back on the court.
"You want that because it makes you happy, and you assume that it's fun for everyone," said a tearful Feller. "We've had a couple girls that just haven't come back. It makes me upset. It's like losing a best friend."
The more Gilham thought about giving up basketball, she realized she couldn't. Basketball was her passion when she was 7, and she still needed it in her life at 20 too.
She thought about everyone who looked up to her.
"I need to show that there are ways out of Browning," Gilham said. "I feel that me playing here, going to school and being successful is a way of showing my community back home that there are ways out."
So she's coming back, slowly.
Gilham sits out practice every other day and is still working on improving her shooting. She said there are still days when her knees get sore and she feels like she's three times her age.
Feller feels like her teammate is imprisoned by her own body.
"I just think 'Lord, let her play,' because she can do so much," Feller said. "If she had different knees, she could do so much. She's amazing, and if she had no injuries, she would be a legend. It just bothers me that for whatever reason these things just keep happening to her."
Gilham, now a 5-foot-10 guard, is playing an average of 14.5 minutes a game this season. She's averaging 5.6 points per game on 34.7 percent from the field, with 13 steals and 36 defensive rebounds.
The next step, she said, is to just be more confident on the floor.
Gilham said her skills felt rusty after sitting out for over a year. She admitted that she hasn't quite gotten her confidence back mentally. She wants to improve her shooting, and, of course, win the Big Sky Conference championship. 
Basketball got Gilham where she wanted, but she sees a future with it back in Browning as well. That's something her knees can't take from her.
"There is so much talent that goes through Browning, and not enough of it gets recognized," Gilham said. "I want to go back and coach and do what coaches should do up in Browning: have the talent be noticed. I want to show them that it's possible."
---
alexandria.valdez@umontana.edu
---