In the winter of 2010 in a French restaurant in Kabul, Afghanistan, Jim Wingard sat down with Maria Pascual. They faced the same problem and wanted a solution. 
Wingard was tasked with creating a legal department for Afghanistan's Ministry of Agriculture, Irrigation and Livestock. It didn't help that the country had few laws. 
The country remained in a state of disorder despite international assistance.
"Legal systems are the recipe for how you manage your society," Wingard said. "And we never really get that recipe right. In some countries, they are dealing with these questions for the first time."
It was Wingard's job to help make that recipe for countries like Afghanistan. For 20 years, he had designed and architected legal systems for these countries as a legal consultant.
But he hit a wall in Afghanistan.
Wingard wanted to learn from other former communist economies that transitioned to free land markets. But accessing these countries to learn from their legal reforms, successes and failures was not possible
Pascual knew this problem well. 
She was responsible for developing a new land-lease program for the same ministry to make agricultural development more viable in Afghanistan. 
The country could begin transferring millions of acres of unused public land previously held back by communist policies to private ownership to encourage development. But there was no prior legal framework to do so.
---
'LEGAL SYSTEMS ARE THE RECIPE FOR HOW YOU MANAGE YOUR SOCIETY'
- JIM WINGARD
---
They were both working blind.
"We were not able to learn from others' experiences because the information is not well organized and available," Pascual said.
It was their job to write extensive reports for their clients defining the country's framework, major issues existing in that framework and how to best move forward. This report would be issued, the clients educated, and then go to an office where it would live in a drawer. 
Thousands of similar reports filed every year for legal development in countries around the globe share a similar fate.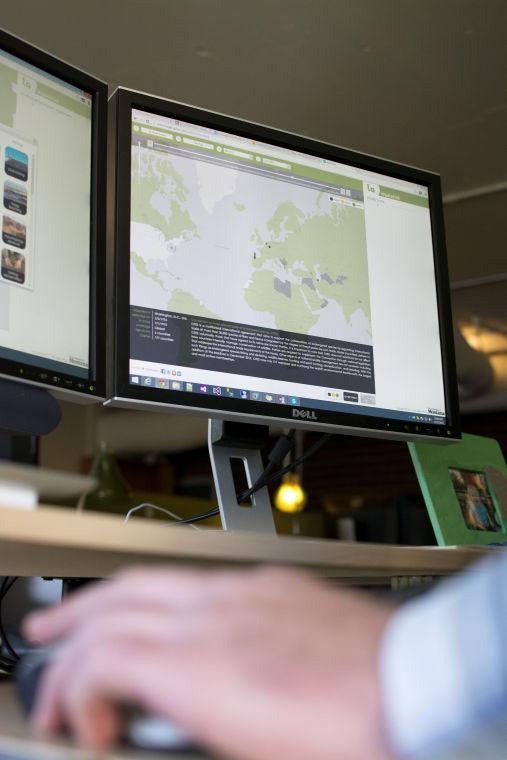 The two wished they had ordered complete access to these prior reports. They'd have live examples from other countries to help steer them through their problems in Afghanistan. 
 "In the world of international development, we're spending millions and millions of dollars every year doing this work," Wingard said. "We thought it would be a shame not to use information technologies to turn it into something that's permanently and freely available to the world community."
The pair finished their slices of baguette with paté and caramelized onions and exited to the busy streets of Kabul. Their idea, though, would materialize on the other side of the globe — at the University of Montana.
Legal Atlas was born.
LEGAL ATLAS
Legal Atlas is a fusion of Wikipedia, Google Maps and tomes of law knowledge offered in a slick interface freely available through the internet. 
Still in its alpha stage, the Atlas taps into the power of the cloud and recent advances in IT technology. The fledgling project recently won the Hague Award for Best Innovative Idea, an honor accompanied by 50,000 euros.
---
'THINGS LIKE GOOGLE ARE A POWERFUL TOOL, BUT THEY CAN'T ACHIEVE WHAT WE'RE PROPOSING'
- JIM WINGARD
---
Pascual said the work the Atlas is capable of has immense value to people doing fieldwork in a particular country. It could help developing countries, like Afghanistan, undergo legal reform to complete their transition from communist-era policies.
"[Afghanistan] is a country that doesn't even have a registry for properties or a central ID for people," Pascual said. "Having a standard to imitate is huge for getting these reforms off the ground." 
Information on laws across an area of global topics is summarized through the Atlas and made easy to comprehend for any user. It also aggregates publishing laws online from websites around the world and separates the good from the bad. 
Wingard said assembling data into the Atlas is made easy — one piece at a time without having to do the whole thing, while still adding value to the whole.
"Things like Google are a powerful tool, but they can't achieve what we're proposing," Wingard said. "They don't give the kind of intelligence we're looking for. We want to go well beyond that and make this the dedicated system for this research."
BUILDING THE ATLAS
When Wingard and Pascual returned to the states, they began working out the foundations for the Atlas. They plotted how they wanted to structure topics, what topics to deal with, how to put it together and what kind of functionality they wanted.
"We know it's ambitious, but that's literally the beauty of it," Wingard said. "It's not a small idea on purpose."
---
'WE KNOW IT'S AMBITIOUS, BUT THAT'S LITERALLY THE BEAUTY OF IT,'
- JIM WINGARD 
---
To get the Atlas from idea to reality, Wingard and Pascual needed some help. Though they could work on it in their free time, the ambitious nature of the project dictated it would need to expand and find funding.
"Legal Atlas needed a center and a heart," Wingard said. "And that heart is the University of Montana."
They set up shop in the Mansfield Center.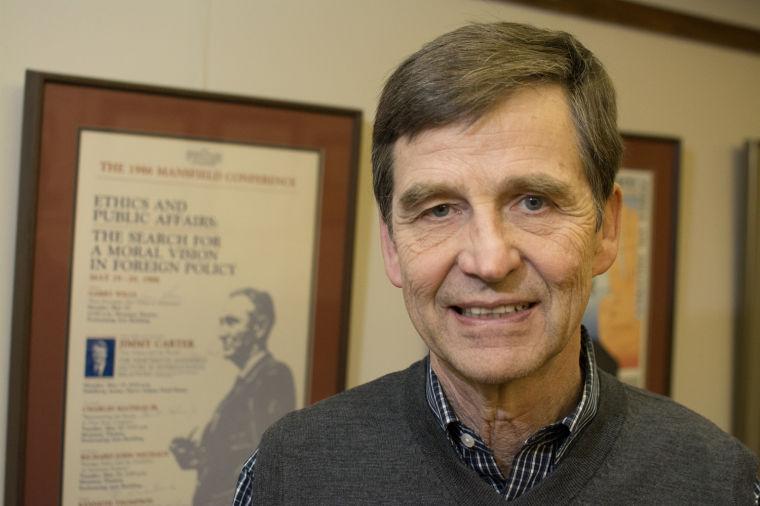 Senior Mansfield Fellow Otto Koester has assisted the program since Wingard approached the center with the idea two years ago. He said the Mansfield Center has two purposes: improving understanding, research and study between the United States and East Asia; and improving the world of ethics and public affairs.
The latter is where the Legal Atlas fits.
"Laws and regulations are an important aspect of government and serving the public good," Koester said. "One of the appeals for us is that [Legal Atlas] takes an interdisciplinary approach to law."
Koester said they also found the innovative aspect especially attractive. It provided opportunity to use the tool to teach.
"It provides great opportunities for students to engage in research," Koester said. "And gain knowledge that will really be valuable for them when they go out into the world and work."
The Mansfield Center and Legal Atlas became partners. 
Since the Legal Atlas would be a private legal research firm, it would not be eligible for funding from grants from many foundations. By partnering with the Mansfield Center, the Atlas is able to apply to foundations as an educational institution in order to continue their work. 
With a small start-up fund from the Mansfield Center, the Legal Atlas launched in September 2011. 
The platform used for making the Atlas hadn't been used before, and the amount of data and the complex user interface would need its own program. 
It would have to be built from the ground up.
This is where the Missoula-based company Geographic Communications Systems came in. The company would be responsible for developing the platform for the multifaceted system.
President of GCS Alex Philp said he was approached originally by representatives of the Mansfield Center describing the project and asked if his company was interested. 
"I'm a big supporter of the Mansfield Center," Philp said. "I really like what they do; it's usually high-quality stuff."
Using the power of the cloud and geographic information systems, GCS created an online application to house the Legal Atlas. 
The interface is clean. The information the website contains is easy to access, with four drop boxes and a map able to navigate a variety of topics within the database.
"People want to eat the sausage, but they don't want to see how it's made," Philp said. "So we tried to deliver that kind of intuitiveness."
GCS helps maintain the Atlas with its own cloud but has built the database structure in a way that makes it manageable for users.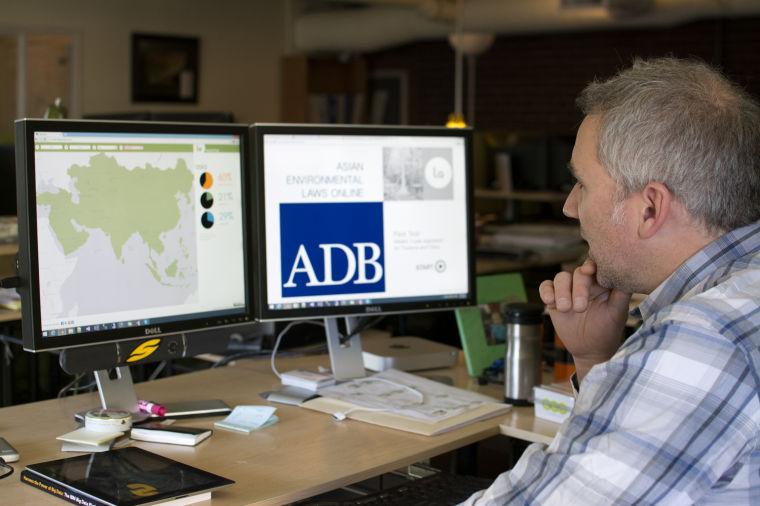 "We really think these guys are on to something with Legal Atlas, and the world needs to know about them," Philp said. "It's a very powerful set of data, and the way they've structured their information; it's very valuable."
The only problem was there wasn't any information to house. 
The next job — populate the Atlas.
CONSTRUCTED BY STUDENTS
Since the beginning, Legal Atlas has been open to students. Besides Wingard and Pascual, everyone involved in filling the Atlas is UM students. 
"We really believe students have a tremendous amount to offer because of their use of these systems at a much earlier age," Wingard said. "They provide tremendous input into how the system looks and feels."
After two weeks of training, students can do research and input the data independently.
Jeffrey Kratz is a second-year law student working with Legal Atlas. He said he got involved to help break from the routine. 
"When you're in law school or any other graduate program it can be really easy to become inwardly focused," Kratz said. "But I thought it was a good opportunity to go beyond that day-to-day to understand how things are developing on a global scale."
Since last spring, Kratz has been responsible for helping the Atlas gather information on illegal wildlife trade. He said that aside from narcotics and firearms, wildlife trade is one of the largest illegal global trades by volume.
These laws may be on the books in certain nations but lack enforcement. Kratz said Legal Atlas helps to make this discrepancy apparent. It tells users what the law is, but it also shows what's working and not working, where and why it's not working.
"By having this collection of laws together, assorted and organized in a rational way and presented in this new visual method, it increases accessibility to the law," Kratz said. "It makes it easy to understand for anyone."
Kratz's work will assist a wide range of users investigating the illegal trade. Access to the information will help law firms, governments, nongovernmental organizations, educators and students researching the topic. It can also help enforcement of the law to fight instances where the practice is prevalent.
"I have a more sobering understanding of how devastating illegal wildlife trade can be to different populations," Kratz said. "And the greater environmental consequences are out there unless there's some checks put in place."
Kratz said he plans to shift focus to Africa. His work now concerns the country because of new groups that have expressed interest to the Atlas regarding illegal trade. 
He thinks there is a niche at Legal Atlas for any interested student, regardless of background or training, because the project considers such a wide range of issues.
"This initiative could have been started anywhere," Kratz said. "But the fact that it was started in Missoula is a real compliment to the University and greater Missoula community in terms of its diversity and openness to innovation."
Taylor Thompson, a sophomore studying psychology and economics, got involved after seeing the opportunity on a job board at the University. 
"I read the description and thought this could be interesting," Thompson said.
He went in for an interview and was sold. He has interned for the Atlas since last summer. 
Thompson is working on marine fisheries research. He was given 12 countries to look up and find every fishery law he could.
"They were really good about working with me and going through the laws," Thompson said. "They were able to help show me what the real juicy parts were and what was important about them."
He then summarizes the research, writing a brief synopsis on each country.
---
'I HAVE A MORE SOBERING UNDERSTANDING OF HOW DEVASTATING ILLEGAL WILDLIFE TRADE CAN BE TO DIFFERENT POPULATIONS'
- JEFFERY KRATZ
---
 Thompson said he enjoys the work because he feels like he's making an impact. 
 "They kind of nurtured me into it," Thompson said. "But right away I was doing actual work for the group. I could literally see how I was adding to their idea."
He is now working on finding important cases and problems related to the practice of shark finning. 
Shark finning is an international area of conflict.
It is banned in the United States but thrives in Asian countries where the fin is seen as a delicacy and used in medicine. Thompson's work on fisheries will help flesh out and develop the world community's information on shark finning.
Thompson is currently in charge of finding real-life examples of where the law has gone wrong. His work will help in securing future grants for Legal Atlas to continue research and build awareness for the issue.
"When I first started working with them, I was a little skeptical because I wasn't sure how much my work was actually going to help," Thompson said. "But they have done an amazing job with that."
Legal Atlas is working on branching out into different categories outside of environmental law. The next project will deal with technology and the laws that govern privacy and data collection.
THE FUTURE ATLAS
At a small wooden desk on the first floor of the University Center, Wingard clicks through documents on the Atlas with red flags in wildlife trade. 
"Legal Atlas is not about one topic, it's about how we approach law in any topic," he said.
The program was recently chosen as the technology provider for the "Capture the Ocean Project." The project will work to map the law of data, how data is captured and how it's used by both private and public organizations. 
"Every time you use your cellphone, someone is capturing that data in some form or way," Wingard said. "The question is what are the rules?" 
The law on data is relatively new and standards for it haven't been established. Legal Atlas will be working to map the way the world is handling our privacy and the legality issues concerning it.
Wingard said the level of interest the project has generated in its alpha stage is remarkable.
"We're going to be able to leverage the existence of the system and the research capacity of our partners to help populate the database," Wingard said. "Once we get to beta, it will really take off."
Partners that have expressed interest in getting the Atlas to beta include: the World Resources Institute, the American Bar Association, the Wildlife Conservation Society, The Hague Institute for the Internationalization of Law and others.
---
"THE QUESTION IS WHAT ARE THE RULES?" 
- JIM WINGARD
---
Legal Atlas aims to grow outside its Missoula walls. A proposal to start an Africa chapter is in the works. Pascual said the idea is to allow the project to be worked on remotely from all across the globe.
"Soon a student in Missoula can team with a student in Ethiopia, while also working with a student in Guatemala," Pascual said. "The three students can conduct research in a way that is going to have an impact and that somebody else is going to be using, and doing real work."
Pascual said the Atlas will also give society and the media a knowledge platform that is able to connect the dots in a lot of these cases - something they hope to achieve going forward.
"This would've been impossible to do some years ago," Pascual said. "There were consultants and people writing reports, not being able to share with other people, and now the platform is an amazing tool for us to create things that are going to stay." 
Five years from now, Wingard envisions the Legal Atlas being a point of reference at a large scale. With the topic interface fully populated, the project will continue to help carve out the world of law. 
"The law matters," Wingard said, closing his Macbook.
"It plays a fundamental role in what happens on the ground."
He foresees Legal Atlas solving the problem he and Pascual discussed in that French restaurant in Kabul. 
"The reality is the way the law is written, for better or worse, has an impact," Wingard said. "The better we're able to understand that, the greater the chance we can do something about these problems."
---
@Jmon99
---