Exactly 42 days ago the Grand Canyon Regional Communications Center received a call from a satellite phone belonging to a private river trip. University of Montana student Kaitlin Kenney was missing.
"Kaitlin!"
Their breath could be seen as they spoke her name. The recorded temperature the evening before was 5 degrees below zero.
She did not appear near one of the six frost-covered blue and orange rafts, with icicles hanging from their yellow oars.
The call reverberated through the canyon walls before it was swallowed by the continuous and hollow sound of the Colorado pumping through the Grand. What was left of it was spit back in a faint echo, a silhouette of what had been there only hours before.
"Kaitlin!"
Silence confirmed what everyone there hoped not to be true. There was no snappy response. No music from the mandolin. No laughter.
Around 1 p.m. they placed the call.
The "whump-whump-whump" of the Grand Canyon McDonald Douglas 902 Helicopter, which arrived in less than an hour and a half, proved to be little help in locating the missing Kenney.
---
On the evening of January 12, Kenney's parents received a call notifying them that their daughter was missing. Shock gripped her mother, Linnea Kenney, and she had nothing to say during the call that no parent is ever prepared to receive.
Kenney, an anthropology major at UM, was on a month-long rafting trip with twelve other people, ten of whom were UM students, through the Grand Canyon during winter break. Her former roommate from the dorms had invited her to join them on the 280-mile float from Lee's Ferry to Pearce Ferry.
The group of UM students she was with has declined to comment on any of the trip until Kenney is found. 
She decided to go on the trip after completing a summer semester with the Wild Rockies Field Institute. The semester left a lasting impression and developed a passion within Kenney to both further enjoy and respect the outdoors. 
"I feel humbled by the innate beauty of these places that are so ingenuitive and efficient without any human touch to make it this way," Kenney wrote in a blog after her experience that summer. "I feel connected to, even tapped into, the web of life that exists here."
 The trip put Kenney into the mindset of an outdoorsman and inspired her to continue enjoying outdoor recreation. She jumped at the unique opportunity to raft the Grand. 
She would become giddy when talking to others about the upcoming adventure and embraced the idea of the quirky lifestyle of a Grand Canyon "river rat." She evoked an allusion of grandeur when she spoke to her friends of the good times that lay ahead.
When Kenney returned to her hometown of Englewood, Colo., from school at UM, she had a full list of things that she needed to buy before her trip. She needed a life jacket, knife, booties, cord, long underwear, normal underwear, warm clothes, normal clothes, sunglasses and sunscreen, and other basic necessities.
"I remember having an interesting time trying to find a dry suit in the middle of winter," Linnea said. "It's necessary for down there with how cold it is. We had to run all over Denver until we could find one."
She would also be celebrating her 21st birthday on the trip, and those close to her say she had to make sure that she had all the proper items for a birthday bash in the backcountry. 
Birthday decorations and costumes — check.
Music — check.
Booze — check. 
"She would talk about how she needed to bring her mandolin," said Morgan Mull-Osborn, a friend and former roommate said. "She was excited to bring music on trip."
It was music that had attracted Kenney to Missoula. Although the mandolin was her traveling instrument of choice, she excelled at playing fiddle. From grade school to high school she competed at various competitions throughout the U.S., where she met many different people and made friends. 
Her mother said it was a good friend who introduced her to UM and had a large influence on her to come to Missoula. Here she gained a greater respect for the environment and the outdoors.
"She was never one to shy away from challenges and the outdoors," Linnea said. "The Grand Canyon trip was an adventure she wanted to experience."
Yet in recent history the excitement to live life as adventurous and extreme as possible has left many UM students from outside western Montana severely injured or dead.
In the current ski season Montana Snowbowl has reported five skiers lost in the backcountry, all of whom were later found.
On May 17th, 2012, a male student jumped from the Madison St. Bridge and never reemerged to the surface. His body was found more than a month later near Triple Bridges in the Alberton Gorge. 
---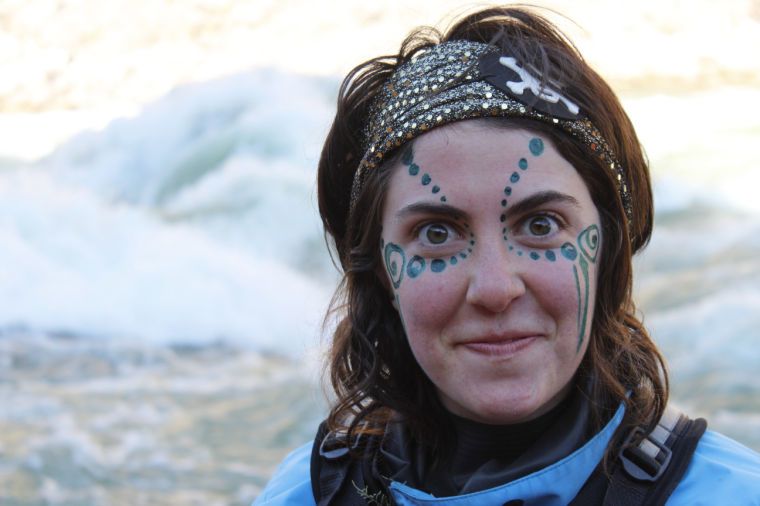 For Kenney's first real rafting experience, the Grand is an extreme feat — and the challenges of the Grand are not to be taken lightly. The crass author Edward Abbey even compared it to climbing K2. 
"Climbing K2 or floating the Grand Canyon in an inner tube," Abbey said. "There are some things one would rather have done than do."
Abbey, author of Desert Solitaire and the Monkey Wrench Gang, understood that the trying to swim in the cold and power of the Colorado can have painful consequences.
And people die there.
Over 600 people have died there — suicide, heat strokes, drowning. In 2010, twelve people died and in 2011, twenty-one died.
The University of Montana Outdoor Program Manager, Elizabeth Fricke, said that having people on a trip with the skill to run upper class rapids is important and that having all the necessary gear and technical knowledge to get out of a jam safely is necessary. But without communication and planning a group can encounter any number of problems quickly.
Important things to communicate from the beginning to after the trip is over are: 
Logistics: Discuss and organize what food, gear and other amenities need to be brought on trip and then divvy up who will bring what, and stick to that plan.
Independent travel: Everybody should know where a member is going and when they should be back.
Safety: Everybody should be involved when scouting a rapid or hike and understand what is going to happen.
Gear: Everybody in the group should know where all the gear is and who has that gear on their boat.
Debriefing: Everybody should communicate when they think something went well or poorly on trip and how those can be improved. It is also important to debrief the trip immediately after returning home so everyone know what went well and what can be done better next time.
"When planning any trip to the Grand it is super important to communicate and plan," Fricke said. "Things go downhill quickly when everyone is not on the same page." 
The first piece of logistics to complete is getting a noncommercial river permit to float the Grand Canyon for longer than five days. Rafting enthusiasts have to enter in a lottery a year in advance, pay 25$ and hope that they are granted passage to the Colorado River. 
Kenney merely had to say "yes" to her former dorm roommate and she was guaranteed a place on a trip down the Grand. 
It was that easy.
"I was a little nervous for her because I felt like sometimes she was a little naïve about things," said Harper Kaufman, a roommate of Kenny's.
"She had never been rafting before and she kept talking about things like costumes, drinking and basically having a good time." 
---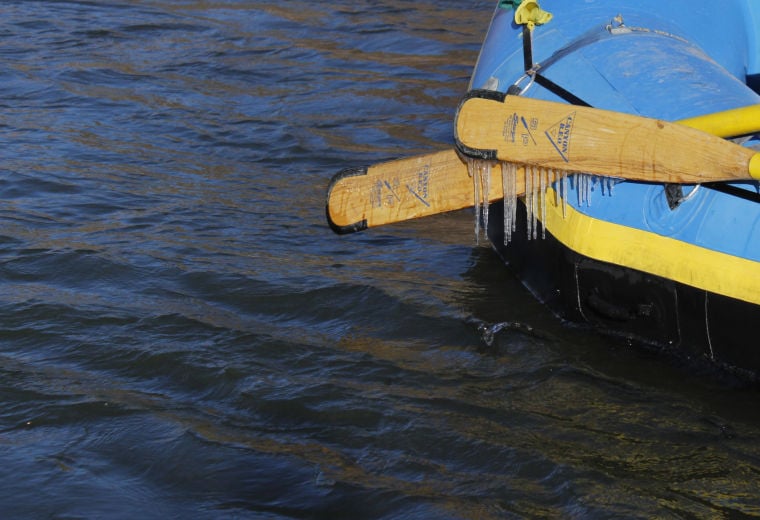 On Dec. 25th, 2012 — Christmas Day — Kaitlin met up with one member of the group in Denver, Colo., with all the necessary gear for one month of rafting down the Grand. They would continue southward to Arizona and the Grand Canyon.
That was the last time Linnea has seen her daughter.
A postcard sent from Kenney on Jan. 5th to her roommates with a painting of Phantom Ranch, the only lodging facility located beneath the rim of the Grand Canyon, on the back said that she was living the pirate's life and that she was in awe of how amazing the canyon is.
"The water and rapids are mighty powerful," Kenney wrote. "I almost flipped a boat two days ago cause I fucked up the alignment [of the raft] going into a drop."
"Holy wow, shit got real, real quick."
On January 11th the group camped at Tapeats Creek campground located on the north bank of the Colorado at mile marker 134.5. 
Kenney wore a tan knee-length coat, rugged tan pants and a multicolored scarf in place of the baby blue dry suit she wore when rafting on the river.
Her hiking boots with Vibram soles had acquired the tan and red colors of the soot of the canyon. 
A black knit cap covered her brown, wavy, shoulder-length hair.
Her wide dark brown eyes resemble her father's.
Kenney was last seen sometime before 11:59 p.m. on Friday, Jan. 11th, 2013.
"It is so deep in some parts of the Grand Canyon that the sun doesn't even reach the bottom," said a guide from the Outdoors Unlimited Grand Canyon Rafting, who asked not to be named due to professional reasons. "The water can be very cold during that time of year and we often advise customers not to swim." 
---

Outdoors Unlimited Grand Canyon Rafting is a company that offers guided trips down the Grand Canyon, but was not affiliated with Kenney's private group.
Temperatures of the Colorado River are reported to stay steady 46 degrees year-round within the Canyon.
And although the cold of the Colorado can cause hypothermia in many customers, the guide said that anyone's primary concern should be the buddy system.
"We ask that if people want to go off on their own, that A. they tell a guide where they are going and what time they will be back, and B. they bring someone with them," the guide said. "This way, if someone were to slip, or fall or get hurt, then the buddy could warn us of the incident. And if that doesn't happen, then we at least know when to start looking for someone and in which direction to look for them." 
He recalls several incidents in the past few years when people have walked off to go on a hike or to go to the bathroom at night and never returned.
"We didn't see any sign of her," said Wyatt Cleveland, a member of another private UM based trip down the Grand. "Not that we were actually looking for her ever, though." 
Cleveland and 13 other rafters based out of Missoula embarked on the same Lee's Ferry to Pearce Ferry trip only five days before Kenney's expedition. They were unaware of her reported disappearance until they pulled out on Jan. 18th and were informed by the ranger at the takeout.
Herbert Ahl, a UM graduate who was on the same expedition as Cleveland, said that it was a sobering surprise for him and his group to learn that someone from the other Montana group had gone missing only days before.
"We always used the buddy system whenever anyone decided to go hiking or even to use the bathroom at times," Ahl said. "It's weird that she would just walk off in the middle of the night."
When Kenney went missing she did not bring a buddy. Linnea said no one saw her daughter get up in the middle of the night, but the next morning the group realized she was missing and called dispatchers at the Grand Canyon with a satellite phone to report it.
Tapeats Creek can be accessed both by water and by foot, increasing the amount of area in which Kenney could be missing. To access the area on foot one has to start at the Bill Hall Trailhead, roughly 11 miles away and 5200 ft. above the Colorado.
"The climb out would take at least a day and a half," the guide from Outdoors Unlimited said. "But by the time she would have gotten to the rim of the canyon, she would be out of water, and there is none for another few miles. It seems damn-near impossible for her to complete such a feat." 
Cleveland, Ahl and company stayed at Racetrack camp area, which is located just up river from the Tapeats Creek camping area. They did the roughly five-mile day hike up the Tapeats Creek drainage to Thunder River spring. Here, there is a waterfall pouring down the red, sandstone walls of the canyon where hikers can swim. To sufficiently gain the rim of the Grand Canyon, Kenney would have had to hike six miles farther and gain another 3500 feet of elevation.
A report by Grand Canyon National Park public affairs specialist Shannan Marcak said that the Grand Canyon Helitack Flight Crew's search through the Colorado River corridor and its many hiking trails the subsequent two days yielded no clues as to Kenney's whereabouts. The search was then scaled back to "a continuous, but limited mode in which rangers and pilots will continue to search for clues when in the area." 
According to Grand Canyon Helitack Search and Rescue, a missing person reported by boaters on the Grand Canyon is typically found alive within the first 24 to 48 hours.
"Because of the decomposition of gasses in the body of someone who has indeed fallen in the water, we will end up finding them in between 14 and 24 days after they have been reported missing," the Helitack squad leader, Clay Whaley said. "It's always a gruesome thing." 
If the body of someone who has fallen into the river is not found within that time frame then they are typically found 30 to 60 days after the inside of the body has had more time to decompose. It is extremely rare that a person is never found in the Grand Canyon after they have disappeared.  
Whaley said that his crew is typically deployed on more than 200 medevac and search and rescue missions a year. Eight to fifteen of the medevacs ended in fatalities.
Yet with no confirmation yet as to the location of Kenney, her disappearance remains a mystery.
"We believe that she's probably fallen into the river, and we're just waiting for word when someone finds her," Linnea told the Associated Press on January 16, four days after her daughter was reported missing.
"I spoke with those on the trip and it made me feel much better to talk to them," Linnea said. "They are great kids and I can tell that they really bonded with each other."
Kenney's family went to her apartment on Jan. 30 to clear out her things from her room. They were able share stories about her and the legacy she has left in Missoula. 
"It's just something so loose," a close friend to Kenney said. "Death is almost something easier to accept, because everyday it wears on us, […] and we worry if she can come back."
"I think it helps to bring some closure to the whole thing."