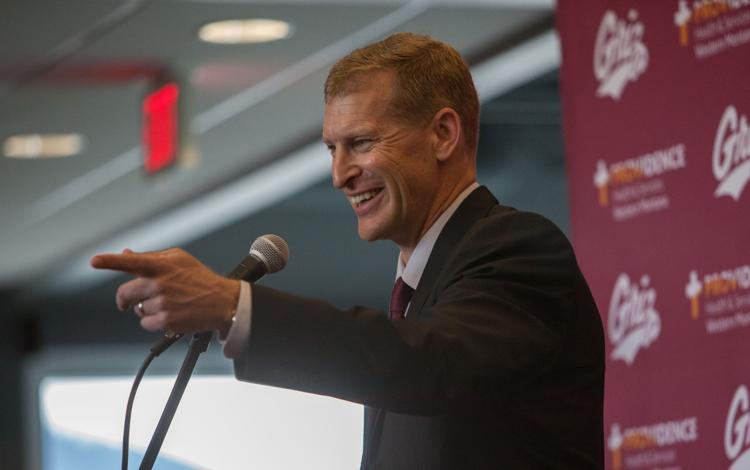 Just two weeks before the end of fall semester, the University of Montana named its 33rd football coach as its 37th at a packed press conference. The news came less than two weeks after the non-renewal of Bob Stitt, who lost his second consecutive Brawl of the Wild to the Montana State University Bobcats this year. The University's decision was met with some of the usual excitement, but also significant controversy based on Hauck's earlier stint. 
His name may not mean much to the current student body, but to alumni who attended UM from 2003 to 2009, Hauck's name inspires both rabid school pride and pointed derision. Hauck was an aggressive and highly successful coach at UM during those years, leading Montana to five Brawl of the Wild wins and only two losses during his tenure. The Grizzlies were a national powerhouse under him, making three national championship games and winning at least a share of the Big Sky Conference Championship every season he led the program. He is just five wins shy of passing Don Read to become Montana's all-time winningest coach.
But it was both his and his players' conduct that arguably made Hauck most notable. Several of his players were arrested for assault throughout his six-year run. He was also responsible for recruiting Beau Donaldson, the running back who pleaded guilty to sexually assaulting a woman in 2013, during the height of UM's rape scandal. 
"Anytime you work seven years in this job, it's highly visible," Hauck said in an interview with the Kaimin. "You're not going to please everybody."
Hauck also has a storied history with this publication. He received national media attention after shutting out Montana Kaimin reporters during press conferences in 2009. Hauck refused to field questions about assault allegations that led to the disappearances of multiple players from the field. He subsequently refused to take any questions, regardless of content, from Kaimin journalists. Outlets including ESPN, Sports Illustrated and Deadspin wrote about the stonewalling, and Hauck eventually began taking questions from the students again. 
Hauck departed in 2009 to coach for the University of Nevada, Las Vegas. His successor and former wide receiver coach, Robin Pflugrad, was fired in 2012 during the height of the sexual assault scandal. 
Plenty of fans see Hauck's return as precisely what Montana needs to get back on top. But for others, he represents the genesis of some of the University's worst years. A petition that circulated in the days before his hiring implored UM not to rehire him, pointedly stating "women are more important than winning." At press time, it had 750 signatures. The creator of the petition, Lisa Davey, was subjected to harassment and doxxing after being criticized on the Griz message board Maroonblood.com.
Chris Jones, an award-winning magazine journalist who writes for ESPN and was a staff writer at Esquire, was a visiting professor and adviser to the Kaimin in 2009. He offered his thoughts on Hauck and what his future at UM might look like in no uncertain terms.
"I thought his behavior back in 2009 was pretty reprehensible, the behavior of the football team was reprehensible," Jones said. "He brought a lot of bad people to Missoula, and as far as I could tell, there was zero accountability. I just hope that in the eight years since, Bobby has learned some lessons about how to run a program."
Hauck's first challenge as a coach will not be on the field. For years, he's routinely been connected to creating a violent culture at the University. Most criticism of Hauck centers on the multiple instances of assault that occurred during his time as the head of the football program. 
But in a recent interview with the Kaimin, when asked how he felt about the hostility directed toward him, Hauck said he wasn't experiencing any.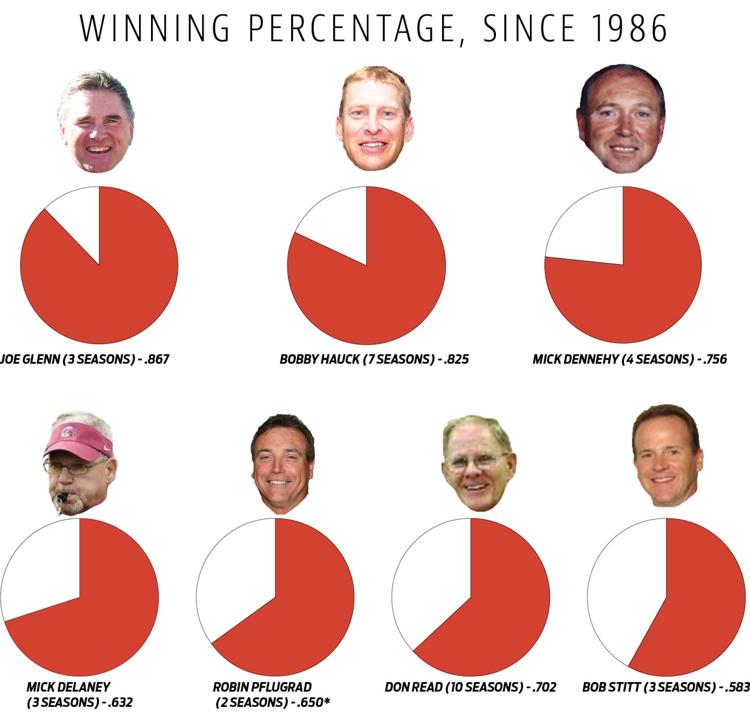 "I don't see that," he said. "I see thousands of people pouring their support."
His players were arrested for a range of violent offenses. Three were arrested following a drug-related robbery in 2007 after breaking into a home, wearing gloves and ski masks. Jimmy Wilson, a former Griz cornerback, was acquitted of killing his aunt's abusive boyfriend in Los Angeles. There were several other incidents, including a player throwing a beer bottle at a bystander and another pleading guilty to partner assault after pointing a gun at a woman.
The most notable byproduct of Hauck's years at Montana was the sexual assault scandal that rocked UM after he departed for UNLV. Beau Donaldson, a Hauck recruit, pleaded guilty to sexual intercourse without consent in 2013 and was most recently in the spotlight after committing multiple parole violations, including drinking and using social media, activities he was barred from as part of his sentence. Since the scandal and resulting investigations by the federal Department of Justice and the Department of Education and a book by journalist Jon Krakauer, the University's enrollment has steadily dropped. Montana is still trying to recover. 
Hauck's name is also deeply associated with Robin Pflugrad, his assistant who succeeded him as head coach. Following the rape trial of then-quarterback Jordan Johnson, Pflugrad and Athletic Director Jim O'Day were fired by former president Royce Engstrom. The University of Montana, and its football program, haven't been the same since.
Hauck preferred not to discuss these incidents in connection to his appointment, adding he does not want to appear to be making excuses for them. He said in the interview that under his leadership, he and his team are "going to do our very best to do everything perfectly here, knowing we'll never achieve perfection." 
Hauck's return to UM has some advocates arguing the school cares more about wins than the safety of women. Davey, who started the anti-Hauck petition at Change.org and is a member of Missoula Rises, said she is "disappointed" with the hire and saddened that UM will have to answer for his behavior.
"I'm worried that it says they are more interested in winning than having to deal with the repercussions of reputation," Davey said.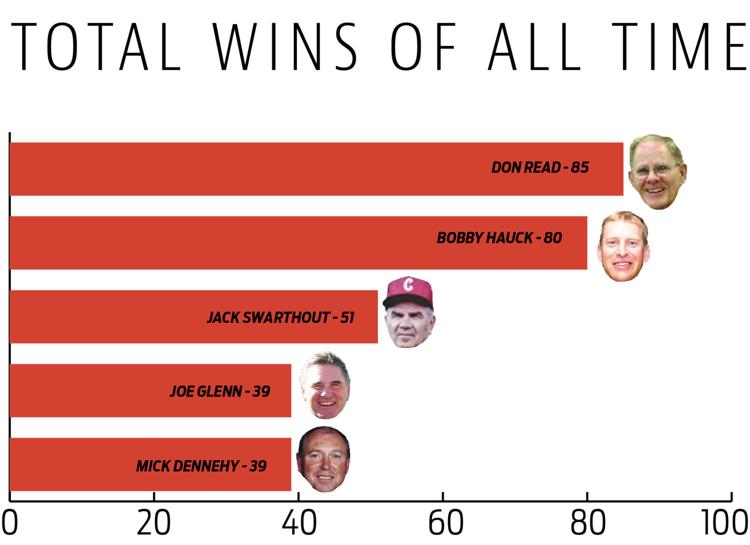 Davey was the target of online harassment from some Griz fans and mocked on Maroonblood.com, with one commenter posting her home address.
"When you have these people who call themselves fans, who are out of control, it's not comfortable to be a fan of the Griz," Davey said.
She did, however, note some positive elements of Hauck's first press appearance, which she attended.
"I do think that they acknowledged that they have to be proactive. I'm glad to see they led the press conference with strong statements against harassment, followed by strong statements against sexual assault," she said.
Hauck noted the need for a lack of tolerance when it comes to sexual assault, noting that he's a father of three daughters and a son, and that he worries for all of them. "I will be a leader in helping the Griz football program be a positive example for this community and across the country," he said.
He also signaled he would like to make amends with another group he scorned during his time coaching: student journalists. 
After the Kaimin wrote a story about an assault committed by two football players in 2009, Hauck began refusing to answer questions from former football reporter Tyson Alger. 
Chris Jones recalls the aggression with which Hauck responded to Alger's dogged reporting.
"This is the most powerful state employee, in a lot of ways, just tearing apart a student in front of cameras," Jones said. "Tyson just kept going back at it. It was an amazing thing to watch. He did nothing wrong, and I think Bobby eventually realized that."
Eventually Hauck went back to answering questions that year, though Alger said in an interview that he would not classify their relationship as "good."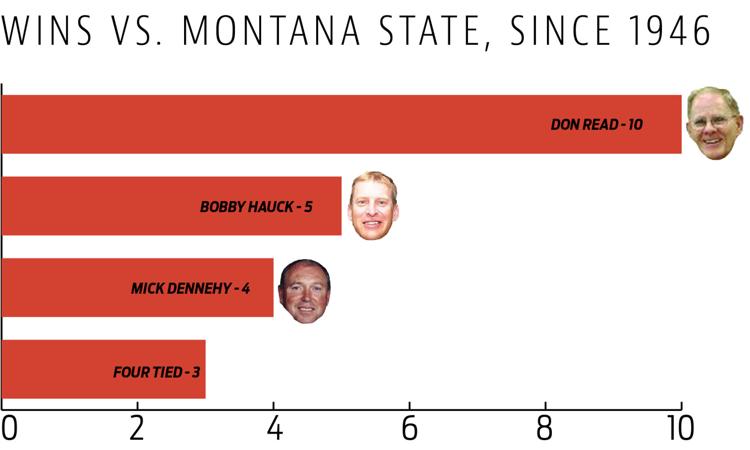 Addressing his conduct at the press conference, Hauck said, "At one point we mismanaged, with major help from me, our relationship with the student newspaper for a period of time."
Hauck gave Kaimin sports reporter Nick Puckett the first question during the Q and A at the Dec. 1 announcement. 
He may have learned something from his conflict with the Kaimin. In 2014, UNLV's newspaper, then called the Rebel Yell, made note of the positive relationship Hauck maintained with its staff.
"Hauck made it feel like we were just as important as any other people wanting to talk to him. He handled all questions and never thought any different of us just because we were younger journalists," former Rebel Yell sports editor Danny Webster wrote in December of 2014.
A lot of fans are willing to let Hauck's indiscretions slide. But others still have significant reservations. Barry Petchesky, editor of the sports blog Deadspin, who wrote an article about Hauck and the Kaimin in 2009, said Hauck may have benefitted from the timing of his actions.
"The administration had better be sure that Bobby Hauck is a changed person, and a better person than he was in 2009," Petchesky said. "He's lucky that this happened when it did and not even five, six years later when the world treated these scandals with the seriousness that they deserve."
After Pflugrad was fired, and Hauck had long since moved to Las Vegas, longtime Griz head coach Mick Delaney, then 69 years old, came out of retirement to lead the Griz during the team's most chaotic and troubling years. He coached for just two seasons before retiring again at the end of the 2014 season.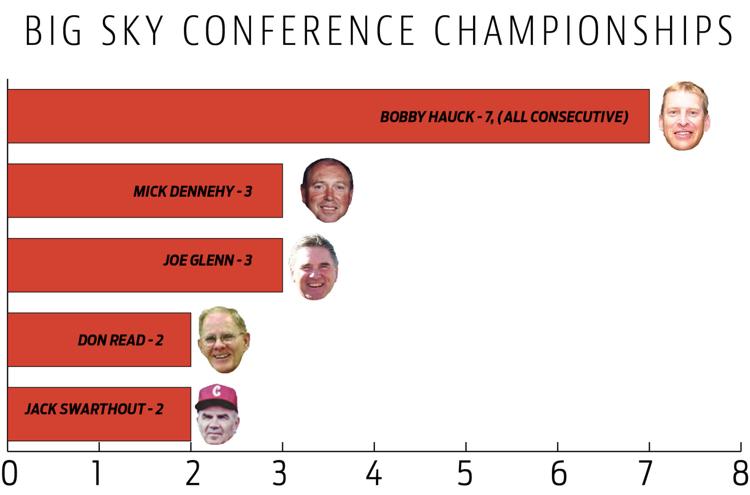 The process of finding UM's next head coach gained national attention. The new coach would be charged with beginning a new chapter in the Griz legacy. Most importantly, he or she needed to be squeaky clean, and had to hold players just as accountable off the field as on. For Athletic Director Kent Haslam, Bob Stitt was a sensible hire: an experienced, innovative head coach from the Colorado School of Mines.
Hauck was also interviewed for the position in 2015, but Grizzly Athletics went with the seemingly safer choice of Stitt. Stitt had no ties to UM, which may have been the most important element of the athletic department's clean-slate initiative. He was personable, never discounting his players. He succeeded in building bonds among players without relying on initiation parties or hazing. (Pflugrad got rid of the annual initiation party when he replaced Hauck in 2012.) Stitt's arrival was welcomed with a cutesy tagline — "Stitt Happens" — and he earned acceptance for defeating North Dakota State on national television in his coaching debut. 
Stitt, however, did not happen for long. He missed the playoffs and lost to Montana State in his latter two seasons. Despite his success in recruiting, his 21-14 record and emphasis on player academic development — not to mention comparatively minimal off-field player issues — Stitt was fired one day after it was announced Montana would not be in the playoffs for a second straight year. 
It was made clear that the priority for the new head coach was to win. Haslam acknowledged as much when he he hearkened to the old days.
"I do think we need to get that toughness back, that swagger," Haslam said during a press conference Nov. 20. "The Big Sky Conference, it's a tough conference. It's a really tough conference. And those schools have elevated their game. But we need to be winning conference championships. We need to be going to the playoffs. Those are things that are critical to us as an athletic department." 
Following Stitt's abrupt departure, the new search began. Hauck quickly resurfaced as a possible name and eventual frontrunner for the job. When he reportedly visited for an interview Nov. 27, ears perked and eyebrows raised at what some fans saw as a possible return to the dark, albeit winning, past of Griz football. 
Players and fans took sides. The social media hashtags "#BBB" (Bring Bobby Back) and "#HauckWatch" drew attention to a touchy issue for Missoulians. As smoke from a controlled burn rose near the M on Mount Sentinel, some equated it on Twitter as the puff of smoke signaling a new pope. That night, Skyline Sports confirmed Hauck would be named the 37th head coach. Friday, the official announcement came. Hauck wasted no time addressing the controversy during his reintroduction press conference:
"There were times where we also brought some young men on this team who conducted themselves in a manner that wasn't worthy of wearing the Grizzly uniform or that helmet," Hauck said. "I'm ready to do a better job on that score as well. Nothing's perfect. College kids aren't perfect. They won't be. We've got a system to deal with everybody, and when they come out the door, they're going to be a better individual than when they walked in. I can guarantee you that."
The 2018 football season will be one of the most interesting in the program's history. If Hauck can win seven games, he will have the most wins of any Montana coach. 
By not bringing back Stitt, Haslam and Griz Athletics made it clear it's playoffs or bust for this team. That won't be an easy job in Hauck's first year back. The Griz have non-conference games against Western Illinois and Northern Iowa, both playoff teams in 2016.
"Literally everybody is rooting for him to succeed," said Southern California News Group reporter Bill Oram, who was editor-in-chief of the Kaimin during part of Hauck's tenure. "He has an opportunity to rewrite his legacy." 
His vocal critics have made it clear he'll remain under their watchful eye. For the moment, Hauck appears to want to reconcile. His comments during his press conference, as well as his involvement in a planned panel discussion with Missoula Rises on the topic of sexual violence, show as such. But Oram says Hauck's true colors will show if a player finds himself in legal trouble during the upcoming season.
"When a player does get arrested, if he handles that with transparency, that will show some growth," Oram said. "I would be astonished if Bobby handles it the same way again."
Bobby Hauck doesn't have anything to prove to his fans. His return is already being celebrated on a number of Griz message boards, where he's considered by some to be Montana football's saving grace.
"We are unbelievably fortunate for his devotion and loyalty to UM and the football program," wrote a user under the name "kemajic." "We are back."
Hauck, for his part, simply said some people aren't winnable.
"Everybody's welcome to jump on board," Hauck said. "Even people who are naysayers. ... We'd love to have you."
But for those who are skeptical of or even outraged by his return, Hauck will need to show commitment to change. 
"I know the Grizzlies need some success on the field, and he was super successful on the field," Jones said. "I just hope he's better at the off-the-field stuff than he was the last time I saw him."
The following editors and reporters contributed to this story: Michael Siebert, Nick Puckett, Jackson Wagner, Lucas Ailport and Zach Flickinger.