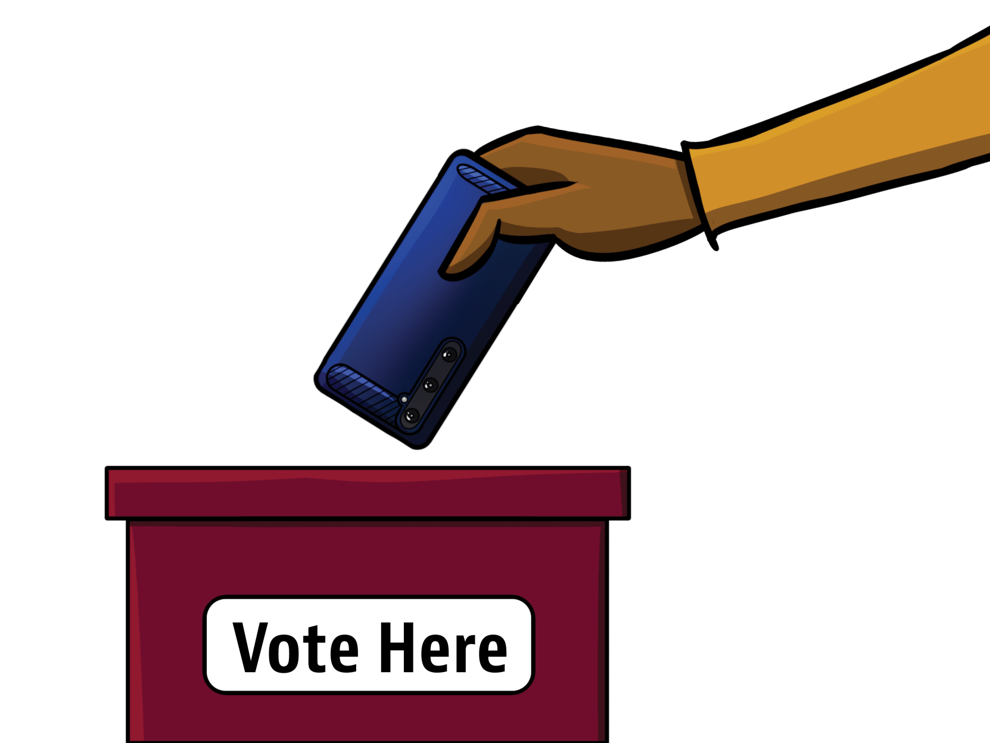 The upcoming Associated Students of the University of Montana election comes with a number of candidates campaigning for change, after a year where candidates claim the senate's bureaucracy got in the way of taking action. 
The ASUM senate has passed more than 100 resolutions during the past two semesters that aim to help students — from advocating for better conditions for UM's resident assistants to calling for the resignations of two professors on campus.
As the semester winds down to a close, the election cycle has begun heating up. With the first primary election since 2018, and the most senators filing to run since before the pandemic, the election looks to be a competitive one.
And it comes after an eventful — and controversial — year for ASUM. 
Earlier in the semester, former Vice President Canyon Lock resigned after calling a special session to pass a resolution condemning Clayton Looney — a UM professor who used the n-word in texts and on video. Lock was spurred on by a group of students upset with ASUM's slow-moving bureaucracy. A number of senators since have called for changes to the senate's bylaws to ensure it can take action faster on these issues.
This election cycle hasn't been without controversy either. Noah Vanderkar and Jack Kuney, one of this year's executive teams, had a grievance filed against them during the first week of campaigning for making their Instagram public moments before campaigning officially began. 
And senators have been endorsing their picks for the executive team on a number of social media accounts for the last week.
The Kaimin caught up with all three executive teams and both business manager candidates to discuss their vision for next year's student government. Along with these profiles, the Kaimin previewed some senators vying for seats and the sole referendum on the ballot this year.
You can vote in this year's ASUM election on the UMontana app. Polls open for the general election at midnight on April 27 and close at 8:00 p.m. on April 28. 
The Kaimin's print schedule did not allow for including results of the primary election.This primary will eliminate one set of presidential and vice presidential candidates. For more coverage, visit montanakaimin.com.
Mariah Thomas, Features Editor
---
President and Vice President Candidates
Kipp, Courtney highlight their differences to bring a new perspective to ASUM leadership
Stormee Kipp and Aiden Courtney share a love for their hometown of Missoula, Montana, but that might be the only thing they have in common.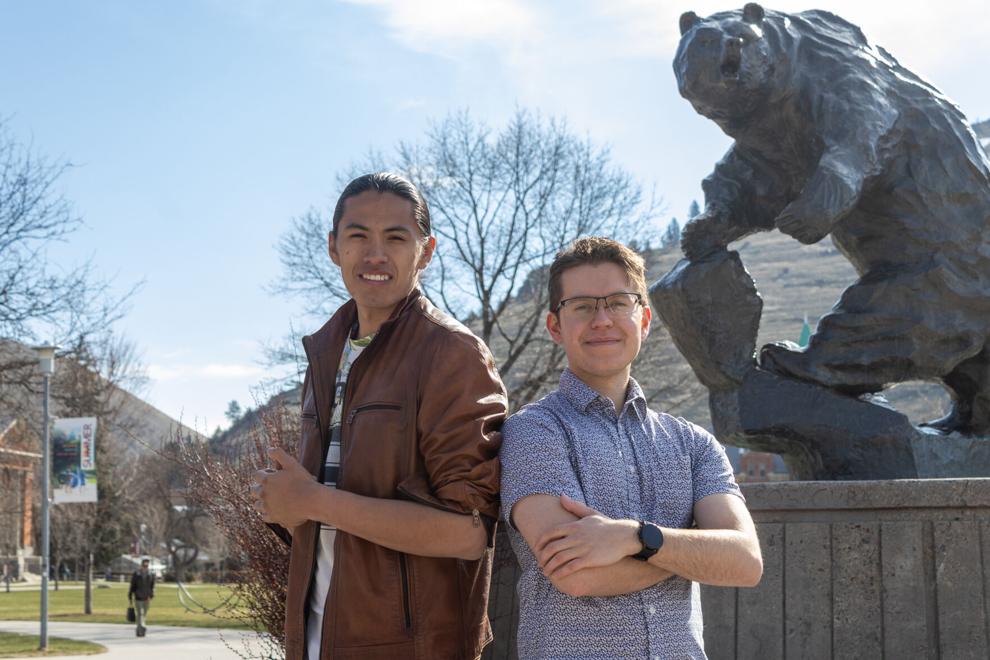 Kipp, a member of the Shoshone-Bannock and Blackfeet Tribes, said he's a natural politician with contagious charisma and engaging answers. Courtney attested he brings logic, fairness and consideration to every decision. The duo hopes to use their distinct differences to serve the University of Montana's student body as the next president and vice president of the Associated Students of the University of Montana.
Kipp, the candidate for president, is a senior studying history. Missoula has always been his home. He grew up raising horses, playing chess and running long distances on nearly every trail in town.  
"Missoula is a lot of things and we as students impact that," Kipp said. "I think the most important thing for the University is having a good time and enjoying our college experience."
Kipp is a people person. He admits that he will not have all the answers if elected, but plans to depend on strong teamwork to make the best decisions for the student body.  
"The president doesn't know everything. It would be shameful if I said I knew everything," Kipp said. "I have to ask other people to help because the best progress is made through communicating with others." 
Courtney, the candidate for vice president, is a graduate student chasing his teaching degree. He developed a strong work ethic from a young age and manages his time between a job in the UM IT department, classes and additional extracurricular activities, including Grizzlies for Liberty and the Outdoor Recreation program.
Courtney finds solace in the details. His previous role working for the Missoula County Elections and his undergraduate degree in political science will play a role in how he approaches the vice presidency.  
"From my research of ASUM and vice presidential duties, it is more about the managerial level, heading government level," Courtney said. "From my previous experience, I think it is important that there is a fair and neutral way to [make decisions]." 
Despite best intentions if elected, chinks in the Kipp and Courtney armor have already appeared. The pair nearly missed the deadline to register for ASUM election after a spur-of-the-moment decision to announce their campaign. Due to the quick decision to run, the Kipp and Courtney campaign has struggled to establish clear campaign platforms.  
As an Indigenous student, Kipp recognized the need for diversity in ASUM and hopes his election will set the tone for a more inclusive, equitable and positive University. 
"Our main platform is diversity," Kipp said. "Native Americans or people of color on campus are underrepresented in ASUM and when I win, I think that I will represent something much bigger than just a president, because other students around the state or country will see that we have diversity amongst our student body president and that will show that this campus is more diverse, and that is something we are really lacking."
Courtney, on the other hand, mentioned that the largest platforms for the campaign focus on the lack of housing and inefficient cyber security training for students.   
"Housing is a large issue for students here," Courtney said. "One thing I haven't seen much of is talking about building more student housing on campus. I feel like we should focus on how to house more students on campus. One more aspect that I would like to focus on [would be] collaborating to provide better cyber security training for students."
But Kipp and Courtney do agree that an outside perspective would be helpful for ASUM leadership. Neither of them has served on ASUM, and they hope to use their fresh eyes to better lead ASUM.
"From what I have seen, some of the other candidates have been involved in ASUM for quite some time. It's always good to get fresh blood in the system to get rid of any blinders that might be there," Courtney said.
Susie Hawthorne
Vanderkar, Kuney look to increase student government engagement, establish civil bench
Noah Vanderkar and Jack Kuney hope to bring a fresh perspective to ASUM's executive office by focusing their platform on outreach to the campus community and lobbying the Missoula City Council, the Montana University System and the Montana State Legislature for more support of student government.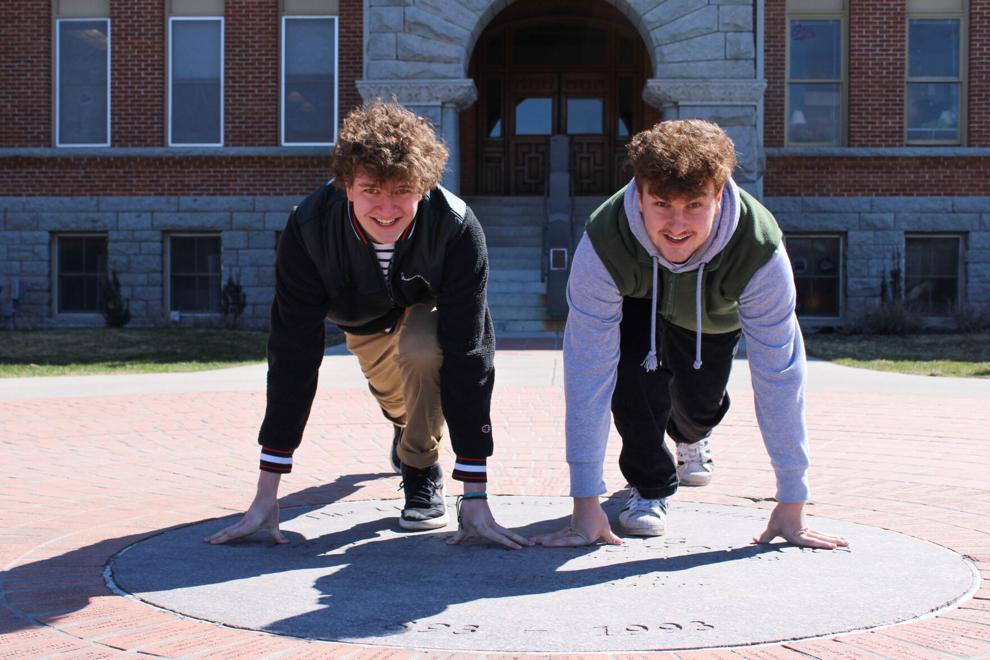 Vanderkar, the presidential candidate, criticized what he believes to be the general student body's view of ASUM on campus. He said many remain unengaged in student government because of its perceived elitism. This is a status quo, he said, that doesn't serve ASUM or University of Montana students.
"We want to remove the stigma of a kind of elitist or overly professional atmosphere regarding ASUM," Vanderkar said. "We can only change that by fostering a better sense of community that focuses not only on professionalism, but on fun and engagement as well."
Kuney, who's running for vice president, said the pair's campaign style has been "boots on the ground." The pair have posted flyers advertising their candidacy in nearly every building on campus, and they spend their time out of class having face-to-face interactions with prospective voters, according to Vanderkar.
The duo's personal style reflects the "men of the people" image they want to cultivate. Instead of blazers and slacks, the pair don hoodies and jeans as they canvas UM's campus. They design their campaign posters by hand in the house they rent together.
Vanderkar and Kuney, both juniors, have been roommates since their freshman year. They said, if elected, their friendship wouldn't stand in the way of policy, and neither would politics strain their friendship.
"I think our friendship is definitely strong enough that it would be carried over to the executive team," Kuney said. "We both have the capacity to call each other out on our faults where it counts."
Vanderkar, originally from California, studies political science. Kuney, from Helena, majors in geoscience with a minor in history.
The team is familiar with the inner workings of student government, having both worked as ASUM senators. In 2020, Vanderkar became the first student to serve in the organization's freshman-designated senate seat.
Vanderkar resigned from his senate position at the beginning of the school year. "Consistently, it just felt like echoing previous sentiments and a lack of progressiveness to get things done and actually change the way that we do things," he said of his reason for stepping down. "Clearly, students are frustrated with the organization. I myself am frustrated with the organization."
Kuney is currently a member of the senate.
Vanderkar had a role in the 2021 ASUM election as campaign manager for current president Noah Durnell and former Vice President Canyon Lock. The Durnell-Lock campaign came under fire for breaking ASUM bylaws regarding third-party endorsements of candidates. 
An Instagram account run by Vanderkar, @umontana2024, posted in support of the Durnell-Lock ticket, and a grievance was brought to the senate. Vanderkar argued the account was not directly affiliated with UM and did not count as a third-party endorsement. 
The Durnell-Lock ticket wasn't punished by the senate, but the elections chair and Durnell's opponent for president, Lyssa Schei, stepped down in the wake of the situation.
During their own campaign, Vanderkar and Kuney have also had grievances brought against them. Just hours prior to the start of the 2022 campaign, a Vanderkar-Kuney Instagram profile was made public by the team, which violated campaign bylaws since the race hadn't officially begun.
The pair said that action was an accident that occurred while trying to finalize their profile to go public. Minutes after realizing the mistake, the profile was again made private, according to Vanderkar. 
He said during the time the profile was public, they did not receive any new followers. As a result of the mistake, the ASUM senate voted to sanction the ticket by deducting $35 dollars from their allotted $350 campaign budget.
Vanderkar said he believes the bylaws around campaigning are too restrictive and only create an unnecessary divide between those running for office and the students they want to reach.
"If [campaign bylaws] were a little bit looser, it would allow for more freedom. It would allow for more people to get involved in the elections process," Vanderkar said. "I also think that it would allow for us to be better about talking to more students."
If elected, Vanderkar and Kuney seek to establish a civil bench modeled from MSU's student government. It would serve as a space to mediate grievances against executives and senators, with a goal to determine whether grievances have legitimate basis in bylaw infractions before they are brought to the senate for discussion.
Vanderkar and Kuney's judicial panel would consist of five judges appointed by either themselves or the ASUM senate.
Vanderkar said many other student governments across the country have a similar judicial structure. This system of checks and balances, he said, helps ensure that unbiased judges provide a fair analysis of ASUM's bylaws, separate from the politics of the senate.
In future years, once the bench is established, Vanderkar and Kuney would like these judges to be elected by the student body alongside senators and executives.
"That's how [campaigning] should be, it should be fun and exciting and engaging and energetic," Vanderkar said. "That's what we've pledged since the beginning."
Tye Brown
Bowles, Berna look to loop in student groups, make adjustments on faculty bargaining agreement
Two long-time members of ASUM are vying for president and vice president, running on the platform of getting more student voices into administration decisions and making a strong UM presence at the Montana State Legislature.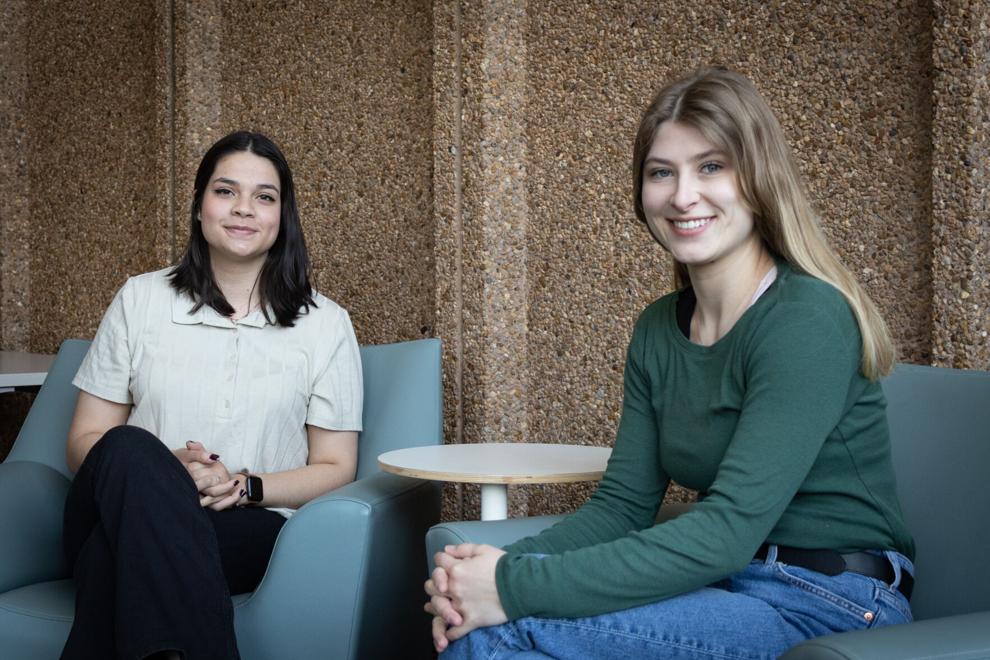 Elizabeth Bowles, a political science major, is running for president after serving in ASUM senate for two and a half years — the longest of any current senator. 
Alexandra Berna, a biology and microbiology major, is running for vice president after working as ASUM's secretary for two years. She also recently joined the chamber as a student-at-large. 
The duo said their number one goal is to get more students involved in ASUM, listing ideas like a more diverse senate makeup, better relationships with clubs on campus or more financial support for those struggling to make ends meet. 
"We should be giving students what they need in order to succeed here," Bowles said, noting that the pandemic has exacerbated problems like finding housing and well-paying jobs in Missoula. 
The ASUM president is considered the liaison between students and campus administrators. The president also organizes the senate chamber and its committees. When an overarching opinion is needed on a resolution, it is often the president who takes initiative.
The vice president operates as the chair of the senate, running the meeting. The vice president also handles disputes between senators. 
Berna said she has a long history in mediating with others, especially as the ASUM secretary and a learning assistant at the College of Education.
"I like to make the joke that everybody tells the secretary everything, but it's true," Berna said. "People come up to me with their ideas for resolutions, and for legislation and things like that. And I've always been interested in providing my opinion and being able to support people."
In the two years the duo has worked together in ASUM, they said communication and productivity has increased. Bureaucracy aside, the chamber has passed more than 100 resolutions in the 2021-2022 school year, a feat Berna said comes from efficiency in communication and subcommittees. 
Bowles said while there is good engagement in the senate, ASUM still needs to do better reaching out to student groups around campus. Many of the senate's engagement tactics, like inviting students to meetings, were halted by the COVID-19 pandemic. 
"We used to invite student groups in, and they would come in and show us what they're all about," Bowles said. "Then we got to see and interact with students that we were funding and should be interacting with." 
Part of being more inclusive comes from working on the University's Diversity, Equity and Inclusion Plan, which ASUM is a stakeholder of, Berna said. She acknowledged ASUM is predominantly white, which Berna partially attributed to the fact that senators are volunteers.
Berna said some sort of incentive to work as a senator could bring in more students to be involved in ASUM. 
"Whether that be monetary, whether that be through credit at the University," Berna said. "The people who can devote time and energy to the body tend to be this whiter demographic, and that's something that we want to shift."
The duo is also advocating for a student voice in restructuring the UM faculty union's collective bargaining agreement. This agreement sets the guidelines on hiring, wages and grounds for faculty discipline and firing. The deeper goal of including students, according to the candidates, is to have a say over the professors UM hires.
"With the racist professors on our campus, a lot of that goes back to the collective bargaining agreement document," Berna said. "We're creating a working group in ASUM that's forming and doing work over the summer and into the fall to propose language for the collective bargaining agreement."
The faculty union renegotiated its bargaining agreement in 2020, and will set new contract standards in 2025. While ASUM recently established a working group to explore the options of how students can be involved in the process, ASUM has never been a part of the bargaining agreement.
Bowles added she would like to prioritize work in the Montana Legislature, which will reconvene in spring 2023. ASUM has previously sent students to lobby for UM, but much of that work was consolidated between Montana universities because of the COVID-19 pandemic. 
The duo made plans to survey the student body for issues to make into a guidebook for lobbyists, but have already outlined a plan that advocates for a higher Montana state minimum wage and rent price controls, according to policy plans from their campaign statements.
Both Bowles and Berna said they would be a watchdog on UM administrators and knock on doors to get more student policy into action. They said their dedication to the student government, combined with their vision, should make them the ideal candidates. 
"It really comes down to who's genuine about the work that they want to do, who not only has the plans, but has the desire and the dedication to actually go forward with them," Berna said. "And that's something that Elizabeth and I have in leaps and bounds."
Griffen Smith
---
Business Manager candidates
Triple business major Jolly runs 'with empathy'
On her way to three business-related majors, UM sophomore Joselyn Jolly aims to take on the powerful role of ASUM business manager: One of the most important roles in student government.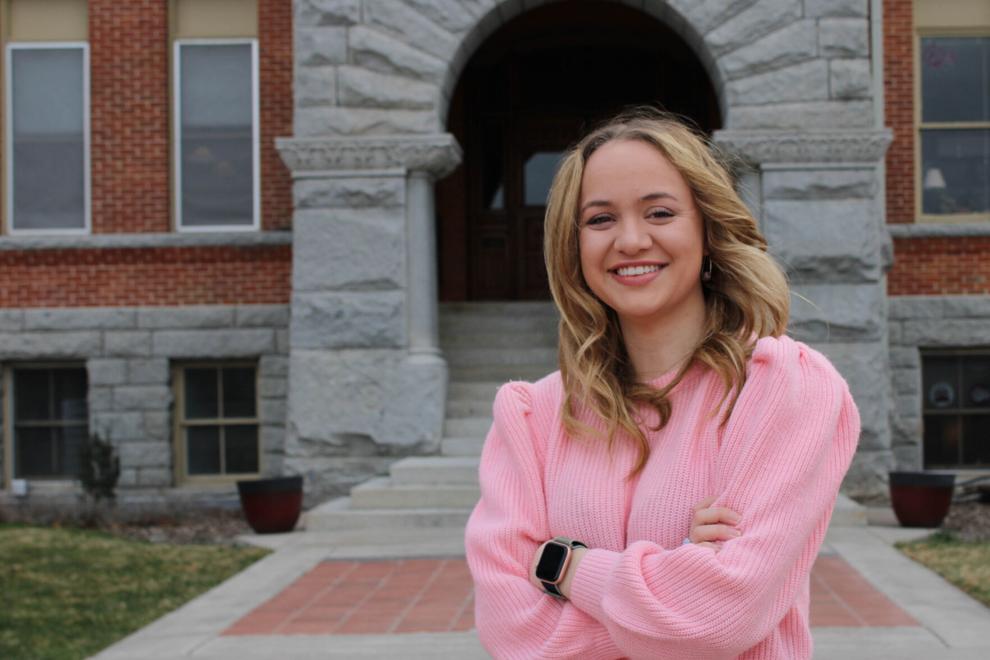 Originally from Kalispell, Montana, Jolly has witnessed UM's impact on the state as a whole. She didn't plan to be a senator until two hours before the polls closed in 2021. Her sudden write-in campaign came when she realized the candidates were too one-sided and wouldn't accurately represent the UM community.
"I don't think our campus will ever 100% agree politically, and I think a lot of education can come from disagreements," Jolly said. "I'm uniquely qualified because I tend to lean the opposite of the majority of the senate." 
The business manager is the money-manager for ASUM, drawing up spending plans, allocating money to student groups and extension agencies of ASUM like transportation and child care. The business manager is also tasked with balancing ASUM's budget each year.
Jolly said her three majors — marketing, management and finance — would make her a benefit to the student body as business manager. As an Advocate, vice president of UM's chapter of the American Marketing Association and vice president for the Network of Enlightened Women, Jolly said she is no stranger to student groups and their operations.
Jolly also meets every two weeks with Paul Lasiter, UM's vice president for operations and finance. Through her conversations with Lasiter, Jolly has been exposed to the complex inner workings of finance on a broader level. If she were ASUM's business manager, she would provide ASUM with a direct line to faculty finance management.
Jolly encouraged one-on-one relationships between the business manager and leaders of student organizations. While Jolly may not understand the nuances of what the students want to do, she said she can help clear the jargon and find alternative financial plans that benefit student groups without hurting the budget. She said managing with kindness is essential for the job.
"Having the ability to stand my ground for the half of students that think the way I do and vote the way I do, but also understanding and advocating for students that disagree with me, is probably the biggest thing I've done as a senator and something I'd like to do more as a business manager," Jolly said.
She thinks this is especially important when working with large student unions, such as the athletic union and the music union that each represent dozens of student groups. Because they ask for large dollar amounts, she wants to outline how money can be spent in the most helpful ways.
"The whole job of the business manager is to fund student groups, and we're not in the business of denying student requests that allow them to do what their club does," Jolly said. "My top priority is funding student groups and their requests, but also educating them on what accounts to ask for money from so they can get more bang for their buck."
Outside of UM, Jolly loves working with cars and the outdoors. She also cycles around Missoula.
Jolly stressed the importance of money in making progressive action. She said no organization can reach its full potential without smart decisions — with both money and people's hearts in mind.
"Yes, I have this extensive financial background and quite literally study finance every day," Jolly said. "But I can also pair those financial qualifications with empathy, and that's the best of both worlds."
Christine Compton
Gudmundsson to bring new strategies if selected
Armed with prior roles in planning and policies, current ASUM senator and vice chair of MontPIRG Tor Gudmundsson is running to spend his last year at UM as business manager.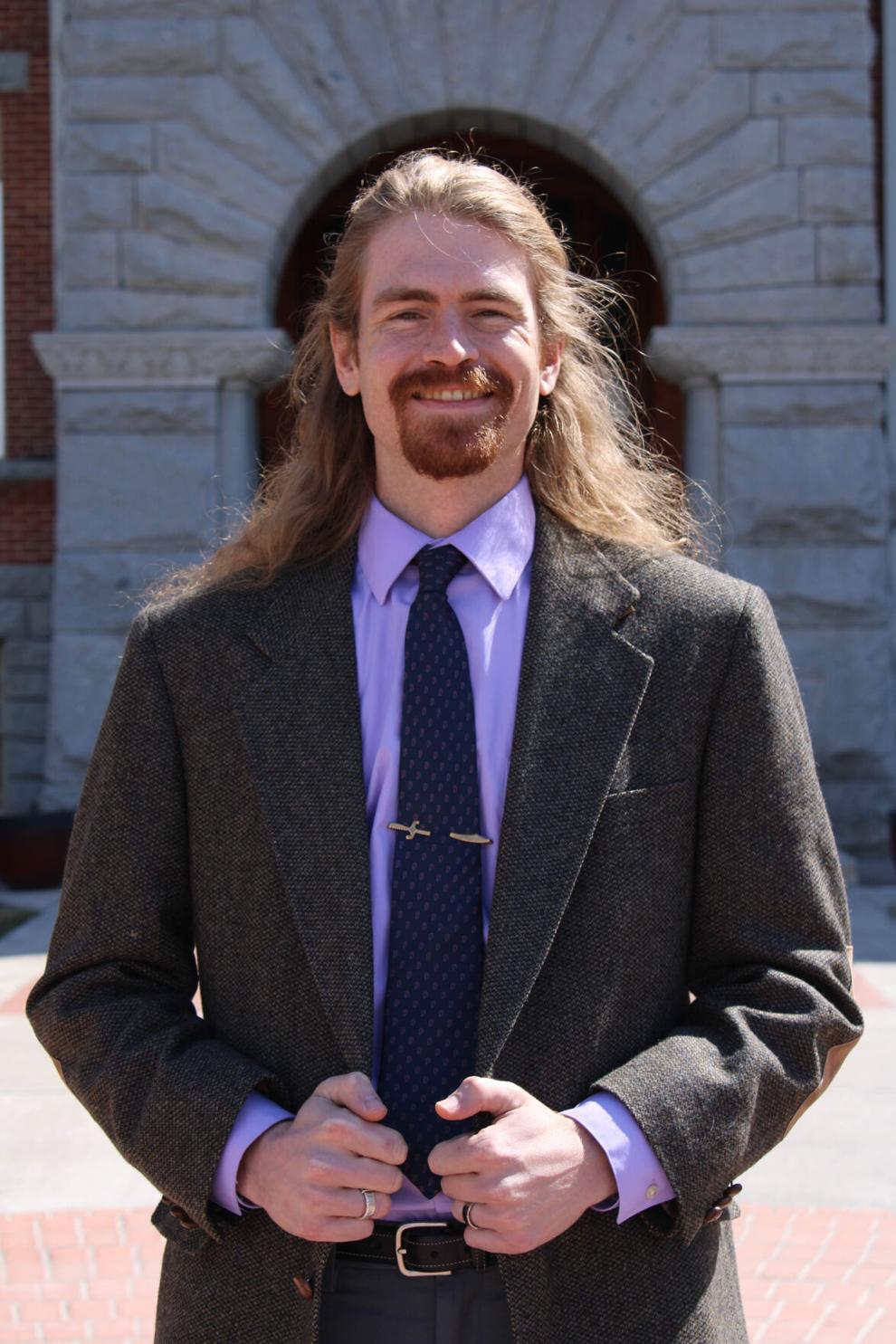 Gudmundsson bounced from California across Montana universities in his pursuit of an English teaching degree before landing in Missoula. He was appointed as an ASUM senator in spring 2021. After watching a few meetings, he recognized a tendency of the senate to "eat its own tail."
"Sometimes the senate gets in its own way, and I really wanted to get on to reinforce that this isn't the kids table," Gudmundsson said. "There's real power in student government, but it's only true if the people in charge of it wield it responsibly."
As vice chair of the Montana Public Interest Research Group, Gudmundsson is familiar with student groups and how they work. While he wasn't directly in charge of MontPIRG's finances, he paid close attention to where and how the money was used. 
This, combined with his experience helping the Bitterroot Board of Trustees through the Montana State Legislature in 2021, has taught him how to prioritize when resources are limited.
For Gudmundsson, budget decisions are a matter of morality and should be made in line with ASUM's values. Money should be distributed among student groups depending on impact, he said. 
The current ASUM model grants money based on a percentage of a specific student group budget, Gudmundsson said. One group requesting 30% of its budget may get several thousand dollars, while another group asking for the same percentage could get only $150. This works for many situations, but Gudmundsson said there's room for newer strategies.
"I think there's a great deal of merit in funding the lowest dollar request of any given category," Gudmundsson said. He explained that giving less money to large groups means promoting small, niche groups that make people happy.
"I think we budgeted very fairly this semester, but I don't know that we thought about it in the most equitable fashion," Gudmundsson said. "If [a small group] wants to do a cool thing for only $120, I want to say yes to that every time."
Gudmundsson believes in accessibility for smaller groups, but still wants to maintain deadlines and policies. If a group misses a deadline, he may not grant it money, but he said he wants to walk group members through the financial process. Gudmundsson said some groups miss important steps simply because they don't have experience, and he doesn't want that to intimidate groups from asking for money.
Outside of his time at UM, Gudmundsson spends time with his family in the Bitterroot Valley and he expects to marry his fiance this summer. He's enjoyed working with middle schoolers as part of his teaching degree, too.
More than anything, Gudmundsson compels his fellow students to vote for whomever they believe best fits their interests — even if it's just to support their curious roommate or friend.
"No matter who you choose to vote for or what you think the student interest is," Gudmundsson said. "Find a compelling reason to vote for your own best interests, whatever those may be." 
CC
---
Referendum
Fee increase to support free counseling on ballot
One referendum will appear on the ASUM ballot this semester. It aims for a $15-30 opt-in fee on students' bills in Cyberbear to make Curry Counseling sessions free, while allocating funds to hire an additional counselor.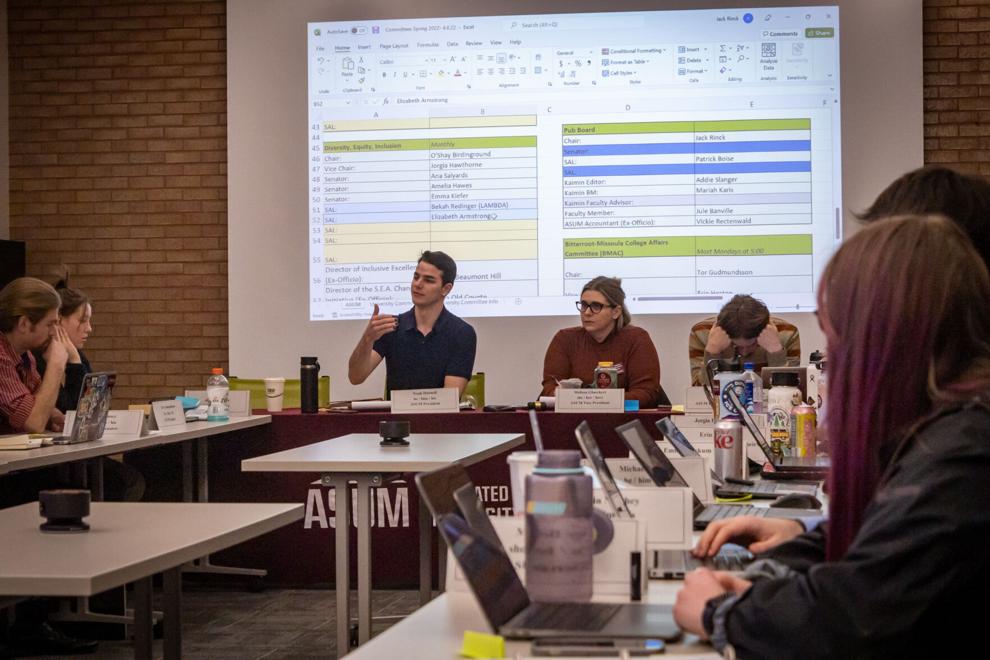 In order for the referendum to pass, 12% of enrolled students at the University must vote in the election, and the majority must vote "yes" on the referendum.
The fee would not hit registration bills in the fall semester. Instead, referendum author and senator Jorgia Hawthorne will present the results as evidence of student support for the fee approval at the Montana Board of Regents in the fall. 
The Board of Regents would have to approve the fee for it to be put on students' bills. Then, a similar referendum would appear in the spring 2023 ASUM election. If it's approved again, the fee could be set in place for the fall 2023 semester.
After talking with UM administration and the director of Curry Health Jeffery Adams, Hawthorne settled on the $15-30 fee range and the idea to add another counselor. Both Hawthorne and Adams agreed that students often struggle accessing mental health resources. As of now, Curry counseling costs $25 per session. Curry does not accept Medicare health insurance for any services.
"Twenty-five dollars doesn't seem like a lot, but when you're on campus, that could go to counseling when you're struggling, or that's half a tank of gas or a couple of days of groceries," Hawthorne said. "It's not fair to make students choose between their basic life functions. Mental health is just as important as physical health and I feel like sometimes we forget that."
Hawthorne sees inaccessibility to mental health care as a Montana University System-wide problem. She said she would see the fee's enactment through if she's re-elected to the senate. If re-elected, she wants to expand mental health resources further by encouraging department-specific resources, similar to the College of Business's Student Success Center.
Emily Tschetter
---
Senators 
The Kaimin only included senators who submitted candidate questionnaires in its coverage. This is not a comprehensive list of those running. 
Margaret Bell, sophomore, Great Falls, philosophy and political science double major
Margaret Bell is an incumbent sophomore senator double majoring in political science and philosophy from Great Falls. She remembers being intimidated by ASUM before joining and hopes to change ASUM's culture to be more approachable. She has tried to represent student voices in her time on ASUM and wants to address the campus's "elitist" parking system.
ET
O'Shay Birdinground, freshman, Billings, political science major
O'Shay Birdinground is an incumbent freshman ASUM senator who has been involved with ASUM and Montana PIRG since enrolling at UM. His aspiration is to be a beacon of hope for other BIPOC students, make their voices heard and encourage them to join ASUM. Birdinground said he has an extensive background in leadership from his prior involvement with tribal, high school and athletic leadership positions.
Chloe Olsgaard
Kendal Burcham, freshman, Great Falls, accounting major, pre-law minor
Kendal Burcham is a freshman accounting major, minoring in pre-law, from Great Falls and a member of the Davidson Honors College. She hopes to bring a new sense of mindset and ideas to ASUM by promoting accurate student representation within administrator groups. Burcham strives to address and resolve issues regarding women's safety and parking on campus. 
CO
Zyanne Cervantes, sophomore, Helena, political science major
Zyanne Cervantes is a sophomore political science and economics major from Helena, Montana, and a member of UM debate and the Latiné Student Union. Her one and only goal is to improve the well being of all students on campus and hopes to accomplish a change in culture. She works as the Outreach Coordinator for LSU and will continue that work in ASUM by reaching out to students to promote a more diverse student government body.
CO
Alysa Curry, Freshman, Great Falls, political science major and pre-law minor
Alysa Curry, a freshman from Great Falls, is running for re-election as a senator. Curry hopes to advocate for sexual assault survivors on the senate. She wants to improve ASUM's relationship with UM's Student Advocacy Resource Center. She also wants to create a "buddy system" where senators act as support systems for survivors, helping to advocate for them with the SARC and Title IX. 
MT
Taylor Curry, junior Great Falls, political science double major and French, music minor
Taylor Curry, a former ASUM senator from fall 2020 to spring 2021, is seeking election back to his seat on the senate following a year abroad. Curry's main goal is to "de-formalize" the senate, ensuring that the senate is answering to UM's students. He hopes to do this through measures like promoting student voices in public comment and increasing support for BIPOC student groups.  
MT
Jorgia Hawthorne, sophomore, Great Falls, political science and journalism double major, non-profit administration minor
Jorgia Hawthorne is an incumbent senator from Great Falls running for re-election to the senate. Hawthorne sees a gap between students and the senate, and hopes to bridge this by making ASUM's social media more inviting. She has also worked on mental health this year, and is the author of the ballot referendum aiming for students to have free access to Curry Health's counseling.
MT
Erin Heaton, freshman, Helena, sociology and social work double major
Erin Heaton, a freshman from Helena currently serving on senate, is running for re-election. Heaton centered her platform around how ASUM can better serve BIPOC students, and has recently pushed for an anti-racism audit of ASUM. She also hopes to improve connections between ASUM and the city of Missoula and provide more overnight parking for students. 
MT
Chad Keller, junior, Great Falls, history major
Chad Keller is a junior history major from Great Falls and is involved with outdoor recreation at UM. Keller was a member of the student council at Great Falls College where he served on the student judiciary committee for a semester. He hopes to become more involved with ASUM and student life if elected.
CO
Hannah Merrick, freshman, Butte, political science major communication studies minor
Hannah Merrick is a freshman political science major from Butte and a member of UM advocates and the pre-law program. Merrick interned for the MT Democratic Party during the 2020 election and hopes to apply her advocacy experience to ASUM. Her top priority is bridging the gap between ASUM and other campus resources so they are easier for students to navigate.
ET
Caelan Milligan, freshman, Roseville, California, history major
Caelan Milligan is an avid swimmer and runner from Roseville, California. The freshman said his athletic consistency has inspired some of his friends to form a discipline and work hard. Milligan hopes to resolve any grievances students might have by actively listening, considering all perspectives and coming to a solution that is best for everyone.
CO
Ana Salyards, freshman, Helena, political science and history double major
Ana Salyards is an incumbent freshman senator from Helena majoring in political science and history. During her time on ASUM, she observed the senate's bylaws hurt student actions and she hopes to revise them if re-elected. Salyards also hopes to field student concerns and act as their voice to increase overall student engagement with ASUM.
ET
Emma Wickum, freshman, Chester, in political science major and non-profit administration minor 
Emma Wickum is an incumbent freshman senator majoring in political science from Chester, Montana. She started work with ASUM as a student-at-large in October and was appointed as a senator in February. Wickum wants to educate students on ASUM to improve student participation with the organization.
ET
Aidan Winterburn, junior, Missoula, culinary arts major
Aidan Winterburn is a junior from Missoula studying culinary arts. Even though he's not part of ASUM, Winterburn sees a divide between the student body, especially freshmen, and ASUM's proceedings. He hopes to answer student's questions about ASUM and especially listen to his BIPOC peers, working on anti-racism efforts as a senator.
ET
Walker Winterburn, freshman, Missoula, musical theater major and communications minor 
Walker Winterburn is a freshman musical theater major from Missoula. ASUM is made up of a majority of political science students, but Winterburn wants to represent leadership from other parts of campus. He hopes to uplift underrepresented student groups — like the Black Student Union, who he feels don't receive enough faculty support — and organize more in-person student events.
ET