Nathan Coyan lifted his right hand as he began the swearing in ceremony. In the quiet basement of the Missoula County Elections Office, a dozen other socially distanced clerks repeated his oath, took their seats and began counting.
It was 5 p.m. Tuesday, Sept. 22, and the office had just started counting a mail-in measure in the Lolo school district, asking voters to approve a $22 million bond for a new elementary school.
The task was a relatively light one for the office, with just over 1,500 ballots to be counted. They moved quickly.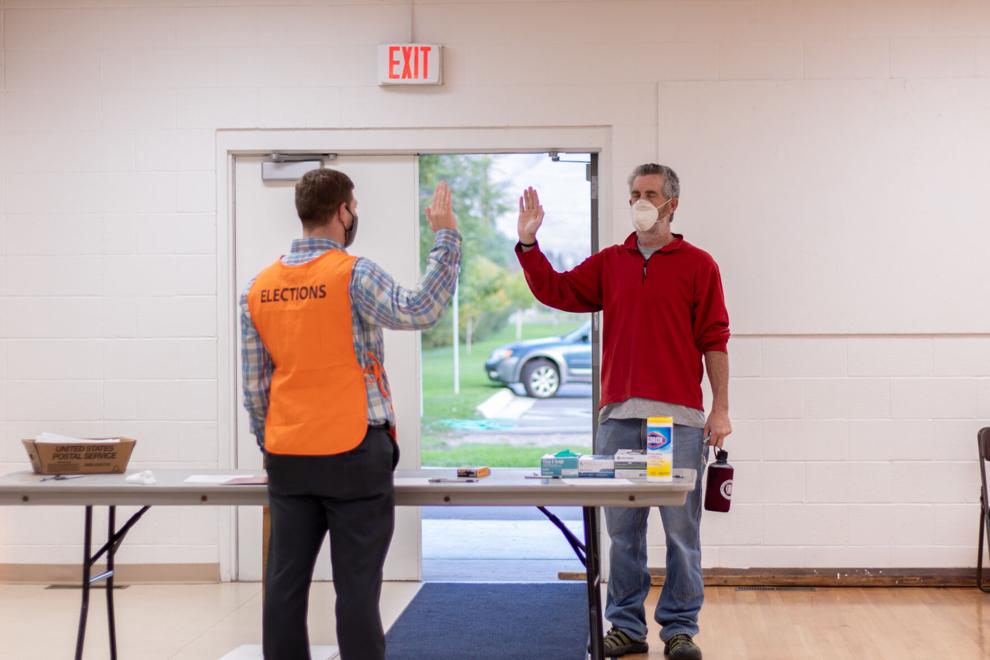 The room rumbled with the constant sounds of tearing paper as employees removed and verified ballots from the return envelopes. They moved like clockwork looking through packs of 25 ballots, sealing them in manila envelopes, and then receiving a new batch to be checked.
"The demand for the results are real," Coyan said. "People want to know, even if the votes have already been placed."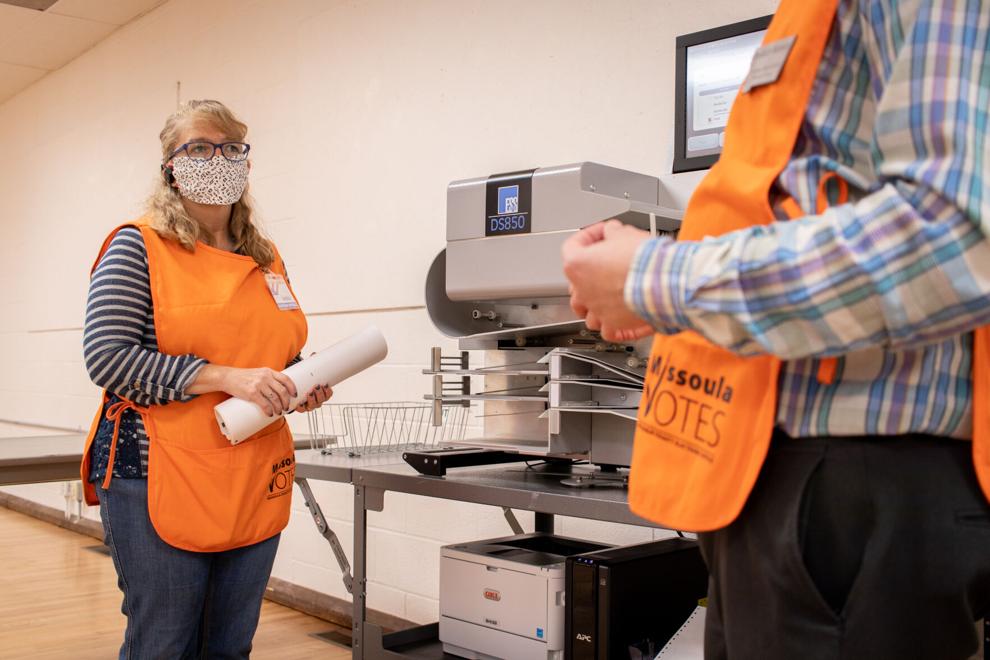 Coyan is an election worker for Missoula County. His job that night was to supervise a room of about 15 workers at Missoula's election office when counting votes. He knew tonight was a walk in the park, but anticipated a different scenario for Nov. 3, the presidential election.
"We will be working for days on this in November, but we probably will not have everyone counted by the end of election day," Coyan said. "I was up till 3 a.m. on the night of the primary, and I had to come back at 8 a.m. the next morning."
As November looms, the presence of the 2020 election sits like an itch just out of reach. It's constant, unavoidable and omnipresent. And perhaps for good reason, too: It will decide who wins Montana's House, Senate, and Governor's seat. The race for the Senate, in particular, has drawn national attention, as current Gov. Steve Bullock challenges incumbent Steve Daines. The winner would likely solidify which party controls the Senate in D.C.
In Missoula, the heart of it all is the Missoula County Elections Office. During June's primary, it responded to the pandemic with a new election system and a fraction of its usual employees.
Now, as Election Day approaches, the office is preparing to do it all again. Though President Donald Trump has publicly attacked the validity of mail-in elections, poll workers in Missoula County are confident in their election plan, and are bracing to process more ballots than ever before.

The November election may see the highest voter turnout in the history of Montana. According to the Montana Secretary of State, almost 100,000 more Montanans voted in the June 2020 primary than the 2018 primary, and registered voter turnout increased by 13%.
The election will be conducted primarily by mail-in voting, the first time for a Montana statewide election. In August, Gov. Bullock directed counties to choose whether to hold in-person voting or vote by mail, like the state did in June. Forty-six out of Montana's 56 counties, including major cities in the state, from Missoula to Bozeman and Billings, will distribute mail-in ballots.
This initiative provoked a lawsuit from the Trump administration and several Republican groups that argued mail in-ballots are unconstitutional because they increase voter fraud. But on Sept. 30, a Missoula judge ruled in favor of Gov. Bullock's mail-in option, confirming the framework for the election.
"This case requires the Court to separate fact from fiction," U.S. District Court Judge Dana L. Christensen stated in her ruling. "Some of the [Donald Trump For President's] claims is the contention that the upcoming election, both nationally and in Montana, will fall prey to widespread voter fraud. The evidence suggests, however, that this allegation, specifically in Montana, is a fiction."
The court stated that not only is mail-in voting a safe election format, but said Montana has not seen a report of voter fraud in the last 20 years. Ballots in Montana are due by 8 p.m. Tuesday, Nov. 3, meaning that they must be in the election office's possession, not postmarked, by that time.
Bradley Seaman works as the head elections administrator for Missoula County. He started the position in March, but has been involved in organizing elections in Missoula since 2016.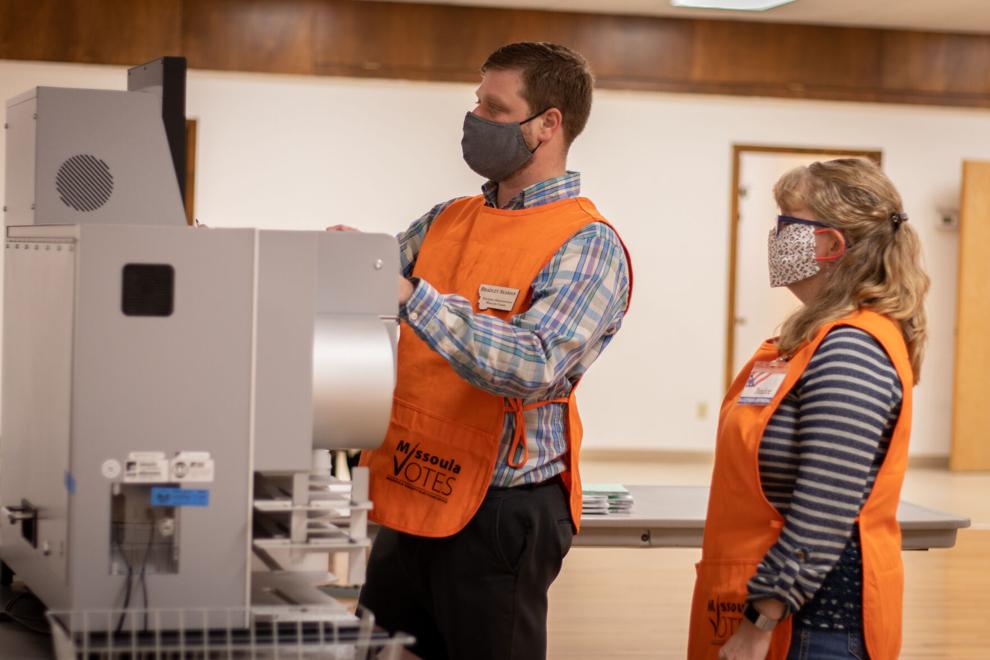 Seaman, 36, said the election office primarily focuses on vote collection and counting, but also verifies petitions and directly registers voters. He explained how the pandemic interrupted the usual cycle of poll worker training.
"We were in the middle of election judge training in March, when we canceled it due to COVID-19," Seaman said. "We had recruited about 650 election judges at the time, and were able to train almost 300 election judges, about half of our goal, then had to cancel."
Election judges are responsible for issuing ballots and helping people fill out last-minute voter registration forms at polling places. They also ensure that all votes cast are authentic.
Most election judges are elderly. According to Seaman, the average age of a Missoula County poll worker during the 2018 midterms was 76. He said some poll workers did not return for 2020 due to the risk of contracting COVID-19.
Workers' age also made training more difficult. While the office canceled in-person training in March, they moved online to supplement the already 300 poll workers who are planning to work this November.
"It's hard to train people online, especially because our demographic is normally not the best at online training," Seaman said. "And it is critical that you know that job well."
The Missoula poll worker age matched both state and national trends of elderly people continuing to come back and work elections, despite growing in age. According to a report from the Pew Research Center in April, 58% of the nation's poll workers are 61 or older.
Due to COVID-19, many poll workers in Missoula and around the country did not return to their job. Spring 2020 in-person voting primaries in Wisconsin, Texas, Georgia, and Kentucky closed hundreds of polling places due to a lack of workers, causing hours of delays.
Poll workers are needed across the county, but Seaman said the optional mail-in ballot gives Montana a solution: Only a quarter of election workers are needed for a mail-in election, and they know how to run it.
It helps that Missoula County is no stranger to absentee voting. According to the Federal General Election statistics from 2016, 72% of Missoula County voted by mail for the last presidential election.
Now, the traditional dozen or so polling stations, each staffed with seven or eight people, will be replaced with about 200 election workers separated into two groups, those who count the votes and those who collect the ballots.
A normal election shift lasts roughly 14 hours, with the exception of senior citizens, who can opt into a seven-hour shift. Despite the long hours, most workers in Missoula continue to come back and serve as election judges.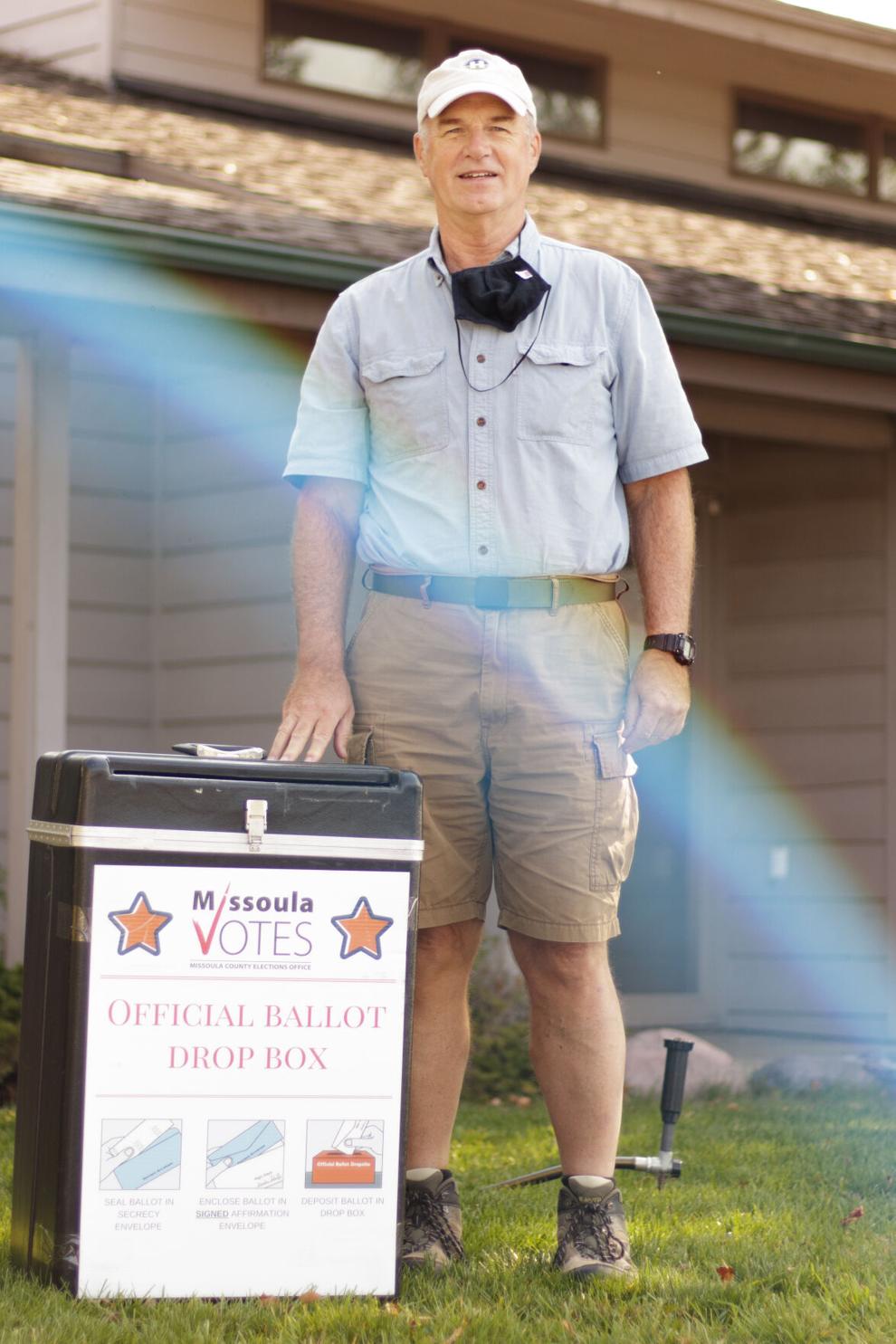 Geoff Badenoch, now retired, will monitor a ballot drop-off station at the Clearwater Credit Union on Reserve Street. Since his start as an election judge in 2006, Badenoch, 66, has managed several polling places across Missoula.
For 2020, all ballots in Missoula County can be mailed back to the election office with no charge, but Badenoch added that there are three other ways a person can submit a ballot.
"You could go and cast your ballot [in person] at the election office, you can deliver that envelope to the election center, and lastly you can go to one of the many drop boxes that are going to be around the community and staffed by poll workers," Badenoch said. "We're committed to making sure that the voters know that our elections are fair, and their votes are safe and secure."
Drop-off location workers will guard the ballot box and will return all the votes to the office on election day. If a person tampers with the box, or if the ballots are damaged, the county would have to contact the voters and make them fill out a new form.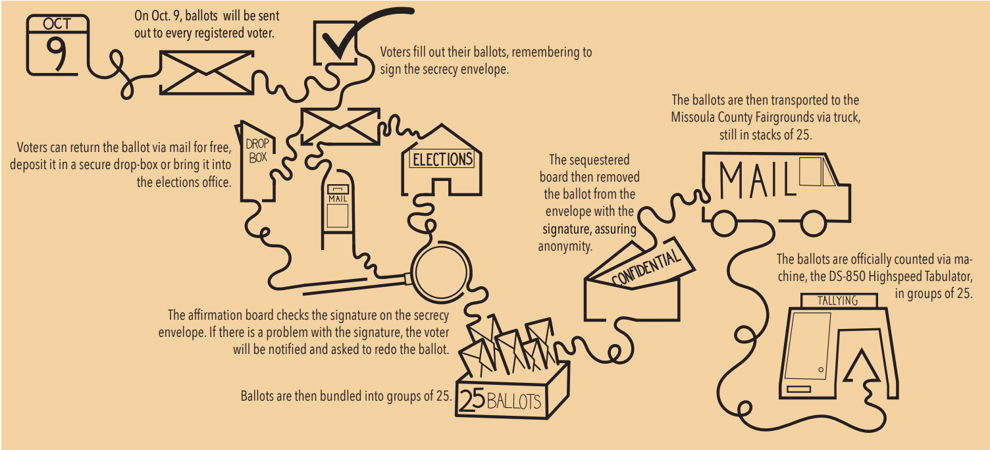 Badenoch said he first voted in the 1972 election, when he was a freshman at UM. He said he loved being able to express himself by voting, and never missed an election since. He realized almost two decades ago that he could share his passion for voting by helping others.
"The whole reason for voting has been important to me my whole life, but helping people vote became really important to me too," Badenoch said.
In 2008, he decided to help manage the polling place at UM's University Center. He saw voters field all sorts of complications. Many students had forgotten to change their addresses, some had already requested an absentee ballot, and some had not registered at all.
While Badenoch and the other poll workers refused these students a normal vote, they asked them to fill out provisional ballots, which would be confirmed later. The effort, Badenoch said, allowed more people to cast a vote, even if it required extra work.
"If there was something wrong with someone's voting, we're not going to just tell them, 'No.' We're going to tell them, 'If things check out, we'll count your vote,'" Badenoch said. "The goal is to get every registered, eligible voter who wants to vote."
Voters can drop off ballots at locations across Missoula County (see page 11 graphic) on election day Nov. 3 between 7 a.m. and 8 p.m., and voters can submit ballots on behalf of others.
A state law passed in 2018 originally restricted the amount of ballots a single person could drop off, but in September the Montana Supreme Court ruled against the law, stating it discriminated against rural and tribal communities.
"While the majority of Montanans can easily access the vote by mail process by either mailing in their ballots or dropping their ballots off at election offices, Native Americans living on reservations rely heavily on ballot collection efforts in order to vote in elections," Yellowstone District Court Judge Jessica Fehr wrote.
Fehr added that lack of traditional mailing addresses, regular mail service, geographic isolation, and a difficulty to travel restrict the options many Montanans have to submitting a vote. The document also stated the state's methods to process ballots makes it almost impossible to forge votes.
While Badenoch will be greeting voters at the polls, most of this year's election workers will be behind the scenes counting off incoming votes. The verification process sends ballots through at least a dozen different hands on the way to being recorded.
This group counts ballots and rejects forms that contain missing or incorrect information like a signature, which has to match an on-file record. Seaman explained that other workers at the office track down the people who entered rejected ballots.
"We're going to reach out to that voter to let them know that we could not accept that ballot, and we're going to send them a letter, an email, and a phone call," Seaman said. "That's important, because we do that every single day to help make sure that there's enough time for voters to get notified of an error and get it corrected."
After verifying the ballot, the affirmation board groups the forms into stacks of 25 and sends them tohe second group, known as the sequestered board. They remove the signature on the vote, making it anonymous.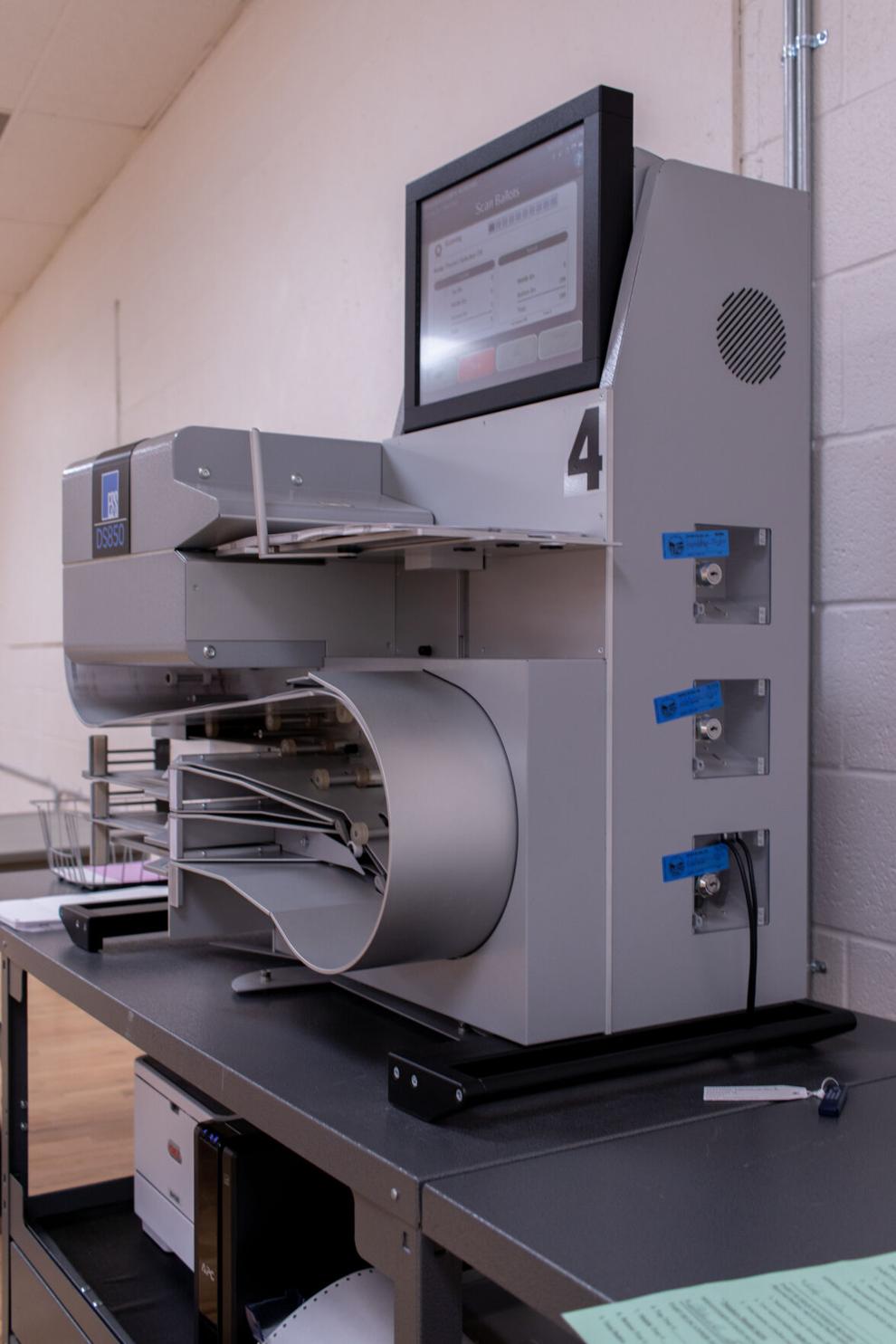 During the Lolo school election, Coyan directed the sequestered board in the election office basement. They wore gloves to keep ink off their hands as they handled the ballots.
Coyan organized the event, but many of the workers already knew what to do. It was business as usual, and when they finished removing any identifying information, they packed the ballots into large cardboard boxes.
Election officials then pick up and drive the ballots to their final stage — the fairgrounds, where the official count is done on machines. The machine, a DS-850 high speed tabulator, whips ballots through an entry tray and rapidly scans in groups of 25.

Sarah Polumsky will work in the counting center for the 2020 election. She first discovered the job on a Facebook ad in 2016, and fell in love with it.
"I love politics, I love the voting process and I'm a stay-at-home mom," Polumsky, 27, said. "This was a perfect way for me to be involved in something that I'm passionate about and still only work a couple days a year."
Polumsky worked in a Missoula polling place during the 2016 election. She worked the shift from 7 a.m. to 8 p.m., but the counting process was not over, and a relief team was needed to finish the job. Polumsky jumped on board, and counted through the night.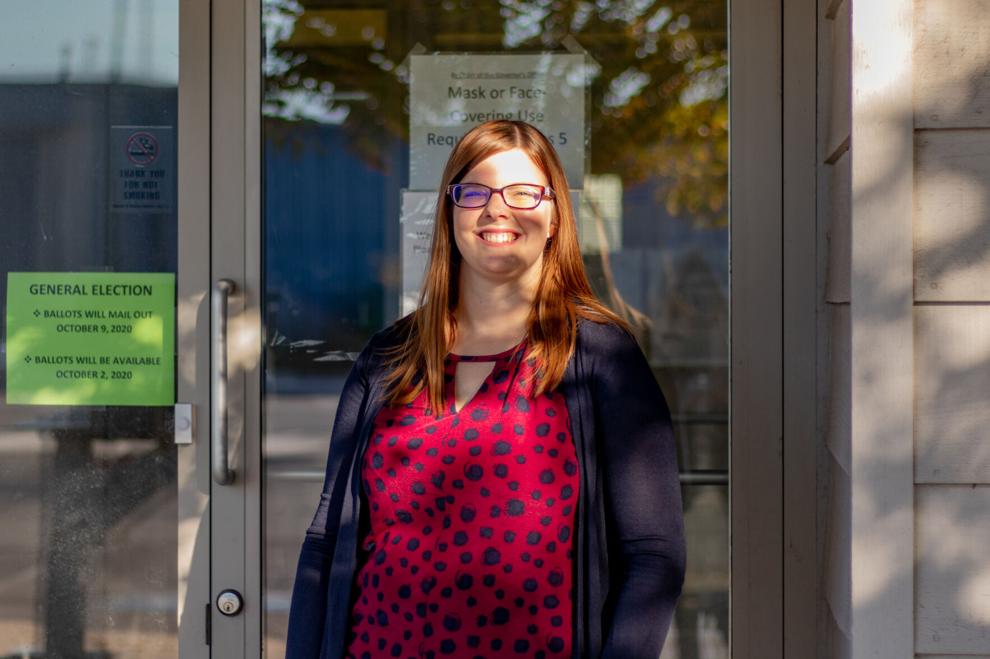 "I worked 30 hours straight," Polumski said. "After my 12-hour shift as a polling judge, I came home for six hours, then found out they needed a relief crew."
"We can pull some really long shifts," she added. "The energy in there was really great."
Since then, Polumsky has worked as a runner in the counting center. She continually delivered stacks of ballots to election judges operating the counting machines. While she loves the job, she wished more people had faith in the election system.
"I don't think people understand how much work goes into putting on an election, it's very time consuming, and it's very labor-intensive," Polumski said. "I also don't think people realize how many checks are on the system."
Each counting machine is operated by two judges and supported by a several-person team. Their jobs are to transport ballots, finalize the results, and settle disagreements on the ballot paper.
"To get rid of bias, our decision teams are made up of three people, all from other parties," Seaman said. "Two of them have to agree on something in order to finalize the ballot, which is a very democratic process."
If there is no logical conclusion, the board would reject the ballot.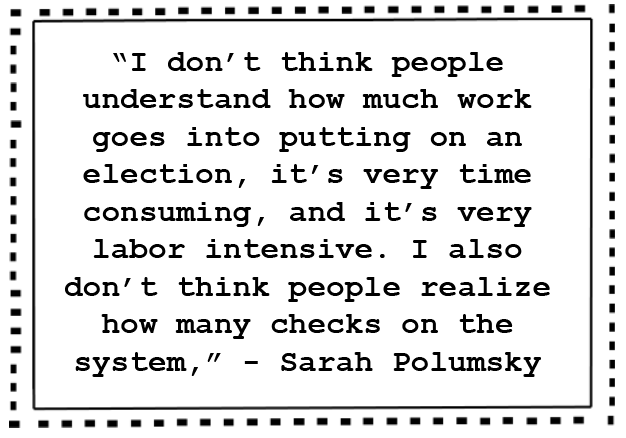 The machine connects to Missoula County's USB sticks and finalizes the tally on an offline computer. The paper ballots are not needed anymore, but are sealed in boxes in case of the need for a state audit or recount.
During the Lolo school bond vote in September, Seaman worked directly with the counting machine laying down ballots on the paper insert tray. The group only used one machine, which tabulated hundreds of ballots in less than 30 minutes.
The nearly empty room stood quiet with the occasional rattle of the counter in the corner, a juxtaposition to the anticipated buzz of the maximum-capacity general election night.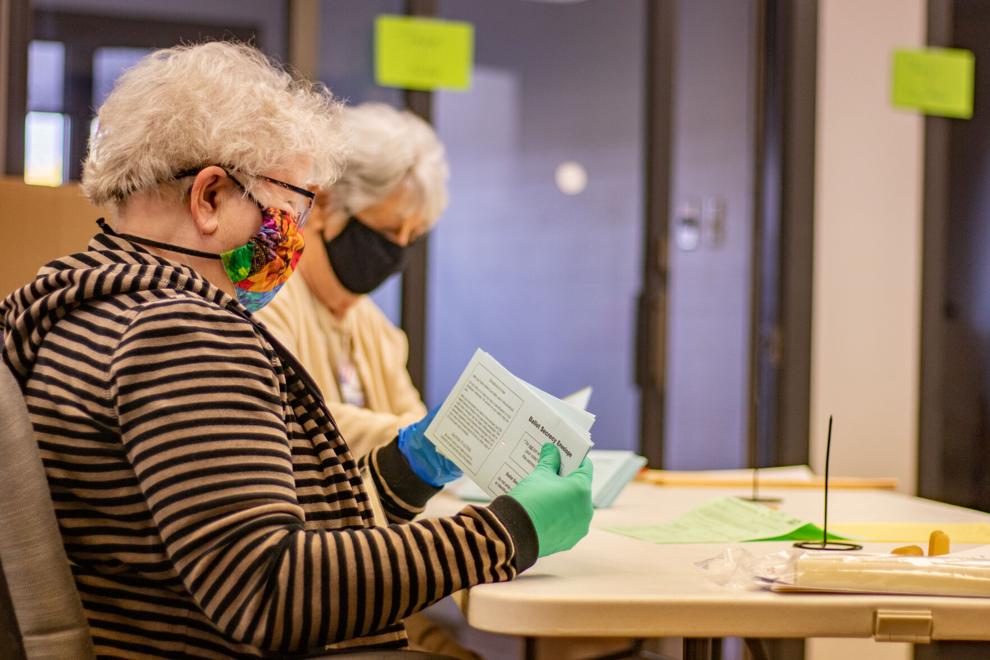 "In November, we will fill this room with six machines," Seaman said. "It will be bustling."
The office hired additional people in the last month to work in the counting process, but even then the counting process will take time. In the primary, Missoula County counted ballots until at least 3 a.m., and still had more to do the next morning.
The general election will likely be an even longer process, but as a part of Montana state law, the election office can start counting ballots the week before election day, which Seaman said would start on Thursday, Oct. 29.
Poll workers will count ballots that week every day from 8 a.m. until midnight, and then start over the next morning. This process will be repeated until every vote is counted, no matter how many days it takes. Then, the election office will announce the winner.
Seaman said that there have been plenty of times the results of an election were not known immediately after, but every time, each of the votes have been counted. He is confident for November.
"We have had the fortunate experience of having just run in the election in a similar capacity like in the primary," Seaman said. "I know that this is going to be a lot larger than will work in the staff up for that, but it's not exactly a brand new territory for us."

To register to vote, visit the Missoula County registration website here. Montana is one of a few states that allow residents to register to vote all the way until election day. People must have a valid form of ID and a Montana address.
Please vote.
Here's where: