On a recent Monday evening in Missoula, Mike Nugent was joined on his patio by his two longtime friends and fellow Griz fans Luke Alford and Brint Wahlberg. The trio gathered to record one of their many podcasts about Griz football. But this episode of "GrizFanPod" was different.
"Hey, let's talk some football," Alford suggested.
"Why?" Nugent replied. "There's not going to be any."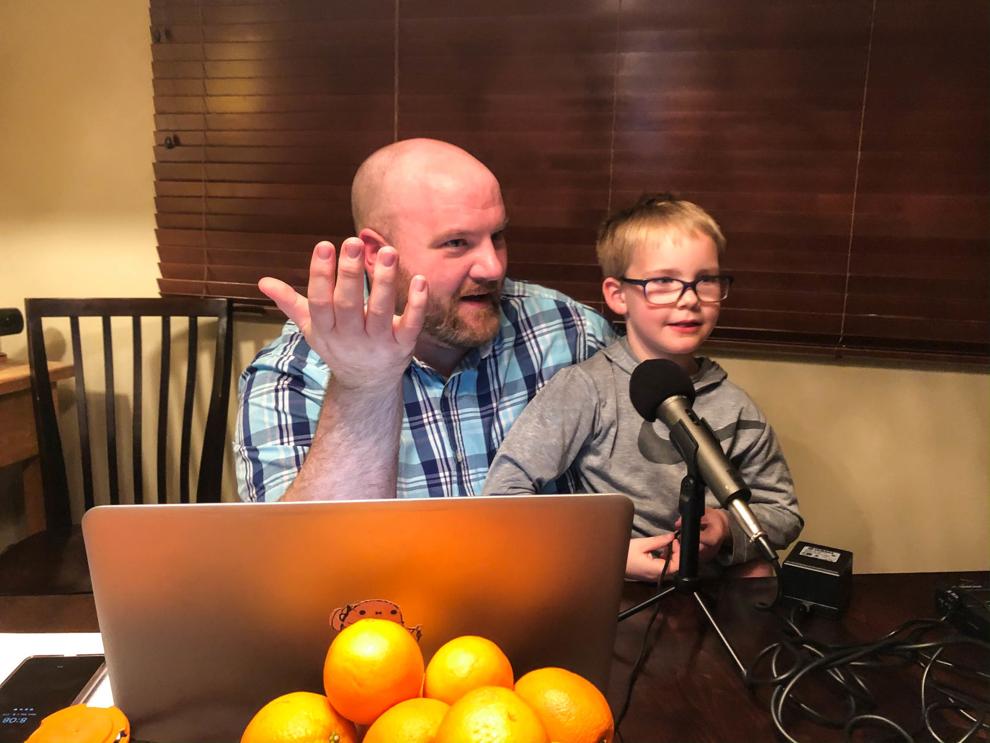 Nugent was referring to the Big Sky Conference's Aug. 7 decision to postpone its football season due to COVID-19 concerns. This cancellation will have a profound impact on Griz football fans, players, coaches and the city of Missoula as a whole.
It will be the first time there won't be Montana football in the fall since the 1943 season, which was cancelled due to World War II. The new goal for the conference is to have a spring football season for the first time ever.
Most schools may be disappointed without a football season, but for UM it's a different pain. According to UM athletic department Chief Financial Officer Ryan Martin, Griz football generates over $5 million a year. For comparison, fellow Big Sky Conference schools such as Northern Colorado and Southern Utah both made under $1 million from football in 2019.
An average of 22,545 fans went to Griz football games in 2019, more than the average attendance of games at upper division D-1 schools like Nevada, Texas State, Tulsa and Florida Atlantic. UM football had a winning season for 25 straight years, from 1985 to 2011.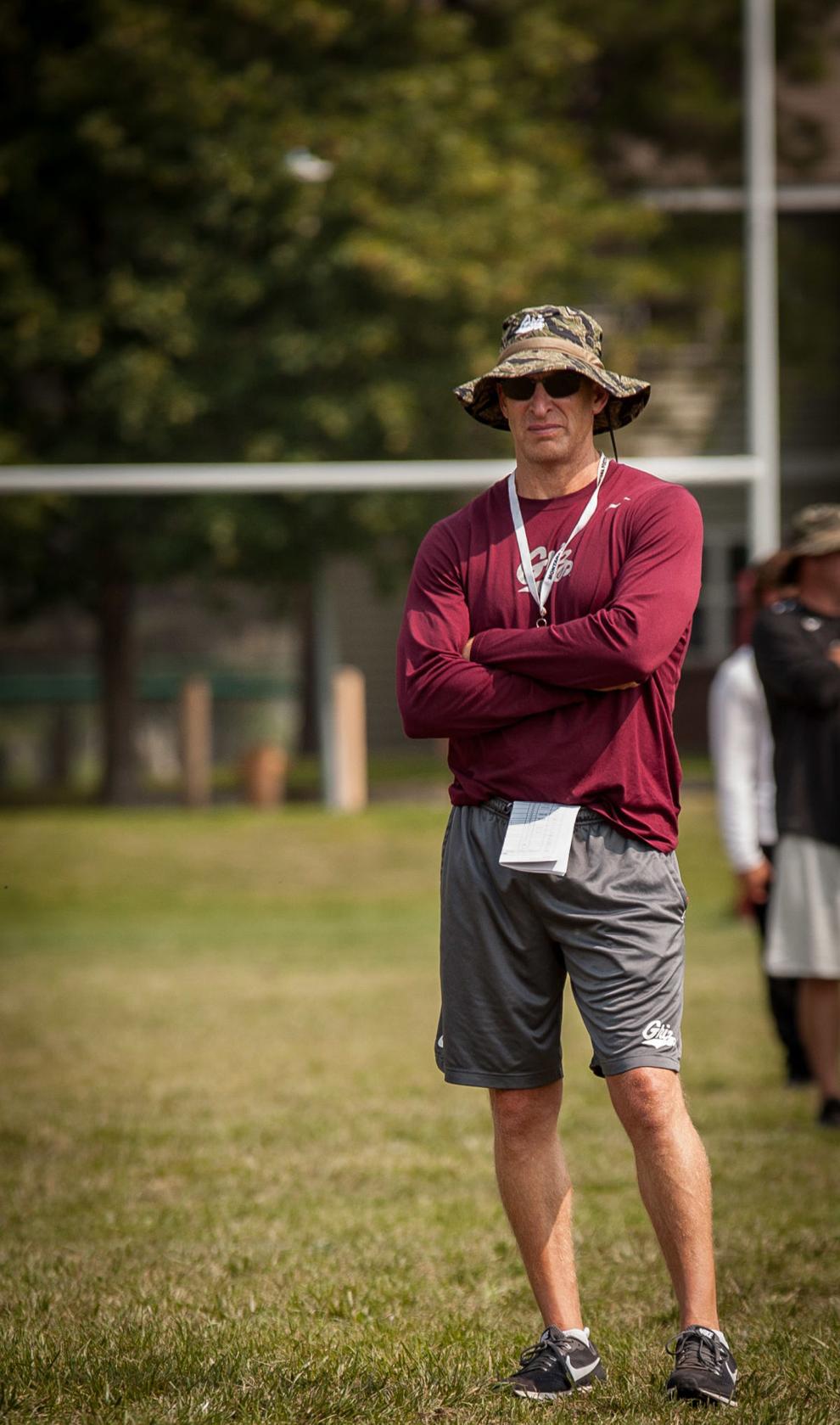 They also hold FCS — the lower division of NCAA division I — records for most playoff appearances in a row, Big Sky Conference titles in a row and most playoff appearances. UM was the most successful FCS program in the 2000s in terms of wins.
UM's football success can also be seen in head coach Bobby Hauck. He has the potential to make over $500,000 in a season if he meets the goals that are set by UM. These goals include winning the Big Sky Conference, making it to the FCS semifinals and winning a national championship. If Hauck shows up to all media briefings he makes $35,000. He gets another $20,000 for showing up to public events.
If Hauck attends all media and school events and wins the National Championship, he will make more money than UM President Seth Bodnar, who made over $315,000 in 2019.
When the Big Sky presidents came together to vote on playing this fall, universities demonstrated the correlation between football profit and willingness to miss a fall season. Schools like Northern Colorado and Southern Utah, which make under $1 million dollars on football, were more likely to vote to postpone the season. The final verdict was a 6-4 vote in favor of postponing the season.
The three podcasters had known the decision to push back UM's football season to spring was coming, but for fans as loyal as them, the decision still affected them.

Alford, Nugent and Wahlberg all attended UM, live in Missoula and have season tickets to Griz football games. Nugent and Wahlberg both grew up in Missoula, while Alford got his start in Shelby, Montana, which he likes to refer to as the "Paris" of Montana's Hi-Line.
Loyal fans like the three podcasters helped UM rank second in the FCS for attendance in 2019. Having an average crowd size of 22,545 people helped Griz Football become the only UM sport that did not operate in a deficit in 2019.
Without Griz Football, the income of UM athletics, as well as Missoula, is certain to plummet. According to a Bureau of Business and Economic Research report conducted in 2016, people from outside of Missoula contributed $2.53 million per home game. Lifelong Griz fan Clayton Gernaat is a perfect example of why, without football, Missoula will suffer.
Gernaat often works 10-15 hour days on his ranch in the small town of Conrad, Montana. When the fall rolls around, he and his family find a break in their schedule to drive three hours up to Missoula to watch Griz football.
He says that the family spends $200-$300 on tickets and always eats out at a restaurant in Missoula. The Gernaat family usually attends around seven games a year.
"I don't think there's going to be a positive, financially, that will come out of this," Gernaatt said. UM makes at least $1,000 a year off of the Gernaats alone, who fill up just a few of the 25,203 seats in Washington-Grizzly Stadium.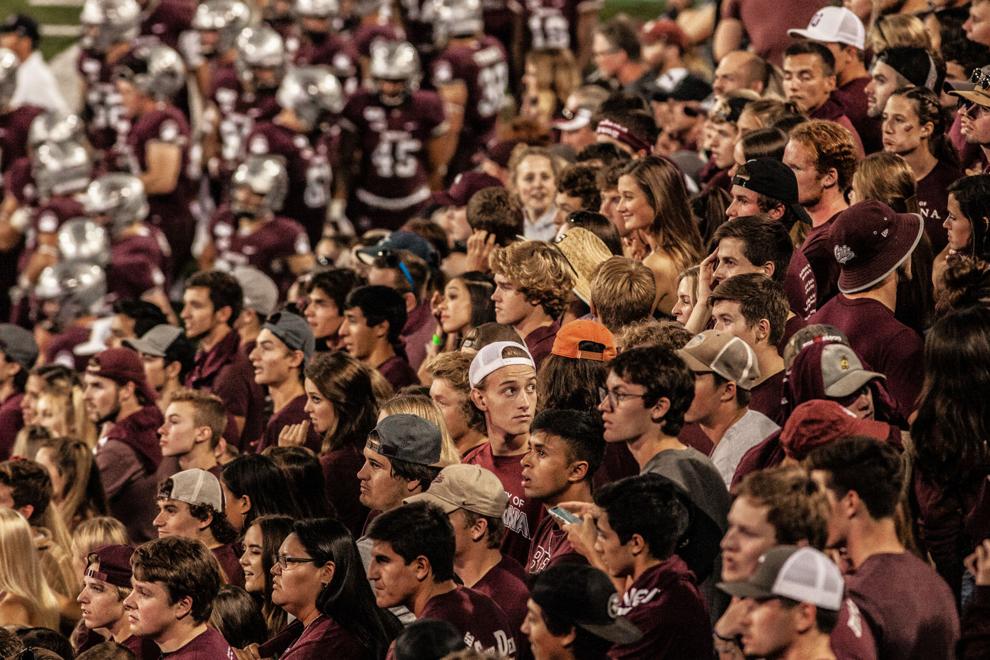 With the anticipated revenue decreases, many UM employees may experience pay cuts or furloughs, including Alford, the podcaster. He works as a program coordinator in UM's Department of Health and Human Performance.
"I wouldn't be surprised to see furloughs across the public sector," Alford said. "In my personal zone at the University, we're doing better than we thought, but maybe we'll be asked to give back 5% or something."
If Alford or his colleagues get furloughed, they will be added to the list of 63 UM employees who were furloughed in April of 2020, and the undisclosed number who were laid off Aug. 19, the first day of the 2020 fall semester.
Along with the UM and the Missoula economy, UM football players are in a sticky place. If no 2021 spring season occurs because of the postponement, the seniors will still have eligibility and remain on the roster. The NCAA only permits a roster of 85 players, so incoming recruits may not be able to join a roster, or current players on the roster will be cut.
The NCAA will either have to increase roster sizes or teams will be forced to cut players or not pick up incoming recruits. The podcasters pointed out that teams may have to grayshirt more athletes. Grayshirting refers to when athletes wait a semester before enrolling at a university.
"Justin Green (UM's recruiting coordinator) and Hauck have one hell of a job cut out for them," Wahlberg said.
Under Hauck, players often graduate in the fall. Once their football season is over, their college career is over, too. In 2019, there were 16 listed seniors on UM's football roster. Eleven of those 16 graduated during UM's fall commencement. In the fall of 2020, many UM football players will graduate and face the decision of staying to play football or leaving UM to pursue a career.
UM redshirt senior quarterback Cam Humphrey graduated in the spring of 2020 and faced the decision to leave school or to stick around and play football. After spending time at Boise State, Saddleback Community College and UM, Humphrey had only started three games at the Division I level.
He chose to enroll in grad school at UM and stay on the football team as the lone senior and expected starting quarterback.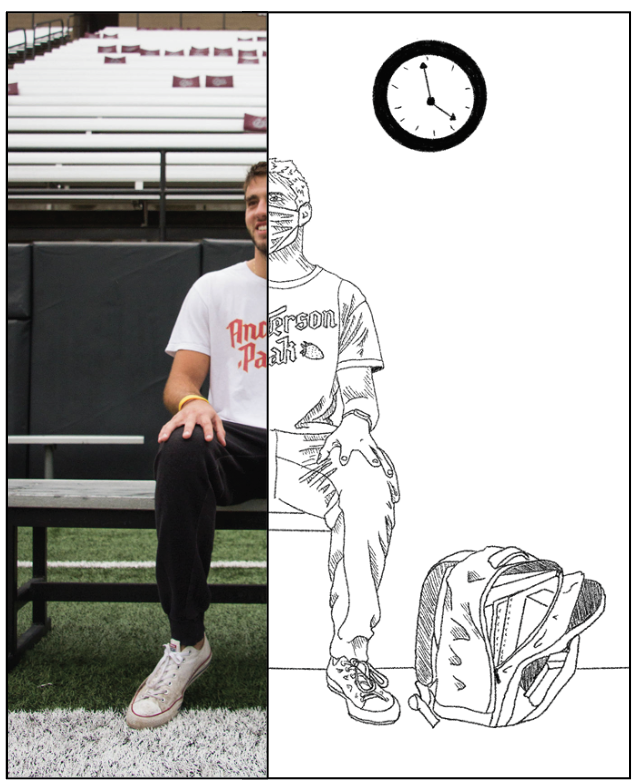 "This was definitely my opportunity or window to showcase my abilities," Humphrey said. "Not being able to showcase them was definitely a blindside shot."
Not every player has stayed with UM football after graduation like Humphrey did. In 2019, UM kicker Bradon Purdy left the team after graduating with a year left of eligibility to enter the workforce. He was the most accurate kicker in Griz football history, making 28 of his 30 field goal attempts.
When Purdy left UM's football team, everyone expected a fall season. Current UM football seniors now only have the remaining hope of a spring season in 2021. If a spring season does happen, it's unlikely there will be playoffs.
Winning a national championship is the ultimate goal of the football team and fans. If there are no playoffs in the spring 2021 football season, Wahlberg fears players might not have the motivation to play.
"If the ultimate goal in 2021 is to win eight (conference) football games and get a pat on the back, it's going to be fascinating to watch," he said.
He also expressed concern that if Griz fans realize they can go a year without football, they may not feel the need to buy season tickets when it returns.
Behind the effort of motivating the players is Hauck, who won't be coaching college football in the fall for the first time since 1988. In a press conference on Aug. 7, Hauck shared his plans for the fall.
"Football is not over, football is delayed," he said. "We're like the military. We believe in training. That's why we're better than the people we go against, because we train hard. We train harder, we train better."
He said he'd always be recruiting for the Griz, because recruiting is a year-round job.
Redshirt senior wide receiver Samuel Akem answered questions at the Aug. 7 press conference alongside Hauck, UM linebacker Jace Lewis and UM Athletic Director Kent Haslam.
When asked what the football team's plans were for the fall, he said "we just really need to practice patience" and "we will be ready when that time comes."
Humphrey showed that Hauck has excelled in motivating his troops.
"The future is really foggy right now for everybody, short and long term, but what I do know is that we're gonna prepare day-in and day-out to be ready," he said.
Kent Haslam, the athletic director, showed up at the press conference right after he got off a Big Sky Conference call.
"This decision by the conference wasn't made without a lot of deliberation and a lot of discussion," he said. "I've seen too much of my AD (Athletic Director) colleagues over Zoom calls over the last three months."
He said UM will not participate in any non-conference games in 2020. In 2019, UM made $650,000 when Oregon paid them to come to play in a non-conference game. In 2020, UM didn't schedule any big payout games like the one against Oregon, but its fellow conference teams will miss out on some big payouts.
Eastern Washington was set to receive $750,000 from Florida, UM's rival. Montana State was expecting a $675,000 payout from Utah. Sacramento was lined up to make $625,000 on a trip to play Washington.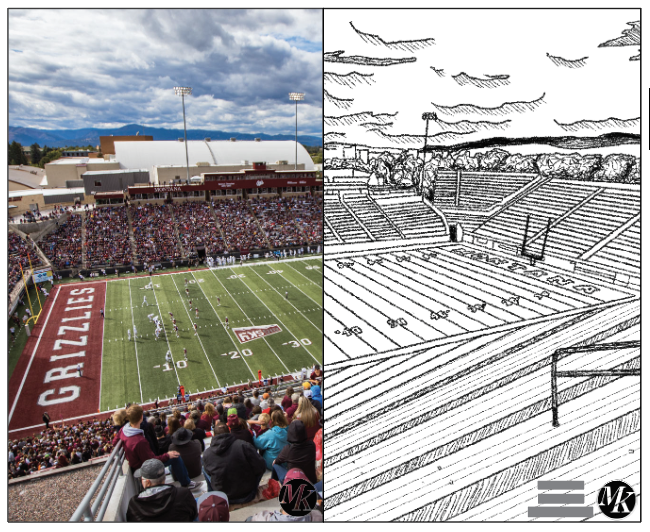 On their most recent podcast, the Griz Fan Pod members jokingly brainstormed a possible way that Griz football could be seen in 2020. They decided that North Dakota State, James Madison, Montana State and Montana could all meet together in a bubble.
The idea of a bubble is based on the format that the National Basketball Association has been using for its restart. In this set-up, all of the teams are required to stay on a closed campus at Disneyland and are tested regularly. Visitors aren't allowed in and players who exit the bubble are quarantined.
As of Aug. 19, none of the NBA players in the bubble had tested positive for the virus for the fifth straight week. If there were to be a bubble for UM and other FCS football teams, the podcasters suggested that fans would have to pay-per-view the games.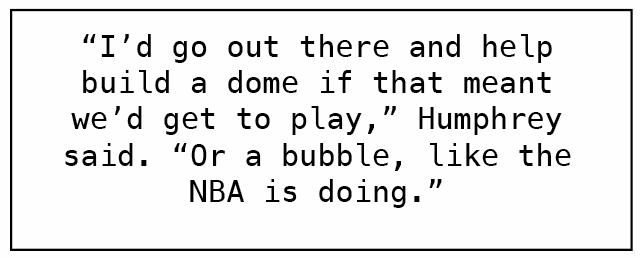 "I'd go out there and help build a dome if that meant we'd get to play," said Humphrey. "Or a bubble like the NBA is doing."
But testing a whole football team for COVID-19 is certainly expensive and, as Alford pointed out, students at UM can only be tested if they are showing symptoms.
"I think it would be viewed as treating the athletes differently than the regular students," he said.
With the clear obstacle of the price of testing for COVID-19 as well as the availability of tests and speed of test results, it is very uncertain when UM football will return. Alford said that he believes a vaccine will help him return to his seats. Nugent quickly pointed out that even if a vaccine comes, things will be different.
"If people don't feel comfortable going to the games, that's going to be a problem," he said.
Aside from game attendance, Wahlberg believes a lot of things Missoulians find standard may change, especially tailgating. If stadiums do open for fans, he wondered if there will still be masses of them gathering and sharing appetizers.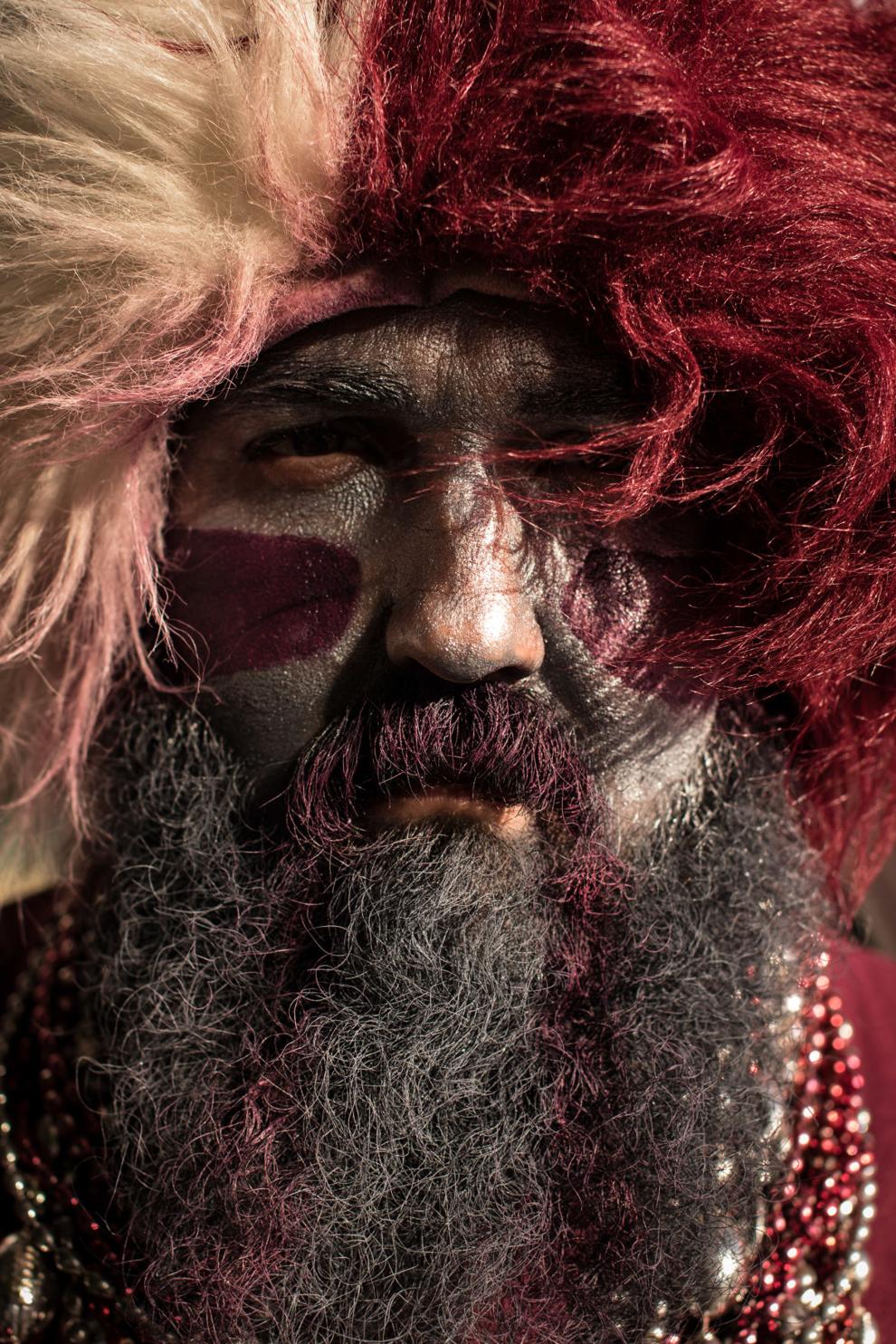 Along with the potential cancellation of tailgating, Wahlberg also realized that he, along with others, still have tailgate spots they purchased by Washington Grizzly Stadium. If still allowed, he decided that he and his fellow podcasters may just have a cookout in the empty tailgating zone.
Even with the postponement of the football season, the band has played on at UM, with in-person classes starting on Aug 19. The marching band practices in the stadium, as if no one told its members there is no fall season, Wahlberg said jokingly.
All other fall sports at UM have been postponed as well. The Grizzly Scholarship Association also recently held a fundraiser that gained over $37,000 for athlete scholarships. Some Griz fans are finding other ways to stay busy this fall.
Wahlberg said he will golf until the Montana weather no longer allows him to. Nugent has decided to do some fall camping. Alford joked he might climb the chain link fence around Washington Grizzly Stadium and stare at the empty facility.
Gernaat, the rancher from Conrad, has decided that he will hunt a little more in the fall. Hauck will continue to host practices with his team while still allowed.
Along with their other fall endeavors, the GrizFanPod will still record episodes. There won't be football in 2020, but there is still a large UM football team to talk about.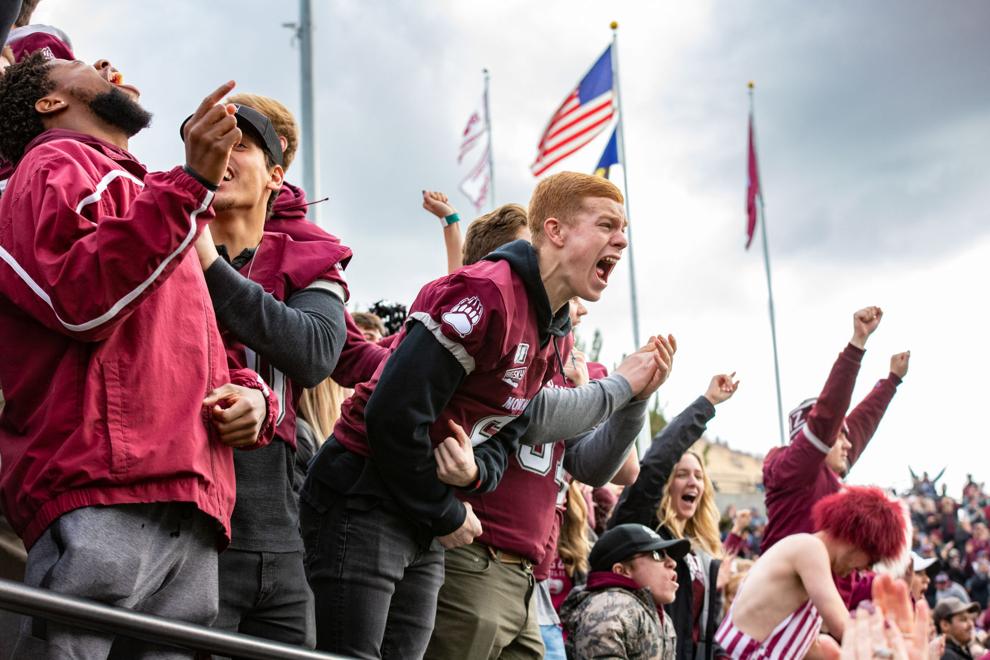 Five quarterbacks are on the 2020 roster and none of them have been named as a starter. UM linebacker Jace Lewis was named the Preseason Big Sky Conference Defensive MVP. Six players from UM's roster were on the Big Sky Preseason All-Conference Team.
Many transfers have arrived at UM in 2020 from schools like Arizona, Oregon State and Louisville. Incoming freshmen will now have more time to get acclimated with the Griz Football culture and play style.
The podcasters explored many of these facets of the Griz football team through the night, especially focusing on the potential growth Griz fans may see.
"There are guys on the roster who will play better in the spring than they would've in the fall," Wahlberg said.
What would the podcasters do to get Griz football back? Wahlberg said he'd get a toaster-sized tattoo while Alford said he'd move to Cut Bank, Montana. Nugent, on the other hand, had a more philosophical answer.
"I would do a ton to have my son's five-day school week back, and to have him have a normal life before I would do anything for football," he said.