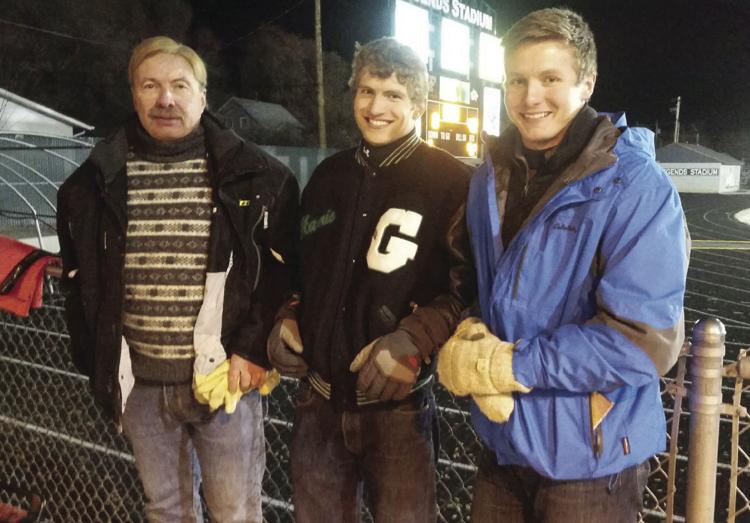 Andrew Harris always wanted to play football for the University of Montana. Starting flag football when he was just 5 years old, he progressed into tackle football, high school football, and in 2015, when he was nearing the end of his final year at Glacier High School, Andrew signed a letter of intent to play for the Grizzlies the next fall.
"That's all he wanted to do. He wanted to be a Griz," Greg Harris, his father, told the Montana Kaimin this fall.
Andrew finished his fourth season at UM in November 2018 as a linebacker. He wasn't the only Grizzly in his family. His older brother, Josh Harris, played from 2008 to 2012. His father, Greg, played for the Griz from 1971 to 1975 and moved on to play in the NFL for the New York Jets and San Francisco 49ers after college. Greg said he had multiple conversations with Andrew about not feeling good enough for the football team.
"All my kids wanted to be Grizzlies, but I told them that once you play at that next level, it isn't a game. It is a business. You are just a piece of meat, a way to get money, and that is all they care about you. As long as you are still performing, that is all they care about," Greg said.
Greg had his last phone call with Andrew on Jan. 21. They talked about football practices starting again, new uniforms and the new year.
"He was excited to start practice. He was getting his uniform on Monday," Greg said. "I told him that it was going to be a great year for him, and he seemed excited about that."
That was the last time Greg spoke to his son. Andrew died by suicide the next day. He was 22 years old.
"I felt like someone just ripped my insides out. The whole thing about how parents should never have to bury a child, that's true," Greg said.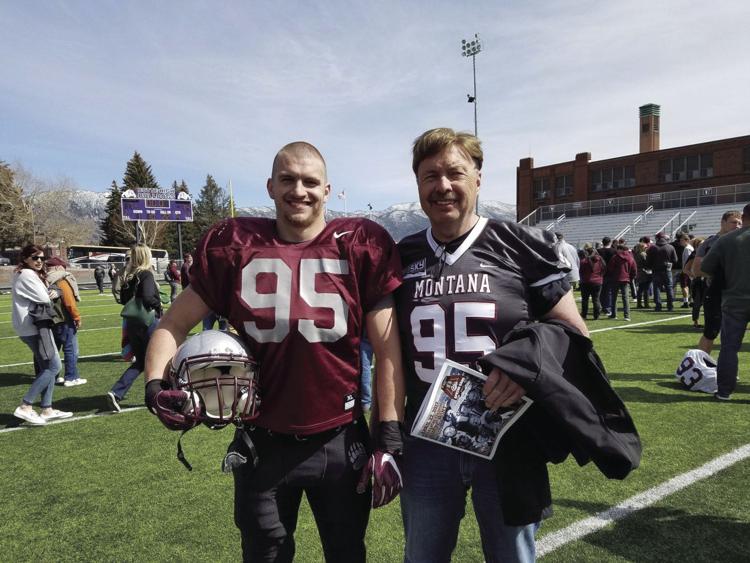 At that point, Andrew had six diagnosed concussions in total. He sustained four of those playing for the Griz. One sent him to the hospital for treatment. Greg said he wished he would have been given options to buy his son a helmet that might have protected him better from concussions. He thinks that if more had been done to prevent concussions, he might still be alive today.
Research has found that concussions and mental health issues are linked because their symptoms can change someone's quality of life, Cindi Laukes, director of the Neural Injury Center at UM, told the Montana Kaimin. A concussion could also compound previous tendencies for things like migraines or depression.
Griz Athletics told the Montana Kaimin it does not record data for the number of concussions that sustained by student-athletes in any sport. Concussions data is solely kept in the individual medical files of each student-athlete.
Greg wants some acknowledgement on campus of what happened to his son. He has contacted UM President Seth Bodnar's office six times since January about his frustrations with the athletic department and setting up a suicide prevention fund in Andrew's name. The fund would include putting up a flag with Andrew's number, encouraging players to stay strong as well as collecting money to offer more resources and education for student-athletes about suicide prevention.
Bodnar reached out to Greg and has spoken on the phone a handful of times since Andrew's death, said Paula Short, UM spokesperson. She said she does not recall any detailed talk of a suicide prevention fund. He has also spoken with everyone else in the office including the chief of staff, office supervisor and events coordinator. "He may have talked with them about his plans for a fund," Short said in a statement.
"When a tragedy such as this happens, we consult with experts about the University's response and how best to support those who are affected. Similarly, we would seek expert guidance to inform this discussion moving forward," she said.
Greg also spoke to the athletic director, Kent Haslam, as well as current players and parents after Andrew's death, but he said he does not feel comfortable going to the athletic department directly about the suicide prevention fund because he does not think he will get the support.
"I felt like someone just ripped my insides out. The whole thing about how parents should never have to bury a child, that's true."  - Greg Harris 
He feels alone. Coaches, players and parents have all stopped responding to him, Greg said.
"I've had multiple conversations with Greg. So, I will just leave it at that," Haslam said.
Haslam said he has spoken to Greg about the flag, but has not heard anything about setting up a fund. The athletic department was advised by mental health professionals and Washington State University, which had dealt with a similar loss, that memorializing and giving attention to someone who died of suicide could glorify it and create a ripple effect on other people who may be already vulnerable to suicidal thoughts, he said.
"I don't feel like it is productive to go back and forth with a grieving father," Haslam said.
But Greg said he thinks the University is trying to shut him up. His intention for the flag and the fund would be to bring the community together for hope and awareness, to show to people that suicide is a preventable thing.
"I'm a person of action and thought that the University needs to help these kids and try to prevent more suicides," Greg said. "My main goal is to raise money and awareness for this, and I have great ideas, but apparently only the people with Ph.D.s know anything. They've never lost a child to suicide or cried for days on end."
Greg feels this isn't the first time the University has disregarded his calls. Last year, at the end of the football season, he contacted head coach Bobby Hauck, wanting to talk about his son's mental health. Hauck told Greg that he was getting on a flight, but he would call him back. "I could feel like something was wrong [with Andrew] by the end of the season," he said. "There was something there, and I called Bobby to see if he saw anything. I never heard back from him."
"I love the game. My kids love the game, but I feel like my son was not properly taken care of. That is why I'm feeling such isolation from the team and the University," Greg said.
---
A concussion is a form of a mild traumatic brain injury that is caused by a hit to the head, according to Laukes. Laukes has been in the neuroscience field for more than 25 years, and leads research on brain injuries at the Neural Injury Center.
Concussions can occur in any sport or daily life. When an athlete gets tackled in a game, it could cause a concussion. If a person is in a car accident, it could also cause a concussion. It could be as simple as falling down or getting hit in the head with a golf ball. Symptoms include headaches, problems with balance, sensitivity to light and fatigue, according to the NCAA Concussion Fact Sheet for Student-Athletes.
It is difficult for physicians and athletic trainers to diagnose a concussion using scans like they could for other injuries such as a broken ankle, so documentation of symptoms and multiple forms of testing can be helpful to determine the severity of the injury.
Physicians and athletic trainers typically use a combination of baseline tests to determine the state of a person's brain normally and testing after concussion symptoms are present. There is still a lack of consensus among physicians across the country about the best testing practices, said Dr. Bill Rosen, a panelist at a sports and concussion panel in Missoula on Sept. 25.
The NCAA recommends athletic programs create a concussion management policy that is available to the public. And Grizzly Athletics' policy follows this recommendation; it's part of the student-athlete handbook posted online. J.C. Weida, head certified personal trainer, said a concussion management policy has been in place at the University at least since he started in 1992.
The policy is reviewed and updated every year by Weida and his staff of athletic trainers. Changes are based on a combination of continual concussion research done by neurological organizations across the country and the UM trainers' comfort levels with treating student-athletes, according to Weida.
"I think there are going to be differences of concussion policies across the country with what people are comfortable doing, with what people have the resources for, whether it is a physician or a test or a neurologist, and then money. There are a lot of variables in there," he said.
Annually, students and coaches are presented with an NCAA Concussion fact sheet. The concussion management policy also requires players to sign a form that promises reporting symptoms of concussions to a trainer.
"I think that student-athletes are generally aware of the risk involved," Weida said. "They are more aware because of social media and because of history. In some ways, they can't get away from it."
Student-athletes can go to the Training Center at any time while it is open, or during practices. Coaches are responsible for reporting concussion symptoms to athletic trainers for testing.
"It is all about building a comfort zone with our athletes so that they know that they can come to you for help, and if people don't feel comfortable coming to you with issues, that is when there is a problem," Weida said.
Athletic trainers tend to be the first responders dealing with athletes through the concussion rehab process, treatment, referring athletes to health care providers and returning athletes to play. Trainers are also responsible for educating players and coaches.
"Sometimes, a player will come to us to tell us that another player is acting a little different. It is our job to go to that player and check what is going on. And sometimes it is nothing, but it is worth checking," said Justin Hunt, an athletic trainer at the University of Montana.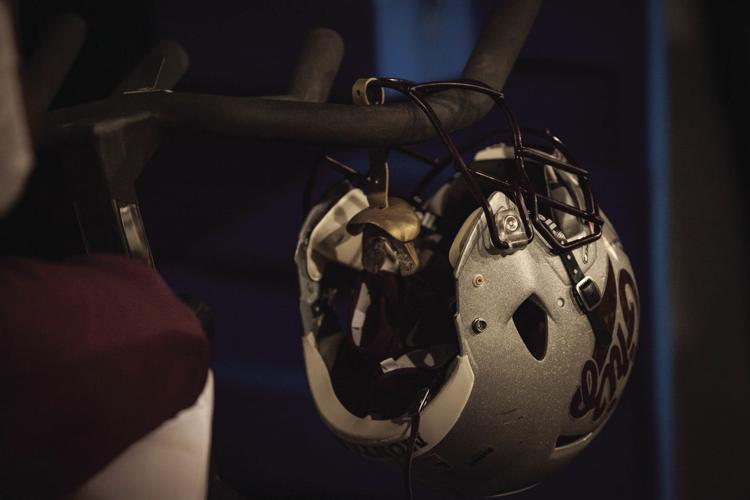 When asked if trainers keep particular eye on athletes that have had a certain amount of concussions, Weida said, "I think athletic trainers keep an eye on players all the time, and I think what we watch out for more of is symptoms and interactions. One of the nice things about our situation is that we have a decent-sized staff and we can get to know our athletes. I also think that our training helps over time."
There is no formal follow-up procedure on players with concussions, unless it is part of their treatment or during the players' annual physical when their file is reviewed, Weida said.
Concussions are treated the same way a sprained ankle would be.
Better equipment, a decrease in contact practices, change of rules in games to avoid head injuries and baseline tests are all ways the sport and the athletic department have grown to meet the needs of players' health, Hunt said at the concussion panel.
UM Athletics does not keep any data on the number of concussions sustained by student athletes. All records for concussions are kept in individual medical files.
"I don't go through and do that. Now is it possible to do that? It probably is. I could probably go through the charts and figure it out," Weida said. "I just have to weigh the information I get from that. How is that helpful versus my time getting something else done?"
---
Andrew went into a depression last Fall, Greg recalled. He described his son as kind, quirky and hard working, and you wouldn't be able to tell at first glance that he was struggling.
"His life seemed to be going great. Football was going good for him, grades A's and B's. Everybody loved him. He had a little quirky laugh. Just a good person," Greg said. 
Andrew received counseling services at the Dakota House and the Curry Health Center, and was prescribed antidepressants. Haslam confirmed that the athletic department was aware of Andrew's situation last year, and made several attempts to make sure that Andrew was getting the services and support he needed.
"The University of Montana could be a forerunner for the prevention of suicide in the country. Take the bull by the horns."

- Greg Harris
But by January, Andrew had stopped going to counseling sessions and taking his prescription, Greg said.
"If I would have known that he had stopped taking his antidepressants and going to his meetings, I would have done something," Greg said.
Griz Athletics does not have a comprehensive mental health referral and treatment plan similar to the concussion management plan. Mental health treatment could include many things like treatment for drugs and alcohol, eating disorders, depression, or ADHD. There is not one blanket policy, according to Weida.
Athletic trainers at the University are responsible for referring players to mental health services, whether that is counseling for depression or eating disorders or even drug testing. Coaches and athletes are all responsible for reporting concerns about another athlete to the trainers, Weida said.
"If you have a mental health problem, we want you to get taken care of," Weida said. "Now, not everyone wants to be cared for. So, if we feel like it is a necessity, we can say you can't participate in practice or play until you take care of this thing."
The only communication after a referral is ensuring that the athlete is going to the class or the session that they need to be attending, Weida said. When asked about what happens to the mental health treatment of players outside of season, he said, "As long as they are in their eligibility, we keep them under our care."
Suicide prevention education for student-athletes is one area that UM Athletics is limited, Weida said. His goal right now is to educate the training staff. Suicide prevention education for student-athletes at this point would be the same as any other student on campus, he said.
"Truth be told, it is on my list of things that I kind of want to do in the future. Even if it is just a handout," Weida said.
Haslam said he believes the athletic department is equipped better to educate stu- dents and refer students to mental health resources than the general campus can.
"We are far more in tune to it. I think we provide great resources. We talk about it all the time. We are candid about depression. We are candid about anxiety. We are candid about eating disorders, suicide prevention. I am actually very proud of the support we offer our players," he said.
Greg said he thinks that the athletic department does not want to admit that they could be doing more, and that Andrew's death was not handled as any other death would be. The University and the athletic department could be doing more to show that students' safety is their first priority, he said. Montana has the highest rate of suicide deaths per capita, according to the Center for Disease Control.
"The University of Montana could be a forerunner for the prevention of suicide in the country," Greg said. "Take the bull by the horns."
---
If you or someone you know is struggling with depression or suicidal thoughts, here are some local resources:
Curry Health Center's Counseling and Psychological Services: (406) 243-4711
National Suicide Prevention Lifeline: 1-800-273-TALK
Western Montana Mental Health Center: (406) 532-9710
Emergency help: 911
---
Editor's Note: The original version of this story the athletic department was advised by the University of Washington to deal with suicide without creating a ripple effect. It was Washington State University.