The University of Montana's Alexander Blewett III School of Law, the only law school in the state of Montana, is reeling after multiple sexual assault allegations, a student walkout and two high-profile resignations this semester. These developments sparked a new internal review of conduct and culture at the law school — one that holds no legal weight or guarantee for reforming the administration.
In 2020, UM hired an outside firm to help its Title IX office investigate claims of sexual misconduct within the law school student body, as well as claims that the deans deterred students from reporting instances of misconduct. That investigation concluded in June of this year. But in September, the Daily Montanan published an investigation that included 13 current or former students, who spoke to the allegations that prompted the investigation and other issues relating to the culture of the law school and, specifically, its treatment of women who came forward with complaints through the necessary legal avenues.
Some students alleged failings of both the independent investigators and the deans of the law school in handling their reports of sexual misconduct. These students claimed they were discouraged from bringing reports to the Title IX office by Dean Paul Kirgis and Associate Dean Sally Weaver. Title IX rules on a national level have changed since the claims, but UM policy still requires professors to be mandatory reporters on campus. That means, according to UM Director of Strategic Communications Dave Kuntz, they must report any instances of sexual misconduct within 24 hours of being informed to the Title IX office.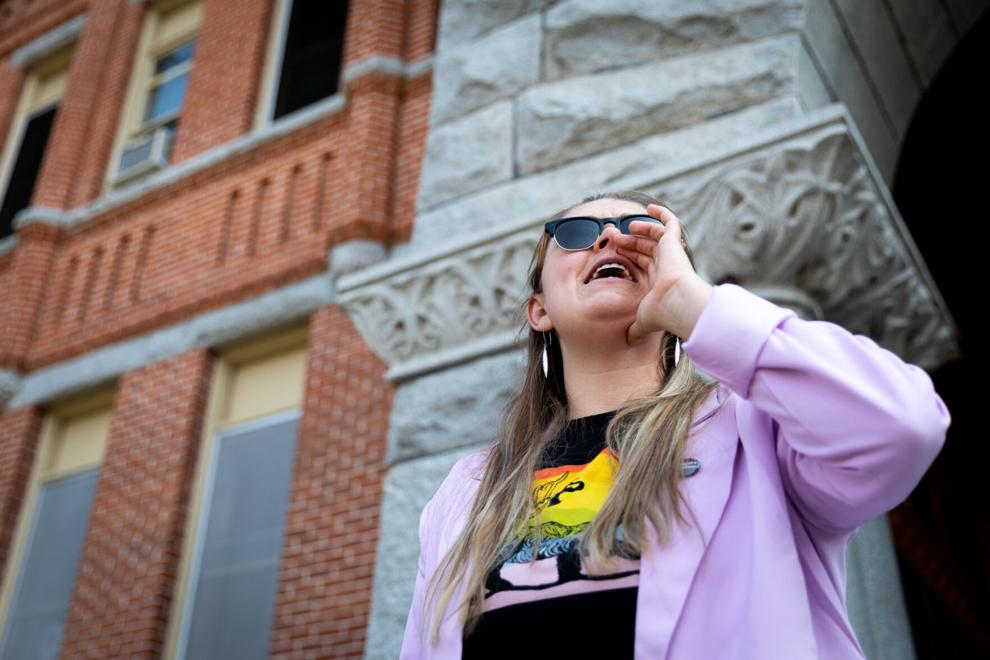 Other students involved in the investigation told the Daily Montanan the outside firm UM hired failed to follow up with them to properly document their accounts, and that certain people in UM's Title IX office failed to fulfill the needs of some who decided to report their assaults or instances of harassment to the office through no-contact orders between the complainants and the subjects of their allegations.
Just a week after the Daily Montanan article, on Oct. 5, 120 students attended a student-organized walkout.
Two days later, on Oct. 7, Kirgis and Weaver sent a joint resignation letter to the law school.
Administration at the state's only law school has imploded because of these claims — some of them against former Missoula mayoral candidate, Jacob Elder. But the entire murky process — from the initial investigation to the appeal process and beyond — has brought up more lasting implications, both for the school's leadership and for the future of the deans' roles in handling student sexual misconduct claims.
The Allegations
Rumors of persistent issues of sexual misconduct and questionable leadership around that issue began in fall 2019, according to Cierra Anderson, who graduated from the law school in 2020. Anderson started a sexual assault and domestic violence survivor support group in fall 2019. Anderson told the Daily Montanan that her group started hearing rumors about past instances of sexual misconduct concerning Elder, also a student at the law school, and that she warned her peers to "be careful with him." Anderson is still involved with this group even after graduating. She did not respond to the Kaimin's requests for comment. 
Annie Holland, a second-year law student and survivor of domestic violence, has been vocal about the issues within the law school. She talked to the Daily Montanan and was a leader of the student walkout. She said the concerns voiced about Elder were problematic.
"Male and female law students are talking about a specific person, the mayoral candidate, and telling (the deans) that he's a problem, and that they're scared for their safety. And (Elder) is making threats to female students and nothing is getting done," Holland told the Kaimin.
The number of allegations against Elder is unknown. The results of the original outside investigation, conducted by private California-based firm Grand River Solutions, remain confidential. Elder discussed the results, stating publicly he was investigated and was cleared of any Title IX violations.
At least two women came forward with claims against Elder to the Daily Montanan. 
Elder himself described one of the instances under investigation, in which he asked to kiss a woman on a date at a downtown bar and she was "not okay with it." Other specifics in the investigation of Elder remain unknown.
Six women who came forward also accused the deans of the law school, Kirgis and Weaver, of dissuading them from going to the Title IX office with claims of sexual misconduct, including in two cases allegedly involving Elder. 
The anonymous women in the Daily Montanan piece claimed Weaver told them she had sufficient training to handle their claims on her own and that the official office's involvement would be "unnecessary." One woman alleged Weaver told her and her friend that she would report them to the bar association for being "vindictive" if they continued seeking action on their claim.
Weaver denied these claims.
"I have never advised a student that they should not report sexual misconduct or any other complaint to the university's Title IX Office, the UM Office of Community Standards with respect to the Student Conduct Code, the office of the UM General Counsel or other appropriate campus authorities," Weaver wrote in an email to the Kaimin.
Jennifer Robichaud, a current law student and the person who publicized the appeal of the investigation, claimed that when she told Kirgis about Elder sexually assaulting her friend, Kirgis said he felt a report would be unnecessary, but would inform Title IX anyway. When Title IX Director Alicia Arant followed up on the phone, she said Kirgis never mentioned the phrase "sexual assault" in his report.
Kirgis said he reported the allegation to the appropriate legal offices on campus immediately.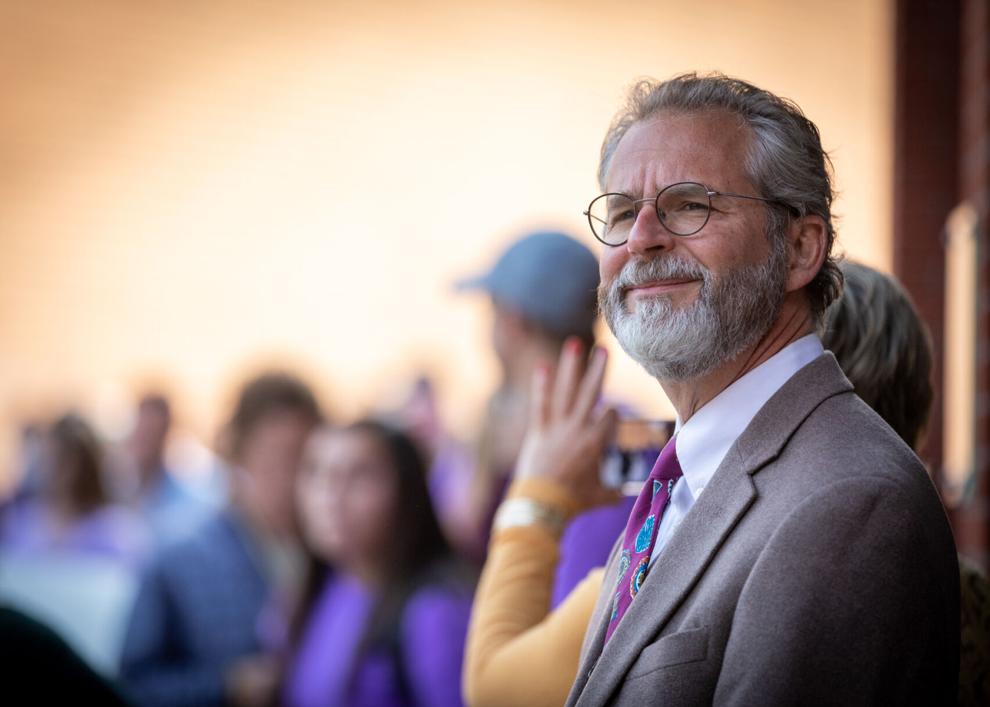 "As I am required to do as a mandatory reporter, I promptly reported my conversation with the student to the EO/Title IX Office. I understand that the EO/Title IX Office followed up with the student," Kirgis told the Kaimin in an email in response to Robichaud's claim. 
Students expressed frustration with the law school and the wider UM administration's lack of communication with the student body throughout the process. Some said they felt that administrators did not advocate for students sufficiently.
"It feels like, in the interest of minimizing risk, students were left to advocate for themselves where they shouldn't have to," Zachary Krumm, a current law student, said. "If there are two complaints I hear, it's that students find out too late what's going on and once they do, they're left to take on things the school should be doing on its own."
Law student Annie Holland did not report any instances of sexual misconduct to the Title IX office or the law school administration herself, but said she felt she had to step up and support survivors who are exhausted from enduring trauma.
"I personally have never had my safety threatened here," Holland said. "However, I do know that there are female students who feel very unsafe at the law school due to the actions of the administrators not respecting what they were saying."
The Investigation
To look into these allegations, the University hired Grand River Solutions and paid the firm $73,496 for its support services. The investigation spanned from July 2020 to June 2021. UM hired Grand River Solutions once before for a diversity audit in 2019. 
The firm assigned two investigators to look into the Title IX sexual misconduct claims, as well as the claims that the deans deterred students from reporting their allegations to the Title IX office.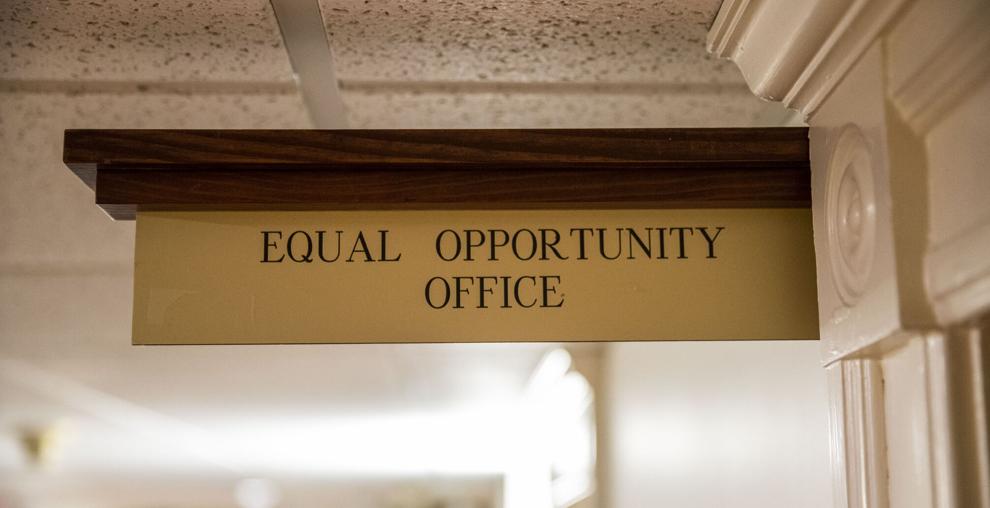 UM confirmed on June 7 that Grand River Solutions filed its conclusion. The results were not published, but Kirgis, Weaver and Elder said Grand River Solutions cleared them of wrongdoing. UM confirmed Kirgis and Weaver were not found to be in violation of UM policy.
Robichaud appealed these findings in a grievance proceeding, which could potentially overturn the initial report. Both Weaver and Robichaud said that Robichaud's initial appeal has reached a determination, though UM has not provided confirmation. Both women said the grievance proceeding did not overturn Grand River Solution's findings.
"The process was very long (almost a year) and very thorough (the report of the findings was, I think, almost 150 pages long)," Weaver said of the initial investigation.
Sources in the Daily Montanan pieces were concerned that the investigation took nearly 11 months to conclude, even though UM's Title IX office website states it aims to complete all investigations within 60 days.
Kuntz, UM's director of strategic communication, said the 11-month investigation was reasonable though, despite this statement on the Title IX website.
"I do think that 11 months is still reasonable in terms of the complex nature of this case, how many people were involved, and the appellate process that is still being played out," Kuntz said.
Grand River Solutions redirected the Kaimin's interview request to representatives from the Title IX office, who have not commented on the specifics of the investigation or why it required an outside firm to investigate what is typically handled by the Title IX officers on staff at UM.
Kirgis and Weaver have both repeatedly denied any wrongdoing under UM Title IX policy. They said both the initial investigation and the appeal process cleared the law school administration. UM confirmed in an Oct. 5 statement to the Missoulian that law school leadership was cleared from the initial  Grand River Solutions investigation. 
Weaver said she wished full results could be made public.
"If my interest were the only one at issue here, I would make the entire record public so that the media and others could review the record and reach their own conclusions," Weaver said. "We, however, take our obligations of privacy and confidentiality with respect to our students very seriously, so that is not an option." 
Robichaud, the named appellant in the Grand River Solutions investigation, said that it's unfair to say Weaver was "cleared" in this investigation.
"The appeal to the Grievance Committee is completed. The appeal committee did not overturn GRS's finding related to Weaver, but to say it 'cleared' her is in no way accurate," Robichaud said. 
Kuntz was unable to comment on the allegations and the investigation proceedings. He reiterated the importance for students with claims of sexual misconduct to report their experiences to the Title IX office.
"Whether it was related to this specific case, or it is totally unrelated, I guess I want to double down and just really encourage everyone in the UM family, students and employees alike, to utilize the Title IX office because it's there to serve our campus," Kuntz said.
The Public Response 
The public first caught wind of the ongoing turmoil at the law school when Elder told the Daily Montanan he was under investigation by the University for sexual misconduct allegations and a claim that he is a "sexual predator" in a May 5 phone call. 
Then, on a Facebook post in June, Elder said the Grand River Solutions investigation "exonerated" him, and UM told him he had not violated the student code of conduct. He did not provide any documentation to verify his claims, and UM did not comment.
Although few updates or details emerged over the summer, second-year students Holland and Everett Johns decided to begin organizing a forum for student activism on the matter this semester. The forum's goal was for students to show support for sexual assault survivors in light of the rumors of sexual misconduct within the law school over the past year. Johns and Holland decided to plan a student walkout for the beginning of October as the best forum for their demonstration, and Johns started organizing so his friends that had endured trauma could see support within the law school community.
"I felt like I had to do something after all of my friends and colleagues have said they're scared, admin isn't listening to them, admin is retaliating against them," Johns said. "They're afraid to go to their classes. I assumed that other people were handling it, but I wanted to be able to do something to contribute."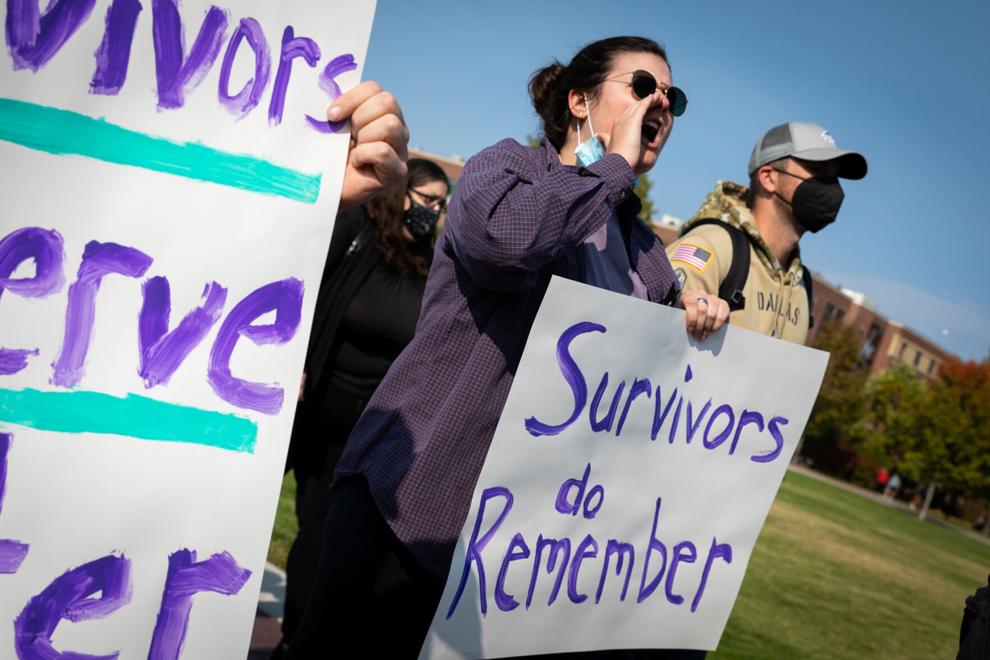 Holland and Johns worked with 30 other law students and met with law professors and Title IX administrators to inform their approach in organizing their demonstration. Both Kirgis and Weaver expressed admiration for their efforts.
"These students demonstrate time and time again their ability to be brave and determined and resilient. They are the only reason that I have remained at the law school for these many years," Weaver said. "Our world is fraught with intractable problems that are crying out for strong leadership and effective problem solvers. Our students have the potential to become those leaders and problem solvers. I look forward to cheering them on from the sidelines."
But the Daily Montanan's Sept. 27 publication of its first of a two-part series grabbed broader attention. This reporting brought all the allegations publicly known today to light, and prompted the increasing sentiment among law students that Kirgis and Weaver should resign. 
"The University of Montana and Alexander Blewett III School of Law have historically struggled with and continue to struggle with sexism and the reporting of sexual violence within the institution," current law student Victoria Hill said. "Remedying these institutional failures requires removing individuals that perpetrate these failures and refuse to assist students in reforming the institution."
When Weaver and Kirgis resigned, though, it was a surprise to the UM administration, according to Kuntz. He said UM admin did not ask Weaver or Kirgis to step down. They did so on their own accord. Weaver will be terminating her employment with the University in December, while Kirgis will be transitioning out of his admin position to be a full-time professor in the law school. He will make $124,500 as a professor, compared to his dean salary of $201,630.
Kirgis' role, though, is yet to be defined. UM reduced Kirgis' salary after his resignation. UM set Kirgis' new salary before his course load has been determined. Kuntz said Kirgis' new responsibilities in the law school will be outlined in the near future by the interim deans. 
Neither Kirgis nor Kuntz could say what Kirgis' teaching schedule will consist of in the coming semesters. He is listed in the spring semester course catalog as teaching one three-credit course called "Negotiations Lab," which would meet once a week for two hours. When asked what he would be teaching, Kirgis said it hadn't yet been worked out.
"It became clear to me over the past weeks that re-establishing trust with the students was the highest priority for the administration, and that I could not be the voice to lead us in that trust-building process. I chose to step aside to allow for new voices to be heard," Kirgis said. 
Weaver wrote in an email: "The experience has, of course, been mind, heart and gut-wrenching and has been a period of deep reflection for me. I have often said that when I came to Missoula and ABIII, it felt like my skin fit for the first time in my life. This is as true today as it was when I first uttered those words twenty-five years ago. I stepped aside from my role as associate dean of students with the hope and firm conviction that the law school community has the wisdom and commitment to come together and move forward in a positive and appropriate way." 
Weaver, although distraught by the resignation and the public outrage over the allegations, said the decision came easier because she was already considering retirement when the allegations emerged.
"My plans for retirement were already under discussion; this made the decision to step aside an easier one to make. My daughter says that the two most important things I taught her in her life were compassion and resilience. Both have served me — and my daughter — well in this process," Weaver wrote. 
The Resignation Fallout 
The sudden resignation announcement shocked some members of the student body, and many of those in attendance at the walkout felt the resignations were an important first step to implementing further changes in the law school administration. 
"I think it was appropriate for the dean and associate dean to resign. As institutional leaders, they had a duty to their students that they failed to meet. Whether this was due to negligence or malice is beside the point," Victoria Hill, a current law student, said. "The movement to change the culture on campus obviously can't end here, but this was a necessary step."
Others felt since the investigation ended five months before the resignations, and the deans said they were cleared by the external investigation, they should not have resigned. 
"I was shocked and angry," Corinne Lynn, a current law student, said. "I felt like the deans were given no opportunities to implement any of the plans they had to address the issue. It seemed like they had no choice, and I was upset because they looked at it as not wanting to cause a disruption. The only thing the resignations are going to do is appease a few people who just seem to be out for blood."
On Oct. 25, UM admin announced law school professors Monte Mills, Cathay Y. N. Smith and Sara Rinfret would act as interim law school deans, and many students supported their appointment.
"The new deans are both wonderful advocates for their students and go above and beyond. There is some disappointment that they're not going to be able to teach as much as they normally would because they have to step back to fulfill their duties as dean," Holland said. "I feel like there is a positive change coming, and I think things are settling down. But the biggest thing is we just can't lose momentum."
"My focus is on the future and on supporting our interim leadership team through this difficult time," Kirgis said. 
What's next? 
UM announced that it will conduct a nationwide search for a new law school dean in anticipation of the next academic year. It has not created a job listing or outlined a timeline for the dean search process.
The University will also be conducting an external review of the law school, examining whether or not it has a problematic culture.
"The external review is going to bring a fresh set of eyes to the procedures that are in place at the law school and make needed recommendations. (UM admin) will be working closely with the new leadership, the law school, as well as the faculty, students and others," Kuntz said.
Some walkout participants are cautiously optimistic for the future of the law school administration, but others are concerned about picking a dean candidate who will be well-equipped to handle Title IX claims in lieu of Kirgis and Weaver's alleged shortcomings. Holland believes students should circumvent the dean's office and take their claims straight to the Title IX office.
"I'm worried that everything is just going to be the same," Holland said. "Just another middle-aged white male, who is not necessarily informed of the duress that domestic and sexual assault put on survivors in their everyday life. I think that maybe cutting out that middleman where there's not an opportunity to dissuade someone or give someone false information will make people feel more certain that their case is being properly handled, and that there's not going to be bias in handling the cases."
Holland and Johns raised concerns about faculty members resigning to avoid accountability through the Title IX process after the resignations, but Kuntz said the office can seek further action after a faculty member has ended employment if a complainant remains unsatisfied.
"If a complainant feels like accountability hasn't happened, or wasn't achieved, the Title IX office will work with that person because any sort of actions taken is agreed upon between both parties. So just because somebody has resigned doesn't always mean that the matter is over," Kuntz said. 
In this case, the matter is not over yet. The appeal could still be under consideration even after Weaver leaves UM's law school in December, and as far into the future as complainants decide to file appeals.
Law student activists are frustrated with the law school's lack of communication in their efforts to remedy the situation and hope UM will focus on further accountability efforts.
"My real hope is that the school takes this opportunity to focus on institutional change and not just who new leadership is going to be. I don't want names, titles and consultants to distract from a sense of what the law school should be and the policy changes needed to get there. The school has the capacity to be a really special place," Krumm, a current law student and a supporter of the student walkout, said. "So I hope we see more transparency and affirmative leadership moving forward. It sounds like UM as a whole still has lessons to learn about gender equality and safety on campus."
UM confirmed the investigation remains under appeal, so rulings and actions regarding the law school situation are not over. Both students and the former deans are hopeful that fallout from the resignations and public allegations will be a catalyst for positive change at the law school.
"At the end of the day," wrote Weaver, "it is my most fervent hope that through this process we will take advantage of important opportunities to learn valuable lessons about conflict and dispute resolution. To embrace the truth. To acknowledge that facts matter. That the rule of law matters. That due process is the cornerstone of our system of justice, and that social media is often not the best professional option for airing grievances and resolving disputes."