It's a familiar scene: MontPIRG interns camped outside the University Center, clipboards in hand, trying to make eye contact while asking students if they're registered to vote. Targeted students fake temporary deafness. A personal favorite excuse is, "I'm late for class" while rushing into the classroom-free UC to get a bagel.
These overly eager interns, volunteers and organizers are not stationed around campus just for kicks. It's almost time for midterm elections. Montanans are tasked with voting on ballot initiatives and referendums, state legislators, U.S. Senate and House candidates and a bunch of other seemingly boring things this November. No matter how tedious voting may feel, young people do have a stake in these elections.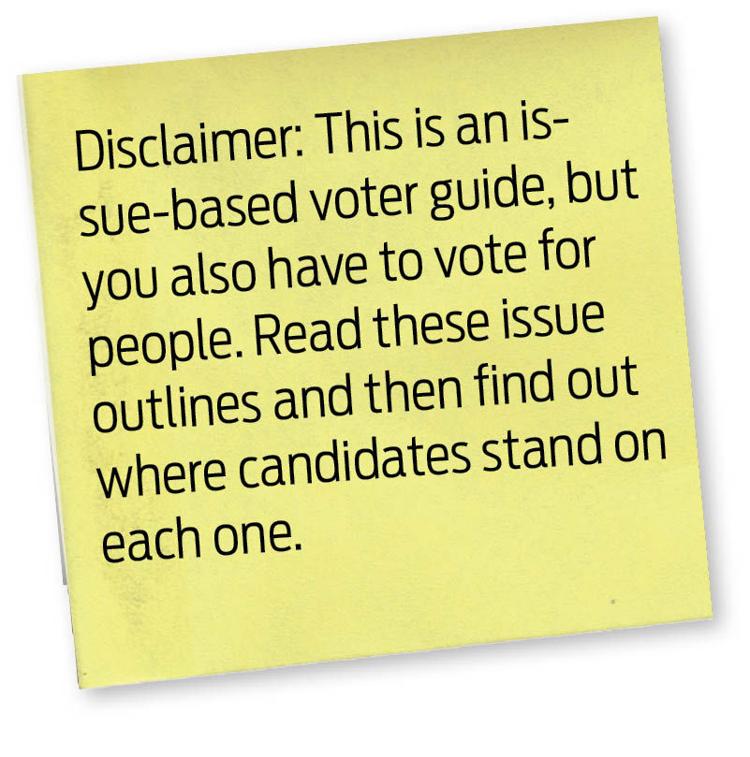 It's natural for students to prioritize breakfast over civic engagement. Classes, work, homework, social lives and crippling stress may lead a student to forego voting.
A survey from the Public Religion Research Institute and the Atlantic found that only 28 percent of young adults will vote in the midterms, compared to 78 percent of seniors. That means policies directly affecting younger generations will be voted on not by seniors in college, but the elderly. However, a Tufts University study identified Montana as one of eight states where the youth vote can actually impact results in this election cycle.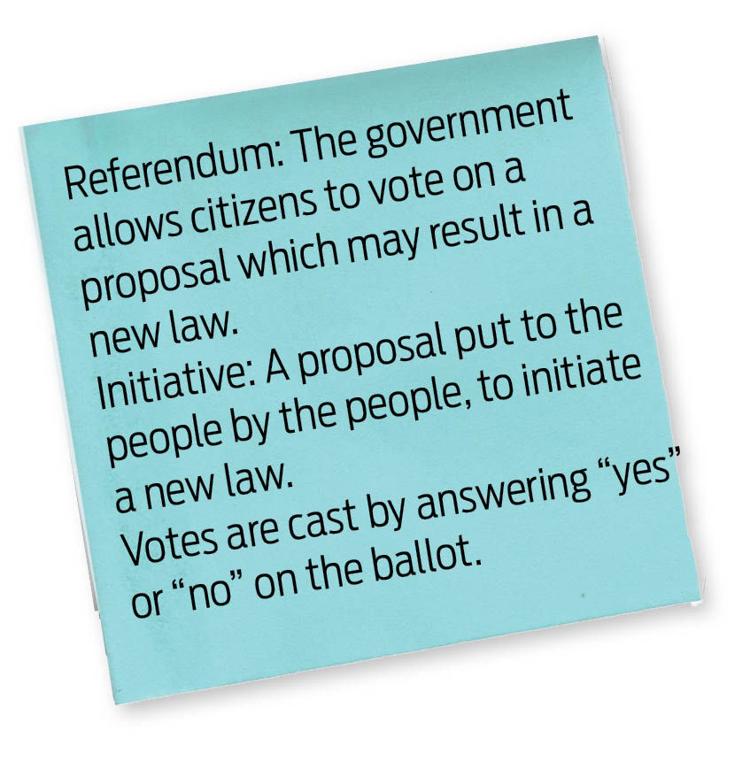 Young people will be entering their adult lives under these policies, with these politicians in power. Do you care about public lands, gun rights, the environment, healthcare, government spending and the cost of tuition? Maybe you haven't had time to care, so the Kaimin cares for you. Give this voter guide a read and take half an hour to fill out a ballot before or on Nov. 6.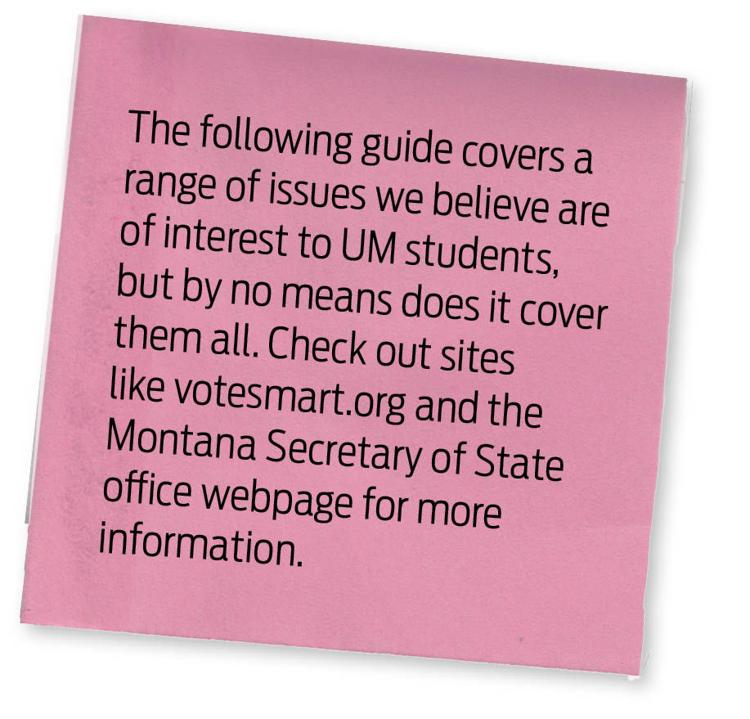 If the 6-mill levy fails to pass, Montana University System students will be looking at a 16-to-18-percent tuition increase, according to the MUS website. A mill levy is a property tax to fund education. The Montana 6-mill levy provides nearly $20 million per year to higher education funding, which is used exclusively for student services and instructor salaries. The University of Montana is already facing its own budget crisis this year, and may be laying off faculty in the coming years.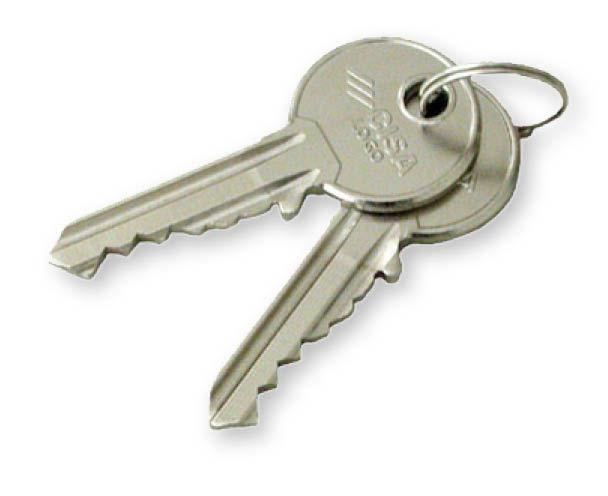 The 6-mill levy has to be renewed every 10 years, so it's not a new tax. However, it would renew a property tax in Montana of about 12 cents for every $1,000 of the home's value—so a $200,000 home would continue to pay $24. That could possibly affect rent prices for college students, especially those renting from private homeowners.
A group called Montanans Against Higher Taxes argues that higher education spending in the state is out of control, stating that some colleges enjoy pool parties, raves and climbing walls. Its website says voters should vote "no" on the 6-mill and force the Montana University System "to live within its means." That means no more pool parties, friends.

This ballot initiative raises taxes on tobacco products, e-cigarettes and vaping products. A pack of cigarettes will be taxed at $3.70 per pack. Other wholesale tobacco products, including new taxes for vaping products, will see a 33-percent price increase. Part of the tax revenues will go to a variety of health-related programs. These include the Montana Medicaid program, veterans' services, smoking prevention and long-term care for both the elderly and those with disabilities. In 2015, the legislature voted to expand Medicaid.That may expire in June if this initiative does not pass.
UM students who struggle to afford health insurance may be eligible for the Medicaid program. Medicaid will then purchase the student health insurance through the Health Insurance Premium Payment program for the eligible student, which has a premium of nearly $2,000 per semester. Students enrolled in this program are covered by both Medicaid and the University System insurance, which Student Insurance Representative Dawn Camara-Clark said "opens so many doors" in terms of healthcare options. Camara-Clark also said that a third of all students who enrolled in the insurance program last year were enrolled through the Medicaid program.


This initiative would require the Department of Environmental Quality to reject permits for new hardrock mines in Montana. An exception is if the petitioner presents a plan with convincing evidence that the mine will not cause long-lasting water pollution. Clean up costs generally fall on the state. A group called STOP I-186 to Protect Miners and Jobs is campaigning against the initiative, arguing it puts mining jobs at risk, which it says will, in turn, decrease state tax revenues. The group argues the state already has protections in place, and that any more would be unnecessary and burdensome.
The Bozeman Daily Chronicle published an editorial in support of the initiative sayings it's not too much to ask, especially when considering the state's history with contaminated mines and reclamation, costing millions of dollars for each clean-up. The initiative will not apply to any mines currently operating in the state and does not prohibit mining, but attempts to make the process cleaner.

The management of Montana's public lands falls to federal agencies, which some politicians think needs to change. The National Forest System, National Park System, National Wildlife Refuge System and National Wilderness Preservation System are all public lands. If you hunt, fish, hike or recreate in any way outdoors, you've most likely used public lands. Nearly 30 percent of all of Montana is open for public use, according to the Montana Wilderness Association.
Some argue that federal environmental regulations have hurt natural resource development efforts (i.e. mining, logging) on state lands. Those opposed to federal management think the state could do a better job of controlling the land in its backyard. But organizations like the Montana Wilderness Association argue that transferring ownership of the land could lead to its privatization. States don't have nearly the budget of the federal government, and the selling of public land could increase revenues.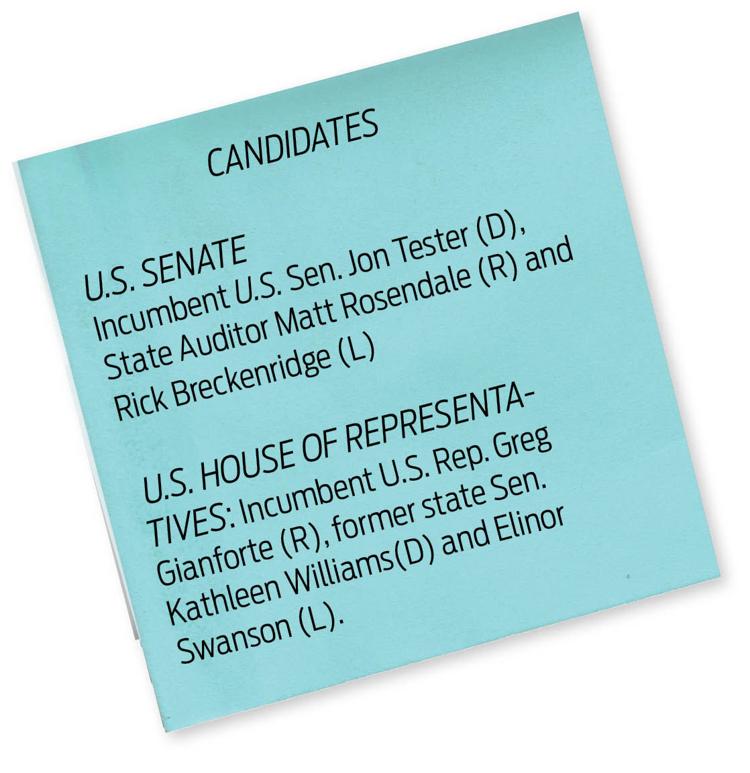 Rosendale has changed his position to opposing the transfer of public lands to state management in recent years, but has voted on the State Land Board to deny public access to private land. Gianforte voted to permanently reauthorize the Land and Water Conservation Fund, however has not voiced a position on the management issue.  
Tester supports federal management of public lands. Montana Conservation Voters endorsed Williams due to her support of public access protections.
Breckenridge's entire campaign goal is to reduce the reach of government, as is Swanson's. The Libertarian candidates support states' rights over federal governance.

The Affordable Care Act allows people age 26 or younger to stay on their parents' insurance plan, which can be cheaper than taking out a separate policy. Those 26 or younger can stay on their parents' plan even if they've gotten married, had a child, started or left school, turned down coverage from a job, or are not claimed by their parents as a tax dependent according to HealthCare.gov. However, the Congressional Budget Office reports the ACA will cost the federal government, including taxpayers (that's you and me, guys), $1.76 trillion from 2012 to 2023. The ACA also requires citizens to have health insurance or face a fine that is 2.5 percent of a household's income. Lawmakers have voted in the past to repeal the ACA. The vote is likely to come up again.
Tester has voted to save the Affordable Care Act and his website states he wants to build upon current health care laws. Williams' website states the current system is broken, but supports protecting Medicaid and Medicare.
Rosendale is committed to repealing and replacing the ACA, but still wants insurance to cover preexisting conditions, according to his website. Gianforte also supports a repeal and replacement plan.  
Breckenridge said that national health care is "anti-sovereign citizen" in a reponse to Vote Smart's Political Courage Test. Swanson also responded to Vote Smart, saying health insurance should be strictly private.
Due to a 1973 U.S. Supreme Court decision, women have the right to an abortion—within limits. Roe v. Wade made access to abortion within a designated number of weeks legal in the U.S., but that precedent, like any other, can be overturned. President Donald Trump nominated United States Circuit Judge Brett Kavanaugh to the Supreme Court, who was confirmed on Oct. 6. When Kavanaugh was questioned about his stance on abortion, he answered that the courts have upheld Roe v. Wade. But this doesn't necessarily mean anything. If this decision found its way back to the Supreme Court, Kavanaugh, a conservative, will likely vote to allow abortion to regulate abortion at the state level. Kavanaugh has also been accused of sexual assault. The Senate votes to confirm Supreme Court justices. Tester voted against Kavanaugh. Montana's other senator, Steve  Daines, abstained from voting to attend his daughter's wedding. Rosendale expressed support for Kavanaugh.
The ACA mandates that insurance companies cover birth control costs for women,  but companies that claim it violates religious beliefs are exempt (think Hobby Lobby). Congress will likely vote to repeal the ACA again.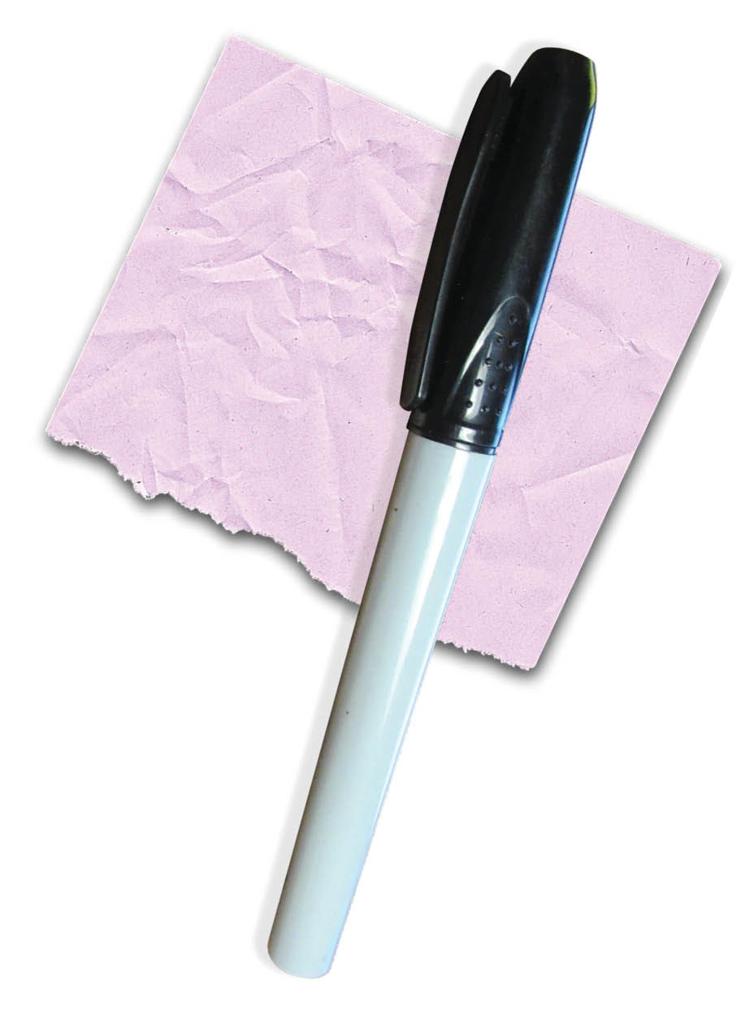 Rosendale consistently voted to restrict access to abortion in the Montana Legislature. Gianforte has said on multiple occasions that he is pro-life and also voted in the House of Representatives to restrict abortion access.
As a state legislator, Tester voted to protect Planned Parenthood funding. Williams voted against at least six different bills that would have restricted abortion.
Breckenridge told Vote Smart he wants access to abortion to be decided at the state level. On the same site, Swanson said life begins at conception, and that women cannot arbitrarily "withdraw" from pregnancy if they know about their pregnancy longer than a few months.


The Montana Legislature will vote on the University System's budget this spring. The Missoulian asked each local Montana Senate-hopeful about higher education funding. These are the main takeaways:
Bennett said the state should reverse the trend of decreased funding to save students from stifling debt and make college more affordable.
Sardot said she couldn't answer the question until she knew the reason for the decrease in funding. She firmly opposes tax hikes.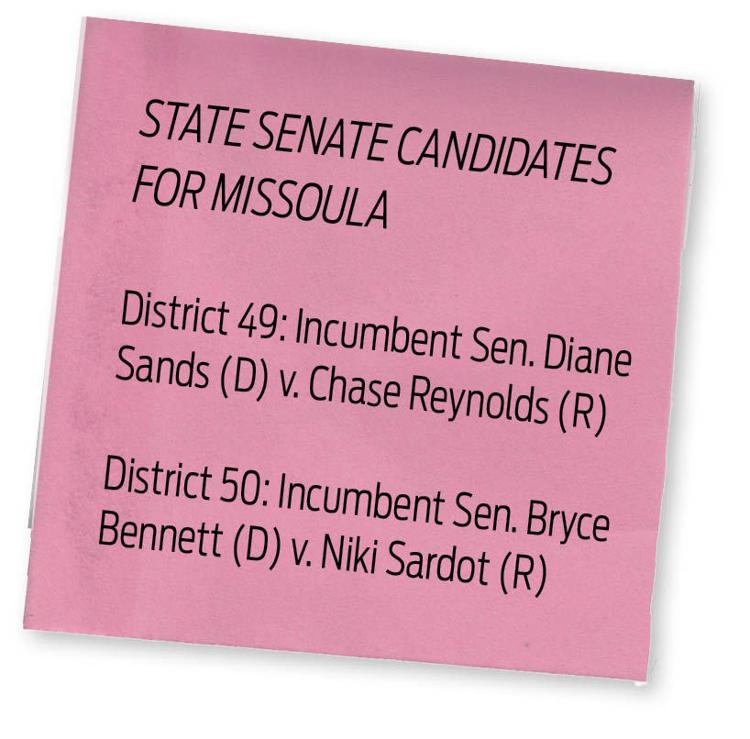 Sands said she supports the reapproval of the 6-mill levy, and that it's not nearly enough. She suggested a 10-year plan to restore funding to a 75 percent share.
Reynolds said that state funding for higher education should be higher than what it is, but that the Montana University System and Board of Regents need to be held accountable for unnecessary spending.

Clashes between gun rights and gun control activists boiled over this year after the Parkland shooting in Florida and the subsequent March For Our Lives campaign. In Montana, this debate will continue. According to the Billings Gazette, since 1999, a majority of the 94 gun-related bills that were introduced in the Montana Legislature deal with loosening gun restrictions and increasing the number of places guns can be allowed, such as college campuses. Montana's Constitution gives residents the right to hunt. A few bills have been introduced to make background checks for gun permits stricter and to restrict certain types of weapons.
Sands has consistently voted to regulate guns. For example, she voted against a bill that allows college students to carry and store firearms on campus.
Bennett has voted against 12 pieces of legislation that either made buying a gun easier, or increased the scope of where guns are allowed.
Reynolds and Sardot have yet to vote on gun legislation.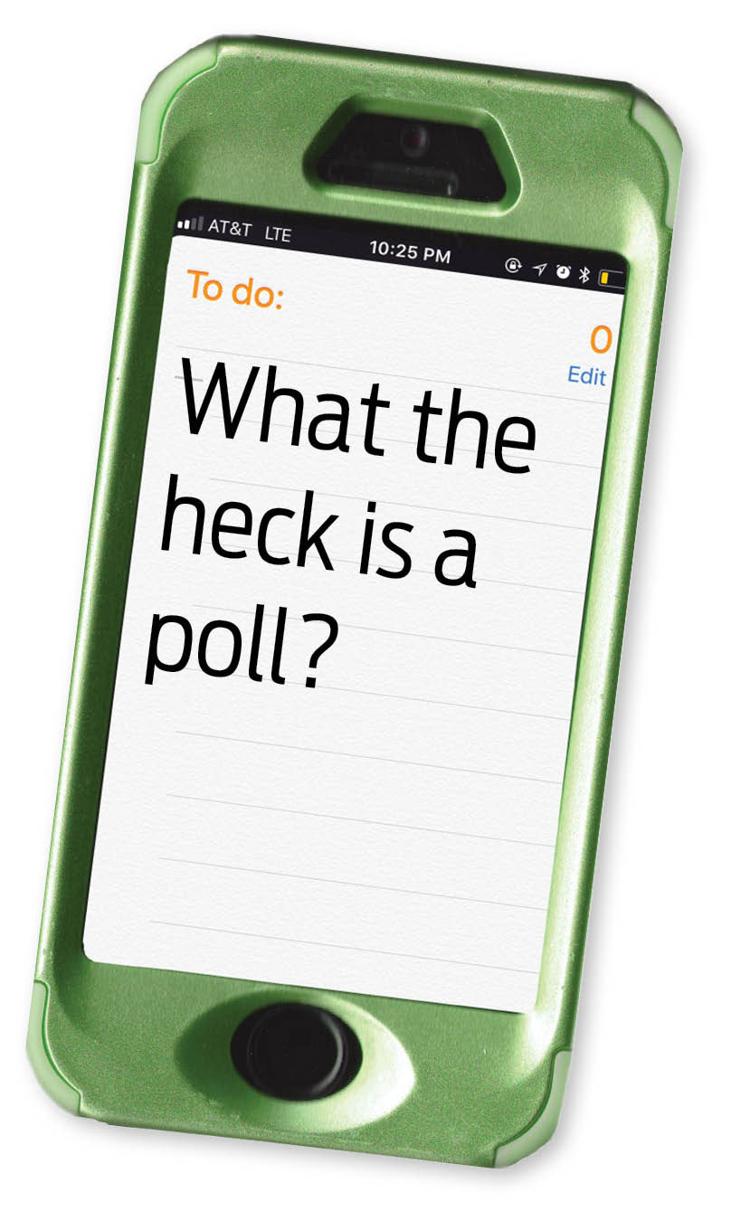 This might seem obvious, but just to review: Polls are surveys of random groups of people used to provide a snapshot of citizens' opinions on certain issues at the time of the poll. These measurements are not as straightforward as one might think. For example, the University of Montana Big Sky Poll said in a press release that it found that 71 percent of likely voters would vote to approve the 6-mill levy. However, the same poll found that 46 percent of Montanans were "not familiar" with the referendum. It also has a +/- 4.5 percent margin of error, which reflects the level of confidence the pollster has in the measurement. That context is important.
Sara Rinfret, Master in Public Administration program director, and Justin Angle, a marketing professor, led the Big Sky Poll research and data collection. A big misconception is that a poll is a prediction of the outcome of an election, Rinfret said in an email. It's supposed to capture a perception at a certain time, but perceptions can change.

Regular voter registration closed Oct. 9, but Montana is one of a few states that allows for late registration, all the way up to Election Day. If you stop by the Missoula County Elections Office at the fairgrounds (Building 15, big yellow banner) you will be greeted by a smiling senior citizen filling envelopes and you will be promptly registered. A said senior citizen can get you a ballot on the spot.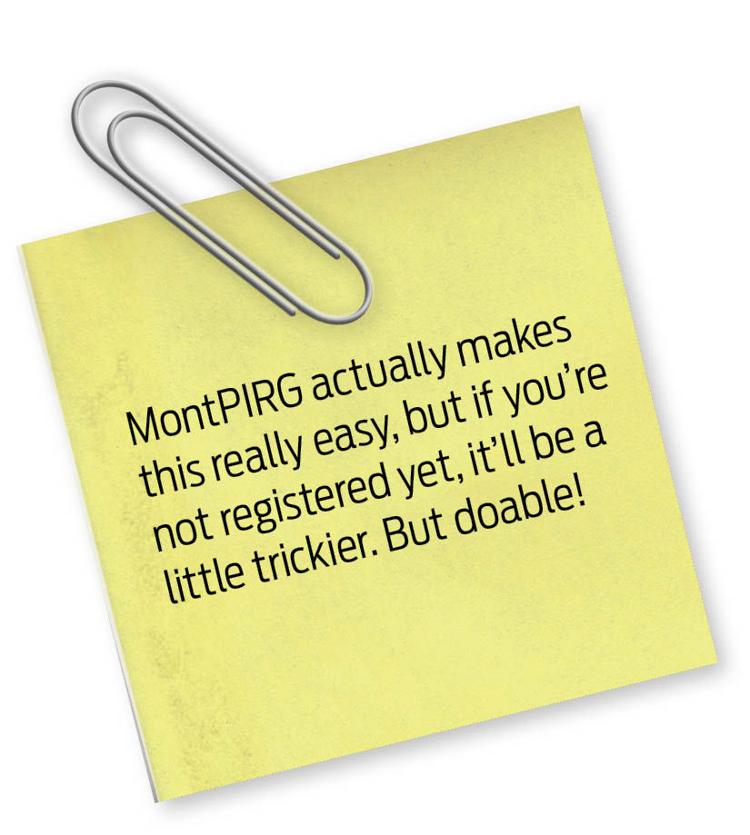 After registration comes the actual voting. You can either send your ballot to the elections office (which requires two stamps, by the way) or vote at your polling place, which varies depending on where you live. You can find all of your personal voting information as well as your voter registration status at
app.mt.gov/voterinfo/. Anyone can vote at the elections office fairground headquarters.
If neither of these options are appealing, fill out the ballot you received in the mail and drop it off at any polling place. Don't forget, the UC just happens to be one of those places. Politicians work hard, but county elections officials work harder.
This guide covers some major points on the ballot, but not everything. There's still research to be done. Sites like Vote Smart and the Montana Secretary of State Office website are useful. Ballots will be sent to voters in the next week, and election day is less than a month away (Nov. 6).