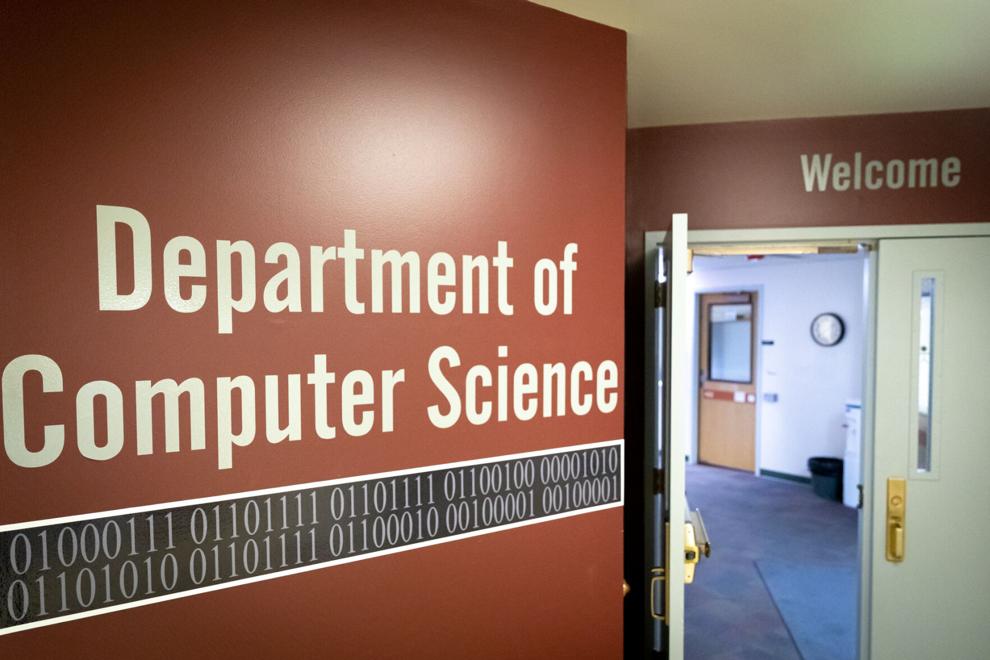 This story has been updated to include comment from UM President Seth Bodnar. Following publication, UM announced it would place Rob Smith on paid leave pending an investigation into the professor's blog. The Associated Students of the University of Montana passed a resolution calling for Smith's termination.
Tenured University of Montana computer science professor Rob Smith maintained a blog in which he disparaged women, Muslims and the LGBTQ+ community. On the blog, he urges men of all ages to date women close to age 18, because they peak at 16 then quickly "lose value."
"Your physical attractiveness is your most valuable asset in finding a husband," Smith writes as advice to young women in a blog post titled "Counsel to young people about spouse selection."
"This value peaks from 16-18, fades slowly until 25, then starts fading quickly. Your pool of potential husbands shrinks significantly with every year past 18," the post continues.
Smith supports this claim, and many others, by citing scripture, including Mormon texts. According to his blog, titled "Upward Thought," Smith was excommunicated from the Mormon church. He has run the blog for eight years, and it links to a YouTube channel. The videos bear UM's Rob Smith's voice, according to Jesse Johnson, the chair of the computer science department.
Johnson said he reported "Upward Thought" to his superiors after seeing the post "Isaiah 3 part 2: The problem with the women." He didn't name who he reported it to. He emailed his coworkers about the blog on Sept. 17. UM's strategic communications director Dave Kuntz said the President's office was made aware of it on Sept. 23.
Smith declined the Kaimin's multiple requests for an in-person interview. He did not deny ownership of the blog.
UM President Seth Bodnar tweeted he was "personally disgusted" by Smith's views as reported by the Montana Kaimin. He advised Officials take "immediate action to address these matters." Kuntz said the University would conduct an investigation of Smith and his blog.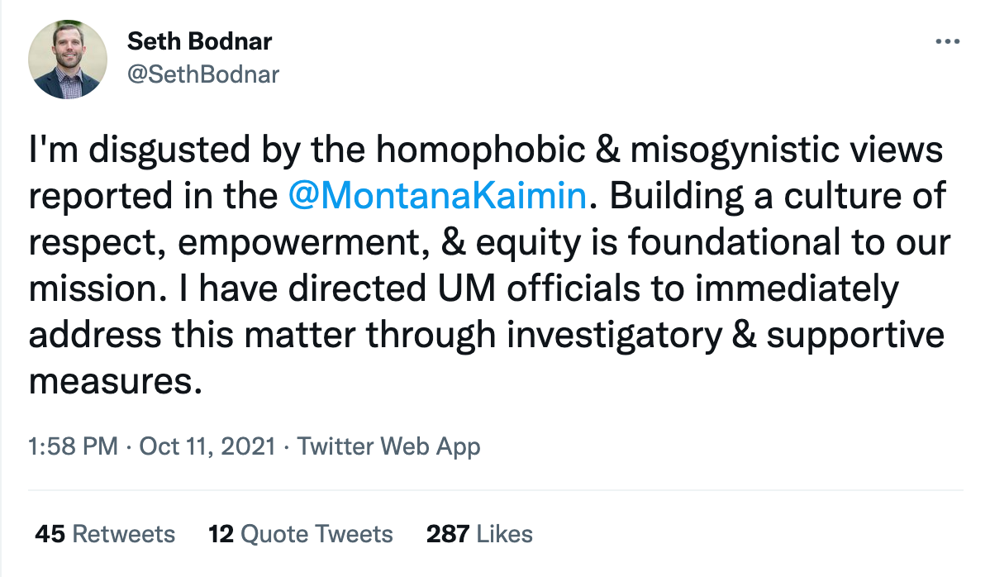 Johnson reviewed the blog when Smith was up for tenure in 2017, but said he found nothing more than fundamentalist Mormon theology. He couldn't tie the blog to UM's Rob Smith because the name is so common, and Smith had yet to link his YouTube channel. The blog wasn't mentioned in Johnson's tenure opinion to the dean. Smith was awarded tenure.
Faculty, spokespeople and deans interviewed by the Kaimin say Smith's views run counter to campus values. But because of the First Amendment, the University can't take action against Smith without Title IX finding discrimination or harassment in his actions, according to Kuntz. Several coworkers and students said Smith has not voiced the views on his blog in his classroom or workplace.
"The ideas in that blog are ethically and intellectually bankrupt," said Douglas Brinkerhoff, a faculty member in the computer science department. Ethics is among the courses Smith teaches this semester.
"I would not advise any student, but particularly one from an underrepresented group in [computer science], to work with or take a course from someone who holds the views declared in these blog posts and videos. In fact, I would advise the opposite," Brinkerhoff wrote in an email. "It would be unethical for me to either promote or be complacent in placing a student in that situation."
Last week, as the Kaimin began reporting on his blog, Smith deleted all the posts and made private the videos on his YouTube channel that referenced gender. The Kaimin saved PDFs of the posts and downloaded the videos, which can be found on the news tab of our website, montanakaimin.com. The blog was archived on the Wayback Machine.
The link to the Wayback Machine no longer worked past the first page of posts after the story was published online.
After the story's publication online, UM President Seth Bodnar responded to Smith's blog, stating, "I am personally disgusted by the homophobic and misogynistic views that were reported in the Montana Kaimin. Building a culture of respect, empowerment, and equity is foundational to our mission at UM as well as personally important to me. I have directed the appropriate university officials to take immediate action to address this matter through investigatory and supportive measures."
On the morning of Oct. 11, a website was made entitled Fire Rob Smith, which directs students to the social media accounts and gives a template for students to use to email the president and provost's offices. Instagram, Twitter and Facebook accounts, with the handles @firerobsmith, @FireRobSmith and Fire Rob Smith respectively, emerged. The website called on students to boycott Smith's classes and sign a petition. By the morning of Oct. 12, the petition had over 1,500 signatures and the Instagram account @firerobsmith had 318 followers.
Following Monday's events, on Oct. 12, the Kaimin received an email from Kuntz stating Smith would be put on paid leave during the University's investigation of his blog. Smith will not be teaching or physically on campus during his leave, and his courses will be taught by another instructor, according to Kuntz.
"The university's goal is to make this transition with as little disruption as possible for the students in the computer science department," Kuntz stated in the email on Oct. 12.
<THE CONTENT>
In a blog post, "Isaiah 3 part 2: The problem with the women," Smith writes: "It will come across as some wacko propaganda, but did you know that women peak physically at age 16? It is interesting that, on the one hand, modern society has made it taboo for a man to marry a 16 year old or so woman, suggesting it is inappropriate to find a 16 year old or so woman attractive, while simultaneously designing all manner of makeup products and fine-twined linen to make women older than this look as similar as possible to 16 year old or so women. [I use the word woman because historically people used to base a woman's physical maturity on--you know, her physical maturity, instead of on an arbitrary age.]"
"No amount of training can make an elite female runner run faster than an elite male runner, or an elite female lifter stronger than an elite male lifter. Similarly, women will always, for example, make decisions based on feelings rather than logic," Smith writes in the same post.
"Men and women are different when it comes to production, even in a service/information economy. Testosterone creates drive and aggression, which translates into professional performance. Because of this, a graph of production for the whole population would be a Pareto distribution, and you would find far more men at the right side than women," Smith states on the blog.
Smith then goes on to say women's bodies become less valuable after 30, so women should seek a husband and have kids as soon as possible.
In the post "Counsel to young people about spouse selection," Smith also offers advice to men seeking wives.
"If you are in your peak, seek a woman in hers. This means you should be dating women who are as close to 18 as you can get, whatever age you are," Smith writes. "...the younger a woman is, the more likely she is not jaded, the more positive energy she will have, and the more years you will have with her before rolling the dice of the hormonal changes that might turn her into a completely different woman than you married."
"If you are a man, any woman you marry will either be a mom or a daughter to you. If you are a woman, any man you marry will either be a dad or a son to you," Smith writes in "You marry a dad, a son, a mom, or a daughter."
"In an ideal situation, the potential husband is fulfilling the role of father, the potential wife is fulfilling the role of daughter."
Smith also writes blog posts about topics other than women and their value. In the post "Misplaced outrage," Smith says child sex trafficking and pedophilia are due to modern "sins" like the acceptance of queer and transgender people.
"You can't be surprised at the pedophiles when you support same sex relationships. What principle allows you to do that? Age of consent, which is both clearly a social construct and also a relatively recent one? How long do you think the magical edict of 18 will last in a society that has already denied God's law, universal psychology [1], and basic biology?" Smith writes.
"You can't be surprised at child sex trafficking when you believe that a 6 year old can choose whether they are a boy or a girl or a 14 year old girl can decide to have an abortion," the blog post states.
"What percent of prostitutes were kidnapped at 12 and held at gunpoint for their whole career? Do they exist? Certainly. But is that who we are talking about when we use blanket terms like 'sex trafficking' (which includes, by the definition of those who make the websites, everyone whether of age or underage, consenting or not). There is a reason we aren't talking about 'sex slaves'. Slaves can't leave. Prostitutes choose not to," Smith writes.
In the same vein, Smith writes in a post called "Homosexuality": "Homosexuality was forbidden by the law of Moses, and is still a sin today, because a person living in a homosexual lifestyle can't progress as far as one who is not in joy, happiness, etc. It is not always the case that God's commandments are borne out by scientific evidence. In this case, there is abundant evidence that practicing homosexuals are much more likely to suffer from depression, anxiety, and other mental health problems, kill themselves, etc, than heterosexuals."
A post entitled "Young women say they want to make an impact" talks disparagingly about the students Smith teaches and employs.
"By and large 18-20 year olds today are ships with no rudder, no bearing, and no sails. Of course, there are exceptions, but I am generalizing here. I should not have been surprised, I suppose. I've employed dozens of people of those currently 18-26 or so, and I could not have a lower opinion of these people. With very few exceptions, these people are ill equipped for life in ways that probably are beyond fixing," Smith writes.
He was disappointed in his male students, who Smith says have done nothing with their lives but go to public school, play video games and watch porn. Smith writes he was disappointed in female students for different reasons. While he was glad to see they wanted to make an impact, Smith writes he feels saddened they wanted to do so by "going to do what every young women does: travel the world, sleep with a dozen young men, get tattoos and a nose ring, gain some weight, die [sic] their hair blue and pink and gray, get a career, and stay single until they are over 30, at which point they will settle with the first guy they can find that makes six figures."
According to the views shared on Smith's blog, the way for women to make a positive impact in the world, serve God and find personal fulfillment is by starting a family.
"Intentionally raising kids in a topsy-turvy world," another post on "Upward Thought," goes into more details about how Smith views education.
"One false idea widely promoted is that girls should experience the same kind of education as boys. Many reasons are given for this. Here is the reality: If you follow that advice, in addition to all the challenges women face in finding a husband worth marrying and learning the difficult lessons needed to be a good mother (all of which they will have to do with many years less preparation due to filling that time with vocational training and/or working), you are creating an almost insurmountable barrier of forcing your daughter to choose between the quick-and-easy reward of what tend to be simple jobs that women take and the hedonistic pleasure that money buys and the long haul, mundane role of a wife and mother. If you think many girls choose correctly when presented this choice, look around. While most eventually recognize the Faustian bargain they have made, they almost never do so until they are 30+ and their ability to qualify for a good husband and learn what it takes to be a good wife and mother is exceedingly reduced," Smith writes.
Yet another post on the blog, titled "Muslim Immigration: Stacking the deck to fulfill prophecy," claims Islam is an inherently violent faith.
"The fact is that one cannot both be a peaceful Muslim and a faithful Muslim. In other words, Muslims are only peaceful to the degree that they are not Muslims," this post reads.
While, according to students, Smith keeps a seating chart and wears a mask in accordance with the University's COVID-19 guidelines, he still writes about death and COVID-19 on the blog.
"Almost everyone who is dying from coronavirus has pre-existing conditions. This doesn't make their lives less valuable, but every one of them would already be dead, sometimes decades ago, in any other time in human history. They have already received a massive blessing of extended life. They have already received more mercy than they were due," Smith writes in the post "Why should God stop coronavirus?"
According to the syllabus, Smith offers no option for remote learning in his computer ethics class. Multiple students and faculty members, while disturbed by the blog's contents, said Smith does not bring these views into the classroom.
<THE REACTIONS>
Esther Lyon Delsordo, a senior computer science major, said she worked for Smith in summer 2020 at his business, Prime Labs. The company develops tools for analyzing chemical samples by measuring specific light spectrums. Since the end of the internship, Lyon Delsordo said she has avoided Smith, and she wasn't surprised to hear about his derogatory posts about women.
"Everyone in the office was kind of afraid of him," Lyon Delsordo said. The employees were more playful when he wasn't around, she said, and serious when he was there. That wasn't the case at Lyon Delsordo's other internship.
While Lyon Delsordo worked at Prime Labs, she said there was one woman working full time as a software engineer. She said all the other women at Prime Labs were interns or grad students.
Betta Lyon Delsordo, a senior computer science major and Lyon Delsordo's sister, said Smith's name came up frequently in discussions about sexism in the department.
"He's the name that comes up again and again when talking about the environment," Betta said.
Rachel Burnett, a female student in Smith's computer ethics class this semester, said she hasn't noticed any gender-based discrimination in Smith's class. She did express frustration with his teaching, saying lectures were based on Smith's own opinions and life experiences rather than staying focused on computer ethics.
Kerrigan McHood interned at Prime Labs in the summer of 2021.
McHood said working at Prime Labs was a good experience. While she said she assumed Smith held conservative views, she thought these views would be relatively normal.
She said Smith was always supportive of her and wanted her to continue working at Prime Labs. She is currently in Smith's ethics class.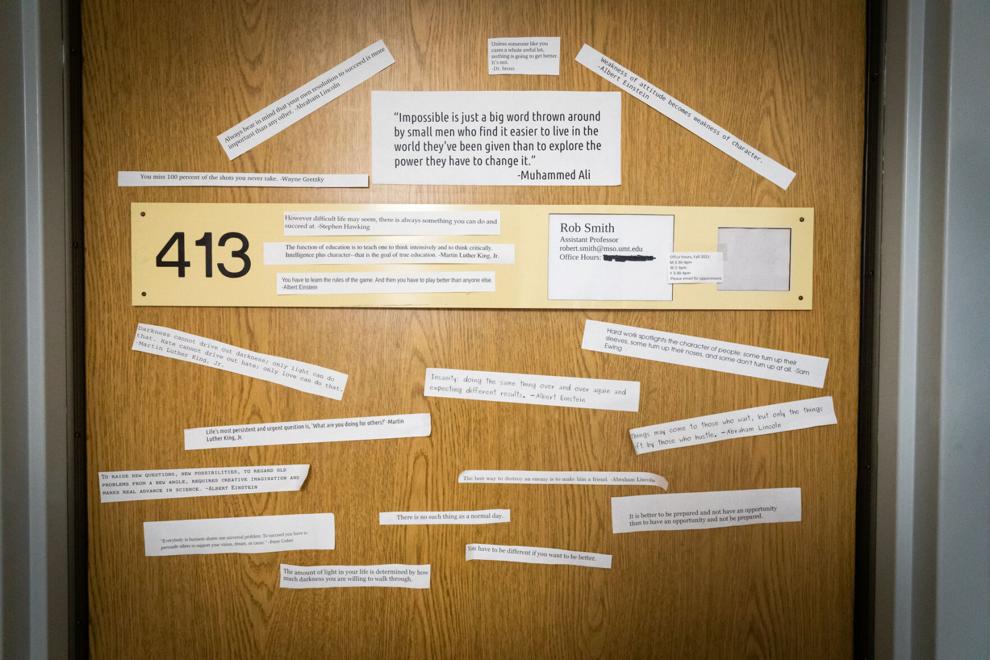 Computer science chair Johnson compared reading through Smith's blog to venturing into a cesspool.
"I cut myself off. I can't look at it after a certain amount of time," Johnson said. "It's been one of the most difficult occurrences of my professional career here."
"I'm totally disturbed by his opinions," Johnson said. "We're a public institution. We're here to serve all members of the public."
Johnson said he hadn't seen any of the beliefs Smith writes on the "Upward Thought" blog expressed at work.
The six faculty members of the computer science department, two of whom are women, alternate which classes they teach. While Smith is teaching required classes this semester, he sometimes teaches optional courses. Lyon Delsordo was able to avoid taking Smith's classes for the last two years, but Doug Brinkerhoff, another faculty member who has been vocal about the blog, said it would be unlikely for a student majoring in computer science to not have to take one of Smith's classes.
Another computer science department faculty member, Travis Wheeler, wrote in an email that he was made aware of the blog and YouTube channel, but Smith's writing wasn't reflective of the department or University.
Patricia Duce, a lecturer in the Computer Science department, has had an office next to Smith for the last six years. His blog caught Duce off guard.
"It's hard to believe someone was making these comments about women," Duce said.
She started checking in on students to make sure no one felt threatened or discriminated against. Duce said she mostly checked in with female students — her main concern — and mentioned the blog to some of them.
"It's disturbing for them. They're shook up about it," Duce said.
Duce is also concerned about the male students in the computer science department. She said the faculty are role models for students, and she doesn't want men to think Smith's opinions are acceptable.
Julie Baldwin and Matthew Semanoff, associate deans of the College of Humanities and Sciences, said their initial reaction was disgust at Smith's views. They said his blog posts and videos share messages that are antithetical to the college's values of an open, inclusive campus environment.
Baldwin said the College of Humanities and Sciences wants all students to feel like they belong, and that includes making women in STEM fields feel welcome.
"Our responsibility is to ensure there's a respectful environment in classrooms and in workplaces," Semanoff said.
<GENDER IN THE COMPUTER SCIENCE DEPARTMENT>
Only 22% of the students in the computer science department are women. Johnson said the gender gap has been a concern for his entire 20 years in the department.
The department has made several efforts to close the gap. For example, it reached out to other departments for freshmen to take introductory computer science classes. The department also has a club that sends women to a celebration of women in computing every year.
"Technology has the power to change the world, and women need to be a part of that," Betta said.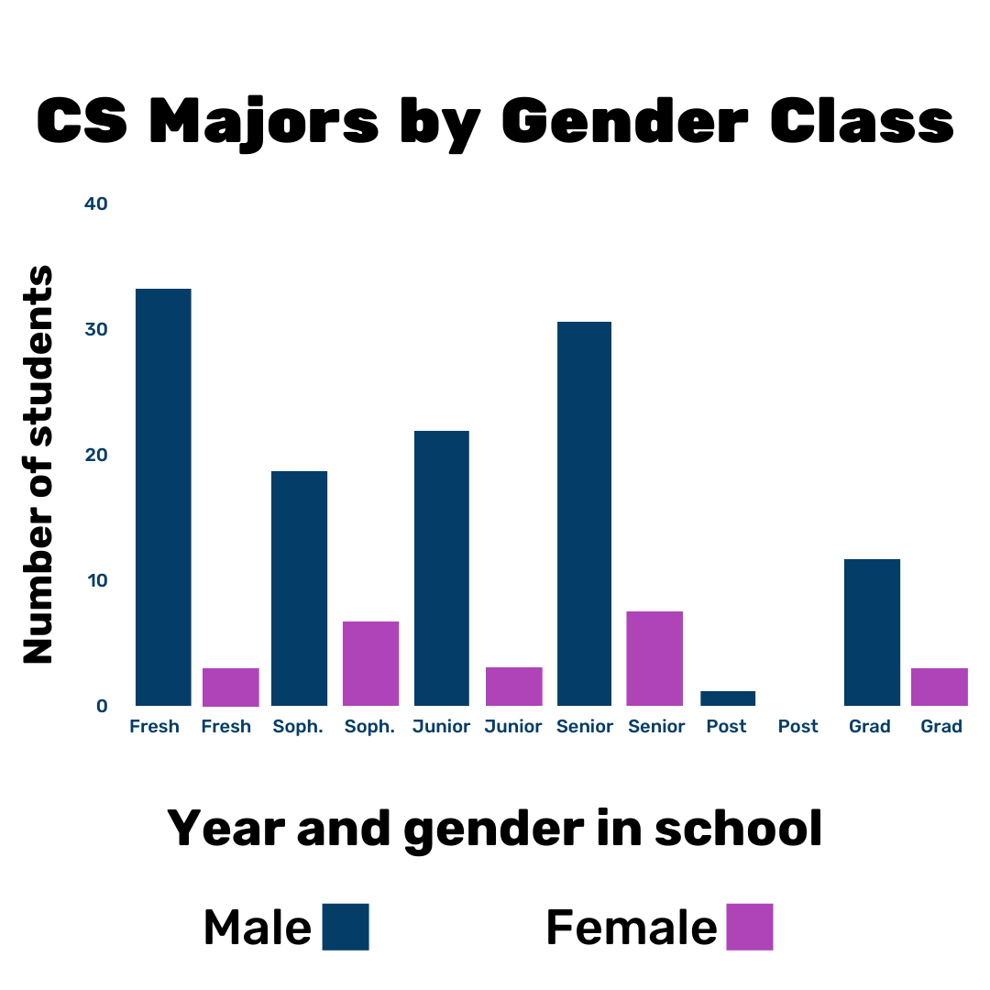 But still, the gap exists. Duce, one of Smith's coworkers in UM's computer science department, teaches a web development class with 30 students, only three of which are women.
According to Esther Lyon Delsordo, the students in computer science have mixed reviews on Smith.
"Some students worship him," Lyon Delsordo said.
Smith used to be the point of contact for internships, but that position has been taken over by Duce.
<THE NEXT PHASE>
Sometime between the evening of Sept. 28 and the morning of Sept. 29, Smith took down every post on his blog. On Sept. 29, he made a post entitled "The next phase of this blog."
"We now live in a world where censorship of ideas leads to unprecedented homogeneity of thought. Diversity of ideas provides potential value when reality changes or turns out to be different than we thought. When we suppress ideas different than what we already believe, we not only limit what we can become to what we already are, we make ourselves unnecessarily vulnerable to unanticipated challenges," Smith writes in this post.
In an email Sept. 28, the Kaimin requested to meet with Smith for a conversation about ethics. Smith declined. When the Kaimin went into further detail about the story, making reference to his blog, Smith refused to comment again, claiming he'd been deceived. In a follow-up email, the Kaimin told Smith reporters would stop by during his Friday office hours. He again refused to comment, and was not at his office Friday during his scheduled hours. The Kaimin returned to Smith's office hours and visited Prime Labs again to try and get Smith on the record, but Smith was unavailable.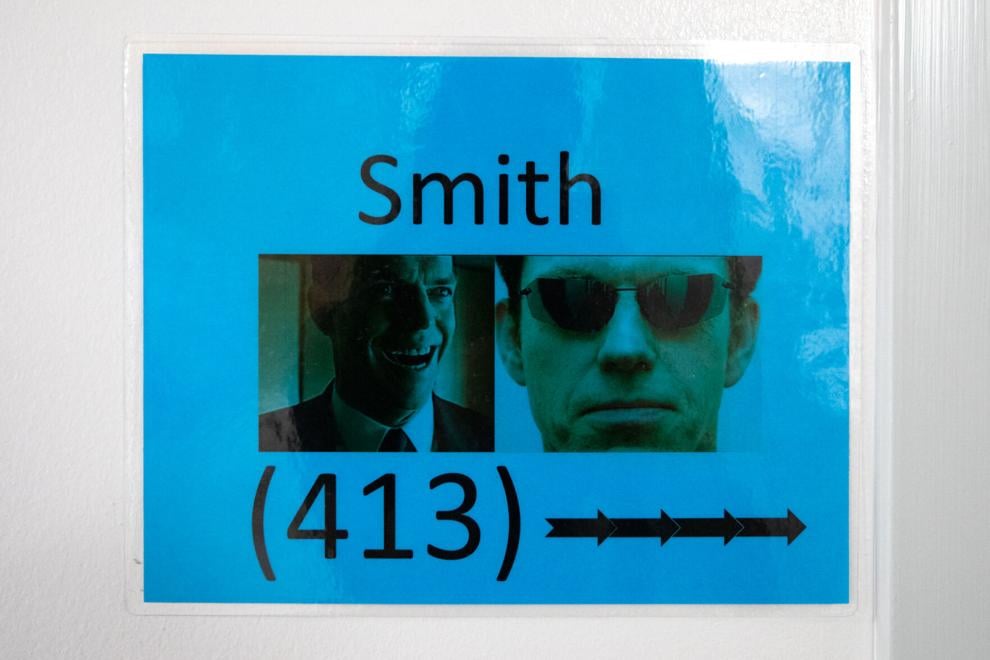 Though Smith's online opinions run totally contrary to what UM stands for, said Kuntz, UM's director of strategic communications, his blog and video commentary is protected speech.
"A tenured faculty member has quite a lot of latitude to say and think what they want," Johnson said. "However, this case is pushing the limits of tenure about as far as they can go."
Duce agreed with Johnson, saying she is unhappy she has to continue working with Smith after discovering the blog.
"I find it just disgusting that I'm going to have to continue to work with someone who's posting comments degrading women," Duce said. "I wouldn't be comfortable as a student taking a class from someone with these beliefs about women."
"His behavior will get very close scrutiny," Johnson said. "He'll have to be removed from as many public-facing roles as possible."
Kuntz said removing Smith from those roles could be possible if Title IX found he'd violated students' rights. The University announced on Oct. 12 that it would be pursuing an investigation.
Duce and Brinkerhoff both said they hoped the University would do a thorough job of looking into Smith's blog and videos. Brinkerhoff added he hoped Smith's free speech rights would be balanced with students' best interests.
Associate Dean Semanoff said he'd only known about the blog since around Sept. 17, and Associate Dean Baldwin didn't find out about it until she returned from a research trip to find the Kaimin's interview request in her inbox. The two said they were looking for guidance from the Provost's office, Title IX and UM Legal Counsel on University policies and procedures with regard to protected speech.
University of Montana President Seth Bodnar announced Monday he'd pursue "immediate action" in response to a Montana Kaimin article detailing …
A University of Montana computer science professor was placed on paid leave Tuesday while UM conducts an investigation on his controversial bl…