Cody Marble spent nearly half his life in the criminal justice system for a crime he did not commit. 
At 17, he was arrested and placed in the Missoula County Juvenile Detention Center for marijuana possession. After spending five months in the center completing a youth drug treatment program, Marble was released. Four days later, he was arrested and charged with the rape of a 13-year-old inmate.
But the rape never happened. False testimonies and ineffective assistance of counsel led to his wrongful incarceration. After his conviction in 2002 and probationary release in 2005, Marble's accuser recanted his story multiple times and numerous guards, inmates and counselors insisted that Marble was innocent. 
Despite this, Marble's innocence was not proven in the eyes of the law until January 2017. For 14 years, from age 17 to 32, Marble did not have his freedom.
Marble's father, Jerry Marble, was one of the thousands of family members who have contacted the Montana Innocence Project, an organization that provides free legal representation to those wrongfully imprisoned in court, using DNA testing and extensive research to exonerate the innocent. It's one of 67 such projects worldwide. 
His father hired as many lawyers as he could, Marble says. He visited him. He believed him. He knew his son, and trusted in that knowledge. But it still took 14 years to prove that his son was innocent.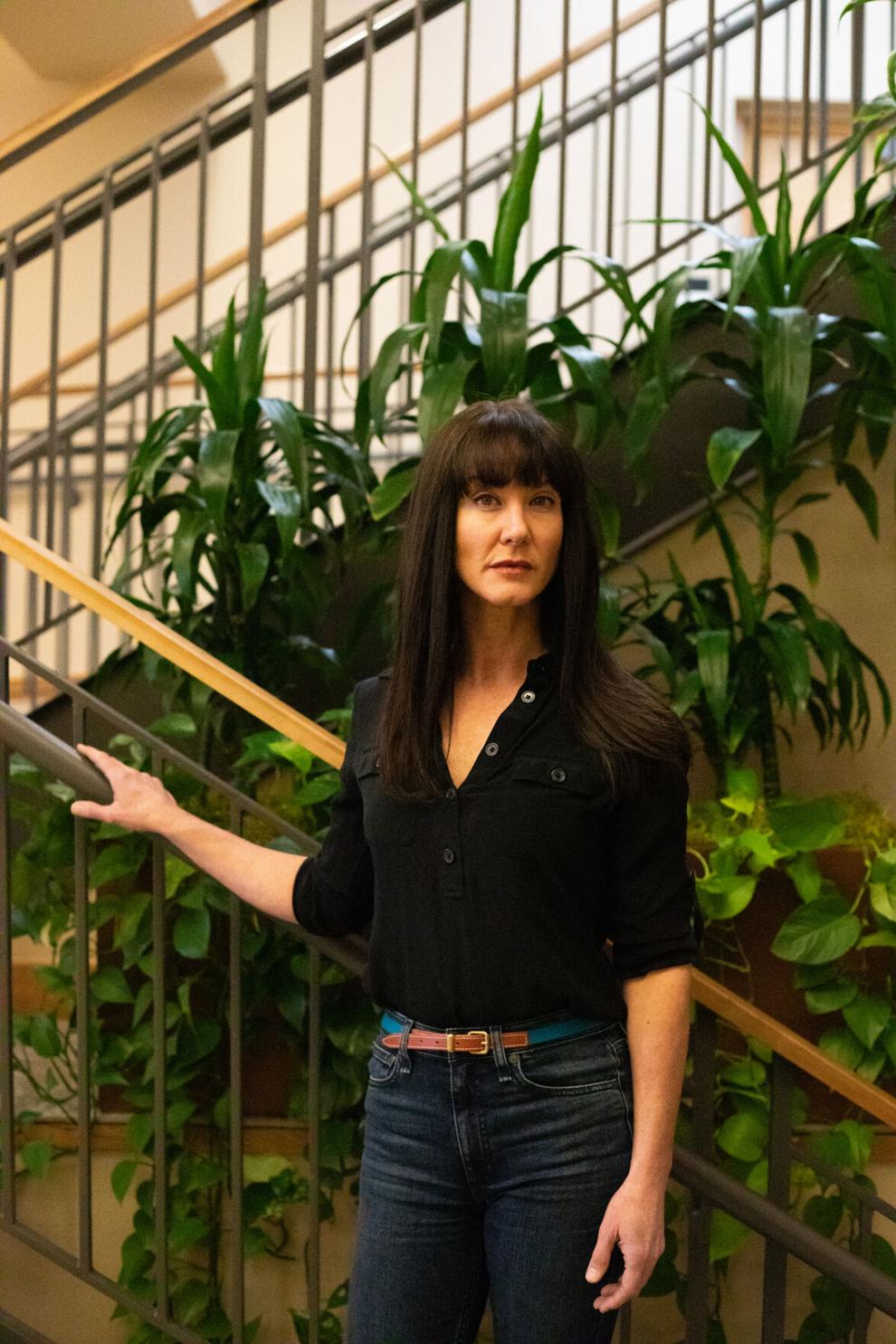 As someone who's formed a career fighting for justice, Amy Sings In The Timber knows the power of listening. 
For those wrongfully convicted, communication is a lifeline to their freedom. For their families, communication is hope.
"People are desperate to have someone listen to them about their loved one," says Sings In The Timber, the new executive director of the Montana Innocence Project. Throughout her career as a lawyer and an advocate, she has spent hundreds of hours honing her ability to listen, creating change along the way.
Although it's impossible to determine, several national studies estimated that between 2%-10% of those in prison have been wrongfully convicted. Meaning, of the 2.3 million currently serving time in federal and state prisons, between 46,000 to 230,000 are potentially innocent people, imprisoned for a crime they did not commit.
Marble is one of seven Montanans the Montana Innocence Project has exonerated since its founding in 2008. 
"Our applicants for legal services are often seeking our services as a last hope," says Caiti Carpenter, legal director of the Montana Innocence Project. Over 850 innocence claims have been reviewed by the Montana Innocence Project. Together, the seven exonerees spent over 100 years serving time for crimes they didn't commit, including rape and murder.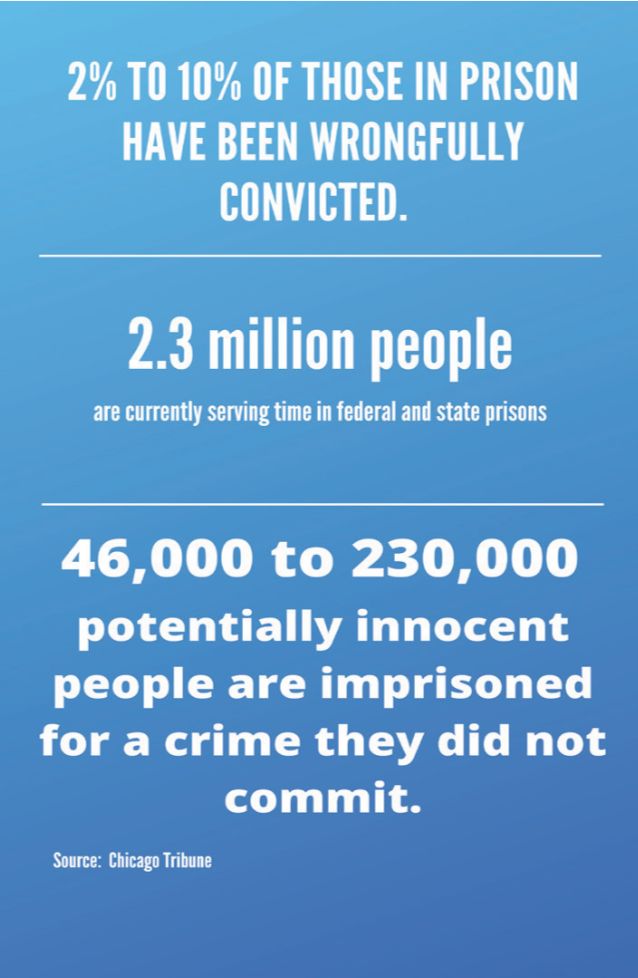 It's an accomplishment Sings In The Timber is building on. She uses her previous work in non-profit and justice organizations to create an institution capable of protecting the innocence of even more Montanans. 
---
Sings In The Timber is not from Montana, but the state is where she feels at home. 
Born and raised in Milwaukee, a descendant of the Lac du Flambeau Band of Lake Superior Chippewa, she attended the Milwaukee Institute of Art & Design and University of Wisconsin, graduating with degrees in anthropology and Native American studies. Sings In The Timber knew she wanted to go to law school, and she knew she wanted to practice Indian law. After looking at traditional Indian law schools in Arizona and Oklahoma—and discovering that UM had extensive offerings in Indian law and an Indian law clinic—she decided that UM was her first choice. She moved to Missoula in 2002 and graduated from law school in 2005.
After graduating, Sings In The Timber worked with friend and former Montana Superintendent of Public Instruction Denise Juneau in the office of Indian Education. There, she and Juneau worked to ensure that Native students received the same quality of education as their non-Native peers. They also traveled around the state, making sure Montana's public schools were properly educating students about Native American heritage as mandated in the state's constitution. 
Afterward, she worked for multiple justice organizations. First as the inaugural director of the Montana Justice Foundation, building the organization up for eight years, and then joining the board of directors for the American Civil Liberties Union of Montana. 
Sings In The Timber made the decision to move her young family back to the Midwest, settling in Chicago in 2015. She and her husband wanted to be closer to his family, especially as they raised their two young children. But she always knew she wanted to return to the West.
By 2019, Sings In The Timber was raising her children alone. Her marriage had fallen apart. She didn't have the support she needed to raise her family alone. She knew she couldn't stay in Chicago. 
She had two options: She could move back home to Milwaukee, or she could move back to Missoula, leaning on the support of her found family. 
The decision to move back to Missoula is not one Sings In The Timber has ever regretted.
"We were sort of raising our kids together," Sings In The Timber says. Now, she juggles helping her kids with school projects, sitting on the board of Open Air Montana and running the Montana Innocence Project. 
Sings In The Timber had been involved with the Montana Innocence Project even before she took on her official role as executive director. 
In 2008, when the Montana Innocence Project was founded, Sings In The Timber had been working as the director of the Montana Justice Foundation for a year. The newly-created Innocence Project approached the Justice Foundation for funding, opening up the potential for a new partnership for the foundation, which had never funded an Innocence Project up until that point. 
It took time and board education to get the Justice Foundation's full support, recalls Sings In The Timber. The Innocence Project focused on getting justice for people post-conviction, but many of the issues they faced were the same as the Justice Foundation, which primarily focuses on civil legal aid. 
The partnership made sense on many levels. Both organizations routinely focus on indigency claims, in which a defendant cannot afford legal counsel and is assigned a court-appointed attorney. 
After receiving board support, the Justice Foundation—with Sings In The Timber leading—provided grant funding to the Innocence Project. This let Sings In The Timber see the project up close as she conducted on-site visits, reviewed further applications for funding and completed program evaluations.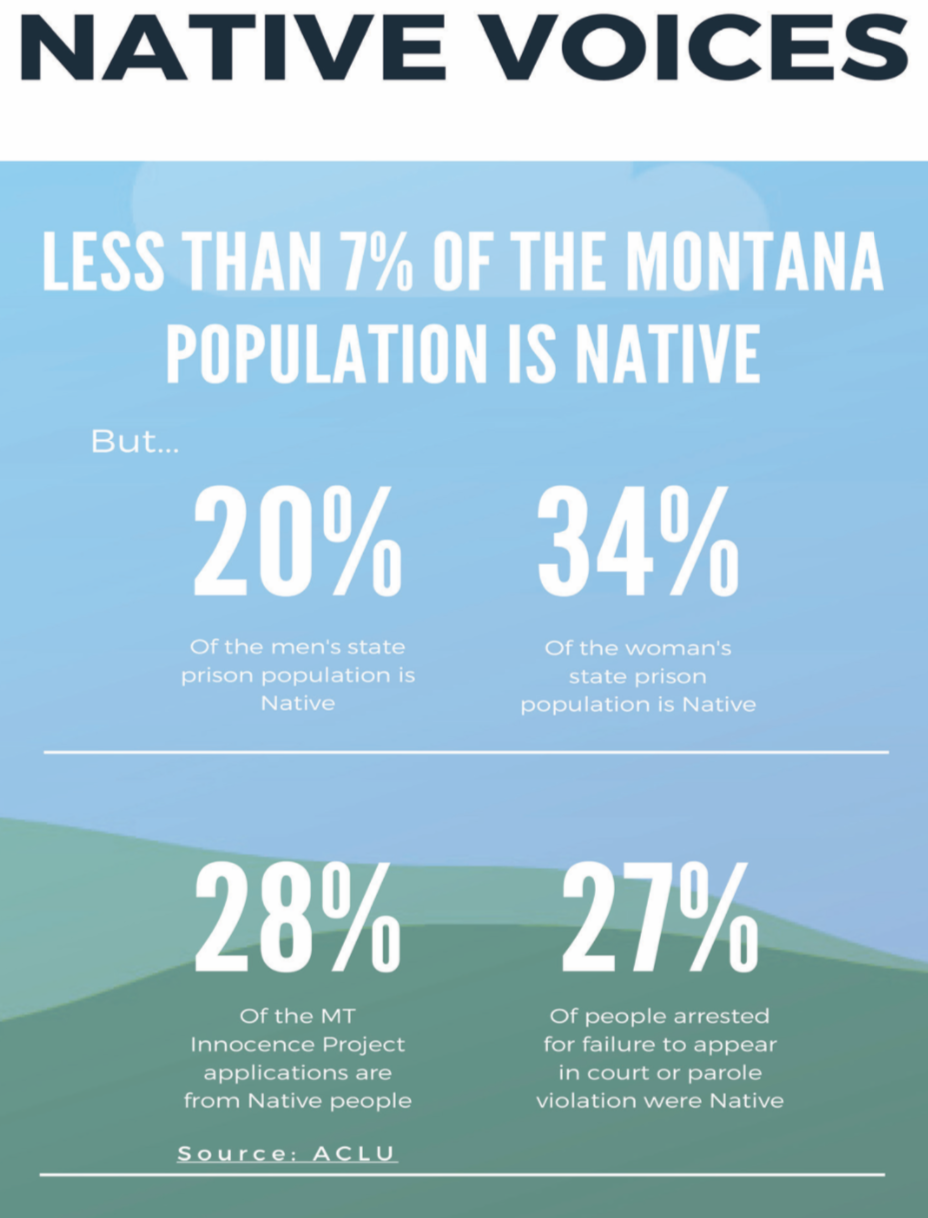 It was during these visits when Sings In The Timber got to know the Montana Innocence Project's founding team. And in a way, she became a vital part of their organization, long before she ever even formally joined. 
---
Sings In The Timber became the executive director of the Montana Innocence Project in January 2020. She worked as a private consultant in Missoula for only five months before being recruited for the role. 
When Sings In The Timber left Missoula for Chicago in 2015, the Montana Innocence Project had an executive director, a legal director, a staff attorney, a part-time volunteer coordinator and a part-time development and communications director. The project was active in the law school's clinical programs and had a robust relationship with the School of Journalism. When she returned, there was an executive director, a legal director and a quarter-time staff member maintaining their website. Lack of resources and funding had depleted the organization's staff. 
Sings In The Timber "hit the pause button." She completed a full program evaluation immediately. Now, there are three full-time staff members, Sings In The Timber as executive director, Caiti Carpenter as legal director and Randi Mattox as development and communications associate. 
The Montana Innocence Project currently contracts out for their investigations, but Sings In The Timber hopes that once the program is able to start hiring interns again, meet in person and receive vital funding, the Project will have the resources they need to do their necessary and essential work.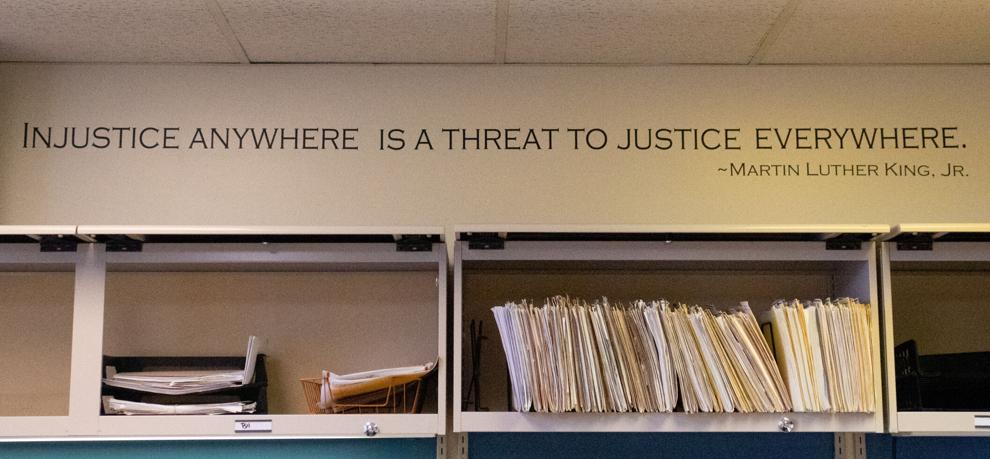 ---
Sings In The Timber says that one essential part of her role at the Montana Innocence Project is providing justice for wrongfully convicted Native American people.  
She remembers telling a local attorney that she wanted to practice Indian law. She was entering the legal workforce and attending legal mixers, trying to find opportunities to gain relative experience in her new field. 
"Are there a lot of opportunities to practice Indian law in Montana?" the attorney asked. 
For context, there are 12 recognized tribal nations in the state of Montana. There are seven recognized reservations, covering over 675,000 acres, according to the Montana Office of Public Instruction. 
Less than 7% of the population in Montana is Native American. But according to the ACLU, Native men make up 20% of the population in men's state prisons and Native women make up 34% of the population in women's state prisons. 27% of the people arrested in the state for failures to appear in court or parole/probation were Native. 
About 28% of the applications the Montana Innocence Project receives come from Native people.
"Indigenous justice is a priority for this organization," Sings In The Timber says. 
There are physical barriers to pursuing Indigenous justice in Montana. Most of Montana is rural, meaning the time someone may spend researching and asking questions may be dedicated to traveling across the state. 
"There are a lot of additional resources if you don't have to spend two days driving," Sings In The Timber says. 
However, the Innocence Project representatives need to be physically present in order to  form relationships with people in the state's remote communities. "You have to have relationships and build trust before you start asking questions and getting in people's business," Sings In The Timber says. 
She says it's an uphill climb. But she isn't discouraged.
---
The Montana Innocence Project also leads efforts in lobbying for bills protecting the rights of exonerees working to stop injustice at the source. 
"We are working on not only providing free legal support to people who are innocent of the crimes for which they are convicted, but also raising awareness of the drivers of wrongful convictions, and building coalitions to affect legislative change to correct and create laws that support a just and fair legal system," Carpenter says.
On her birthday this year, Sings In The Timber was attending a House Appropriations meeting to advocate for Montana House Bill 92. The bill, which is currently working its way through the Montana Legislature, would allow exonerees to receive compensation for the years they were wrongfully convicted and imprisoned. 
The bill also protects the state from individual lawsuits from exonerees. It would provide relief for exonerees and simplify the compensation process for them, while also protecting the state from lawsuits deemed exorbitant, despite the state's own personal wrongdoing in wrongfully convicting and incarcerating innocent people. 
One such lawsuit comes from Richard Raugust. Raugust spent 18 years in prison, with a life sentence looming over his head. He was freed in 2016, becoming the Montana Innocence Project's first freed client. 
Raugust sued the state for $97 million in 2019. The state denied his claim in 2019, but Raugust's suit is ongoing. 
To receive compensation from House Bill 92, a person who was wrongfully convicted would argue their innocence in front of a jury in the court that initially convicted them. If they were exonerated, they would be eligible to receive $60,000 for each year they spent in prison. They would also be able to receive $25,000 for each year they were on probation or parole.
If House Bill 92 was in place when Marble, who was wrongfully convicted of rape, was exonerated, he would have received approximately $455,000.
Instead, Marble was given nothing. 
When he was released in 2005, Marble was close to homelessness. Without the support of his family, Marble says he would have gone straight from prison to the homeless shelter in Great Falls. Even now, he's living in Conrad instead of Missoula, saying, "I couldn't afford to live in Missoula if I wanted to."
When he was released from prison, he had no job skills and little to no way of making money. His life, he says, was taken from him.
"I'm not 17 anymore," Marble says. 
Marble has chronic pain in his neck and back from the years he spent sleeping on bad beds in worse conditions. 
His father wrote in a 2019 letter to the Missoulian: "I have witnessed first hand the struggles that my son Cody has had to contend with. I've listened to his nightmares. I've witnessed his financial and health problems that are directly related to his wrongful conviction. I've tried to help all I can, but my resources are limited." 
Marble has had no compensation from the 14 years he spent serving time for a crime he did not commit. The years he spent with his innocence in question and life in limbo can never be replaced.
"They're never going to be able to fix the wrong they did," Marble says. But this compensation bill is a start. 
Sings In The Timber has seen a groundswell of public support for the Montana Innocence Project, particularly after the public reckoning of racial and criminal injustice sparked last summer. 
---

Marble finds hope in the knowledge that more and more people are becoming aware of wrongful convictions. "It's kind of becoming a fad," he says, referencing the countless shows and documentaries that focus on wrongful convictions. Now Marble helps out at the Montana Innocence Project when he can.
He may not be able to get back the years he lost. But now, he has a life. A life, Marble says, that was saved by the relentless, unwavering support provided by the Montana Innocence Project. 
Says Sings In The Timber, "If folks don't know the reasons why someone is wrongfully convicted, we aren't able to advocate and change the situation that put them there."