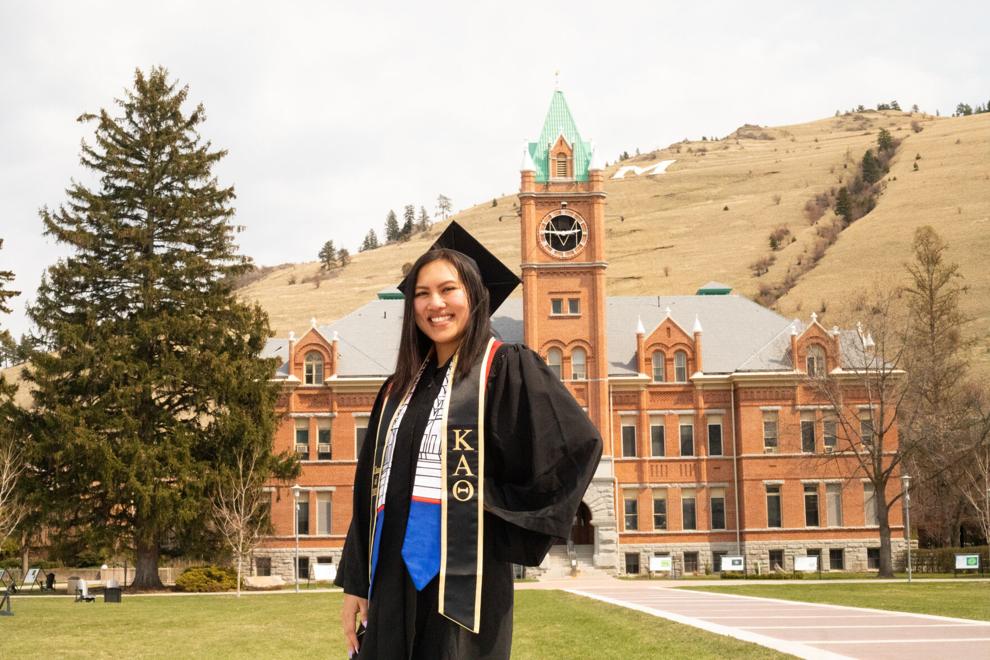 Asia Chhon has a few things to finish up before she walks across the University of Montana's stage on May 1: a 10-page proposal for her development studies project; a capstone lobbying for medicated assisted treatment in Montana; the last few weeks of her internship with court advocates for minors.
And she wants to make sure it's all done before her family members come up to Missoula for her graduation. All 35 of them.
"They're renting a ranch out of town," she says. "They've never been to Montana before, and they wanted to come and see it. And this is the perfect time. Even though a lot of them can't attend my graduation, they can still livestream it."
Chhon, a 21-year-old sociology major from Oakland, California, is a first-generation college student earning certificates in International Development Studies and with the Franke Global Leadership Initiative (GLI). She's the oldest of four siblings — the oldest of her whole extended family's children, too — and, as a junior, she's graduating early.
"I was the first one to go to college," she says. "A lot of them were looking up to me. And my parents said, 'You're going to make change in this world. You're going to do something. And all of your cousins are going to follow.'"
This May, UM graduates get to celebrate the end of their college careers with an in-person commencement ceremony — something that two years ago would have been considered an automatic given. And one year ago, a practically unthinkable concept.
For graduates of the class of 2020, who lost the last two months of their final year and celebrated virtually while isolated in their homes, the 2021 commencement they are invited back for is a chance for a do-over; a one-year-late celebration of their degrees, earned while the world lurched to an unprecedented stop.
For graduates of the class of 2021, who lost the entirety of their senior year to virtual learning, distanced classrooms and the more-common-than-not likelihood of COVID-19 exposure, the 2021 commencement is a chance to be together with friends and classmates again — to celebrate in a way as close to normal as can be.
And for first-generation students like Chhon, an in-person graduation ceremony carries much more weight than ever before. So she's celebrating with her family members, and another sort of family, too: her advisers from UM's TRIO Student Support Services.
---
Darlene Samson, a first-generation college graduate herself, is the director of The University of Montana's TRIO program. Federally funded, the UM program works with a maximum of 375 first-generation, low-income and disabled students every year, providing advising and peer mentoring, as well as supplying grants and funding for textbooks and class materials when students might need them.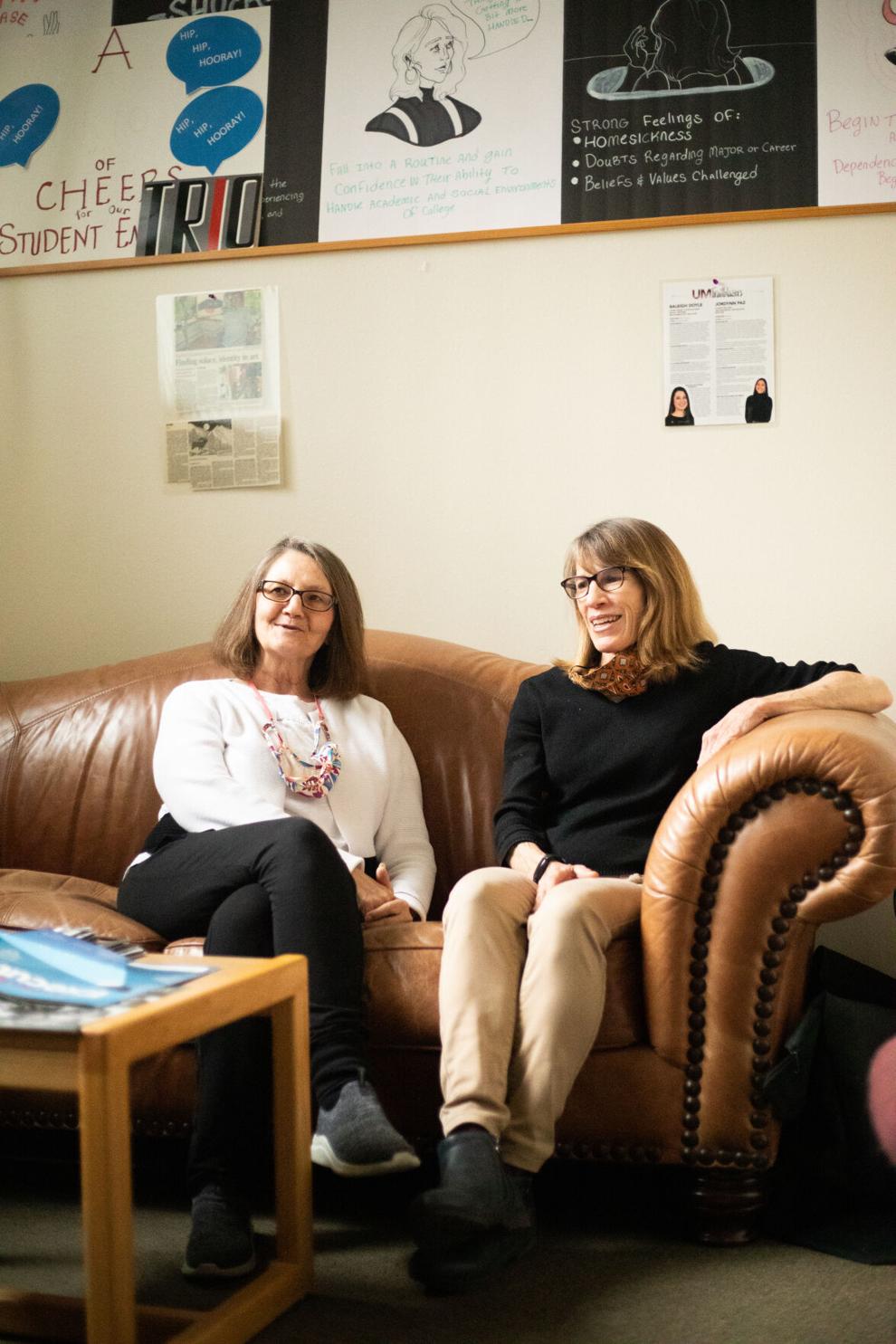 When it comes to talking about her students, Samson wears her heart on her sleeve. She says it was especially hard for her TRIO graduates in 2020, who spent their college careers working hard to be some of the first in their families to earn their degrees, only to be robbed of the chance to celebrate the effort they'd put into their degree.
"My heart just bleeds for those students who couldn't have that celebration," she says. "Especially last year, because they were so looking forward to it. I can remember working with one student, and he was just so let down because he had struggled to get through his degree, and then there was nothing."
Samson says graduation ceremonies mean more for first-generation students like the ones TRIO works with. Coming into college without the same support a student might get from parents who have degrees, attending university as a first-generation student can seem incredibly daunting, and the immersion into college life isn't without its challenges.
"You don't know what you don't know as a first-gen student," Samson says. "You don't know the questions to ask, you don't know where to go. And that's the sort of stuff we address in TRIO in a lot of different ways."
Chhon first saw a poster for TRIO Student Support Services when she was a freshman, as she was leaving the Food Zoo. As a first-generation student from an immigrant family, Chhon figured she would qualify, so she decided to apply.
In her three years at TRIO, Chhon says she always felt supported by her advisers, both academically and financially. With TRIO, she received grants and funding that helped her pay her way through her three years at UM.
"I came from a low-income family who struggled to live in America. I come from an immigrant family who came to America with nothing," she says of her Chinese and Cambodian parents. "The fact that I'm sitting here at a university, and got a lot of it paid for too — I did sort of come from the bottom, you know? I want to be able to make a name for myself."
Samson wishes she could do more for her students, who currently have to communicate with their TRIO advisers remotely or socially distanced, but she's still proud. First-generation students face an uphill battle of financial barriers and academic challenges at colleges where everything can feel like unfamiliar terrain. Despite everything, including a pandemic, the TRIO graduation rate for 2020 was 53.6% — the highest it's been since Samson began working with TRIO 29 years ago.
"Graduating with a degree opens up a lot more opportunities than I think some students understand," Samson says. And she's determined to make sure that graduation rate keeps going up.
---
With May 1's commencement ceremonies fast approaching, Gina Di Domenico, the event coordinator for the UM Office of the Registrar, is tasked with coordinating the ceremonies and the unprecedented conditions that come with them — a daunting task as the University prepares for the estimated 1,400 students, and their designated four guests each, who have RSVP'd and plan on spending the day at Washington-Grizzly Stadium.
"It was really heartbreaking last spring to have to cancel," Di Domenico says. "And we definitely shared in that heartbreak with the class of 2020. We're excited to celebrate double-time in May."
Divided into two ceremonies, which split the campus's colleges into morning and afternoon graduations, this year's commencement is a beast of its own. Di Domenico and her office have conducted meeting after meeting with the Missoula County Health Department and the University's COVID-19 task force. The team's risk mitigation plan has been approved by the county and, barring any sort of catastrophe, she feels confident in the May commencement arrangements.
Only students who have RSVP'd in advance can be at their respective ceremonies. All graduates and attendees will be sitting socially distanced and masked, and guests are required to submit contact information for potential contact-tracing efforts, should the Missoula County Health Department need to reach out to close contacts in the event of a COVID-19 cluster.
In a normal year, the University offers a smaller fall commencement ceremony as well. But last winter, when fall 2020 students graduated, COVID-19 vaccine distribution hadn't even begun. So another set of graduates didn't get to walk, instead receiving diplomas in the mail and celebrating virtually. When the Office of the Registrar sent emails inviting graduates to plan for a ceremony in May, they reached out to fall 2020 grads as well.
Last year, 1,863 UM seniors celebrated their 2020 graduation on couches in family living rooms or alone in their apartments. They took pictures of themselves on their computers, with a virtual Main Hall and Mount Sentinel background. They wore their caps and gowns with the people they chose to isolate with. Not the cohort they'd spent the last four years with.
For this reason, says University of Montana director of communications Paula Short, it was important to the UM administration to make the 2021 commencement for grads new and old. 
It was tricky, because planning something as large as a commencement ceremony affects more than just the students who walk. Short says the University administration had to navigate a series of go/no-go dates set in mind — deadlines by which they would have to make the difficult call whether or not to cancel in-person commencement. Because families need to plan, too. Parents need to reserve hotels and buy plane tickets or plan road trips.
"It's no good to say, 'Hey, you know what, we're gonna wait until the day before and it's gonna be a game-day decision,'" Short says. "You can't do that with commencement because there's just too many logistical pieces, so we just kept looking at trends, and we just got to a point where it's like, 'This looks like it's going to be okay.'"
And Short says she hopes grads from both 2020 and 2021 choose to walk on May 1, after everything they've worked through, and to make up for a celebration they might have missed out on.
"It is such a pivotal and memorable and powerful moment, and to not have the opportunity?" Short says. "It doesn't surprise me that someone would come back to walk, especially in a global pandemic."
---
 Brittney Hunter's diploma stayed in its envelope for a long time after she got it in the mail last December. 
It didn't feel real. Not her last semester, not her finals, not her fall 2020 graduation. She had spent the past semester-and-a-half in Missoula finishing her degree virtually while raising three young children with her husband. Her family was there when she received her diploma from the mailbox, and she was grateful, but she wishes she could have celebrated more.
"It really did suck that I wasn't able to make a celebration of it. It felt like it didn't really matter if I got it in the mail," she says.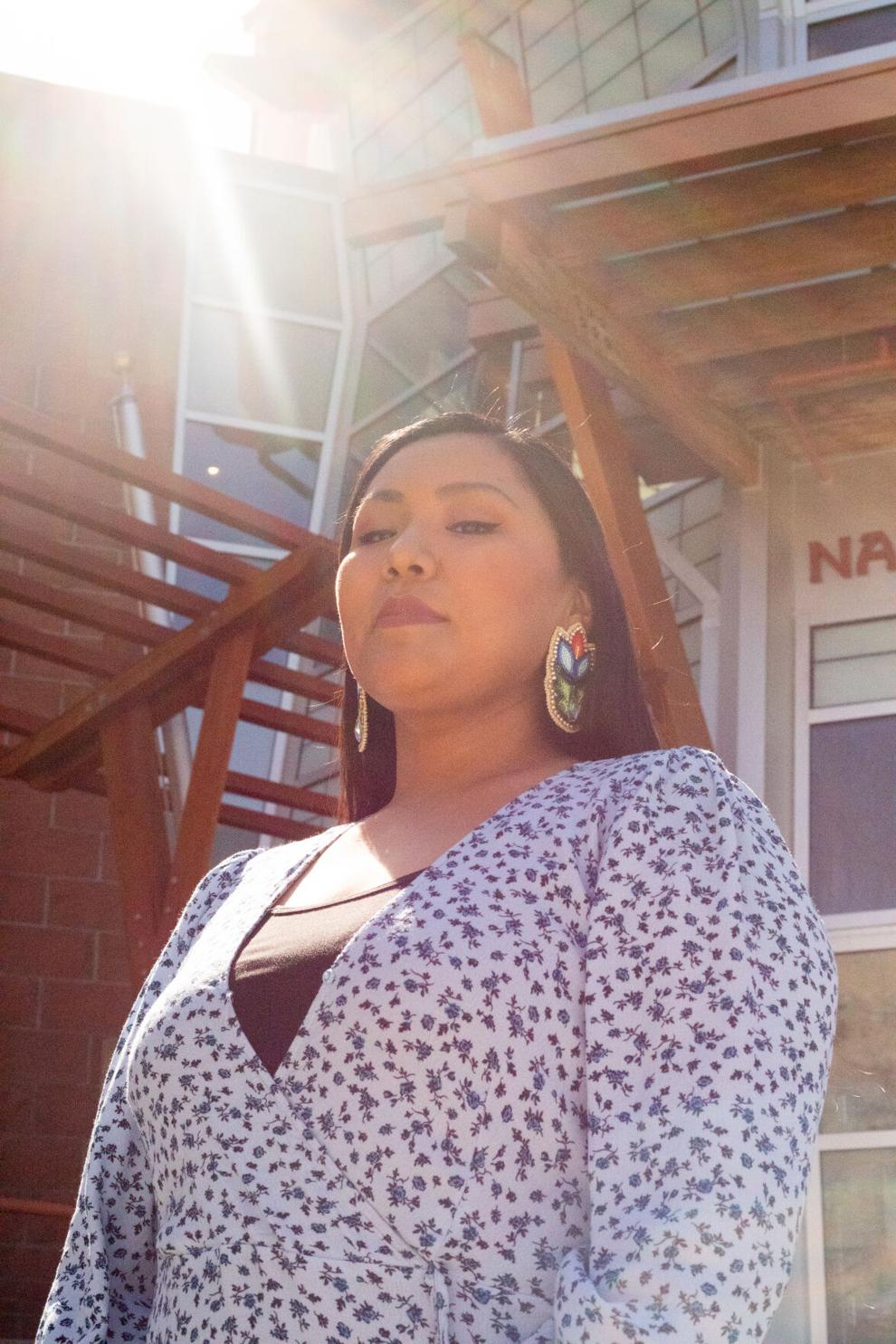 Hunter, 30, had previously completed an Associate of Arts from Missoula College — before the pandemic — and had been able to celebrate the moment with her friends and family. She knew firsthand the joy of a real graduation. "I think if I didn't know that feeling beforehand, I don't think I would have realized that this is why I feel upset," she says.
Hunter says coming to college with the title of "first-generation student" was a comfort to her, when she, like Chhon, gained the support of TRIO advisers and funding. She knew she had a foundation to turn to with questions or when she needed help, something she says was a major boost of confidence when she came to UM.
"It wasn't just not knowing how to do better in school," Hunter says. "It was knowing if I had any financial questions they would help me, if I had any academic questions they would help me. If I didn't know what major, or I wasn't sure about my major, I knew they had the resources to point me in the right direction."
She worked with a few of the TRIO advisers, but spent the most time with Micall Searles, her TRIO academic coach.
"She was my main go-to person," Hunter says. "She's this rare gem of inspiration, making you feel like you could do it, and she was there to support in any way."
Searles helped Hunter navigate her neuroscience degree path during her first year of undergrad. And when she realized Hunter was actually interested in school counseling and psychology, Hunter says Searles sat her down and helped her switch to the track on which Hunter would eventually graduate.
"What I've always loved about Brittney is how dedicated she is to whatever she is working on at that time," Searles says. "She was incredibly committed to learning and getting the most out of her education. She's an advocate, for herself and for other people."
Searles, now a career coach at UM's Experiential Learning and Career Success program, says that seeing her students graduate is one of the most rewarding parts of being involved in higher education.
"Especially with TRIO students, they've been through so much, they've worked so hard to get to where they are, and it's such a massive accomplishment to be the first in your family to graduate with a college degree," she says. "So to be able to do that and have that experience in-person is so important because it's a huge feat, and I'm excited for them to be able to have that experience."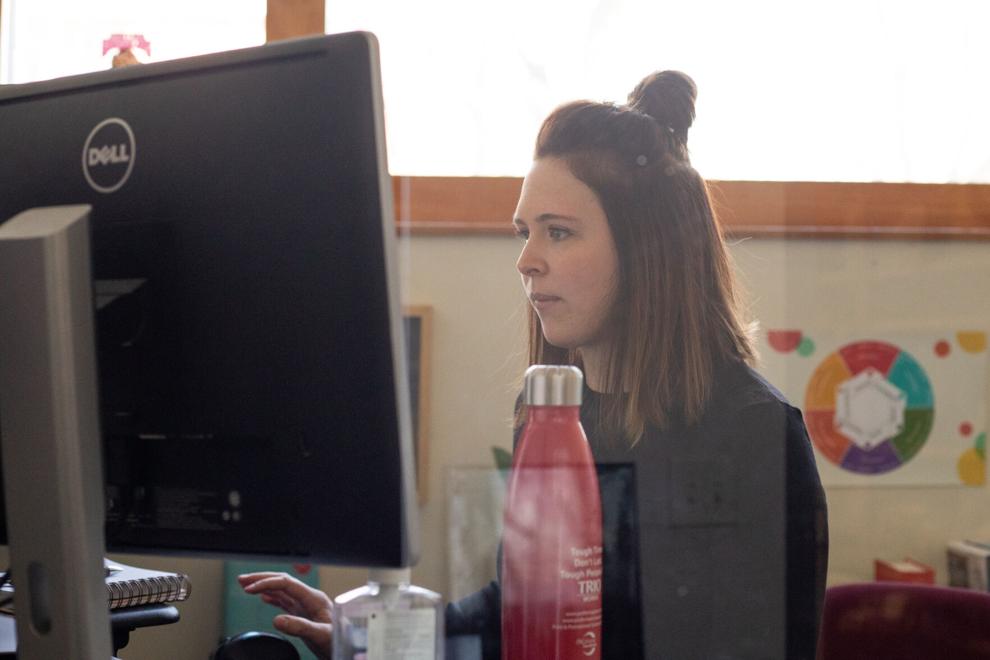 Hunter, who is part Hopi and part Hualapai, now works as a Montana Campus Compact Americorps leader for Indigenous Research at UM and helps organize youth camps for Montana American Indians in Math and Science. She also works as an advocate with the Student Advocacy Research Center.
She's walking on May 1. For her, it's a reclamation of the work she did and the celebration she lost.
"I think it's going to feel like I got through that feeling of feeling like I missed out on a moment," she says. "I get to reclaim that."
It's a big moment for her family, too. One she says they are excited to celebrate, even if it comes half a year after she got her diploma in the mail.
"My uncle told me the other day, he says, 'It's not every day that you get a member of your relatives graduating from college.'"
And Hunter's next step is starting her masters of school counseling program in the summer.
---
Samson — the TRIO director — lights up thinking about next semester: TRIO is one of the departments moving into the soon-to-be renovated Aber Hall, and Samson has big plans for the space. She's ready to have in-person tutoring back. She's ready to advise her TRIO students face-to-face again, to leave her doors open once again.
She's not sure if she's going to commencement yet, but some of her fellow advisers plan on it. They joke about recognizing their students' faces underneath Griz masks — a sign of the times.
Chhon, who originally planned on law school, decided she wants to take some time after graduation to travel and volunteer instead. She says she came to college thinking she needed to study, then attend grad school, then work at a law firm. But after COVID-19, she took a step back and reminded herself to just live, too.
She's set to travel to Ghana and Rwanda to teach English as a second language.
Chhon says she doesn't quite know how to feel during her last few weeks in college. Since she's graduating early, she's leaving a lot of friends behind. And the pandemic took away the in-person experience during her last year in, so it's complicated.
But in the end, she's excited to celebrate her successes with her family and walk across the stage at Washington-Grizzly Stadium.
"It's definitely going to be a shock seeing so many people there," she says. "But I think I'm going to feel accomplished. I think I'm going to feel relief, in a good way.
"Like, 'Wow, I did this. I was able to get through this. I'm done.'"