In Project Free Verse, the classroom has no windows. Instead, there is a one-way mirror and cameras watching every move. A red button is installed somewhere, which the poetry teacher, Taylor White, can press if danger were to arise. She doesn't actually know where the button is, nor has she ever needed it in her seven years teaching at the Missoula Juvenile Detention Center. 
Every class session looks like this: In walk the students in their orange jumpsuits. They shuffle, actually, because the orange sandals they wear are typically too big, and they have to fight to keep them from falling off their feet. 
The conditions might sound like a plea for more education funding. However, the Free Verse Project has dedicated itself to giving incarcerated school-aged children their most powerful resource. 
"Thank you Free Verse, you've given me the ability to show people who I am," said one student at the end of a class in the summer of 2020. "I know now I can show people who I am, tell it like it is: That I'm not just a bad person, that I have a story to tell and that I'm powerful. That I can touch people with my words. You guys inspire me."
The goal has always been simple: Give these kids a voice beyond the cinder block walls. 
Free Verse partners directly with Montana corrections centers to teach poetry to incarcerated youth. The organization is a certified 501c3 nonprofit based out of Missoula, Montana, whose mission is to give a creative outlet to incarcerated youth in Montana and give them a voice. Because of the pandemic, the kids are even more isolated from the outside.
All of them too young to vote, most of them too young to drive and some even too young to enter middle school, the students sit with hands crossed behind their backs.
"I think the youngest I have taught, I would conservatively say, was 11 years old," White said about her experience teaching with Free Verse. 
At their respective desks, the children wait for White to start the Free Verse lesson for the day. 
Before Free Verse entered into partnerships with juvenile detention centers across Montana, incarcerated kids were not given much opportunity to express their creativity, or to share it outside of the detention center's walls. Free Verse changed that.
Since the pandemic, though, things are different. 
Instead of the Free Verse teachers standing in the front of the room, able to interact with each student at their own leisure, they are now only a talking head projected on the white cinder block walls. Some of the correctional centers have computers for the kids to use, but most don't. 
The solution: Move the paper a little closer to the only camera so that the teacher might be able to read it through the screen — if she squints her eyes hard enough.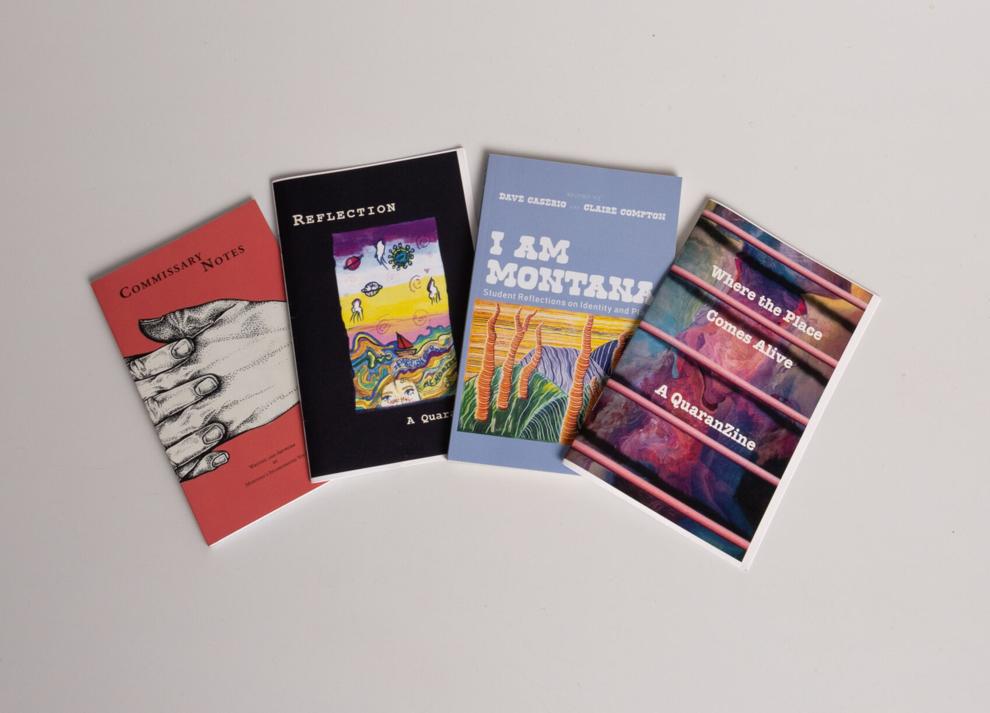 ---
So much of the political and social conversations in Montana have left the voices of these children out, said Nicole Gomez, the current executive director of Free Verse. 
"We want to get these voices out there. We want them to realize that they have a story to tell and that their story is powerful, and to push back against some of those labels and reclaim their own narrative," Gomez said.
White said many of these kids were never given the opportunity to be and act like actual kids. Before the pandemic, the typical class size was 20-25 kids. Now, it's around 8-10. 
"You see some real baby faces. Though they look like kids, when they speak and write and communicate, it is clear that they already know what it is to encounter prejudice, poverty, violence, addiction, social stigma, loss, loneliness and helplessness," White said. 
Prisoners who participate are able to create and maintain their identity in the face of the erosion they feel in a prison environment, and the stigma attached to the status of being a prisoner, said Paul Clement, a researcher at the University of London. 
Much of the kids' poetry features distant parents, hiding from violence and trying to hide from the prejudice faced in Montana.
"They have been forced to grow up faster than your average kid, and forced to relinquish all sense of control. So there is this hard-earned maturity in the room and in their writing," Gomez said. 
Free Verse was established in 2014, born out of a group of students studying to get their Master of Fine Arts at the University of Montana, many of them working toward degrees in creative writing, English and literature. 
The group of MFA students wanted to connect more to Missoula's community, starting with some radical changes they wanted to see in Montana. The idea was to give a creative outlet and voice to a group in Montana that didn't really have one. One of the students, Sarah Kahn, turned the idea into a reality. 
On a bike ride past the Missoula Juvenile Detention Center, Kahn wondered if there were any creative writing opportunities offered to incarcerated youth at the jail. She looked into it and found there wasn't. 
So, with the help of other MFA students, they founded a volunteer program and began teaching poetry and literature at the jail every single day. 
But volunteering wasn't enough.
They wanted to turn the volunteer teaching positions into actual paid teaching positions — a nonprofit where they could reach more kids across Montana.  
The group officially became a nonprofit in Montana, and began getting funding through grants and donations in order to begin paying teachers to work full time. 
The organization partners with the three detention centers across the state, including the Missoula Juvenile Detention Center, the Billings Juvenile Detention Center and Pine Hills Youth Correctional Facility. Though Free Verse wants to reach as many places in Montana as they can, that's not the organization's ultimate goal. 
"Our dream is to shut down our organization because there are no halls left," the team said in a statement on their website.
Free Verse has published poems by hundreds of these kids, and they are only a fraction of the juveniles detained in Montana.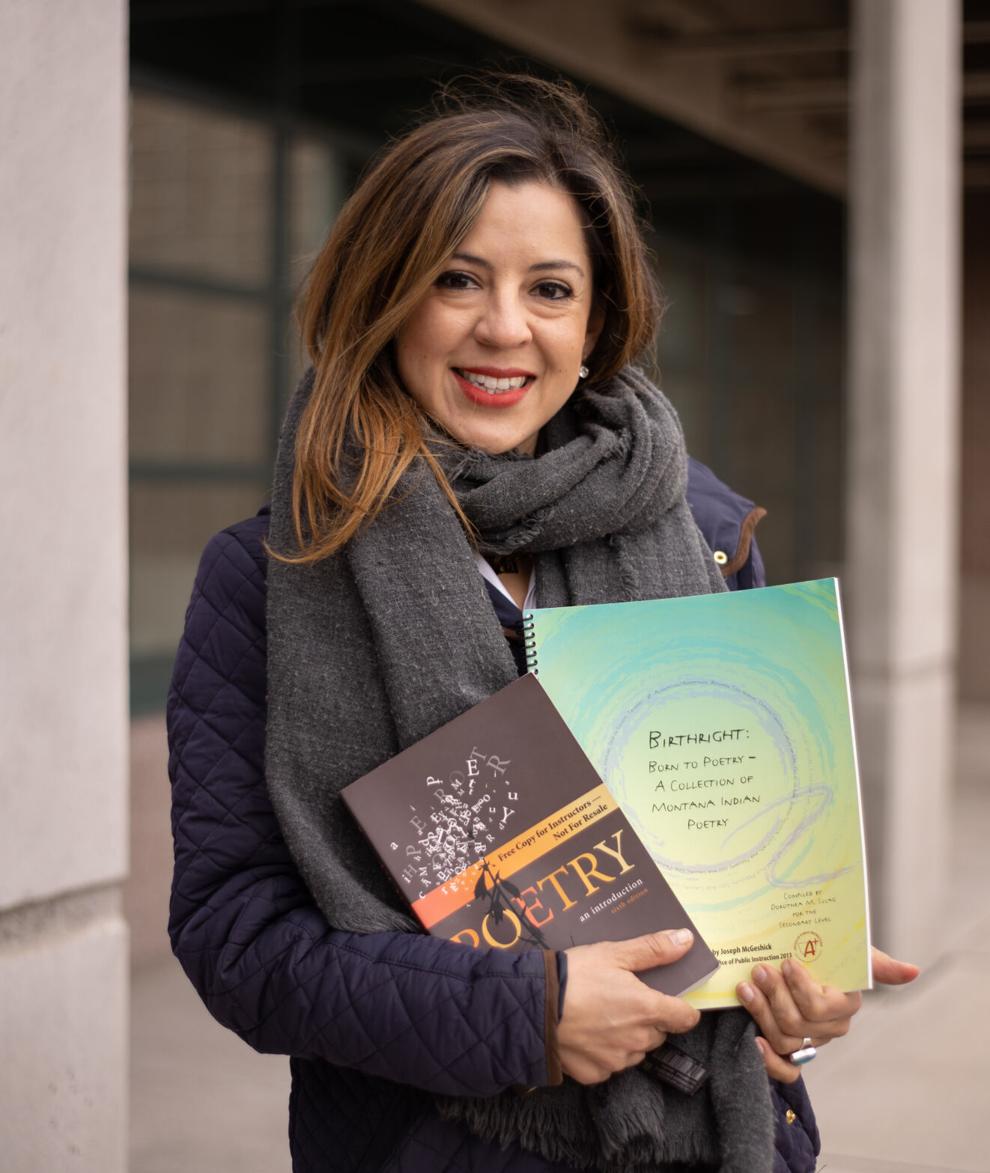 During a time like the pandemic, many voices have been silenced because of the lack of face-to-face contact with other people. For these kids, it has always been that way — until Free Verse came around. 
Gomez wants the students to know that they have a voice, that they aren't alone. 
"With incarcerated youth, so often they are wrongly labeled and dismissed as bad or troubled kids, and they are stamped with a label and not given a chance to tell their own story."
---
Being confined in a detention center as a child is hard to fathom. Being confined in a detention center while in a pandemic as a child makes the teachers at Free Verse worried. Worried that the hard work they put into teaching the students might be taken away from them. 
"When the pandemic hit, we had a lull for a few weeks where we did not know what we were doing or what was going on," Gomez said. 
At both the Billings Juvenile Detention Center and Pine Hills Youth Correctional Facility, the kids are not given computers.
"We are beamed in on a laptop and we teach via Zoom, but we're just talking heads on the screens. The kid will write in pen and paper, and then get closer to the screen so they can share their work with us orally," White said. 
In the detention centers that have the simple luxury of a computer, Free Verse quickly started working on getting to students via Zoom and sharing Google documents where the children could write and interact with the teachers remotely.
"We are in the Google Docs as they write and are able to respond in real time to give them feedback and encouragement. It's been a real awesome opportunity to see their work, and it's something we couldn't do in person," White said. 
The kids took them by surprise, and wanted to get their poetry on paper and share their most inner thoughts through a screen with the teachers. 
"The kids are amazing, they're so eager to write and share their work with us. There is something so beautiful about the need to connect that we are leaning into this laptop trying to understand what they are saying while they are speaking through masks," White said. 
She's honored to see the work they are willing to go through to share it.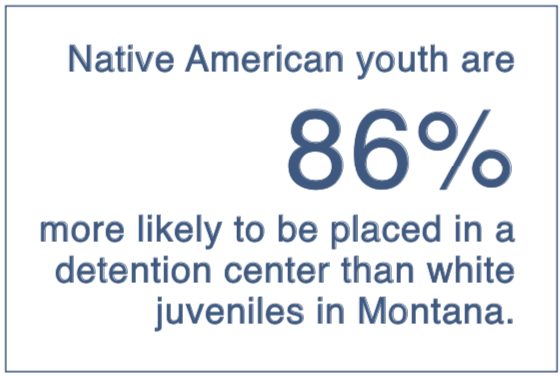 ---
When White first began teaching for Free Verse seven years ago, she had no idea what she was walking into.
"I wanted to prepare," White said. "I wanted to have the perfect lesson plan, talk to anyone that would listen to make sure I wasn't going in blind, that I had enough information for the kids and what would appeal to them and motivated them." 
When White is introduced to the classes each year, without a doubt, she said, there are always more Black, Indigenous and Hispanic students than white students.
"I hate that the numbers make it feel real, because when you walk in that number does not surprise you," White said.  
Montana has a record of disproportionately incarcerating marginalized ethnic groups in the state. For instance, Native Americans make up 6% of Montana's population, but account for 25% of Montana's incarcerated population.
A 2012 study done by the Social Science Research Laboratory at The University of Montana found similar statistics on the overrepresentation of minorities in Montana juvenile arrests. 
"An examination of the comparisons between racial/ethnic categories shows that American Indian juveniles are 51% more likely than white juveniles to be arrested," the study said. 
Another study found that Native American youth are 86% more likely to be placed in a detention center, compared to white juveniles in Montana, where only 27.5% are placed in juvenile detention. 
"There is a need for a better cultural understanding of issues facing juveniles and more training on how to better address these. More cultural sensitivity training opportunities and training for practitioners is needed, as is the need to increase the number of minority professionals working in the juvenile justice system," the study stated. 
Every three years, the Montana Board of Crime Control creates a "three-year plan" in which they analyze the juveniles being detained in Montana. For decades, the numbers haven't changed much. 
"White youth comprised 78% of the juvenile arrestees in 2017. Native American youth accounted for 14% of the juvenile arrests, a disproportionately high number of arrests when compared with the youth population," the study said. 
Not only are there disproportionately high numbers in minorities being incarcerated, the age in which these children are being detained is getting younger and younger. 
"Juveniles begin bumping into the juvenile justice system when they are under 10 years of age. The peak ages of offense are ages 15, 16 and 17," the report found. 
These kids have little to no rights because of their age, and yet they are being locked up and having their rights further stripped, White said. But that isn't stopping the kids from wanting their voices heard. 
---
The Free Verse poetry has been featured in five different publications: "Commissary Notes," "I Am Montana," and a trilogy of books titled "Quarinzine: A Three Part Series."
The University of Montana has been connected to Free Verse since its conception in 2014, starting with the MFA program. Now, the Davidson Honors College at UM teaches two classes where students in the class study the writing of Free Verse publications, and the DHC hopes to expand collaboration throughout more of campus.
UM's School of Theatre & Dance is working with Free Verse to create the "Social Justice Theater," a project in which students at UM will perform the incarcerated students' own work. The kids will cast and direct the plays that they wrote while incarcerated in Montana juvenile facilities.  
"Cutbank," a literary journal run by graduate students of UM's creative writing program, released a special issue in 2018 dedicated to publishing the kids' poetry. 
"These powerful stories and poems chronicle tales of hurt and healing, of power and pain. They grab the mic and then drop it. They demand to be seen, heard, and understood," the Free Verse website said of the 2018 issue. 
Along with amplifying the voices of incarcerated children, Free Verse aims to support local writers, often seeking to hire recently graduated UM arts majors directly.
"We want to launch our volunteer program that got derailed because of the pandemic, but seek to hire from campus either writers or people who are pursuing degrees in social work," Gomez said. 
---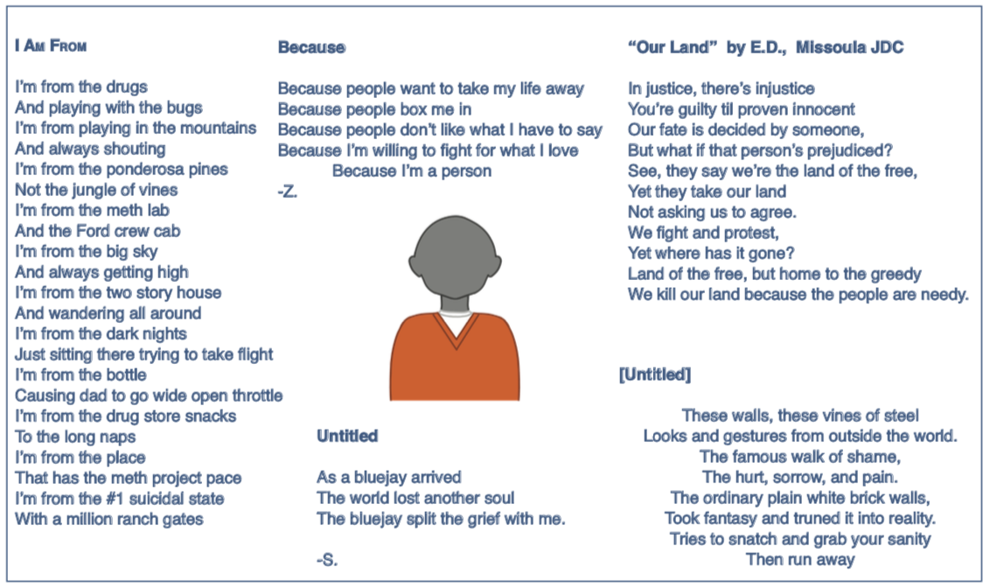 The children's poetry brings the readers along in the journey of life growing up in Montana, the good and the bad. 
For example, "I Am From" by S.W. (the children's initials are used instead of full names) is not the typical picturesque Montana upbringing. It's not a story of hiking through the mountains with mom and dad, because dad isn't there and mom's on crack. 
"Don't even remember where your kids went," S.W. writes as he recalls the drugs, addiction and guns that surrounded him. Now, he's surrounded by white walls and other kids with the same struggles. 
The book of poetry, "I Am Montana," follows the kids regaining their identity when they're in a place that strips it away. 
Lorna Buckingham, the development coordinator and instructor for the Free Verse project, said even though kids under the age of 17 are mandated by law to be in school, Free Verse can only teach to detention centers that allow them to. 
"We are invited into these places, but we can also get uninvited at any moment," Buckingham said. "We have to be pretty knowledgeable about the criminal justice system because the nature of our work brings us in contact with that culture, so we have to be pretty mindful."
Buckingham said Free Verse wants to give the kids a way to find connection in the difficult situation they are in. 
"We try to be less [a] teaching, but more of a creative resource," Buckingham said. 
"We're coming in with lesson plans, for sure. But I don't feel I go in to teach a lesson, as much as the hope that I transport their experience from the walls of the classroom," White said. 
Free Verse will never truly know the impact they make on the kids, because the kids in the detention centers are there for an undetermined amount of time depending on their sentence. When the kids cycle out of the detention centers, Free Verse doesn't get to know when they're going to leave or how long they are going to be there. 
One day, at the end of the class in the summer of 2020, White was finishing up a Free Verse class. She thanked the students for sharing their time, words and stories. 
Completely out of the blue, a kid spoke up and read a piece he wrote about what Free Verse meant to him. 
"I've made millions of mistakes, but I can make millions of achievements and grow as a human and as a man. I can be the person who I want to be. I can light the candle in the dark room."
This made it all worth it for White.
"I was bawling when he said that, it was so powerful," White said. "In this moment of chaos and isolation, it has been really awesome to strengthen this community and this network."