Danny Brinkley, a 41-year-old UM senior, maneuvered his motorized wheelchair around the hardwood floor in his living room, stopping for a moment to admire his saltwater fish tank before settling in the center of the room with his dog Nessa at his side.
He turned off his air conditioning through a voice-activated system, but he cannot achieve every daily task on his own through such mechanisms. Brinkley has been unsuccessful in adjusting his caregiver arrangement in over a year, which he attributes to low wages for caregivers in Montana. Two friends consistently work for him and others pick up shifts when they can to help him with any part of his routine he cannot do on his own.
The living room has just enough space for Brinkley to drive his wheelchair between the couch and a black tarp tent where, in conjunction with two other tents in an office space, he grows about a pound of marijuana every two months to sell to his loyal clientele.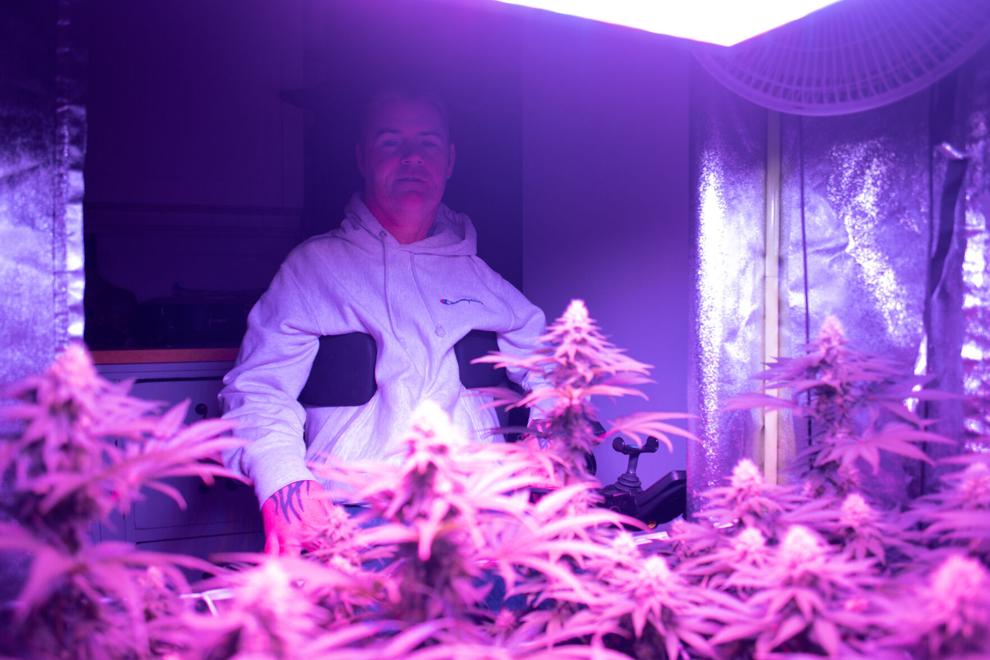 After a snowboarding accident in 2006 left him almost fully paralyzed, Brinkley has committed much of his time to researching marijuana strain cultivation and tending to his own growth operation.
Brinkley, a green card holder for over four years, smokes legally every day to relieve his anxiety and nerve pain associated with his injury. His sale of marijuana to others to supplement his disability checks is illegal in Montana, but it won't be for long.
In November of last year, Montana voters supported Ballot Initiative 190 with 57% of the vote. I-190 legalized possession of an ounce or less of marijuana for adults over age 21 immediately. It also allowed for the eventual legal sale of recreational marijuana with a 20% state tax rate. Along with this initiative, Missoula County voted overwhelmingly in the 2021 municipal election for an additional 3% tax on recreational sale within the county.
The dispensary sale of recreational marijuana among already established shops in the state becomes legal on Jan. 1, 2022. New firms and third-party sellers can apply to enter the market beginning July 1, 2023. The expanded industry has the potential to create millions in tax revenue for the state. The funds will benefit a variety of conservation programs, and House Bill 701, which essentially made Initiative 190 law, allocates most of the new revenue to the State General Fund.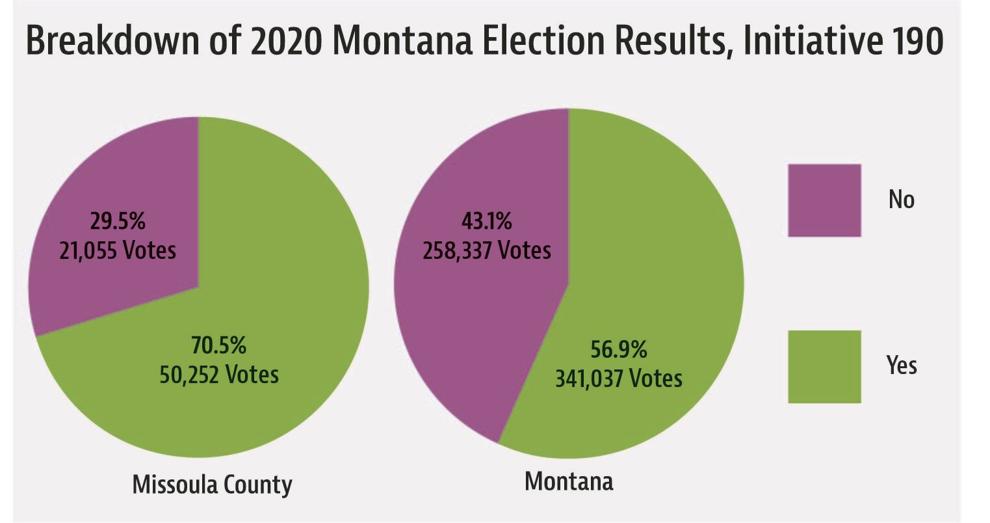 Though the date for legal recreational sale in Montana is swiftly approaching, many aspects of its future remain unclear.
Brinkley, although already well-established in his sale and use within the current market, is optimistic for the expanded availability of marijuana, especially for student use. But he also has a complicated relationship with both Montana and with marijuana, and is wary of how the state will spend the extra money that comes as a result of legalization.
The social, criminal and economic implications of the expanded industry are difficult to anticipate and widely debated for both the students of UM and for the broader Missoula and Montana population. 
Thinking Green
Brinkley's life before the accident that left him paralyzed could be described as anything but sedentary. He chased any sport or activity that could fill him with adrenaline, and surfing in his hometown of Santa Barbara, California, was his favorite.
"I miss the water and the living in the moment that goes on. That is the most in the moment sport — there's nothing but you and a wave," Brinkley said. "It's hard to live in the moment now. I get it from writing sometimes, sometimes painting too. But it's much harder. But now I realize I have mind powers that I wasn't aware of until I was paralyzed and not able to surf and skate."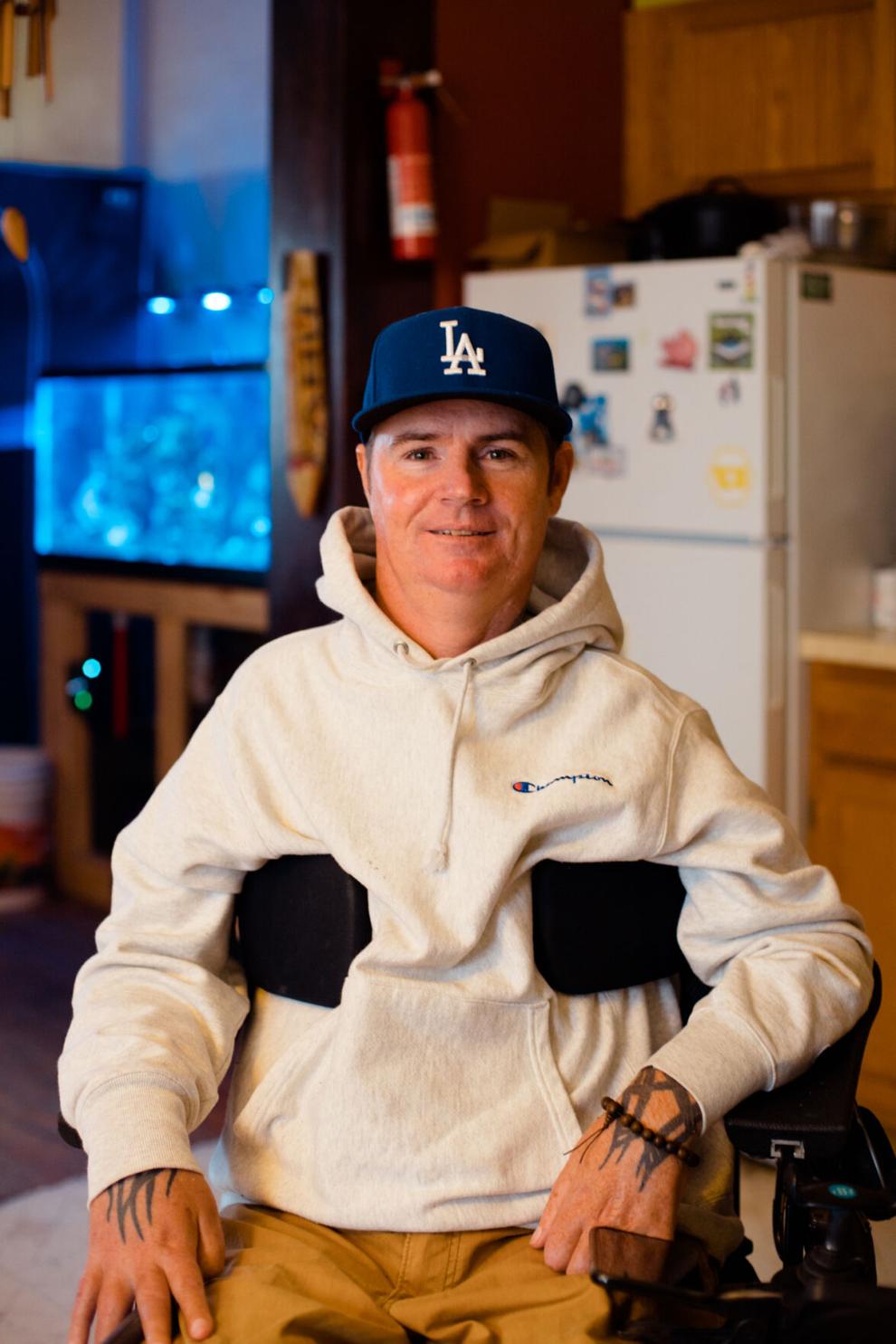 After the snowboarding accident, in which he attempted a jump and fell on his neck, he remained in a coma for three weeks and doctors told him he would not be able to talk again. But when he came out of the coma and could speak again after only a month, Brinkley didn't allow the new challenges he was facing to hinder his search for fulfillment and happiness.
"They really give you no hope. They don't want to be sued for giving you false hope," Brinkley said. "I never had periods of depression for this injury; it just kind of was what it was and I rolled with it. I would get my days where I'm like, 'Fuck everybody walking,' but I haven't had that in a while."
Now he channels his energy into studying psychology at UM with the hopes of turning his knowledge and familiarity with marijuana — which has been part of his life since he first stole a joint from his mom at 13 — into a full-fledged career in the psychology field helping people find cannabis products to suit their needs.
"If I get a job in weed psychology I will never feel like I work a day in my life. I will be doing what I love and what I was meant to do," Brinkley said. "Everyone has a problem that cannabis can address. There are 65 different compounds in weed, and all these different combinations will help with different things."
Brinkley uses medical marijuana to ease his anxiety and nerve pain. Medical marijuana has been legal in Montana since it garnered almost 62% of the vote on a ballot initiative in 2004. Even opponents of recreational legalization in the state have historically been supportive of the availability of marijuana for medical use, including Steve Zabawa, leader of the premier anti-legalization group in the state, Safe Montana.
Safe Montana advocates for decreasing access to illegal drugs with an emphasis on family values. It has been involved in further regulating the medical marijuana market, as well as fighting the prospect of recreational legalization, since 2011 when Zabawa became outraged over a dispensary opening near his children's middle school in Billings.
Zabawa voted for medical marijuana legalization in 2004, but sees flaws in accountability for medical providers giving green cards to patients who do not truly need them. In 2011 he backed Senate Bill 423, which limited how many patients each dispensary and medical provider could serve. 
Voters repealed limitations on how many patients medical marijuana providers could see, and law enforcement's capacity to conduct unannounced searches of medical marijuana facilities in Ballot Initiative 182 in 2016, but Zabawa continues to fight for further regulation of the market and wishes to stunt the potential rapid growth accompanying recreational legalization.
"There are good people who use medical marijuana correctly, and there's a lot of people that don't do it in good faith. There are a lot of bad actors in the state that are supposedly doing medical marijuana, but it isn't legitimate," Zabawa said. "I'm going to do everything I can with Safe Montana to put recreational marijuana dispensaries out of business."
The Montana Department of Revenue reported that medical marijuana sales reached about $70 million in 2019. But a cannabis market potential report from UM's Bureau of Business and Economic Research (BBER) estimated recreational sales have the potential to reach $176 to $187 million annually. This would result in state tax revenue from the 20% tax on recreational sale ranging between $43.4 and $52 million per year.
Dr. Robert Sonora, associate director of UM's BBER and co-author of the cannabis market potential report, said Montana won't benefit in tax revenues to the same extent as states that pioneered legalization like Colorado and Washington, but he sees the opening market as economically beneficial.
"Because Colorado and Washington were in the game right away, achieving those types of results is going to be almost impossible," Sonora said. "The big financial economic concern is the loss of productivity, you know, that people are too stoned to work. But if you're going to use that argument, then you better say that about any other legal mind-altering substance. Most economists agree that it should be legalized; it's just the costs are not so high, and the benefits are sufficiently high that they easily outweigh the costs."
Zabawa sees recreational marijuana use as harmful, and argues it hinders productivity and leads to further financial burdens for the state when individuals use it as a gateway drug.
"A person that's gotten caught up in drugs is not a productive person. Normally they're hiding out in the social programs and doing everything they can just to get the next hit," Zabawa said. "It's a workforce issue. They can't have stoned people moving concrete trucks and operating jackhammers because it's dangerous."
But Brinkley said some strains of marijuana can actually increase productivity.
"You give me any topic at school that interests me and an hour with a good strain and I'll put down some real good content," Brinkley said.
Although many lawmakers hope legalizing recreational sale through dispensaries will disincentivize black market sales within the state, Brinkley sees the broader market as an opportunity for illegal growers and sellers like himself, especially since third party sales to dispensaries doesn't open until July 1, 2023. Since recreational marijuana will be taxed at 20%, Brinkley anticipates the black market blossoming due to its sales remaining untaxed.
"They're saying that they're going to keep giving the same medical prices to medical people? I'm not sure. I know it's going to make the black market more prevalent with the extra tax cost, which sellers right now are looking forward to," Brinkley said. "Corrupt people are the type of people that want in on weed, it's a multimillion dollar industry. The cool thing about the cannabis community is most of the people in it don't want outside intervention and are not willing to sell out."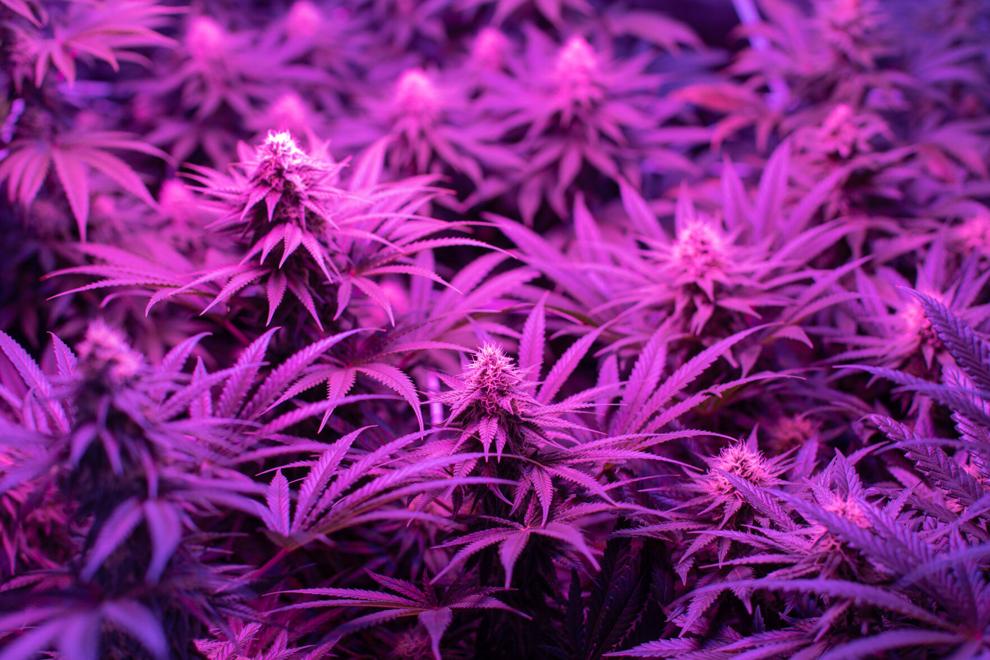 The Ganja Effect
Brinkley is excited for more individuals to benefit from marijuana without requiring a green card or medical diagnosis starting in January.
"You shouldn't have to have a medical condition to be able to cure a problem. Everyone's had a headache, everyone has gotten bummed out and everyone has not been able to sleep. I think everybody should have that option," Brinkley said.
Despite this, Brinkley admits he is addicted to marijuana, and believes the age to begin using should be higher than 21.
"I never decided how much I'd use. I'm an addict and I know that. I'm not an addict in the sense that I get THC sickness or whatever, but I definitely rely on it," Brinkley said. "I think it needs a higher age limit, actually, just because the frontal lobe isn't developed until you're 26."
Missoula County voted overwhelmingly in favor of recreational legalization with 70% of voters in support, and ASUM passed a resolution in support of the ballot initiative shortly before the 2020 election.
"My hope is that tax revenue will directly benefit students. If anything, it's benefiting our state tremendously, and students will feel the effects of that," ASUM President Noah Durnell said. "It's going to change student perspectives on marijuana as something harmful and dangerous and criminal, and I think that this is going to also reshape student perspectives on what a criminal is."
MontPIRG, a student civic engagement group on campus, collected almost 16,000 signatures to get the initiative on the ballot, and enjoyed heightened involvement from students due to its popularity.
"We are always really happy and fulfilled when there's an opportunity to devote student effort to something so in line with our belief structure. The ability to get students engaged on something that's, on the surface level, really fun and engaging is great," Tor Gudmundsson, vice president of the MontPIRG board of directors, said. "'Hey, do you want to sign to legalize pot?' is a lot more fun than, 'Hey, are you registered to vote?'"
MontPIRG threw its support behind the initiative because of the prospective tax revenues benefiting conservation, but Gudmundsson, a UM junior, also values the decrease in incarcerations the law will allow. Without marijuana possession and use citation on students' criminal records, Gudmundsson believes their future opportunities will no longer be hindered by marks on their records under the new law.
"Once this is fully implemented, it's no longer a crime to smoke a little pot. I think that's really appealing from a college student perspective because a criminal record can pretty quickly derail your education," Gudmundsson said. "It doesn't seem very modern or reasonable to have something that's thought of pretty casually among college students as something that could derail your upward trajectory."
Zabawa believes recreational legalization will actually incentivize more individuals to begin using marijuana, even though researchers still disagree on whether marijuana serves as a "gateway drug" or whether legalization increases use.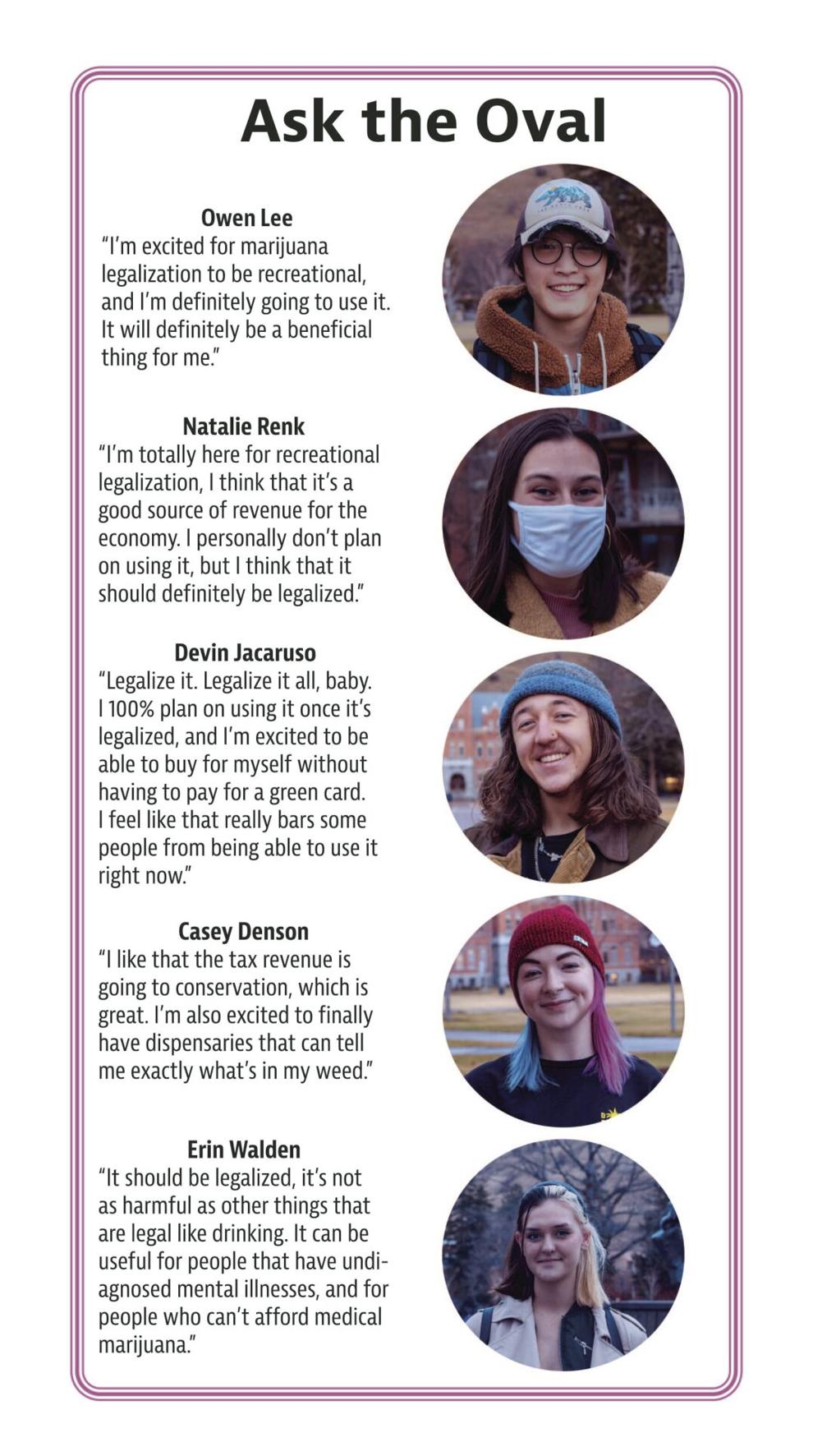 "The other states that have legalized it have opened up a can of worms by making it very available for everybody, so I'm against more people using it in the state of Montana," Zabawa said.  "There's enough people doing it already and there's already a distribution system here, so why do we want to encourage bad behavior?" 
However, UMPD Police Chief Brad Giffin does not anticipate increased infractions with the law change and does not view marijuana as a burden on UMPD.
"I think we're going to probably get called as much as we got called before, the only thing that I think might change is the number of law violations versus the number of policy violations," Giffin said. "Honestly, it's not really anything that we consider to be a problem. Usually when we deal with those calls, they're really cooperative. The volume of marijuana related calls is steady, but not overbearing in any way."
Currently, any person older than 21 can possess less than an ounce of marijuana legally, but even after Jan. 1, any possession and use on campus remains a violation of the student code of conduct. UMPD still has to intervene if there are reports of substance abuse other than alcohol on campus.
Brinkley recognizes that he relies on marijuana, but has no plans to quit using completely due to the many health benefits he's experienced.
"There's a point in everybody's life where marijuana can help them, or they know somebody that could be helped from it. I know that's been true for me," Brinkley said. "I would like to stop and take a break at some point, but there's no reason to stop. It's just too helpful."
Blazing Ahead
Brinkley did not vote on either of the 2020 ballot initiatives that led to marijuana's recreational legalization. He said he doesn't participate in the political process often, even on issues that directly affect him.
"I've never been a voter. I voted one time, and it was for Arnold Schwarzenegger for the governor of California, and that was a big fuck up. So I don't really want to vote anymore," Brinkley said.
The I-190 ballot initiative — the one passed by voters in 2020 — laid out a recommendation for the state tax revenues from marijuana legalization to be split halfway between the State General Fund, which pays for the state's biennial budget, and the rest to conservation efforts, addiction resources, healthcare and veterans' services. 
Even though voters passed the ballot initiative with this recommendation, the Montana Legislature chooses how state tax revenue is spent. House Bill 701, the bill passed in the legislature this spring that solidified the legalization of marijuana, allocated $6 million to addiction recovery programs, $150,000 to the Board of Crime Control, 20% to conservation efforts and the rest to the State General Fund.
Zabawa believes if the ballot initiative hadn't listed its recommendations in specific values for state spending to conservation and veteran's services, it would not have won in the 2020 election.
"The initiative was written with specific allocation of the revenues. They broke it down in percentages. Everything seemed like a done deal, and they said that it would happen and nobody countered it," Zabawa said. 
Gudmundsson and MontPIRG initially began advocating for the ballot initiative due to the prospective funds going toward conservation efforts. After the funds were scaled back significantly in HB 701, Gudmundsson said they are still pleased with the extra revenue.
"It's absolutely not the huge projection that I-190 asked for, but so few initiatives like this ever come out on the other side looking exactly like they did on the way in. It's going to generate almost $16 million annually for the Department of Fish and Wildlife by 2025, and that's hard to not be really excited about. That's a huge win," Gudmundsson said.
Gudmundsson says conservation efforts are related to more than climate change. They are a student-specific issue — guaranteeing future access to natural recreation around the state.
"The student population will really benefit from this in the long term. If we think of students here in Montana as young adults who are going to come into professional lives here in the state, I want it to be a state that still has beautiful rivers to go fish in a decade from now," Gudmundsson said. "I want 19-year-old students now in a decade to be able to take their kids on the same hikes that they went on while they were in college."
The true state benefits in tax revenues are impossible to fully estimate because many aspects of the new market in Montana remain unknown.
"There's always going to be some unforeseen things that happen, always," Sonora said. "It doesn't always have to be bad, either, or the unforeseen circumstance could be that nothing fundamentally changes when legalization happens. And that would also be unforeseen." 
The legislature is flexible in how it may spend the tax revenues after every session, and the framework for recreational marijuana regulation and spending could look completely different in 2023. Zabawa already plans to campaign for individual counties to opt out of recreational legalization in 2022. 
Although guidelines have been set, the nuts and bolts of recreational legalization in Montana are far from settled. Gudmundsson says students should voice their opinions — in and out of the  ballot box — if they aren't happy with the rollout.
"I would 100% encourage, as this ball keeps moving along, if citizens of Montana and especially students aren't happy with it, we can change it. We have the ability to do so: We live in a democratic system where we can show up, voice those concerns and ask people to make changes," Gudmundsson said.
Not everyone would agree with Gudmundsson's view of democratic participation, though — like Brinkley.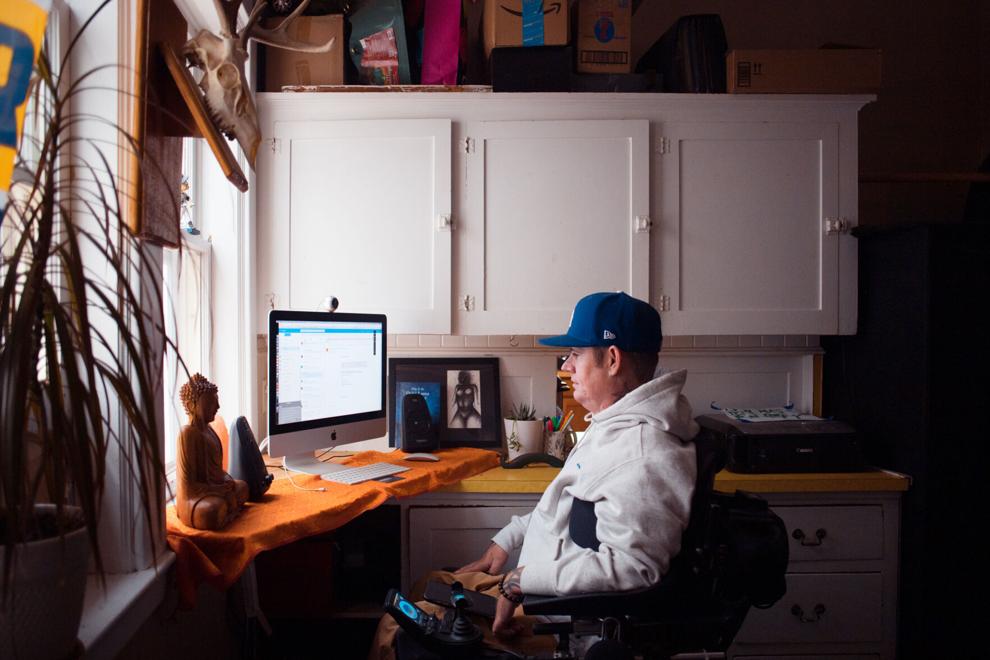 While Brinkley may be poised to see higher profits once third party sales to dispensaries become legal, he's leaving Montana after he graduates this summer. He has experienced difficulty in receiving disability benefits and accommodations from the state and is seeking better care in his home state of California. 
"I'm so tired of this state; it's kicked my ass for years now. The state gives you $1000 a month for disabilities and takes away a third to 'help you.'  Six hundred dollars is nothing," Brinkley said. "I don't want to sound like I've given up, but this county has stepped on me and the state doesn't care about disabled people at all. I'm just over it. I don't care what they do with the extra revenue. I know it probably won't go to anything good."
Whether individuals are pleased with the tax revenue allocation and the further regulation of the market or not, it is no longer a criminal act to indulge in some electric lettuce recreationally in Montana. 
Brinkley plans to move back to California after he graduates, so he won't be in Montana to see the impact of legalization, but many other habitual growers, sellers and users of marijuana will see the lifestyle and industry surrounding weed fundamentally change in 2022. The true nature and impact of this expanded market cannot be anticipated ahead of Jan. 1, but plenty of students and community members alike are eager for the date to arrive.