Trigger Warning: this story contains descriptions of suicide and guns.
Halston Witt is a gun owner. 
The freshman biology major from South Dakota says her desire to carry a gun for self-protection was sparked by an incident that occurred at her home when she was young. A man pounded on the door over and over, demanding entry, until finally giving up and leaving Witt and her mother alone.
Witt grew up around firearms and hunting. She recalled a Christmas when her dad gave her a .22-gauge shotgun with her name engraved on the side. She was in elementary school.
"It was kind of jarring," she said. "My cousin got an iPod."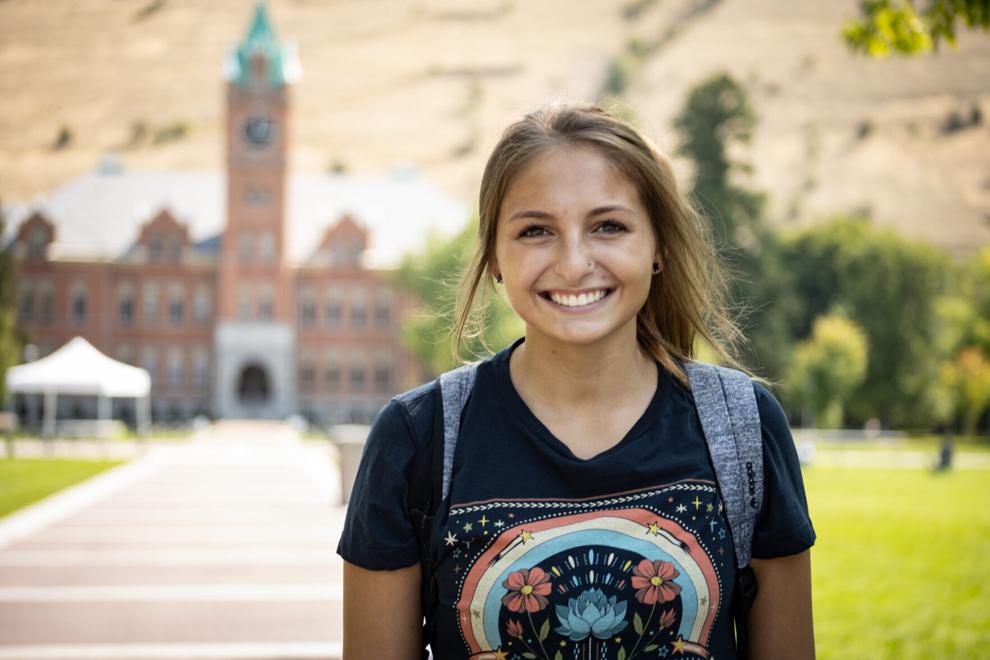 Now, nearly a decade later, Witt hasn't turned away from guns. She wanted to bring her pistol, purchased legally by her father, to campus this year, but left it at home in Watertown, South Dakota. She did not know the rules in Montana, and didn't feel comfortable bringing her gun into the dorms.
As Witt started her first day at the University of Montana, she was caught between two realities involving guns on campus: the current policy, which requires her to check her gun into a police locker, and a new law being challenged in court that would have meant she could carry it anywhere on campus, out in the open or concealed.
For UM administration and the Montana University System, the issue of guns on campus has become more than a theoretical debate. House Bill 102, one of the most unrestrictive gun laws in the country, passed in the Montana legislature this spring.
The bill would allow anyone to carry a gun on campus, openly or concealed. It would overrule UM's current policy — one that has been on the books since 1987 and requires students who want to bring guns onto campus to check them into a gun locker. The policy says nobody except law enforcement may carry on campus. 
In May, the Board of Regents was preparing to implement HB 102 by its original June 1 deadline. But after two meetings seeking public comment — most of which urged the board to fight against the legislation — the regents sued the legislature on May 19, arguing it had overstepped its bounds.  
On May 28, three days before the bill would have become law, a Lewis and Clark County judge temporarily barred it from going into effect. Ten days later, on June 7, the judge indefinitely extended the order to prohibit enactment of HB 102 until the lawsuit could be heard in court. 
Because Montana's constitution explicitly gives the Board of Regents authority over affairs on campus, the legal battle will determine more than just whether guns should be on campus. Instead, a larger question is at stake: Who has the right to control the Montana University System? 
A long-standing policy 
For years, gun advocates in Montana have sought to loosen restrictions. The political climate in 2021 gave them the window of opportunity they were looking for: a majority Republican legislature, with a Republican governor at the helm for the first time in 16 years.
At a Senate Judiciary Committee hearing in January, Rep. Seth Berglee, a Republican state representative from Joliet, Montana, introduced HB 102, legislation he has been trying to pass for eight years. 
Berglee's bill changed Montana's concealed carry laws to allow permitless carry anywhere one can open carry, rather than obtaining a concealed carry permit from a county sheriff's office. The bill also allows concealed guns in banks and bars, which usually only allow firearms on their premises when people are open carrying. 
Most notably for the state's universities, HB 102 stipulated that the Montana University System couldn't ban guns on campus, and in setting gun policy, it can only follow the guidelines from the legislature. The bill would also allow permitless concealed carry on campus.
Berglee cited several examples of states that allowed guns at universities. 
Campus carry exists in more than a dozen states, but only Utah matches HB 102 in explicitly requiring guns be allowed on every college campus. That Utah legislation, and most other gun-friendly campuses, still mandate that gun carriers have a concealed carry permit, though — differing from HB 102's proposed permitless concealed carry.
"If I can boil it down, anyone can physically bring a gun into a space," Rep. Berglee said in a recent interview with the Kaimin. "I should legally be able to bring one, too."
Under HB 102, MUS could mandate holstering guns on campus, restrict firearms at controlled events and allow students in residence halls to object to their roommate bringing their gun.
At the January hearing, the National Rifle Association, along with interest groups from around the country, testified in favor of HB 102. But most of the hearing consisted of opposition speeches. Many were from students and educators. Some, like Montana State University student Daisy Khoury, had seen the dark side of guns.
"When I was 13 years old, one of my best friends committed suicide right in front of me. He shot himself in the head with a handgun," Khoury said. "Guns have no place on a college campus, or near any school."
Despite almost an hour of opposing testimony, the bill passed the Senate Judiciary committee on Jan. 20. And after it ran through the state House and Senate on party lines, Gov. Greg Gianforte signed HB 102 into law before the legislative session was even halfway over. 
Caught in court 
Because of the injunction, HB 102 won't be implemented until it is worked out in court, a process that could take years, according to UM law professor Anthony Johnstone. So the bill changes nothing for students while it remains embroiled in court.
"In this case, the Board of Regents really felt like we needed some clarity on what roles the board has and what the legislative role is," said Helen Thigpen, executive director of government relations and public affairs for the Commissioner of Higher Education. "This suit is to find where that line is, which is sometimes described as murky."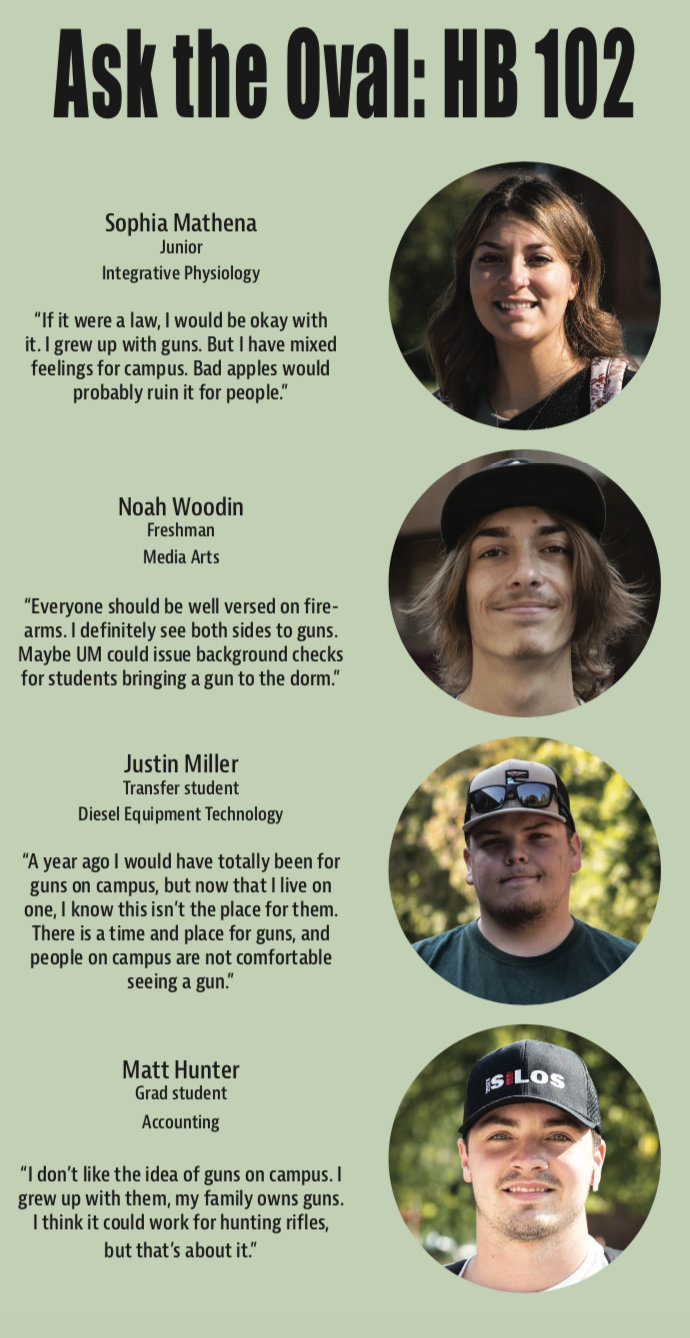 The murky line has been tested before. In 1975, the Montana Supreme Court heard a case called Judge v. Board of Regents, which centered around a bill allowing the legislature to regulate specific budgets of college departments through a committee. The court sided with the university system, strengthening its precedent of college campus control.
The Montana Federation of Public Employees has also brought a suit against HB 102 in a Bozeman court.
"Either court can rule the law is unconstitutional or not, and that would be that," Johnstone said. "But it is likely either verdict will be appealed to the Montana Supreme Court. It could be in the process for a long time."
Guns on campus today 
There have always been guns in and around UM, as firearms are often considered part of the state's culture. Compared to other states, Montana has the highest rate of gun ownership per capita, at 66.3% of people, according to a 2020 report from the Rand Corporation. The national average is 48%.
With the bill tied up in court, MUS policy still rules. Any student who wishes to bring a gun on campus must store it in a campus gun locker, or keep it unloaded in their locked car. 
The number of students who keep their guns in UM police lockers varies, but it is not more than a couple dozen, according to Brad Giffin, chief of UMPD. The number also changes often, as any student can take their gun out of the locker.
But Giffin also said many students are not aware of UMPD's gun locker, and often break the rules. 
"People who don't want to store their guns are possibly bringing them on campus," he said. "We recommend people check the gun in, but they are also allowed to store them in their cars as long as it is unloaded, secured and the car is locked."
This may be the answer for students like Witt, who feels protected having a gun. 
"As an 18-year-old woman who isn't large, I use it for self protection," Witt said. "When I stop alone in Baker, Montana, while driving home, I feel more comfortable being armed."
Witt does want to eventually bring her pistol to campus. She could leave it in her car, or UM's gun locker. Before orientation on campus, Witt didn't know either was an option.
While the amount of students who do not follow university gun laws in Montana is uncountable, some say they exist. State representative Braxton Mitchell, a 20-year-old Republican from Columbia Falls, published an opinion piece in the Missoulian June 10 stating he knows students who bring their guns on campus because they feel an obligation to keep others safe.
"I can name countless friends in our university system who currently conceal carry on campus and have firearms in their dorms, which is currently not allowed," he wrote. "These students are responsible and have the background and knowledge to safely own and equip firearms."
UM strategic communications director Dave Kuntz said he has not heard about cases of students violating gun policy, and little is known about students with firearms outside of UM's campus. 
Should HB 102 become campus policy, Giffin said, a top concern for UMPD is accidental discharge and easy access to guns.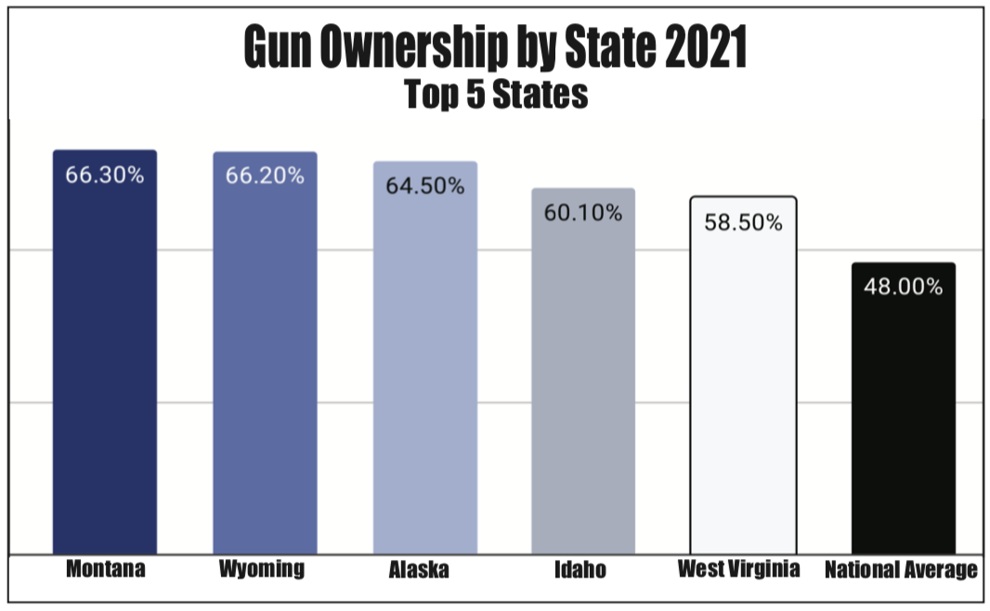 Long-lasting trauma
Roughly 200 people die from guns in Montana each year, according to data from the Centers for Disease Control and Prevention. In 2019, the Montana Department of Public Health and Human Services reported that 60% of the state's suicides were by gun, and 72% of youth suicides were done with firearms.
Tracee Anderson, interim director of the Curry Health Center's counseling program, said the easy accessibility to firearms that could come if HB 102 becomes campus policy is a concern for her office as well.
"Our fear is that easy accessibility to firearms could mean more suicide attempts," Anderson said. "Look at the experience students have when they are in a new space. There's trepidation, anxiety, uncertainty — typical challenges to coming into a new environment. But we don't know what will happen."
The last gun death at UM reported by the Kaimin was student Kole Swartz, who died in 2015 after accidentally shooting himself at a home in Clinton, Montana. 
Khoury, the MSU student who testified against the bill, has personal experience losing a friend to suicide. It still affects her today. 
Her parents were there for her. She had a therapist. But Khoury explained that the process of coping with the loss of her friend was deeply personal.
Khoury struggled. She said in high school she abused drugs, was hospitalized and tried to kill herself. 
By the end of high school, she did not have a plan for college or anything else. 
But Khoury said she has grown since her friend's passing. She decided to apply to MSU on a whim, and is studying to be a forensic psychologist. 
When she heard about HB 102 in January, she reached out to her dean and MSU president Waded Cruzado. She talked to representatives in MSU's student government, the Associated Students of Montana State University, who set her up to talk at the hearing. 
She raised concerns HB 102 would make students with gun trauma feel unsafe at colleges and threaten their mental health.
"The bill just instilled fear in me," Khoury said. "Some people feel safer being armed, but those like me feel safer knowing there is not a gun in my area."
She followed the bill as it progressed and landed on Gianforte's desk. But like many other students, she did not know about the lawsuit, or that it had stopped HB 102 from taking effect. 
Her first week of school was filled with thoughts of which passing student's backpack could contain a firearm.
Witt, the freshman biology major at UM, is a stark contrast to Khoury. She said on her first day walking to class she felt comfortable at UM. She wasn't carrying her gun, but UM's campus seemed safe. Besides, she carries mace and a knife.  
Last spring, the 67th Montana legislature passed House Bill 102 — legislation that would allow students to carry firearms on campus, openly or…