A small film crew and a comedian vowing to bring stand-up comedy to ghosts pulled up to the front gate of the Old Montana State Prison. The site is considered one of the state's most haunted, and once housed hundreds of convicts behind its 24-foot walls. 
They pulled out their gear: video cameras, lighting, a boom mic. Everything they thought they would need for a thing they had never attempted. It's possible no one had ever performed and recorded a comic variety show in a notoriously possessed penitentiary. As the comedian — Charley Macorn (whose pronouns are they/them) — tweeted on Oct. 1: "I'm very pleased to announce the stupidest thing I've ever done."
Macorn and the crew — Lenny Peppers, Solveig Gassner, Jordan Demander, James Mason, Aaron Juhl and Macorn's romantic partner, Cedar Everett — filed into an open courtyard of dead grass and pockets of windblown snow. They parked facing a multi-storied, rusty brick building, which was the main cell house before the prison closed in 1979. The crew headed to the right, to the prison chapel, a small basement-level room of empty pews and school desks that would play host to the night's event: "Jokes for Ghosts." Think Johnny Cash at California's Folsom State Prison in 1968. Now sub in a University of Montana MFA media arts grad student performing stand-up for an audience of dead people.
It's an intriguing concept, sure. Stand-up is inherently audience-focused; removing the audience is risky. But Macorn, 34, is well-known in the Missoula scene for not doing what other people would do.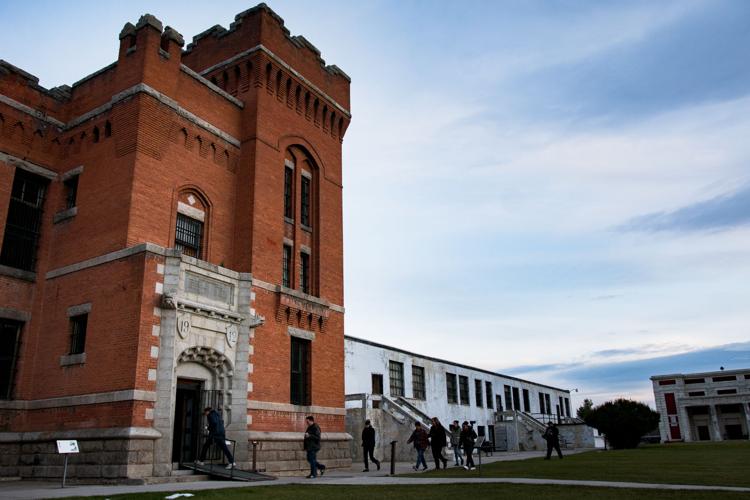 Writer and fellow comic Sarah Aswell met Macorn at an open mic at a local dive bar (she doesn't recall which) four years ago. She believes one of Macorn's greatest strengths is the ability to approach tough topics without an inflammatory style or, "punching down." She says Macorn lacks the mean streak some comedy seems to thrive on.
"Charley's a good example of how you can make tough points without getting people upset," Aswell said. "Every time Charley's political on stage, it's through these flights of fancy. There are always these sort of otherworldly experiences where the audience is removed from reality and can see how smart or dumb a thing is placed out of context."
This comes at a time when people who consider comedy are asking themselves what responsibilities, if any, a comedian owes to an audience. Case in point: the controversy over Dave Chappelle's recent Netflix special, where he came under fire for, among other topics, being transphobic. Macorn believes it comes down to discontinuing reductive ideas that harm at-risk groups like minorities. In Macorn's case, that sort of consideration might even extend to the dead.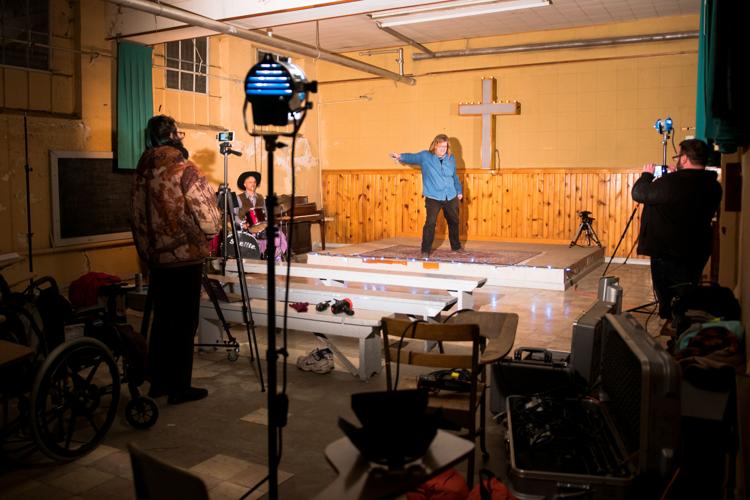 "If my spirit was haunting [this prison] for eternity, and some fucking clown shoe comes in and starts being 'too cool for ghouls,' I would feel awful," Macorn said. "It would be so disrespectful. And maybe that's what comedy needs. It's that comedy can do such incredible things as long as you see the whole picture. Everyone's art is filtered through who they are as a person. 
"I guess that's the weirdo I am. I'm respectful of things I don't believe in."
Macorn was among those UM grad students awarded the prestigious Bertha Morton Scholarship, given out to those exceptional students who are clearly serious about their studies and have worthy projects. Or, as Macorn put it in a social media post (also expressing serious gratitude):
"I'm a Ph.D candidate who will use this money to travel to Mongolia to study how climate change is impacting the natural world.
"I'm a third-year law student who will use this money to further my work helping disadvantaged communities have access to basic human needs.
"I'm an MFA student and I'm using this money to tell jokes to ghosts."
---
Inside the cell block, the film crew tinkered with equipment as the sun dipped below the prison walls. Temperatures dropped to freezing, and fingers and toes quickly chilled despite layers of clothing and pockets full of chemical hand warmers. Macorn sketched out a rough plan for the night. The show was the main event, but Macorn needed to extend invitations to its attendees first. The gallows were a required stop, of course. The site of a violent riot in 1959 — a spire known colloquially as "the death tower" where two inmates died — also needed a visit. The prison's claustrophobia-inducing isolation cell was another important hotspot.
But first, they took a stroll down both wings of the main cell block where dozens of ostensibly vacant cells yawned in the dark. Macorn's glasses glinted in a flashlight's glare as they strolled casually, speaking directly to the prison's former residents in the practiced voice of a master TV host.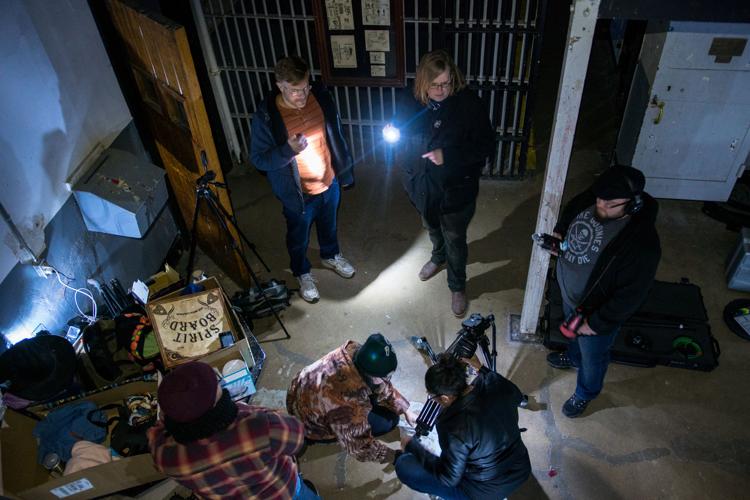 "My name's Charley Macorn, and I'm performing a comedy show in the chapel at the stroke of midnight," they said. "You like jokes? How many prison guards does it take to throw a prisoner down a flight of stairs?" Macorn held for a beat. "None. He tripped." The off-camera crew stifled a giggle, not wanting to ruin the shot.
"I'm very funny, though looks aren't everything. Join me, won't you?"
"Jokes for Ghosts" presents something of a homecoming for Macorn, who grew up with their younger brother near the prison. In Deer Lodge, population around 3,000, the prison is such a prominent part of life that Macorn doesn't even remember the first visit. It's just something people do, "like visiting the Statue of Liberty in New York or something."
As a child, Macorn liked comic books, old films and fantasy novels. Their mother taught preschool. Their father worked for years in the prison system, some years as a guard at the Old Montana State Prison before its closure. Macorn hopes they gleaned kindness from their mother. And from their father? A sense of humor.
"Dad was always very quick with a joke, in every situation. When you're a kid, you model yourself after that," Macorn said. Macorn noted their dad never seemed to find Macorn very funny.
As a teen, Macorn discovered comedians Mitch Hedberg and Eddie Izzard. Hedberg's inimitable deadpan and ability to find the profound in the inane played a major part in Macorn's development as an artist. Izzard's trans identity spoke to Macorn on a more personal level.
"[Izzard] hit on every kind of cylinder that 14-year-old me didn't know I needed to fire on at that point," they said. "The humor. The historical basis to it. The gender expression. All things I didn't know I really needed."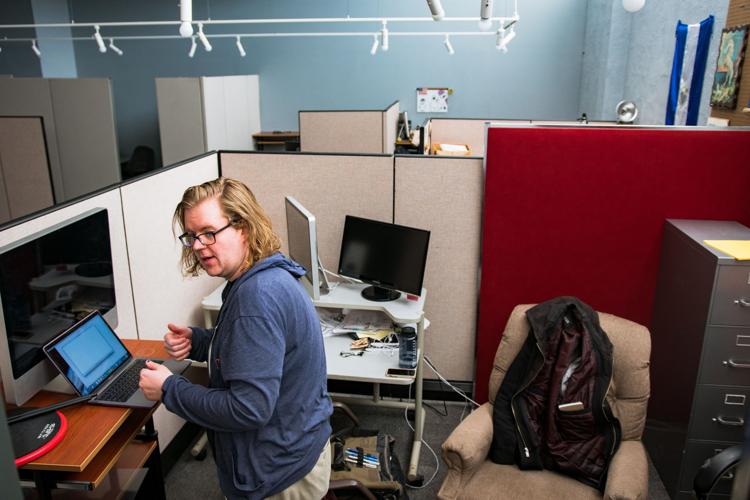 Macorn's interest in the arts continued to grow, and they took a position as a projectionist and spotlight handler at Deer Lodge's Rialto Theatre. The experience led Macorn to run the lightboard for shows held at the prison's theater, a glimmer of things to come. They memorized bits of "Hamlet" while working behind the scenes during a production of the farce, "The Complete Works of William Shakespeare (Abridged)." They took a lead role in Rodgers and Barer's musical, "Once Upon a Mattress," when a former actor dropped out.
"I just kept the drama train going from there," they said.
By this point, Macorn had dabbled in creating their own material. They wrote plays. One was a sort of noir murder mystery pastiche with fairy tale characters. Another, "The Other Side," featured a sensitive artist writing a spy novel while being mentored by the ghost of the American outlaw Jesse James. It was, apparently, as bonkers as it sounds.
"My drama teacher wasn't quite ready for that." Macorn laughed. "[It was] some weird experimental shit that's embarrassing. I'm glad that was never produced. I'd be mortified to this day for the things I probably put in it."
Macorn graduated high school in 2004, one in a class of roughly 50. They worked late nights at a gas station, odd jobs here and there. Like many young people with foggy concepts of the future, they felt adrift.
"I had dreams and things," they said, "but I didn't think there was anything I could accomplish in Montana."
By 2005, the creeping specters of anxiety and depression had Macorn looking for something beyond Deer Lodge. A move to Missoula and a half-hearted attempt at college did little for Macorn's mental health, and a full-blown breakdown soon reared its head. Macorn bottomed out in 2011 — the details are a fuzzy mess, but the spiral that ensued is clear: stealing $30,000 from friends and losing it all, a near brush with prison, and a suicide attempt.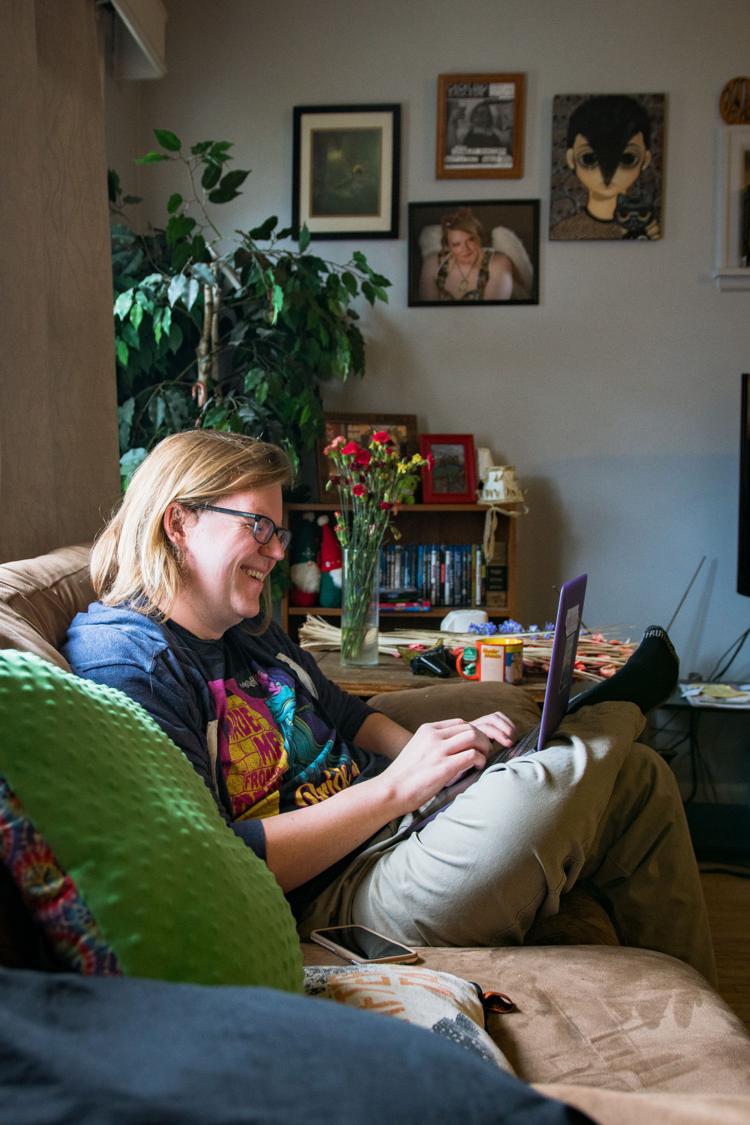 "That was sort of the moment I thought ' I can't do this, this isn't my life. I'm not ending it here. Whatever happens, no matter how many steps it takes, I'm gonna walk away from this,'" they said. "I started inspecting my life and was realizing that I was transgender and beginning to correct that. I'm at the point now where I'm medically transitioning." Macorn is also comfortable with she/her pronouns.
Macorn moved forward gradually, earning a BA in history and a double minor in women, gender and sexuality studies and African American studies in the fall of 2016.
"I'm the second person in the history of the University to do that," they said. "I'm looking at Ph.D programs right now. I like school." Macorn's also known for their work as the calendar editor and writer of film blurbs for the Missoula Independent, where they worked until owner Lee Enterprises shut down the paper in September 2018.
Macorn's personal overhaul crystallized with their first attempt at stand-up at an open mic night at Sean Kelly's, now the Thomas Meagher Bar.
It did not go well.
"It was the worst," Macorn said about the set, which featured a hefty chunk of jokes at a well-known musician's expense. Macorn had snagged the spotlight for an audience expecting music, not the deadpan humor of a burgeoning comic. A bachelorette party heckled; Macorn heckled back. Only minutes into the set, the bustling crowd flowed out in streams, clearing the bar "stem to stern," Macorn chuckled.
But that inauspicious start scratched an itch, providing Macorn an outlet to be vulnerable in a way they'd never experienced. They immediately went to work on refining a three-minute set, spending a week writing material that Macorn later described as "shitty," something someone pretending to be a comedian would say. Macorn needed to find their own voice, that special element only they could present to the world.
They decided the way to do that was through candor. Airing out embarrassments worked two-fold: forming an approachable identity and being able to use the audience as "free therapy."
"You're performing and trying to create immediate emotional responses from people," Macorn said. "With standup comedy, the more personal you can be, you are wwcreating that unique voice that no one else can copy."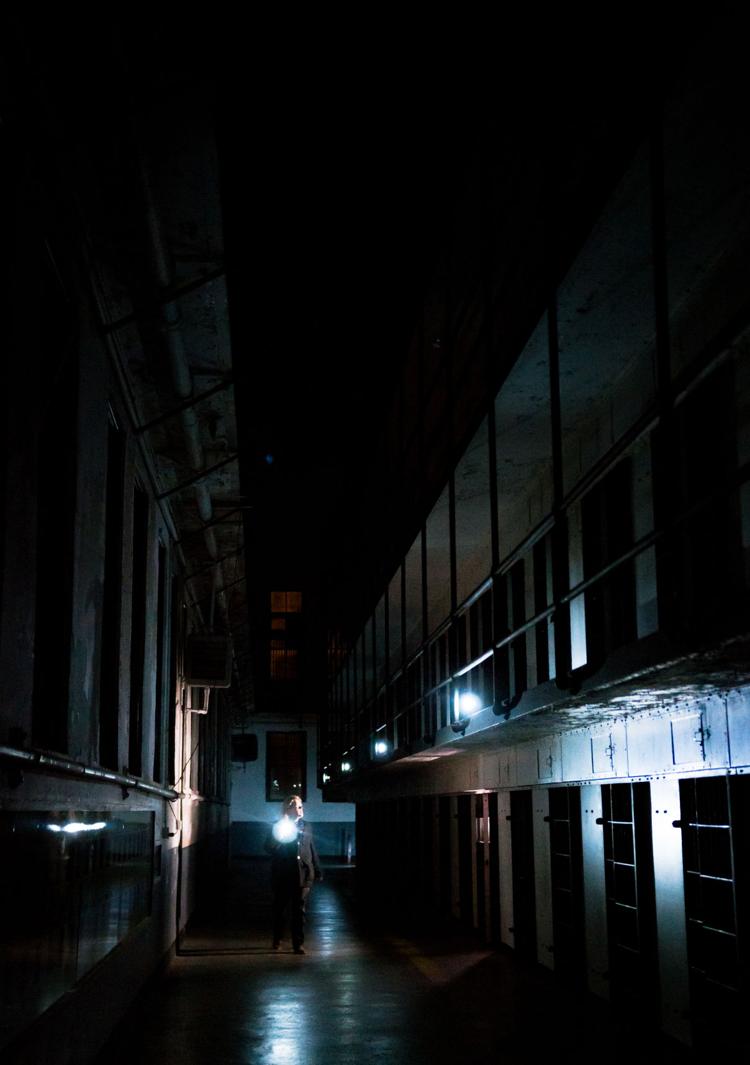 And so Macorn, a lover of B-movies and bad flicks, decided to become a horror host in the vein of Elvira and Joe Bob Briggs. They shot a YouTube clip in their living room, "The Spooky Spooky Spooky Spooky Movie Show." The charmingly low-budget program featured Macorn and friends cracking wise and dropping movie trivia in skits peppered throughout a screening of 1959's ghost-fest "House on Haunted Hill."
"I didn't have anything else to do. I figured I might as well live my dream," they said. "I'm glad I did it, I learned a lot. It gave me a lot of skills. But woof. It's bad."
With that, Macorn had taken their first steps toward accomplishing a comedic dream born years before: to be funny, and to be funny on stage. They joined Homegrown Comedy, an event dedicated to highlighting local comedians. Their first major gig was at Missoula's Roxy Theater. Macorn co-hosted a "Mystery Science Theater 3000"-esque screening where they could refine their improv skills, telling jokes and chatting with the audience while movies rolled behind them.
In 2015, their comic book obsession turned reality with the publication of "Jill Trent, Science Sleuth." The comic features a revamped version of the 1940s-era heroine, sometimes considered one of the medium's first queer heroes.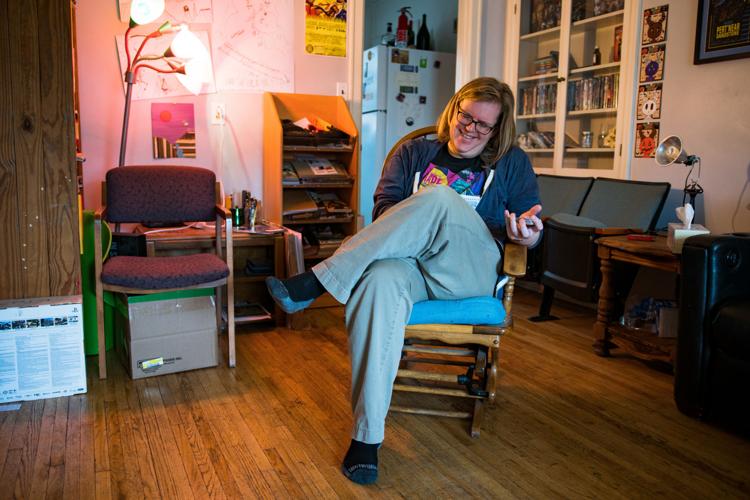 Macorn developed their material at Missoula's Homegrown Comedy nights, leading to spots in out-of-state events like the Portland Queer Comedy Festival, the Art of Female Comedy Fest in Wichita, Kansas, and the HBOsponsored 10th Annual Women in Comedy Festival in Boston in early 2019.
While getting laughs is, of course, always on the mind of a stand-up comic, Macorn seems especially proud of their personal impact on the growing Missoula comic realm.
"I am very aware that Missoula has a very queer comedy scene, and it wasn't that way when I started," they said. "I really gayed up Missoula comedy. Irreparably, hopefully."
Their penchant for inclusion isn't restricted to the stage, as comedian Sarah Aswell notes. Macorn's apartment has become a second home to many. Performers often drop in to analyze the night's show or sleep off those last drinks. Sometimes, it's simply to watch a cheesy movie and talk.
"I think that's pretty special to the comedy community. Macorn is a safe space for people to congregate around and know they can speak their mind," Aswell said.
---
Back in Deer Lodge, on a clear October night lit by a full moon, midnight had arrived. Silence filled an empty complex once overflowing with convicts. The modest prison chapel had been converted into a jury-rigged soundstage, lights haloing the pulpit.
"Hello, Old Montana Prison! Let's make some noise!" Charley Macorn warmed up an audience no one could see. Electric candles were stacked neatly on a large, white cross perched behind Macorn's tall frame. A six-pack of microbrews and a packet of smokes sat on a table on stage right, offerings to Macorn's guests. A spirit board and an electromagnetic reader sat just out of frame.
Ever-conscious of their listeners, much of Macorn's set consisted of explaining the history of stand-up to a crowd who largely lived and died only knowing its vaudeville roots.
"It's tough writing for an audience who doesn't know how things have changed in the last 40 years, and a lot has changed. For example, this is what women look like now." Macorn gestured to themself with a wink.
"I love Deer Lodge. I was here today, and this guy stops me and says, 'Hey, what are you? A faggot or something?'" Macorn paused. "I look up at him and say, 'Is there a problem, officer?'"
They continued in this vein — Macorn's talent at social commentary wrapped in easy-to-swallow jokes, like a pill in a chunk of cheese for a sick dog. Macorn's partner, Cedar Everett, states it plainly.
"Charley's a genius," they said. "They'll bring the whole audience down with this really serious thing, then they'll just twist it at the last second and make it hilarious."
Between Macorn's quips, Everett and a pair of crew members — naming themselves Boxcar Cedar Everett and the Haunted Hay Ride — performed a rendition of the old blues standard "In the Jailhouse Now." Everett's voice rang out and echoed off the bare stone walls.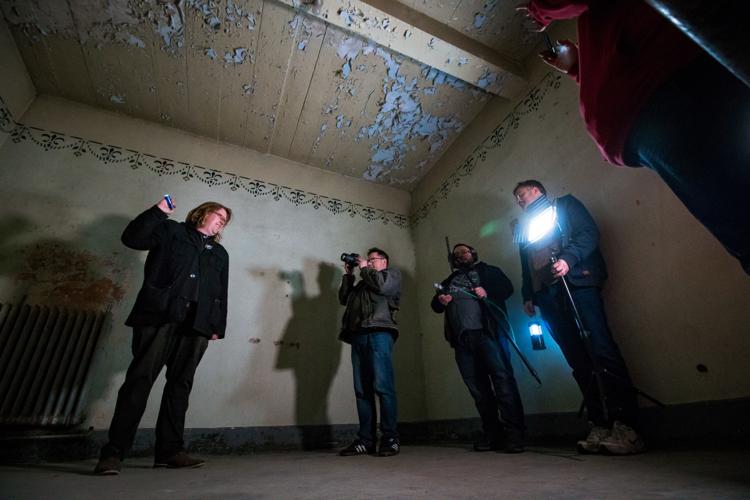 And still, no noticeable reaction from the prison's spirits.
Macorn moved on, touching on subjects as varied as Montana state representative Greg Gianforte and their niece's fondness for dinosaurs. Each modern reference surely went over the heads of the hypothetical haunted attendees, but Macorn's self-deprecating tone ensured any listeners never felt talked down to.
With the 30-minute show nearing its end, Macorn pivoted. After their own run-in with the law, they could relate. They knew those walls held captive people who never should have been there, never deserved to die there. So, for at least that night, Macorn spoke to them and for them.
"I'm just a weirdo doing a comedy show in a haunted prison. I'm no one important. But I get the opportunity to say things, and people will listen."
On the side table, the electromagnetic reader flashed red.