Alex Northey's car screeched to a halt at the front of the Curry Health Center's parking lot. He felt his head shoot with pain from a headache, and tried to relax himself walking out to his early morning COVID-19 test at the University of Montana campus.
A plastic chair and accompanying hand sanitizing table greeted him on the morning of Sept. 16 as he walked to the back alley of the center. Health officials wore full body smocks and light blue gloves.
They told him everything was going to be okay as they stuck two, 6-inch long cotton swabs into his nose. The two tests — one a rapid test, the other to be sent to the state lab in Helena — took over Northey's thoughts.
"I hope this is negative," Northey said to himself in the back alley, but knew the odds were against him. He and his roommates first felt sick a week earlier, after Northey visited friends in Butte, Montana. Those friends tested positive for COVID-19 after he left.
At first, they thought their mild cold symptoms could be the smoke, allergies or anything that wasn't involved in the pandemic gripping the world. Those thoughts fell away with the sound of coughing, dull, prolonged body aches and eventually chest pain.
Before they knew it, Northey and his three roommates joined hundreds of others in Missoula County self-quarantining due to the coronavirus.

It's been over a month since students returned to UM for face-to-face learning. The school implemented coronavirus policies, handed out Healthy Griz Kits and told students to "defend their den." But by the fifth week of instruction, sick students poured into Curry, and case numbers began to rise.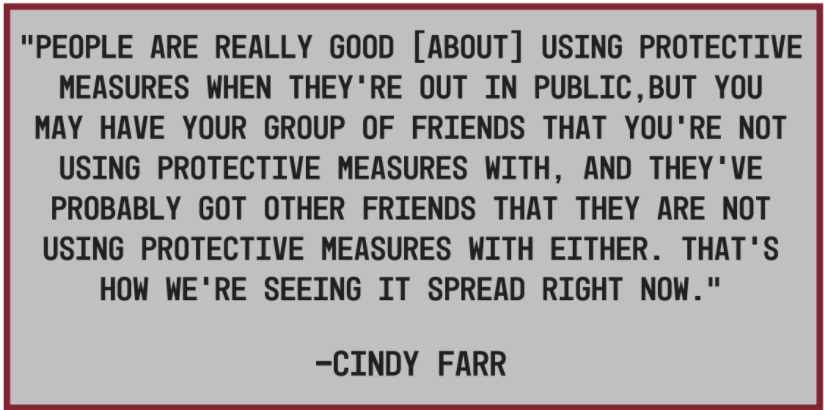 At least two COVID-19 clusters have appeared on campus in the past week. According to an email from the UM COVID Response Team, Greek life and UM Athletics are at the heart of both. The combined clusters have reported close contacts of more than 200 people. With such a wide berth, there is likely to be additional spread throughout campus and into the community.
In an interview with the Kaimin, Cindy Farr, the Missoula City-County Health Department COVID-19 Incident Commander, defined a cluster as more than two cases connected by personal, group or locational contact.
While Farr could not elaborate on the clusters associated with the Athletic Department or Greek Life due to privacy concerns, she said cases in the college community are rising due to the large number of close contacts related to the clusters.
"The trend that we're starting to see now is that people are really good [about] using protective measures when they're out in public," Farr said. "But you may have your group of friends that you're not using protective measures with, and they've probably got other friends that they are not using protective measures with either. That's how we're seeing it spread right now."
Well, it's official. This week marks the FiFtEeNtH DaY oF InStRuCtiOn, and as of press time,…
J.C. Weida, head athletic trainer at UM, confirmed that, despite the reported cluster, most sports teams are still practicing or working out. Weida is in charge of the Rhinehart Athletic Training Center, and said the facility is still open and used by student athletes everyday.
"We are still in single-digit numbers of positive cases in the Athletic Department," Weida said on Sept. 16.
All student athletes experiencing symptoms are getting tested at Curry, he said.
Days after the University of Montana confirmed a cluster of COVID-19 cases in UM Athletics, …
"We have lots of athletes in different levels of quarantine. We have a few that are positive, and most sports are practicing and working out," Weida said.
While the athletics cluster began with small numbers spread across teams, at least one team has completely stopped meeting due to the virus. UM sports information officer Joel Carlson confirmed in a Sept. 19 email that the entire cross country team has been quarantined, though the Kaimin could not determine when that quarantine period started.
The Kaimin reached out multiple times to Greek Life coordinator Lacey Zinke, who declined to comment. Multiple Greek Life members refused to comment as well, citing their national house policies not to talk to the press.
The clusters have already been reported to have spread to other organizations on campus. According to students who attend Resonate Church, a mostly student-affiliated church, a positive case connected with the original cluster forced a shut down of in-person events.
A press release from Resonate said the church has followed UM's Risk Mitigation Plan and did not have a positive case for the first four weeks of classes. On Sept.13, however, a COVID-19-positive person from the Greek life cluster attended a church event indoors at the University Center ballroom with between 60 to 80 students.
Pastor Preston Rhodes said he was not aware of another positive case stemming from the event.
"I've encouraged everyone in our church to obey the health officials if they receive a phone call," Rhodes said in an email to the Kaimin on Sept. 18. "Our Sunday meetings are organized in such a way as to minimize if not eliminate the ability for anyone to become a 'close contact' of anyone else."

Paula Short, the Director of Communications at UM, attributed the increase in cases to shared living spaces on and off campus.
Short said that, while Greek Life has large numbers of people in shared living spaces, most college students have similar living situations off-campus.
"We know lots of college students, to save money on rent, have lots of roommates. And you're sharing rooms and you're sharing spaces," Short said. "So recognizing that not only are the fraternities and sororities — those living conditions congregate by nature — the only ones."
For students who live in these spaces, UM offers quarantine and isolation housing. Though the spaces are similar, there is a difference between the two designations.
A newly loosened guest policy will remain in the residence halls despite the Missoula County…
In an email sent to campus Sept.18 in response to the rise in positive COVID-19 cases, the University defined the difference between quarantine and isolation. Quarantine keeps someone who might have been exposed to the virus away from others in order to prevent further spread. Isolation keeps someone infected with the virus away from others, even in their home.
Short said UM has a capacity to quarantine or isolate up to 110 people. The number is set to fluctuate because, as Short noted, some spaces include two- or three-bedroom apartments, which can hold up to three people.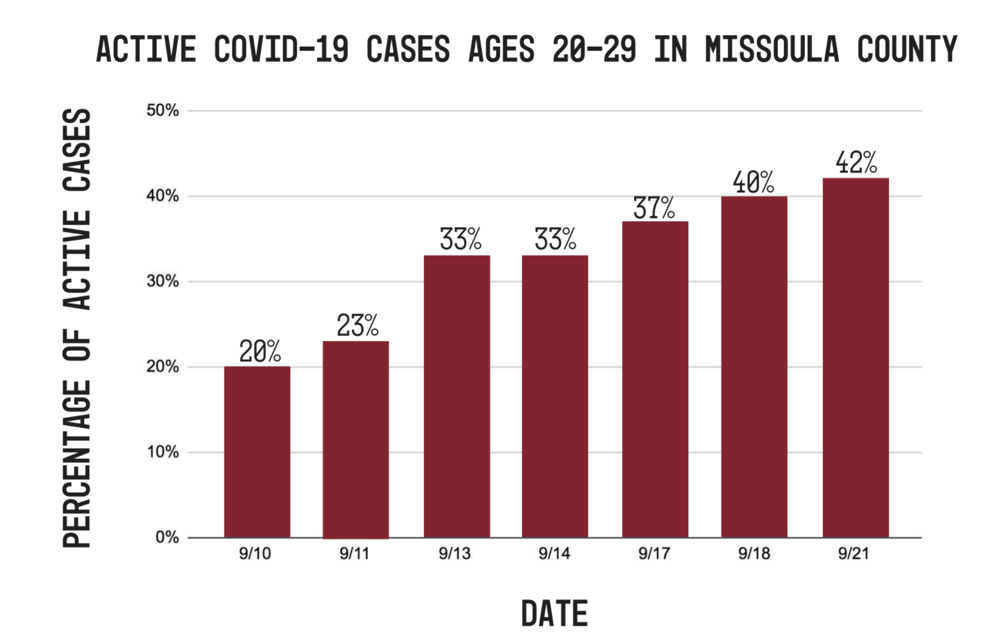 Since last week's update from the Missoula City-County Health Department, the University of …
"If people are positive, they can isolate together," Short said. "So the number of spaces doesn't necessarily correlate to the number of individuals."
Instead of a potential all-out campus closure, Short said the University would focus on more of a patchwork approach. For example, the recent wildfire smoke forced professors using outdoor classrooms to move temporarily online, Short said. She added the flexibility of instructors is essential for this situation-dependent approach.
"I think that's actually more responsive than to just pivot the entire institution based on some metric," Short said. "So I expect that any adjustments in how the University is proceeding this semester would happen on that sort of smaller, individual or case-specific basis, rather than a massive, all of a sudden transition."

A month prior to his Sept. 16 visit to Curry, Northey was concerned that he might have come in contact with COVID-19.
Northey, a sophomore from Helena majoring in finance and management and information systems, decided to get tested, and made the call at 9 a.m. Within half an hour, he was able to get a rapid test from Curry.
The process was not as streamlined the next time he needed testing. Northey called in for the second time on Sept. 14, and was told that the next available appointment could take up to two days. He and his roommates couldn't get in immediately because so many people were already getting tested.
Northey's two symptomatic roommates, who felt the worst, were able to get tested Tuesday. Curry scheduled Northey for Wednesday. The fourth roommate, who did not display any symptoms, was refused testing initially because he wasn't connected to any previous positive cases.
"They didn't say exactly like, 'Oh, we can't get you in today because we have too many people to test,'" Northey said. "[Curry] was like 'we can get you in tomorrow at 11.' I'm assuming they've got a pretty big waitlist for the tests."
As the first day of the fall semester drew near, the Curry Health Center received a rapid te…
The number of tests Curry is capable of doing is hard to define. Dr. David Bell, head of Curry's testing lab, said that the number of tests is a moving target.
"We're working on everything we can do to expand the number of tests that we can do, and everyday we try to do a little better," Bell said.
Before Curry was receiving more and more calls for tests, scheduling for testing was already in place. Bell said they can test every 10 minutes, but if the days' schedule gets filled up, people will have to wait.
"There's always going to be a waitlist," Bell said. "Any system isn't prepared like McDonald's where you drive up and get your test right when you want to do it."
Bell said he could not estimate how many people have come into Curry for COVID-19 tests because of privacy issues.
Bell said Curry health workers are limited, which can cause the wait time for both COVID-19 tests and results. Up to four people are involved in the testing process, Bell said, from the person that sets up the appointment to the person that runs the test.
Northey received two tests when he went in, one from a rapid testing machine to be analyzed in Curry, and another test that was sent to the state lab.
Remember back to April and those first few weeks of the lockdown? We were all navigating the…
Curry has three rapid testing machines: an Abbott ID Now and two Sofia SARS Antigen FIAs.
The ID Now arrived before the beginning of the school year, while the Sofias are recent additions. The small, sleek white ID Now, which has been on the market since 2014, has a 13-minute turnaround for test results, according to Abbott's website.
The Montana Department of Public Health and Human Services trained Curry staff on the machine. It had testers at Curry run samples on the ID Now, then sent the tests to the Montana Public Health Lab in Helena to confirm the machine's findings.
Jim Murphy, chief of Montana's Communicable Disease and Prevention Bureau, said that when the protocols are followed, the results generally match those of the state lab.
When a man has a swab shoved up his nose and tickling his brain, a man gets to thinking: Is …
"When they follow the users instructions on these machines, and test symptomatic people at the point-of-care, it has been very good," Murphy said. "[It] matches our results, with a different, more sensitive testing method than we have."
However, according to a news release from the FDA from May, the ID Now was known to produce false negatives. Some false negatives, Murphy said, were associated with different handling of the specimens that Abbott did not recommend.
It also depends on the time between when tests are taken.
"You can test me today, and I'm negative, and then you might want to test me tomorrow or the next and I might be positive," Murphy said. "That could be the fact that now I'm producing enough virus to be detectable. It might not mean anything bad about that first test that was taken, but it might have been too early."
Murphy said close contacts are being tested as early as possible to try and find any asymptomatic carriers of COVID-19. Testing that early could lead to false negatives.
"We're not trying to wait for them to develop the illness. You want to catch them early to look for asymptomatic folks," Murphy said. "That does mean that you may be testing some people before they are producing enough of the virus to be detected."
The Sofia, alternatively, has been known to produce false positives. Bell said that this is because the Sofia is an antigen test. In the process of testing a sample, the test could potentially detect other versions of the coronavirus that are different from COVID-19.
Curry double checks positives from the Sofia with PCR testing, which is what the ID Now and the lab in Helena do. Bell added that antigen tests are used more than PCRs at Curry because they are more readily available.
"The antigen would serve as a screening test, where you can trust the negative, but the positive you need to confirm," Bell said.
Curry sent tests to the public health lab in Helena in conjunction with its rapid tests. After first receiving the ID Now, Curry sent over a hundred tests to compare and confirm results. With the Sofias, Curry does the same thing, having sent over 150 tests from the two machines. Bell said that the lab is confident now in all three of the machines, and plans to no longer send tests to Helena.
Despite confidence in the machines, just because a test is negative does not mean that a close contact is in the clear. Many students, Bell said, are missing the big picture of what a negative test means.
"A lot of people perceive that if they get a negative test, they're good to go," Bell said. "The truth is, if you're a [close] contact you're supposed to quarantine for 14 days."

Northey sat on the couch of his small apartment doing homework a couple hours after taking his test at Curry. The four-bedroom, two-bathroom duplex, with a small kitchen and living room, had been the only place Northey and his roommates had been since the fifth week of school.
For three of the four roommates, the days since they first felt sick have been filled with taking vitamin C gummies, answering check-in calls from the Health department and taking breaks or naps due to fatigue.
Northey felt his symptoms fluctuate since the start of quarantine. He had been sick for a week straight, and a second wave made him feel a little worse.
"I felt a little bit of chest pain, and that's when I thought this could be worse than a cold," Northey said in a raspy voice. "The other symptoms set in and I kind of had a fever there for a little but I still felt warm and sweaty and gross."
I'm not a wannabe hermit, never have been, but college from home has made me feel a bit like one.
As Northey worked on homework, he heard something.
"I got it," a roommate yelled from across the apartment. The first call from the health department. Positive.
"Oh fantastic," Northey responded. "Here we go."
Two hours later, Northey's rapid test came back negative. He was the only one in the house to get a negative result, as his second roommate received a positive result the same day.
Northey said he was confused. He felt sick and knew he was in contact with at least three positive cases in Missoula and Butte within 14 days. His fourth roommate, who eventually received testing after his other roommates tested positive, also had a negative rapid test.
With Northey and the fourth roommate's test results uncertain, the group must try to stay out of their shared living spaces, and clean constantly to prevent the virus from spreading to two.
Friends dropped off groceries and the health department sent an isolation kit, filled with thermometers and symptom tracking sheets. The wait for his final test results consumed his thoughts.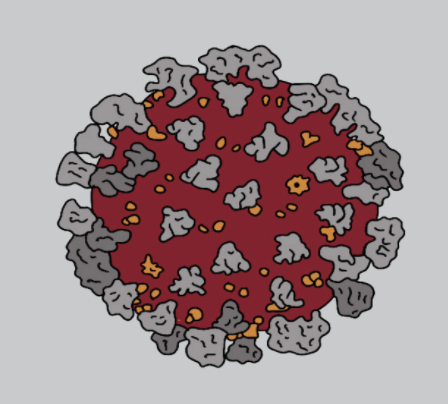 "It's slowly eating away inside of me," Northey said. "That's another thing at the back of my mind, maybe I don't have it."
"They offered to let me stay in quarantine housing away from positive cases. And if I truly do have a negative test that comes back, I could have gone and stayed elsewhere away from positive cases three or four days ago," he said. "But I really don't know right now. I'm living under the assumption that I'm positive."
After waiting five days, Northey received his second test results. It was negative.
His fourth roommate, whose first test was negative, received his state test three days later. It was positive.
Additional reporting contributed by Erin Sargent and Addie Slanger.