With Freshman orientation behind us, the Kaimin sent reporters across Missoula from 5 p.m. to 5 a.m. to capture what college life is really like here.
This is what they found:

5 p.m.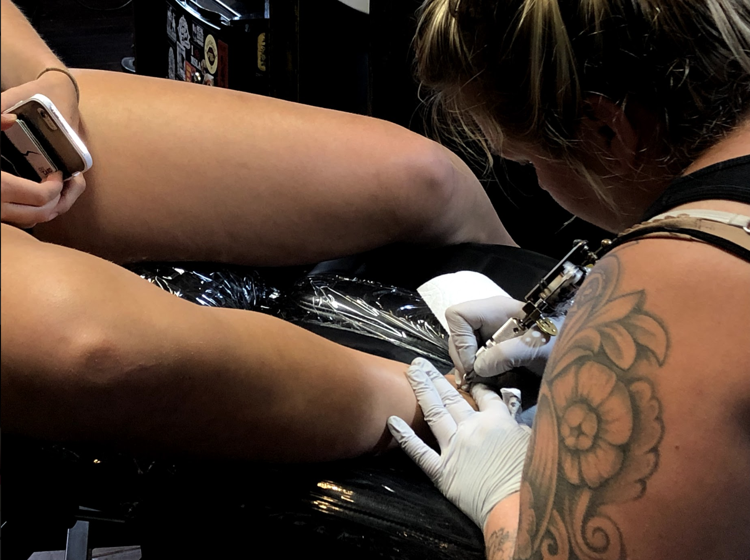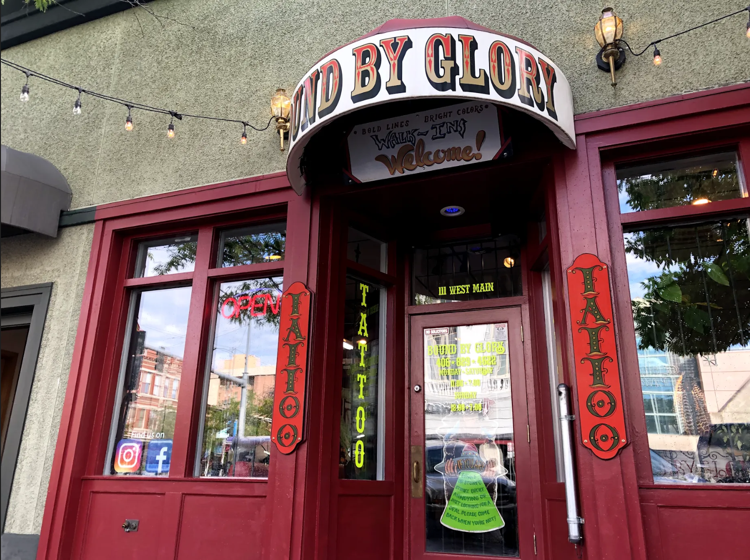 Craig Garfield is sweating. Lying facedown on a bench in the crowded parlor, he rests his head in his arm and explains the reasoning behind his latest tattoo. "Well, I already have a moose," says Garfield, 21, a junior at UM. "So I figured this time I'd get a goose." The goose in question is half-finished and hyperrealistic, with the subtlest hint of a red watercolor outline. Voice muffled by the crook of his arm, the forestry major explains that all his tattoos (three in total) are centered around animals as an homage to his field of study. Many university students choose Bound By Glory Tattoos for their go-to ink fix, says artist Hanna Moorman, 21, as she runs the needle back over the goose's beak. Sometimes that makes the job very interesting, she says. "I once had a guy ask me to marry him," she drops nonchalantly, not looking up from Garfield's forearm. Luckily for Moorman, that hasn't happened yet tonight. At least, Garfield doesn't seem like he has proposal on his mind. When asked what he was planning to do with the rest of his night, Garfield laughed and shifted on the bench. "I'll probably go to the bar. It's Friday, you know?"
 By Addie Slanger & Claire Shinner

6 p.m.
Those not heading to the bars and wanting to get home and turn on "Game of Thrones," "The Office," or whatever the binge-watching show of choice is for the evening might make their way to Orange Street Food Farm for their favorite snack and beverage of choice. A woman in her 50s wearing Chacos checks out of lane three with a pear, a bottle of red wine and a bag of Smart Food popcorn. A college guy checks out of lane one with a 30-rack of Busch Light. Aside from these two and others lingering near the deli, the grocery is mostly dead. The produce looks a little tired from sitting out all day. All the aisles appear empty, except for the beer aisle, where there's a handful of bearded men in socks and sandals paired with outfits that were definitely purchased at a store that also sells tents. One of them gives the other a sideways glance as they eye the same IPA.  
By Daylin Scott

7 p.m.
A relaxing breeze rustling through the trees sets the soundtrack for the 15-minute walk from campus, through the University District neighborhood and to Big Dipper. The blue, neon-lit Big Dipper sign and the fresh scent of warm waffle cones signal that ice cream is not far. A constant wave of bikes, pedestrians and cars heads up the Higgins Bridge toward downtown. Waiting in line isn't a bad thing because there is plenty of people watching to do and important ice cream decisions to make. The picnic tables host cute families, UM students, and dogs who brought their humans to get pup cones. Henry Crist, 23, who is both an employee at Big Dipper and a UM business student, said the ice cream joint is a constant line of people during the warm months, adding a good time to go is between 6 and 7 p.m., when the line is shorter. "Big Dipper has almost become more of a Missoula destination than just an ice cream shop. It definitely is a Missoula thing," Crist said.
By Sydney Akridge

7 p.m.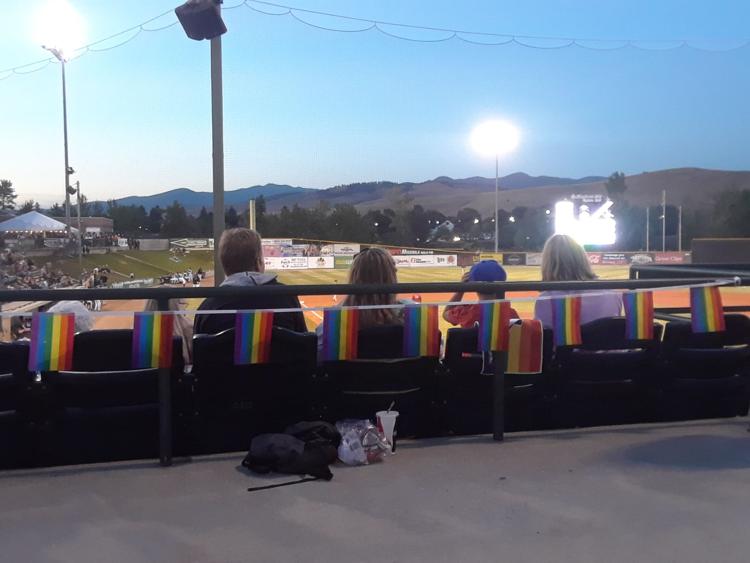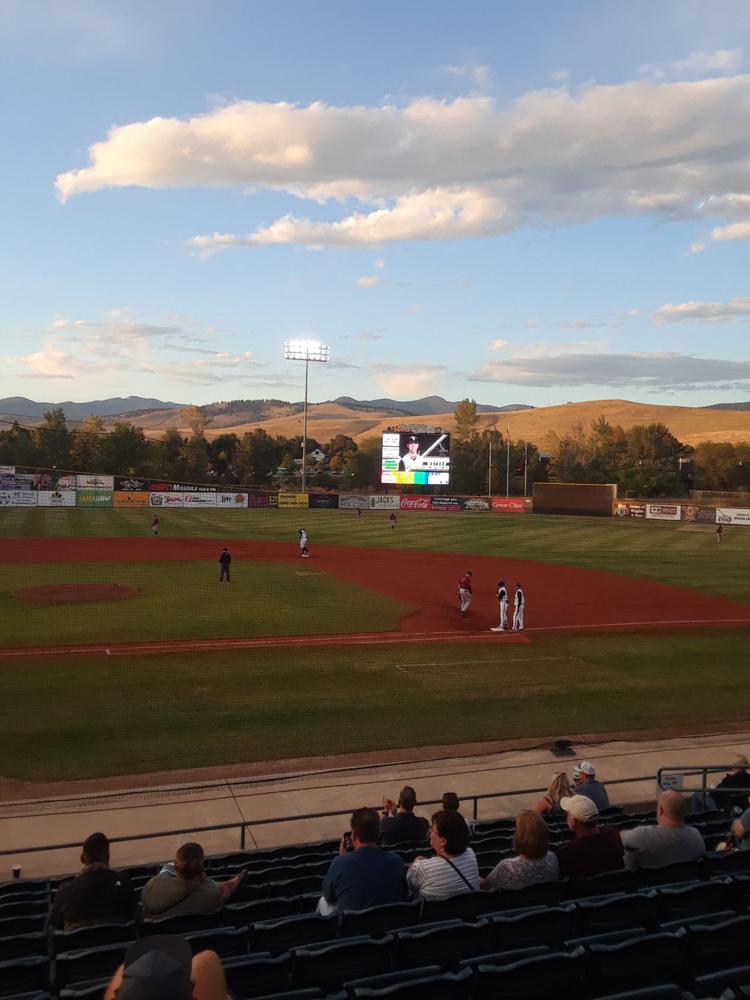 Sam Boyd, also known as "Sammy B," is the emcee for tonight's Missoula Osprey baseball game against the Idaho Falls Chukars for Pride Night in Ogren Park. He's getting kids and adults alike riled up with small games between innings: concession footraces, snow cone eating contests and a game called "Aw Snap," where contestants are attached by a bungee cord and have to grab items. Bumping 2000s music plays, as well as crazy sound effects as the players hit and miss balls. Tonight is a charity event with proceeds supporting local LGBTQ causes and organizations such as the Western Montana Community Center, the ACLU and UM LAMBDA Alliance. Due to the slow pace of baseball, onlookers are mingling and chatting amongst one another. Kids play in fun houses and on turf off to the side. A father fusses with his two children bickering over who gets to hold the rainbow Osprey banner. Young fans rush down to the front row to get their shirts signed by Olly Osprey, the team's mascot. A lesbian couple holds hands as the Ogren Park floodlights come on, illuminating the rainbow-painted Osprey on the field. UM Forestry student Bridgit Prichard and her girlfriend, Shaina Ore, are one such couple watching the game tonight with their friends. "It's really great to show support for the community, and I think it's really cool to see people turn out," Prichard says. 
By Connor Simpson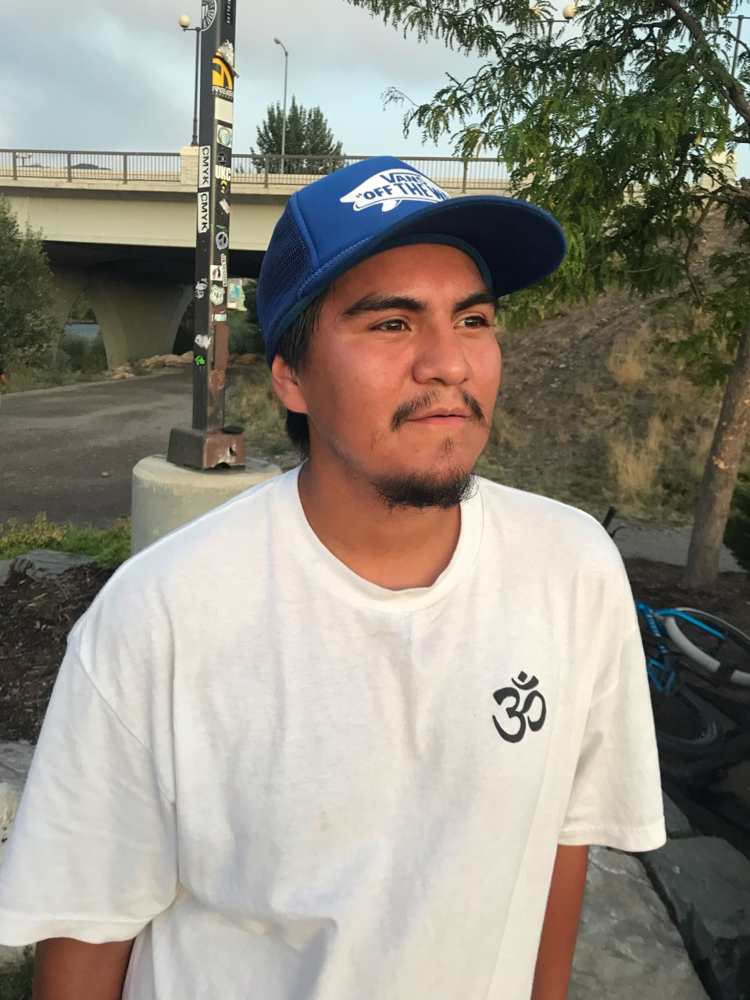 8 p.m.
Manuel Armijo quickly licks his lips and stares at the grind rail at Mobash Skatepark. The cracking echoes of wheels landing on pavement and skaters' boisterous exchanges of banter fill the atmosphere. Armijo drops his board and skates in the direction of the rail. "I'm trying to learn it all again," says Armijo, 22, orginally from St. Ignatius, Montana. "I just came out of recovery, I fractured my leg at the beginning of summer." At a get-together in Polson, Armijo bailed on a trick, rolled his ankle and fell on his leg. For Armijo, putting down his board for an injury was not an option. "Skating was the only thing that kept my mind off of stuff," Armijo says. "If I don't do it, I'm gonna sit down and not do anything." Rail in sight, Armijo leaps onto it with his board. Then he falls. Again and again and again. Armijo stops to take a breather. He watches a shirtless skater land a kick-flip over two construction cones stacked sideways. Onlookers cheer. After a short rest, the injured skater sizes up his obstacle. With minimal hesitation he skates toward it. Catching air, the wood of his board connects to the rail's metal. He slides down it, then lands. Armijo smiles. "Since recovery, I've learned a few new tricks." 
By Daniel Duensing & Liam McCollum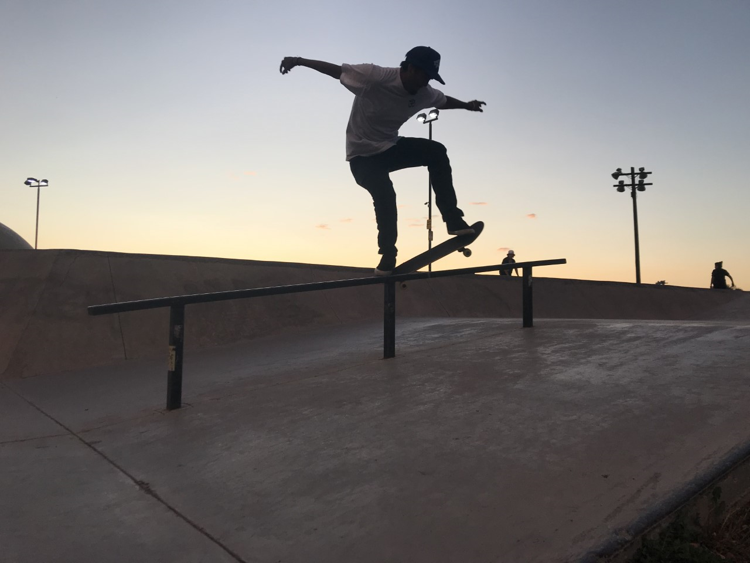 9 p.m.
All along the M Trail, deer eyes glint in the growing darkness, and students like Charles Riebe, a freshman from Billings studying economics, fight to keep their footing as they stumble down the path. Riebe remembers that fateful night well, six days ago, when he almost face-planted down the trail after dark. Some, like Riebe, fall because of the barely visible rocks and steep pitch. Some fall because of the drugs. "Is it tough getting down when you're stoned?" asks Kaden McDowell, a freshman. He and freshman compatriots Declan Ryan, Cole Mathews and Connor Thomson decided to hike the M Trail on a Friday night "to bond and stuff like that." They're most interested in finding the old mineshaft, which peeks out of the mountainside on Mount Sentinel. The cave is a tight squeeze, and it's difficult to put aside the gnawing fear of the walls caving in unexpectedly. When informed that the small cave can be hotboxed, McDowell and company express great interest in finding it. Ryan notes that if he could improve the trail in any way, he would add lights at the benches, "Just 'cause it's like a checkmark." Further down the trail, students Wyatt Walters and Savanna Ziegler peer forlornly at Walters' laptop from a bench. Walters hiked the M Trail because he had no choice, he says. He was assigned a class project requiring him to hike up to the M and take notes. Walters brought Ziegler with him; he felt he couldn't suffer his fate alone. "He made me come," Ziegler says. "I don't want to hike because I've done it before." The hike concludes with a visit to a pavilion, which rests alongside the trailhead. But this visit is cut short as the figure of a middle-aged man sleeping in the grass next to the stage becomes visible.
By Helena Dore

10 p.m.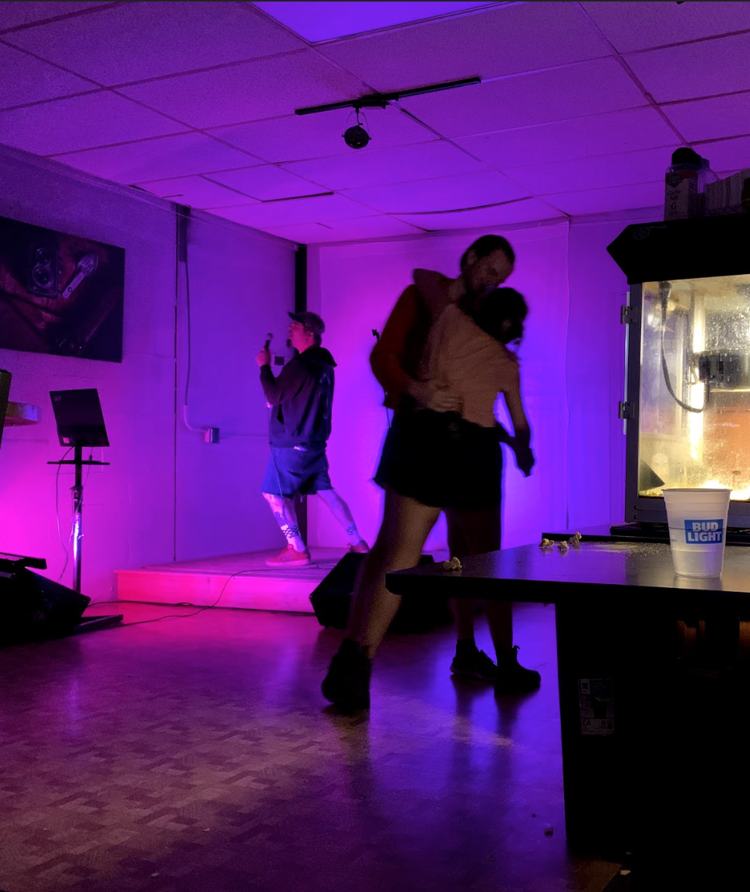 Emmett Ball and Emma Covill were playing street hockey at a friend's house beforethey wandered over to the VFW. Immediately after walking in, they sign up for the first song. Tonight, it's "Lean on Me." Emmett wears denim cutoff shorts, a patterned short sleeve shirt and an orange blazer. Emma has on a Western Cider tank top and black shorts. Emmett takes the lead, singing the first verse. By the time the chorus comes, the pair are swaying back and forth, singing, "Call on me brother, when you need a hand," to the audience. It's thin — three people at the bar, a slow-dancing couple at the front of the stage, the bartender and the Karaoke spinster. "Usually it's packed, but tonight it's not, which is okay, because we get to sing more," Emmett says. The couple met at the Union Club at an election launch party. They've been dating since April, laughing as they try to nail down how many months it's been. Empty Bud Light solo cups scatter the tables as purple and blue strobe lights illuminate the stage. Tonight's drink specials are a $6 Montana Mule and a $5 Manhattan. Emma's go-tos are Adele, Lady Gaga and Lake Street Dive, but she says the DJ rarely has the songs on queue she really wants to sing. "I like jazzy songs, but no one wants to hear that," Emma says. Her next song to perform is "Dancing Queen." It's a pretty typical date night for the couple, but they haven't quite found "their" karaoke song yet.
By Cassidy Alexander

11 p.m.
Greek Row is alive and well as partygoers stumble in and out of Ubers en route to the frats. Music through the air adds to the quintessential College Feel of the night. This is what freshman dreams are made of. It's easy to understand why the venue is so intoxicating for the hordes of freshmen walking from campus in groups of 20 or more. It's a land ruled by an absolutely nonnegotiable 3-1 ratio of girls to guys serves as your entry ticket to the party inside. Freshmen really do constitute the majority of attendees at Sigma Chi tonight along with, understandably, many fraternity and sorority members. As two very out-of-place Kaimin reporters make their way in, a male and a female, one reporter is asked to stay back. We'll let you guess which one. Inside, strobe lights pulse. Music is blasting. People are grinding. The smell of old furniture and sweat permeates the air. Cliche, to say the least. A few minutes later, all the of-age sorority girls leave for downtown. "Girls!" shouts one of the sorority leaders, trying to gather a particularly wild group of dancers. "Girls. It's time to go. We're heading to the bars."
By Addie Slanger & Dante Filpula Ankney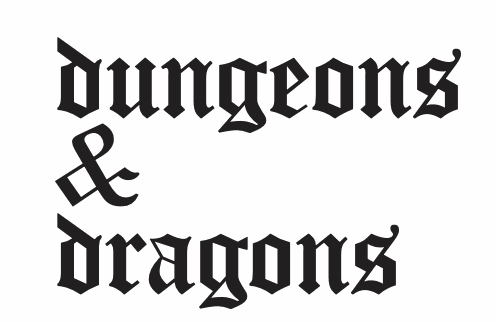 Midnight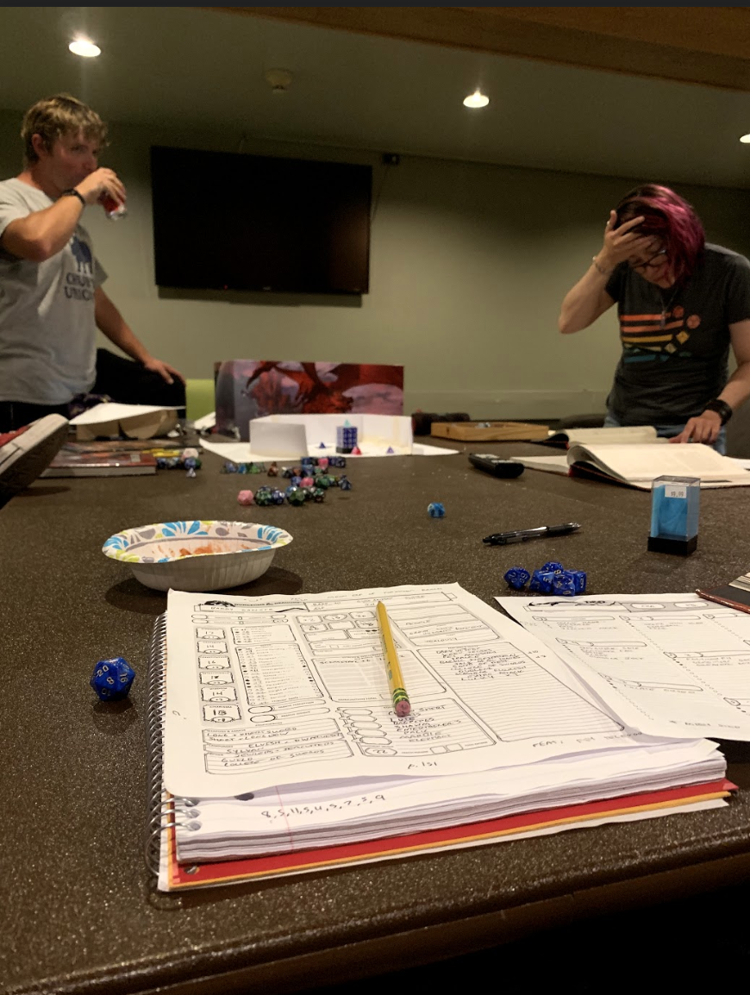 The quest begins at midnight, and I've become someone else. "Fame of Serpents, Titan's Height: To whom it may concern, I have made a terrible mistake.," I hear myself say. "My last chance at saving my own life has failed miserably. The 20-foot serpent, of which I haven't the pleasure of previously knowing, continues to fatally constrict my movement with every passing moment. If I may offer a morsel of advice to any "brave" adventurer standing near a sizeable void in the floor: Don't. "These were the best of times and the worst of times. In these final seconds of life, my mind is called to remember the latter of these. "How fun it was to watch Elregor kick a tattered bucket filled with rotting refuse only to enrage the curious lizard folk, of whom we made quick slaughter. Or the drawing of cards from a magical deck that at once caused Roth to quake in his trousers and soil them simultaneously. And what of the hilarious Pom, the 5-foot human who failed not once, but twice in vaulting a gap which need not be vaulted? "As for myself, the remembrance of the time I used my mage-hand cantrip spell to remove the shorts of a foe in battle, laughing hysterically all the while, comforts me in the throes of death. "Well, a fitting end it seems. I, Barry Saelgir, a high moon elf of the Forgotten Realm, bid you farewell." The dungeon master glances at his phone. He asks the group members if they are willing to continue their battle against the final opponent. Eyes cast downward and several adventurers seem unsure of their answers. Hands slam against the table in frustration. Pencils roll and dice bounce around the table. The group looks to one another and maliciously decides: "Let's kill this motherfucking snake." When it dies, it's 6:02 a.m. 
By Hunter Wiggins 

Midnight
A sign hangs on the front door to the 18-year-old Fox Club Cabaret that gives a warning to anyone too young to drink, those who want to smoke and those offended by nudity. In the packed bar, the music hits the eardrums like a plummet into water when a woman dancing under the name "Emily" takes the stage. The other dancers mingle with the couples, friends and loners scattered throughout the club. The neon lights above make white lace glow hot pink. "Emily" gets two songs into her playlist, and a small crowd has found seats at the stage. She's left in black leggings by the time she's twisting to Nelly, while the lights from behind paint the rest of her uncovered skin blue. Alex Rochoa, staying in Missoula for the night, waits at the bar for a blonde to begin her routine. Rochoa, who came to Fox Club while a student at UM, sips a Jack and Coke and points to a wedding band permanently tattooed to his ring finger. His marriage recently came to an end, he says, but he's keeping the ink. "It's my first chance to be alone in 10 years," he says. "But I don't want to be alone tonight." When he joins the horseshoe of onlookers around the stage, he isn't alone for very long.
By Paul Hamby

Midnight
There is no access from the street. A partygoer is told from a friend of a friend, who knows the owner, that the only access to the apartment is from the alley. The partygoers make their way in a drunken stagger, their DD like a shepherd tending to his flock. The place reeks of awkward confidence and body odor, it sounds like a hip-hop playlist and it looks like exactly what it is: one of the many college house parties in Missoula on a Friday night. White Claws, Twisted Teas and an occasional beer line the countertops. There's rage cage in the kitchen and a peculiar home-made board game in the living room. It's called, "The Drunkest Game Ever." This is UM sophomore Joscelynn Husemoller's apartment. She is also the creator of the board game. Similar to Monopoly, dice are rolled and cards drawn. As game pieces snake along the board, beers are sipped and jokes cracked. The alcohol usually makes the game tougher, and longer. "The goal is just to finish the game," Husemoller says. "We haven't finished it yet." A few rounds on the board game combined with drunken impatience leads most of the party to shuffle out to the street. TThere's another party member — or at least the rumor of one. The likelihood of the next party having The Drunkest Game Ever? Little to none. Inside Husemoller's apartment, the game remains unfinished. 
By Dante Filpula Ankney & Aidan Marten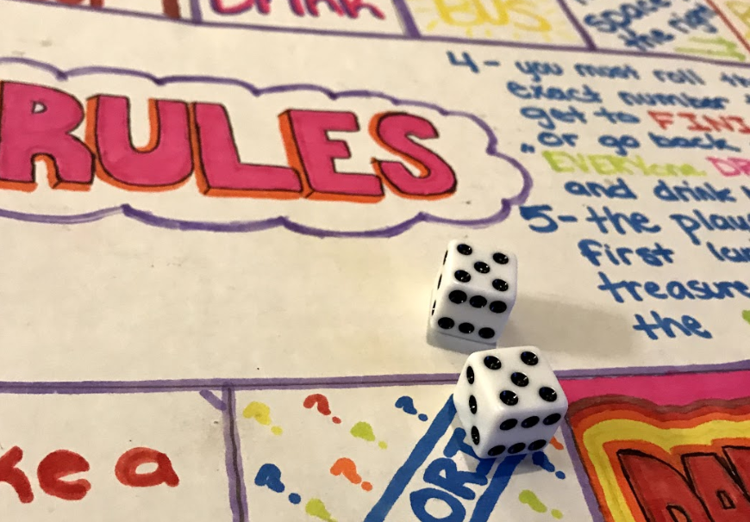 1 a.m.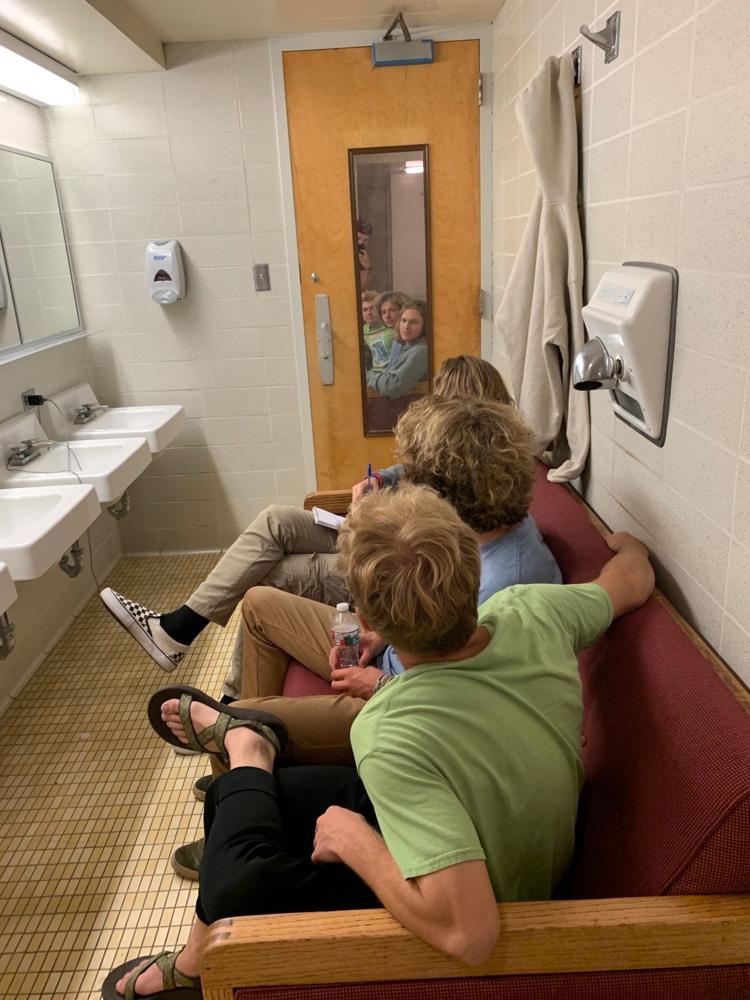 Inside a bathroom on an unspecified floor of Aber Hall is a cloth couch, five guys mingling back and forth, an aggressively soaked tile floor and an undisclosed freshman puking into the nearest toilet. "I swear it was my first time [throwing up] in two years," the young man claims, and then slowly crumples through the door to pass out in his room. Others on the couch are loud, proud and very much infatuated by the University's president. "Aber Hall is a big fan of the Bod™" claims a student named Walter. "That man is BUILT." Another resident starts dumping cookie crumbs into a sink and runs water over it, making a very subjective piece of art for the custodian to clean.
By Bergen Frank-Loron & Griffin Smith

2 a.m. 
The bars are closing, and unless you plan to hit up Stocks o' Clock, it's time to get some of that sweet, sweet greasy drunk food. And where better than the purgatory that is Pie Hole? Tonight, Pie Hole's line goes out the door, and roughly 30 people sit, stand and sway as they wait for the night's specials: salami, sausage and onion; pulled pork, mango and cilantro; mushroom, bell pepper and pepperoni; and spinach, mushroom and onion. The music is '90s hip-hop and it's dizzying. Antonio Armagno, 20, is standing at the register. When asked how he's feeling, he looks up and his eyes are empty. "Tired," is all he says. The girls in front of him order their pizza, five minutes fresh off a full-blown sidewalk tumble outside Worden's. (They hit the ground hard. It took them at least a minute and a half to get back up. But hey, rally, amiright?) 2:15 and still in line. It's classic Pie Hole, with sentences rising from the cacophony: "I've had chlamydia four times." "I'm just puffing that JUUL over here." "I could totally get you a hooker." 2:31 and Armagno's voice rises above. "Hey folks, if I don't serve you in 30 minutes you won't get served. Thank you for your cooperation." He turns to his coworker. "I'm about to make this line my bitch."
By Erin Sargent

3 a.m. 
Take a break from the boyish charm of a starry-skied Missoula and step under the awning of its armpit. At this time of night, the South Avenue Market light silhouettes a young, white-male station attendant. He is stacking ice into the ice machine. His name is Patrick. He'll tell a more curious customer about a shooting that happened here over a year ago — cementing this gastion into Missoula infamy. "Some college kid, high out of his mind." His tone is unconcerned and unexcited. "I wasn't here at the time, it was the other night guy." But tonight Patrick is here, stacking ice bags alone, on the clock till 7 a.m.. waiting for Missoula to wake up.
By Quinn Corcoran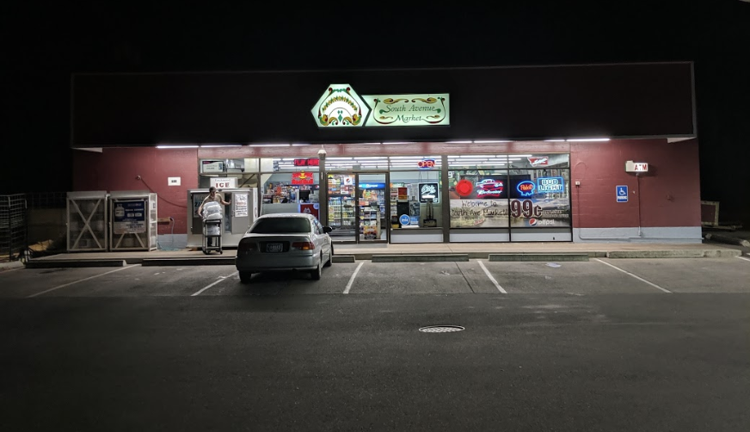 4 a.m. 
This hour belongs to the workers of the Oxford. The drunk college students and night owls have all gone home to sleep off their stupors while the cooks and swampers begin their nightly cleaning. Clinton and Jason, both cooks, begin gathering the dirty dishes, remnants of the JJ's Specials, "best-in-town" cheesy fries and hash browns. Shawn, the swamper, gets up from his keno machine, plays "Scuttle Buttin" on the old jukebox and begins sweeping the diner's floor. Their rush passed two hours ago and now they wait for their shifts to be up. Clinton, struggling to remember his next day off, jokes, "It's like purgatory in here, you walk out, blink, then you're right back again." They all laugh amongst themselves, their jabs, drowned out by the combination of refrigerators, sizzling bacon and the box-style dishwasher. Gun displays meet cheesy fries, and Mickey Mouse Clubhouse plays above the keno machines, but the workers are always ready to offer a smile, serve up some great (greasy) food and good conversation. "Everybody here's a badass," Clinton says. He came to Missoula from Augusta, Georgia. "This place is like a legit old saloon and anything can happen here."
By Jordynn Paz