When Miles Wetzel left the United States Army in 2006, he had 10 days to get through a checklist before returning to civilian life. He had served seven years by then — two in Iraq. Wetzel turned in his equipment, met briefly with a physician assistant, and boarded a plane back to the States. 
Back home, Wetzel, 39 — who grew up in Judith Gap between Helena and Billings — used his military benefits to get a bachelor's degree at a University of Washington campus, before coming home to Montana in 2014 on a scholarship to get his master's of business administration. Things started to change for him in graduate school, he had lapses in concentration, problems with short-term memory and headaches. Reading for too long put him to sleep.  
When he realized he needed help, he contacted the Montana Veterans Affairs (VA) in Helena. The center put him in touch with the VA's Missoula clinic for an evaluation. Instead of getting an evaluation, according to Wetzel, he "waited, waited and waited." 
Eventually, in 2016, he found himself walking into Skaggs 115, a room softly lit for those sensitive to the fluorescent lights that fill the rest of the buildings at the University of Montana.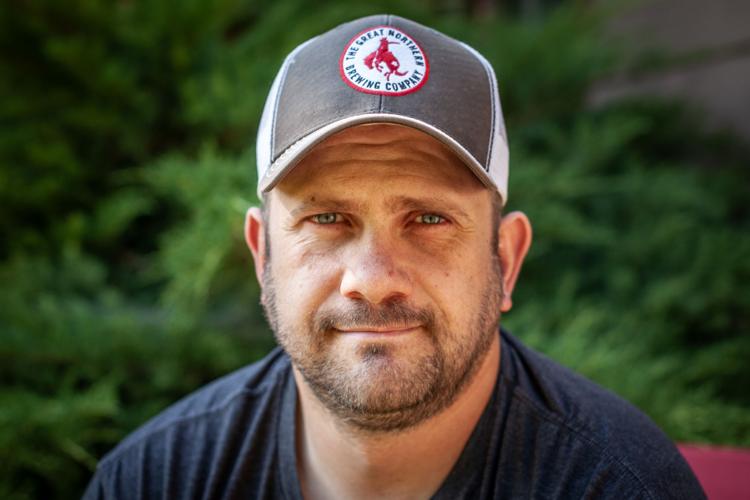 At the Neural Injury Center, neuropsychologists, audiologists, physical therapists and social workers pooled decades of experience to find out if Wetzel had a traumatic brain injury. 
"When it came to getting a screening for what I went through, the major difference was the NIC did a screening and the military did not," he said.
---
Among the United States' veteran population, those returning from operations that began in September 2001 come home with brain trauma at rates higher than those who fought in WWII, Korea and Vietnam. According to the Department of Defense, between 15% and 20% of those who served in Operation Iraqi Freedom and Operation Enduring Freedom received a diagnosis for a traumatic brain injury (TBI). 
The Centers for Disease Control and Prevention define TBI as "a disruption in the normal function of the brain that can be caused by a bump, blow, or jolt to the head, or a penetrating head injury." 
The CDC says 2.8 million people sustain a head injury annually. Causes range from car wrecks to walking into tree branches. Of almost all of those recorded injuries, 90% involve those who received emergency treatment, but no follow-up from specialists.
Among the states, Montana ranks second in deaths per capita from head trauma. Some of that is tied to the state's unique attributes: there are a lot of mountains, a lot of roads, a decent number of jobs involving heavy farm equipment. And Montana is also home to the country's second largest per capita population of veterans, more than three-quarters of whom saw combat, according to the VA. 
Unique from a head injury, a TBI means that an impact has pushed past the protection of the skull and tissue surrounding the brain. Immediate symptoms are pretty clear: a loss of consciousness, confusion, unequal pupils. But long-term effects are more mysterious, especially with certain vets, and that's where UM has stepped up to fill in some gaps. 
---
Reed Humphrey, dean of the College of Health Professions & Biomedical Sciences, helped to launch the Neural Injury Center (NIC) in 2014. He wanted to address the nationwide dilemma of veterans dropping out of college after completing their time in service. It started with a team of specialists, physical therapists and research scientists, focused on how to address what happens when the 90 billion neurons in the human brain get disrupted. 
Since it opened, the NIC has seen an average of 70 student veterans a year. Outside of physical therapy sessions, the center covers all costs. 
"There's not a center like the NIC anywhere that I'm aware of," said Bill Rosen, a Missoula-based specialist in brain injury medicine and an adviser to the NIC. "Maybe in Europe, where there's socialized medicine, but the NIC is built on a completely altruistic model."
Rosen has spent the past 32 years assessing cases of head trauma. He's seen his field and the popular perception of brain injuries change during that time, some of that tied to football players diagnosed with chronic traumatic encephalopathy. 
"Between the veterans and the NFL, a better picture of the severity of the problem came about in the past few years," he said.
 "People don't appreciate the lack of the integrity of the nervous system, compared to the rest of the body. The brain has the consistency between pudding and Jell-O, with nothing but a thin membrane and the skull to protect it. We simply aren't evolved to deal with modern stresses, be they going 60 miles an hour, getting hit in football or what we see in the military."
---
 Those who served in Iraq and Afghanistan faced a piece of weaponry that rocked patrols and convoys: the improvised explosive device (IED). The announcements of IED attacks became common at the start of the 2003 invasion of Iraq. A homemade combination of fertilizer and household chemicals, the IED has terrorized both the U.S. Military and civilians since insurgents adopted it as a way to combat a superior fighting force, without engaging it directly. 
Since 2006, IEDs have caused nearly half of all U.S. casualties in war zones. 
Those who weren't caught by shrapnel still faced a blast wave with enough force to rupture eardrums and shatter bones. In many cases, however, vets reported getting knocked unconscious, seemingly unaffected once they woke up. 
A survey of those who served post-9/11, published in 2018, showed that out of nearly 1,400 respondents, 16% reported a head injury during their time in service. Of those, half reported also suffering from other injuries and PTSD. Considering the higher rates of head trauma compared to Vietnam, Korea and the first Gulf War, the survey concluded that TBIs became the "signature injury" of Iraq and Afghanistan.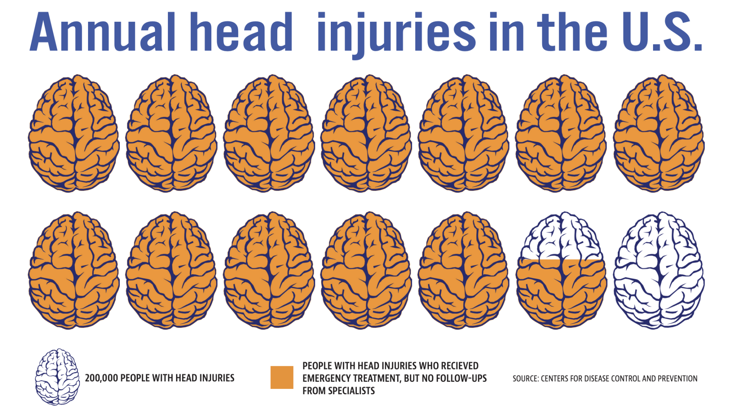 Symptoms of a TBI include headaches, irregular sleep patterns, mood swings, states of daze, confusion and paranoia. Those symptoms, according to many health professionals, overlap with post-traumatic stress disorder.
Wetzel recalls feeling shock waves from planted IEDs several times from his position inside a Bradley Fighting Vehicle — a type of tank. His unit conducted operations out of Iskandariyah, a forward operating base at a power plant southwest of Baghdad.  
Early into his tour, he said the blasts from the smaller explosives felt "like having a garbage can over your head and somebody hitting you with a baseball bat. "Is it going to kill you? No. Will it suck? Yes. A lot." 
In 2004, a car bomb exploded near him. Wetzel remembers the few minutes after. As a sergeant, he filled out counseling statements for his team and led them through training sessions. 
But he can't recall any of it. "Those months, they're just gone," he said.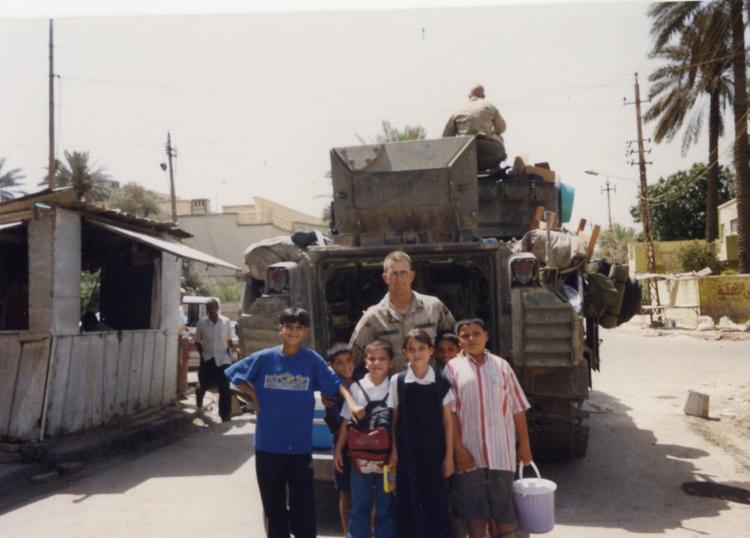 Modern treatment recommends a period of rest for three to five days after a head injury, followed by a test of cognitive ability. The combat medics Wetzel spoke to recommended he drink water, and they gave him a steady supply of Motrin. "Infantry candy," he called it. 
Cindi Laukes, director of the NIC since a promotion in 2018, invited Wetzel to work as an outreach adviser for veterans when he came to UM. After reviewing a few of the symptoms associated with brain injuries, and after speaking with Laukes, he ended up becoming a patient.
---
Wetzel received a baseline test: a questionnaire that asked about his symptoms. Next, he and Laukes had a conversation about his time in the army. 
Wetzel then met with a team of researchers and specialists who work across campus: a neuropsychologist, lab technicians, speech pathologists and physical therapists. Their tests included assessing his reaction times, hand-eye coordination, memory and peripheral vision. 
During his screening, Wetzel stepped into a virtual world that had him interacting with digital drums and working through programs that had him play catch. Instruments captured his movements with precision, with that data stored for future analysis. 
Pretty much everybody who works with brain injuries believes it's a very multidimensional injury, said Laukes. "That's why everything we've done has been with a group of people [with different specialties], because it is more reliable to look at everything than it is to look at one single test." 
Along with screenings, the NIC also contributes important research to the evolving field of treating head injuries.
 Sergej Michaud, who served 36 months over three tours in Iraq, agreed to be a part of that research. 
In 2007, Michaud spent five months at an Army TBI clinic, after a roadside explosion in downtown Baghdad knocked him unconscious, ruptured his eardrum and left him with internal bleeding. At the clinic in Germany, he worked with one doctor, who put him through a series of tests similar to those available at the NIC. But at the NIC, he met with at least a half-dozen specialists and his blood is part of a larger study to locate a biomarker, a signature left in the RNA by brain trauma. Michaud came to UM in 2013 and used his GI benefits to get a bachelor's in geography along with a certificate from the Global Leadership Initiative. He entered classes diagnosed with both PTSD and a TBI. "The folks at the VA recommended that I not go school," he said. 
Michaud graduated with a 3.8 GPA, despite difficulties he faced in concentration and retaining information.
---
Sgt. Miles Wetzel left the NIC with a complete file of his screening. Although the center can't officially diagnose a TBI, it can put patients in contact with local specialists who can, either through a private practice or the VA.
 Wetzel, who earned his MBA in May 2018, is in the process of submitting the center's findings to the Montana VA. While he's still waiting for an official diagnosis, his experience at the NIC reshaped his approach to both studying and living, and it gave him a much-needed understanding of what was affecting him.  
"Without somebody actually telling me what's going on, I never would have changed my study habits. I probably would have gotten through grad school, but it wouldn't have been pretty," he said. 
Head trauma isn't unique to veterans, who represent less than 10% of the country's population. 
"In a country of 330 million people, you'll find a lot more people who have played a sport before you find a veteran. And that's another part of what makes the NIC important," Wetzel said.
The center opened up screenings to student athletes in 2016, and currently sees patients who come from across the West, from a variety of ages and experiences. 
Like Rane Jackson. 
Rane had just finished her sophomore year at Sentinel High School when she met with Laukes during the summer of 2019. During gym class, a fall sent her head-first into an iron grate. Following her concussion diagnosis, the straight-A student began to have trouble concentrating in class. She became sensitive to harsh light and couldn't retain information she was learning in school. 
She and her mother, Lisa Mecklenberg Jackson, visited therapists and doctors throughout Missoula, looking for a way to address issues that eventually led to home-schooling Rane. After a search online, Lisa found the NIC in June 2019. 
Rane had a conversation with Laukes, who then connected her to the team at the NIC. Along with physical therapy specialized to address concussion, Laukes helped her cope with getting sidelined from the high school soccer team by putting her in touch with former Major League Baseball player Garrett Bussiere. 
Bussiere took a 95 mph fastball to the head while playing for the St. Louis Cardinals. Although he never played baseball again, he's spent the years since studying cognitive neurotherapy. 
According to her mother, Rane and Bussiere spoke for more than an hour.
Rane started her junior year back in Sentinel, and became the soccer team's manager. 
---

Soon after he left the Army, Wetzel was diagnosed with PTSD. 
"We see a lot of people who come in with a PTSD diagnosis," Laukes said. "It's great that they're receiving any treatment, but treatment for PTSD may not necessarily be a way to treat a TBI." 
Since combat veterans have been returning from Iraq and Afghanistan, research has explored the correlation between PTSD and TBIs. Although the VA does have a center dedicated to brain injuries, and launched a study of its own in March 2019 of how a TBI can exacerbate the symptoms of PTSD, Wetzel did not make any progress in seeking help from the VA. 
"Do I get mad? Sure. Do I get sad? Sure. Do I get happy? Absolutely. It's a very broad spectrum that PTSD covers, but I knew that I had something different," Wetzel said. "I know I'm not the only one."