If 2020 were a sound, it'd be a cough. An exasperated struggle for breath as disaster attacks the lungs. From a virus to wildfire smoke, our respiratory systems are overloaded and overworked. But perhaps the sources of the coughs are not just separate tragedies of an eventful year. Perhaps the two are not coincidentally parallel, but actively intertwined.
While considering the pandemic and sustainability on a hazy day in Missoula, University of Montana environmental studies professor Dan Spencer invoked a relevant cliché: the Chinese character for "crisis"— an aggregate of "danger" and "opportunity." His complexion appeared softened by a smoke-diffused light pouring in through his office window during a Zoom interview. The smoke, he later said, was an example of climate change finding its way into our everyday lives, just as the pandemic has done in a matter of months.
"That's where we find ourselves right now," Spencer said. "[The pandemic] is a very perilous, dangerous situation for all sorts of reasons, but it's also a situation with lots of opportunity to get out of our comfortable boxes, which we know are not sustainable."
What might that opportunity look like on the University of Montana main campus?
"Ideally, you'd be able to come to school at the University of Montana and have a relatively small energy footprint," said Eva Rocke, UM's sustainability coordinator (Rocke is also the reporter's adviser for a Global Leadership Initiative capstone course). She paints a picture of a UM campus where people can just as easily compost and recycle as they can toss things in the trash; where enticing plant-based options fill the plates of students having a meal in the Food Zoo; and parking lots are filled with bikes and electric buses instead of gas-guzzling cars.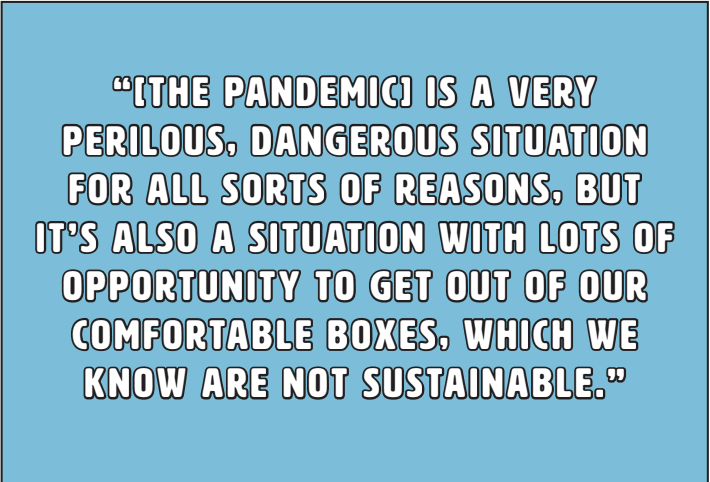 The call for sustainability is a tricky one, though. The term is loaded. Sustainability exists in a number of contexts, from transportation to waste management to renewable energy. UM Sustainability, which is best described as an initiative, rather than a department, tackles all of the above.
The concept of UM Sustainability first arose on Earth Day, in 2002, when former UM President George Dennison signed the Talloires Declaration, an international action plan for incorporating sustainability and environmental literacy into university operations across the world. Dennison followed this by signing the American College and University Presidents' Climate Commitment, in 2007, pledging UM to carbon neutrality by 2020. Around that time, he also hired the campus's first sustainability coordinator and, a year later, the first recycling coordinator, positions that grew into the Office of Sustainability.
Since then, UM Sustainability has worked across campus to address environmental issues. Its work can be seen in the electric buses mixed in among the UDASH transportation fleet, campus-wide recycling bins and local food options at UM Dining locations. Though less visible to students, UM Sustainability has also engaged in research and helped author reports and goals for the University. In 2013, UM Sustainability submitted a Sustainability, Tracking, Assessment & Rating System (STARS) report to the STARS national committee, receiving a silver rating from the evaluative program.
Now, despite the challenges of the pandemic, UM Sustainability is finding niche opportunities to expand its work—and considering how to best use this potentially catalytic moment to its advantage.
Rocke, the staff coordinator, highlighted a number of surprising ways in which the pandemic has affected the University's sustainability work.
One is financial. "The fiscal uncertainty brought about by COVID has reinforced our desire as a University to make facilities investments that are going to save us dollars in the long-term," she said.
This dates back to September 2019, when UM administrators looked to Wall Street to generate cash for "student-serving infrastructure." The University refinanced its then roughly $160 million in debt and issued $146.8 million in new bonds. Of the bond revenue, $20 million has been approved for the addition of a natural gas combined heating and power plant, which will be located adjacent to the current steam plant in the northeast corner of the University. Rocke said the plant has the potential to reduce campus carbon emissions by a quarter.
According to Rocke, the carbon-cheap plant was an especially appealing proposal given its economic potential. By generating energy on site, rather than bringing it in from places like Colstrip in eastern Montana, the University saves power and money. With an uncertain fiscal landscape in the coming years due to COVID-19, this concept of payback, credited to renewable energy, has a new gleam to it.
While capital investments are typically set aside during strenuous financial times, the bond money is guaranteed, so the new combined heating and power plant is protected from the threat of budget cuts.
Sustainability work, Rocke reflected, is opportunistic, meaning that the circumstances have to be just right. "Sustainability work happens most of the time because you manage to talk somebody else into getting on board with something that nobody has ever asked of them before and you have a window of opportunity to do it," she said.
In addition to the combined heating and power plant, last year, Rocke brought a consultant to UM to generate feedback on how the University could best divert its waste from landfills. The consultant recommended removing desk-side trash service (an initiative that places a trashcan next to every administrative or staff desk on campus). The idea behind this minor change is to make the burden of recycling and throwing away trash equal. Under this system, individuals would be responsible for taking their waste out to a central facility to sort both their trash and recycling.
Rocke said that, when she first proposed this to UM employees, the custodial staff responded with concern. By taking away the service, their labor was diminished. Now that custodians are responsible for sanitizing in addition to their regular duties, due to the pandemic, removing the desk-side trash service from their overloaded plates is mutually beneficial. UM Sustainability is planning to launch a pilot model of this program in Eck Hall, the Liberal Arts building.
While the pandemic has helped sustainability projects that once floundered, Rocke noted another, less tangible silver lining: the potential to change people's habits.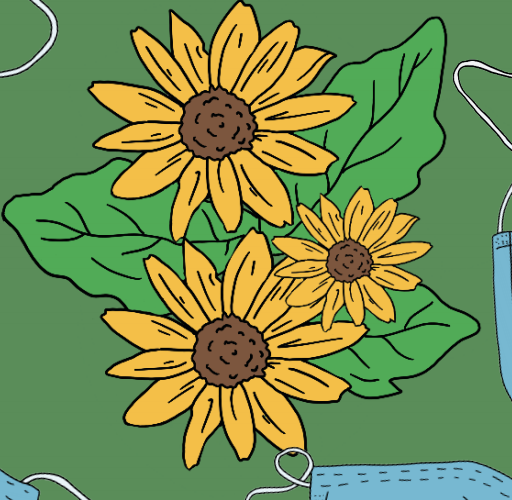 "Since so much of my job on a day-to-day basis is getting people to tweak these little things that they do, and think about their work a little bit differently, the pandemic has absolutely opened that door," she said.
The risks of the virus have forced all of us to quickly change our behavior. When leaving the house, we've added masks and hand sanitizer to the checklist of keys and wallet. We attend meetings behind computer screens and smartphones, and we eat more meals prepared in our own kitchens. Rocke said society's ability to make these behavioral shifts may alter our psychology in regards to change. Her sustainability requests, both to individuals and the University as an institution, might not seem so daunting in the future.
"With COVID-19 coinciding with the rise of Black Lives Matter and the whole response to George Floyd and Breonna Taylor," Spencer, the environmental studies professor said, "it was incredible to see society mobilizing, or big sectors of society mobilizing, but also doing it within the context of a pandemic." Spencer looks to these developments as hopeful signs of what humans might accomplish.
Spencer's sermon on opportunity has been echoed by many in the environmental movement. On Earth Day, Swedish activist Greta Thunburg told a virtual crowd that the world as we once knew it is gone. "We must choose a new way forward," she said. Many political leaders, like Montana's governor Steve Bullock, have used the term "new normal," suggesting a radical shift on the horizon as society eventually moves beyond COVID-19. In a piece published by The Guardian, New Zealand's climate change minister James Shaw wrote, "What we do in this unprecedented moment will determine the quality of life for billions of people. This time, we could do it differently."
Across the United States, protesters have flooded both the streets and digital media, demanding social and policy-based changes on issues such as sustainability.
"What COVID has shown us is that we can actually mobilize societies pretty quickly, pretty dramatically, in really important ways that have impact and that's precisely what we need to do with climate change," Spencer said.
He added that the sooner we start making profound shifts toward sustainability, the less painful it will be in the long-run. A "Climate Clock" in New York City, recently created by two artists, warned that as of Sept. 21, the world was seven years, 101 days and a handful of hours away from completely depleting Earth's carbon budget.
When the countdown hits zero, scientists warn of an apocalypse: one in which the wildfires and floods we see are vastly multiplied. Choking on smoke and cleaning up shores ravaged by hurricanes are just two examples of the devastation that will continue to infiltrate our reality, Spencer said. All of this is to say that this moment, this opportunity to create a more sustainable "new normal," is pivotal, and the University of Montana is not exempt from that responsibility.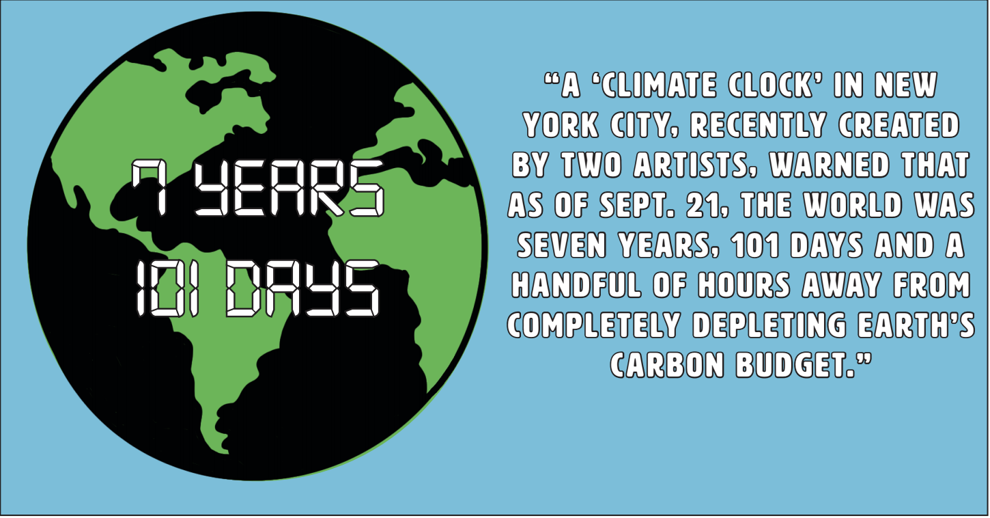 "We're going to have to really figure out how to be creative to be more sustainable in the midst of these really tremendous challenges, and in some ways, COVID is like a pilot project for having to come to terms on that," Spencer said.
Like many people involved with sustainability at the University, Spencer has a wish list of changes he would like to see in the wake of this shift. "I would love sustainability to be one of the lenses through which every education at the University of Montana is taught," he said.
Ben Borhegyi, a UM sophomore, the ASUM's sustainability intern and the vice president of the Climate Response Club, has a wish list of his own.
"The University needs to take this opportunity to shift its culture," Borhegyi said. "These are some of the four most influential, or five most influential, years of a student's life." He added that the University should take it upon itself to empower students to make sustainable choices now that they can take with them into the rest of their lives.
Borhegyi, who has a special interest in the intersection of ecological and social sustainability, would like to see University officials engage more with student groups. He suggested that this could be as simple as having UM administrators attend student group meetings.
While new opportunities for sustainable progress have emerged, the pandemic has presented challenges to UM Sustainability, too. Rocke brought up the case of single-use plastics, which have been widely used in food service and sanitation during the pandemic. Despite research by the World Health Organization and the Centers for Disease Control and Prevention that surface spread is not a primary concern for the coronavirus, many UM Dining facilities, with the exception of the Food Zoo, have replaced standard utensils and other items with single-use alternatives.
A study published in April 2020 by the New England Journal of Medicine reported the virus actually lives longer on plastic than most other surfaces, sometimes up to three days. Yet an iced latte from the UC Market is still served in a plastic cup, and with the addition of disposable masks and sanitizing wipes, trash cans across campus are overflowing with single-use items in quantities not seen in years. For Rocke, who has set a personal, informal goal for the University to be waste-free, this is not good news.
Rocke also noted that it has been challenging to make sustainability requests that require extra time and energy when everyone is already so inundated with anxiety. It seems unfair, she said.
Outside of the institution of UM Sustainability, academics who focus on human interactions with the environment have also experienced a novel adversity. In past years, Spencer took his ethics and restoration students in University vans to travel to the Upper Clark Fork and Deer Lodge Valley to interrupt the doom and gloom of climate change slideshows with hands-on restoration work.
But because of the virus, only three students are now allowed in each van, requiring many more vehicles to transport a class into the field. "This is going to greatly increase our carbon footprint for this experience, but is it worth doing?" Spencer has asked himself.
Both Spencer and Borhegyi lamented the loss of valuable face-to-face interactions. Borhegyi said the Climate Response Club has been unable to meet in person, and Spencer has lost the chance to see friends and colleagues he would only run into at conferences. Issues of sustainability can be taxing and emotional, and the in-person interactions are irreplaceable.
Despite this tangle of adversity and hope, most agree what matters most is what comes next. For Rocke and Spencer, the key on campus is to promote both personal action and institutional regulation.
"The individual change is necessary because it can be done in a way that raises our consciousness that then drives the institutional change that needs to happen," Spencer said.
Rocke said that, just as it is impossible to get every person to wear a mask, getting everyone in the campus community to adopt entirely sustainable practices is unrealistic. The best thing she can do, she said, is to create an environment for people that supports the overall mission. An environment in which students could ride an electric bus to campus, recycle the packaging of a plant-based breakfast sandwich and sit in a classroom heated by renewable energy. An environment in which students could be a part of a waste- and carbon-free campus.
Is this picture viable? Maybe, Rocke says, though the campus is very, very far from reaching the goal of carbon-neutrality by 2020 set by former UM President Dennison a decade ago. UM Sustainability has yet to set a new date for this goal, and Rocke said she is hesitant to do so.
The pandemic, she said, "has reinforced what I already knew in my gut about how quickly and effectively people can mobilize when we try and we absolutely have to make change." Rocke isn't sure, however, if the ability to do so will translate into a "new normal" for sustainability.
She wants to believe that "we will come out on the other side of this COVID experience and choose to motivate and collaborate around climate action," she said. "But I don't know that I believe that will be true."