This year is a somewhat quiet election season for ASUM. In contrast to last year's elections, which had three presidential teams, two business managers and 24 senators, this year has less competition.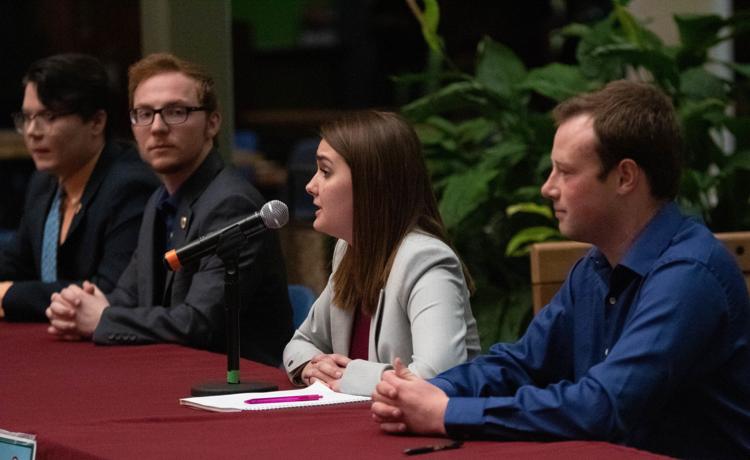 There are 21 senate candidates running for the 26 available seats, three fewer people running for senate than last year. This will leave five senate seats open after elections next week.
 For the executive candidates, only one business manager candidate, Daniel Parsons, is running, guaranteeing him the position if no write-in candidate succeeds him. There are two presidential teams.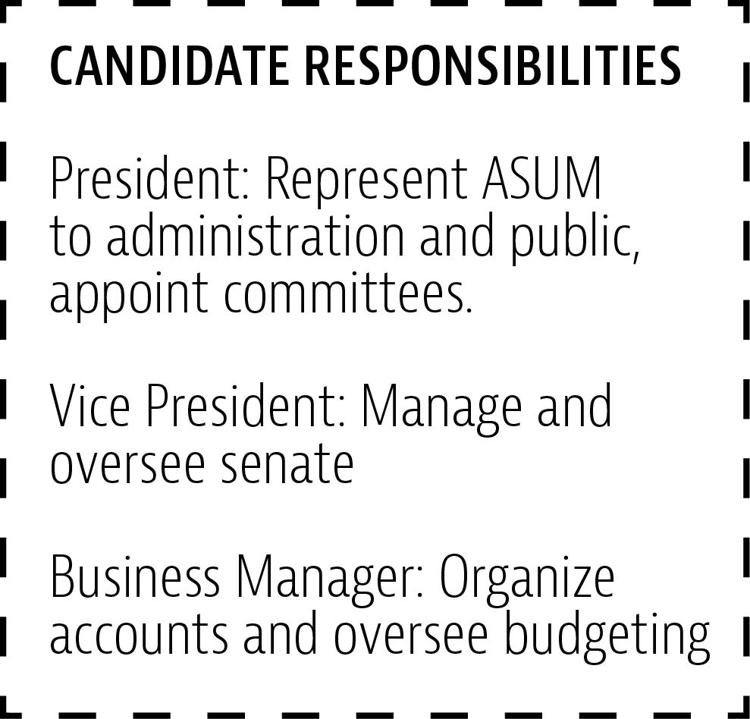 One team, Abbigail Belcher and Ethan Hanley, boast their experience with ASUM and reception to student input. The second team, made up of Dakota Hileman and Ethan Holmes, said even though they do not have official ties to ASUM currently, they would be able to represent all students who feel they are not currently represented in ASUM.
On April 3, students running for ASUM positions took part in a debate in the University Center. There were three separate forums for senate candidates, the business manager candidate and the presidential teams.
During the debate, students answered questions about balancing ASUM work with school work, diversity in ASUM, free speech on campus and sustainability practices.
The election campaign season for ASUM opened on March 18 for students running for senator, business manager, president or vice president positions. Elections will take place April 17 and 18 through the UMontana app. All students are encouraged to vote.
Presidential candidate Dakota Hileman, a freshman, is running alongside Ethan Holmes. The pair said they plan on leading the senate by listening and representing all students on campus.
Neither of the pair has been elected to be on the ASUM senate in the past, but Hileman currently sits on the relations and affairs, finance and sustainability committees as a student-at-large. This is an opportunity for students outside of ASUM to participate in both ASUM and University-wide committees. His running mate, Holmes, said he is not involved in ASUM, but he has attended ASUM meetings to speak at public comment and draft resolutions.
"At the end of the day, when you are thinking about executives, you want someone who you feel connected with and that understands you. When you are in senate for a while, you can get a little stale listening to students," Hileman said. "I feel like, as a student-at-large, I can most accurately represent the student body."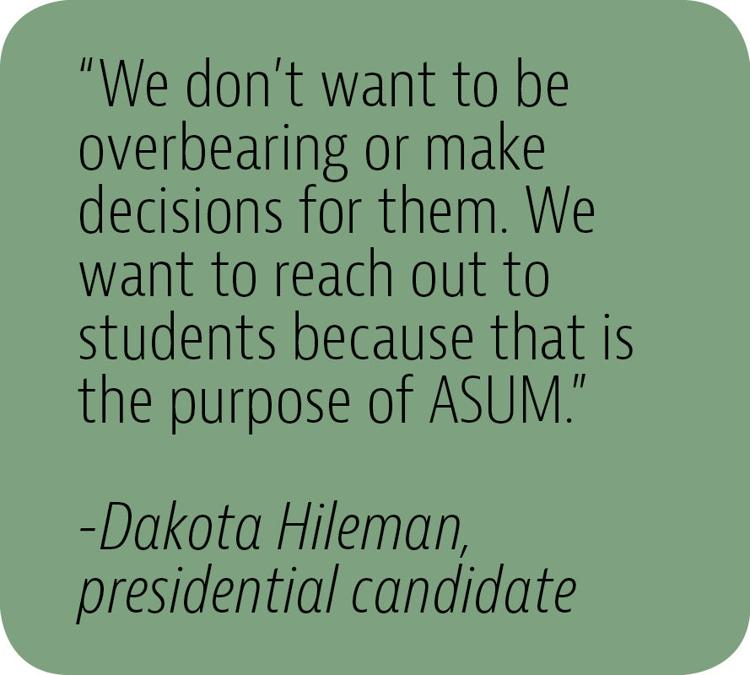 Hileman, of Lincoln, Montana, studies political science and philosophy. He said he has always been interested in politics. In high school, he was student body president, and he ran for the Montana House of Representatives in 2017, hoping to be the youngest state representative.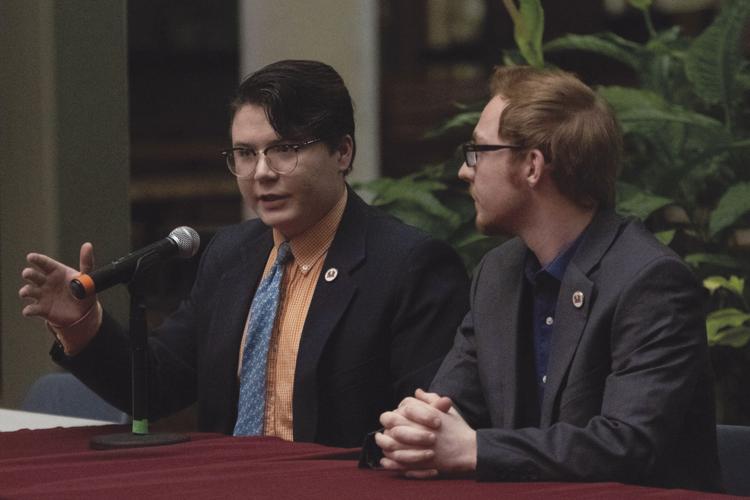 Hileman's running mate, Holmes, of Helena, Montana, is a junior studying Russian and political science. On campus, Holmes, is involved in the Russian club, Young Americans for Liberty and Global Partners. His experience in leadership comes from being the president of the Young Americans for Liberty, an Eagle Scout and participating in speech and debate.
Hileman and Holmes are running on a platform focused on sustainability, enrollment and student government reliability.
Specifically, the pair plans to have gender-inclusive restrooms in every building on campus, merge the University's parking management with ASUM Transportation, reach out to prospective students and increase sustainability.
The team said it can address both parking problems on campus and focus on sustainability by offering a discount on parking passes to students who choose to carpool.
"So really it is a win-win. This would do three things," Hileman said. "It would be a collaboration with different departments on campus, it would make parking easier for students and it would be creating a more sustainable transportation model."
Holmes said ASUM has a lot of potential to represent students and have power at the University. He said he hopes to make ASUM more accessible to students if elected vice president.
"I think it can be very complicated, but I want to break down any barriers that prevent students from getting involved with ASUM," Holmes said.
One of the executive team's ideas is holding office hours on the Oval once a week to reach out to students on campus. Hileman said it is important to go to the students rather than expecting students to come into the ASUM office.
The candidates said they also plan to attend student group meetings, hold regular ASUM-sponsored events and utilize social media and surveys to get students outside ASUM involved.
"We don't want to be overbearing or make decisions for them. We want to reach out to students because that is the purpose of ASUM," Hileman said.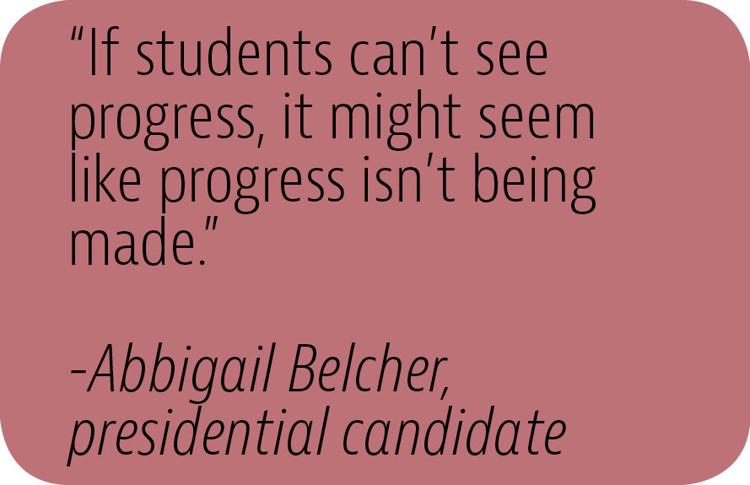 Abbigail Belcher, junior, and Ethan Hanley, sophomore, are running together for the president and vice president positions. The pair has a combined experience of four years on ASUM. At the ASUM elections debate, Belcher said their experience would give them an advantage against other candidates. 
Presidential candidate Belcher is from Whitefish, Montana, studying marketing, with a focus on digital marketing. She has been a senator since the spring of her freshman year. Since then, she served as the ASUM lobbyist in the Montana legislature in 2017, wrote ASUM's endorsement of the 6-Mill Levy and chaired the Enrollment and Retention Committee.
Hanley, from Shepherd, Montana,  is running alongside Belcher as the vice presidential candidate. He is in his second year studying accounting and finance. Hanley served on many committees as a student-at-large his freshman year before starting as a senator his sophomore year. This year, Hanley chaired the Transportation Board and the Relations and Affairs Committee for ASUM.
Belcher said she chose to run with Hanley because she was impressed with his focus on making ASUM run properly, his ability to meet deadlines and his team-player attitude.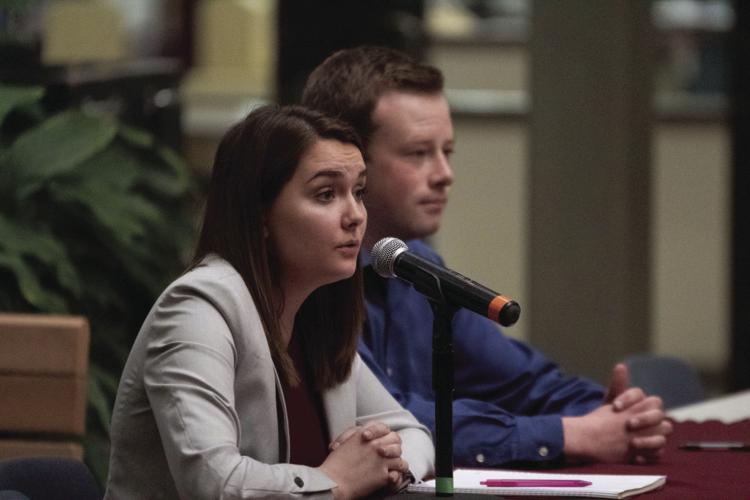 "When he became a senator, he was constantly changing things for the better internally. He wanted to make sure that ASUM was run properly. That was a priority of his," Belcher said. "I thought, 'Well that is exactly what I want and what a vice president should be.'"
The team chose to center their platform on student outreach and distributed a Google form for students to give their input about what they want to see from ASUM. The form can be found on their Facebook, Instagram and Twitter pages.
The most important role of the ASUM president is to listen to students, Belcher said. The pair would continue to use the Google form after they are elected, but it would be moved to the ASUM website. She said the responses from the form would be part of every senate meeting. In addition to the form, the pair said they plan to interact with students in the UC and plan more ASUM events for students to attend.
Belcher and Hanley said they also want to track all campus decisions to address sexual assaults and domestic violence. They would advocate to place a student in every committee that meets about sexual and domestic violence on campus. Belcher said she has seen progress made this year, but there is more to do.
"This will be beneficial for students because it will ensure that efforts and initiatives are properly coordinated across campus and hold our community accountable for seeing through a working solution to the problem," Belcher said.
If elected vice president, Hanley said he would make ASUM's governing documents more efficient and create a tracking system to hold senators accountable to attending committee meetings. He said he would also work one-on-one with senators to evaluate their work load. This would be a way to keep senators on ASUM longer, he says. Seventeen senators have resigned so far for the 2018-2019 academic year.
The pair would work to create a senate orientation to both introduce  senators to ASUM and educate senators on resources offered to students on campus.
Junior Daniel Parsons is the only business manager candidate running this year, but he said he plans to spend time getting feedback from students and preparing to represent students the best he can after he is elected.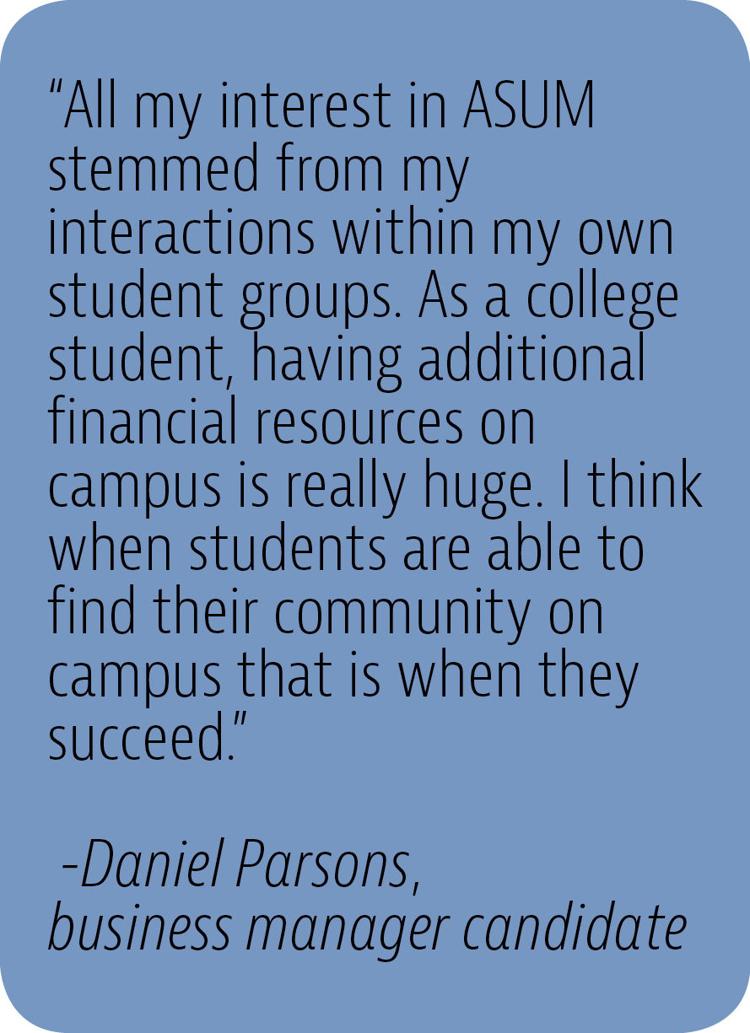 The ASUM business manager oversees all ASUM accounts, and records the funds going to all student groups and organizations. One major responsibility is organizing the spring budgeting for all student groups.
"The business manager has the most interaction with students on campus, and I believe it is the most fun position on ASUM," Parsons said. "I will get to work with students on a day-to-day basis to hear what their needs are for their student groups, find ways to fill those needs and make it easy for them to understand how the process works."
Parsons, of Florence, Montana, is majoring in economics and political science. He joined ASUM as a senator his sophomore year after noticing the financial support ASUM gives student groups, particularly the rugby club he was a member of. Parsons  also served on over 10 committees, attended the University's LeadershipU and worked in the School of Law in the Career Services and Admissions Office and the Kappa Alpha Theta sorority as a house boy.  
Today, Parsons is president of the Jesters Rugby Club where he coaches players, schedules and hosts games, oversees the budget and plans trips. He said his experience running a student group and handling the financial side of things will directly translate to the role of ASUM business manager.
"All my interest in ASUM stemmed from my interactions within my own student groups," Parsons said. "As a college student, having additional financial resources on campus is really huge. I think when students are able to find their community on campus that is when they succeed."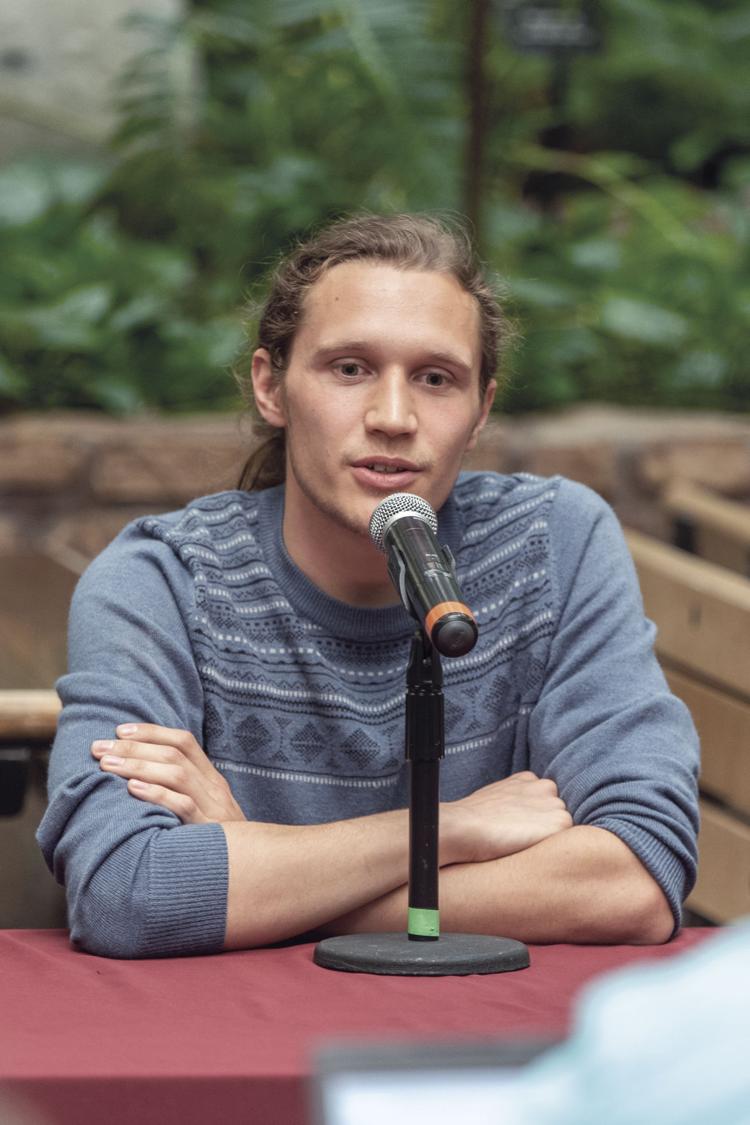 As business manager, Parsons said he plans to help student groups navigate ASUM and help them understand what resources they have.
One way Parsons wants to accomplish his goal is to purchase a student group platform. This would be software that would allow student groups to see their budget, communicate with ASUM and other student groups, store important documents and send notifications to their members.
"I think this would just be a lot more efficient for students to go through that rather than having to come to our office every time they need something," Parsons said. "I just want to be respectful of their time at the end of the day."
In addition to the student group software, Parsons said he wants to get a printer for the ASUM Student Group Resource Center. Student groups are given a certain portion of their budget every year for printing costs like marketing. Having a printer in the Student Group Resource Center would allow ASUM to better track the money that is allocated for student groups to print, Parsons said.
"That is what the Student Group Resource Center is there for at the end of the day," Parsons said. "I think that it would bring more students in and make it a little easier for students groups to print what they need."
Parsons acknowledged that these would be expensive purchases, around $10,000 for the software and up to $4,000 for a used printer, but ASUM keeps a fund for these types of expenses.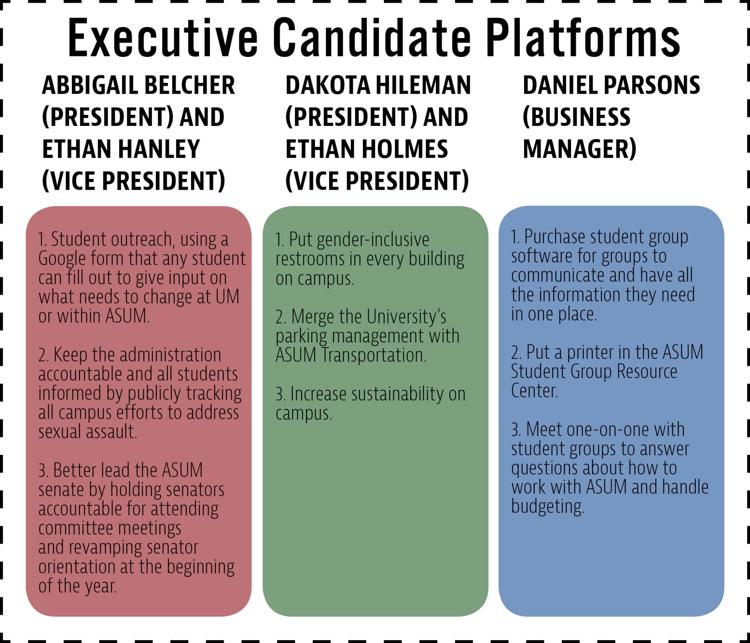 He said he also wants to set aside time for all student group leaders to meet with him one-on-one at the beginning of next year to walk them through the budgeting process and answer any questions they have about transitioning into leadership roles. Parsons said this would allow him to build working relationships with each student group.
Parsons said he also plans to change ASUM policy and documents to make it more clear what ASUM can fund. This includes ensuring all student groups that are part of the Music Union and Sports Union get a fair portion of the budget.
Currently, both the Music Union and the Sports Union elect their own boards. These boards divvy up the budget that ASUM gives to the unions every year.
"I would want to change policy so that we prevent any group being left out of the budget," Parsons said. "I did see a bit of that, being in the Sports Union. I would say that wasn't an issue this year, but it definitely has been in the past."