On the first Monday evening after the presidential election, roughly 20 students gathered in a circle in the living room of the Black Student Union house. Above them, a sign read "Life does not have to be perfect to be wonderful." Around them were posters on the walls displaying newspaper clippings from the past few decades about the Black Student Union.
Of these 20 students, five were black. This number may seem small, but it's significantly more diverse than the campus as a whole. Of the nearly 8,000 undergraduate students at the University of Montana's mountain campus, only 76 are black. There are an additional 11 black graduate students.
While this number is low, Montana's racial demographics are even lower. As of 2015, self-identified black people made up 0.6 percent of the entire population.
"Sometimes it feels like you're a single cocoa puff floating in a bowl of milk … just surrounded by a sea of white," said LeShawn George, a former Griz football player who is now a senior studying community health. George works as the Outreach Coordinator at the Student Advocacy Resource Center, and is the current president of the Black Student Union.
UM's Black Student Union, George explained, was started shortly after the assassination of Dr. Martin Luther King, when black students experienced trauma and increased racism on campus. A local family bought the same Black Student Union house at around the same time. Originally, the student group and the house was a safe space specifically for people of color. Now, it's open to everyone.
At the most recent meeting, students, professors and staff members went around the room introducing themselves and discussing how they felt about the election's outcome. They expressed fear of increased violence against minorities, their anger at people who did not vote and about being ready to actively fight.
With the election of Donald Trump, George said that it will be more important than ever for students to work to understand each other. Trump's election, George said, exposed intolerance, racism, sexism and homophobia.
"We thought [these problems] were gone from America because we were supposed to be in a post-racial society. He actually showed us that we are not," George said.
George mentioned that there has been an increase in aggressions in Missoula in the last few weeks. These aggressions range from racial slurs yelled out car windows, to racist notes left on cars and to spitting in peoples' faces because of their sexuality.
"It's very important that people are realizing that people are using his presidency to legitimize their hate," George said. "There have been numerous instances of hate crimes happening in the last couple days in his name."
But George explained that this issue is less about the presidential-elect, and more about the people actually committing violence.
"I don't even blame Trump for all of the nonsense that people are doing out there," George said. "Because that's like blaming Black Lives Matter for all the nonsense that people are doing."
During the meeting, George explained his "three strikes policy." He would wait until there were three definitive instances of racist behavior on campus before he made a report to the Title IX office.
The first strike was the "Identity Evropa" posters that appeared on campus in late August. Identity Evropa is a known white nationalist group.
The second strike was when posters advertising UM's talk by Patrisse Cullors from Black Lives Matter were taken down.
After Trump's election, the strikes were too many to count.
"What it is it about my black life that makes you feel afraid?" asked George, addressing the students who took down the Black Lives Matter posters. "Don't cling to your ignorance, don't cling to your cowardice, and pull down some posters because you feel a certain type of way, especially when nobody's watching."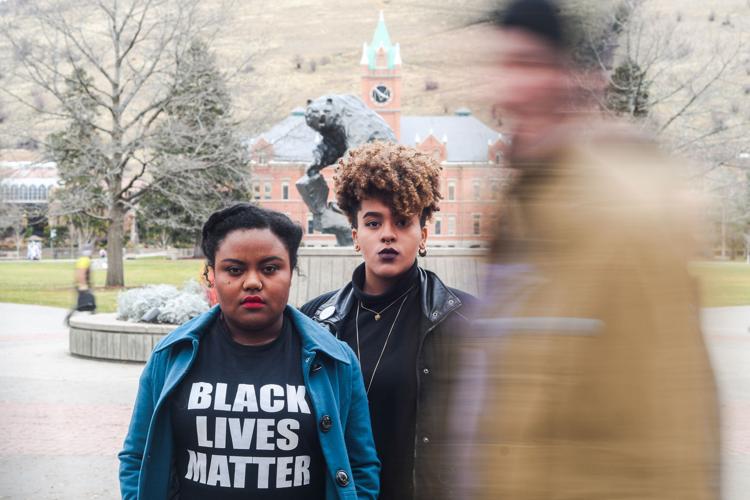 Activism
"Run home MONKEY!!!!!"
It appeared on Dejianna Ahanonu's car windshield, printed on top of an upside-down map of Africa six days after Trump's election. Before then, she had heard men chanting "Trump!" near her window. She felt that her car had been tampered with, but didn't assume anything until the sign. Now, she feels she was targeted.
Ahanonu is a sophomore who was technically the first student to declare African American studies as a major at the University of Montana. She grew up in Bozeman and Layton, Utah, both predominantly white towns, with a white family.
On Ahanonu's first day of kindergarten, a classmate told her she was ugly because his least favorite color was brown. She's been dealing with similar insults since, but explained that she hasn't dealt with the blatant racism of the sign left on her car since junior high. 
She spent the day after she found the note recovering, and ended the evening by livestreaming her story. Within a few days, it gained thousands of views and many supportive comments.
Although she moved out of that apartment to feel safe, she said that she felt somewhat sorry for whoever left the note on her car. Whoever left the note, she said, is coming from a place of extreme misunderstanding about who she is.
This is an issue for our country in general, Ahanonu said. She talked about how this election was full of people adoring one candidate and despising the other, which made coming together as a country difficult.
Now, she is working to dismantle this divide through activism and community organization. She works for LAMBDA, and hopes to use her education as a tool to become an activist, organizer and educator, working with issues of race, sexuality and gender.
She said that her activism started with self-care. She allowed herself to grieve. The next day she woke up and was ready to start organizing. Now, she's working with Missoulians to organize protests and demonstrations, as well as working on more long-term community organization, providing resources and support to her community using her strengths.
Despite her efforts, as well as those of her fellow organizers, Ahanonu said she still generally doesn't feel completely safe on campus. She explains that the most recent election cycle has "brought racism to life in a new way" by giving people the validation to speak their bigoted opinions. Those people could be right next to her on the Oval.
"At any point I could pass someone who would prefer me not to exist," she said.
Ahanonu emphasizes being supportive of other students, improving representation in administration and education. She explains that students should not shy away from their privilege, and instead use it as a "tool to correct the system."
Ahanonu wishes that administration was more representative of its students, or at least listened to their issues.
"I would love to see the higher ups at the University of Montana ask questions," Ahanonu said. "Sit down with a group of students, and listen, and hear us ... and genuinely hear what we have to say."
Ahanonu is aware of the potential pushbacks of activism. When the Black Student Union held a Black Lives Matter rally, some argued that there was no place in the community for a BLM movement. Ahanonu said this translates to "there's no place in the community for black lives to matter."
The best solution to misunderstanding is education, Ahanonu said. She said that on her first day of her African American studies class, there were students behind her complaining about how they didn't want to be there. Now, she says, "they're some of the loudest voices in my class talking about how egregious [oppression] is."
For now, she has no plans to stop her activism.
"I am black, and I am queer, and I'm loud about it, and I'm happy and excited to be who I am, she said. "It does make me feel a little bit like a target and I just kind of have to accept that and use my time, whether it's a day or forty years, to do as much as I can."
Stereotypes, microaggressions and exotification
Meshayla Cox is a senior studying Spanish and African American studies. She says she has had a "fair experience" at UM, particularly because of her involvement with the Black Student Union. She's the student assistant director of the Student Involvement Network and her sociology, African American studies and Spanish classes foster open conversations.
She said Missoula as a whole is not as open as UM. She often encounters "cowboy types," who she explains are from small towns and don't understand different perspectives.
"There's a level to it," Cox said. "It's not as easy to point out the big racist versus someone who's not. It's levels of prejudice, it's levels of discrimination."
She has been followed in stores, called the n-word, and dealt with stereotypes. She says she has also struggled with arguing about racism both online and in real life.
"People who view life in this color-blind lens have this idea that there's no inequality and there's no longer segregation," Cox said. "That's what they pin as racism and systematic racism. It's easy to overlook all of the other oppressive systems in our society."
She weighs these arguments with the concern that if she acts angry, she'll simply be deemed an "angry black woman." If she acts sassy, she's the "strong independent black woman who don't need a man."
On campus, Cox deals with microaggressions — statements that might seem harmless, but are ultimately derogatory. For example, white people often touch black people's hair without permission. Cox explained that people often try to touch her hair or make a big deal of it when she changes her hair.
"If you saw a white girl who got extensions, what are the chances that you're going to comment like 'Your hair is a lot longer that it was yesterday'?" She asks. "But if I do anything to change my hair, it's a huge conversation." She said she never got this much commentary in Southern California, where she's originally from.
And dating in Missoula is "hell" she says. She taught an entire workshop on exotification, or the over-sexualization, of black women based solely on the messages she has received on Tinder.
She said people have assumed that she's overly sexual because of her skin color. Growing up, she was cognizant of what she wore, knowing that wearing things like a pencil skirt would be perceived as sexual because she's curvaceous.
She points to celebrities like the Kardashians, white women whose curves and sexuality are "so much more accepted than every other black woman in the game," like Nicki Minaj or Lil' Kim.
"It's little things," Cox said. "It's that double consciousness all the time where you're just aware of how other people are viewing you. So it's constantly being on edge where if you do this thing or act a certain way, is someone going to tie that to the stereotypes of your race?"
Background and History
Tobin Miller Shearer, director of the African American studies department, starts each of his classes by saying, "I want you to know that I know I'm white." Both Cox and Ahanonu say his whiteness doesn't discount his ability to direct the program, as he has spent his career referencing and holding himself accountable to African Americans, and by using his privilege as a white person to help.
Shearer explained that, historically, the University of Montana generally has had about 200 black students on campus each semester, with influxes due to race-specific scholarships which were later outlawed.
He isn't sure why the number is so low this semester.
UM's African American studies department started in 1968, and is one of the oldest in the country. In the past there were several staff, a director, and a program director. Now it's just Shearer.
He says the lack of black students "makes it more difficult for a black student to come and feel at home," which is why the number remains so low.
He also attributes the fact that the Northwest in general is associated with racism. Tucked back in a side hallway in the Liberal Arts building, his office has a Black Lives Matter poster outside of it. He says it has been torn down.
"One of the hardest audiences to work with is a white liberal audience who doesn't think they have a problem with racism," Shearer said. "[It's a] dangerous thing, because people aren't aware that they're racist."
He explained that the taking down of Black Lives Matter posters points to the larger political and social reaction to the movement.
"The assertion that black lives do matter gets this really intense reaction which is its own self-evidence of racism here or in many, many other white communities" Shearer said.
In order to increase diversity, Shearer explained that the best thing to do is teach students to resist racism in society. He stated that if students and the school attempt to fight racism, increased diversity will follow.
Recruitment
Emily Ferguson-Steger, the Associate Director of Recruitment Management for UM has spent the last twelve years working as an admissions counselor for the University of Montana. A woman of color, she has focused on recruiting minority students in the past.
"We are a predominantly white institution," she said. "There's no getting around that."
While Tom Crady, Vice President for Enrollment Management and Student Affairs, said he is focusing on increasing enrollment in general, he acknowledges the need for more racial diversity. Steger said that attempting to recruit more racial diversity is more complicated than it seems, because the school needs to be a good fit for the student, and low racial diversity makes that fit difficult.
"One of the codes of ethics for all admissions personnel in the United States ... is that you are transparent and truthful when providing information to students and their families," said Steger.
When she's working on recruiting students, she explained that African American students want to find a school where "you looked to your left and you looked to your right, and there's someone that looks like you."
In addition, they want schools that have resources like a place to get their hair done, or a gospel church nearby, or a store that offers a variety of foods 
A third concern is similar to what Shearer discussed — the Northwest's reputation for racism. Steger explained that lots of families, especially families in the East Coast, associate Montana with all of its nearby states. So they associate Montana with Idaho's KKK community, or with Wyoming's lynching of Matthew Shepard.
"The reality is most students choose local and/or historically black institutions," said Steger. "Without us having that home away from home, sometimes I think students make the right decision for themselves."
One positive strategy Steger finds is encouraging students to learn about themselves by stepping outside of their comfort zone.
"In a perfect world, people can move boxes around and make everything equal," Steger said. "The reality is we need to look at equity. Because we are Montana, and we should have a more rich ethnic diversity of our student body. And then we step out of Missoula and we realize how rich the ethnic diversity of our campus really is. We just can't compare ourselves to a California."
Revolutionary existence
Patrisse Cullors yelled "black lives matter" at the beginning of her November 2 speech, to the multiracial audience's applause and cheers. Despite the fact that the majority of posters for her event were taken down, nearly a thousand people came to hear Cullors, the co-founder of Black Lives Matter, speak.
Cullors focused on the power of social media, discussed the fear black people have of "becoming the next hashtag" and talked about the need for solidarity among social movements.
After Patrisse Cullors' speech, audience members lined up at the back of the auditorium to meet her. Some brought gifts, like local coffee or a handmade hemp bracelet. Some told her about their experiences as a black student on campus, and some just hugged her, thanking her for coming.
As the line thinned out, she was asked about the 76 black undergraduate students at the University of Montana. After gasping at the number, she took a breath and addressed the black students:
"I'm really sorry that you have to be in an environment that there are so few of you. And, I'm really gonna encourage ya'll to stick together. To be supportive of one another, to show up for each other. It's in these spaces where some of the most historical change has happened because the issues around race and bigotry are so alive. So, thank you for your work. And your existence here in this state on this campus alone is revolutionary."