The night of Dec. 4 started off planned and practiced. Getting into the bar was easy. It was just a matter of slipping in before the bouncers came out. Lily, an underage University of Montana student, didn't even need a fake ID. 
Her friends — all over 21 — were ordering drinks for her. Besides, she wasn't planning on partying too hard.
Lily, who requested the Kaimin withhold her last name, was halfway through her second vodka cranberry when she set it down at her friend's table. There's two of them, she thought. They could watch her glass while she used the restroom.
When she returned, her friends had moved to the bar, and six men huddled over her original table. Her eyes darted between the two groups. She wasn't sure what to do next.
Lily shuffled to the table and asked for her drink. The men stared blankly at her. When she asked her friends about it at the bar, they said they didn't have her drink. Frustration nipped at her. She paid for her drink. She Venmoed her friend and everything.
Marching back to the table, she asked, "Alright guys, where's my drink?"
Lily doesn't like making eye contact, so she didn't look long at the man who handed her the vodka cranberry. It appeared the same as she'd left it: half full, reddish pink, nothing suspicious at all, she thought. "Thanks, homie," she said and walked back to sit with her friends.
She sipped it once, twice, stood to request a song, and then — nothing.
Her friends told her she suddenly dropped backwards, hitting the floor with a loud thud. Her friends thought she was drunk, Lily said. They took her home. They'd only been there an hour.
Her roommate and of-age friend, Torin Trout, said he was scared to see Lily so out of control.
"She was incoherent, more so than expected for how much I knew she had drunk," Trout said. "She could barely stand on her own."
Lily flashed in and out of consciousness for several hours, leaving long gaps in her memory. She first remembers waking up in front of the toilet at home. Her friends were trying to make her vomit, but there was nothing in her stomach. She fell asleep.
Then, she woke up in the bathtub. Her friends were running ice cold water over her. She was confused and angry that her clothes were wet. She didn't understand that her friends weren't sure if she was alive. She fell asleep.
Again, she woke up, this time as her friends were trying to get her into bed. She couldn't recognize her room or the people she was with. She couldn't tell where the ground was. She began to scream.
"I don't know who any of you are! I don't trust you," Lily remembers shouting. "Don't touch me! Don't poke me!"
When Lily next lost consciousness at midnight, she wouldn't wake until 10 a.m. She lost over 12 hours of memory.
"Do you think you were roofied?" Trout asked her. Lily wanted to laugh. Roofied? Drugged? That happens to other people, she thought. 
But why else would she be incapable of remembering anything? She said she's never drunk so much she's lost her memory, and she didn't feel her usual drunk symptoms. No nausea, no lagging movement, no dizziness. 
Fear curdled in Lily's stomach. She may have been drugged. And recent reports show the University of Montana is aware that it's happening more now than it has in the past.
On Feb. 9, a public safety email warned students about drug-facilitated assault, encouraging bystanders to take care of each other and survivors to speak up. 
"Trust your intuition," the email said. "If you think you may have been drugged, or experienced sexual assault, reach out for help."
The email was sent when the UM Police Department was informed of five students who reported being drugged between Feb. 5 and 11. As of Feb. 21, the Student Advocacy Resource Center had received 10 direct and indirect reports of students who had been drugged since Jan. 18 — five times as many as SARC usually receives in an entire semester, said the center's director, Jen Euell.
The email went out not because it's legally required, but because the numbers were so alarming. UMPD Chief Brad Giffin said his department had a responsibility to let people know they need to be on alert. And he also knows it's not likely his department or the city police force will be able to solve these crimes.  
Roofies explained
Four drugs are the most common ones used in assaults: Flunitrazepam or Rohypnol (origin of the term "roofie"), gamma-hydroxybutyric acid (GHB), ketamine and alcohol added to a non- or low-alcoholic drink, according to the American Addiction Centers.
Assaulters can overpower people ingesting these substances, which is why they're called "date rape drugs." Effects depend on several factors — the type of drug, how much is used, the target's internal chemistry — but all can make someone extremely tired, confused and unable to remember the night. The drugs usually activate within a few minutes and last for several hours.
Rohypnol is a powerful tranquilizer sometimes used as sleeping medicine outside of the United States. Some generic brands of Rohypnol come in colorless, odorless and tasteless pills that easily dissolve in drinks, and a dose as low as 1 milligram can affect someone for eight hours.
GHB is a natural chemical in the brain that can be synthesized in labs. Some companies create a form to treat narcolepsy, a condition in which people feel sudden, overwhelming urges to sleep during the day. It can be found in powder and liquid, and its slightly salty taste can be masked with strong flavors.
Ketamine is a powerful medicine that puts people to sleep before surgery. In strong doses, some people report feeling disconnected from their body. It comes in liquid and powder forms easily mixed into drinks, and the bitter taste can be hard to hide.
Although not considered a drug by some, alcohol is the most common substance used when targeting people, said Alicia Arant, UM's Title IX coordinator. The American Addiction Centers says it can worsen other drugs' effects, in some cases turning a mild haze into blackout amnesia.
Over-serving alcohol without consent is also drug-facilitated assault, Arant said. Party attendees may not know the mix of alcohol in a punch bowl. Someone being handed a drink may have ordered a single shot and been given a double. Arant added peer pressure can make a person feel forced to drink. 
Regardless of how the drug gets into people's systems, the bottom line is clear: If you give someone a substance without permission, you are committing assault.
"They've been given a drug against their will, and it is a crime," Giffin said. "The problem is: Who's the suspect? Most people don't have a clue."
Giffin served over 25 years at the Missoula County Sheriff's Office before joining UMPD, and he knows the difficulty in investigating roofies. He's been UMPD chief since May 2021, following Chief Marty Ludemann's retirement. In his time with UMPD, he said he's rarely seen official reports of drug-facilitated assault. Because the assaults usually happen in bars off campus, like Lily's did, those reports land on someone else's desk — typically, SARC's. 
Unlike official police reports, complaints handled by the Student Advocacy Resource Center are confidential and don't require investigation or evidence. But that doesn't mean UMPD officers don't learn about these reports.
Direct emails or meetings with SARC help UMPD get this information, which is then included each year in UM's Annual Campus Security and Fire Safety Report. That's how UMPD verified its data on rape and fondling in the last few years. Between 2018 and 2020, there were 21 cases of rape and 10 cases of fondling on campus.
The five drugging reports that inspired the safety email all came to SARC within a week. It was concerning enough that SARC reached out to UMPD immediately to get the word out. 
The emails to UMPD don't offer any details, but they get the numbers across clearly. In February, the numbers sent a clear message for Giffin: Something is up, and it needs to be addressed.
UMPD usually goes months without reports of drug-facilitated assault, Giffin said. In 2021, there were only two reports, both in September. Euell agreed and said SARC only hears one or two incidents of drug-facilitated assault per semester — if an assault is reported at all.
The city police are faring similarly. Lydia Arnold, MPD's public information officer, said MPD hasn't received any reports of drug-facilitated assault in months.
That doesn't mean the assaults don't happen.
Giffin explained drugs used by assaulters often cause intense blackouts and confusion, so survivors have a hard time remembering who attacked them. The drugs also flush out of the body within a few hours, so even identifying what drug was used can be a challenge.
Unless someone sees assaulters in action, they're likely to get away free, Giffin said.
At the scene
At least four of the 10 reports of drug-facilitated assaults SARC received since Jan. 18 could be traced to bars in Missoula. According to the U.S. Office on Women's Health, assaulters are most likely to use these drugs at bars, concerts and parties where alcohol is plentiful and people can get lost in the crowd.
This isn't a shock to people who work in and frequent the bars in the college town. Most people in the industry are well aware of the dangers alcohol can bring, and plenty take measures to watch out for their fellow humans.
Anne Hancock, a manager at the Rhinoceros on Ryman Street, said she always has an eye on people from behind the bar. As a veteran bartender with 16 years of experience, Hancock is trained to watch for situations like the one Lily found herself in, and Hancock has a few stories to tell. Most are light-hearted or worth a laugh, like the time she received a call from a local dentist looking for a patron's missing dentures. But other eventful nights have given her the skills to spot trouble before it happens.
"We've all been bartenders for so long," Hancock said. "We're good at reading people to begin with."
There are a few key signs Hancock looks out for. People going out of their way to talk with obvious strangers raises flags, especially if the person being spoken to looks hesitant. Their body will reel back or curl in. Hancock said that's when you know they're not happy with the situation.
Hancock said she has no problem directly asking if someone is uncomfortable. She said it's important people know she's there to help. As for the potential assaulter, Hancock said she makes it clear she's prepared to intervene.
"I'm here," Hancock said. "I will not let this situation get out of hand."
While experience is an effective teacher, Hancock remembers the Rhino staff taking a bar workshop class provided by Make Your Move! a few years ago. Make Your Move! is a team of Missoula organizations dedicated to ending relationship violence. The class taught Rhino staff members how to recognize sexually aggressive behavior and strategies to intervene.
Six other bars in Missoula have also completed the course: the Dram Shop, Imagine Nation Brewing, Ole Beck VFW Post 209, KettleHouse Brewing, Fred's Lounge & Casino and Sunrise Saloon.
Beyond the class, local bars take multiple routes of action to keep bargoers safe.
At Red's Bar, a printed copy of UM's public safety email was taped up by the owner as a reminder for bartenders to stay vigilant. During the night shift, bartenders at the Rhino pull customers' drinks out of reach when they step out for a smoke break, and napkins are readily placed on top of drinks when people are briefly distracted.
Bouncers come out to watch the doors, and employers often look for bartenders who can speak up without starting a fight. This might look like Hancock's calm-but-direct approach. It can also look like distracting the potential assaulter and giving someone a chance to escape, Make Your Move! said in an advice column for bystanders. A bartender on the website lied about a woman's boyfriend arriving to help her get out of a tense situation.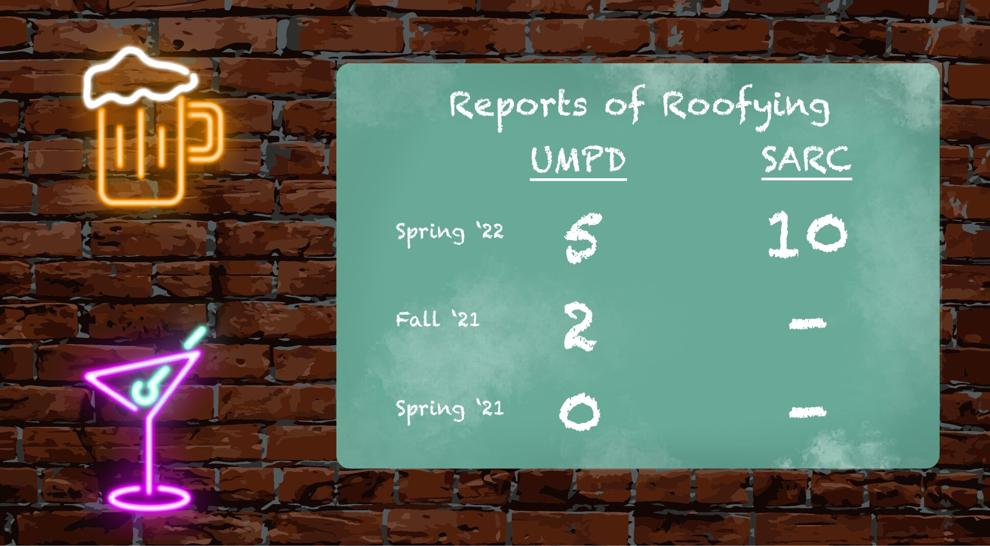 Most bars also comply with police investigations if they request it. Arnold, MPD's information officer, explained that if the police department receives a report of an assault within a bar, it will request camera footage. Usually, local bars give police access to footage. Because survivors usually can't remember when they were drugged, officers sometimes have to pick through hours of video. An assaulter can be subtle, too. Even with the security camera's videos, there's no guarantee the assaulter will be caught, and the investigation may come to a close.
Bartenders and bouncers can be interviewed by police too, according to the Make Your Move! website, but there's no guarantee they witnessed the crime. Body language can let them know something is wrong, but catching the exact moment of an assault can be a matter of luck.
Many bar employees said their first priority is keeping people safe and healthy. Some said they're more than happy to follow guidelines or rules if it prevents assault in Missoula.
"We've got enough of that shit in the world," Hancock said. "We don't need that here."
First line of defense
The night of Dec. 4 started off joyful. Getting into the bar was easy. Trout, Lily's friend and roommate, had just arrived from his friend's apartment, and he blended into the night crowd. Trout didn't even need a fake ID. He was freshly 21, and he was excited to party like a legal adult.
He was a few drinks deep when Lily used the restroom. He planned to quickly order something from the bar, but his table was taken when he turned around. Trout shrugged at the time. It was a crowded Saturday night. It sucked, but it made sense.
Trout watched Lily return and get her drink. He minded his business until he saw her stumble. She leaned heavily against tables, he said, and was tilting every time she stood. Strange, his alcohol-muddled brain thought. He didn't see her have too many drinks.
Then, Lily dropped backward — twice. Even through his buzz, Trout knew that was the final straw. Trout and his friend threw Lily's arms over their shoulders and helped her walk home, a place they shared as roommates, listening as her slurred ramblings slowed to a halt. By the time they arrived, she was dead quiet and unresponsive.
"She seemed like she wasn't even able to perceive the world around her. It was definitely very scary. It was just," Trout shivered. "It was a lot."
Trout and his friend did everything they could think of: prepare for her to throw up, splash water on her face, run the shower over her. Trout was contemplating taking her to the hospital when she finally jolted awake. Relief only lasted a moment. Lily shouted nonsense at them, pleading for them to take her home as she sat in her bed. Listening to Lily's screaming and begging, Trout realized that Lily may have been drugged.
"She had no idea where she was. She didn't know we were in our house. She asked where her room was when she was standing in it. She was completely out of it — had no idea what was going on," Trout said. "And at that point, we suspect maybe something happened at the bar."
He was terrified.
Confirmation came the next morning when Lily woke up. 
"One of the first indicators was that she wasn't hungover at all, because she hadn't drank that much alcohol," Trout said. "When we started putting the pieces together, she was almost definitely roofied while we were there."
Because drug-facilitated assault tears away survivors' control, it's up to bystanders to help, Giffin said.
Giffin said the first step is prevention. Watch your drink. Watch the drinks of people around you. Get your drink directly from the bartender or pour it yourself. Never go out alone.
Hancock offered other advice to UM students at the bars to help keep each other safe: If you notice someone suspicious, make a note of it or tell someone. Bartenders and bouncers are your friends. If you notice a person making someone uncomfortable, intervene. It doesn't have to be a confrontation if you don't want it to be. 
On the Make Your Move! website, bystanders told stories about how they intervened in different ways. Many were indirect and separated a potential assaulter from their target.
One bystander noticed an older man with his arm around an uncomfortable looking young woman. The bystander asked the older man about his Griz shirt and gave the woman a chance to slip away.
Another bystander pretended to be a woman's friend to get her away from a pushy guy.
A third saw a man slip something into a woman's drink and pretended to bump into her, quietly telling her. Meanwhile, a friend told a bouncer, who escorted the potential assaulter out of the bar.
Giffin said to pay attention to your friends and what they drink. If your friend is behaving differently than normal, ask about it. Someone who's only had one drink shouldn't be falling over. Don't wait for them to bring it up first. They may not be aware they need help.
Euell, SARC's director, said if you suspect someone has been drugged, tell an employee at the bar or a friend and drive them to the hospital. If possible, preserve the drink. Evidence is slim, and all traces of the drug will leave the body within 24 hours of ingestion. 
Kyle Yoder, president of the UM Students for Sensible Drug Policy, said the drugs used by assaulters can sometimes cause allergic or overdose reactions, and someone's life could be in danger. Even if it seems fine, go to the hospital.
Yoder said it's also important to say something if you suspect you've been drugged — even if you're worried about being caught drinking underage.
In Montana and at UM, minors cannot be charged with illegal drinking if they have been assaulted. At UM, this is called the Medical Amnesty Policy, and it was added to UM's policies after heavy pushing by Students for Sensible Drug Policy. It means anyone who requests medical aid for themselves or someone else won't be charged with a drug related crime.
"It's dangerous to not talk about the Medical Amnesty Policy," Yoder said. "It's literally life or death."
The point of the law is to protect people, Giffin said. If students have been assaulted, the first priority is making sure they're taken care of. Underage drinking shouldn't overshadow being a victim.
Above all else, believe people when they say something is wrong, Euell said. If someone has disclosed they are a survivor of assault or suspect they have been harmed, take it seriously, even if it sounds like a joke. Assault can be intensely traumatic — especially if the survivor feels like they are facing it alone.
The aftermath
Lily said she felt frustrated her friends didn't take her assault seriously at first. She remembers coping with humor, making off-hand jokes to her friends, and being disappointed with their lack of reactions. 
She said her male friends would laugh along, saying, "Yeah, you're right. That is funny." 
The only two friends she remembers reacting with horror and concern were her roommates — Trout being one of them.
The more Lily looked back on it, the more betrayed she felt, Lily said.
"It does kind of suck that their first thought was, 'Oh, she's just really drunk,'" Lily said. She said her friends watched her wander the bar before she passed out. Lily said she wasn't behaving anything like her usual drunk persona. "They didn't even consider that I was roofied."
Lily said she still feels the effects of the assault. She grapples with guilt, replaying the evening over and over some days.
"It's $11. I should have just left it," Lily said, thinking of her vodka cranberry that night. She knows she isn't at fault, but she still sharply calls herself stupid for accepting the drink.
Months later, she is working to move past her assault. Lily said she wants to view this as a chance to become better. She said she's more willing to stand up for herself and others, and she's proud of her ability to intervene when her friends are in sketchy situations.
But she doesn't step foot in bars anymore, fearing what will come if she does. In public, Lily feels hyper-aware of her surroundings, constantly watching others. When her sister goes out, Lily demands to know who she's going with. She wishes she could relax.
"The fact that I feel at fault for it is really unfair to me, but I can't get past that," Lily said. "As much as I want to have fun, I want to make sure I'm safe."