One said she left the University of Montana after leadership told her she couldn't be the face of UM because of her weight. 
Another two said the University eliminated their positions, allegedly as retaliation for disagreements with top figures. 
And the fourth still teaches at UM in a school dominated by female professors but chaired by its only tenured male professor.
At the beginning of August, these four women, named plaintiffs in a new lawsuit against UM and the Montana University System, stepped forward to share their stories of alleged discrimination on the basis of sex. 
Fifteen days later, on Aug. 19, the complaint expanded. It changed from a general civil suit to a petition for class-action standing when 18 other women (who remain anonymous in the updated complaint) reached out to the plaintiffs' lawyers. Their stories struck similar notes.
"To date, Plaintiffs and their counsel have been contacted by 18 additional women directly and been advised of at least 6 other women who have shared experiences of the Defendants' harassing, discriminatory, and retaliatory conduct," the new filing states.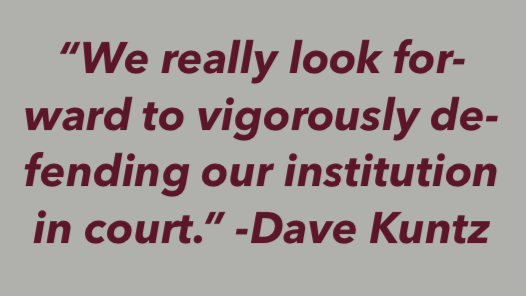 This suit is an addition to UM's complicated history of sexual assault and discrimination litigation, one that includes the high-profile 2012 sexual assault scandal investigated by the Department of Justice. That scandal is referenced in the complaint as a catalyst for some of the current allegations of gender-based discrimination.  
The four plaintiffs named in the suit are Catherine Cole, Barbara Koostra, Mary-Ann Sontag Bowman and Rhondie Voorhees. Cole, Koostra and Voorhees are all former UM employees; Bowman is currently a tenured professor. 
Cole acted as vice president of enrollment management and strategic communication in Bodnar's cabinet from 2018 until her resignation in 2020. Koostra was the director of the Montana Museum of Arts and Culture from 2005 to 2018. Voorhees was the dean of students from 2012 to 2018. Bowman, the tenured professor in UM's School of Social Work, has been there since 2008.
The complaint alleges that UM, and specifically President Seth Bodnar, created a "good 'ol boys' club" culture that prevented the growth of these women's careers. 
Under Title IX, a federal law that governs university campuses, students and employees at the University of Montana are protected from discrimination based on sex, sexual orientation, gender identity, disability, race or national origin. 
UM and the Montana University System put out a statement to the press following the release of the original complaint. 
"We really look forward to vigorously defending our institution in court," Dave Kuntz, UM's spokesperson for the suit, said in the statement.
Classifying a lawsuit as a class action requires showing that a large number of individuals have been harmed by the same policy or by a common practice, according to Craig Cowie, the civil procedures professor at UM's Alexander Blewett III law school. However, a class action does not require that every member of the class is named. There only needs to be one named plaintiff for a class action lawsuit, as long as that named plaintiff's experience can represent the entire class. 
Cowie said he is uncertain whether the 22 plaintiffs who currently make up the class in this complaint meet the threshold for the lawsuit to be tried as a class action. He said he didn't know if each experience was similar enough. This will be decided in a process known as class certification, where the court determines whether the women have enough in common to make up a class. 
Part of the purpose of filing a class action rather than individual suits for each plaintiff is so that the court can handle the case more efficiently, Cowie said.
"It's supposed to be a way to streamline a lot of similar claims together, but is still fair to all the people involved as far as reaching adjudication," Cowie said.  
The main question, according to Cowie, is whether the plaintiffs were all harmed in the same way, or whether each instance was a discrete action that may not have been part of a larger whole.  
"I know there were some allegations related to 'good 'ol boy' networking, and that is a classic hostile work environment," Cowie said. "Even though there are different ways in which the hostile work environment might affect individuals, they're all still subject to the same ... environment, so there might still be common claims there."
A hostile work environment is characterized by harassment, defined as "offensive jokes, slurs, epithets or name calling, physical assaults or threats, intimidation, ridicule or mockery, insults or put-downs, offensive objects or pictures, and interference with work performance," according to the U.S. Equal Employment Opportunity Commission. For conduct to be classified as harassment, and therefore against the law, the conduct must be viewed as offensive or hostile by a reasonable person. 
---
Lawsuit Timeline
Allegations outlined in the discrimination complaint.
Timeline by Addie Slanger / Montana Kaimin
Plaintiffs
The complaint against UM and the Montana University System claims that Bodnar's administration, as well as the precedent set by UM's history with sexual assault, created a retaliatory and discriminatory environment that was ignored by the University and the Montana University System. 
"Ignoring the need to reevaluate its actions and the resulting treatment of women, UM's discriminatory culture persisted, creating a career-brick-wall for experienced, confident women," the complaint states. 
Each of the four named plaintiffs describes experiences at UM that the complaint argues created a discriminatory and retaliatory environment. 
On behalf of Cole, the complaint claims that despite receiving accolades for her work as vice president of enrollment management and strategic communication, President Bodnar "micromanaged her, continually altered and changed her goals and job duties, set unreasonable expectations, informed her that she was moody, asked her to smile, criticized how she communicated and the tone of her voice, belittled her, and commented about her appearance, including her weight, noting that she could not be the face of UM."
The complaint also claims that Cole was paid the least out of all the vice presidents, and notably, she was also the only female vice president at UM at the time. Cole made a salary of $170,000 in 2019, according to GovSalaries. In comparison, in 2019, Vice President of Operations and Finance Paul Lasiter made a salary of $200,000, Vice President for Research and Creative Scholarship Scott Wittenburg made $204,786, and Executive Vice President, and Provost Jon Harbor made $275,400. 
Many factors go into setting an MUS salary, said UM spokesperson Dave Kuntz, including market demand, negotiations with each individual, the number of people supervised by the vice president, and the job candidate's experience and education. He added that every salary is subject to approval from the Commissioner of Higher Education. 
"Each job and each candidate is entirely different," Kuntz said. 
According to the complaint, Cole took a pay cut and separated from her family to work at a smaller school after leaving UM. She retired early, allegedly as a result of her treatment at UM. 
The second plaintiff listed, Koostra, was asked in November 2018 by President Bodnar and ex-Provost Dean Kirgis to display the Montana Museum of Art and Culture's permanent collection in the downtown Missoula Marriott. Koostra refused to display the art, citing concerns with security and climate control protections. That same month, her office was moved into a smaller space in McGill Hall, a building evacuated and closed because of asbestos contamination the following year. 
Koostra claims she raised issues with conditions in McGill, complaining of strange smells in the stuffy, hot room. The asbestos testing of her office contributed to the closure, according to the complaint. The University terminated Koostra's position in late 2018 due to what it termed a reorganization and, according to the complaint, Koostra was only six months away from receiving retirement benefits from the University.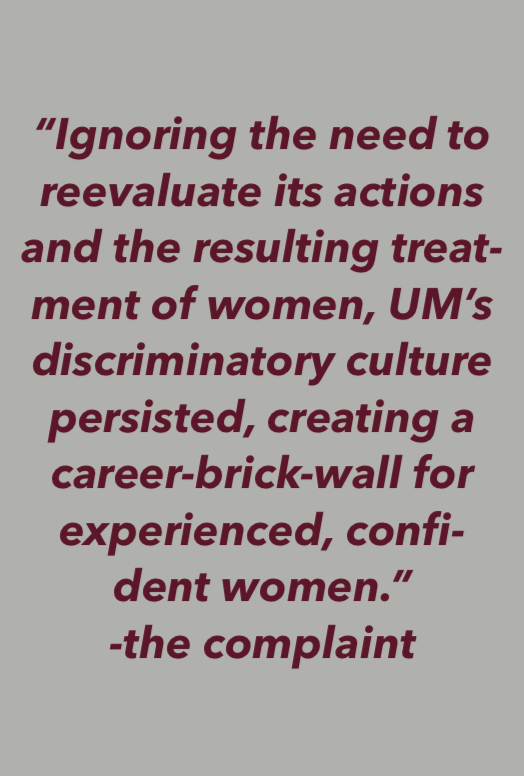 After she left, according to the complaint, "defendants replaced Ms. Koostra with a male museum director with fewer qualifications and a higher starting salary than Ms. Koostra received when she began in this position," in 2005. 
The current director of the Montana Museum of Arts and Culture is Rafael Chacon. He's also a tenured professor of art history and criticism. Chacon's starting salary in 2019, according to GovSalaries, was $95,000. In 2017, Koostra made a salary of $92,843. Koostra was not a professor at the University. 
Bowman, the third plaintiff listed on the complaint, has been a professor in UM's School of Social Work since 2008. She is the only named plaintiff who still works at UM. According to the complaint, the professors in the School of Social Work are majority women, yet the only male professor is currently serving his second term as the school's chair. 
When the position opened in 2020, had the current chair not been encouraged to pursue a second term by University leadership, Bowman claimed she would have applied for the position. 
"After a successful 13-year career, and [as an] asset for the School of Social Work, Dr. Sontag Bowman has hit a career-brick-wall. Despite her qualifications, UM discouraged her opportunities for professional growth and leadership, while favoring her male counterparts," the complaint alleges.
The complaint highlights Bowman's age as a reason she is remaining in the school of social work at UM rather than seeking alternative employment. 
Voorhees, the final named plaintiff, served as the dean of students for UM from 2012 to 2018. Voorhees was brought into this position during UM's sexual assault scandal, and her job was to provide support and advocacy to UM families. As such, Voorhees said she brought numerous concerns to UM's Title IX office. 
"Acting through Lucy France [then Title IX coordinator and currently UM's legal counsel] and other leaders, UM often overrode Dr. Voorhees' decisions to keep campus safe," the complaint states. "Ms. France made decisions, took actions, and guided and/or advised senior administrators, including the President, towards decisions that put the safety of the campus, students, and community members, especially women, at risk." 
The complaint alleges UM ignored multiple recommendations Voorhees made as dean of students. The suit states that in 2013, a female student who was raped contacted Voorhees, and Voorhees directed her to then-Title IX director France. According to the complaint, France refused to confirm whether she would call the student, saying the student would have to submit a written complaint, and Voorhees challenged her on this process. 
The suit also accuses the Admissions Review Committee of failing to listen to Voorhees' denial of admission for a male student she had concerns about in 2014. The student allegedly raped a female student following his admittance to UM. 
Voorhees also had issued a no-trespass order for a male student on campus that she claimed had threatened her in 2017. The lawsuit states France reportedly questioned this and Voorhees' position was terminated in 2018 following her reply. 
France was contacted by the Kaimin for comment on these allegations, as well as the complaint, but directed reporters to Kuntz, the University's spokesperson for this suit. 
After Voorhees' position was eliminated in 2018, she was placed on administrative leave for months before eventually getting a new job at Embry Riddle Aeronautical University in Arizona. The complaint states she was defamed by a student in Arizona as a result of the mishandling of her termination at UM. Voorhees is currently Embry Riddle's dean of students.
The Kaimin reached out to Voorhees and Bowman for comment, but was referred to the plaintiffs' legal counsel, Bozeman-based lawyers Hillary Carls and Sherine Blackford. 
Neither Carls nor Blackford responded to multiple requests for comment. The firm sent the Kaimin the updated complaint on Aug. 19, but did not speak about the case on the record.  
---
Defendant
UM and the Montana University System believe the claims of sexual discrimination made in the complaint are baseless and without merit, said Kuntz. 
Kuntz added UM disagrees strongly with the petition to expand the complaint to a class action. 
"We know that there are systemic issues that exist here in the community and beyond in terms of gender discrimination, and we're working hard to tear those barriers down," Kuntz said. 
Kuntz said UM denies the existence of a "good 'ol boys' club" within the University. 
Since Bodnar took over as UM's president in 2018, according to Kuntz, 78% of all University promotions have been female and 58% of all new hires have been female. Kuntz added that the president's cabinet is majority female, and the deans of the colleges at the University are currently majority female as well. Notably, according to previous reporting from the Kaimin, there were no permanent female deans in UM's colleges in February 2019, when Shali Zhang, who led UM's libraries, left to take another position. 
At the time of publication, UM's site listing academic officers showed three permanent dean positions held by women: the College of the Arts and Media (Laurie Baefsky), the Phyllis J. Washington College of Education (Adrea Lawrence) and Skaggs School of Pharmacy (Marketa Marvanova, who also became the acting dean of the College of Health when Reed Humphrey became the interim provost). The College of Humanities and Sciences is led by three associate deans. Two are women. The website lists Suzanne Tilleman as interim dean of the College of Business, but she's since been hired as the business school's first female permanent dean. Five other permanent and interim dean positions are held by men: Libraries, Missoula College, Alexander Blewett III School of Law, Davidson Honors College and the W.A. Franke College of Forestry and Conservation. 
This means that four of the eleven possible dean positions at UM are currently filled by women. The largest UM college, Humanities and Sciences, does not currently have a permanent dean. The College of Health does not currently have a permanent dean, as its dean, Reed Humphrey, is acting as Provost. All of the women serving as deans were hired for their positions after February 2019.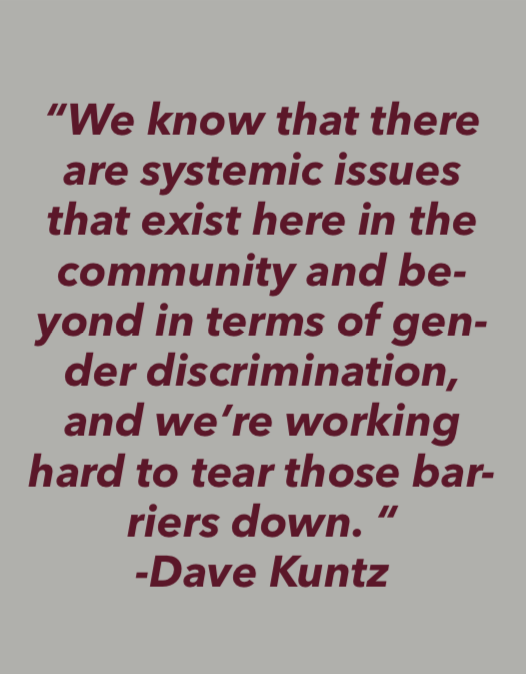 Nine of the 16 spots in the president's cabinet are also currently filled by women: Chief of Staff (Kelly Webster), the Faculty Senate chair (Kimber McKay), chief legal counsel (France), President of the University Faculty Association (Amanda Dawsey), Vice Provost for Student Success (Sarah Swager), Associate Vice President of Campus Preparedness and Response (Paula Short), Director of Equal Opportunity and Title IX Coordinator (Alicia Arant), Associate Vice President for Enrollment Management (Mary Kreta) and Vice President for Marketing and Communications (Jenny Petty). 
"When we talk about tearing down that 'good 'ol boys' club,' it really starts with hiring the leaders that reflect the community and reflect our student population, which is majority female too," Kuntz said. 
Kuntz said that in recent years, especially after the DOJ investigation into how UM handled sexual assault, the University has invested time and resources to empower women on campus.  
"Even the Department of Justice has pointed to the University of Montana as a place that institutions of higher education should emulate when it comes to stopping and preventing sexual assault and abuse," Kuntz said. "In terms of gender discrimination, the University of Montana takes those allegations really seriously, and that's why we've invested so much time and resources into strengthening the Title IX and Equal Opportunity Office."
Arant, the Director of UM's Title IX and Equal Opportunity Office since 2019, said that one of the biggest investments UM has made is the addition of a second trained investigator, which has expanded the office's capacity. 
"With increasing the personnel in the office, it has built our capacity for us to engage in preventative work, as opposed to just responsive work," Arant said. 
Arant said a lot of this preventative work consists of her visiting various communities and events on campus in order to elevate her office's visibility, both the work the Equal Opportunity Office does and the services it provides.
"Being in an appropriately staffed office has had a cascading effect because it has allowed us to do better and more expanded work for campus," Arant said. 
In addition to ramping up the Title IX office, Kuntz said the University has invested in multiple initiatives meant to promote women leaders on UM's campus, including the S.E.A. Change Initiative and the Women's Leadership Initiative. 
The S.E.A. Change Initiative, which stands for Safe, Empower, Accelerate, was founded in 2019 by President Bodnar and is run by Executive Director Twila Old Coyote. 
Old Coyote, who has been involved with S.E.A. Change since its inception, said that the initiative is very student-facing. As an example, she cited the Women's and Gender Equity class she teaches every spring. Students in the class participate in an internship in which they mentor younger students in the Missoula community, and the S.E.A. Change Initiative holds a one-week summer camp for those middle and high school students. 
"We're really looking at creating a pipeline for middle and high school students, and hopefully when they go on to college and they come to UM, they can participate in my class," Old Coyote said.
In addition to the S.E.A. Change Initiative, Kuntz explained the Women's Leadership Initiative — founded in 2015 by Deena Mansour, now executive director of the Mansfield Center, and Nicky Phear, its current director — provides women with leadership and advocacy training and networking opportunities.
Charity Atteberry, cohort coordinator for the Women's Leadership Initiative, was a former participant in one of the groups as well. 
"One of the most powerful pieces of that personal experience for me was that I signed up, I applied and was accepted and I was deeply honored by that, and then I realized that I had to put in the time in my day, in my week, in my month, to be thinking about these things," Atteberry said. 
She added that these opportunities carve out a space to ensure that the empowerment of women in leadership can happen. Kuntz agreed.
"The ultimate goal is that we develop a really strong workforce of women leaders who can then advocate for changes at the university level to make sure that any forms of systemic discrimination can be torn down," he said. 
---
The lawsuit is currently at the class certification stage. According to Cowie, the UM civil procedures professor, the class certification process determines whether the claims are all the result of the same policy or practice, and defines the members that make up the class.
That certification process could take up to a year, he said, and should the case proceed forward after that, the class action suit would take even longer. He added that any civil case often takes a couple of years to proceed through the courts.