Emily Tschetter, an incoming freshman from Billings, lugged her cello and guitar toward the newly renovated steps of Knowles Hall on a recent Sunday afternoon. The instrument looked comically large, dragging on wheels behind her left arm. Her guitar, slung over her right shoulder, added a kind of equilibrium.
Campus had oozed back to life for freshman move-in week. Families carted loads of belongings up into dorm rooms. Freshmen registered for two-hour move-in slots ahead of time, to combat dangerous crowds.
Check-in desks were outside under tents, where helpers sat in the hot afternoons with sunglasses and hats.
At peak time on Saturday, it seemed like UM's COVID-adapted process was working. Only a few families moved into each dorm at each time, far fewer than in previous years' move ins. The cacophony of rolling suitcases and squeaky dollies was replaced with a quiet calm of muffled voices.
And not even the omnipresent threat of a pandemic could diminish Tschetter's enthusiasm, as she hefted belongings from her family's car to her room.
"I have wanted to go to college since I was 8 years old," Tschetter, 18, said. "I've always been so excited."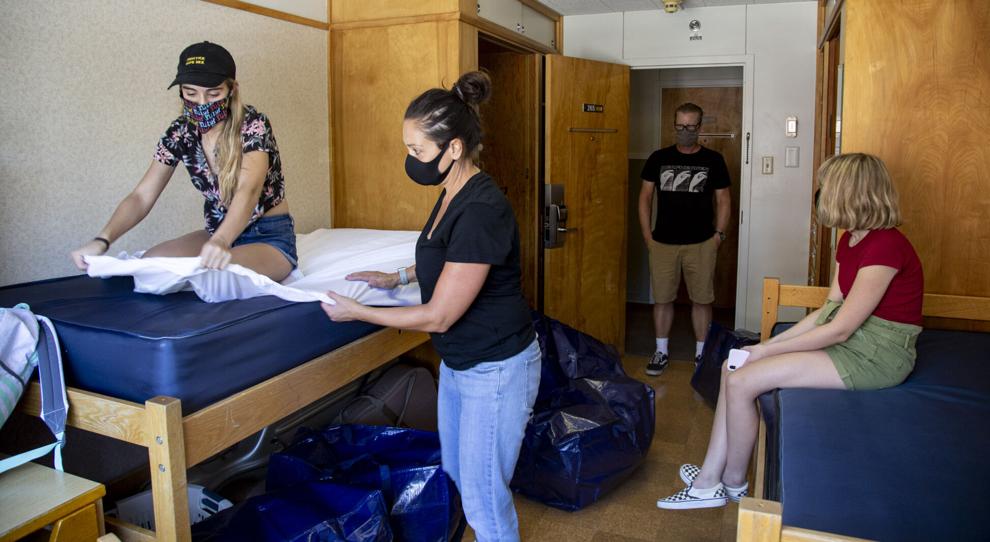 All across campus, signs mark six-foot distances and remind students that masks are mandatory. Hallways are designated as one-direction only, and plexiglass dividers separate administrators and employees from the students visiting their desks. Signs hang above the sinks in every bathroom, reminding students to "defend their den" and wash their hands.
The freshman move-in process looked very different this year. It was spread over five days, from Wednesday to Sunday, to facilitate the staggered time slots, contrasted with the past, where move-ins have been an every-man-for-himself cluster of organized chaos. This year, students were allowed only two people for help moving in, and everyone was required to wear masks for the entire process.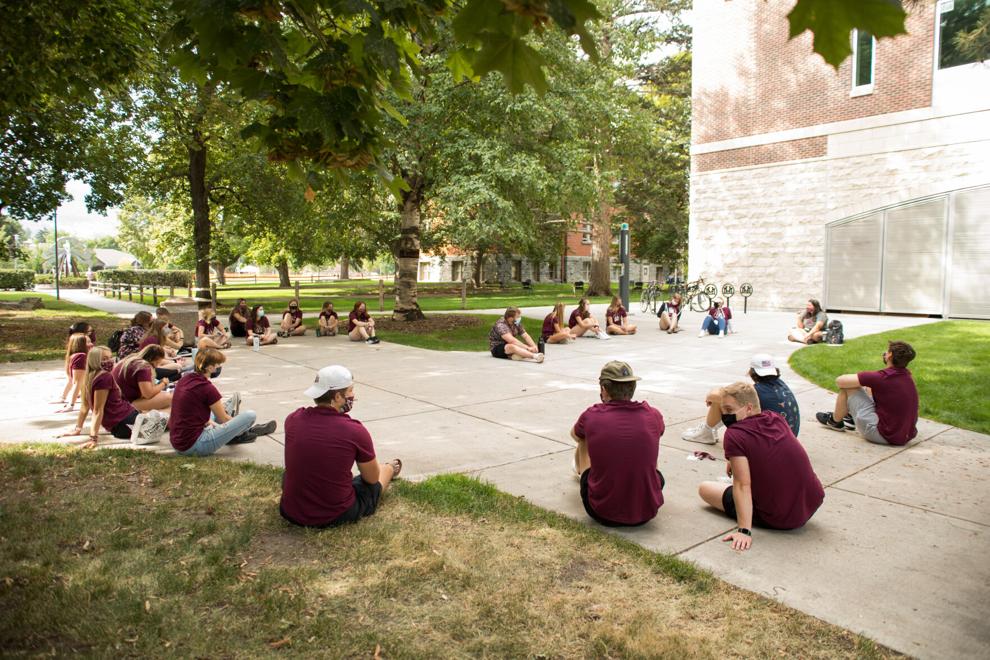 As the first day of in-person instruction arrives with a flurry of socially-distanced activity, freshmen like Tschetter are left to navigate the skeleton of a UM campus without much guidance. They've missed the closure of senior year, with well-intentioned yet — in many cases — unfulfilling graduations, senior trips and final projects. Tschetter worked two years on a cello solo she never got to perform.
Now, as these hundreds of students move into UM's dorms, they face the enticing freedom of freshman year after the stifling isolation of quarantine. They also face the responsibility of carrying an in-person campus on their shoulders. This is the group staying on campus, in the closest proximity and within the largest social circles. Confined to just a few dorms, one slip up in discipline could result in an uncontrollable outbreak.

"Freshmen are going to come into a whole new college experience," said Jeff Adams, medical director at Curry Health Center. "Usually you go to parties, you meet all these people, you're always socializing. And now you're expected to be regimented in how you do things. You wear a mask. You don't touch anybody. You're supposed to stay distant."
If the UM campus is to stay open, it will depend on its residents staying safe. That's not to say every other student needs to take COVID rules less seriously, but simply that the freshman living situations present them with more unique challenges.
"It feels like a wildfire analogy. Like, you can put out a single ember, but can you really put out every ember before it becomes a forest fire?" Adams explained.
And this wildfire is deadly. Adams pointed out that the greatest risk is that students will transmit the coronavirus to their professors, who, because of their age, are more likely to suffer serious symptoms or death.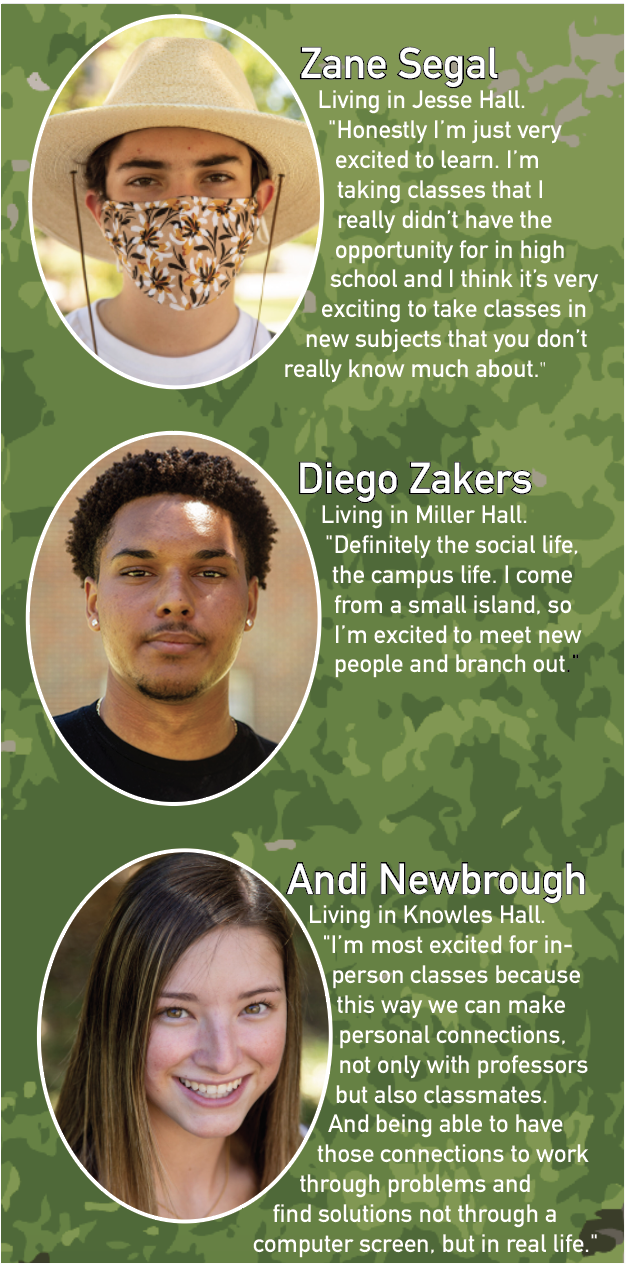 "It's heavy stuff. And imagine putting that on someone who's just out of high school. Like, 'Here, this is on your shoulders, you guys,'" he continued.
Missoula County has 85 active cases and two deaths, as of Monday, Aug. 17. According to data produced by the statistics portal Statista and updated Aug. 16, Montana had the third-worst community transmission rate in the nation, meaning more people were infected by an infectious person each day here than 46 other states.
Adams and his team at Curry have been preparing as much as possible for the upcoming semester. Curry has access to a rapid COVID test, which is approved only for symptomatic patients. The health center is equipped with one rapid testing machine, which can run a test every 20 minutes. The results, which are 83% accurate, can be produced in 30 minutes. The tests are also sent to the state lab for a second look at results.
The key, Adams said, is less about the accuracy and more about the speed Curry can produce a result. The faster a student can know, with relative certainty, if they're positive or negative, the better. And the faster UM can isolate potential COVID cases, the better shot it has at controlling an outbreak.
Adams empathized with the challenges Tschetter and her fellow freshmen will face.
"It's hard enough for somebody who's 50 years old to do this. Imagine being 19 to 23. You're social animals at this point. You're trying to figure out things in this world, you're trying to find who you connect with. It's a really hard time for this to happen," he said.
"You get an isolation fatigue," he added. "One of my big worries is, can these students do this, to stay in session? Just to put it on the table. I just don't know."

The safety measures put in place by UM, while not ideal, don't bother Tschetter for a few reasons. First, she doesn't have anything to compare her experience to. She never had a non-COVID freshman year. Second, this has become her 'new normal.' If all it takes for her to get to have in-person classes is wearing a mask and staying socially-distant, she's completely on board.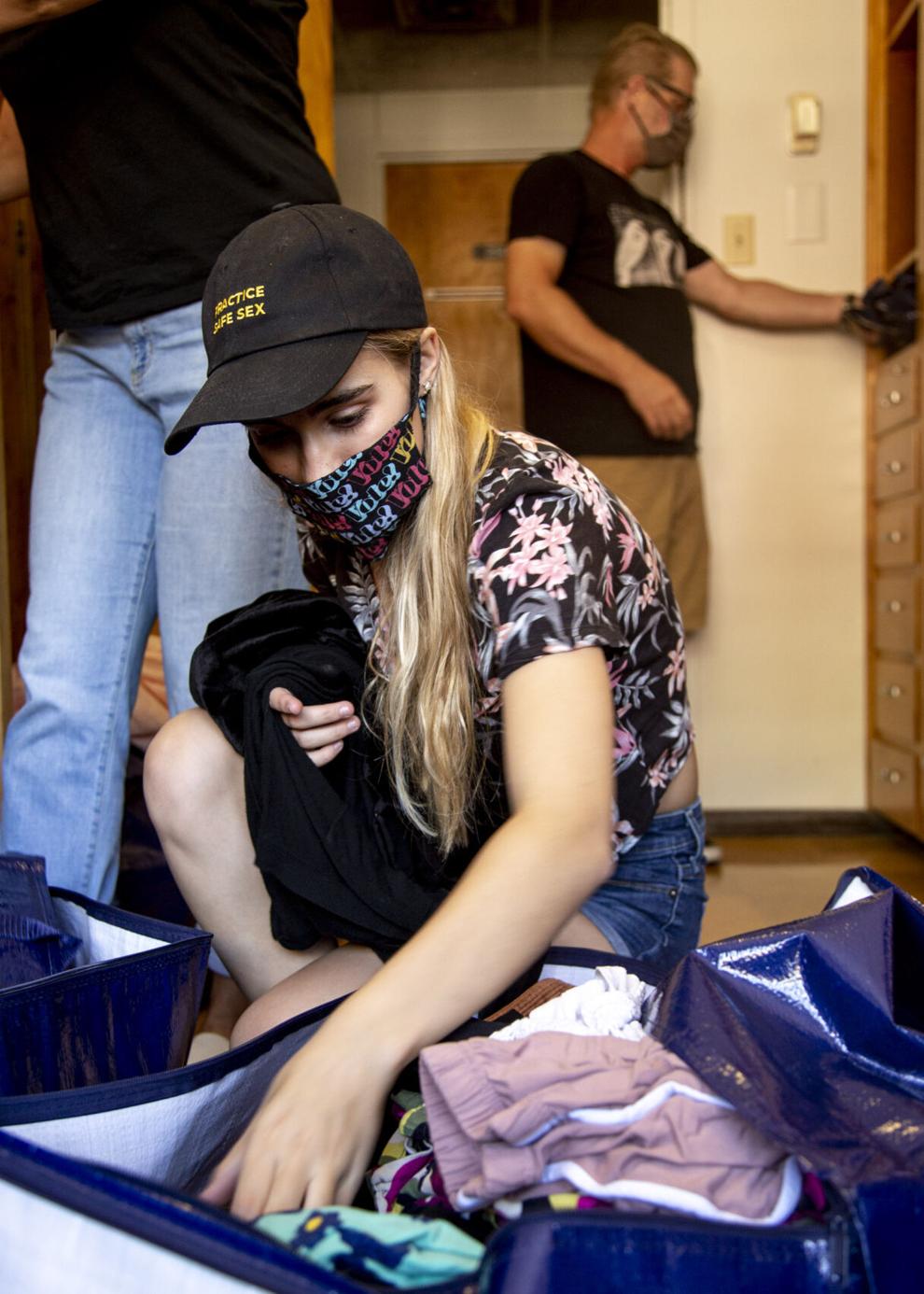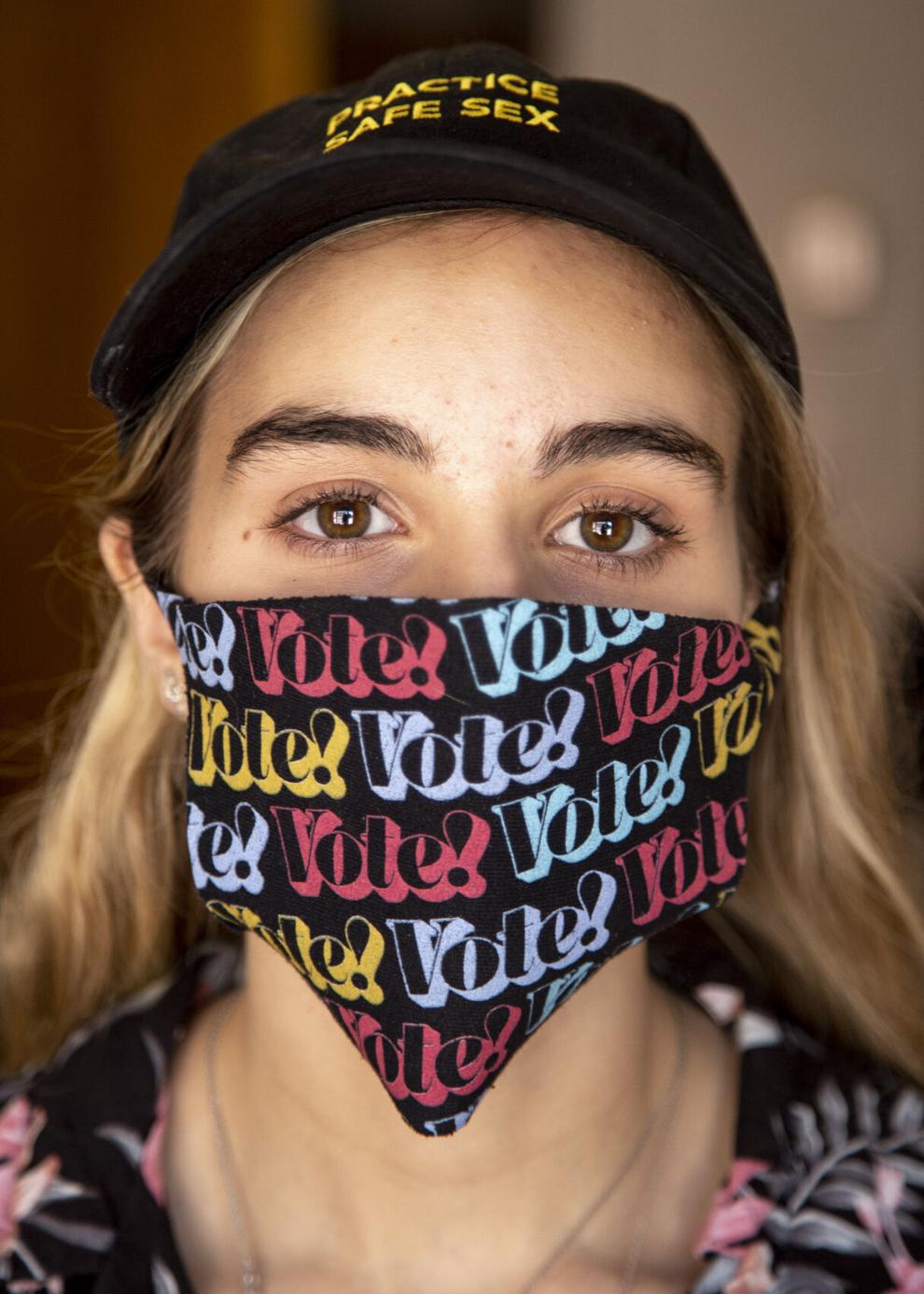 "Anything is better than completely-online school," she said. "Just anything at this point is going to be better than last spring."
For now, Tschetter is content on campus. She's excited to have the opportunity for interaction, socially distant or not. And she's excited to start to feel like a part of something again.
She thinks most students will be responsible, but realizes she can only control so much. She's seen first-hand the varying attitudes toward masks, social distancing and coronavirus in general. Many people in her hometown of Billings refused to wear masks, even after Montana instituted a mask mandate.
Nothing is going to be ideal. Tschetter realizes this. It's going to be an uncertain time, for an unknown while. But she is happy to be here, now, on campus. She's happy to see the University trying to make it work, even if things don't go as planned.
There is one lingering fear she can't shake. It echoes Adams' thoughts.
"What does bother me is this impending sense that everything is going to shut down again soon," she said
"The problem is, how much time will it take for me to be satisfied with my introduction to this school and this community before it's taken away?" she asked. "If I'm only here for a month, have I really become a part of this school?"

UM Housing has seen some major modifications in response to UM's decision to hold in-person classes.
Dorm floors will have fewer residents. Dorms have been outfitted with special quarantine and isolation areas, each with access to its own bathroom, for when students test COVID positive or are waiting for their test results.
The increasingly common signage that marks six feet and reminds students to wear their masks dominates the walls of each dorm floor.
Freshmen also had the chance to ship items to UM Housing early, allowing UM staff to get packages into students' dorms.
Tschetter moved in days early, so she didn't have to deal with the crowds or the structure of the official move-in week. She was able to use the help of both her parents and her sister, and take a little more time to finish up.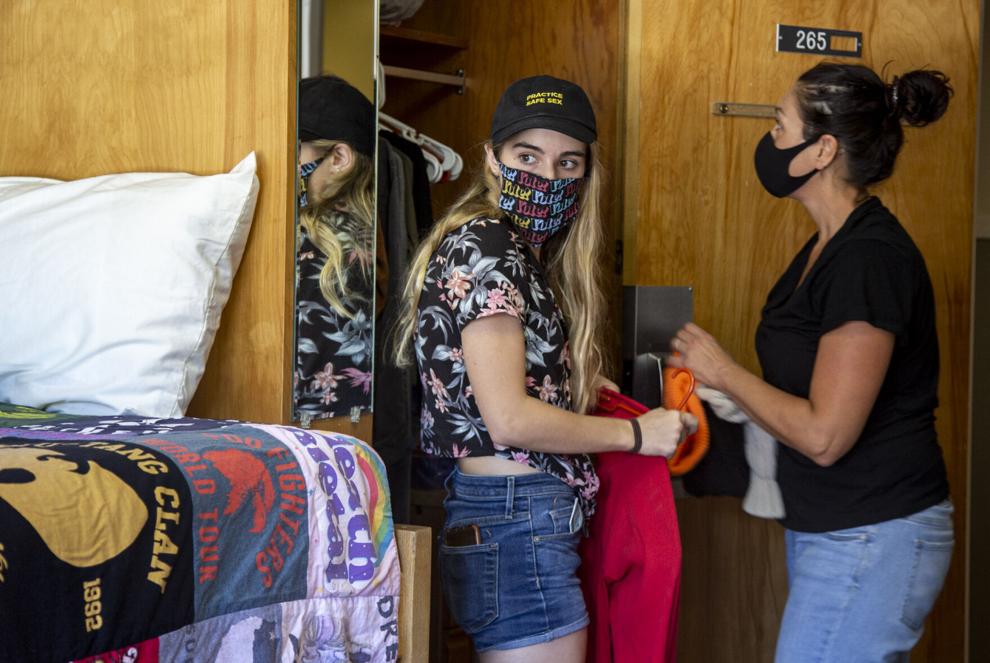 Sandy Curtis, director of UM Housing, reflected on the changes and what they meant for the freshman experience.
"Certainly, it isn't the same," she said. "I mean, think about the excitement, in a normal year, when you have 1,200 new students moving in, all at the same time."
But all of the changes, Curtis said, have been done trying to keep things as normal as possible.
"We know that it's going to be different, but we're trying our best to make sure they have a good experience," Curtis said.
Curtis acknowledged the unique responsibility that on-campus students have in ensuring the continuation of an in-person semester, and stressed the importance of following UM's COVID guidelines.
Curtis didn't try to predict the future. Instead, she said she's hopeful and trusting that the students will do what is not only in their best interest, but also UM's.
"I really hope we can lean on them. Everything that we've put in place, isn't going to work if students don't partner with us in order to make this happen," she said. "And I think pretty quickly what they'll see, if they don't help with that, is we're going to have more rates of COVID-19.
"We have to do this together. And we will definitely be counting on the students to help us with this."
Curtis, who's been with UM for over 30 years, has seen many move-in days. Despite the pandemic, despite the uncertainty, despite the nerves and the fear, she feels excited and prepared for the start of the semester. It feels good to see the campus getting breaths of life, six months after its sudden and unexpected abandonment.
"This is almost always like a holiday for me, when students come back to campus," she said. "While there's a little nervousness, we're also very excited. This is what we do. We love working with students. So there's always a great excitement when students are coming back to campus."

UM Dining is another department tasked with the daunting responsibility of adapting to the pandemic while remaining a staple of campus and of freshman year.
Byron Drake, interim director of Campus Dining, explained some of the new precautions.
Meals at the Food Zoo will be completely served by staff and not at the usual self-serve stations. Students will have the free option of taking their food to-go. The cafeteria will be divided in two sections, one with the usual tables of 10, and one with smaller tables for those who aren't comfortable with the 10-seat option.
Traffic will be one way, with the south door being entrance-only and the north exit-only. There will not be an exact, numerical cap on cafeteria admits, but a staff member will monitor the Food Zoo's capacity and use their best judgement, Drake said. If the staff member feels the cafeteria is getting too full, they will hold up the line and wait for diners to leave before admitting more students in.
"We tried to, in many ways, keep the Food Zoo 'the Food Zoo,'" Drake said. "Understanding that it's this traditional, freshman staple.
The menu is very similar to past years, Drake said, with slightly limited options for certain meals.
All students are on the all-campus meal plan, meaning they can eat at more places than just the Food Zoo. There's the food court and The Market in the University Center, and a renovated Cornerstore will open in September.
All these measures have been put in place with input from various offices across the state and country. Drake said his team analyzed the COVID plans of schools across America and private businesses, like restaurants, to inform UM's plan.
Like Curtis, Drake is excited to have students back at UM. His job revolves around students and their presence on campus. He was thrown off, six months ago, when campus was deserted overnight.
"At the end of the day, our reason for existence is taking care of the student population. So, that's our number one goal. We want students to feel safe," Drake said.

The first thing that pops out in Tschetter's dorm is a poster of Leslie Knope, from the show "Parks and Recreation." "Hoes before bros. Uteruses before duderuses. Ovaries before brovaries," it reads, displayed proudly next to the door.
The poster was one of the first decorations Tschetter displayed. She's a huge fan of the show. Maybe, even, a bigger fan of Leslie Knope.
"I mean, everyone wants to be Leslie Knope, right?" she asked. Dogged, ambitious, loyal and intensely involved. As it turns out, Tschetter has some remarkably-similar parallels to her favorite character.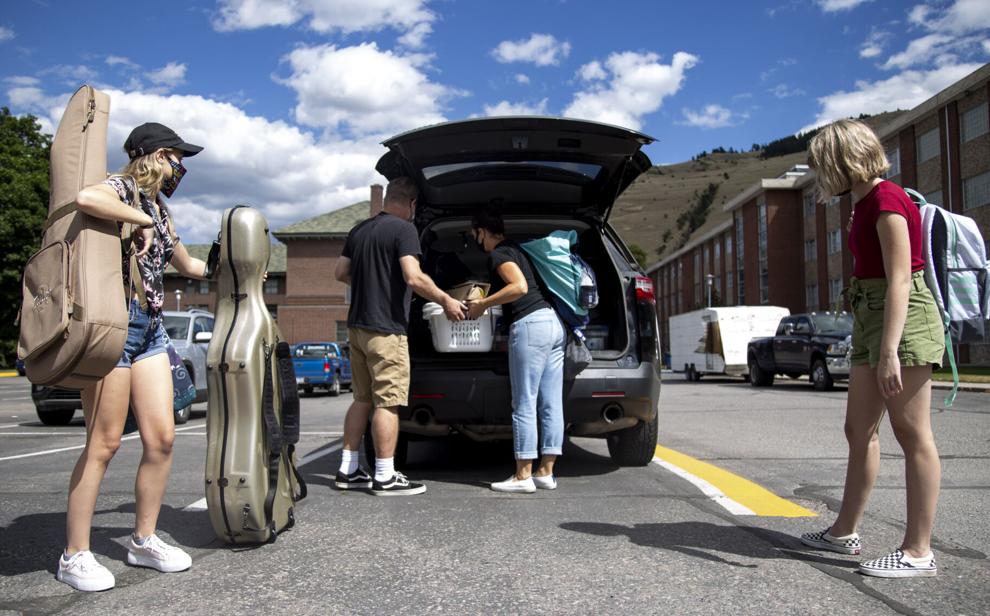 A recent graduate of Billings Senior High School, Tschetter plans to study political science and journalism. She's in the marching band, an ardent gun control activist, a passionate cellist. She has plans to join UM's student government, and wants to pursue international policy after undergrad. She's in the Davidson Honors College and a member of the Franke Global Leadership Initiative.
And now, she's just moved onto an in-person campus for, what is slated to be, an in-person semester. She is cautiously excited.
"I'm just happy to be able to interact with people again after six months of not being able to," Tschetter said. "That in and of itself I see as more of a positive thing than anything. Everything right now, even with the social distancing, I'm so used to it that it doesn't bother me."